Our comfortable room will give you a true feeling of downtown .We are located in center in quite street,near all historical places,major see sight in town, and night club.We are connected with all traffic lines.Bed linen & towels are provided.
The apartment with a private room ,is very comfortable,entire apartment is equipped with an antique furniture because we want to our quests to offer a royal vacation in center of (URL HIDDEN) our rooms two guests can enjoy the space and all comfort
We are living in downtown,which is the most beautifulpart of the city,all historical monuments are near,pedestrian zone and the main street Knez Mihailova street in one minute walk from us,the Danube river is close,nights club are close .
Ivana is very kind, helpful and welcoming host. She helped us with parking because of central position of her apartment in the city. Also she borrowed me USB cabel to charge my phone. Also she give us information what is best to see in the city. And her dog Vojo was great. Totally recomended !!!
Pee
2016-10-09T00:00:00Z
We were enjoyed as being Ivana&Milutin's guests. There are welcoming people with beautiful flat in a city center! Warm recommendation & best regards!
Tatyana
2016-02-06T00:00:00Z
We had a great time at their house. Ivana and Milutin were great Hosts. The first day, Milutin gave us some recommendations where to go and what to see in Belgrade. They were very friendly, welcoming and made us feel at home. The appartement is located in the Center and in a couple of minutes you reach almost all attractions.
Elena
2016-05-30T00:00:00Z
Ivana and Mulitin have a lovely flat located in just about the best place in Belgrade. When we arrived, Ivana gave us a coffee and then the two of them gave us a lot of advise for Belgrade. There advise was spot on; we had a great time. I'd rather stay with Ivana and Mulitin than a 4 star hotel. I cannot recommend it enough!
Brian
2016-12-06T00:00:00Z
Ivana and Milutin were wonderful hosts, very friendly and helpful. The place is central to everything in Belgrade and the room was comfortable. Thank you!
Kate
2016-09-08T00:00:00Z
Ivana and Milutin's place is amazing. A great location right near the city centre with everything in walking distance. We loved their husky Voja, he was adorable and really made the place feel like home. Besides the fact that their place is beautifully decorated with a super comfy bed, Ivana and Milutin are the greatest hosts. We had interesting conversations with them and learned a lot about Belgrade. We really felt as though we were staying with friends. If we are ever in Belgrade again we will definitely be staying with Ivana and Milutin!
Holly
2016-08-08T00:00:00Z
They are A lovely couple with good suggestions and friendly attitude. The location could not have been any better!
Handan
2016-11-18T00:00:00Z
Unfortunately we only spent one night here, however Ivana and Milutin were great hosts spending some time sitting with us answering questions and offering suggestions in all aspects of the city. the place was in a great location and the place was beautifully furnished with an antique feel to the room. Would definitely recommend for anyone staying in Belgrade. oh and their dog was adorable!
Paolò Micah
2016-06-29T00:00:00Z
Room Type
Private room
---
Property Type
Apartment
---
Accommodates
2
---
Bedrooms
Belgrade, City of Belgrade, Serbia
Small studio apartment, situated conveniently in wide city center, only 15 min. walking away from the main city square. Apartment is clean, neat and comfortable for single traveler or a couple. Excellent for spending some great time in Belgrade.
Just renovated apartment studio is in a basement of an apartment building. Contains of a living room with kitchen included and the bathroom. Although window is facing a main street, apartment is very quiet and isolated. I have two more apartments in the same building, please check them out, go to my profile my and scroll down.
It is a one of the safest neighborhood in Belgrade , across the street is a main police station .
Meda was very accommodating and quick to communicate with us online to make sure everything was set well in advance of our stay.
Bob
2016-06-21T00:00:00Z
Very comfortable, small apartment in nice localization. Meda is helpful and caring host. I can clearly recommend it :)
Piotr
2016-11-15T00:00:00Z
This host has thought of everything! Anything you could need he has available to you in the flat which, although small, is cheap and cheerful. Meda was very informative during check in which we appreciated. Perhaps better suited for one person due to the size of the bnb
Lucy
2016-07-28T00:00:00Z
Meda was a brilliant host! He agreed to meet us at the flat in the middle of the night due to our late arrival to Belgrade. He instantly recommended some places worth visiting, suggested alternative options and a local bar with authentic Balkan food. His place is small but has everything you need, the neighbourhood is quiet and has really good local shops. It is close to the city centre and buses that you might need to access popular places are just on the corner. I can highly recommend this place!
Ewa
2016-06-26T00:00:00Z
he is a very good man and helpful
rıdvan
2016-01-12T00:00:00Z
Dusan was my best host so far, having been to Belgrade many times prior. He arranged to pick me up and take me to the apartment at no extra charge. He took the time to give me a tour of the neighbourhood, pointing out the good spots for eating, grocery shopping, going out and working out. He also went out of his way to take care of a couple of things i needed since i stayed in Serbia for a longer period of time. Apartment is well located, less than 10 minutes from the city center, grocery stores, restaurants and gym are within walking distance. You have everything that you need in the apartment, even umbrella backup local mobile phone and chargers for most phones. Internet works well and the neighbourhood is safe. Thanks for everything Dusan.
Christian
2015-04-04T00:00:00Z
Great place Close walkable distance
Praveen Paul
2016-12-14T00:00:00Z
if you are looking for a clean, nice studio apartment this place is perfect. Meda has got everything you need in the apartment and is helpful giving tips on where to check out the city. Our Stay was very comfortable. Thankyou Meda!
Ringo
2016-11-28T00:00:00Z
Room Type
Entire home/apt
---
Property Type
Apartment
---
Accommodates
2
---
Bedrooms
Belgrade, Serbia, Serbia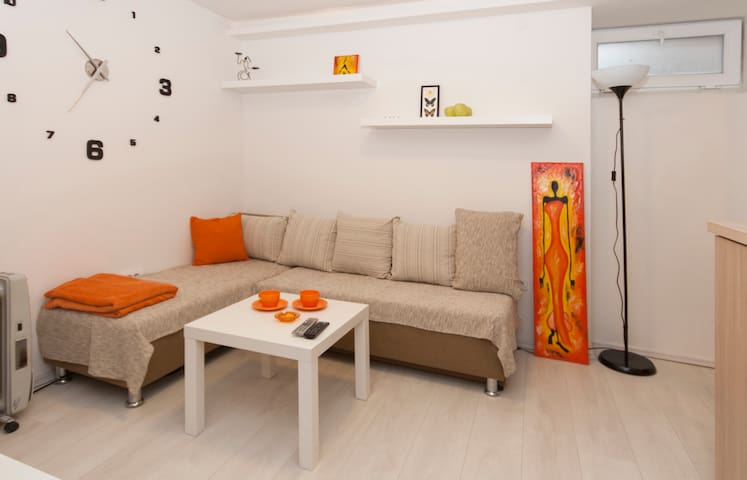 Newly renovated apartment in the very downtown of Belgrade. It is equipped with all the necessities for fully enjoyable stay. The apt is isolated and quiet (faces an inner courtyard). It is comfortable and easily suitable for two persons. Welcome! :)
Cozy and cute apartment in the very center of Belgrade! The entire place is completely renovated and equipped with new bed, kitchen, bathroom and toilet. Bed is comfortable, big and easily suitable for two persons. Kitchen is well equipped with modern and convenient furniture for your enjoyable stay. Bathroom is modern and practical. Free high speed WiFi is also available. We also provided other necessary fittings such as kettle, iron and hairdryer. Additionally, we supplied free town maps and tourist guides. In brief, absolutely everything you need for a pleasant and carefree stay is provided. The location is fantastic - only 5 minutes walk from the Serbian Parliament and 10 minutes from Republic Square and Terazije. The main pedestrian area (Knez Mihailova street), Bohemian Quarter and Kalemegdan Fortress are also very close. The apartment is isolated and quiet (faces an inner courtyard), and is exceptionally well connected with the rest of the city center. The public transportation and taxi station are also available near the building. Apartment is in perfectly clean condition at your arrival. Clean sheets, blankets, pillows, as well as fresh and clean towels are always at your disposal. In the case of longer stay, your laundry can be take care of for additional cost by arrangement. The hosts are young and responsible persons - we will give you every necessary information about the city of Belgrade and the sights you must see. We will point out interesting places to visit and give you answers to any questions you might have. If you have any additional inquiries, feel free to contact us. Hope to see you soon! :)
We did not get to meet Marija and Marko in person as they were out of town at the time but they did make every arrangement for our arrival so that we were welcomed to their apartment at the agreed time. The space was small but cozy, with all amenities that we needed, and in a good location. I experienced a bit of confusion on how the hot water heater required its own switch to be activated in order to warm the water. This would have been good to know about before attempting a shower. Other than that, the experience was quite good.
Marion
2014-10-03T00:00:00Z
This is a fantastic appartment for a great price. Massive thanks for the Serbian hospitality!
Pieter
2017-02-22T00:00:00Z
We had a great stay in Marija and Marko's apartment. It was clean and spacious for two. It is easy to find and in walking distance of central Belgrade. Marko also kindly registered our passports with the local police so we didn't have to. Thanks again.
Hayley
2015-05-10T00:00:00Z
My experience with Marija and Marko was incredibly seamless. The room was available even earlier than they planned, the apartment was right outside a tram line, and it was close to some great amenities! I've had some airbnbs with a ridiculous number of rules, but M&M were thorough--along with clean linens, a pdf with directions to the rental with corresponding pictures took the cake!--without being overbearing. They also have a professional cleaning lady in-between rentals to make sure everything is clean. It was like arriving at my own home! One of my best airbnb experiences by far.
Malaika
2016-09-04T00:00:00Z
Perfectly located, cosy and comfortable apartment and really kind hosts. many bars, cafes and restaurants in the area. We wished we could have stayed longer!
Daniela
2014-03-09T00:00:00Z
Great as always. Recommended. +++ :)
Slobodan
2015-06-09T00:00:00Z
Very good communication with hosts from the beginning throughout our stay. They were very helpful and welcoming. Place is easy to find according to their description and u find there everything necessary. In winter it was very warm. I liked breakfast in their kitchen - nice view on trees. Place nicely decorated and great location. Unfortunately we didnt meet them personally but they left plenty of material for us to study.
Silvia
2016-12-07T00:00:00Z
Marko and Marija are wonderful hosts! They were extremely helpful in helping us find the apartment. Marko was wonderful in welcoming us. He gave us a map and explained how to get around and even gave us recommendations for what to see. They even had little treats for us for our arrival. And the kitchen was stocked with teas and coffee for our use. Both Marija and Marko were nice enough to even message us during our stay with Vegeterian food options! The apartment is centrally located and has everything you would need for a stay in Belgrade. We had a wonderful time and felt at home in this cozy little apartment. Definitely would recommend for anyone looking for something cozy with all the essential needs for a wonderful weekend getaway. Thanks M&M! :)
Clau
2014-11-10T00:00:00Z
Room Type
Entire home/apt
---
Property Type
Apartment
---
Accommodates
2
---
Bedrooms
Belgrade, Serbia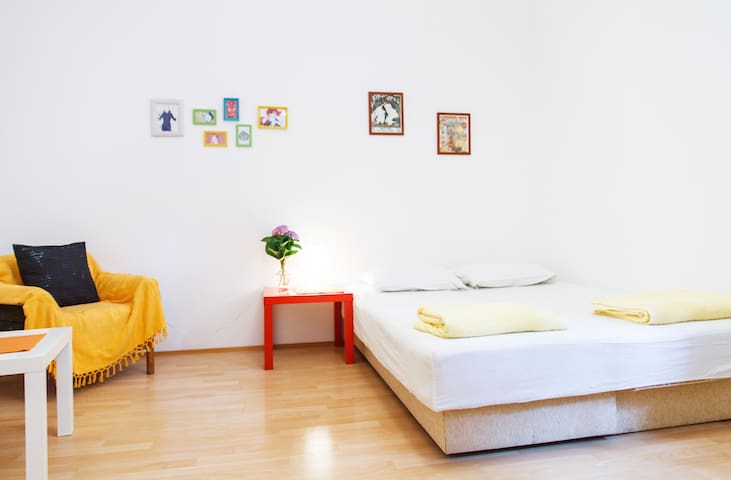 Conveniently located and nicely furnished flat in historical part of the city. Ideally located for exploring well known, but also the hidden gems of Belgrade. It's comfortable for two persons, and was recently renovated.
Completely renovated studio in central area of Belgrade. The Bed is big and comfortable for two persons. Bathroom is modern and practical, nicely designed and most important - clean. Kitchen, although very small, is equipped with everything you need for your stay. The whole apartment is furnished like a minimalist hotel apartment.
The apartment is located in the quiet street in Belgrade center, but very near the best Belgrade nightlife spots and almost every major tourist attraction in Belgrade is within the walking distance(Bohemian Quarter, Kalemegdan Fortress, Savamala Republic Square...). For more info, you can check my guidebook on this site.
the apartment is located in a quiet area in walking distance to downtown. it was clean, the bed was comfy and it had all you'd need. Ana and her husband were very accommodating, they even ordered me a cab to get to the airport early in the morning. perfect spot for breakfast: kafeterija on zorza klemansoa.
Eva
2016-10-11T00:00:00Z
My stay at Ana and her husband was great. Ana replied quickly before arrival, and her husband met me by the door. Apartment is just like the photos, small, but very comfertable. Theres not alot of kitchen supplies, but personally I go out to eat for every meal in Belgrade, and theres many bakeries around for fresh pitas in the morning. I would love to stay here again.
Maria Jelena
2016-10-19T00:00:00Z
Amazing place at a great location. I will come againg definitely.
Luka
2015-12-18T00:00:00Z
The appartment is beautifully furnitured in every little detail. I felt at home immediately also by the warm welcpome by Ana. Very close to the city centre and a large open market place the setting is perfect.
Frank
2014-11-01T00:00:00Z
Very fresh and nice apartment! The location is perfect, close to the best parts of Belgrade :) And Ana is so helpful!
Claudia
2016-05-31T00:00:00Z
Small but really functional studio apt. Everything you need for a short stay in the city, better than a hotel room. The apt was nicely designed, clean and reflected the description. It's also in a really charming location
Jan
2016-09-17T00:00:00Z
Amazing location & amazing studio. Ana is great and helpful :) we had so much fun, we're hoping to visit Belgrade anytime soon
Isabella
2014-03-31T00:00:00Z
The apartment was exactly like shown on the photos, very clean and spacious. Ana made everything in her powers to have a nice stay. P.S. The bakery that Ana recommends nearby is just perfect, the best we visited during our trip :)
Karina
2016-07-30T00:00:00Z
Room Type
Entire home/apt
---
Property Type
Apartment
---
Accommodates
2
---
Bedrooms
Belgrade, Serbia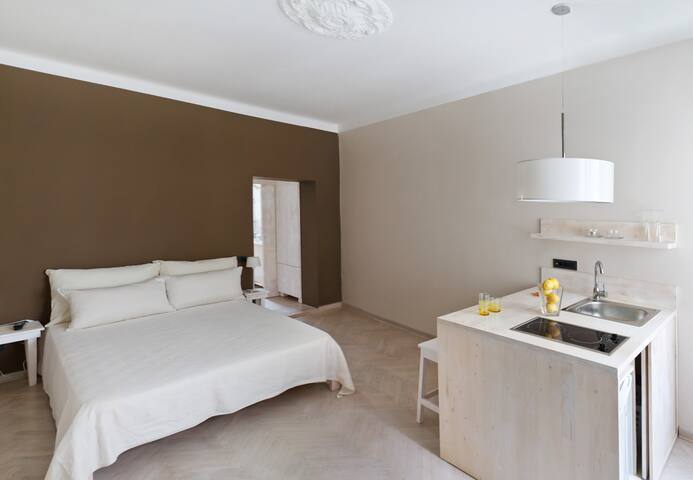 Located in the liveliest square in Belgrade, this studio is a short walk away from all the downtown attractions, as well as the river and the clubbing district Savamala. The interior is young & fresh, perfect for those who need a cosy place to rest.
This charming little studio for two is located right in the center of the city, in one of the busiest squares, so as soon as you reach it you will be able to breathe in the true atmosphere of Belgrade! Its location is perfect for the curious travellers who want to learn as much as possible about our city, because everything is close by. Whether you wish to explore the art-nouveau architecture of Terazije, with its stunning hotel Moskva, have breakfast and coffee with the Belgraders in Obilicev Venac or in one of the trendy restaurants on the river front, or go dancing until the morning in the hip clubs of the Savamala or the famous Belgrade floating bars on the river - you will be pleased to find that all of it is within a short walk away! You will never need to use a bus or a taxi to move around town. And just across the street, as a bonus, you can enjoy a walk through Belgrade's oldest green market, Zeleni Venac, where you can see and taste local food that will generously be offered to you by the farmers. On the third floor of an elegant 1930s building, far away from the city noises, you will find just what you need to get a good rest after a long day (and night) of exploring and fun around the city. Studio 24 is a 24 square meters apartment, just enough to fit everything you will need during your stay! It has also just been renovated, so everything in there is brand new. The space is divided between a bedroom with parquet floor and the kitchen with original stone floor that you will find throughout the building. Everything has been spruced-up with a mid-century charm, completed with modern art works and original features: the chevron pattern wall paper and the industrial metal kitchen chairs, the pale colours and the artsy wall tiles create a pleasant and relaxing atmosphere for you to have breakfast in, and the white bathroom with a roomy shower space will energize you before heading out for another adventurous day! But remember, if you're tired and just want to stay in, the bed is comfortable, the kitchen is fully equipped, and there is even a small terrace where you can have a cup of coffee or tea as well as a night cap, or smoke a cigarette if you wish to.
What's happening in Belgrade? You can be the first to know if you just step out the door! Down there below you is a city full of people rushing to get to their daily chores or a fun evening out. All the attractions of the Belgrade downtown are right there: the beautiful buildings on Terazije street, Hotel Moskva - one of Belgrade's landmarks, the main square Trg Republike, the pedestrian Knez Mihajlova street, the museums, the bars, the restaurants, the shops... All you need to do is step outside the building, and you will immediately find yourself right in the center of the action! Across the street is Belgrade's oldest green market, full of charm and authentic food for you to taste - make sure to visit it! Within 3 minutes walk, you can reach Terazije, one of the most beautiful streets in Belgrade, where you can enjoy the city's architecture and sights: the Town Hall, the Presidential Palace and the beautiful Hotel Moskva (that also offers the most delicious desserts in their stunning cafeteria - treat yourselves!). If you're up for shopping, you will find some of the most exclusive stores here, and in the pedestrian Knez Mihajlova street which is also minutes away. Make sure to ask about the "secret" passage, that will take you from your building right to Trg Republike - the city's main square! ;) If you go down the road instead, within a few minutes walk is Branko's Bridge, where all the night action takes place! If you just go down the stairs of the bridge, you will find yourself right in the center of the Savamala district, a paradise for the young crowds. It is packed with bars and clubs where you can wait for the sun to rise over tha Sava river. The original setting of the Belgrade alternative scene is given by the early 1900s industrial buildings with painted murals and graffiti. Or, you can cross the bridge, and choose the more mainstream floating clubs on the river. And if you stick around the area until breakfast time, you can hop to Beton Hala, in the Belgrade Port - one of Belgraders' favourite places for a morning stroll along the river or a long breakfast in one of the trendy restaurants located there. Remember, you will never stay hungry in this area, day or night! It is packed with all sorts of fast food places from Zeleni Venac to Trg Republike. You can have breakfast or a late night snack indulging in famous Serbian baked goods sold in Pekara (there is one on the same sidewalk as your building), or you can have local burgers next to the green market. The restaurants in Skadarlija are a 10 minute walk away! Down in Savamala, you can find homemade sausage stands, or a slice of pizza... And 5 minutes away from the apartment, there is a supermarket open until 11 pm. For more information, check out my local recommendations guidebook on my "Stylish Downtown Oasis" listing!
Everything was good!
Bruna
2016-11-29T00:00:00Z
There is pros and cons. Place don't have a sight. It's sometimes noisy because of the the other guests. Wifi is very week and hot water is not enough for two. Also place is not very warm because Belgrade is very cold. Sometimes very very bad smells coming from the bathroom. But at the end it's ok and fair with the price. Last thing they are very nice hosts.
Hatice
2016-12-19T00:00:00Z
Really good apartment!
Γιωργος
2016-05-01T00:00:00Z
We had a great stay at Jana's place. The apartment was clean and tidy and had everything we needed! The location was perfect too, highly recommend!
Mikaela
2016-09-09T00:00:00Z
Apartment is great! Clean, comfy, has everything you need, great location, close to the center, river, nightlife.. I would definitely recommend it.
Ivan
2016-06-07T00:00:00Z
It's very clean and very very close to centre. Jelana is very kind.
Oğuz
2016-09-21T00:00:00Z
The flat is very comfortable and clean. It has enough space for two people. It has all the suplies you need. It's litteraly right in the city center just a few minutes away from the famous landmarks. We visit in January so it was a little bit cold altough it has heater. You can smell a little bit humidity in the bathroom but it doesn't bother you so much. It's on the 3rd floor and no lift. Jana's mother met us in the apartment, she was very helpful.
Kerem
2017-01-22T00:00:00Z
I would totally stay here again!! Jana and her mother were very informative and prompt in their communication...very close to shopping restaurants and local bus system..clean and neat...and you get a lovely workout every time you walk up the 3flights of stairs...very good value
Cecilia
2017-03-07T00:00:00Z
Room Type
Entire home/apt
---
Property Type
Apartment
---
Accommodates
2
---
Bedrooms
Belgrade, City of Belgrade, Serbia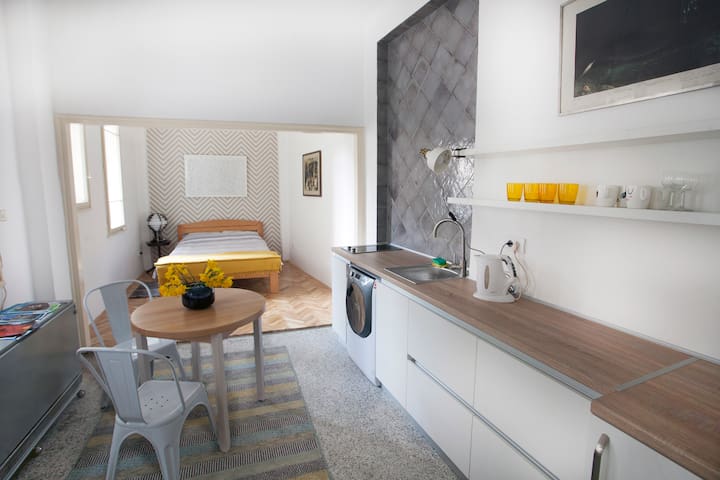 *I can offer shuttle service for my guests from airport to apartment and back for better price than taxi companies. Just let me know if you need drive... *Also i can organize you driver and car or a van for travelling from Belgrade to other destinations in Serbia... just let me know in front.
We are in the heart of bohemian Belgrade in center of all the sights and tourist attractions of this beautiful city. Apartment is on the first floor, spacious, comfortable ... we are in Skadarska street, it means in hart of Belgrade and just a few steps to Knez Mihajlova, to Kalemegdan, port of Belgrade...restorants so in few steps you will see and experience why everybody love Belgrade 24h considering that we are in the city center, guests can use multiple types of public transportation.
The charm of old Belgrade... To discover the secret of Belgrade, you must go deeper in its heart, where possible and impossible meet, where everything is allowed, in the quarter which you will not want to leave and where you can always come back, the bohemian skadarska street...
Thanks to Ilija. He helped us about the city and his apartment was really good and comfortable.
Aygün
2016-02-15T00:00:00Z
The apartment was superb, the perfect location and everything we couldn't wish. Ilija was the most generous and caring host. I'm sure I'll come back!.
Juanma
2016-10-16T00:00:00Z
Comfortable apartment with walking distance to the center. Ilija was kind, helpful and full of good tips on how to have good time in Belgrade. Highly recommended!
Ena
2015-11-22T00:00:00Z
We really enjoyed Belgrade and Ilja's apartment. When we arrived he was so kind and told us all about what we should see and visit during our stay. Communication was great. Also the apartment was ideally situated right in the middle of the bohemian quarter with lots of restaurants and bars nearby. The city center was just a quick walk away. I would warmly recommend staying at Ilja's place!
Dina
2016-08-02T00:00:00Z
Ilija is the perfect host. The rooms were huge and everything was better than we expected. The best location in Belgrade! Matěj Blahůt
Matej
2017-03-06T00:00:00Z
Very friendly as promised.. the place was very comfortable .. the host was very helpful.. I would stay here again
Erik
2015-06-15T00:00:00Z
perfect location, nice and cozy apartment. follow ilija's tips and advices. beograd is a great city. sure we will visit again.
Burak
2016-06-09T00:00:00Z
Ilija and I had communicated via Viber prior to our arrival and made arrangements which worked out perfectly. He met us at the apartment and gave us the grand tour! The unit is very chic and comfortable and was great for our family of five as everyone had a bed, which were comfortable. We were only here for two days so we had no real need to utilize the kitchen. Bath is updated. Wifi is great and there is a television in the living area, too. Location is tremendous for access to city center and of course the sights and sounds of Skadarlija. Do know that you will hear the music well into the early morning hours so if rest is your priority this may not be the best apartment for you. Then again, if you're in Belgrade you shouldn't be resting! Will stay here again when we return to BEG! Thanks Ilija!
Bob
2015-06-22T00:00:00Z
Room Type
Entire home/apt
---
Property Type
Apartment
---
Accommodates
6
---
Bedrooms
Belgrade, City of Belgrade, Serbia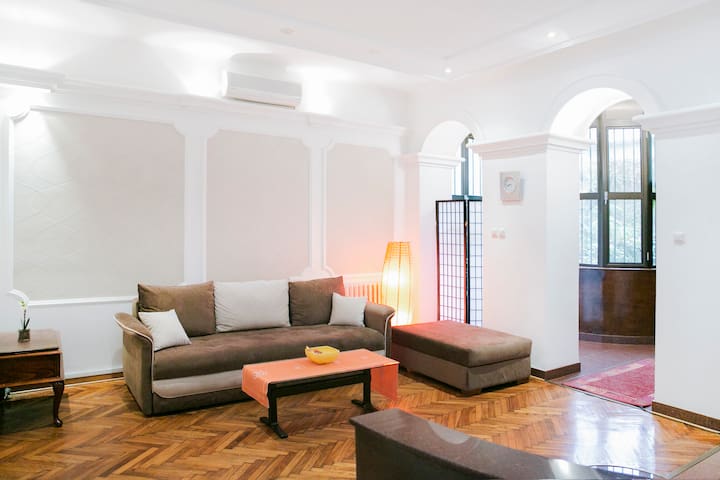 I would like to welcome you to my Apartment Sasha. My place is located in the historical heart of Belgrade, close to great views, river, restaurants and dining, and nightlife. You'll love my place because of the perfect location, the ambiance, the neighborhood, the light, and also because of the small terrace overlooking one of the oldest street in the city. My place is good for couples, solo adventurers, and business travelers. Enjoy :)
a very nice flat, it will be perfect when work at the pedestrian street finishes
Stathis
2017-04-04T00:00:00Z
Great location, adorable place.
Ashleigh
2017-03-03T00:00:00Z
Really nicely decorated, great welcome and advice from Iva. Would highly recommend!
Emma-Louise
2017-03-06T00:00:00Z
Apartment Sasha is just perfectly located in the most charming part of the old town. You can reach all of important (sightseeing) places, within walking distance and if you tend to enjoy gastronomic offer or night life, some of the most famous restaurants and clubs are actually surrounding the neighborhood. The most enjoyable thing is that within 3 minutes you can find yourself ether in the main shopping street in the Belgrade or banks of the river for a great walks. Flat is small enough to feel warm and cozy, and just big enough to give all the necessities for pleasant staying. Clean, neat, well decorated, thoughtfully equipped with literary everything you might need. Iva was nice, friendly, reachable and ready to help.
Mali
2017-02-12T00:00:00Z
Iva's apartment is great: super cosy, located in the city center and very charming. I definitely suggest this Airbnb!
Pierre
2017-02-19T00:00:00Z
I stayed at Iva's place while on a short business trip to Belgrade. It is everything I expected and needed to have in a home away from home. The apartment is beautiful, refurbished and decorated with much taste (I especially liked the paintings and pending lights), with much natural light and excellently equipped with everything you may (and may not) need. The bed is a dream! The bathroom and the kitchenette are small, but very functional. The apartment is centrally located, 5 minutes from the city's main shopping street and very close to many historic landmarks, as well as to the River Sava promenade and the Kalemegdan Park. The grocery, newsstand and bakery are 100 meters away from the apartment. I highly recommend it to all business, as well as leisure travellers – it really felt like home!
olja
2017-02-08T00:00:00Z
Iva's apartment is fantastic! I had friends from Norway visiting Belgrade for the first time and it was important to have their accommodation in the city center- and location of apt is in very city center: 3 minutes walk to pedestrian street and short walking distance to most of city's place of interest. Apartment itself is perfect: clean, so cute, with a nice little terrace, and decorated so nice and cute you have a feeling you are at your home. It contains all the things you might need for short or even longer stay- fully equipped kitchen, nice bathroom and great living room with interesting decorations. Price is more than fair for what you get. And communication with Iva went so smooth and fine! I would absolutely recommend this apartment and will keep it in mind when i have friends visiting Belgrade next time! Highly recommend!
Lana
2017-02-04T00:00:00Z
She is lovely and she warned use beforehand about the renovation that is going to take place during our visit in case we want to cancel our reservation. This apartment is really in the city center so it was possible to just walk everywhere
Ege
2017-03-20T00:00:00Z
Room Type
Entire home/apt
---
Property Type
Apartment
---
Accommodates
2
---
Bedrooms
Belgrade, City of Belgrade, Serbia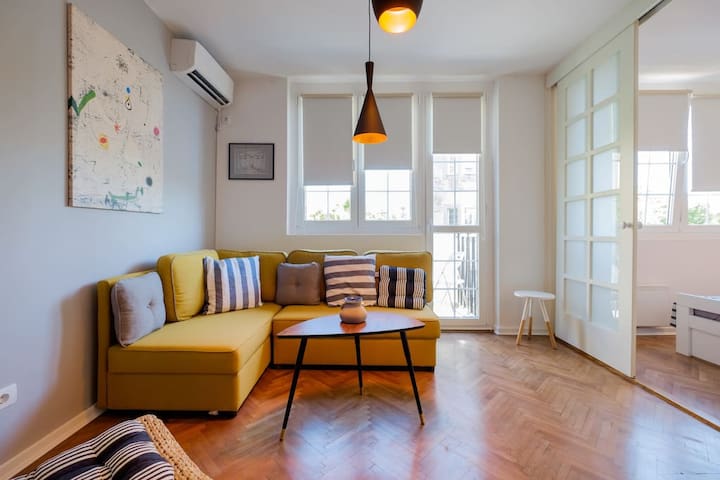 New bright apartment in very center of Belgrade. Great location because you would not need any transport cause everything is near( theatre , squares, bars . Building is renovated in 2014, with old fashion architecture , and lovely neighborhood .
This is very nice and bright apartment , with new furnish, with beautiful look on street and back of the building.Very calm and cosy (URL HIDDEN) have nice indoor terrace , where you will love to drink morning coffee, living room with sofa bed that you can open in bed for two , sleeping room is with king size bed ( 200 x 160), kitchen and bathroom
Location is very comfortable because all tourist attraction are on walking distance , (one minute to Parliament , five minutes to "Knez Mihailova" street or "Skadarlija" bohemian part )
Great place, exactly like is it on pictures. It is on very good location, and the host is very friendly. I was very satisfied.
Bato
2016-08-15T00:00:00Z
Andrej's place is lovely and very well situated in a calm and friendly central neighbourhood in the heart of Belgrade. It's an excellent choice if you came for tourism or just for the party, with your family or with friends. Andrej himself is an exceptional host who made it possible for us to feel both - the apartment and the city - like home. I highly recommend Andrej's place and I'm sure that everyone's going to love it!
Tsvetina
2016-06-14T00:00:00Z
Andrej was a very helpful host! The apartment is clean and modern. The location is great, everything is really close. The communication was easy. It was a nice stay in Belgrade!
Laura
2016-10-19T00:00:00Z
Everything was great. Since the pick up in the airport till the moment to leave. Andrej was very attentive and he was very kind to us. He gave us great tips to visit some places, including those off-mainstream. The place is quite comfortable, with a lot of light, very clean, close to many interesting places and super fast wifi internet. We felt like at home and we'd repeat for sure.
David
2016-09-27T00:00:00Z
We had a really good stay, our bed was super comfortable, the rooms were really beautiful, and the apartment is very nice. Our host Andrej were kind & friendly, although we saw him just only while check in! The area is perfect, very close to Touristic Center, wonderful people, taste and cheap cofee and some of the best food we've eaten this trip. Easy access to public transit and public parks. What a nice spot! I totally recommend staying here.
Yura
2016-05-08T00:00:00Z
The location is great, the flat is clean and well managed. Andrej lives very close and was very helpful and quick to respond to emails at all times. The flat is lovely and has everything you may need. The only thing missing were hangers in the wardrobe - a small detail that can be easily fixed. The only problem we experienced was noise from the nearby bar, right in front of the bedroom window. This happened one out of three nights, so maybe we were just unlucky that someone was having a party that evening. The rest of the time it was peaceful and quiet. All in all - I would recommend the flat to anyone wishing to be based in central Belgrade, a moment's walk from most interesting/important spots.
Lina
2015-08-22T00:00:00Z
This is a really nice place right where you want to be in Belgrade. I was there for a weekend and have only positive things to say! I lived in Belgrade a few years ago and this is definitely the neighborhood to stay in - close to everything, but on a quieter street. Andrej was very easy to communicate with and always replied quickly. The place has everything you need and was very clean and well organized. Overall highly recommended.
Kent
2015-11-16T00:00:00Z
This apartment is really nice. Located in the center of Belgrade, it's very good equipped, clean and very comfortable. Everything is in like-new condition, the internet and AC works perfect for working long hours inside as well. Andrej was a very helpful host, even while I had a short three day stay he was always available to help. Thanks!
Edward
2015-09-03T00:00:00Z
Room Type
Entire home/apt
---
Property Type
Apartment
---
Accommodates
4
---
Bedrooms
Belgrade, Serbia, Serbia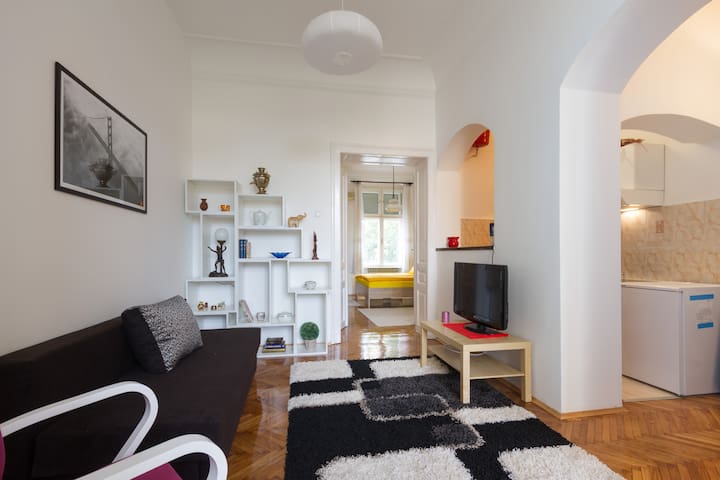 A private room in a wonderful apartment situated at a 25 min by public transport from Belgrade center. Public transport, shopping and Serbian green market around the corner. My beautiful apartment has everything to make you feel you live here! We welcome you with our warm hospitality.
Don't just visit Belgrade! Why wouldn't you live in Belgrade, live like a local? We don't want to make you feel like home. There's no place like home. But, we will make you feel you belong here. And the home is where you belong. You will be welcomed as a guest and will depart as a friend. Our home is tucked in a nice block, close to most exclusive part of Belgrade, Dedinje. Peaceful, safe and quiet, virtually traffic-free, with lots of fresh air. It is triple-oriented and filled with natural light. You can use private parking lot in front of the building free of charge. You will find public transport and various shopping opportunities and weekly super fresh fruit and vegetables markets just around the corner! It is 100m² / 1076 ft² and air-conditioned. It has 4 bedrooms, and common areas: a spacious living room with cable TV (international channels), with dining room, kitchen and balcony next to it. Another TV in matrimonial bedroom. Free & limitless Wifi is also available. The kitchen is fully equipped and has an oven, big fridge, and microwave. You can cook Serbian and international dishes with the products from the nearby markets and stores and enjoy your morning coffee at the balcony with view to the beautiful green hill and to the creek! Bathroom is equipped with large bathtub and natural ventilation. In the upper bathroom you will find a comfortable shower. You'll be provided with hair-dryer and beach towels. In the spacious living there is a sofa that can be transformed to beds for 2 adults and 2 children. It is a very clean, hospitable Serbian home with a lot of amenities for a price not even close you'd be offered in a hotel. A perfect base for collecting unforgettable nice memories and wonderful friendships, rather than in a hostel. Smoking is only allowed at the balcony. For electricity & water we kindly ask you to leave 1€ per day per room, prior to departure. For longer stays we count the electricity and water bills' price. We're sure that you will feel you belong here. Enjoy your staying with us.
Located in nice area and about 25 minutes to the city center by public transport. There is a weekly market with super fresh veggies and fruits that will make you happy:) and many stores that can foresee you with all you need. We provide all our guests with nice tips about the surroundings and are available for any questions about the house or the place.
Very nice apartemnt! modern,clean, full of light and sun.l enjoied the time when l was living in this apartement!very good situated-not in the center,where usualy many peaple,many trafic, but in the same time it's very beautiful part of the city-green zone,clean air,beautiful (URL HIDDEN) the apartement you will find everithing that you need,everithing is made very comfortable for living. Tamara and Gojko are very kind and simpatic persons, ready to help in all situation.l was very glad to know them!thank's a lot for everithing!!!!
Iuliia
2015-12-27T00:00:00Z
I spent three incredible months in Belgrade. Living in Gojko and Tamara's lovely apartment was a huge part of making my time there so memorable. You couldn't ask for better hosts, they were super friendly, helpful, insanely informative, quick to fix any issues (of which there were very few) and a credit to the stellar reputation of Serbian Hospitality. I had two large pieces of luggage so Gojko picked me up from the airport and took me immediately to register, purchase my transport ticket, groceries and point out important land marks for tram lines etc. I liked him straight away, easy going, genuinely interested in my travels and my hometown, film lover like myself, just a really good dude. Tamara is equally as awesome, met her for the first time when they invited the long term tenants to a beautiful Serbian meal (which I was lucky enough to enjoy several times during my stay, Konoba Akustik for life!). Just a really lovely couple all round. The apartment was everything I wanted, well furnished, plenty of nature close by, outside of the noise of the big city but walking distance to all transport and food. I was in the downstairs room and the heating is great, the internet is fast and reliable (important if you're working from home) and the sunsets from the balcony or the kitchen window are stunning. The neighbours are very quiet, either that or the soundproofing is great, I hardly saw or heard any of them the whole time. It's just a nice peaceful place and it genuinely felt like home by the end. One of the best things though was that, for whatever reason, the apartment attracted really sweet and chilled out people and I got along with all the fellow guests really effortlessly. If you're a fairly self sufficient traveller and are looking for a nice quiet space in this wonderful city I can absolutely recommend this apartment, you'll be hard pressed to find better value in Belgrade. Thanks again Gojko & Tamara, see you next year guys (Or maybe in Samoa!)
Rocko
2015-12-01T00:00:00Z
This place was amazing, the view was picturesque, the host's were very kind and helpful from the start of the booking till even after it had commenced. The trip to the center was easy with many options to get there. I would highly recommend this place to anyone who is intending to stay in Belgrade.
David
2016-05-21T00:00:00Z
I would like to say thank you for everything.i can recommend for all good people
Israfil
2016-10-11T00:00:00Z
The apartment was just as advertised -- a lovely apartment in beautiful, serene surroundings. It is at the outskirts of the city with a great view of the forested hills but it is also well connected with the city center (takes about 25 mins). Tamara and Gojko were extremely helpful both before and during my stay, and they even provided me with a little welcome basket of serbian apples upon my arrival, which was really sweet. It is clear that they are not doing it for the money but rather with a lot of heart, so if you are looking for a peaceful place to stay with truly lovely hosts, then I very highly recommend staying here!
Carmen
2016-06-07T00:00:00Z
I stayed for two weeks at Tamara's and Gojko's. It is a very beautiful flat, everything is quite like at the pictures. There is everything you will need, from washing machine to corkscrew. The view is really astounding and the neighbourhood is quiet and safe. You live there almost like on the countryside, but still close to the city. I had a language course at the university and had to leave home about 1 hour/45 min before it started to be in time. There is a walk to the tram/bus/trolleybus - station (and lots of shops, supermarkets and everything you need) of about ten minutes, and then there are plenty of busses etc all going to the center, so it's really good connected. I loved going by bus and get in contact to people just as I was really living in Belgrade. For the tourist thing I'd think it is better to stay somewhere closer to the center, but if you want to live in Belgrade like a local and have a really high living standard at the same time, really close to western standards, which is still not to be taken as a matter of course in Serbia, than I recommend staying at this beautiful and affordable flat! When I was there, there were 2 other long-term guests with whom I shared the flat, and Tamara and Gojko did really make an effort to assure that everyone has a good time. When there was an issue, they solved it in about minutes and gave lots of very helpful information on surroundings etc.., which you'd never get on your own as a stranger. When I'll come back to Belgrade, I'd definitely book there again!
Nora
2016-03-20T00:00:00Z
Made to feel very welcome. Recommended to all who go to Belgrade!
John
2016-04-17T00:00:00Z
This was another great visit at my home-away-from-home. Tamara and Gojko do a fantastic job of hosting interesting guests, and I always appreciate the effort they go to, to ensure we are comfortable.
Tricia
2016-10-07T00:00:00Z
Room Type
Private room
---
Property Type
Apartment
---
Accommodates
1
---
Bedrooms
Belgrade, Serbia, Serbia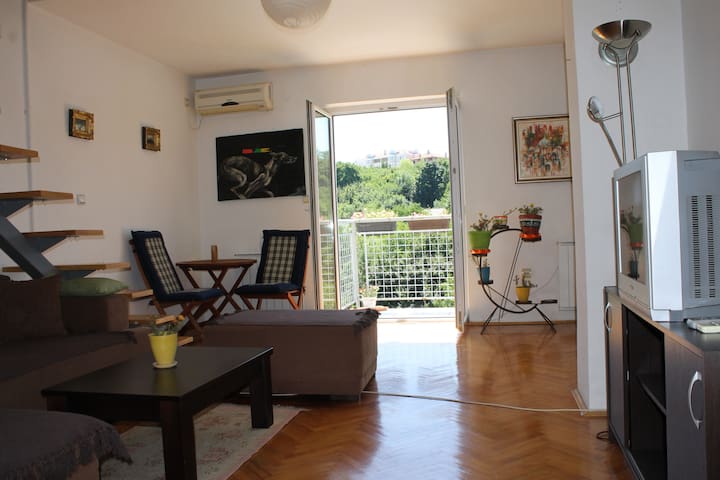 Cottage is freshly renovated, designed by us, and located in unique garden where you will always find your privacy and your special place to enjoy your time, surrounded by old trees, and the smell of flowers. You can enjoy your morning coffee:)
Dear travellers Welcome to Belgrade! We would be happy to accommodate you in our beautiful and sunny 1 room flat for rent in the popular neighborhood of Vracar, 15 minutes by walk from city center. Tastefully furnished apartment area 28 square meters and beautiful terrace area 20 square meters. Apartment is duplex consists: dinning room, equipped kitchen, small bathroom with shower and bedroom (double bed and single sofa bed). In the apartment you have radio, cable TV, computer, free internet access, AC, central heating. All linen and towles are supplied. If you are going to stay longer then 7 days the bed and bath linen iare changed once a week, also cleaning service is available once a week. The flat is located in a quiet street abounding with restaurants, caffes, hidden bars, famous clubs and street markets. A short walk will bring you to the all city sites. For our guests we can provide parking place for free in front of the apartment. You have access to 3 bicycles, to tour the bike friendly streets and neighborhoods of Belgrade. Save some money on transportation and see more of the city. We can also provide you a car for 20 Eur per day. Can also offer you variety excursions in Belgrade and over Serbia. Thanks to our guest's reviews we have be able to improve the quality of our service Nikoleta & Dejan
Everything was great! Lovely place not far from downtown.
Kiril
2017-01-31T00:00:00Z
Amazing place and amazing people. Huge recommendation!
Marko
2017-02-25T00:00:00Z
Great hosts! This is my second stay and I look forward to visiting Nikoleta and Dejan again.
Dragan
2017-03-26T00:00:00Z
Nikoleta and Dejan were very nice and always helpful. We didn't ask for their tour guide services, but definitely would, if we go back to Belgrade.
Matthias
2015-09-13T00:00:00Z
We were in Belgrad for the first time from 29/07/13 till 01/08/13. We liked everything! It was warm (even hot), interesting, tasty Улыбка and funny! Many thanks to Nikoleta & Dejan for apartment. Their flat is wonderful nice and clean, located in the central part of the city. The room is small, but it is stylish and made with love. It was nice to find yourself in the shade of the terrace.. you know, after a hot day. Air conditioning also worked good... what is really important when it's +40 outside. There was also set of dishes and washing accessories (small but useful), which is very important for the tourist. Nikoleta & Dejan are very nice and open guys! We talked a little, but it was great! We hope to visit once again this wonderful city and country!
Vika
2013-08-02T00:00:00Z
Nikoleta and Dejan were the best hosts we could have imagined! They are simply nice, guest-friendly and humble people. The Apartment is very kozy, central in probably the best part of Belgrade. I definitely recommend anyone to stay with Nikoleta and Dejan. We spent some quality time there with good conversations and felt very welcome
David
2014-08-24T00:00:00Z
Nikoleta is very kind and informative, she gave us lots of information on where to go and what to see, also the best places to eat. I would recommend staying in this beautiful little house to anyone.
Tom
2015-04-23T00:00:00Z
Our host was amazingly helpful and really made our stay in Belgrade excellent!
Sharon
2016-06-26T00:00:00Z
Room Type
Entire home/apt
---
Property Type
Apartment
---
Accommodates
3
---
Bedrooms
Belgrade, Central Serbia, Serbia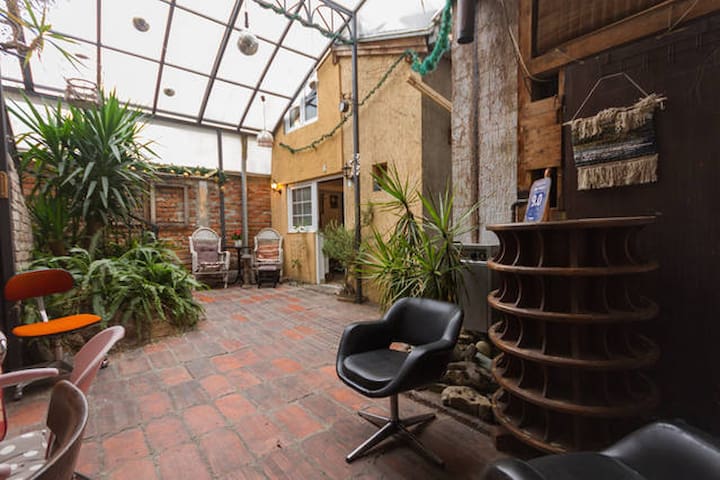 Very nice brend new ( 2014) apt. located in the best part of downtown (very centar) of Belgrade across famous Yugoslav Drama Theatre overlooking beautiful park Manjez. This is definitely very good location for somebody staying in Belgrade.
Top quality finishes as well as eqipment in the apartment. Style of the apartment can be described as stylish and modern with influances of old architectural style ( high ceeling and old vintage glass doors) The apartment consist of : 1 Private bedroom with french style bed (for two) and 1 Living room with pull out sofa bed ( for two) . Kitchen and bathroom are fully equipped. (You will find everything that you need in kitchen, for making your own meal, so you can feel like you are at your home) The apartment has air condition. wi-fi, cable TV. During the week apartment can be booked for one night Guests can access the entire apartment and nobody will be present in apartment during your stay. PUBLIC GARAGE for parking is nearby ( 2 minutes) Any kind of advice or recommendations for what to do and where to go in Belgrade I will be happy to assist you. I can provide information to my guest about city (events, parties, restaurants and etc. I HAVE ANOTHER APARTMENT AT THE SAME FLOOR AND THE SAME BUILDING, WHICH CAN ACCOMMODATE 6 GUESTS, SO COULD BE SUITABLE FOR BIGGER GROUP THAT WANT TO BE TOGETHER OR TWO COUPLES THAT WANT TO TAKE TWO APARTMENTS. This is definitely very good location for somebody staying in Belgrade, this area is close to good grocery stores, restaurants, bars, clubs but also close to museums, historical buildings, fortress, parks, etc. You are in downtown area (very center) but across beautiful and charming park Manjez. You don't need to worry about public transportation because everything is walking distance (few minutes away) from your apartment, But if you want to go outside of downtown core, transportation is nearby. 2 min away from busses,trams and trolley During the week apartment can be booked for one night, just ask!!
This is definitely very good location for somebody staying in Belgrade, this area is close to good grocery stores, restaurants, bars, clubs but also close to museums, historical buildings, fortress, parks, etc. You are in downtown area (very center) but across beautiful and charming park Manjez. You don't need to worry about public transportation because everything is walking distance (few minutes away) from your apartment, But if you want to go outside of downtown core, transportation is nearby.
The apartement was very lovely, clean, warm and comfortable!! Vlad was a gread host as he provided us with a lot of recommendations for Belgrade and he even replaced the broken hair-blower on a sunday! My friend and I couldn't wish for a better place, very recommended! Thank you Vlad! :-)
Jeannine
2015-11-25T00:00:00Z
Thanku you, Vlada. Me and my girlfriend had a fantastic time. The location was as described and you where helpful with recommendations. Strongly recommend thins apartment and Vlada as a host!
Eirik
2017-04-05T00:00:00Z
Flat was very nice, clean, right in the center. Vlad was helpful, he gave us lot of tips for Beograd. Highly recommended
Rastislav
2015-11-09T00:00:00Z
Nice place in a nice neighborhood. Everything was great and as described.
Damjan
2014-12-18T00:00:00Z
We spend a great time at Vlada's place!! Belgrado is an amazing city!! Vlada's was an excellent host, always available for our needs and at every moment making sure to help us and making us feel welcome to his city. The department is cozy, beautiful and excellent located!! The neighborhood is great and you can find everything you need at any time!! You have a 24hs supermarket across the street. You can go walking everywhere from the apartment. The place is bigger than it seems to be in the pictures, is nicely decorated and has everything you need to feel comfortable. I highly recommend this place to stay in Belgrado!!
Veronica
2016-09-19T00:00:00Z
This is the second time I stay in one of Vladas apartments and as always it is truly a pleasure. The apartment is very nice, clean and spacious, bright and sunny. The park just outside the apartment is really cute and the neighbourhood is call (not much traffic), close to nice bars and restaurants. Valda himself is super nice and very welcoming, I highly reccomend staying in his apartment.
Helena
2015-05-11T00:00:00Z
The apartment is very comfortable for staying of three people, nice, clean. Situated in the city centre in green and calm area. There are a lot of cafes around and it's close to railway station if u're planing to travel somewhere from Belgrade. Vlad is good host, who gave all details to find a place, also answered soon for questions. I could recommend this place for staying.
Siarhei
2015-07-02T00:00:00Z
Nice and clean apartment in central Belgrade for a good price with a helpful host.
Dalma
2014-10-27T00:00:00Z
Room Type
Entire home/apt
---
Property Type
Apartment
---
Accommodates
4
---
Bedrooms
Belgrade, Serbia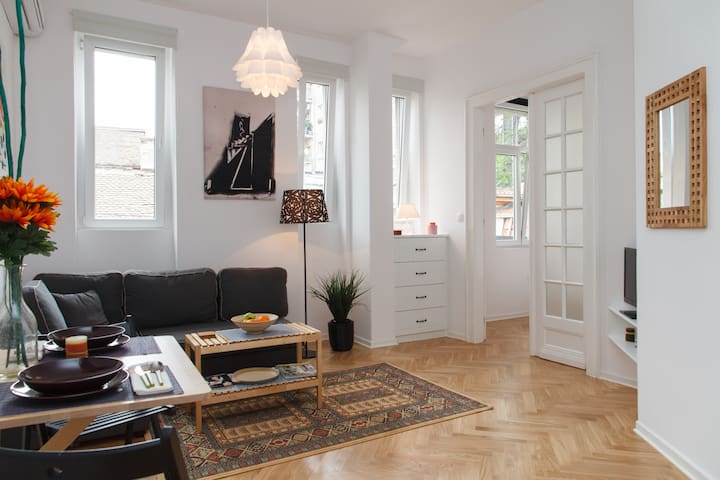 Chic, romantic and apartment for three , located in the center of Belgrade, the oldest part of Dorcol neighborhood, near the river bank !
Romantic, cosy and clean apartment, located in the center of Belgrade, the oldest part of Dorcol neighborhood . It's only 15minutes away from the histroical part of Belgrade, medieval fortress and park -Kalemegdan and pedestrian zone Knez Mihailova street, museums, gallerias, Belgrade zoo- 5minutes, famous bars and resturants and great night life -street Strahinjica bana, so called "Siliicon Valley"- 5 minutes on foot, and river bank of the Danube river, sports center, bicycle track and with a lot of floating water bars and restaurants- about 5-7 minutes on foot. In our closest neighborhood, you can find all the necessary items for comfortable stay in Belgrade - , cafes, supermarket, fast food corners, bakery shop, exchange office, banks, ATM machines, pharmacy shop and post office! Dorcol chic apartment has 2 sofa beds( (160x200)cm and small one (100x195)cm) and fully equipped kitchen and one bathroom. Clean bed linen and towels are provided! Also parking place is private (parking for people who live in my building), not on the street and free ! All necessary information, directions and maps we will provide you during your stay. If you have any questions, please feel free to ask us!
Dorcol is one of the oldest part of Belgrade!It is still the trendiest city location for good night life. You can choose between Skadarlija and Strahinjića bana Street, which represent contrast between old and new, traditional and modern age!The vicinity of the Danube river makes lower Dorcol more attractive and the Danube promenade the most beautiful part of Dorcol As one of the cultural centers of the city, Dorcol has a couple of important museum and galleries, monuments, Orthodox churches, famous mosque such as Ethnographic Museum, Jewish Museum, Museum of Vuk Stefanovic Karadzic and Dositej Obradovic, Frescoes Gallery, National Museum, National Theater!
Nice and clean apartment on a good location. Everything was as described, with clear instructions.You'll find lots of useful information in the apartment - city guides and maps are free to use. With customizable heating system you can adjust the temperature to fit your needs. The neighbourhood was pretty quiet and there was a good free parking in front of the building enterance. I kindly recommend this apartment for all who want to feel charm of the old part of the city near the Danube and also be close to the city center.
Zika
2015-10-19T00:00:00Z
Bojana was helpful, and waited for me past 11pm to get into her flat. She spent time to explain about Belgrade, what to do, see, transportation, buying stuff even at that late hours. She also helped me call for a taxi to get me back to the airport. The flat is clean, and perfect for 1 to 2 person. It is in an old part of town, so the neighbourhood is run-down. However, you will be surprised each time you get back "home" as the apartment has been nicely renovated. You can walk to town too as it is not very far away.
SinJat
2015-09-28T00:00:00Z
The apartment is nice and clean, with new furniture. It's in the city center 5 min by walking. The host Bojana is a pleasant person, that will tell you how to get to the center and what to visit.
Nikola
2014-12-14T00:00:00Z
Bojana greeted us upon our arrival. She was very helpful. The location was very good as it was very near the city centre. A walking distance to a lot of attractions and shops. The apartment was very clean. Recommend it to anyone visiting Belgrade.
Jessica
2015-07-19T00:00:00Z
Bojana is very friendly and happy to help with local advice. The apartment has everything you might need except a TV, but on vacation this isn't so important. The location is near everything in Old Belgrade! Walking distance to most things. Parking is great to have on site because in the city if you don't have a cellphone parking is difficult - it's all "text to park"
Emily
2015-06-21T00:00:00Z
The apartment is newly renovated and it is located in a strategic location and quiet neighborhood within a walking distance to the river and city center. Bojana is a nice and friendly host and we recommend this place.
Yansen & Ivana
2014-05-27T00:00:00Z
Everything was good, Boyana very hospitable, ready to answer any question about Belgrade. She gave us a map of Belgrade and showed where should go.
Yulia
2016-07-30T00:00:00Z
We only stayed for 1 night, but that was enough to realise that Bojana takes her hosting business very seriously. Everything was perfectly clean and tidy, and either new or in great condition. Great location, free private parking, useful info from the host - all in all, perfect little place to crash if you, like us, plan to spend most of your time out.
Milan
2016-02-29T00:00:00Z
Room Type
Entire home/apt
---
Property Type
Apartment
---
Accommodates
3
---
Bedrooms
Belgrade, Serbia
Minimum stay for new year is 2 nights! We invite you to stay in our lovely and comfortable two room (ONE BEDROOM) apartment!!! Renovated and fully equipped to accommodate 4 people. You can rent a garage if you need it.
GARAGE FOR 2 CARS!!! You can rent a garage if you need it. 5€ per day. It is a two room apartment ( bedroom&livingroom) 43 m2. Apartment consists: Bedroom - with two single beds 90x100cm or one master bed 180x200cm ( according to your needs ). Living room-with large corner sofa bed that can accommodate two persons. Kitchen-with all appliances needed for preparing every meal. Bathroom-with washing mashine and hair dryer. Terrace-with table and chairs for you to enjoy. Garage is in the building and conected to the apartment with elevator. Apartment has: Wireless internet (15/1Mb),digital cable network and aircondition. Iron and ironing board.. Linen and two towels per person. Domestic prepaid cellphone for you to use,that you can prepay on every news stand in Belgrade to make a call. There is everything that you need to spend your time feeling like home. And if you have any special need you are welcome to ask,we will try to help you as much as we can. Apartment is located near Botanical garden in the quiet street.Close to public transport,and conected to almost every part of the city. It is 10-15min (by foot) from main tourist sites and attractions. Nearby you can find famous bohemian street Skadarlija, night club Plastic/Mint, Tasmajdan park, Vuk monument squar...Famous restaurants with national and international cuisine,small market and great bakeries. Also there is a non-stop shop,bank ,atm mashine,and excange office at the end of the street.
We met Milan at our arrival. He explained us all what we needed to know about our stay in the flat. We were very comfortable : great stay in this apartment and we just tell to other visitors that they can retain this address without any hesistation !
Marie
2015-05-15T00:00:00Z
We have been welcomed very warmly and our host helped us providing us with useful information she even run after us to help when we did a wrong turn :) The apartment has an excellent location and thanks good a parking space :)
Shtilyan
2015-09-08T00:00:00Z
This flat was exactly what we needed, considering the location and the option to rent the garage (belgrade is very difficult for finding a spot to park in the narrow one way streets). The host was lovely and very helpful. I recommend this place!
Ivana
2015-10-08T00:00:00Z
The apartment was very bright, clean and suited in a fabulous neighbourhood! It's close to everything, and very quiet at night. The apartment was definitely better than it appears in the pictures, it possesses a free of charge garage which can be very helpful if arriving by car or renting a car not to search for a parking place ever again, which can be very stressful in the city centre. Family Radojevic was very helpful and nice. I highly recommended this place, will definitely come again!
Alen
2015-05-08T00:00:00Z
Excellent host, very nice flat in a very convenient location of Belgrade (all reachable walking) and, in our case, really excellent to have available a private parking. We'll definitely return when visiting Belgrade for work in the future! Thanks!
Andrea
2015-01-06T00:00:00Z
The apartment is perfect, the garage crucial as parking in center of Beograd would be impossible else. Milan and Emilija were awesome and forthcoming as we arrived very late and left rather early in the morning. If you're visiting Beograd (which you should) this is the perfect place to stay.
Radovan Andrej
2014-12-03T00:00:00Z
Everything was great. The flat is located in the city center and you can reach everything really easy. The accomodation was very clean and Emilija very kind and helpfull. Full recommandation.
Stefan
2016-11-24T00:00:00Z
Beautiful apartment, clean, close to city center and has everything you could possibly need. Perfect for a couple. The garage was very useful as there are no free parking spots near by flat. We stayed here for two nights and really enjoyed. Emilija was very friendly and nice. We definitely recommend this apartment!
Maja
2015-10-11T00:00:00Z
Room Type
Entire home/apt
---
Property Type
Apartment
---
Accommodates
4
---
Bedrooms
Belgrade, City of Belgrade, Serbia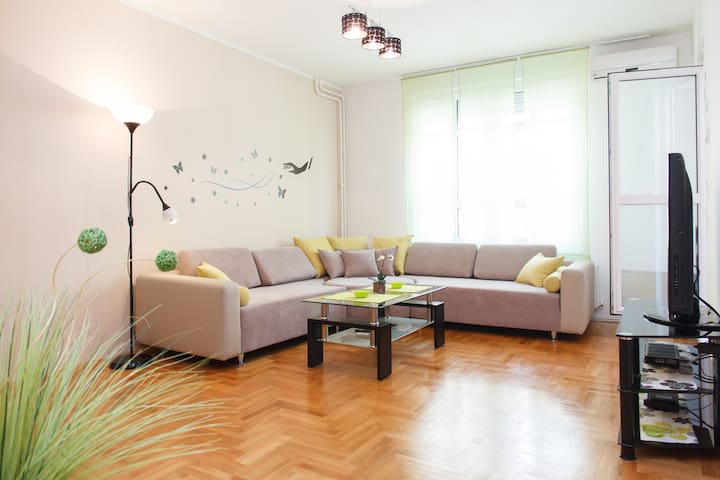 A bright, modern apartment near the bohemian Skardarlija quarter allows you to enjoy all of the advantages of being in the heart of the city, without being in the city bustle.
This charming apartment is suitable for up to 4 people. One bedroom with a choice of 2 X single or a double configuration & the lounge area containing a fold-out queen size bed.
Ideally located in the very heart of Belgrade at the top of famous Skadarlija bohemian quarter, with all historical attractions just a few minutes away: The Republic & Nikola Pasic Squares, Parliament, Terazije (the city centre) Knez Mihajlova Street (historic landmark & main pedestrian/shopping zone) & Botanical Gardens (one of the oldest in Europe). Take a 10 minute stroll and you are in Kalemegdan Fortress at the confluence of the Danube & Sava rivers. Public transport is moments away with direct links to other key parts of Belgrade to enjoy, such as Zemun, Novi Beograd, Dedinje….For your entertainment, restaurants specialising in traditional Serbian cuisine are in abundance nearby, as well as Strahinjica Bana Street (THE trendy Café Strip). For your convenience a supermarket is just next door and the famous open green market Bajlonijeva Pijaca is a short stroll away. To further your feeling of immersion into the local neighbourhood are the many small shops & businesses, bakeries & cafes.
This was our best experience with airbnb thanks to our hosts Katarina and Zoran. The apartment itself is located in the heart of Belgrade, with amazing view on the most famous Skadarlija district. It is fully equipped, very comfortable and clean. I hope we would have a chance to stay there again.
Isidora
2016-12-18T00:00:00Z
Great stay. The Appartement is perfect located everything you need can be reached with a short walk. Katarina and her housband are great. Very friendly helpful and everything is incomplicated. Thanks a lot.
Jennifer
2015-06-09T00:00:00Z
Beautiful, spacious and very comfortable apartment in a very central location! We very much enjoyed staying here and it had everything we needed and more. Katarina was very helpful and responded almost immediately to our messages. The only thing that can be tricky is parking, but Katarina was helpful with that as well.
Anneke
2015-08-15T00:00:00Z
Katarina and Zoran were very professional, welcoming and friendly. They were prompt to respond to my inquiries about the place. Their apartment is lovely, on an amazing location, clean and has everything that you need. I would highly recommend this place to anyone looking for a comfort in the heart of the Belgrade!
Veka
2015-01-12T00:00:00Z
Staying at the Downtown Crown was a great experience. Katarina and Zoran were such welcoming hosts who helped us have such an exceptional visit to Belgrade. They were able to provide us with lots of information on local culture, things to do, places to eat, etc. The apartment was just like the photos suggest, being very comfortable and easy to access different parts of the city. The apartment is in a particularly good spot being near (ie. able to walk) a few major attractions: Belgrade Fortress, Republic Square, Skadarlija and others. We would highly recommend this location to others, and would definitely choose to stay here again!
Kevin & Steph
2014-12-07T00:00:00Z
Katarina was such a wonderful host, providing very detailed and helpful instructions on how to reach the apartment. Checking in was a breeze. The apartment itself was perfect for the 2 of us, well kitted out with everything you might need. Very clean, great wifi, nice and light, with views and sun. A ridiculously good location too, ideal for exploring the City. We would definitely stay here again and can't recommend it highly enough.
Andrew
2016-09-19T00:00:00Z
Katarina is a perfect host. She was always disponible to give us advices. For our arrival we were welcomed by his brother. He was very friendly & helped me to park my car in Belgrade. The flat is very cosy & clean. It is located on the town center close to evreything. We need one minute to get the to reach the pedestrian street Skadarlija where are all the typical restaurants of Belgrade. If I come back to Belgrade, I will definitely return in this flat.
Romain
2016-08-17T00:00:00Z
Katarina was an absolute pleasure to deal with. She was very accommodating and easy to communicate with. The apartment is perfectly located in the centre of the city and seconds from the Bohemian area of Skadarska Street. The apartment was as described, clean and decked out with everything one would need for an enjoyable stay in Belgrade. Especially appreciated the small touches including an umbrella which came to good use during our stay!
Amelia
2016-06-14T00:00:00Z
Room Type
Entire home/apt
---
Property Type
Apartment
---
Accommodates
4
---
Bedrooms
Belgrade, Serbia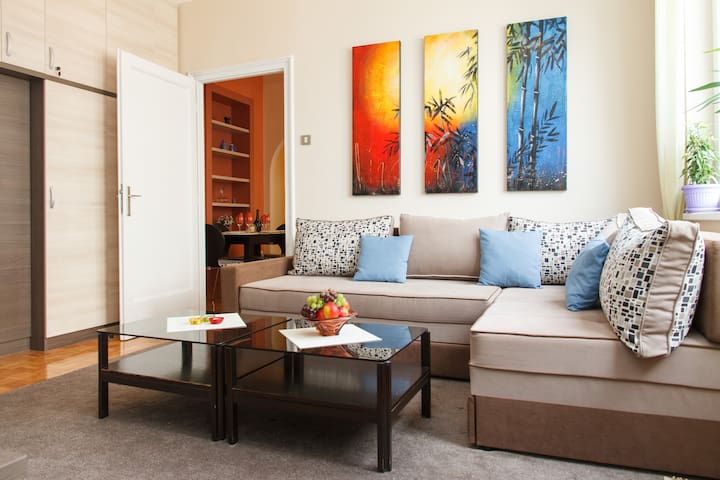 KONA apartment is located about 300m from Skadarlija - bohemian quarter and 1000m from Republic square - Belgrade city centre. It is bright, air-conditioned and comfortable to stay. Choice of public transport is excellent.
Our three bedroom apartment is located in the Dorcol, the wonderfull and characteristic residential quartier in Belgrade city center. Few steps away you will find Skadarlija, main bochemian street with bars and restaurants. Apartemnt Description: Newly opened, 90 sqm, apartment with three bedrooms and two bathrooms. There are 8 beds (3 + 3 + 2). In two bedrooms they can be 3 x single or double + single. In the 3rd bedroom there is 1 double only. Wireless internet connection, big led TV and magazines. Fridge, air conditioning and central heating. All the shops, market and main services are at less then 1 minute walk. Smoking is not allowed!
Our stay at sladjans apartment was really great, we had a unforgetable time in Belgrad! The apartment is really good located, all places in the inner city can be reached in several minutes by foot. The apartment was clean and perfect for 8 people, I definitely recommend the apartment!
Tom
2016-05-09T00:00:00Z
The flat is located at a perfect location, near amazing restaurants and bars. Great flat if you are a big group of people. Also, Sladjan was very helpful and communicative during our stay and made sure we are having a comfortable stay.
Panagiotis
2016-04-17T00:00:00Z
Everything went smoothly. Great host, GREAT apartment, very spacey, excellent location!!!
Stevan
2016-08-21T00:00:00Z
Sladjan´s appartment is simply perfect! you will for sure not get the better deal in the center of Belgrade, so clean, so comfortable, so spacy, unbeliveable. We were very happy there, Sladjan was flexible with our arrival and departure time. Everything went better then expected. Thank you Sladjan, we will surerly come back again.
Maya
2016-12-18T00:00:00Z
The apartment is situated in a really great location. Be it going out, finding a supermarket or a taxi, everything was right next door. Communication with Sladjan was very easy. I can really recommend this place.
Maxim
2016-09-14T00:00:00Z
Sladjan is a fantastic host and went the extra mile to help with all aspects of my stay in Belgrade. The apartment is very cozy, and has sufficient space for a group of 8 to comfortably live. The location is prime and there are a lot of great restaurants and shops within a walking distance. Would definitely recommend staying here!
Amala
2016-11-27T00:00:00Z
The host canceled this reservation 13 days before arrival. This is an automated posting.
Красимир
2015-05-23T00:00:00Z
The listing description was very accurate and everything was excellent. The apartment was very clean and with everything necessary for the few days we spent there. The host was helpful with everything we needed. I would recommend this place to anyone going to Belgrade. Worth the money. Only downside was the parking space for which you have to pay and is limited to three hours and then you have to move the car or park 1 km or so away, but if you go by other transport is good as the tram,bus stations and taxis are just a few meters away.
Magdalena
2015-11-02T00:00:00Z
Room Type
Entire home/apt
---
Property Type
Apartment
---
Accommodates
8
---
Bedrooms
Belgrade, City of Belgrade, Serbia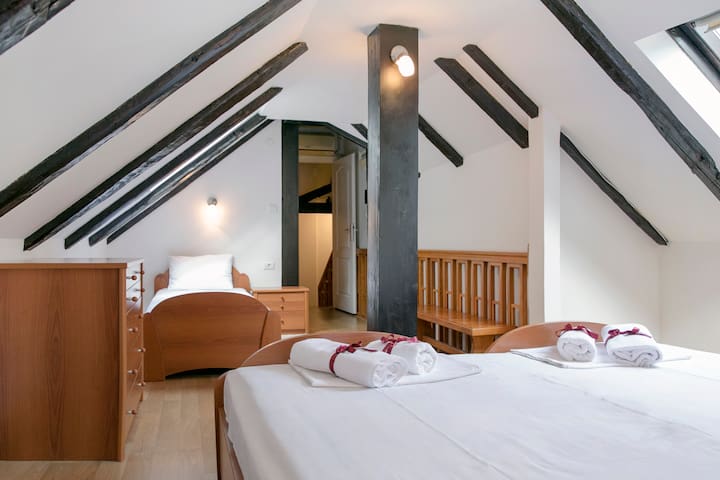 A romantic, cosy flat for two/three, fully renovated and equiped, 34 m2 . The flat is situated in the heart of Belgrade (Simina), only 200 m from the pedestrian street Knez Mihailova. It has a room with a sofa and a living room with a double bed.
The apartment is 5 minutes walking distance from the famous Kalemegdan fortress, the old cobalt street with restaurants Skadarlija and the well known "silicon valley", full of cafés and restaurants. Also close by is the new zone of best nightlife in Belgrade - the well known port of the Sava river and Sava mala. The flat is recently renovated, completely furnished on the 2nd floor of an old Belgrade building situated in the old part of town without an elevator. Convenient for people who want to visit Belgrade as well as for business people.
The neighbourhood is safe and quiet.
hosts were awesome. place was clean, well kept, exactly as they described it to be.
Alexander
2016-07-14T00:00:00Z
Fantastic hosts, fantastic location. Walking distance to the city centre and all that Belgrade has to offer. The apartment is beautifully furnished in an old style building with a beautiful hidden garden courtyard. A must for any visitor! The host Joca was always 100% responsive and provided all requested information.
Mike
2016-07-22T00:00:00Z
We had an amazing experience staying at Marija & Joco's. From the minute we arrived, they were extremely helpful and knowledgable about the area. The apartment was also very clean and beautiful. We hope to come back to their home in the future!
Jamie
2016-06-03T00:00:00Z
One of our best Airbnb stays! The host is very friendly and communicative, he even helped me with my bag on the way up the stairs and helped us with the ride to the airport. The apartment is very centric, modern, clean, spacious, and well decorated. Highly recommended if you're headed to Belgrade!
Mara
2016-11-20T00:00:00Z
Marija and Joca were great hosts. They are very welcoming and one can tell that they care about their guests a lot. The place as such is amazing and very central. Would definitely come back again!
Milivoje
2016-07-17T00:00:00Z
The apartment is in a fantastic location, walking distance to many restaurants, bars, and sightseeing locations. The apartment itself is perfect for 2 people; it's well equipped, clean, with a huge comfortable bed. Marija and Joca are lovely, friendly, helpful hosts. This might be my best Airbnb experience to date!
Olja
2016-08-18T00:00:00Z
Marija&Joca's apartment is a wonderfully decorated new flat in a superb area. It is really very close to many amazing restaurants and bars as well as the main street and Republic Square. We could walk to everywhere we wanted to see in Belgrade. The apartment has everything you need thanks to its very thoughtful owners. Once you step in you feel like you are in a very comfy high class hotel. Also the owners were always in touch and very helpful during our stay. Highly recommended to anyone who wants to discover Belgrade comfortably.
Pelin
2016-05-21T00:00:00Z
The hosts Marija and Joca are adorable. Very helpful providing information about sightseeing, bars, locations interesting to see. We can recommend the place in every aspect. Would definitely stay there next time when we´re going to visit Belgrade. Thank you very much Marija and Joca!
Zoran & Ailien
2016-02-03T00:00:00Z
Room Type
Entire home/apt
---
Property Type
Apartment
---
Accommodates
3
---
Bedrooms
Belgrade, Serbia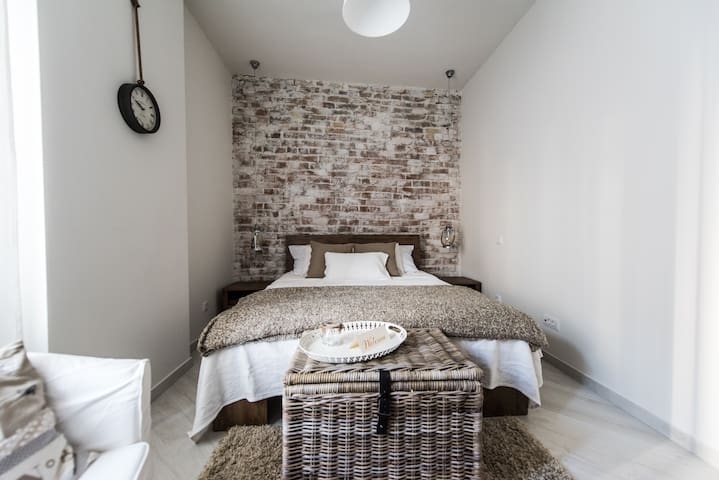 Apartment is fully refurbished, very bright with big window and balcony door in every room. Perfectly located to reach every type of activity you might need. Free parking with 24h guard and video surveillance.
The apartment is bright with lots of light coming through the windows and balcony doors. A small lobby leads to a large bedroom on the right with a double bed, a comfortable double sofa bed, a spacious wardrobe and TV. The kitchen is brand new and fully equipped with kitchenware, dishwasher, microwave, marble tops, toaster, electric kettle, fridge and dining table for 4 people. The bathroom has a washing machine, shower and two sets of towels per person. Linen are changed once a week.
Square Slavija is one of the best connected city spots with regard to the public transportation. You can reach virtually every part of the city from here. Airport shuttle bus is less then 5 minutes walk from the apartment, central bus and train stations are only 10 minutes away. The city center is within walking distance and it takes only one street to get to Terazije and Knez Mihajlova street, the hart of Belgrade. If you go the other direction, opposite to the city center, you will reach Saint Sava's temple in just 5 minutes on foot and find yourself in the oldest and, as many say, the most beautiful residential part of Belgrade, famous for many exquisite cafes and restaurants. The best pastry store in Belgrade is just around the corner.
Great apartment. Very clean and cosy. Mladen is great host. I will stay again at Mladens apartment for sure.
Vuk
2015-06-11T00:00:00Z
Nice comfortable flat in great location. Photos are very accurate. Would definitely stay here again!
alex
2014-09-14T00:00:00Z
Mladen was a really good host and really flexible on the arriving and leaving time. The apartment is nice and comfortable and well connected to the city center. Recommended!
Alessio
2014-06-03T00:00:00Z
I have stayed at Mladen's apartment and everything was wonderful. The apartment is in a great condition, you can use all modern facilities, everything very clean and in order. It is a cosy place of moderate size, good looking and perfectly located. Mladen is a very nice host taking care of everything. Probably the best conditions to stay in Bg.
May
2014-12-13T00:00:00Z
Great location and great flat in Belgrade. Everything was functional. Three persons are really enjoyed staying in this aparment. Recommend to everyone. Mladen was great host.
Dino
2015-11-21T00:00:00Z
The location of the apartment is really close to the city center (Slavija Square) where you can find great food at fair prices and very nice bars with clean drinks. Mladen gave us really useful tips and was a perfect host.
Panagiotis
2016-10-28T00:00:00Z
Perfect apartment, clean and comfortable. The apartment has a good location near most important Belgrade sights and tourist places, but on a small quite street. Mladlen is a friendly and fast in communication.
Sergey
2014-05-20T00:00:00Z
Great stay! The apartment is spacious, comfortable, well equipped and very clean. Private parking is a big plus (even though it was a bit of a squeeze)
Wouter
2016-12-05T00:00:00Z
Room Type
Entire home/apt
---
Property Type
Apartment
---
Accommodates
4
---
Bedrooms
Belgrade, Serbia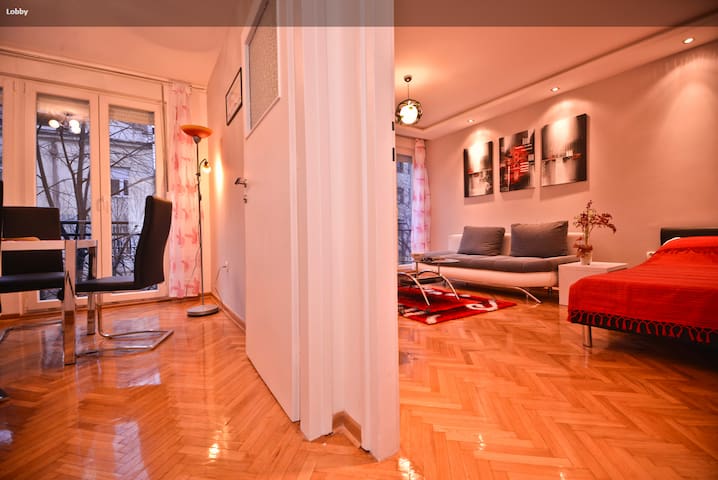 Dear guests, I want to inform you that there will be renovation works on my building until the end of May 2017. There will be noise at some moments during the day, mostly from 7.30-17.00 and a scaffold platform covering facade. Except this, nothing would disturb your usually comfortable stay at my place. That is why we reduced the price for 50 % down, a week price and monthly price. If you have any questions please contact me prior to booking. THANK YOU FOR UNDERSTANDING!
Welcome to our beautiful, recently fully renovated old town style apartment!!!! We will welcome you with smiles and complementary basket with sweets to celebrate your stay in Belgrade! The location is perfect for exploring Belgrade, very central to just about everything that Belgrade has to offer: 2 minutes walk to Bohemian Quarter Skadarlija and famous Bajloni green market, 10 minutes to Kalemegdan Fortress, 5 minutes to National Theatre, National Museum and Republic Square. Famous Strahinjica Bana Street, known as Silicon Valley, with many restaurants and bars, is just 5min walking distance. Apartment has been recently fully renovated with modern equipment in combination with old style, antique details. There are many art pieces and objects which would take you to the days of the old Bohemian Belgrade. One spacious room contains big handmade wrought iron double bed, dining area, office desk in old style and has a look over a small balcony over the Gundulicev venac street where the linden tree literary enters your room! Small but very useful kitchen and wonderful bathroom will fulfill all your needs. The flat contains LCD flat screen TV, Wi-Fi internet, Air condition, washing machine, hair dryer, microwave, tea kettle, linens and towels, bath amenities as well as street maps and city guide for your use! Baby cot and high chair can be arranged upon request! I am free for any advice or help during your stay, I will be there anytime you need me!I can organize transfers from the airport to the apartment , as well as all types of transport . Fleet 's a very large capacity of 2-73 persons.The price of 15-40 euros per ride + small tour center with English speaking driver! For any other question, feel free to write. In a few steps from the apartment you can find 24h open supermarket, the best fast food pizza cut in town Kli-Kli, bakeries, cake-shops, caffe-bars...24h taxi rank just on the corner, you don't need to call them, it is few steps from apartment...really amazing and convenient. Buses (PHONE NUMBER HIDDEN), Tram 2 could be useful for exploring the city
Lena was a great host, very kind and helpful. Very cosy place, warm, welcome and pleasant to stay. Location was great, very central, walking distance 10-15 min.
Bozana
2015-02-20T00:00:00Z
Lenas flat is cozy and in good shape. The apartment is clean and well equipped, having a personal touch. We were greeted by Lena who was very friendly and flexible about the arrival/departure time. The area is mostly quiet and in walking distance to bus stations and the center of Belgrade.
Glenn
2015-07-07T00:00:00Z
Lena was very nice and helpful in every case. It was all like described and i really enjoyed my stay at her place. I would recommend everyone to stay at this beatiful appartment and looking forward to my next stay in belgrade.
Anastasios
2015-10-26T00:00:00Z
Lena's studio is on a quiet tree-covered street very close to the bohemian area of Belgrade. We walked everywhere and hopped on and off trams too. Belgrade is a lovely city with excellent inexpensive cafés as well as fine dining. We would stay again at Lena's place.
Jeff
2014-09-04T00:00:00Z
Apartment was just as pictured. Very clean and bright. It is small, but was perfect for one person. Location is good and it is easy to get to the city centre from there. It is an easy walk from loads of cafes and public transport. The bed was very comfortable, in fact I decided to spend one evening curled up watching movies because of it! Lena was very easy to contact and responded to my many questions almost immediately. I will not hesitate to stay there again if back to Belgrade.
Maria
2015-09-24T00:00:00Z
This location is just perfect place to stay in Belgrad. 1) Lena is a lovely person and very helpful: even offered the transfer from the airport to the appartement. 2) The appartement is just great. Furniture with a lot of taste, cute balcony for a glas of wine in a quiet street. The bed is very comfortable. 3) Perfect location to go out: Closed to best bars and places to go out! Highly recommended! My future stays in Belgrade will be with Lena, that is for sure!
Heinz
2014-09-08T00:00:00Z
Lena is an awesome host, flexible and accommodating. The place itself is beautiful, clean and comfortable. It really does feel like home. The location is perfect - quiet but nearby everything that is needed for a full-on Belgrade experience. Would definetely visit again.
Nebojša
2016-01-11T00:00:00Z
Stayed one week in jazzy Belgrade and I could say Lena's studio added a hint of romance to the experience. Tasteful decor and very well positioned in a quiet area close to all important places in the city with many caffes around and some hidden gems I will let you discover.
John
2016-04-16T00:00:00Z
Room Type
Entire home/apt
---
Property Type
Apartment
---
Accommodates
2
---
Bedrooms
Belgrade, Serbia, Serbia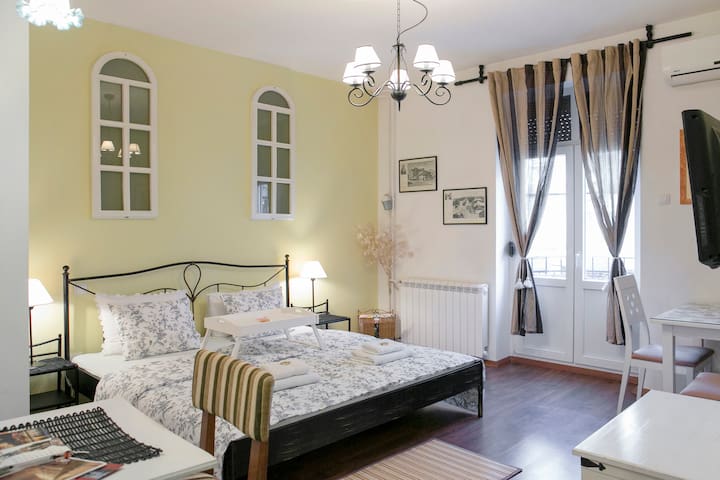 Belgrade - Airbnb
:
Average

4.88

out of

5

stars from

2578

guest reviews