Casa di montagna per week end, o settimanale ..a 800 metri da strada provinciale.. è il luogo ideale per staccare la spina, immerso nel verde vicino ad una chiesa storica romana.. una vista unica del lago di Como..
Casa isolata a 5 minuti a piedi con possibilità di trasporto in un posto da favola
Una quiete immensa..
Room Type
Entire home/apt
---
Property Type
House
---
Accommodates
5
---
Bedrooms
Sorico, Lombardia, Italy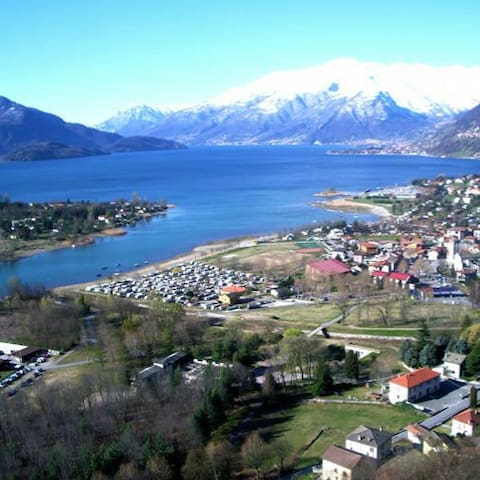 Sorico ist für Familien, Surfer sowie Skiter und Biker bestens geeignet. Unser Rustico ist nur 5 Gehminuten vom See entfernt und 5 min. von den Einkaufsmöglichkeiten.
Sorico ist für Familien, Surfer sowie Skiter und Biker bestens geeignet. Unser Rustico ist nur 5 Gehminuten vom See entfernt und 5 min. von den Einkaufsmöglichkeiten. Schöne Aussicht auf den See. Drei Schlafzimmer, 2 Nasszellen, gut eingerichtete Küche, schönes Wohnzimmer mit Cheminee und Zentralheizung und eine grosse Terrasse. Gut geeignet für 5 Personen. Echtes Rusticoflair Eigener Garten, Naturkeller um Getränke und Lebensmittel kühl lagern, TV mit SAT Anschluss. 1 PP in Garage
In der Nachbarschaft wohnen einige Familien mit Kindern sowie auch Rentner und Feriengäste. Also gut durchmischt.
The corresponding by mail with Michaela went quite good and later the corresponding on the phone with her mother too. We were welcomed and the house was exactly what we expected. It was big and had a nice shed to eat under and was close to the lake. We had a nice stay and the mother has answered all our questions and gave us lots of information and was very sweet.
Djolien
2015-08-18T00:00:00Z
We (a family with 3 kids and a dog) stayed at this apartment for a week during August 2014. We booked kind of at the last moment, but Michaela was very responsive and we could arrange our stay very quickly. The apartment itself is large, of a high standard and is very well equipped. Michaela's mother lives just next door, which proved very useful. She was very nice and helped us with everything we needed, like local information. The apartment is conveniently located a walking distance away from a small shopping center and from the beach. It's also 5 minutes drive from Gera Lario where a water sports center is located. The only drawback is that it's located near the road. At least in August, the traffic was quite busy and noisy. We still had a very good vacation and recommend staying in this place.
Shachar
2014-08-19T00:00:00Z
lovely spacious apartment, well equipped kitchen, ideal for families. Very helpful host. The location is noisy but the ever changing views of the mountains make up for this disadvantage. I will definitely love to visit again.
Prasad
2015-07-31T00:00:00Z
We enjoyed this beautyfull house very much. It was spacious and clean. Situated on a hillside with a little waterfall / stream that we could see and hear from our balcony. And a view at a little church up the hill. Lake Como was across the busy road at walking distance, with green fields, and a playground for our kids. The mother of the owner lived near by and was very friendly and helpfull.
Harry
2014-08-10T00:00:00Z
Siamo di ritorno da qualche giorno passato in relax per festeggiare il nuovo anno.Abbiamo soggiornato in due coppie e un piccolo cagnolino nella bellissima e accogliente casa che la signora Diana ci ha preparato e sistemato prima del nostro arrivo, non facendoci mancare proprio nulla! Il caminetto in soggiorno e' stato la ciliegina sulla torta che ha reso il tutto ancora piu magico! Da ritornarci al piu presto
Laura
2016-01-03T00:00:00Z
Die Ankunft in Sorico verlief problemlos, wir reisten mit zwei Autos an und Michaela war so nett, sich um einen zweiten Parkplatz für uns zu kümmern. Michaelas Mutter wohnt direkt gegenüber und steht jederzeit für Fragen zur Verfügung. Das Haus ist sehr gemütlich und liegt fünf Gehminuten vom Comer See entfernt. Am ersten Abend durften wir bei Michaelas Mutter grillen (vielen Dank nochmal dafür!). Die darauffolgenden Tage fuhren wir nach Como, gingen wandern und lagen am See in der Sonne. Das nächste Einkaufszentrum ist ca. 10 Autominuten entfernt und hat auch sonntags geöffnet. Alles in allem ein sehr schöner und entspannender Trip für uns. Wir haben viel gemeinsam gekocht und das Haus hat eine angenehme Größe für 5 Personen.
Ines
2014-08-02T00:00:00Z
Sehr schnelle und problemlose Kommunikation mit Michaela. Sehr netter und herzlicher Empfang von Michaela's Mutter Diana Coppes. Sie hat uns viele nützliche Informationen für die Umgebung, Restaurants und alles mögliche gegeben. Gleichzeitig unsere zwei Kinder mit Spielsachen versorgt. Das Haus ist sehr groß und schön, genau wie beschrieben. Sehr nah am See. Einziger Nachteil ist, dass das Haus direkt an der viel befahrenen Straße liegt, das wird aber von der netten Gastgeberin und die schöne Umgebung komplett kompensiert!
Marta
2016-05-30T00:00:00Z
Abbiamo fatto una vacanza di quasi una settimana nella casa di Michaela a Sorico. Eravamo in 4 più un bambino di un anno e mezzo. La casa è molto spaziosa e con una veranda dove abbiamo pranzato e cenato al fresco. L accoglienza della Signora Diana, la madre di Michaela è stata eccezionale e molto disponibile, ci ha dato qualche informazione sul luogo. Come posizione è a poco più di 5 minuti dal lago.
Ilaria
2016-07-08T00:00:00Z
Room Type
Entire home/apt
---
Property Type
House
---
Accommodates
5
---
Bedrooms
Sorico, Lombardei, Italy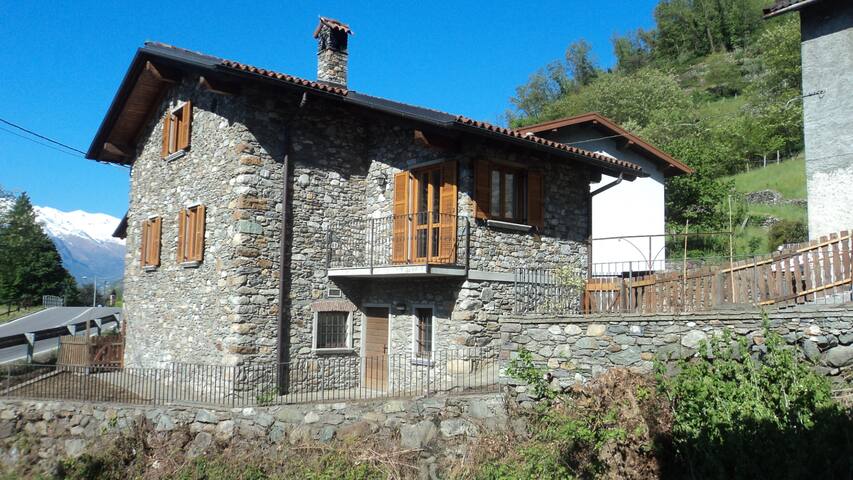 Rural stone house just renovated in the northern part of Como lake with 3 bedroom and 2,5 bathroom, a fully equipped kitchen and a large external space with a wooden deck and a barbecue area. Stunning view on the Como lake and Piona peninsula.
Our home is a traditional rural stone house, just renovated respecting its old flavor. It incorporates traditional materials together with vintage furniture and design details. It has a fully equipped kitchen and a large dining area with a stunning view on the lake. It is organized on three levels: living room, dining room, kitchen and one bathroom on ground floor; two bedrooms and a second bathroom on first floor; the third bedroom with a large relaxing TV area and the third bathroom on the third level. The three bedrooms are furnished with double beds and all the bathrooms are equipped with Italian design ceramics. It has a modern fireplace and an old ceramic stove, which give a worm atmosphere to interiors. It has a nice grass green all around, a wooden deck and terraces overlooking Como lake and furnished for relaxing and enjoying outdoor barbecues.
The house is located in the northern part of lake Como, the best for sailing, wind surfing and hiking the beautiful mountains around. It's within a rural authentic environment but yet close to many villages you can also reach by boat, like Bellagio and Cernobbio, and many others less famous but certainly worth to see. It's also close to farmer markets, nice restaurants for any taste and many other cultural attractions, like beautiful XVI century villas and interesting monuments and museums.
After a long drive from Basel, we arrived at Paola's lovely home in the hills outside Sorico. Finding fresh pastries and bread in the kitchen was a nice touch too :) Apart from the stunning views of Lake Como, the thing that struck us the most was Paola's ability to mix new and vintage furnishings in a tasteful way. The wood-fired BBQ certainly got a 'workout' and it was great to be able to pick fresh herbs like Rosmary right beside the BBQ to cook incredible meals. We enjoyed our 3-day visit so much that we are already planning a return trip at the same time next year!
Michael & John
2015-05-18T00:00:00Z
The accommodation and place is excellent! The house has a beautiful view on the lake and it is completely equipped for a large group of guests, even for challenging cooks :-) The house is clean and cosy. It is suitable for families with children who travel by car. I certainly recommend this accommodation and location. If another opportunity arise I will be happy to return.
Pavel
2016-08-09T00:00:00Z
Paola and her wonderful house deserve only highest ratings!! That's it, that's all!
Oliver
2016-10-20T00:00:00Z
Hi Paula, we had such a beautiful stay in your house.. i love the place and the view. we want to come back next year. thanks for all bianca
Bianca
2016-06-27T00:00:00Z
We spent a week in this beautiful and fully equipped house and enjoyed the view and silence a lot. Paola and Francesco welcomed us kindly when we arrived. Communicating with them was very easy. The street up to the house has several narrow turns but there is few traffic so it`s not really a problem. The reward for handling this street is a silent neighbourhood with a fantastic view over lake como. The night sky is also very nice. There are some hiking routes starting in front of the house. We would highly recommend spending your holidays there if you like the nature and if you are looking for peace and quiet. We are looking forward to staying there again.
Christian
2016-09-04T00:00:00Z
Paola thank you so much for the time we could stay at your house! the home was a fantastic place, beautifully decorated in a wonderful location with amazing view to the lake! the place has everything you could need- a perfect place ( mostly for architects ) to spend the holiday! we can only hope to returne one day! anyone that stays here will love it!
julia
2015-08-09T00:00:00Z
It is a lovely and romantic stone house with fantastic view on lake Como. The organization from the host is very good and I highly recommend this place if you like to "slow down" and relax for a couple of days!
Alex
2017-01-02T00:00:00Z
Thanks Paola and Francesco. Warm welcomed(everthing is organized) you will find at the end of road a silent place to be. Far away, no tourits, a modern house will offer a perfect lake view and gives the guests time to relax. Inside you will finde what is needed. You will see, designed by an architect.
Philipp
2015-07-12T00:00:00Z
Room Type
Entire home/apt
---
Property Type
House
---
Accommodates
6
---
Bedrooms
Sorico, Lombardia, Italy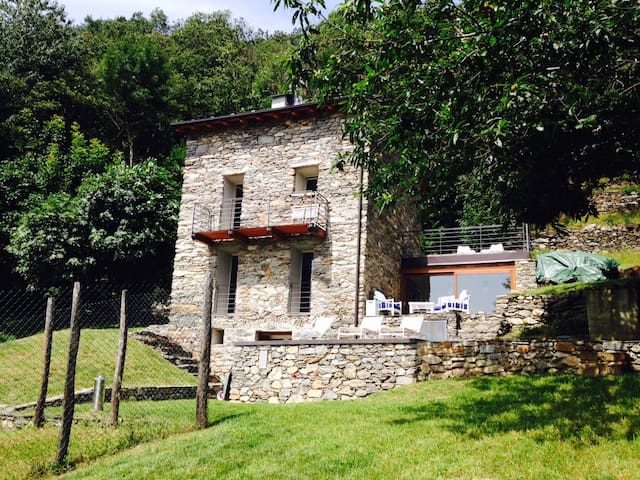 Graziosa villetta bifamiliare immersa nel verde collinare con ampia vista sul Pian di Spagna.Dotata di due accoglienti camere da letto, di cui una con vista panoramica.Soggiorno con angolo cottura e divano letto,rivolto su incantevole veranda.Diversi servizi a disposizioni internet lavastoviglie TV lavatrice parcheggio a pochi passi e tanta tranquillità. ..
Un terrazzo x mangiare o stare in relax casa con tutti i confortevole. .
Grazioso gruppo di case ubicato in antico borgo collinare a due passi dalle spiagge del Lago di Como.
Sara is a great host! communication with her for the arrival time was perfect. The house is neat and clean and it was perfectly warmed up by Sara before our arrival. The baby cot she prepared for our baby was sooooo cosy. She also has a baby chair. The house is nicely decorated being sunflowers the main topic and I love sunflowers. Also views of the Alps from the porch. The location is beautiful and quiet. Just two things to keep in mind: there are spiral staircases to get to the bedroom and toilet (our baby is little but she crawls so you have to keep and eye all the time) and not sure whether Sara speaks English, for us the communication Italian-Spanish was good enough. Simply perfect! we had a super stay at Sara's place, highly recommended.
Beatriz
2017-03-22T00:00:00Z
Posto molto carino, vicino al lago di Como. Perfetto per gruppi di 4-6 persone che vogliano trascorrere una salutare vacanza nei pressi del lago. Consigliato.
Marisa
2017-03-20T00:00:00Z
L'appartamento di Sara è carino e pulito! La posizione è comoda e vicina a delle belle passeggiate sul lungo lago. Noi abbiamo una bimba piccola e Sara è stata molto premurosa al riguardo!
laura
2017-03-12T00:00:00Z
A Sara nos recebeu muito bem, ela nos esperou na via, e quando chegamos a casa já estava aquecida, foi super simpática, foi atenciosa, simpática! Com certeza recomendo, é um lugar maravilhoso, e você se sente bem à vontade, por ser separado da sua casa q é ao lado! a vista do quarto é simplesmente incrível!
Samuel
2017-04-03T00:00:00Z
Room Type
Entire home/apt
---
Property Type
House
---
Accommodates
5
---
Bedrooms
Sorico, Lombardia, Italy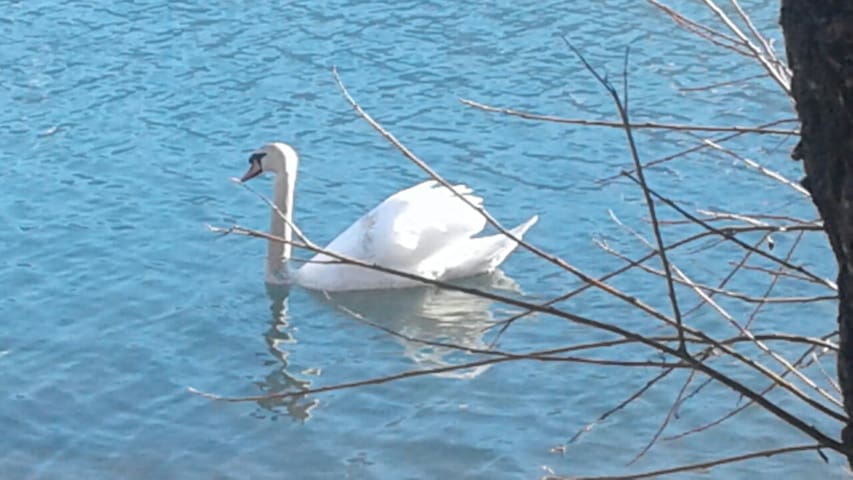 Placed at 500m from Gera with overviews from indoors/outdoors, comfort inside, garden with fruits and flowers in Spring/Summer, peace and quiet around. Available for one couple and two children. Barbacue and much more. You can book weekly or weekends from April to October. Note: Montemezzo not Selva. (Selva is the name of the street to the house -- The map shows Montemezzo far up above the Townhall and the Churh, where the centre is, at about 100m from the house.
The marvellous view, the comfort indors, the garden and flowers and the quiet around.
Peace, relax and enjoyment !
We stayed in Anna Maria's house for 1 week and we had the best time! It is a very functional house and we had everyting we needed. There is a view and a half from the bedroom balcony especially but also from the garden and living room. We had fruits and vegetables we were allowed to pick from the garden and the kids picked up every day a couple of ripe tomatoes. Anna Maria is very nice and friendly, explained everything we needed to know and we hope to be back in the house soon! :)
Alexa
2015-08-16T00:00:00Z
The host canceled this reservation 39 days before arrival. This is an automated posting.
Donat
2016-06-26T00:00:00Z
Wonderful place to stay, at the 'good' side of the lake. A little bit up the hill, you find a small beautiful house with everything you need. A cosy, nice garden, where you can eat outside. The 'master bedroom' has a balcony with a fantastic view on the lake. Down the hill, you enter directly a nice beach at the lake. Swimming, sun, perfectly, especially for the kids. Anna Maria and her husband gave us a warm welcome and all the information you need! Highly recommended. Vincent, Edna and children
Vincent
2016-07-24T00:00:00Z
Anna og Andrew modtog os med kolde drikkevarer efter den lange rejse, viste os rundt og fortalte os alt hvad vi havde brug for at vide om det dejlige hus og smukke område. Vi følte os straks velkomne! Vi havde en fantastisk ferie i montemezzo! En rigtig hyggelig lille autentisk italiensk by og den fantastiske udsigt får man aldrig nok at!
Tine
2015-07-10T00:00:00Z
Vi blev modtaget med åbne arme og Anna-Maria og hendes mand var meget hjælpsomme med at fortælle om de mange muligheder i området! Vi nød vores ophold fuldt ud og håber på at vi får muligheden for at komme tilbage til det skønne hus med den mest fantastiske udsigt! De varmeste anbefalinger fra os! We were greeted with open arms by Anna-Maria and her husband when we arrived. They were very helpful telling about all the things you can do in the area! We enjoyed our stay very much and really hope for the opportunity to get back to this amazing house with the most fantastic view! The warmest and best recommendation from us!
Mette
2016-08-19T00:00:00Z
Room Type
Entire home/apt
---
Property Type
House
---
Accommodates
4
---
Bedrooms
Selva, Lombardia, Italy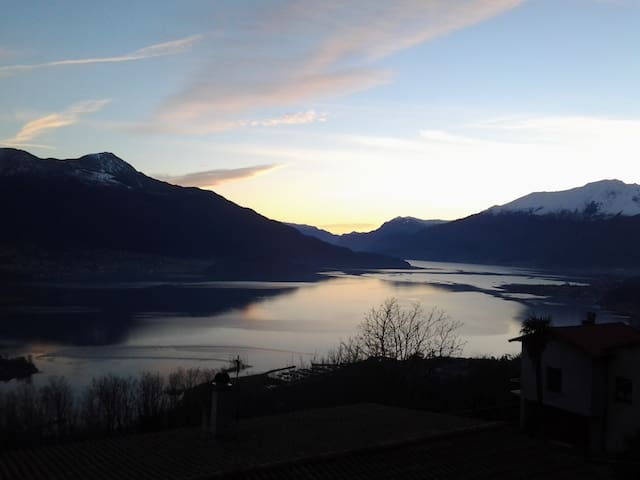 La casa è un monolocale di 55 mq con bagno e cucina . Può ospitare comodamente 3 persone; a disposizione giardino e box. A soli 200 mt dalla spiaggia . Ideale per qualche giorno di relax a base di sport : ️ calcio beach wolley tennis pesca canoa sci nuoto surf ️ vela Roller
L'appartamento, accogliente, molto luminoso e silenzioso, si trova al primo piano di una casa indipendente. Gode di una vista lago stupenda sia di giorno che di sera. La casa è dotata di un caratteristico caminetto in pietra perfettamente funzionante. A disposizione degli ospiti: - un giardino ideale per prendere il sole e per consumare pasti - un box a vostra disposizione per parcheggiare auto , moto e biciclette. Ideale per famiglie , il posto offre delle belle spiagge Passeggiate , giri turistici con Battello e aliscafo, ciclabili sul lago, possibilità di affittare canoe , barche a vela , motoscafi e gommoni. Ideale per chi scia , a una mezz'ora di macchina si arriva a Madesimo e in Valchiavenna , circa un ora da Sondrio ,è mezz'ora dalla Valtellina . Ideale per Motociclisti , per fare escursioni e giri del lago di Como , per la Svizzera , Lugano a circa 40 min di moto, oppure inoltrarsi in Valtellina , Valchiavenna . Ideale per passare un Weekend tra Amici , Nelle vicinanze ci sono locali e qualche discoteca . La casa si presta anche per stare intorno al camino con delle castagne che all' inizio di ottobre si trovano a circa 15 minuti di cammino, e sorseggiare ottimo vino della Valtellina. A una mezz'ora di auto si arriva a Chiavenna dove troviamo i Crotti , ristoranti tipici del posto dove pranzare e cenare con ottimi Pizzoccheri e polenta taragna , ed altri piatti tipici ,ve li consiglio ne vale la pena , ma anche nelle vicinanze ci sono dei bei ristoranti dove passare un ottima serata. Per poter assaporare il valore di Sorico e dintorni il mio consiglio è di una vacanza , dove avrete più tempo per accedere a tutte le bellezze i sapori e il paesaggio che offre questo meraviglioso paese .
La casa dista solo 200 mt dalla spiaggia del lago a Sorico. Sulla spiaggia di Sorico ci sono: - una piscina comunale all'aperto - un centro per sport acquatici (Le Vele) per praticare surf a vela o con paracadute, affittare attrezzature e canoe, parapendio con atterraggio sul lago . - una pista ciclabile che attraversa quattro paesi sul lungo lago (parte da Sorico e arriva a Domaso). In meno di 10 minuti a piedi è possibile arrivare al centro del paese di Sorico.
Diego is a friendly host and very attentive. The apartment was clean, well equipped and it was a perfect place to spend a good time near the lake.
Solène
2016-07-20T00:00:00Z
Amazing!!!!!! Diego was really great. We made an error with the booking dates and he was really helpful. The place was amazing Grazie Mille Diego
Xavier
2016-08-20T00:00:00Z
Diego was an amazing host. He was quick to answer and he helps us to have a better journey. The location was great and we spend the most of our time at the Gera Lario port which is beautiful. Overall, we enjoy our stay.
Samuel
2016-05-29T00:00:00Z
The house is very well sited, from Sorico you can go very fast everywhere around Como Lake. There is a big shopping mall in the surroundings, as well as restaurants, gas station and other important things. The house is well-appointed and clean. We had everything that we needed. Diego was a very friendly host and was always available for questions. We are very satisfied and want to thank Diego and the friendliest neighbour of the world, Mario. We are coming back to Sorico for sure.
Stefan
2016-08-01T00:00:00Z
Anche se non ho avuto modo di incontrarlo di perdona Diego è stato molto disponibile telefonicamente a qualsiasi ora. La casa è pulita e accogliente e delinea la personalità di Diego: musicale e familiare. È come essere andati a trovare un amico. Da Sorico si può andare in ValTellina ed è stato facile,visto anche il caldo terribile,.trovare refrigerio in montagna.
Simona
2016-07-11T00:00:00Z
Der Ganze Haus, Garten und auch die Wohnung sing in einem sehr gutem zustand und sehr sauber. Küche ist sehr klein, ohne Mikrowelle oder Kaffeemaschine es war aber kein Problem für mich. Für Teigwaren fürs Abendessen reicht es aber.
Richard
2016-05-09T00:00:00Z
Room Type
Entire home/apt
---
Property Type
House
---
Accommodates
3
---
Bedrooms
Sorico, Lombardia, Italy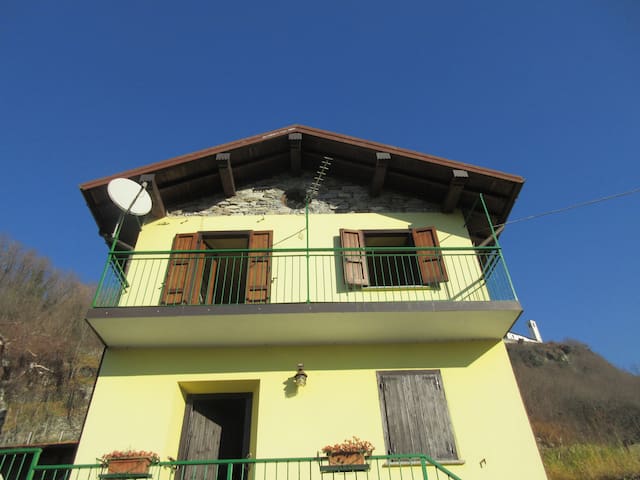 CASA SU TRE PIANI CON VISTA PANORAMICA SUL PIAN DI SPAGNA. PIANO TERRA CUCINA, PIANO INTERMEDIO INGRESSO, BAGNO E DISIMPEGNO CON DIVANO LETTO MATRIMONIALE, ULTIMO PIANO AMPIA STANZA MATRIMONIALE. GIARDINO CON TAVOLO, OMBRELLONE, SEDIE E SDRAIO
Room Type
Entire home/apt
---
Property Type
House
---
Accommodates
4
---
Bedrooms
Sorico, Lombardia, Italy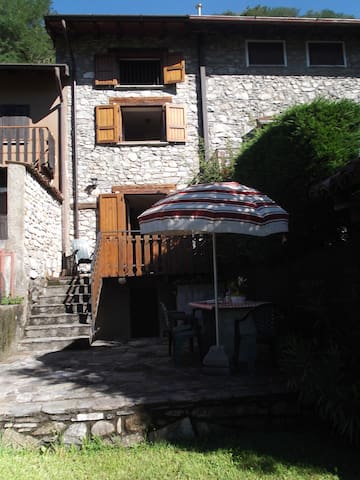 Casa Primula :500m above the lake level nestled in a small village This beautiful modern house offers fantastic views across the lake. The house has a wrap round garden with a shared swimming pool and a private barbecue /eating area
Quiet Mountainside location , easy access to lake , great for cyclists
The host canceled this reservation 6 days before arrival. This is an automated posting.
Xavi
2017-04-05T00:00:00Z
Wir hatten zwei wunderbare Wochen in Montemezzo. Das sehr schöne Haus war sehr gut vorbereitet, alles was man für einen Urlaub mit der Familie (wir waren mit 2 Familien dort) braucht, ist in sehr gutem Zustand vorhanden. Der Pool ist toll, alle Zimmer sind hell und klar eingerichtet. Die Architektur ist wunderbar. Vin hat ein tolles, handschrifltiches Buch bereitliegen, in dem er praktikable Tipps für den Urlaub notiert hat. Wir möchten unbedingt wiederkommen. Die Nachbarschaft war sehr freundlich, in Montemezzo waren wir beinahe die einzigen Touristen. Es ist sehr ruhig in Montemezzo. Die Kirche ist kunsthistorisch interessant. Beim Frühstück überflogen uns die Paraglyder. Wir kommen sehr gern wieder. DANKE!
Anne-Kathrin
2015-08-15T00:00:00Z
Mooi gelegen woning in rustig dorpsdeel met geweldig uitzicht op het meer en de bergen. Vanaf de diverse levels van het huis mooi uitzicht. Wel veel traplopen. Alles was in prima orde bij aankomst. Paar verbeterpuntjes , oa er is geen Wifi. Lokale contactpersoon spreekt Duits. De verhuurder reageert ook direct na mail . Mooie combinatie van meer en bergen, met interessante steden op redelijke rij-afstand.
Simone
2016-08-07T00:00:00Z
We hebben een heerlijke week gehad in Casa Primula in Montemezzo aan het Como meer. We hebben vooraf mail contact gehad met Vin en hij heeft alle vragen die er waren netjes en snel beantwoord. Verder was hij tijdens de vakantie ook altijd goed bereikbaar als er vragen waren. Montemezzo is een rustig bergdorpje met adembenemende uitzichten op het Como Meer en de bergen. Vanuit deze heerlijk rustige plek hebben we leuke tochtjes gemaakt naar o.a. Bellagio, Verona en Milaan en een paar heerlijke dagen in en rond het huis doorgebracht. Ook erg genoten van het zwembad. Dat wordt overigens wel gedeeld met de andere huurders van 3 andere huizen in dit blok, wij vonden dat niet storend. Tijdens ons verblijf is het zwembad ook meerdere keren schoon gemaakt, dat hebben we erg gewaardeerd. Tevens werd de tuin ook goed onderhouden. Het huis was ruim, de keuken goed en volledig ingericht met alle nodige spullen. Er zijn ook voldoende stoelen en tafels om buiten te gebruiken. Een bezoek aan het plaatselijke bakkertje van Montemezzo is zeer de moeite waard. Het brood wordt er nog afgewogen en als je geluk hebt krijg je nog andere lekkernijen uit de moestuin van de eigenaar mee :-) ! We kregen van Vin een uitgebreide lijst van restaurants en things to do, ook ligt er in het huis een boekwerk met heel veel info over wat te doen / waar te eten en andere leuke dingen ! Een week was eigenlijk te kort om deze prachtige omgeving goed te kunnen ontdekken. Als we nog eens terugkomen, verblijven we graag weer in Casa Primula !
Marianne
2015-07-26T00:00:00Z
Room Type
Entire home/apt
---
Property Type
House
---
Accommodates
8
---
Bedrooms
Selva, Lombardia, Italy
Il nostro appartamento è inserito in un piccolo nucleo rurale di recente ristrutturazione in pietra locale a circa 300 mslm, l'interno è caldo ed accogliente, godetevi la cucina attrezzata e l'ampio giardino, può ospitare comodamente 4 persone
Il posto delizioso dove è situato l'alloggio,in un bosco di vecchi castagni,lontani dal trambusto della stagione estiva, ideale per rilassarsi e per gli amanti della quiete.L'alloggio può ospitare al massimo 4 persone.
Il nostro alloggio fa parte di 2 fabbricati di recente ristrutturazione in pietra, inserito in un piccolo nucleo rurale,a circa 300 metri di altitudine s.l.m., con ampio giardino è ideale anche per famiglie con bambini. E' situato in zona strategica sia per raggiungere il lago di Como (3 km) con le sue spiagge che le montagne.E' possibile partire a piedi direttamente dall'alloggio per varie escursioni sia verso il lago che verso le montagne.
Die Wohnung ist sauber, gut ausgestattet und liegt traumhaft mit einem Garten und wundervollen Blick auf das Tal und den Monte Legnone (höchster Berg am See). Rosanna ist eine ganz herzliche Gastgeberin (da sie kaum Englisch spricht haben wir uns mit Händen und Füßen und ein paar Brocken Italienisch verständigt). Wir bedanken uns für den wundervollen und unvergesslichen Aufenthalt!
Catherine
2015-08-01T00:00:00Z
Appartement très bien équipé, très confortable, dans un cadre de verdure et calme. Séjour vraiment très agréable.
Pascal
2016-08-10T00:00:00Z
Room Type
Entire home/apt
---
Property Type
House
---
Accommodates
4
---
Bedrooms
Sorico, CO, Italy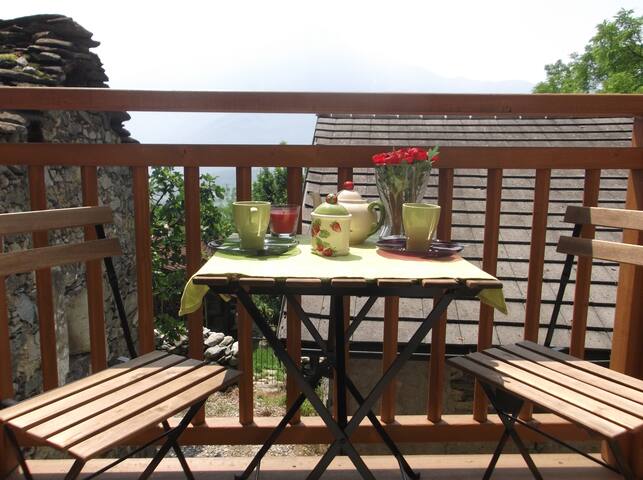 Apartment on two levels: ground floor 60 sqm, 2 bedrooms and bathroom with tub connected by a spiral staircase with 35sqm attic with sofa bed, kitchen and bathroom with shower. Outside: terrace with lake view and barbecue.
The house is a completely renovated stone cottage in the year 2013. It is located in the municipality of Montemezzo (Como) Location Burano, within a village. The tranquility and relaxation are the prerogative of our accommodations. Born from a concept of conscious recovery, we tried to create comfortable and welcoming residence, using in the furniture choices and finishes, natural materials recovered during the renovation. We wanted to offer environments that will make you feel immediately at home. The tranquility of the village will pamper you in your absolute relaxation. For lovers of active holidays you can easily reach the main towns of Lake Como where you can carry out all activities of interest to you.
Dario was a wonderful host and the location is just amazing in view and ambience. Parking is not possible nearby (village is not accessible by car) and often it wasn't easy to find a parking slot however worked out well. Lovely place, lovely people, great food and amazing village!!
Magdalena
2016-08-15T00:00:00Z
Superbe appartement avec une magnifique terrasse, le vue est top ! L'appartement est dans une ancienne maison, et est très bien rénové. C'est moderne, propre, original et confortable. Nous avons passé un très bon séjour. Le village est typique, très pentu, un peu médiéval, c'était super !
Florence
2016-08-14T00:00:00Z
Room Type
Entire home/apt
---
Property Type
House
---
Accommodates
6
---
Bedrooms
Località Burano Montemezzo, Como, Italy
Casa Chicca, accogliente e confortevole, si trova in una posizione comoda e tranquilla, con una magnifica vista sul lago di Como. A pochi minuti dal lago e dai maggiori centri di interesse, Casa Chicca è la location perfetta per gli amanti del relax, dello sport, dell'enogastronomia e dell'immersione in fantastici paesaggi. Parcheggio disponibile a 200 metri. Casa Chicca is a cozy house located in a beautiful area, with a wonderful view on lake Como. Parking available 200 meters away.
Room Type
Entire home/apt
---
Property Type
House
---
Accommodates
5
---
Bedrooms
Gera Lario, Lombardia, Italy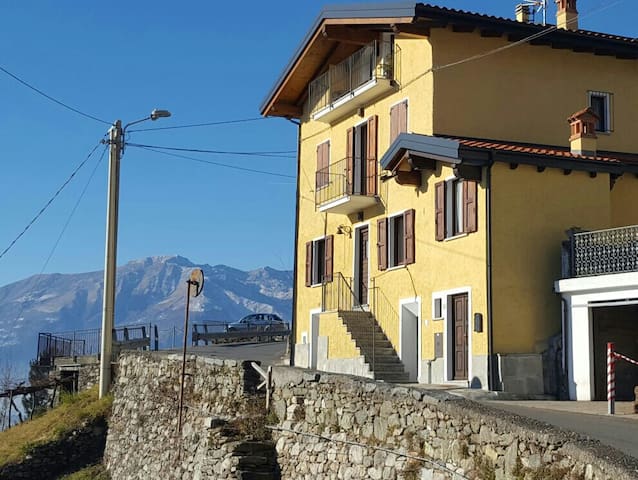 Fully furnished house in Colico and just 200 meters from the beach "Spiaggetta" (Windsurf, Kitesurf, boat trips). Next to the famous "Valtellina trail" (12 km bike lane), ristorante/pizzeria and 5 minutes walk from the station and center. The house has 3 bedrooms and 2 bathrooms. -Double and baby bed. With private bathroom. -2 single beds. -Double and a single bed. -1 sofa bed 1 hectare garden, with space for barbecues, taverna and more!
The house is a unique place in the heart of Leco. A small paradise within a paradise.
A pocos metros de la casa podrán encontrar restaurantes, mercados en los que podrán encontrar todo lo necesario para que nada les falte en su estadia. Además caminando apenas 200 metros esta la playa!
Claudio è molto gentile. Al nostro arrivo ci aspettava tra l'altro un dolce tipico della zona ( molto buono d'altronde). La casa è bella con una vista stupenda sul lago e le montagne. C'è un giardino enorme dove i bambini possono giocare. La casa è vicino al lago, ristoranti, bar e negozi. Ci siamo trovati proprio bene e per fortuna abbiamo potuto prolungare il nostro soggiorno di un giorno.
Angela
2016-07-31T00:00:00Z
Casa molto bella, spaziosa e con una vista magnifica sul lago. Il proprietario è stato molto cordiale e gentile. Ottima per famiglie che hanno voglia di farsi una vacanza rilassante.
Giulia
2017-01-02T00:00:00Z
Room Type
Entire home/apt
---
Property Type
House
---
Accommodates
7
---
Bedrooms
Colico Piano, Lombardia, Italy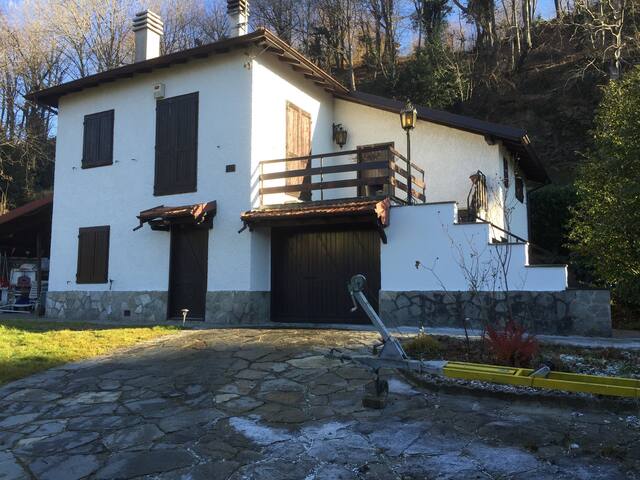 Nice landhouse above of a medieval vilage, looking over the lake of Como, no cars and very quiet. House of 1640, renovated 4 years ago and tastefully furnished - with antiques and art, with a huge garden and 5 terrasses.
It is a very quiet and romantic house in the middle of the nature and with an amazing view over the lake of Como. The hide-away is there to relax and get away from civilisation. 3km away is the world-famous windsurf- and sailing Destination "Domaso", there is a Ranch (Western) near by and a Golf Course where George Clooney is playing sometimes. Hiking, Swimming, Shopping in Como etc. The best place to discover the lake and to "restore your batteries" .
The house stands a bit away from the village and above all other houses. Even if there are People in the village, the house is left allone most of the time. Because cars have to be parked outside of the village, there is also no noise of cars or else. Only sometimes the cock from the neighbours house is crying which I found very relaxing...
Eva´s country house at lake Como was a wonderful place to stay at. The house is located in a historical village from the 16th century, which still has the typical stone-front as many Italian houses. The location – 2,5 km up into the mountains – is a hidden paradise and is perfect for people, who want to escape from the real world and are in search for peace and meditation. A lovely sand beach is located nearby. The house itself is fully furnished, has a huge glass front with a marvelous view on the lake, several terraces, an herb garden and a fire place. Eva renovated and decorated the house with great attention to detail and created a perfect mix of modern and antique country-house styles. Each day, we enjoyed our breakfast on one of the terraces with an unforgettable panorama of the lake and the surrounding mountains. After a couple of tours down by the lake and in the mountains we decided to stay in the house for one day to dive deeper into its ambience. Staying on the sun deck, cooking and using the fire place are just some of the options you can use. Also the key-service for all Non-Italian-speakers is no problem, as there is a very nice family in the village taking care of it. Thank you Eva, for letting us stay in your beautiful house! We´ll come again!
Daniel
2014-09-07T00:00:00Z
Everything about this home is special. The setting, the amazing view of the lake, the peaceful quiet, and the beautiful home itself. We loved the contrast of the old stonework and plaster main floor, with the bright and modern upper floors and terrace. We also love to cook and took advantage of the abundance of fresh herbs, the very well equipped kitchen, and all of the beautiful dishware. Eva obviously cares about the house, neighbors and her guests. She did a great job with the renovation and decorations/furniture. Everything is comfortable. We checked out some of the towns Eva suggests in her guide, and loved them. What a great place! We had a wonderful time here.
Rob
2015-08-24T00:00:00Z
The house is exactly as described and shown in the photos. If anything it exceeded our expectations in almost every way. It has been very tastefully renovated and decorated, yet still feels homely and lived in. As Eva uses the house herself, it is full of art, books and fittings you normally don't expect in a holiday home. The village itself is very quiet (no shops, bars etc.) and offers spectacular views of the lake. We walked almost everywhere (30 mins. to the lake) and found the car was only necessary for shopping or touring places further away. I wouldn't recommend the house however for anyone who has problems walking up steep hills, as everything has to be carried up from the car park at the bottom of the village. A further word of warning is that there is no wardrobe or cupboard space for clothes (at least not in the bedroom we were using, the other one was locked). As none of these things were an issue for us, we thoroughly enjoyed our time in Aurogna and would definitely go back again. Thanks Eva.
Chris
2016-08-28T00:00:00Z
Even though we did not have the chance to meet the host in person, she made sure we had every information necessary plus the housekeeper who gave us the keys is a very lovely, welcoming and helpful local. I would describe the house as a successful blend between old traditional and modern with a personal touch and an eye for detail. The setting and neighbourhood is quiet unique and I would call it romantic. I think the house is most suitable for couples. The view you get from the upper floors is priceless.
Christoph
2016-10-08T00:00:00Z
" Looking for a place to rest from our busy existence we discover Eva's paradise on the mountains with its incredible view of the lake. The 400 year old house is breathtaking on its own and when you think you've seen it all you open the doors and go wow! This home ( as it felt to us ) is decorated and furnished with excellent taste keeping many of the original features and mixing it with modern items as you go along the floors, art is there as well to please the eye, but trust us, only thing you need is to look out the window from the top floor ,stand on the deck on the 3rd floor or have breakfast, lunch or diner under the pergola of the calming garden overlooking the lake and the impressive mountain in front of it. We had long breakfast every day just enjoying the breeze, the view and the sounds of cuckoos and other birds watching lizards come and go,fantastic. The house is on the village's summit so nothing can block your view. The " Romantic land house" given name is an understatement, this place is simply heaven on earth, clean, peaceful,stylish and yes, very romantic. As for the hostess Eva, she is very kind, informative and helpful, responded swiftly, gave us very good tips and has outstanding taste."
Francisco
2015-06-12T00:00:00Z
Eva created a beautiful hideaway, with great attention to detail. My daughter and I felt very much at home and could get all the relaxtion we needed. The house is placed above the others inmidst of peacefulness and nature. The old little village is great to explore, and you'll always find a nice neighbor to talk to (even though it was with hands and feet, because we don't speak Italian). Hike trails and the lake are close by. Even when the sun's not shining all the time, Eva's home is perfect to just stay in and get away from the everyday stress and noise. Thank you for letting us use your great kitchen equipment, the fresh herbs, fruit and salad in your garden, as well as your comfortable beds. We're looking forward to be back again.
Daniela
2015-06-22T00:00:00Z
Room Type
Entire home/apt
---
Property Type
House
---
Accommodates
4
---
Bedrooms
Aurogna, Lombardy, Italy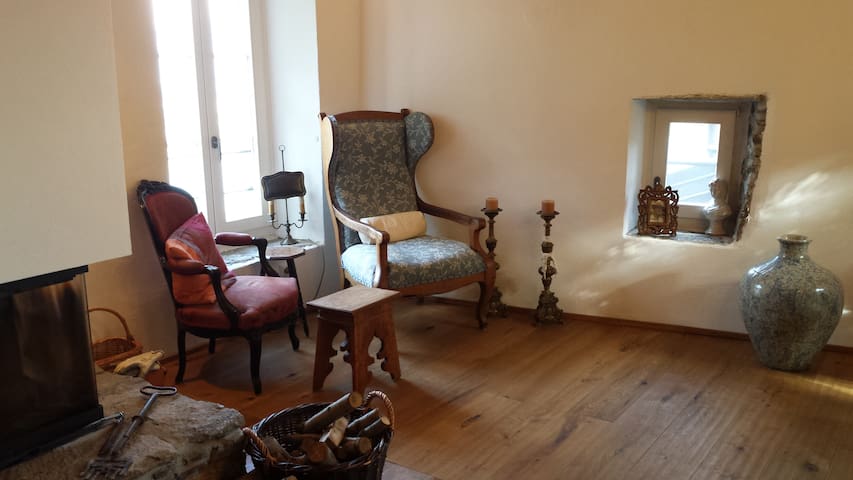 Villa delle Palme is a beautiful detached house located opposite the "Pian di Spagna" nature reserve, where the Mera River flows into Lake Como. Ideal for families and pet friendly close to the beach and the lake.
Sofia had been very helpfull. Our car broke down and she assisted with arranging taxi's and translating. Her English is perfect, she is kind and willing to help and takes the time and effort. She explained how to get in the house and everything was clean and as promised. Sofia reacted quickly and was easily reachable, using txt messages also. Thanks Sofia, it was a good stay.
Remco
2015-08-23T00:00:00Z
Room Type
Entire home/apt
---
Property Type
House
---
Accommodates
6
---
Bedrooms
Sorico, Lombardia, Italy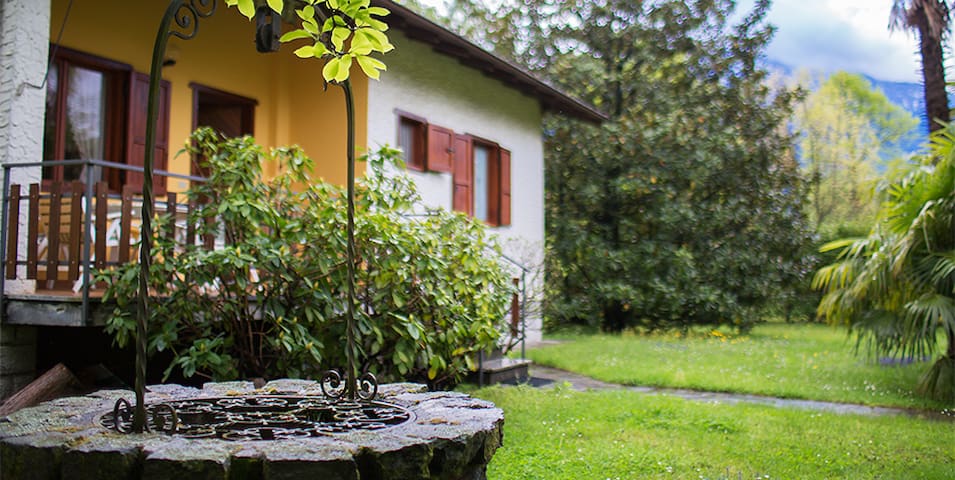 Villa Rustica is a beautiful secluded Italian farmhouse, nestled in the trees above Lake Mezzola on the northern tip of Lake Como. With breathtaking views across the lake to the mountain range beyond, it's the perfect location for exploring the lake and surrounding valleys and mountains.
Surrounded by a private garden and extensive woods with breathtaking views, this sympathetically renovated 4 bedroom villa combines modern technology with traditional materials to create a comfortable, relaxing and beautiful holiday home. There is under floor heating and Broadband WiFi is available throughout the house and on the terrace.
As well as enjoying the outstanding natural beauty and countryside at our Lake Como villa, there is lots to see and do in the surrounding area, from enjoying the delights of the local Italian cuisine to cycling, sailing, walking and winter sports. Cycling Routes in and around Lake Como. Enjoy mountain biking from the doorstep of Villa Rustica or road biking from the top of the track, a short walk from the villa. The surrounding area is ideal and popular with cyclists, with numerous tracks and routes. For more information about the wonderful cycling in this area visit: Walking from our villa at Lake Como. You can enjoy some fantastic walks from the villa, either by following a well marked path (Sentiero) or by exploring the hills above Albonico. A short drive to Verceia (the village on the other side of the lake opposite the house) and you can explore Valle dei Ratti or continue up Valchiavenna or Valtellina. For more information about walking in this beautiful corner of Italy visit: The wildlife of Lake Mezzola and the surrounding area. Lago Di Mezzola sits in the Pian Di Spagna nature reserve offering a haven of natural wildlife along the southern edge of the lake and the River Mera that connects Lago di Mezzola and Lago di Como. There are several other nature reserves in Valtellina a short drive away from Villa Rustica. For more information visit: Follow Valchiavenna and be on the ski slopes of Madesimo within a couple of hours. It's a 30 mile (50 km) drive or for a unique experience, leave the car at Campodolcino and take the funicular railway to the slopes. Alternatively, St Moritz is just 50 miles (80 km) away. Both resorts offer great downhill skiing, cross country skiing, tobogganing and skidoos. Summer Sports. Lago di Mezzola has power boat speed restrictions and therefore is the ideal place to enjoy quieter water sports. Hire a boat and explore, walk twenty minutes along the roman path to Dascio and hire a canoe or take the day trip boat to San Fedelino for a great day out. Alternatively, head down to the town of Gera Lario which is a twenty minute drive (or a short trip down the River Mera) and you can enjoy sailing, windsurfing, kite surfing, wake-boarding and water-ski lessons. Gardens, villas and museums of Lake Como, Italy. By car or ferry, you can visit some of the famous villas and gardens of Lake Como. Take the ferry to Tremezzo and explore the gardens of Villa Carlotta on your way to lunch on the only island on Lake Como, Comacina. Closer to home you can visit: Local restaurants. From our villa at Lake Como there is a great variety of places to eat, drink and soak up the local Italian atmosphere. The Enoteca Portovino on the edge of the old marina in Colico is a real treat in both summer and winter. Eating at a local Agriturismo, where they tend to serve a local set menu, is an inexpensive way to try local cuisine or why not just walk from the house to Trattoria Nives in Albonico or the restaurants of Dascio. Shopping. There are numerous places to buy food in the area, all within a short drive. These include weekly markets, local bakeries, supermarkets and a shopping mall. There are also many boutiques, clothes and sports shops.
Room Type
Entire home/apt
---
Property Type
House
---
Accommodates
10
---
Bedrooms
Sorico, Lombardia, Italy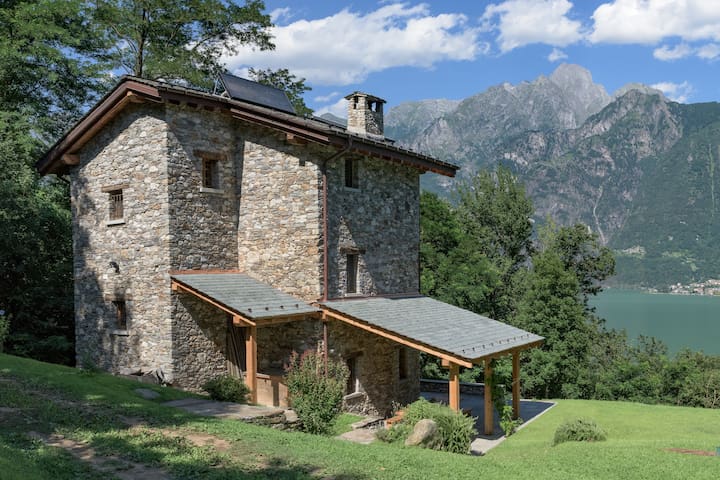 A small flat with a double room, a bathroom, and a single room with a small kitchen, all in front of the wonderful garden completely available for you, shared with me. The same is for the rest of the house, you can use like my living room and my bigger kitchen, I will be happy, sharing with me when I'm home. I work in the next village as primary school teacher. 200 m from the lake with the best restaurants and pizzeria, close to the center, the shops and the train bus station.
l'ambiente è stato appena ristrutturato, il giardino è splendido...
È situato accanto al centro con numerosi negozi e al lago dove dalla piazza e porto si può accedere in 5 minuti alle spiagge
Alessandro is a Great host. His stuff was very helpful and his place is a small diamond near the lake!
Mat
2016-08-22T00:00:00Z
We had a short but great stay with Alessandro. The rooms were clean and comfortable. The views from the balcony were beautiful! Alessandro was kind, helpful and very responsive. I would definetly stay here again!
Christine
2016-08-07T00:00:00Z
Alessandro is a very welcoming host and did everything to make our stay as enjoyable and comfortable as possible. He went out of his way to help us. One way is which he did this was to contact the riding stables we wanted to use for an excursion as our Italian wasn't up to booking a trip. When the riding stables didn't respond Alessandro drove us down to the stables and talked to the people for us. He was also very sociable and invited us to various activities such as swimming in the lake, these were always very nice invitations and we never felt like we had to do something. The house was on the main village road but was tucked away behind other flats and you never heard the road. It was really easy to access the village centre, the lake and the train station. The room and house were much nicer than could be conveyed in the pictures with a balcony and an amazing view of the mountains. The location, the host and the house were all fantastic and I would highly recommend this a place to visit.
Tristan
2016-08-20T00:00:00Z
Alessandro is a very nice guy. He gave me a very warm welcome. The place itself was nice as well, as was the place where it's situated. I can definitely recommend the place to anyone who feels like visiting the Lago di Como region. Alessandro is social, can recommend things where necessary, and is very flexible.
Jorg
2016-09-22T00:00:00Z
Great expierience. Nice brand new apartement with an amazing mountain view. Great garden and a lake just a minute away. Alessandro was very helpful and we were positevely suprised by Colico. Highly recommended :)
Piotr
2016-08-18T00:00:00Z
Best part of our trip to Italy! Alessandro is wonderful and an amazing host - we felt at home, while in such a paradise of a spot!
Aleksey
2016-10-17T00:00:00Z
Alessandro is a very polite and helpful person. The house was very nice, everything as described. Wonderful surroundings. Absolutely recommended!
Damian
2016-11-03T00:00:00Z
Our stay at Alessandros place was a very wonderful one and a perfect end for our tour through Italy. Everything felt very familiar, we felt very welcome. The view is amazing, each room has a balcony and everthing was very clean. Alessandro is a great host, very kind, likes to help and is always open for a nice and interesting talk. We will defintely come back!
Marie-Luise
2016-10-08T00:00:00Z
Room Type
Entire home/apt
---
Property Type
House
---
Accommodates
3
---
Bedrooms
Colico Piano, Lombardia, Italy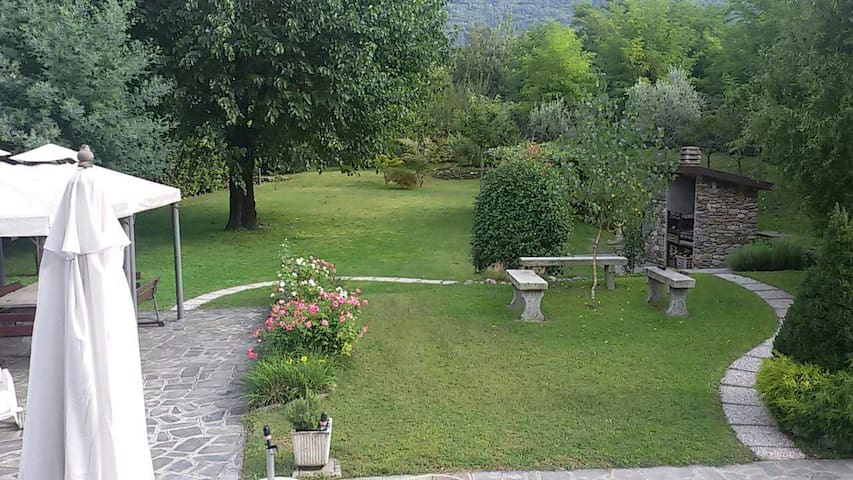 Casa Helena in Vercana is perfect for the get away from it all holiday! A new build with modern comforts and a great lake view. This modern and clean cut property is great for groups of friends or a larger family. Casa Helena can comfortably accommodate up to six people in three bedrooms. Located in the northern lake area that is less busy than the central triangle, more in touch with nature and sports. Ideal for families and those who love to be outdoors!
The town of Vercana is located in the northern part of Lake Como and has stunning views overlooking the rivers Adda and Mero. Vercana is also the perfect place to enjoy sports such as mountain biking, hiking and below in the town Domaso and Gera Lario you will find a great selection of water sports such as: Wind surfing, Kite surfing, Wake boardinga and Sailing...take your pick! Casa Helena is located within a new condominium but is a little villa that remains separate from the rest of the building as it is independent and detached on three sides. It has a lovely large, private garden that surrounds the property to the front creating garden access from the open plan living area and kitchen. Entering the property from the garden and front door you access the open plan living/dining/kitchen area. Light and airy, spacious and modern lounge area with sofa, tv and also wifi. It is the perfect apartment for groups of friends and larger families. Seating for up to siz both inside and out in the garden. Relaxation is first and foremost accounted for. One of the two full bathrooms are on this ground level as is the laundry area with washingmachine. A modern kitchen, fully equipped with all you need to prepare your Italian meals and of course aperitifs. Upstairs are 3 bedrooms. The master bedroom with king size bed also has a shared lake view balcony with the double bedroom next door. This double is considered a twin but can be made into a king size double on request. The third bedroom has bunk beds and is great for the kids! The full bathroom with bathtub and shower serves the upstairs floor. Casa Helena not only has a lovely garden but it is just above the shared pool - perfect for cooling off in the hot summer months. Garden furniture for outside space and lounge chairs to take down to the pool. Private parking is also available.
northern Lake Como tranquility new bulid with new comforts Perfect for families or a group of friends dipping pool with a view!
Room Type
Entire home/apt
---
Property Type
House
---
Accommodates
6
---
Bedrooms
Vercana , Lombardia Como, Italy
The house is in Montemezzo, Selva is the road to the house. Placed at 4 Km from Gera beach and the surrounding small towns. The views are amasing both from indoors and outdoors. Comfort inside by fireplace and in the garden with flowers in Spring andSummer. Barbacue and much more. Available for two couples or one couple with two or three children. You are welcome. N.B. : Read Montemezzo as a city, on (SENSITIVE CONTENTS HIDDEN) map, not Selva . Selva is the name of the road leading to the houe.
Peace and quiet around.
Le logement était très agréable et tel qu'il était décrit dans l'annonce. La région est superbe et la localisation appropriée à une exploration de la région nord du lac de Côme. Anna Maria et son mari sont vraiment charmants et accessibles.
sarah
2016-08-05T00:00:00Z
Room Type
Entire home/apt
---
Property Type
House
---
Accommodates
4
---
Bedrooms
Montemezzo, Lombardia, Italy