I hope you're lucky enough to catch a thunderstorm while sitting on the porch swing, or sample some grapes from the vines in the backyard. Built in the 1920s, this cozy getaway is the perfect way to experience the Queen City of the Ozarks.
A two minute walk will take you to Bambino's, an Italian café local to Springfield. The Missouri State University campus is a four minute walk north of the cottage, and a two minute walk down Loren will find you at Phelps Grove Park, where students nap in hammocks and joggers make their rounds.
Very courteous; Sam didn't crowd us when he saw how tired we were and let us finish our dinner and head to bed on our own time. Very nice and great neighborhood to walk around in.
James
2016-02-02T00:00:00Z
Sam was a very friendly host! We had some nice chats together. The house is very cute and the room was clean. The swing on the porch was nice to hang out and enjoy the early evening. The street has a lot of students, but it wasn't noisy at all. So it's safe! :) We can recommend this room to everyone!
Morris & Denise
2015-09-13T00:00:00Z
Really cool place, really liked the old time switches, cast iron shower, a cottage is a good description. Comfy bed, couldn't ask for a better host.
Jackson
2016-09-03T00:00:00Z
Clean, comfortable home very close to Missouri State university.
Jeffrey
2015-11-18T00:00:00Z
We thoroughly enjoyed our stay with Sam. Great location, very hassle-free, and the warm homemade chocolate chip cookies were awesome. We're already planning a repeat trip in the spring!
Greg
2016-10-17T00:00:00Z
SAM it's a great Host. I recommend him!!!
Javier
2017-01-31T00:00:00Z
My stay was made very comfortable and accommodating thanks to Sams friendly hosting and cozy home space. I pretty much moved in for a week stay and felt very at home, same was eager to be of assistance if anything came up, which nothing was needed during my time. For those not looking for a standard hotel stay, this is a tasteful homie space, thanks Sam
brandan
2016-09-16T00:00:00Z
Had a wonderful stay at Sam's place while visiting Springfield. Beautiful little cottage and room.
Michael
2017-03-11T00:00:00Z
Room Type
Private room
---
Property Type
House
---
Accommodates
2
---
Bedrooms
Springfield, MO, United States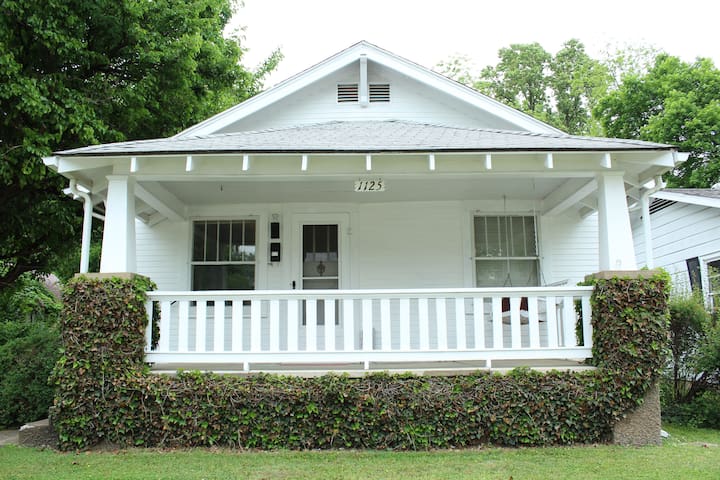 Small comfortable cottage guest house in the gardens of the main Victorian home in the heart of the Springfield MO Historic District. One Block to: University Plaza Hotel and Convention Center, Hammons Field Double A baseball park. Two Blocks to: Juanita K. Hammons Performing Arts Hall, Missouri State University, Springfield Exposition Center, Jordan Valley Park Three Blocks to: Downtown, JQH Arena Walking distance to many restaurants Room features: 4-burner stove and oven Microwave Large screen LED TV with DISH satellite Super quiet heating and A/C Refrigerator Dinnerware and pots and pans Outdoor patio In-room coffee pot and complimentary coffee and other beverages. Keyless entry This Little House is perfect for one person but quite suitable for two adult persons (One full bed). As an option, a gourmet bed & breakfast style breakfast is available on a day to day basis for $10.00 per person per day with 24 hr.min. advance notice.
This nice home known as The Other House is currently in the preparation stages and reservations are being taken for bookings beginning in Jan 2015. Furnishing shown in pictures are either only temporary or proposed. Keep viewing this site to see the progress as the house is furnished, decorated, and updated. You are sure to be pleased with the final look.
This is the best place! Great people. Great stay. This will be the first of many for us. We are in the area once a month and will be here for those trips from now on. Gracious hosts and exquisite view. Well done
Suzanne
2015-10-25T00:00:00Z
The cottage is adorable and cozy--exactly as depicted in the pictures and description. John is the definition of a hospitable and gracious innkeeper. He made the effort to accommodate my needs, while giving me my privacy. I can't say enough nice things about this stay.
Paige
2012-11-30T00:00:00Z
Cozy Camp Cottage was nice and cozy. The hosts were extremely helpful and friendly.
Dean
2013-10-27T00:00:00Z
Above and beyond what I expected! I had the pleasure of spending two nights at the cottage and couldn't have asked for better. The accommodations were clean, homey, and charming. The location is at an ideal proximity to downtown. Everything is within walking distance but the cottage is on a safe, quiet street. The exterior garden was a delightful place for drinking my morning coffee too. I thoroughly enjoyed my stay here and look forward to booking the cottage for my future visits.
Jason
2014-05-05T00:00:00Z
We had a wonderful stay at the Cozy Camp Cottage. My husband and I were in town to visit family over Thanksgiving, so we spent a limited amount of time in the cottage, but loved every moment we were there. It was very nice to have a stove and refrigerator to be able to cook for Thanksgiving. It was comfortable, and well-appointed. The central location made it an ideal place to stay with easy access to all areas of Springfield. I took a walk through downtown one afternoon and loved how many lovely local businesses, breweries and eateries were within walking distance. Our check in and check out was very simple and smooth. All communication from John and Pat was friendly and helpful. We will definitely stay here next time we come to town.
Ashley
2014-11-29T00:00:00Z
My wife and I had a wonderful time at John's "cottage". John and his wife were very nice and hospitable. Location was excellent being close to everything but feeling like you were in the country when you got onto John's property. My wife loved the Quaintness of the place and I loved the convenience. It's just beautiful
Troy
2015-07-20T00:00:00Z
This was my first time in Missouri and Springfield and what a great experience I had living in Johns cosy cottage! It's in a fantastic location on walnut street, we walked 10 mins downtown and had an amazing dinner in The Aviary - best steak and also salads!! We were able to park our car near the cottage and what a beautiful garden john and pat has, you are able to sit outside the cottage and be in this tranquil garden! We had our tea outside it was so relaxing after driving along Route 66!! Inside the cottage has a cooker, microwave and a fridge and a super dooper hair dryer (better than you get in a 5 star hotels). The decor is traditional and the bath is so cute. John was thoughtful with water, coke and other sodas in the fridge plus shampoos and shower gels in the bathroom! This is an ideal stay if your in Springfield! You will enjoy it! :) john was fast and efficient with his communications. He was very attentive.
Kathleen
2014-09-17T00:00:00Z
The Little House is absolutely lovely.set in peaceful gardens and very close to the university which is where we needed to be. The extras were very welcome and everything was spotlessly clean and a very comfortable bed. Would most definitely recommend and would stay again every visit.
Maria
2016-10-31T00:00:00Z
Room Type
Entire home/apt
---
Property Type
House
---
Accommodates
2
---
Bedrooms
Springfield, MO, United States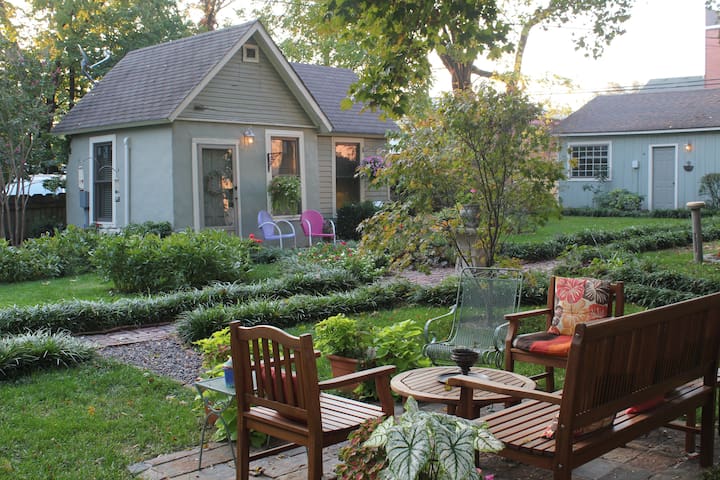 This delightful, 1942 bungalow has lots of charm and character. It is a 2 bedroom, one bath home with original hard wood floors, arched doorways and glass doorknobs. It is in a great, centrally located neighborhood, and close to many destinations.
Please come enjoy our home!! Enjoy all the comforts of home while visiting Springfield. Fully furnished home. This delightful, 1942 bungalow has lots of charm and character. It features original hardwood floors and kitchen cabinets, glass doorknobs and arched doorways. It is a 2 bedroom, one bath home with all the amenities to make your stay a great one. There is a nice size living room with a large flat screen TV and Blue Ray DVD player for relaxing and watching movies. Satellite TV and WiFi are also provided. The dining room adjoins the living room through a large arched doorway, providing an open area for conversation and dining. There is a full size kitchen for easy preparation of meals. It includes a full size stove, dishwasher garbage disposal and refrigerator with ice maker. It is fully stocked with pots, pans, dishes, toaster, blender, coffee maker etc. for your cooking needs. Complimentary tea and coffee are also provided for early morning wake up! There house has two bedrooms. One bedroom features a queen sized bed that will sleep two. The other bedroom features two twin sized beds that will also sleep two. There is a twin hide a bed in the living room for an additional guest to sleep on. The house will comfortably sleep 5 guests. The bathroom has a tub/shower combination and has been recently updated with a new tile floor and vanity. There is a washer and dryer for guests to do laundry. There is a large bricked patio, barbecue grill, outdoor table and chairs and covered front porch with a bench for enjoying the beautiful outdoors. The space also has a garage and plenty of off street parking.
The house is located in an older, established, desirable neighborhood. It's central location provides easy access to many attractions, making it a short drive to lots of destinations. Yet, it sits on a quiet street, with friendly neighbors, and has great sidewalks for walking. The original Bass Pros Shop, Mercy Hospital, Springfield Art Museum, Phelps Grove Park and Missouri State University are all just a short drive from the house. They are all estimated to be a drive of around 5 minutes or less. The Historic Downtown Springfield area with lots of bars, restaurants, and coffee shops is just a short drive away, also. It is approximately a little over 2 miles and a 7 minute drive. Hammon's Field, home of the Springfield Cardinals (St. Louis Cardinal's Farm Team) is approximately 2.3 miles away and a 6 minute drive. Mediacom Ice Park and Jordan Valley Park area are also a close drive at approximately 2.8 miles and about a 7 to 9 minute drive. Branson Missouri is also not too far away if wanting to explore the shows, Table Rock Lake and Silver Dollar City. It is an approximate 42 mile drive and takes about 44 minutes to get there.
We loved our stay here
Anne
2016-10-21T00:00:00Z
As we took our first steps into the home smiles and content were obvious. This home was clean, welcoming, all the comforts of home and made our stay so enjoyable. I loved the quiet well kept neighborhood and easy acesss to wherever we traveled in Springfield. Our host Karen was top notch and meet our our needs quickly. We have already requested dates next year!
Janice
2016-09-19T00:00:00Z
Unique cozy home. I stayed here with 5 of my girlfriends. We were very comfortable and enjoyed all the little extra touches. We plan on staying here every year. A lot of thought, care and love went into creating this space.
Callie
2016-10-17T00:00:00Z
Karen's place is the best! I was in Springfield for a few days along with two friends from out-of-state for training, and we had debated finding a place through airbnb. We were a little nervous because none of us had used it before, and Karen's place didn't have any reviews yet, but we're so glad we went for it! The house is so cute, and we loved having our own kitchen, yard, living room, etc., for about what we would have paid for a decent hotel. And when we got our training schedule and found out we wouldn't need a place to stay the final night, she was very easy to work with in canceling that night. I HIGHLY recommend Karen's place, and we've all said we'll stay there again if we need to come back!
Sarabeth
2015-06-06T00:00:00Z
Everything about this home was great from start to finish! Communicating with Karen was quick and easy. Her home was very comfortable and had fresh, contemporary furnishings. The kitchen and bath were very cute. The backyard was especially nice with a patio and an arbor. This home is a very good value, giving you many more amenities than what you would get for the price of one hotel room. I would definitely stay here again!
Jennifer and Larry
2015-08-03T00:00:00Z
Karen left chocolates (yum!) and a beautiful home ready for our arrival. Everything was clean, crisp, and welcoming. What a peaceful sanctuary in a quiet neighborhood. We'll definitely be back!
Lisa
2016-03-25T00:00:00Z
Karen was absolutely great to work with. Communication before and after the rental was outstanding. The house was exactly as listed and was MUCH better than staying in a hotel. The house was stocked with all the kitchen utensils to be able to cook "at home" instead of having to eat out for every meal. We will defintely rent again.
Kevin
2016-01-18T00:00:00Z
Karen and Beverly were fantastic hosts. The home was absolutely beautiful. They were quick in responding to any questions we had and took great care of everything. The home is in a perfect location to get to many restaurants and activities. It was on a quiet street and having a driveway/garage to park in was nice. The backyard was nice as well, especially for our daughter to play. The home was supplied with everything we needed and was very comfortable and cozy. The only thing we picked up was a night light for the room our daughter was in. We would definitely recommend it and would love to stay again if we return to the area.
Stephanie
2016-12-02T00:00:00Z
Room Type
Entire home/apt
---
Property Type
House
---
Accommodates
5
---
Bedrooms
Springfield, MO, United States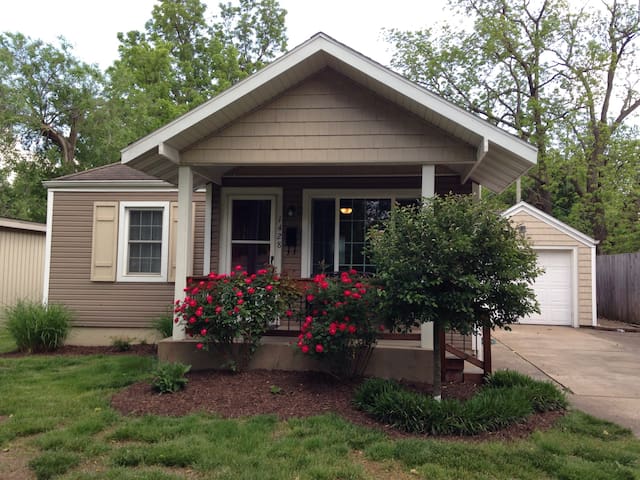 My 1941 navy blue Bissman cottage is close to downtown, neighborhood grocery and cafes just 2 blocks away and theaters, restaurants, galleries and nightlife. This house has a cozy vintage charm and the location can't be beat. You will have sole use of the back bedroom and main floor bathroom. I can recommend many fun things to do and places to eat or leave you to yourself if you prefer. There are so many great restaurants close by! I do have two friendly cats.
My space is filled with art- pieces I've collected from local artists, my own photography, originals I've scored from estate sales and some of my own weavings and the like. The house has a vibe that combines period 40s with mid century styling. It's eclectic but it works together. I think you'll find many interesting things to see wherever you may turn. The original details- the doors and hardware, those glass knobs, original tile in the bathroom and hardwood floors throughout- all add charm and character. The front yard is full of seasonal blooms in spring and summer. The bedroom area for guests is private and so quiet!
Rountree area is full of diverse homes and architecture. The area was built up from the late 1800s up through the 60s and the homes show this! Large 4-sqare, colonial, 20s bungalows...also there are smaller homes like mine and large stately homes all nestled in the same neighborhood. It's the BEST neighborhood in springfield. There are always people out walking dogs, riding bikes, etc. It's a short walk to some great neighborhood eateries and grocery and a cool local outdoor gear shop and even a package store. (seriously- fresh pastries, ice cream, meals and appetizers, wine and beer... 2 blocks away!) Or a short drive to the downtown area with many restaurants and galleries and bars/pubs.
The house was so cute and beautifully furnished! Adie welcomed us and gave us great suggestions for dinner that night. We only stayed for a very short time, but it was so relaxing. The coffee station and chocolates that she set up for us was so wonderful!
Emma
2016-11-12T00:00:00Z
The area is absolutely beautiful! Great for walks and close to downtown
Emily
2016-10-09T00:00:00Z
Adie was helpful, flexible, and very communicative. Her house is very cute and though small, the room for rent has a door that you can close in the hallway that enables the room to become a suite with a hallway & private bath. Definitely adds to the privacy & makes it feel like your own private getaway. Great deal & great design esthetic.
Jennileen
2016-12-30T00:00:00Z
If you're looking for a beautiful, cozy, quiet, & friendly place to stay, this is the place to stay. Adie communicated so well and made this stay our best one yet.
Dwight
2016-09-24T00:00:00Z
Adie's place is even better than described. The bed was comfortable, the room was quite and clean. The bathroom was equally clean and pleasant. The entire home is decorated very well and the neighborhood is great. I went to bed early and woke up even earlier, but I did have the pleasure of meeting Adie and her fur babes. Oscar is a gentleman and a sweetie. I would love to stay again.
Jenn
2016-10-30T00:00:00Z
I was very happy to be able to stay in such a charming, unique house with Adie and her friendly pets. They all made me feel right at home! She was very flexible with my arrival time and quick to respond to any questions that I had.
Jo
2016-10-16T00:00:00Z
Adie's cottage is a jewel box. Everything was exactly as described or better. Communication was prompt, thorough, and clear. Highly recommend!
Andrea
2017-03-04T00:00:00Z
I love staying at Adie's place. It's so close to everything. The bed is amazing. The room is cozy and quiet. Her house is charming and full of character. Her lovely fur babes are so sweet. Perfect stay. I highly recommend to anyone visiting Springfield. Thanks Adie!
Jenn
2017-01-22T00:00:00Z
Room Type
Private room
---
Property Type
House
---
Accommodates
2
---
Bedrooms
Springfield, MO, United States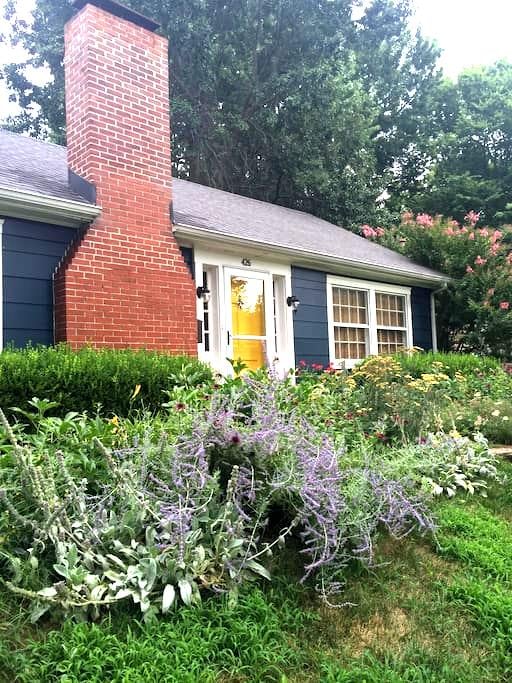 Nestled in a quiet neighborhood. Cozy guest bedroom and bathroom. Large empty closet for extended stays. Fully functioning office space. Electronic entry and security system. Free parking. Expansive backyard with patio/grill. Fully equipped kitchen. Guests may use refrigerator and cook meals (coordinate with host). Come visit!
I love having visitors in my home! Whether you're coming for a short trip to see friends in the 417 or you need an extended stay where you can work remotely and drum up business in the Ozarks - my small cottage is perfect for you. I would love to chat with you about staying with me.
I live in a very unique neighborhood. Most of the homes are older, but mine is the newest on the street. The trees on our street are beautifully green in the summer and gorgeous with fall foliage. The sidewalks are complete, and in short walking distance to a beautiful park.
Great little place to stay. Felt very welcomed. Kathryn did a fantastic job of communicating with us before, during, and even after. Nice bedroom and bathroom for us.
Kent
2016-08-08T00:00:00Z
Such a kind and helpful hostess, very accommodating and eager to help. We were in and out very quickly so never got to meet her in person but we were very grateful! She had provided us with everything we needed when we arrived. Lovely house and neighborhood, everything was perfect, thanks!
Rhiannon
2016-08-22T00:00:00Z
I came for a quick weekend trip from out of state and needed a good night's rest for a race. I was able to sleep very comfortably in the bed with great pillows, with an excellent fan and air circulation. These are details that matter to me. Although I didn't get the chance to meet the host, she was very sweet and communicated to me the entire stay. Pizza place right around the corner was convenient and the check in process was smooth and easy.
Rebeca
2017-03-25T00:00:00Z
Kathryn's place was beautiful and cozy, and super clean! It was an amazing value for for the price! We couldn't have been happier with our stay. :) It was very rejuvenating after a very long day of driving!
Rachel
2017-03-19T00:00:00Z
Clean and quiet. Will return!
Felecity
2017-04-02T00:00:00Z
She was very kind and check-in was very easy to understand. The room was calm and I was very relaxed.
Kodani
2017-03-23T00:00:00Z
Terrific host. Very private room and bath. Great location. Couldn't have asked for more. Thanks Kathryn!!!!!!
Tim
2017-02-25T00:00:00Z
I didn't interact with Kathryn in person but she did a great job providing me with all the information I might need during my stay. Room was as advertised, house was quiet, and I had the best sleep I've had in an Airbnb to date!
Rebecca
2017-03-27T00:00:00Z
Room Type
Private room
---
Property Type
House
---
Accommodates
2
---
Bedrooms
Springfield, MO, United States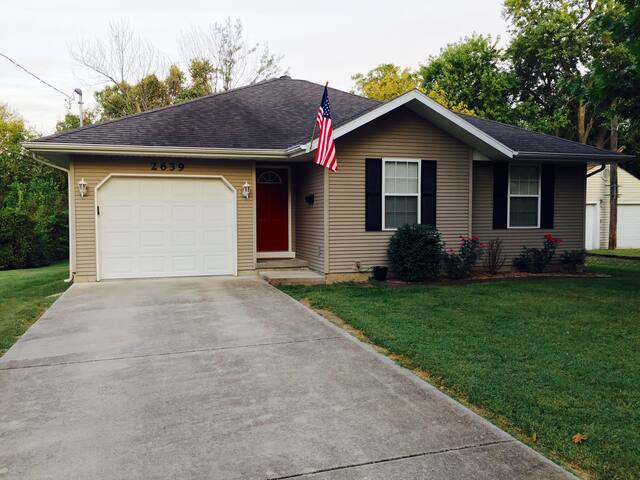 This charming brick home offers a private room, queen size bed, private bathroom, kitchen, shared living room and back deck. This home is located just 1 minute from Bass Pro shops and just a short drive from downtown Springfield. Near, public transport, the city center, and parks. You'll love my place because of the location and the ambiance. My place is good for couples, solo adventurers, and business travelers.
So I was only in town for a brief stay and I wasn't really expecting a lot. Kurtis immediately welcomed me to the home, showed me the room, bathroom, etc. Kurtis was very kind and a great host. We talked a little bit and he is a great guy and it's a great home, in a great location. The only downside was I did not get to meet his wife who, by Kurtis' description, sounds like a lovely person. Next time I am in Springfield I will definitely consider staying with them again, and I hope to learn more about this family.
Chad
2016-10-22T00:00:00Z
Very comfortable, quiet and felt like home Enjoyed Kurtis and his lovely wife. I would stay there anytime.
Paula
2017-03-31T00:00:00Z
Very clean and nice room thoroughly enjoyed conversations with our hosts and their helpful suggestions. Quiet neighborhood would highly recommend
Gary
2016-12-04T00:00:00Z
This place was great and Kurtis and his wife were very accommodating. It was clean and comfortable. I will absolutely stay here again.
Jackie
2017-03-19T00:00:00Z
Both Kurtis and his wife were very friendly and accommodating. I didn't stay long, but everything went very smoothly
Austin
2017-03-27T00:00:00Z
Accurately matches description, very good value, everything clean and comfortable and great location in Springfield. I would highly recommend this stay!
John
2017-02-28T00:00:00Z
House is awesome! In a great location, very close to downtown, the room was perfect.
Mikhail
2017-01-31T00:00:00Z
Kurtis and Marcella were very welcoming. It is nice to have a private bathroom, even if it is across the hall. Springfield is easy to navigate and Andy's Custard is highly recommended. I would not hesitate to stay again. Thanks for your hospitality.
Tamara
2017-01-28T00:00:00Z
Room Type
Private room
---
Property Type
House
---
Accommodates
2
---
Bedrooms
Springfield, MO, United States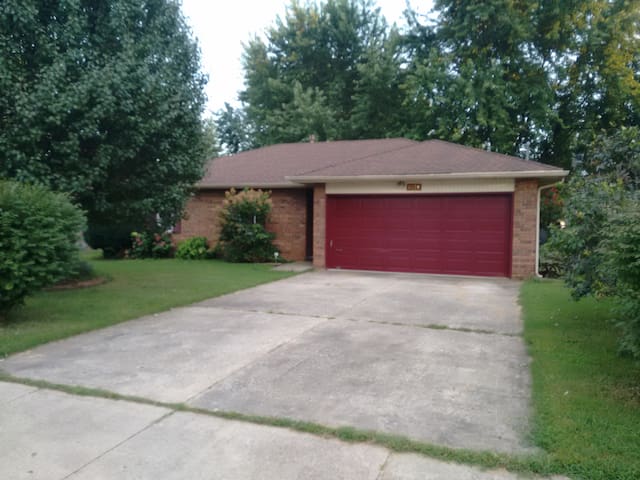 Two cozy bedrooms in quaint 50s era home in a quiet neighborhood, each have a queen bed, the additional bedroom available is also my crafting / yarn room. Two blocks away from the South Creek Greenway Trail. Centrally located in Springfield, so very close to Bass Pro Shops and other shopping.
My house has been dubbed the "Jelly Bean House" because of my excessive use of color. I like to think of it as bright and cheery. You'll have access to your bedroom, and all living space. Note that it is shared with two cats, who love to sit in the open windows and stare longingly out at the birds. I have a large back yard and some garden space, anything that is in season, I will share.
I'm in a quiet residential area in Springfield. Very centrally located, easy access to Bass Pro Shops and other shopping.
Great host. Everything was ready for us and with good communication. Terrific breakfast which was unexpected. Would stay here again. Very hospitable!
Dale
2016-08-28T00:00:00Z
Katherine's home is super comfy and she is a wonderful hostess. Flexible about check in, thoughtful about guest needs, and very kind in sharing her yummy breakfast foods. We enjoyed our stay and talking board games with her. We definitely recommend her place and hope to stay there again when we are back in Springfield!
Leticia
2017-02-11T00:00:00Z
Katherine is delightful! The bed is comfortable, her shower is divine, and she was so friendly and accommodating. I loved playing games with her, and her cats are well behaved and adorable. I also liked the easy key pad entry/exit system. I highly recommend staying with Katherine when you're in Springfield. I know I'll be back!
Brent
2017-02-15T00:00:00Z
It was a perfect location for me, very close to MSU campus yet safe and quiet. Katherine did everything to make sure I had no problem with my stay. I am on a special diet and it was really nice to have access to the entire kitchen to make my meal, really appreciated that. The cats were awesome and provided a great sense of comfort and warmth. I would without doubt stay there again.
K
2016-12-31T00:00:00Z
Our stay was great. We were passing through town on a road trip. There was an adorable cat and Kathrine made us coffee in the morning!
Meredith
2017-01-06T00:00:00Z
Amazing place with an amazing host ! Very clean with very nice decore and the host made me feel at home most importantly..i would love to learn more about her complex board games the next visit ! 5 stars !
Josh
2017-04-04T00:00:00Z
Great place to stay and get rest
Stephen
2017-03-17T00:00:00Z
Clean, basic and good value. If you are not a cat friendly person I would consider something else. The host is terrific.
Tom
2017-02-25T00:00:00Z
Room Type
Private room
---
Property Type
House
---
Accommodates
4
---
Bedrooms
Springfield, MO, United States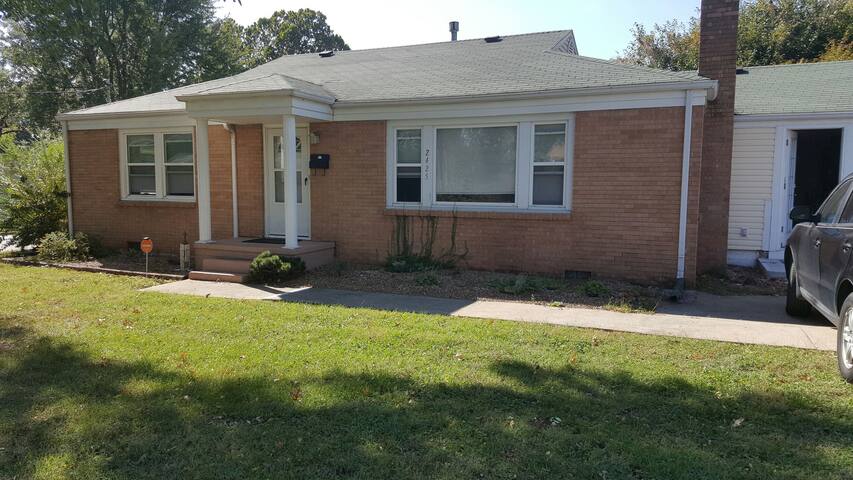 Welcome to the Fremont Lounge! My contemporary cottage in a thriving neighborhood at the heart of Springfield offers a great location with safe and convenient access to many amenities. Located within walking or biking distance to Mercy hospital, Missouri State University, Springfield Art Museum, Phelps Grove Park, professional baseball, performing arts, retail/ shopping, a host of local coffee shops, unique restaurants, and so much more!
This generous 3 bed/ 2 bath home features a sun room, backyard with spacious deck and high privacy fence, and a front porch that is great for relaxing. The master bedroom includes a king size platform bed with under bed storage and walk-in closet, as well as a master bath with separate shower/toilet room and sink/ vanity foyer. Across the hall, the guest bedroom offers a queen size bed and full closet. Guest bath includes a shower/tub combo and full vanity. The office has everything one needs to run a business; including an Apple iMac with guest access, laser jet printer, high resolution scanner, paper shredder, various office supplies, and even shipping materials. The kitchen has Frigidaire appliances and a full suite of utensils from Cutco steak knives to Kitchenaid food processor, as well as a cupboard and dining area capable of seating six. The living room has a 32" HD television with Chromecast and surround sound, leather sectional sofa, and a wood-burning fireplace.
Tennis courts, Springfield Art Museum, Phelps Grove park, and eateries/coffee shops are all within a 10 minute walk. I recommend Cherry Pickers for both coffee and cocktails, Elle's Patisserie for baked goods, and Tea Bar and Bites for a quaint lunch.
This place could not have been more fantastic. Very clean and nice. Great host, great house, and great location. I would definitely stay here again.
Robin
2017-03-04T00:00:00Z
great location and clean big house. Fantastic environment
Tangerine
2017-03-29T00:00:00Z
The Fremont Lounge was so perfect! Everything is so clean and comfy! There were never any disturbances from the neighborhood and we felt completely safe the whole time. Location is perfect. Nicholas is extremely kind and helpful. We definitely recommend staying here!
Shasta
2017-01-29T00:00:00Z
Nicholas' place is centrally located, clean, spacious, and an excellent deal for the money. He is very helpful and communicative. I absolutely recommend this place!
Sarah
2017-02-26T00:00:00Z
Nicholas's house was impeccable. He was a very gracious host and made sure we had all the information we needed for our stay in Springfield. Furniture is clean and very comfortable and I loved the outdoor space in the backyard and the front porch. He has all the amenities you could need regarding electronics, computer needs and kitchen appliances. He makes it easy to be away from home. I will definitely stay here again when I return to Springfield!
Kara
2017-01-01T00:00:00Z
This is a very nice and clean house. The three of us were very comfortable. Convenient location. Communication was good and check in was easy. I'd recommend Nicholas' place and look forward to returning.
David
2017-02-19T00:00:00Z
Great place and very cool. The bed was incredibly comfortable and everything was nice & clean. I wish I could have stayed longer and will look it up again.
Bowen
2017-04-02T00:00:00Z
This is a very nice house! He has gone above and beyond with anything you would need. It was easy to get to get to, with great instructions and the key was very accessible. We invited our parents there for my husbands surprise pasta dinner. The kitchen had everything we needed to make an amazing dinner. Our parents, from Springfield, loved it and would recommend it to anyone. The house is very unique with some great decore. The beds were comfortable, the wifi was good, and it was very clean. We will definitely stay there again.
Brent
2017-01-27T00:00:00Z
Room Type
Entire home/apt
---
Property Type
House
---
Accommodates
4
---
Bedrooms
Springfield, MO, United States
Just 2 city blocks from Bass Pro Shop, 1 mile from MSU, Mercy Hospital. The Springfield art Museum is just a few blocks away at Phelps Grove Park. Also within a few miles is The Historic Gilloiz Theater, Shrine Mosque, Historic Walnut Street, This is the upstairs bedroom with a queen size pillowtop queen mattress and box spring.
Cozy room. bed is a queen size mattress and box spring with a very comfy pillow top. Enjoy! Eastern exposure perfect Yoga room! (So I've been told)
This neighborhood has many unique vintage homes, no cookie cutter homes, all very quaint and interesting. Springfield Art Museum is just around the corner from the house @ Phelps Grove Park. Listen to the beautiful sound of church bells every hour from the church across the street!!
Luara was very helpful from the beginning before I even booked her room. Once I arrived she was very nice and accommodating, easy to talk to plus gave me advice on my job issue(greatly appreciated). The room was neat and the bed was comfy. All in all a job experience, I'd stay with her again if I needed to be in Springfield. The house cats are awesome as well, if you're a cat person. :)
Deann
2016-10-01T00:00:00Z
Peaceful, felt at ease
Bryan
2017-01-07T00:00:00Z
Laura was a very gracious host. Despite being sick, she stayed up to make sure I was able to get in and that everything was as it should have been. I highly recommend this house for your stay.
Robert
2016-12-11T00:00:00Z
I arranged a room for my mom with Laura. My Mom was hours late due to an incident at home. Laura helped her find her way in the dark and even fed her dinner when she got there. She was very kind and gracious for a weary traveler. My mom loved her organic garden, the spacious back yard and her loving care of her foster cats. She says the room was very comfortable and exactly what she needed. She also liked the convenience of having the bathroom right across the hall. The atmosphere of the house appealed to her very much. She will be staying there again next month as a new member of airbnb! Thanks Laura for making this such a wonderful experience for her.
Lisa
2016-08-28T00:00:00Z
This house is close to downtown and has off street parking. The host Laura is friendly and welcoming and was very nice to an exhausted me after I drove all the way from Colorado! The room is simple, but I wasn't looking for more than a bed so it was perfect. There are several cats in the house but Laura kept the door closed to the room so I didn't have any trouble with allergies. I would stay here again :)
Michelle
2016-08-21T00:00:00Z
I really have enjoyed my time and stay here. The place is a beautiful historic home one of Springfield's treasures. Laura is a gracious and hospitable host, the place is warm, comforting and inviting. I fell in love with the charm, wonderful smells and loving cats all made me feel welcome and right at home especially for the price I couldn't ask for more. I enjoyed my time so much I ended up booking for longer stay.
Shanti
2017-02-16T00:00:00Z
The host canceled this reservation the day before arrival. This is an automated posting.
Judy
2016-11-15T00:00:00Z
She was helpful in allowing to check in early since I needed to go on a run so had a place to change before doing so
Carlos
2017-01-01T00:00:00Z
Room Type
Private room
---
Property Type
House
---
Accommodates
2
---
Bedrooms
Springfield, MO, United States
Beautiful renovated 1922 Bungalow near downtown Springfield. Dogs are welcome here! A few blocks away from breweries + downtown life + movie theaters + coffee shops + restaurants + the historic Route 66 + live theaters + MSU campus + the hospitals and so much more!
This cozy, bungalow home was built in 1922. The new renovations have updated the bathroom, kitchen, and rooms with modern features while still retaining charm and beauty. My favorite part of the house is the screened in front porch- such a great place to drink coffee and chat with a friend! Amenities include Full Kitchen: Keurig Coffee Maker, Oven/Stove, Microwave, Dishwasher, Pots, pans, silverware and plates/cups- everything you would need for food prep and serving. Laundry Room: New Washer+Dryer, laundry soap, and dryer sheets Bedrooms: fresh bedding (sheets, pillowcases, blankets) 2 queen beds, 1 twin bed, and 2 air beds, full closet space plus in-room shelving for extra storage space. As shown in the photos, the 3rd bedroom is open to the kitchen area but has curtains you can close for privacy. Workspaces in both master bedroom and living room. Bathroom: 2 full showers/bathtubs stocked with soap, hand soap, toilet paper, clean towels, shampoo and conditioner, hair-dryer. BackYard: Huge, fenced in back yard for your doggies! The dogs can access the backyard through a med/large doggie door in the mudroom/laundry room area. You'll be greeted with a basket full of complimentary tea, coffee, water and other goodies. The house manual with full details, contact info, wifi code, and key box code will be available after booking. You'll have super fast wifi access along with Netflix and Hulu for those cozy nights in! I want your stay to be rejuvenating, restful, and comfortable!
The home is located in the up and coming West Central Neighborhood. Its an eclectic mix of full renovated homes and fixer-uppers. It is a typical downtown neighborhood filled with thriving families, students, the working class, and older single adults. Occasionally, the neighbors might get a little loud with their music and friends, but nothing the average city dweller isn't used to experiencing. Mother's Brewing Company and Springfield Brew Company are within blocks, and the downtown square + nightlife + movie theaters + restaurants + coffee shops are less than a mile away! So easy to get around from this central location!
I would give Adie and her bungalow 6 stars if I could! The house was immaculately clean, adorably furnished/decorated, spacious enough for our four guests + a large dog to spread out with complete comfort, equipped with all needed amenities for a convenient and comfortable stay, and boasted many cozy touches that made us feel at home. My dog loved the large, privacy-fenced backyard and dog-door right into the house. We were only a several minute drive from fun downtown stuff (ate at The JOB and had drinks at Mudhouse), but certainly could have walked if we want/needed. Although Adie was traveling as well, she was extremely easy to communicate with and always replied via text within minutes. Our stay was fun and went super smoothly. Everything was very convenient. I would definitely recommend this stay to the next bnb'er!
Halie
2017-01-29T00:00:00Z
The house is great. It was very clean and updated well. We had a great time.
Seth
2017-03-26T00:00:00Z
Adie is a wonderful host! Her home is delightful and beautiful and we thoroughly enjoyed our stay. We highly recommend this place. It is a gorgeous house and she had it very well-prepared for guests. There was a welcome basket full of snacks and treats and the bathrooms were fully stocked with toiletries. Adie is a warm, generous, thoughtful, and extremely accommodating host. She made our stay very pleasant and we are already looking forward to our next visit! Thank you, Adie! You are a joy and a delight!
Jonathan
2017-03-18T00:00:00Z
Adie was an amazing host! She left a basket of snacks for us to enjoy as well as provided toiletries in both bathrooms! The home was so cozy and perfect for our weekend getaway!
Valerie
2017-02-19T00:00:00Z
Adie was so sweet and stayed in contact when I needed her and her place was so much more than I exspected thank you adie
Stephen
2017-04-02T00:00:00Z
This is SUCH a great place to stay! The neighborhood is quiet, safe, and so close to downtown Springfield. Adie was so great, not only did she have a snack basket available, there was a toiletry basket that had everything someone would need. The beds were comfortable and spacious, and I LOVED the screened in porch. I would recommend Adie's home to anyone. Great stay at a great price!
Jenn
2017-03-05T00:00:00Z
We stayed for the weekend with our two kids (ages 8 and 11) and our dog. We had a great time. Adie's home is beautiful and we had everything we needed and more! Thanks so much for letting us stay at your place Adie!
Allyson
2017-02-27T00:00:00Z
I think she knows everything about hosting. We felt very comfortable and convenience. We enjoyed the house. We love dining table! She is a great host.
Geunok
2017-02-09T00:00:00Z
Room Type
Entire home/apt
---
Property Type
House
---
Accommodates
6
---
Bedrooms
Springfield, MO, United States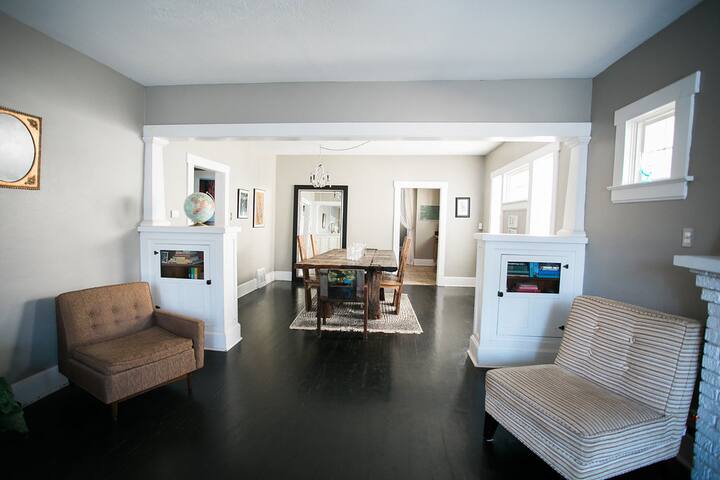 Quaint 2 bedroom bungalow located 1.5 miles from MSU, Evangel,OTC and many business conference venues. Comfy living area and furnished kitchen provides a perfect place to unwind and relax after a long work day or long day of sightseeing and shopping.
House was built in 1896 but has been renovated to comfy standards while keeping it's charm. Complimentary coffee, tea and water are provided while you stay at this home away from home. Cable TV, DVD player and Internet are standard and the covered front porch is lovely to sit and visit on. Amenities include full kitchen, coffee maker, oven/microwave/fridge/microwave/dishwasher with everything you would need to cook, small charcoal grill on the porch (charcoal not provided), clothes washer/dryer/iron, high chair for toddlers, 1 queen bed, 1 full size bed, and a double tall airbed for a 5th person, drawer and closet space, fenced back yard (PET OWNERS, this is not accessible directly from the house - so to put your pet in the yard its around the side of the house to reach the fence), desk workspace in second bedroom, bathtub/shower, hair dryer, bar and hand soap - toiletries, snacks and drinks available for purchase during your stay for your convenience. Living room has comfortable seating for 5.
Bass pro and all universities close by. AA affiliate of St Louis Cardinals with in short driving distance. There are many lakes and outdoor spaces to enjoy in close proximity. There are several food and drug stores close by to shop at as well. Please note that this home is in a safe but older, working class neighborhood on the North side of Springfield. Close to the shops and eateries on Commercial street. Dale used to be a major thoroughfare and some storefronts have been converted to homes or are closed, the nightly price of the home reflects this older neighborhood. The neighborhood is quiet although in the afternoon children can be seen playing outside and will shout to each other, and my 3 neighbors are older folks that like to think they are the neighborhood watch.
The house was comfy and clean. It was certainly great for our family and two dogs. We will certainly stay again!
Randy
2017-02-19T00:00:00Z
I stayed here for six nights over the Thanksgiving week and enjoyed it very much. TIP: The house is located on a corner, and the cute porch you see on the posting is actually on the side street of the address you'll receive in the itinerary -- if you arrive after dark, the house address might be hard to see but the porch is easy to spot if the lights are on. Clean, comfortable house and everything was exactly as advertised. Instructions were crystal clear and I appreciated the email check-ins I received. Kitchen is large and well equipped if you want to do some meal prep at home; you're also handy to lots of restaurants and take-out options (including plenty of the ubiquitous Springfield Cashew Chicken and other "Chinese" options). There's a nice Walgreen's about three blocks away, and what else do you need? Everything works -- excellent cable TV and wi-fi. Good shower, and if you're tall like me you'll appreciate how high the shower head is installed so you don't have to duck under it. A couple night lights are nice touches if you need to navigate after bedtime. Offstreet parking is handy (be careful going in and out -- easy to bottom out). My main criterion was "pets allowed," and Brian and Lisa do allow pets with a reasonable pet deposit. The fenced back yard is handy, but know that there's no access to the yard from inside the house; you need to go around to the side of the house to get to the gate for the yard. It's a working class neighborhood -- Brian and Lisa's place is nicely updated, but I can't say the same for the neighbors. I frequently went for walks, and while I never felt for my safety, it's on the shabby side. Seems to be going through a sidewalk project, too -- nice new concrete in front of Brian and Lisa's, but charming older (and uneven) brick walks in places and none at all in others. I bet the neighborhood is a lot more attractive when the leaves are on the trees and flowers are in bloom. You'll hear trains going by about a mile away, and if you're a train geek as I am you'll really dig the Jefferson Ave Footbridge which is only about 10 minutes away.
Fred
2015-11-29T00:00:00Z
Very pleasant and as advertised.
Stephen
2016-07-24T00:00:00Z
This was our very first Airbnb experience and I must say, Brian was a great host for us. His home was very acurate to the description that was given. Meet all our needs. The neighborhood was quite. We would stay in Brian's home again if we are in the area.
Sonja
2015-11-01T00:00:00Z
My wife and I were blown away with the efficiency and homeliness that we felt here. Great space and Brian was extremely helpful!
Andrew
2016-11-13T00:00:00Z
Brian was very helpful and easy to work with. He has generously provided extra conveniences at the house. The location is as described, fairly downmarket. He has installed a security system which we were happy about. It is close to shopping and restaurants and has an enclosed yard for pets.
Carolyn
2016-07-17T00:00:00Z
My daughter and I stayed in this house for seven nights. It was conveniently located near Drury University, and we mostly came and went during morning and evening hours. The house is in a working class neighborhood and is directly across the street from a church--the neighborhood was quiet each evening. I'm not sure about its rhythm during the day because we were rarely there. I can't say enough about how accommodating Brian was. He was very welcoming--low jazz on the radio, fresh cookies on the table, and a quick walk through of the house for instructions and questions. Also, he always gave quick feedback when I had later questions. Very friendly. The house was great for our needs, the beds comfy, the kitchen roomy and outfitted with what we needed to prep our meals for the week. Very easy check in and check out. Thanks Brian!
Jerlene
2016-05-30T00:00:00Z
This place is fabulous. Excellent communication. Comfortable. Clean. Quiet. It felt just like home. My kids are already calling it our Springfield home and can't wait to go back. After originally booking a hotel for the holiday and then reading reviews on said hotel, I immediately cancelled and got on airBNB. So glad I did, because this was such a better deal. I didn't have to worry about my kids making noise and bothering neighbors and I was able to cook a dish for the family Thanksgiving and not displace our host in their own kitchen. I'm already planning our next trip for the summer and next Thanksgiving.
Kristin
2016-11-26T00:00:00Z
Room Type
Entire home/apt
---
Property Type
House
---
Accommodates
5
---
Bedrooms
Springfield, MO, United States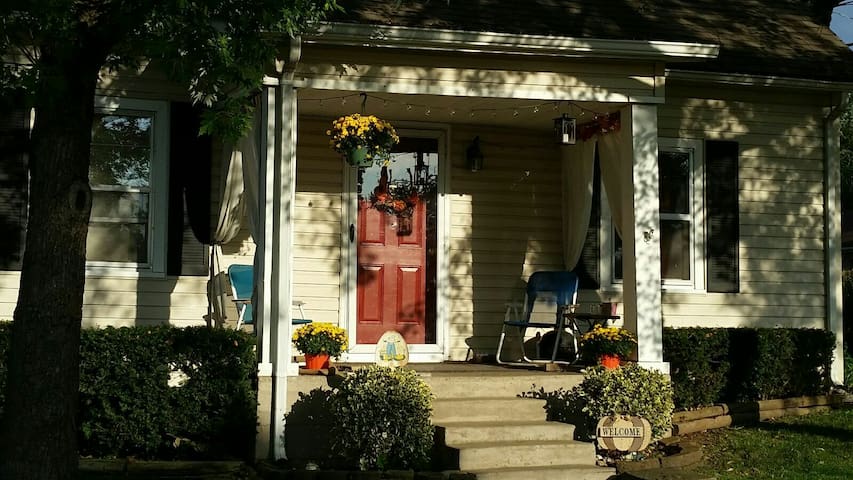 Comfortable duplex in southwest Springfield, close to main streets around town. Fenced yard for your pet, and third bedroom is playroom for your little one. Large deck for listening to the birds or watching the fireflies. Driveway parking.
• The master suite is upstairs and has a queen bed. The nursery nook is adjacent, and the little bed can easily be moved into the master bedroom. • The second bedroom is downstairs and has a double bed. • The playroom, also downstairs, is large enough for a roll-away bed (available upon request).
This is a quiet residential neighborhood. Traffic is minimal, making it a safe and pleasant area for jogging or dog-walking. Nathanel Greene park is a few blocks away.
Linda was there to greet us with a smile the moment we arrived. The house was neat and clean and was perfect for our family. The kids had their pick of rooms and the whirlpool tub in the master bathroom was a treat! Our little pup loved the fenced in backyard and I really enjoyed the patio for breakfast. Thanks for a very comfortable stay, Linda!
Emilee
2016-04-01T00:00:00Z
The house was exactly what the listing said and more. Nice and quiet location and we enjoyed every bit of it. Linda did a great job of responding to our every need. I recommend this to everyone. Thanks for a great weekend!!
Derek
2016-02-14T00:00:00Z
2nd time our family has stayed at Linda's and it will not be the last. The accommodations are perfect for our family of 5 (6 if you count our chihuahua). Very kid and dog friendly. Until next time!!! ;-)
Adam
2016-02-28T00:00:00Z
Great host. House was beautiful. Linda was very helpful and polite.
Corey
2016-08-30T00:00:00Z
Linda's home is wonderful - spacious, comfortable, and centrally located. It was the perfect home base for us as we attended a family wedding and various related events. We could not have asked for a better place to stay and will definitely come back.
Nancy
2016-07-26T00:00:00Z
Linda was very welcoming and her house was clean and comfortable. I would definitely stay with her again.
Melissa
2016-02-20T00:00:00Z
Great for dogs, quiet neighborhood. Worked really well to visit family.
Doug
2016-11-27T00:00:00Z
Linda has an incredible home! The pictures do not do it justice! There is so much space and the master bath has a jacuzzi tub which I really enjoyed. Linda is very sweet and easy to work with and made fresh muffins to enjoy during our stay. The backyard is so peaceful to enjoy our morning coffee. I absolutely recommend this home if you are in the Springfield area!!!
Marilyn
2015-09-06T00:00:00Z
Room Type
Entire home/apt
---
Property Type
House
---
Accommodates
4
---
Bedrooms
Springfield, MO, United States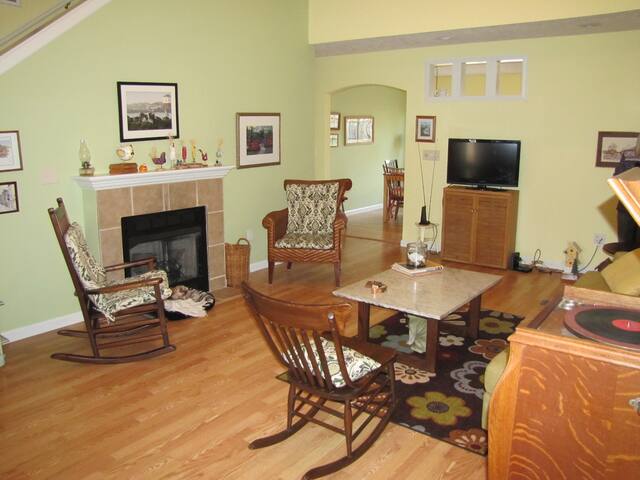 3 bedroom ranch home in wonderful neighborhood. Lots of good restaurants nearby. 3 min drive to James River Expressway. Can reach anywhere in the city in 25 min. All new appliances and furniture. Nice yard and you can use the garage for your car.
150 channels with HBO on demand provided and 50meg download speed internet provided. Use the kitchen, cook, even entertain. A wonderful dining room fully prepared for guests is ready if you want to use it.
It's a quiet neighborhood, little traffic. Close to everything you could need
Houses of very comfortable stay in if you're coming to Springfield this would be a great home to say yes in an ideal location plenty of stores and restaurants are close by and Mark is a good host.
Ernie
2016-11-08T00:00:00Z
Marks house was very beautiful and clean. The location is awesome everything is close by plus his description of the best places to eat was more then I can ask for. I would highly recommend this place to everybody who considers staying in Springfeild
Nick
2016-05-28T00:00:00Z
Mark was absolutely great to work with. Anytime I contacted him, he responded immediately. Very nice neighborhood and we felt completely safe. It was nice to be able to pull into the garage. The house itself was spacious for 4 adults & 1 child. It was so much better than a hotel room & much less expensive. I loved that there were queen size beds in all of the bedrooms. Mark was very accommodating with check in and out times, which was great so we had time to freshen up before going to an afternoon wedding. When we accidentally locked ourselves out our last night there, he was out of town, but answered my desperate phone call right away & then called someone nearby to come to our rescue. I'm SO glad he has a backup for people like me who forgot to take the key when we left. Everything was great and would definitely stay there again if we find ourselves back in the area. Thanks Mark for a great experience.
Kimberly
2016-10-03T00:00:00Z
Lovely home.
john
2016-06-06T00:00:00Z
Nice, quiet neighborhood. Very smooth transition in and out. Great communication. Absolutely perfect for what we needed. Thanks Mark.
Geralyn
2016-10-17T00:00:00Z
Everything thing was just what we were promised. We will be back.
Vicki
2016-10-12T00:00:00Z
I am over all very pleased with my stay at Marks house . Mark was extremely friendly and helpful. The home is located in a very nice quite neighborhood. I loved that there was a park close by. It was really nice being able to park the car in the garage. I also loved his house guide it full of some really good recomendations for restaurants ect. His home is really clean and very well kept . I would highly recommend his home anyone staying in the Springfield area.
Jessica
2016-08-30T00:00:00Z
The listing was accurate. A nice place south of Springfield. Mark made us feel welcome. Only advise - if you park in his driveway, make sure your parking brake works.
James
2016-06-13T00:00:00Z
Room Type
Entire home/apt
---
Property Type
House
---
Accommodates
6
---
Bedrooms
Springfield, MO, United States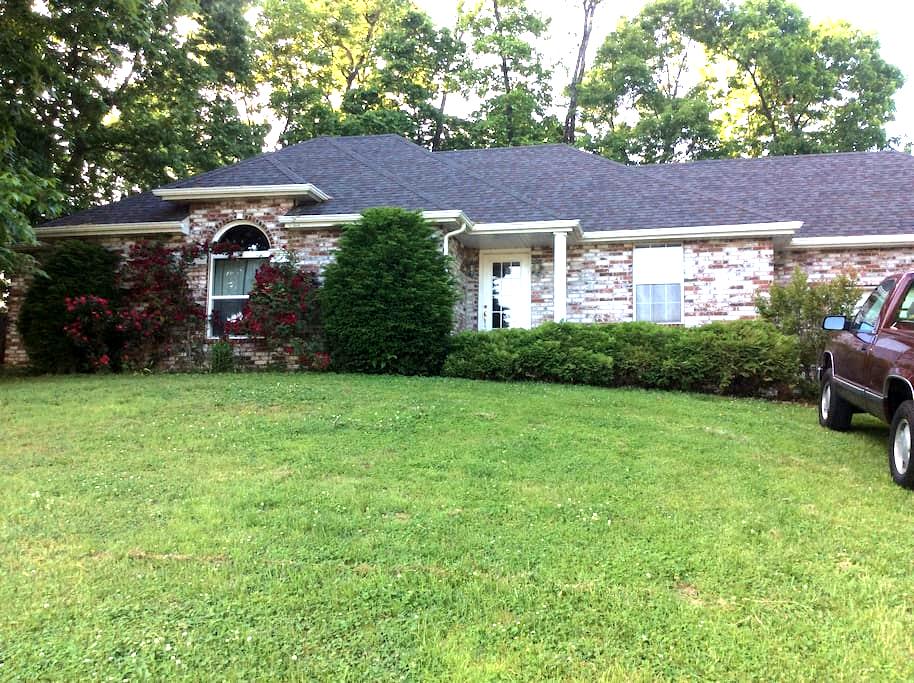 Our place is close to Mercy Hospital (.3 miles), Bass Pro (1 mile), Missouri State (1.5), Springfield Art Museum and Phelps Grove park. You'll love our place because it is a private comfortable home in a central location. We have a large fenced yard and are close to many attractions and restaurants. There is also a pull-out love seat that sleeps one. The home has a keyless entry for convenient check-in. We also have complimentary coffee and fruit on your arrival.
The yard can be completely fenced in when you close the gates at the driveway.
The home was very clean and organized. Quiet neighborhood and located perfectly for getting around. We ended up having to cut our stay short due to a personal preference about the bed (it was much too soft for our backs) and Shanna was very kind and understanding about refunding the night we did not stay. We loved the home....
Enoch
2016-11-06T00:00:00Z
My husband and I loved staying here. It is just as seen in the pictures. Better maybe. This little cabin is very comfortable and has everything you need. Our week was a hit stressful and this haven we just what we needed! I highly recommend it. When we walked in my husband said, "why would anyone stay in a hotel?"
Wendy
2016-10-22T00:00:00Z
My husband and I stayed here before and it is always wonderful! Perfect location, beautiful big yard for the puppies, and great places to sit to enjoy outside. Shanna and Les are always quick to answer any questions. They are awesome hosts! We will stay here anytime we possibly can!
Mandy
2017-03-22T00:00:00Z
These guys provided everything they promised. I appreciated the pet welcome & fenced yard.
Richard
2017-01-12T00:00:00Z
This cottage is adorable with a large yard. Everything was as described, but the place looks better than the photos!
Kate
2017-02-26T00:00:00Z
Such high value for the affordable price! I loved being able to bring my dog with me. The bed was comfy and the home was cozy. We were in a perfect location, only a few minutes to down town. This will be our go-to airbnb in Springfield!
maggie
2017-01-29T00:00:00Z
The place was great. Exactly what we needed and were looking for! Accurately advertised.
Mads
2017-03-26T00:00:00Z
Everything was as promised. We enjoyed our stay and will stay at their place again. We love the pet friendly environment. Thanks for an enjoyable visit.
Mike
2017-02-05T00:00:00Z
Room Type
Entire home/apt
---
Property Type
House
---
Accommodates
3
---
Bedrooms
Springfield, MO, United States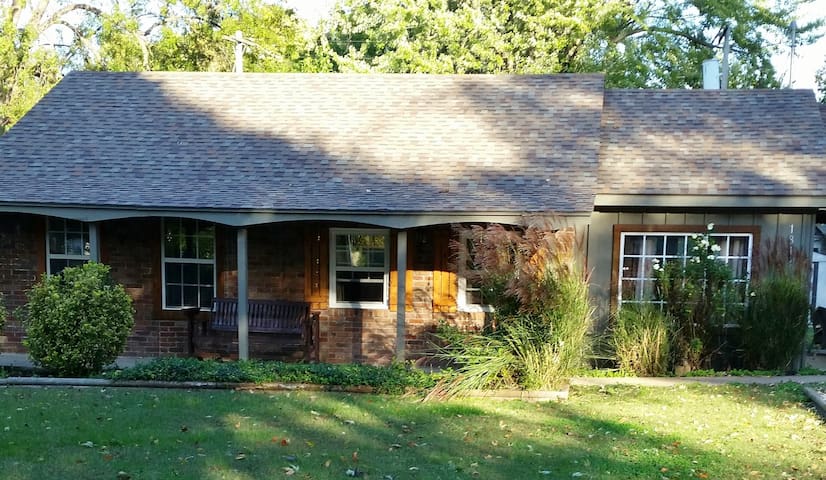 The Weller House is a 1930's unique historic home with all features exactly as it was built by a well known recognized builder. The two bedroom home is situated in a pretty neighborhood of well kept homes.
This home provides a welcome relief to the mundane hotel rooms. It is a small home but plenty of space to roam around. The home has hardwood floors, original features and fixtures, but modern conveniences like a 50 inch Cable TV and high speed internet. The master bedroom has a queen bed and the second bedroom has two twin beds. The home sits in a neat and quiet neighborhood of single family homes much the same style as the Weller house. The area is perfect for walks or bike rides along the beautiful tree lined streets of the Rountree neighborhood, one of Springfield's most pleasant and popular residential living areas, or take a walk along historic Walnut Street. Enjoy the shops, markets, grocery stores, local restaurants, spa, and bakery within a 3 minute walk. The house is fully equipped for extended stay housekeeping. Extras include complementary coffee, tea, popcorn, soda, and bottled water. All towels, linens, and supplies are included. Guests are welcome to use the basement utility room washer and dryer. We are a family oriented operation and prefer guest in the spirit of families, married couples, and responsible single persons.
The place was very cute! Great quiet neighborhood! Close to some wonderful restaurants.
Daniel
2017-03-26T00:00:00Z
John's place was absolutely perfect. It's two blocks from coffee shops, neighborhood bars, pizza joints and shops. The kitchen was well-stocked with pots and pans and a coffee maker, which helped make our stay much more enjoyable. The neighborhood is safe and lovely and really close to downtown. We LOVED staying here and plan to book again.
ettie
2017-02-20T00:00:00Z
This was our first experience with an Airbnb. After such an amazing experience with John and this house, we may never go back to hotels! The house is beautiful, it's in a very quiet neighborhood and we immediately felt right at home.
Emily
2017-01-08T00:00:00Z
We had a great weekend at the Weller house. Very clean and tidy. The house was exactly as described and worked great being so close to downtown and campus.
Brian
2016-02-14T00:00:00Z
Great home in a beautiful, quiet neighborhood!
Lisa
2016-08-21T00:00:00Z
Excellent accommodation...very welcoming and comfortable...felt instantly at home at the Weller House. John was very available and helpful. Property was well-appointed, exceptionally well-maintained, and exceeded our expectations. Central location in a quiet residential neighborhood.
gary
2016-12-29T00:00:00Z
Listing description was accurate. Location is prime.
Josh
2016-06-18T00:00:00Z
Lovely cottage near downtown but in a very quiet residential neighborhood. Charming, well kept home with lots of original built-in features. Great for a couple, but also a second bedroom with two twin beds if traveling with a family. John was very responsive; a truly nice man. Loved it.
Marc
2016-12-13T00:00:00Z
Room Type
Entire home/apt
---
Property Type
House
---
Accommodates
4
---
Bedrooms
Springfield, MO, United States
Relax in your charming 1927 Mediterranean style stucco with a private bedroom and bath with private entrance and is only 2 minutes away from downtown nightlife and Missouri State University is only a few short blocks away. Sleep in as we provide a Keureg with coffee and tea, breakfast snacks and your own mini fridge and microwave. We have an Alexa Echo dot in the room for instant music, weather and temp control and anything else you ask her!
Guests have own private entrance and private bath attached to bedroom. Room has an upright piano and multiple musical instruments that you can play with! Room has large screen 50" smart LED TV with access to Netflix, Hulu, Amazon etc..(not cable- connected) wifi, microwave, mini fridge, Keureg with complimentary coffee and tea and an assortment of breakfast treats. We do have two large Lab-mix dogs that are very loveable and friendly and they love to say hello!
Home is in historic Phelps Grove neighborhood, only a few blocks from Phelps Grove park. The neighbors are friendly and quiet!
Great place and comfy. Easy check-in, as usual. Great stay & will return.
Bowen
2017-03-15T00:00:00Z
We loved our stay. Really liked having a private entrance and private bath. The room looked great and was comfortable. I found the bed comfortable although my wife did not. They do have some big dogs, but they are very friendly and quiet down once they meet you, and they do not come into the space. The location was nice too, only a mile from downtown and easy parking.
John
2017-02-25T00:00:00Z
Our hosts were out of town for the holidays during our trip, but they kindly touched base with us multiple times before our trip to make sure everything went as smoothly as possible. Their house sitter, Emily, was super accommodating (allowing us to text her if we ever needed anything)! The space was clean and cozy! I come from a family of musicians (though I'm not musically talented myself) so being around all the instruments felt homey and welcoming. The bed was super comfortable and the fridge, microwave, and Keurig in the room were super handy! I also would like to add, that their dogs, Mac and Finley, we're the sweetest, most well behaved dogs you'll ever meet! 10/10 would recommend this place to future visitors.
Katy
2016-12-24T00:00:00Z
Jeff & Valorie have a great set-up. The room has an extremely convenient exterior access about 10ft from where you park. The bed is comfy & the bathroom is attached to the room. The bathroom even has heated floors which was great for my winter visit. There is a TV set up with their Netflix (in case you don't have one). They own a pair of larger dogs that will love you but you won't see them unless you'd like to. Just a great experience. Good people. Good place. I'd go back again.
Bowen
2016-12-04T00:00:00Z
Beautiful room with piano and TV. The bed was very comfy and Valorie left is genial bars and tea. It was a great place for a night in Springfield after a long day of driving.
Leif
2016-07-26T00:00:00Z
The room was just as described - very comfortable and clean. Private enterance directly next to the driveway where we were allowed to park. The bed was very comfortable and we loved watching Netflix before bed and using the Alexa device for tunes while getting ready in the morning! The shower had great water pressure and the heated bathroom floors felt luxurious. We met their sweet dogs and our hosts couldn't have been nicer. Available I'd needed but we weren't running into each other. Excellent recommendation for dinner spot. Also, Valerie went above and beyond after checkout and mailed my shirt I forgot hanging in the wardrobe to my home. Excellent value and location. Highly recommended!
Morgan
2017-02-18T00:00:00Z
I can never imagine such a wonderful airbnb experience before. Valorie is so helpful. She picked me up at the local airport. I had trouble with my luggage that day she did all things she could do to help me by the first day I came. I feel so grateful!The room is so good, I've never seen such a great musical room style before. Everything is highly well-served. If you're looking for accommodation near downtown Springfield, this is absolutely a place to be.
candle
2016-08-11T00:00:00Z
Perfect. I can't imagine a room or people better suited to the Airbnb idea. Valorie was helpful in communicating about the reservation prior to our arrival. When we checked in, Valorie and Jeff were very nice and you could tell they genuinely care about their guests. They coordinated an introduction with their dogs, so the dogs would recognize the new people staying in the house. During our stay, Valorie and Jeff asked several times for feedback on the room to make sure everything was going well. The bed was comfortable and the whole setup is great - having your own entrance and bathroom gives you a sense of privacy and the freedom to come and go as needed. I would certainly recommend this as a great option when staying in Springfield!
Andrew
2016-10-17T00:00:00Z
Room Type
Private room
---
Property Type
House
---
Accommodates
2
---
Bedrooms
Springfield, MO, United States
Nice place to stay with friendly neighbors and just about 10 minutes from anything you want to do in Springfield. Medical mile, Bass Pro, Downtown, and plenty of nice parks.
Keith's loft space is super private, comfortable and clean! He's a great host with communication, helpfulness, and timely responses. His girlfriend was SO nice!
Lora
2017-01-16T00:00:00Z
I was Keith's first guest and he slammed dunked it. Keith made sure all of the essentials were available and that my short stay was comfortable nice. Keith and his girlfriend were both cool and I recommend their place.
Chris
2016-11-14T00:00:00Z
Recently stayed as a stop-over on a cross country trip. Excellent space, clean, with great communication with host.
Evan
2017-03-05T00:00:00Z
This is the second time staying here and everything was still great. Highly recommend!
Ashton
2016-11-26T00:00:00Z
I just like Keith's place, it's clean spacious and very quiet.
Elie
2016-12-29T00:00:00Z
I really liked staying at Keith's place. He is a great communicator. The room was nice and clean and was there for me. Thanks keith.
Elie
2016-12-16T00:00:00Z
This was great. The bed was comfortable and the room was perfect for what I needed. I would recommend this.
Robert
2017-01-25T00:00:00Z
My stay at Keith's loft was exactly what I expected. A very private room that is exactly what is pictured on his profile. Very clean, friendly environment.
Colten
2017-03-04T00:00:00Z
Room Type
Private room
---
Property Type
House
---
Accommodates
1
---
Bedrooms
Springfield, MO, United States
If you are traveling to the Springfield, MO area with your family, for a corporate event or even if you are in between selling and buying a home, this cute bungalow is a great place to stay. It's close to Bass Pro, Mercy Hospital, Missouri State University and Fun Downtown Springfield. It's fully furnished, kitchen (including dishes and utensils) has a coffee maker with supplies and microwave, a deck (patio furniture), a hot tub and a propane grill. Includes Wifi, a TV, cable and a DVD player.
This space is incredibly clean and comfortable. The location is really key with this property as well. It's located in the center of Springfield within two minutes of major shopping, downtown Springfield, Cox South, Mercy Hospital and Bass Pro.
Cozy house right in the heart of the city. Easy access and quite neighborhood. Would recommend this house for those looking to rest and relax and feel at home. Great furnishings and accessories.
Damon
2017-01-22T00:00:00Z
Beautiful house, great location -- close to the university, easy access to shopping and restaurants. Zach was very easy to work with, the house was well-appointed and very comfortable.
Jennifer
2016-12-31T00:00:00Z
Nice place to stay in, Zach is very easy to communicate with. Smooth process
Jesse
2016-08-28T00:00:00Z
This house is great and we really enjoyed our stay. The furnishings are nice and everything was perfectly clean. The beds are great and have very comfortable sheets/blankets/pillows. The hot tub is fantastic and extremely well-maintained; we were very impressed with how clean it was. A couple tips if you stay here: there is no sound system of any kind so if you want some background music bring your own small speakers. There were no bathroom soaps and the kitchen did not have any cooking supplies like spices or oils, etc... That's not a complaint, those things weren't promised, but if you've experienced finding things like this in your previous rentals -- they're often left behind by previous renters -- maybe don't count on it here. Just bring everything you'll need and you'll be happy (the kitchen has all the basics like pots, pans, knives, can opener, silverware, etc... of course). If you're looking for a nice 2 bedroom house that's super clean and comfortable, with an excellent hot tub and easy check in/out, I highly recommend Zach's place. We'll definitely book it again when we're back in town.
Jeff
2017-01-01T00:00:00Z
Zach was very accommodating and super easy to work with. We loved the house and will definitely stay again!
Kaley
2016-08-27T00:00:00Z
This is delightful cottage in a quiet mature neighborhood that gives you all the extra amenities a hotel does not. Outfitted for comfort with a great kitchen and backyard deck perfect for coffee in the morning and happy hour in the evening. Very attentive host. We will be back! Liz and Jim
Jim
2016-09-04T00:00:00Z
A cute little house in a great area of Springfield! The location is really key, especially since Springfield is riddled with sidewalks. You can easily walk downtown if you're up for a longer stroll. The hot tub is the cherry on top, especially this time of year. Thanks for sharing your space with us, we thoroughly enjoyed it!
Mallory
2016-10-02T00:00:00Z
Great value. Just as described.
Corey
2017-01-12T00:00:00Z
Room Type
Entire home/apt
---
Property Type
House
---
Accommodates
6
---
Bedrooms
Springfield, MO, United States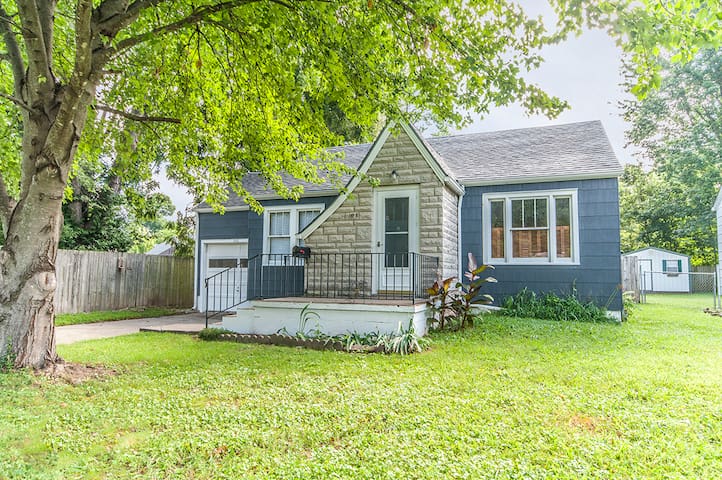 Springfield - Airbnb
:
Average

4.95

out of

5

stars from

921

guest reviews
1

–

18

of

86 Home Rentals
Enter dates to see full pricing. Additional fees apply. Taxes may be added.