With this Airstream, you can experience off the grid living in style! A solar panel will keep those batteries charged for you. With the two seven gallon LP tanks on board, the Airstream will power the water heater, the fridge, the freezer. You will have a remote campground away from neighbors and still close to Grand Canyon National Park. At your campsite, you will find equipment for enjoying the outside around a campfire, too! This listing has no extra fees attached.
In this modern design, you will have a place to sleep, a place to cook, a place to shower, and a lavatory. The pantry has beans, rice, pasta, fruits, vegetables, and the spice rack is always stocked with an assortment of spices if chefs want to try something new.
The Grand Canyon has a long and rich history. At an elevation of 6,800 feet, the Grand Canyon sits more than 5,000 feet above the Colorado River. The hikes going down the Canyon are extremely strenuous, and even experienced hikers have experienced serious injuries. Pack a lot of water, and take it slow. Also, due to the high
There's nothing like experiencing the Grand Canyon...but doing it in an Airstream is unbelievable! Chad was attentive, helpful and available during our entire stay making sure we had everything we needed. The Airstream itself was clean, modern, classic and truly the way to stay outdoors! He had it stocked with everything we needed for a great, comfortable stay! We can't wait to do it again!!! Thanks again Chad!
Laura
2017-02-25T00:00:00Z
If you are going to the Grand Canyon and want the camping experience, but not the tent experience, choose Chad's Air Stream - not too big and not too small for a party of four or five or two adults and two or three children. Chad goes above and beyond to make sure your stay is the experience you want, wish we could have stayed longer!!
Mitzi
2017-03-21T00:00:00Z
Beautiful, new, clean and well appointed 2016 Airstream! be sure you know how to use the heater & water system. We had some troubles with these systems, but Chad was very responsive and helpful.
MarcG
2017-03-24T00:00:00Z
We can't decide what was better: the airstream or the host. Chad was awesome; very attentive and quick to reply to our emails/text. The airstream is the perfect place to stay while in the Grand Canyon. It was a great experience and would highly recommend Chad and the airstream.
Carlos
2017-03-18T00:00:00Z
Chad's airstream was exactly as described and we had a wonderful stay. He went above and beyond to help us resolve a minor heating issue and could not have been a more responsive host. Highly recommend this for anyone looking for a fun way to visit the Grand Canyon.
rachel
2017-03-28T00:00:00Z
There's no better way to spend one night or more next to the Grand Canyon. Staying at the Airstream is such a unique & fancy experience. Chad is a really nice & laid back guy who does almost everything for you. We had some really fancy requests and he fulfilled them all! Especially the shopping list you can give him is just awesome - he gets you everything you want! The Airstream is of high quality, really clean and provides everything you need. The only bad thing was that the heating didn't work how it should, so he had to figure out something else to get the place warm, what he also did, but it took some time. Maybe this only bothered me because I was a little sick... All in all I totally love the idea of staying at this beautiful Airstream & I would it recommend it to everyone who's looking for an experience at the Grand Canyon. Together with the food it's totally worth the price!
Ulrich
2017-03-26T00:00:00Z
Great way to see the Canyon!
Jacob
2017-03-09T00:00:00Z
We had an awesome time at the Grand Canyon. Chad was very helpful and made our stay easy and enjoyable. Any issue we had, he was ready to help. 10/10 would recommend!
Sarah
2017-03-14T00:00:00Z
Room Type
Entire home/apt
---
Property Type
Camper/RV
---
Accommodates
5
---
Bedrooms
Grand Canyon Village, AZ, United States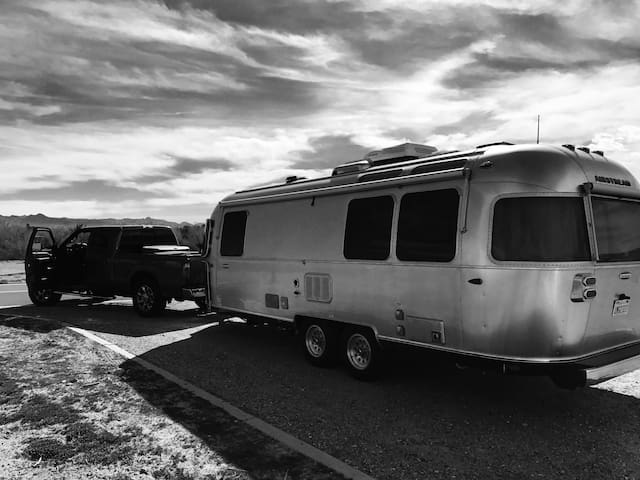 Stay in this amazing 1969 Playmor Camper near the South Rim of the Grand Canyon! You will be parked at one of the wonderful campgounds in the area with all the amenities including showers. The backyard will include 1 of the 7 wonders of the world!
When you enter you will immediately be drawn to the hand crafted kitchen table with two bench seats on both sides. This table can be dropped down into a single bed for a nights sleep. On the other side of the trailer is a couch that can be transformed into a full size bed. In between the two is the kitchen, it has a 3 burner stove, ice box and all cooking utensils you will need. There is also a propane lamp that gives off a lovely glow in the space. Especially useful on cool mornings and evenings. If the propane light isn't your style there is a plethora of other lighting options as well. Also you will have access to a small closet with hangers.
The south rim of the Grand Canyon is one of the most desirable places to visit in the world! It encompasses some of the best hiking, sightseeing and photography you can find. When you visit there are restaurants, grocery stores and everything you will need with in minutes of the South Rim and your Camper. Come and explore!
Room Type
Entire home/apt
---
Property Type
Camper/RV
---
Accommodates
3
---
Bedrooms
Grand Canyon Village, AZ, United States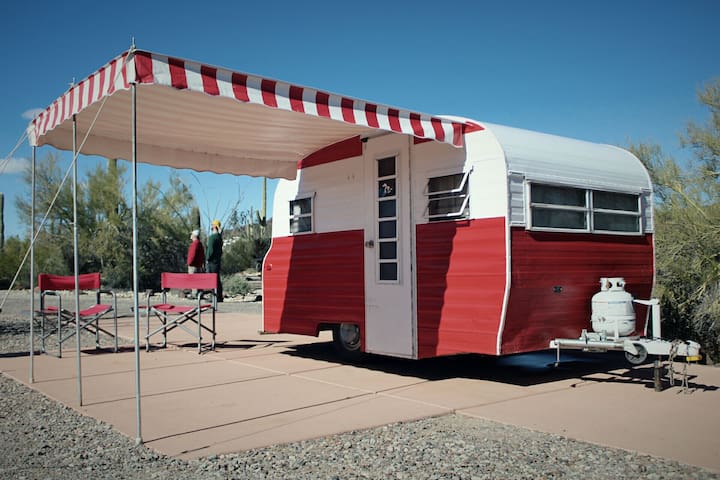 After your adventures at the Canyon come back to this amazing little camper! This has everything you will need to recharge for the next day. You'll find a Queen size bed and Full kitchen! It also has a indoor/outdoor stereo, tv, heat and A/C.
Room Type
Entire home/apt
---
Property Type
Camper/RV
---
Accommodates
2
---
Bedrooms
Grand Canyon Village, AZ, United States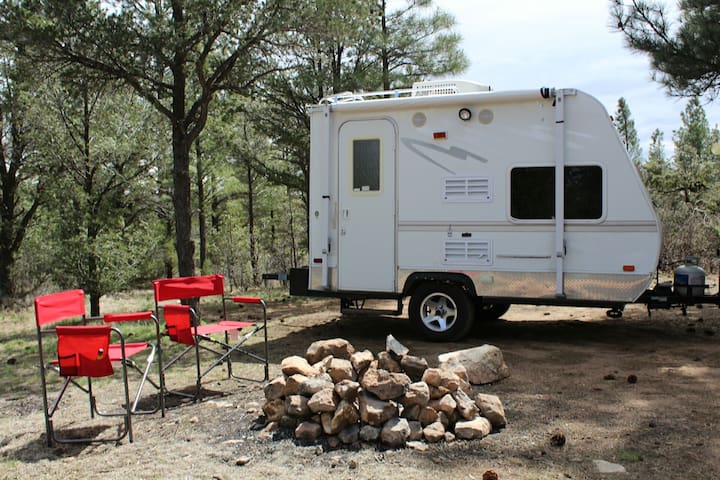 Tent camping area will be provided, you will be camping in back yard... More pics to come, any questions contact me. No need to wait a year to visit my beautiful back yard. Come as my guest and you will only pay visitors fee.
A 12x12 tent area in Supai Village. A couple of miles from Supai Falls. You will be staying in a homes backyard. You must bring your own tent and camping gear . No need to wait a year to visit stay in our backyard and just pay the visitors fee.
One of the most beautiful falls in the world. You will be camping in our back yard as our guest. Essentially having access to the Falls and all the sights.
Marty was a great communicator during all the planning he is really quick to respond to any questions or concerns we had. Camping on the property was a little challenging not having an accessible bathroom to use. Honestly though your day is usually occupied by exploring the falls so that's a minor issue. The property that you stay at is different than the house on the listing.
kristina
2017-03-20T00:00:00Z
If you couldn't make a reservation to visit Supai this is your chance to see the most beautiful waterfall. Be respectful with the community and you will have the best experience of your life. The host provided all we needed, and Marty answered promptly to all of our questions. The backyard is also great if you like to see the stars at night!
Jackeline
2017-03-21T00:00:00Z
This is the easiest way to get to Supai! Marty is a quick communicator and he gave me the opportunity to see the most beautiful falls in the world planning only a week in advance. Otherwise you will have to wait a year if you went through the tourist office. The location is hosted by a family in the village. I got to experience a new culture. The first day was rough because I didn't expect a culture so different. The hosts were so accommodating though. They would give the shirt off their back if you needed it. Their kindness grows on you. Being here instead of the campground allowed me a chance to be with the Havasupai and I felt like I was a part of their community. If you're open to new experiences, don't pass this opportunity up. It was the greatest adventure and I feel like I have a family now in Supai.
Hilary
2017-01-01T00:00:00Z
We came to Phoenix, AZ for a business trip and without the intention of going to the Grand Canyon afterwards. We saw a picture of Havasu Fall in a book and wanted to go. We later found out is that reservations are booked out for over 1 year and impossible to get thru to the reservation desk. There are three ways to get down to the Supai Village where Havasu and other beautiful Falls are located, Hike 8 miles (2-4hrs down, 4-6hr up), Helicopter in 5mins, horse back riding (2-3hrs). Marty was an extraordinary host as we were trying to book for a stay the next day and could helicopter in, however there were no helicopter service when we needed to leave and we were ill-prepared to hike out, he helped confirmed a horse caravan to take us out. We were able to see some of the most amazing views and hiking trails that would have otherwise been off-limits, but thanks to Marty we have the wonderful memories to treasure.
Tracy
2017-03-17T00:00:00Z
Room Type
Shared room
---
Property Type
Tent
---
Accommodates
5
---
Bedrooms
Supai, AZ, United States
Supai - Airbnb
:
Average

4.46

out of

5

stars from

28

guest reviews
Enter dates to see full pricing. Additional fees apply. Taxes may be added.