Villa immersa nel verde, sita in località Poggiolo di Talamello (RN), nel cuore della Valmarecchia, circondata da 8 ettari di terreno e bosco, dotata di giardino attrezzato e camino per cucinare all'esterno. A pochissima distanza dai Comuni di San Leo, Sant'Agata Feltria e Pennabilli, a soli 20 km dalla Repubblica di San Marino e 30 Km da Rimini. Ideale per un soggiorno rilassante a contatto con la natura, lontano dallo stress della città.
L'alloggio è composto da un ampio soggiorno con camino, sala da pranzo e cucina, una camera con letto matrimoniale, una camera con letto singolo ed un bagno con doccia. E' completamente arredato e fornito di stoviglie e biancheria. La cucina è dotata di lavastoviglie, stufa a legna, frigo e freezer, forno elettrico, macchina nespresso per il caffè.
Il casolare si trova a Poggiolo, una localita' nel Comune di Talamello (Rn) dove sorge un'antica Chiesa del 1200 nella quale era conservato il miracoloso crocefisso giottesco che oggi può ammirarsi nella Chiesa del Comune limitrofo di Talamello.
Très bon accueil, avec visite des lieux, explications claires, pot et gâteau d'accueil. Très belle demeure typique calme, propre, fonctionnelle, plaisante. Grand jardin très agréable avec vue magnifique. Très grande souplesse sur les horaires de départ et d'arrivée. À améliorer couchages individuels pour les adultes. À conseiller, très bon souvenir.
Thierry
2016-09-13T00:00:00Z
Room Type
Entire home/apt
---
Property Type
House
---
Accommodates
3
---
Bedrooms
Talamello, Emilia-Romagna, Italy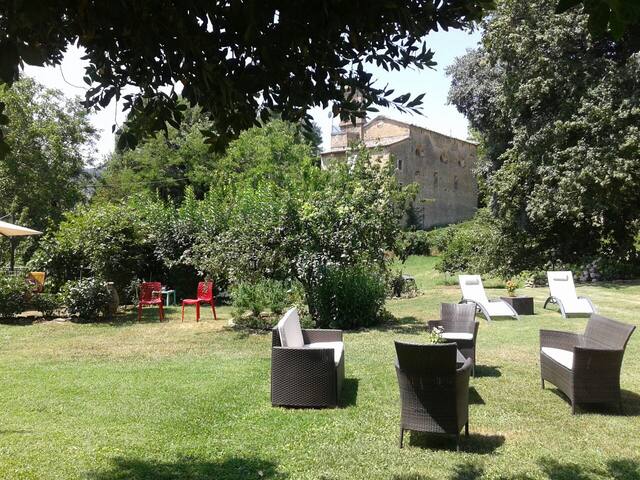 Immersed in a chestnut Holiday Monte Pincio is the perfect place for families, groups of friends, fans tracking, mountain biking, climbing or simple walks in the silence and peace of nature.
Holiday Monte Pincio is surrounded by greenery on top of the Monte Pincio, a beautiful town not far from Novafeltria, from which you can admire the beautiful scenery offered by the Valmarecchia ranging from the mountains to the sea of the Adriatic Coast. Surrounded by a beautiful forest of chestnut trees offers peace and a priceless silence despite being only a few kilometers from some of the most beautiful medieval castles and villages of Romagna.
It 'a perfect place for lovers of tracking, mountain biking, climbing, and for those who love long walks in search of mushrooms and chestnuts, bathrooms on the river Marecchia or those who simply want to find peace and no noise other than those of the greenIt surrounds. The neighboring countries to the Monte Pincio (Talamello - Novafeltria - Perticara - Sant'agata Feltria) are renowned for the traditional festivals of mushrooms, truffles and aged cheese that is produced exclusively in the area of Italy. There is also the possibility to include a stay at the Holiday Monte Pincio cicloturstico in a path from the sea to the mountains with conventions at hotels located on the coast of Rimini, restaurants and nightlife. E 'can also book an aperitif or a day trip (or several days) on a magnificent sailing boat moored at the dock of Rimini (quotations upon request).
Room Type
Entire home/apt
---
Property Type
House
---
Accommodates
8
---
Bedrooms
Talamello, Rimini, Italy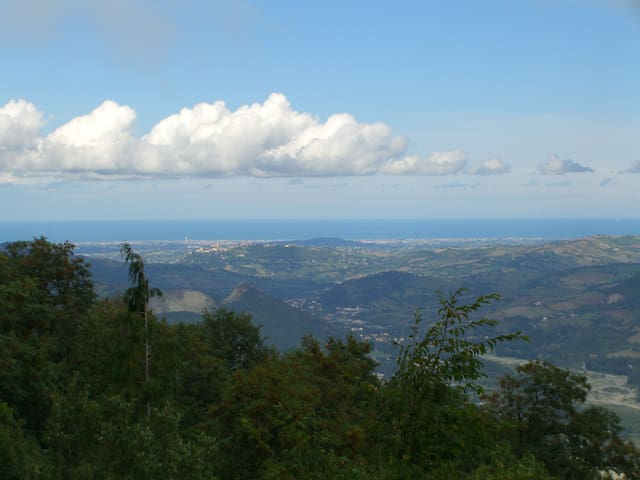 La Casa nel Roccione è un'antica casa in pietra, recentemente ristrutturata e si trova nel centro storico di Pennabilli.
Recentemente ristrutturata con finiture di pregio ed arredata con mobili d'epoca, è composta da una sala con camino antico, pavimento in cotto e sasso a vista nell'ingresso. In fondo alla sala, nascosti da una parete a lama, ci sono l'angolo cottura ed il bagno. Nel soppalco in rovere, con balaustra che si affaccia sulla sala, c'è la camera da letto.
This is a really lovely place: cosy, stylish, well cared-for. Just like the pictures or even better. The house is in a beautiful, lively village off the tourist track in an attractive part of Italy. We spent four days there around new year's eve. Diletta was a delightful host. She met us on arrival and was kind, warm and very efficient both as we were arranging the trip and during our time there. I would certainly recommend this place very heartily.
Stefano
2016-01-03T00:00:00Z
Wonderful hidden gem! The small village is tucked into the hills and follows it's own pace (all restaurants were closed on the day we were there). Diletta was superhelpful, and we met up for her to guide us to the house. The house is just wow! Old stone house and renovated beautifully, and right up against the old ruins of the castle. The photos actually don't do it justice: it's marvelous. The view over the village is quite something as well. We only spent one night, but this is a place where you can easily stay longer.
Peter
2015-05-13T00:00:00Z
This place was awesome! If you're looking for the feeling of living in an old Italian town this is it. You can walk everywhere in the town including all the historical spots. Two minute walk gets you to the center of the town where there are a couple great restaurants . We were provided with a great map of the town that showed the directions to each historical place you would want to go see. You're crazy if you don't stay here!
David
2016-06-29T00:00:00Z
The rental is a small stone cottage that has been tastefully restored to be comfortable and authentic and thoroughly charming. The location is spectacular with wonderful vistas just outside the front door. Maria Diletta is a delightful and knowledgeable hostess who speaks good English and has a depth of understanding of her community, and especially the art of Tonino Guerra. Staying there was just the best experience!
Julius
2017-04-01T00:00:00Z
A wonderful hidden gem! My wife and I didn't get as far as we had planned and found this place late in the afternoon. The pictures looked nice but do not do the place justice. The apartment is inside the city walls of, I assume, is a small medieval town. We walked to the town square and sat on the church steps with gelato watching life go by. Maria was amazing. She met us at a local restaurant after dinner and took us to our private parking space near the apartment... inside the city walls. It was a wonderful end to a long day. We would absolutely recommend this place and any place Maria opened to the public. On a side note, the pizza from the local restaurant may be the best we've ever had. If you have the chance, definitely get lost here.
Alex
2015-08-30T00:00:00Z
Casa stupenda!
Alessandro
2017-01-29T00:00:00Z
Appena si mette piede dentro alla casetta ci si rende conto di un'atmosfera che non può che definirsi MAGICA per il calore che emana ...probabilmente merito di Maria Diletta, persona dalla gentilezza e disponibilità spropositate, che fa sentire le persone subito a casa... che dire poi del paesaggio circostante...è veramente difficile decidere se passare il tempo dentro casa o fuori! Vivamente consigliata a tutti!
Arianna
2016-04-26T00:00:00Z
Maria Diletta - gentilissima, disponibile e sorridente - ci ha fatto strada tra i vicoli fino a questo vero e proprio rifugio dell'anima, accogliente e curato, stretto dalla forza della natura, di cui ti resta negli occhi e nel cuore tutto l'incanto. Grazie!
Graziana
2016-04-18T00:00:00Z
Room Type
Entire home/apt
---
Property Type
House
---
Accommodates
2
---
Bedrooms
Pennabilli, Emilia-Romagna, Italy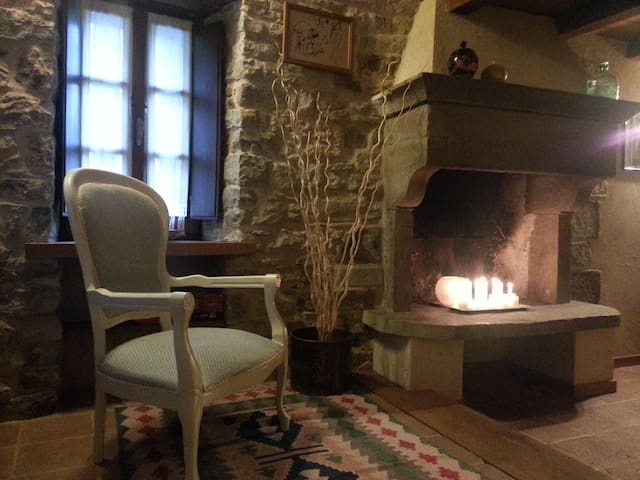 Das Ferienhaus "Casa delle Farfalle" liegt im oberen Marecchiatal auf ca. 650 m Höhe mit wunderschönem Ausblick in einem ursprünglichen kleinen Dorf namens Villa Maindi, 45 km entfernt von Rimini im Landesinneren der Romagna. Die Umgebung eignet sich hervorragend zum Wandern und Mountainbiken oder auch einfach nur zum Abschalten. Wem der Sinn nach Ausflügen steht, kann in einzigartig gelegene Bergdörfer fahren, in dem in der Nähe gelegenen Gebirgsbach baden oder auch ans Meer fahren.
Loving the good things in life? A calm environment, a gentle mountain scenery off the usual tourist attractions? You love hiking and the Italian cuisine? Then you are at the right spot! The holiday house "casa delle farfalle" is located in the Upper Marrechia valley at 650 meters altitude. The small authentic village "Villa Maindi" offers a stunning view of the surrounding countryside and is only 50km away from Rimini in the Emilia-Romagna inland. The two-storey house consists of two bedrooms, each with one double bed, a large bathroom upstairs, a fully equipped kitchen, a living room with a fireplace and direct access to the terrace which offers an incredible view of the next larger village Pennabilli (there you can stroll around and have a look at the shops, enjoy a meal at one of the local restaurants or simply enjoy an ice cream, etc.). The area is ideal for hiking and mountain biking or simply to relax. Those who are in the mood for excursions can drive to unique mountain villages, take a bath in the nearby mountain stream or even go to the sea.
Villa Maindi ist ein winziges Dorf mit etwa 25 Bewohnern im Winter und bis zu 50 im Sommer. Die Nachbarn sind vorwiegend Leute mittleren Alters, die in der Regel schon ihr ganzes - oder wenn sie eingeheiratet haben - den Großteil ihres Lebens hier verbracht haben. Sie sprechen in der Regel auch nur Italienisch. Sie sind jedoch sehr aufgeschlossen und freuen sich über jeden Gast, der ein wenig Leben ins Dorf bringt. In 2,5 km Entfernung liegt das Städtchen Pennabilli, wo es Möglichkeiten zum Einkaufen, Essen, Trinken gibt, aber auch ein Theater und ein Kino finden sich hier.
We spent four days in this charming apartment in a stunningly beautiful part of Italy. The view across a green valley to the small town of Pennabilli was glorious! It was whisper quiet at night, generous living space, comfortable bed and well equipped kitchen and bathroom. It was fun to shop for local fresh produce in Pennabilli. You do need a car - it was great exploring local hill towns and Rimini is little over an hours drive away. The caretaker was easy to deal with despite having little English. A great experience!
Len
2012-10-13T00:00:00Z
A really nice house with amazing views and very lovely countryside all around. On top of that we had free walnuts the whole week just falling of the tree next to the house.
Stijn
2016-09-25T00:00:00Z
We haven't seen the real hosts of the house and were met by Sauro. When we were leaving, his father came to say goodbye. Both were very handsome and friendly.
Marina
2015-03-30T00:00:00Z
This place has a superb view on a valley and distant villages. We did lovely walks in the surrounding and bought our food Pennabilli. Its a renewed place with a lot of space inside and the neighbours were friendly.
Jacqueline
2013-05-05T00:00:00Z
La casa e' un oasi di pace con una splendida vista su Pennabilli, borgo piccolo ma molto attivo della alta Valmarecchia. Siamo stati qui in 4 più una bimba, come base per alcune gite mtb. Consigliatissima!
Lisa
2016-01-02T00:00:00Z
Es hat uns sehr gut in Birgits Haus gefallen, das genauso ansprechend, sauber und gemütlich ist wie auf den Fotos abgebildet. Sehr gut: Bettwäsche und Handtücher waren ausreichend zum Wechseln vorhanden. Ebenfalls super: es gibt eine Waschmaschine! Auch der Ausblick auf Pennabilli ist sensationell. Wir mögen es gern, wenn die Landschaft und Umgebung urwüchsig und wenig besiedelt ist und man sich einzelne "Besichtigungsperlen" selbst sucht. Genau das ist hier möglich. Eine große Hilfe dabei war der im Haus liegende Reiseführer, mit dessen Hilfe wir etliche schöne Orte, Plätze und Restaurants aufspürten. Beim Blick auf den Kamin und die Heizkörper kam uns in den Sinn, dass es sicherlich auch wunderschön sein kann, den Winter dort zu verbringen.
Antje
2014-09-01T00:00:00Z
La casa è molto bella e si trova in un'ottima posizione, fuori dal paese e con una bellissima vista sulla vallata, la consiglierei sicuramente a chiunque voglia godersi un po' di pace e relax. Il gestore è un ragazzo molto gentile ma purtroppo ci ha consegnato la casa completamente fredda e per noi, che siamo arrivati con 3 bambini molto piccoli, è stato un grosso problema: fino a sera abbiamo dovuto tenere i cappotti addosso e i bimbi hanno patito molto il freddo (la più piccolina si è proprio ammalata). Considerando che avevamo informato l'host delle nostre esigenze la reputo una mancanza piuttosto grave, a parte questo è andato tutto molto bene.
Lorenzo
2017-01-02T00:00:00Z
Room Type
Entire home/apt
---
Property Type
House
---
Accommodates
4
---
Bedrooms
Pennabilli, Romagna, Italy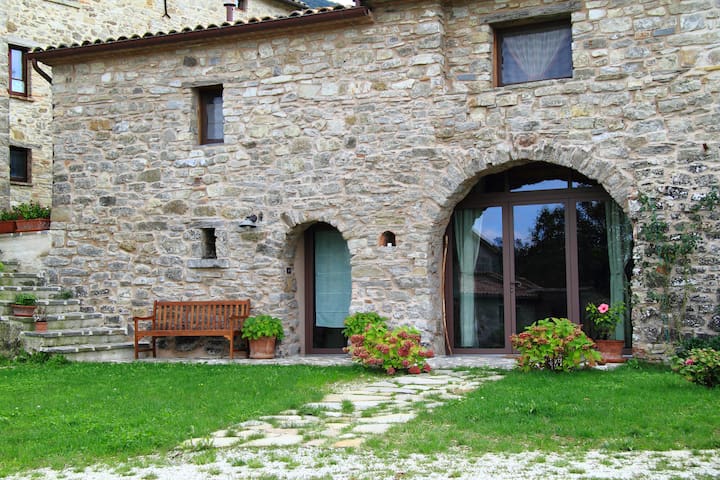 rustic home from fifth a short walk from the center of Pennabilli, surrounded by nature with beautiful views, ample parking, tranquility max. It equipped with kitchen, dining room, 3 bedrooms, bathroom, refrigerator, washing machine, freezer, TV,, gas stove, fireplace, wood stove, terrace various services. A few kilometers from Monte Carpegna and 40 from the sea.
good air, tranquility, space, greenery.
We had come very late to Pennabilli. Stefano is very patient and waited for us. It was a little hard to find the right house, other people helped us to communicate with Stefano, because he doesn't speak english and we don't speak italian. The appartment is OK, spacious, only the toilet needs some improvements.
Gabriel
2015-07-29T00:00:00Z
The host canceled this reservation 11 days before arrival. This is an automated posting.
Tagli
2015-07-07T00:00:00Z
La casa spartana si trova in una frazioncina di Pennabilli, che non viene indicata, arrivando tardi sarebbe stato difficile raggiungere il posto senza navigatore. L'host si era comunque offerto di portarci a destinazione. Durante il soggiorno sono emersi dei problemi contingenti notevoli, non dipendenti dall'host, ma se ci fosse stato da parte sua un controllo accurato dell'abitazione si sarebbero potuto evitare
tina
2016-12-11T00:00:00Z
Très bon accueil. Personnes sympathiques , hospitalières et amicales.
Pia
2015-09-02T00:00:00Z
Siamo stai benissimo. Pulizia ottima.
Riccardo
2017-01-01T00:00:00Z
Meravigliosa permanenza, Casa Spaziosa e luminosissima, Spazi verdi con parcheggio e panorama sulla valle incantevole. La simpatia di Stefano e Iside, che ci hanno accolto amichevolmente, fanno di questa vacanza un'esperienza da ripetere. A presto Fabio
Fabio
2015-06-03T00:00:00Z
Ho adorato questa casa, mi ha tanto ricordato la casa di mia nonna, davvero "rustica"! In campagna, con bellissima vista su Pennabilli e molto vicina a questo splendido paese! Consiglio a tutti di soggiornare qui, regalandovi un ritorno al passato e una tranquillità dimenticata! E' stato rigenerante! Stefano, ci vediamo l'anno prossimo!
Claudia
2016-06-06T00:00:00Z
Week end in tranquillità perfetto! Luogo spartano e confortevole come piace a noi! Grazie per tutto!
Luca
2017-01-29T00:00:00Z
Room Type
Entire home/apt
---
Property Type
House
---
Accommodates
10
---
Bedrooms
PENNABILLI, Emilia-Romagna, Italy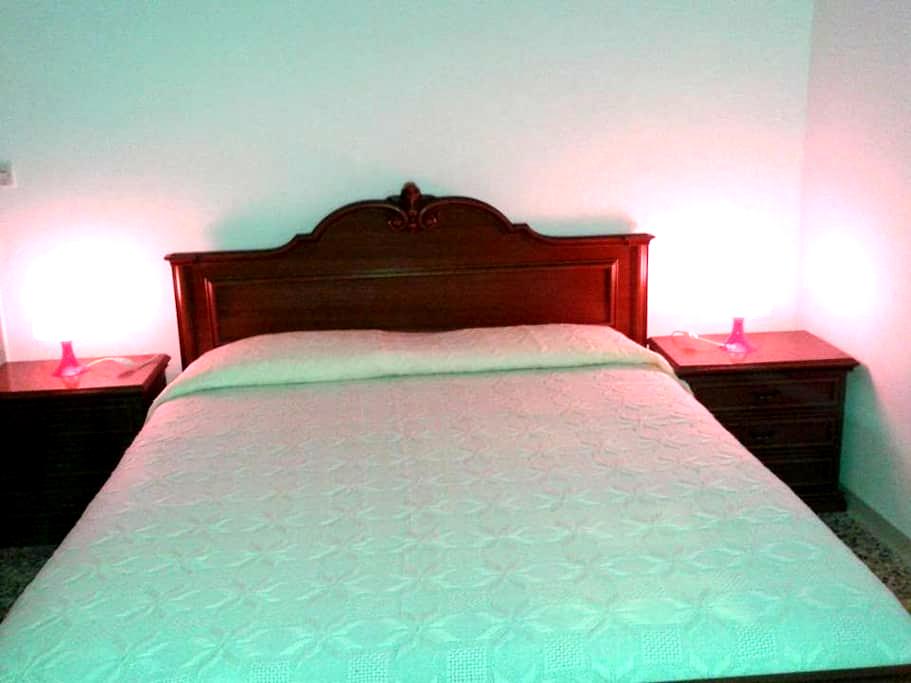 The buccius villa dates back to the early '500, finally ended the half of' 700. the atmosphere of the stone walls and wood stoves scattered in the rooms continues in the nature invading the windows. The silence of the night is a divine gift.
We had a really great time during our stay at Roberto's house. Roberto gave us precise indications and we found his place easy. It's located in a calm green hill. There is a splendid view towards San Marino and to San Leo which can be reached in 20 minutes by car. Roberto and his family were very kind to us. We were treated so well. They invited us to have a dinner with them and we had a pleasant conversation that night. Roberto is very interesting person dedicated to art and music. His house is a true masterpiece and a piece of art, renovated by Roberto himself. I reccomend Roberto as a host because he respects all the conditions in his announce, responds quickly and is very helpful. I hope to visit him and his family soon. My best regards to Roberto's family.
Ruslan
2016-08-21T00:00:00Z
The host canceled this reservation the day before arrival. This is an automated posting.
Enrico
2017-01-03T00:00:00Z
This was an unforgettable experience for me personally. The view is picturesque all the way. The house has a soul that would engage you but above all, Robi and people around made it a level above anything that I could've imagined and asked for. Robi is always responsive and helpful and a very insightful person to have a chat with. I could ramble on it but you have to see it for yourself and when you do, make sure you follow Robi's advise on directions!
Saman
2016-12-27T00:00:00Z
Great host, great cook, Roberto introduced me to his wonderful family and made me feel like at home. My best airbnb stay so far, the house and the landscape around is amazing, too!
Dirk
2016-09-02T00:00:00Z
We only stayed one night and had to leave pretty early. Everything was perfect and Roberto was really nice and helpful. Our only regret is we couldn't stay longer.
Leonardo
2016-07-24T00:00:00Z
This is a scenic place in the mountains. It's really quiet and private. Although we only stayed two nights I can definitely recommend Roberto's place for a longer stay. The house has everything you need; the "neighborhood" is unique and spectacular. It's easy to find if you follow Roberto's directions.
Gergely
2016-08-07T00:00:00Z
Roberto was very flexible with our arrival. That was very nice as we didn´t know exactly which time would we arrive. He wasn´t there when we arrived, but his son speaks very good English, so he could explain us everything we need to know about the house. His wife was also very helpful in terms of giving us the tools to cook and so. The room was as described with a comfortable bed and the house was just so beautiful, as an architect I was very attracted for it :)
Lucia
2016-09-09T00:00:00Z
very nice place and quiet accommodation Roberto very good a bit away from it all but with a car without any problems.
Lucas
2016-07-31T00:00:00Z
Room Type
Private room
---
Property Type
House
---
Accommodates
2
---
Bedrooms
Ponte Santa Maria Maddalena, Emilia-Romagna, Italy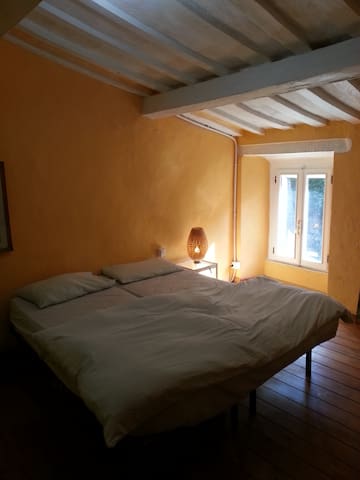 The B&B is built out of a 19th century stable, with a wonderful view over the "Montefeltro". The two double room have both private bathroom, free wireless internet, digital tv, dvd, music player, free access to the fully equipped kitchen and pool.
Costs are depentant on season and relative to full apartment, use of the kitchen, laundry, swimming pool, garden games and everything To rent a single room please refer to the listings called "B&B in Romagna (Private Room) The B&B is built out of a 19th century stable. The ancient stone walls make it cool in the summer and warm in winter. It has two double bedrooms, each with en suite bathroom – one of which has a jacuzzi and is also equipped for the disabled. The living/dining room has a fully-equipped kitchen corner if you wish to cook for yourself, or if you have special dietary needs. Each room has air conditioning, and – in addition to the central heating - each room has its own heat regulator, TV, DVD player, and hairdryer. Free internet access is available on request. In each room it is possible to add a single bed or a child's cot.
Donata and Federico are wonderful hosts, who made us feel at home from the moment we arrived. We spent 10 days with them and they, along with children Alice and Nicolas, could not have been more welcoming. The property is an idyllic hideaway, with beautiful views, a great swimming pool and a very peaceful atmosphere. Donata and Federico have clearly invested a huge amount of time and effort to make a wonderful home. We stayed in the two-bedroom apartment and could not have asked for a better holiday property. It is well-equipped and very comfortable, with a lovely shaded terrace which has views to the pool and beyond. From the home-baked goodies on arrival to the birthday cake and wine for our daughter's birthday, Donata thought of everything. She also gave us some wonderful recommendations for places and restaurants to visit. She and Federico simply could not have done more to make our holiday so memorable. It was a joy to get to know them and the children, as well as explore a very unspoilt part of Italy. Thank you very much indeed(URL HIDDEN)
Tim
2015-08-15T00:00:00Z
the best accommodation during our journey in Italy! the place is really quiet and scenic: fantastic view of the surrounding hills. The rooms are spacious, the kitchen is fully equipped, the garden and veranda invites to relax. Donata was a very cordially host and provided us with all the information we needed. Her tip to visit not only the quite busy and touristic San Marino, but also the charming San Leo was really worthwile. The pool was a bit to cold (maybe 1°C) and the dogs need a few relaxation exercises, but the cat was really cool! Hopefully we come back again! Highly recommended!
Tino
2016-05-06T00:00:00Z
Donata was very helpful and super nice, and she spoke very good English. We really liked the apartment, which was clean and comfortable, albeit a bit cold. The beds were very comfortable and the bathrooms were spacious. We loved the rural, quiet setting, which felt miles away from civilazation, yet it was close to everything you needed. The beautiful village San Leo is not far away, neither is San Marino. The pool looked very nice, but bad weather prevented us from having a swim. We really recommend a stop at this place!
Kaisa
2015-05-21T00:00:00Z
What a wonderful place. Quiet, in a very peaceful garden setting, the views were amazing. The house was immaculate, well equipped and extremely comfortable. The pool and ping pong table were very appreciated as well. A great breakfast started our day out just right. Will be recommending this place to my friends and anyone reading this review.
Ed
2016-10-05T00:00:00Z
Donata welcomed us very warmly, she did everything to make our stay as much comfortable as possible. We got several insider tips where to go ( San Leo was super). And on a stormy day Donata even guided us from the car to the flat carrying an umbrella, best service ever! ☺️ Although it was not so warm weather, we tested the pool with a brilliant view over the countryside. The flat was very comfortable, for a special like-home-feeling the were some board games we played again after years. We can definetly recommend Donata as host!
Lars
2016-09-24T00:00:00Z
The best b&b ever !!! Everything was awsome ! Donata is the perfect host ! She is very kind, very helpful even before we arrived she send me the directions. The house was very clean ! The breakfast was delicious ! The view from the swimming pool is just magic. All I can say is go there you won't regret it !!!
arnaud
2015-08-28T00:00:00Z
I cannot adequately express what a wonderful time we had at Donata's place. The accommodation, albeit slightly remote, was of a high standard and very clean with wireless internet and hot/cold air conditioning. Stepping out of the house in the morning you are greeted by the most exceptional vista, which is quite breathtaking. If I was to say that Donata is helpful, this would be a tragic understatement. She was always at hand to offer advice and to make arrangements for us that made our time in Italy a more pleasurable experience. The breakfast was very good quality and was always ready by the time we requested. Although the accommodation forms part of the house, it has been designed as a separate apartment and you are afforded every privacy. We are confident that anyone who has the pleasure of staying with Donata will have a similarly enjoyable experience. Our thanks to the family for a wonderful time.
Usman
2014-01-23T00:00:00Z
Staying at Donata's was one of the highlights of our trip to Italy as the place is wonderful and Donata is really a superhost! Already before arriving she made sure that we find the place, warned us about the road closures and sent detailed instructions how to arrive. When we arrived, she welcomed us with self-made bread and extremely tasty cake! We stayed in 2-BR apartment and it was very clean and very well furnished as you have all you need and even more - you can see that both she and Federico have put a lot of time into thinking how their guest would feel most comfortable. Next to the pool there is also a small romantic cottage which looked lovely, overlooking the pool and the valley, while having Montetiffi on the background, as the view from the pool is really breathtaking. As Donata and Federico have small children, there is plenty of toys outside and a lot to do also inside (in case you happen to stay there during rare rainy days ;) ). You will also find all the area maps and tourist information. This is really a 5-star accommodation and we hope to come back some day! :)
Kristi
2016-06-22T00:00:00Z
Room Type
Entire home/apt
---
Property Type
House
---
Accommodates
5
---
Bedrooms
Sogliano Al Rubicone, Emilia-Romagna, Italy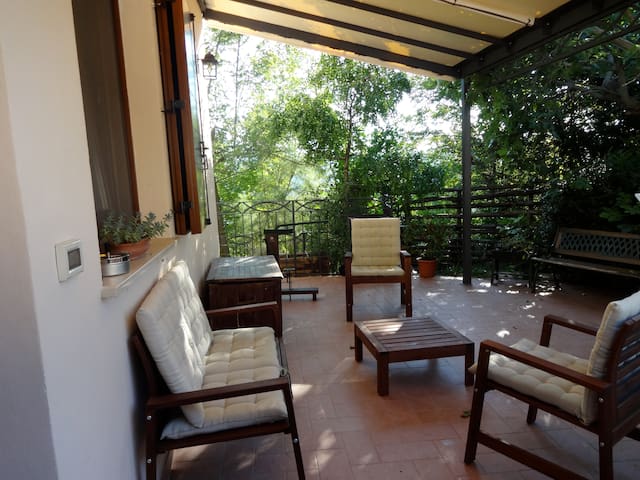 La casa si trova sul Monte Pincio a metà strada da Talamello e Perticara in un borghetto antico, a pochi passi dalle risalite delle prove speciali dell'Endurorace perfetto per chi vuole fare passeggiate in mezzo alla natura , praticare MTB Enduro Downhill .. rilassarsi in un atmosfera rustica e fare barbecue senza problemi ...distante 40km dal mare . Potrai inoltre visitare il Montefeltro e tutti i castelli della Valmarecchia , San Leo , Verucchio , San marino ecc...
Casa tutta in pietra totalmente ristrutturata
I loved staying at Roberto's house. The photos don't show all of the beautiful details of the house. In reality it's a super cute traditional Italian house that is cozy, and has gorgeous views. I'm a small person so my favorite part was actually enjoying coffee in the window of the kitchen to watch the sun come up. It's very quiet and tranquil. As a single female traveling alone, I felt very safe. The location is perfect for a traditional Italian getaway. But fair warning, it will be difficult to leave once you're there! :)
Brenda
2017-04-03T00:00:00Z
appartamento accogliente come nell foto, immerso nella natura, ideale per chi vuole rilassarsi e staccare dalla vita di tutti i giorni. Lo consiglio!!!
Giuseppe
2016-08-10T00:00:00Z
La casa è esattamente come si presenta nelle foto, dotata di ogni comfort, completamente immersa nella natura e perfetta per un soggiorno all'insegna del relax. Roberto è molto disponibile e simpatico. Consigliatissimo!!
Giulia
2016-08-14T00:00:00Z
L'appartamento come da foto,accogliente , ideale per chi vuole rilassarsi .
Stefania
2016-06-03T00:00:00Z
L'host è una persona molto gentile, premuroso e veloce nella comunicazione. Il luogo è molto adatto a chi vuole allontanarsi dallo stress della città e godersi momenti di relax in un luogo tranquillo immerso nel verde.
Jean-Jacques
2016-08-20T00:00:00Z
Room Type
Entire home/apt
---
Property Type
House
---
Accommodates
4
---
Bedrooms
Novafeltria , Emilia-Romagna, Italy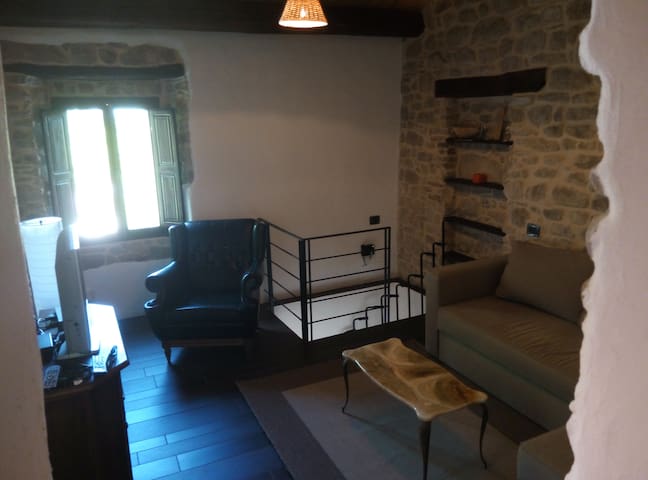 The house is situated in Roncofreddo in a small and quiet village in the hill, and its location offers a wonderfull landscape of the Adriatic Coast. If you are looking for a place to stay immersed in the countryside, this is the place for you!
The accommodation is situated on top of a hill of Roncofreddo. Its excellent location allows you to arrive in the town center in about 5 minutes walk. This is the place for country lovers or for those who want to spend some 'quiet time away from the busy city. !! Maps in the photo gallery !!
The neighborhood is very quiet, safe and within walking distance you can find two great-value restaurants. Near the center you can visit the "Museum of second World War" and the "Museum of Sacred Art." Walkers, whether by bike or on foot, will have the opportunity to travel the country roads and enjoy the spectacular landscape offered by the hills of Romagna.
Great place for a big family, clean, spacious and comfortable, the hosts are very nice and we felt really welcome. Great view from the balcony! Nice to have a laundry room. 40 min drive to Rimini.
Birgitte
2016-07-28T00:00:00Z
Dear Kevin and your family! Thank you for your kind reception and your frendless. We felt like at home. We enoy our stay and vocation. We will miss every moment when we where there. Please thank your mum & dad and a sister for hospitality. You have a very nice place. I think its possible that some day we come back. Elena, Tarmo, Jennifer, Brigitta, Mona Liis/ from Estonia
elena
2016-07-25T00:00:00Z
Amazing views from the balcony. Nice countryside paths starts just next to the apartment. In good condition and clean.
Tuomo
2016-07-20T00:00:00Z
Kevin is very good host. His family is kind and helpful. There are all necessary items in the apartment and great view from the balcony. Roncofreddo is cute village with friendly citizens. There are enough of restaurants with regional cuisine. Road to the sea takes just 35 minutes by car. We surely recommend this house.
Artemiy
2016-08-26T00:00:00Z
Super accueil fait par la famille de Kévin. La maison est très propre, situé dans un village très reposant et ressourçant. Nous avons passé un agréable séjour !
Ines
2016-08-13T00:00:00Z
Abbiamo avuto un'ottima accoglienza. E' un posto ideale per rilassarsi e per godere dei bei paesaggi e delle eccellenze enogastronomiche della zona.
Livia
2016-07-04T00:00:00Z
Tout simplement parfait. L'accueil était exceptionnel, très conviviale, vraiment ce que l'on recherchait. L'endroit est calme et tout à fait conforme au photos. nous y retournerons.
Raphaël A.D.
2016-07-10T00:00:00Z
Byliśmy w Roncofreddo tylko na jedną noc. Warunki jakie zastaliśmy zachęcały do spędzenia tam dużo więcej czasu. Apartament zrobił na nas bardzo dobre wrażenie. Było czysto, było dużo miejsca i była świetnie wyposażona kuchnia i łazienka. Nie było żadnego kłopotu z odbiorem kluczy do apartamentu. Dziękujemy!
Robert
2016-07-18T00:00:00Z
Room Type
Entire home/apt
---
Property Type
House
---
Accommodates
5
---
Bedrooms
Roncofreddo, FC, Italy
It's simple to reach the place with bus from Rimini or if you are traveling by car. There is private parking for whom is traveling by car. Distance from the city center: 5 min by car, 10 min walking to the cablecar that will bring you up hill, 20 min walking trough a nice path. The room is provided with a private bathroom (without shower), wi-fi and conditioned air.
The "casa verde del Borgo" (wich means the green house of "Borgo", that's the name of the area) is comfortable for the position where it's located, is easy to get here from Rimini and other places because busses stops just close by, for whom is coming by car there's also a private park that you can use. The house is close by the historical centre. The guests are provided with key so they have no time restriction. The room has a private bathroom (without shower), conditioned air, wi-fi connection and a sofa-bed if they are more than 2 people. When I'm home the kitchen and the bathroom with the shower are shared places.
The house along the main road of San Marino, it's a safe place, comfortable for who's travelling.
We enjoyed our stay. Although we did Not find the place simones father came and picked us up. Everything else was fine
Gerald
2016-08-23T00:00:00Z
Great location and friendly hosts (Simons parents welcomed us). Very nice flat with ample sleeping and cooking facilities. A great base for visiting San Marino!
Kirt
2015-08-17T00:00:00Z
Thanks for the nice accommodation and restaurant recommendations
Meagann
2016-09-27T00:00:00Z
Simone was a great host. He made us feel so welcome! We experienced a home made delicious pizza and great company. The room was big and had all amenities we needed. The breakfast was delicious. I would highly recommend!
Desi
2016-07-19T00:00:00Z
Simone and his family were wonderful hosts. They came to pick us up when we were lost, left us snacks and water in our room, and have a wonderful, spacious, private room to stay in, close the tourist attractions yet away from the noise. I highly recommend spending your San Marino vacation enjoying Simone's warm hospitality.
Gabe
2016-08-28T00:00:00Z
Massimo and Luciana (Simone's parents--he is busy as a student and they seem to be the actual hosts most of the time, though they live outside of town) are incredibly sweet people who are very invested in making sure their guests have a good experience staying at La Casa Verde del Borgo. We had a bit of difficulty with where to get off the bus from Rimini, so I'm writing a blurb in English for Massimo to send to any future English-speaking guests who arrive by bus from Rimini to avoid the same problem in the future. (Make sure to ask for the specifics if you don't have your own car!) But Massimo and Luciana waited outside for us to arrive despite us being significantly late, and they bent over backward to make everything wonderful for us. Simone was not even there, so we had his entire place (a ground level, full-floor apt) to ourselves. The apartment is in a neighborhood called Borgo Maggiore, and is situated on the main (read: busy) road up to the old city center. It's a 15 minute, steep uphill walk from the apartment to the gondola that will take you the rest of the way up to the city center. But there's a nice pedestrian path coming most of the way down from the city, and it's much easier/nicer to walk downhill. :) (Allow 45 minutes from the city center back down to the apartment on foot. But there are also buses.) Luciana supplied us with simple breakfast and coffee/tea makings in the kitchen, plus a snack for our arrival. Even when Simone is home, guests have their own room down the hall from his, with a private toilet and sink (shower and kitchen are shared). And Massimo and Luciana went WAY above and beyond to show us around the city center and even made us an amazing lunch. They speak little English, so I don't know how this all would have worked out if I didn't speak some Italian, but they are so goodhearted and generous that I don't doubt they will find a way to make your experience positive and provide more than expected, regardless. They were fantastic hosts and made our time in San Marino way better than it would have been otherwise.
Lindsey
2015-09-12T00:00:00Z
We loved our stay at Simone's place! They were very welcoming and friendly and gave us some great info on the area. The plum and blueberry cake that they baked for breakfast was delicious. We would definitely stay again if we return to San Marino.
Jo
2016-08-11T00:00:00Z
One of the best AirBnB experiences we've ever had! Absolutely fantastic to meet Simone! We got to San Marino quite late and explained to Simone that we wanted to see the Castle before we left (we were only staying for the night) and he managed to organise everything for us! The best bit was him coming with us to the Castle and then for dinner! It's experiences like this that make AirBnB and people part of it so special! I do believe that we have made a good friend in Simone and can't wait to go back and see him again! Thanks for a great time!
Shoumick
2016-09-15T00:00:00Z
Room Type
Private room
---
Property Type
House
---
Accommodates
2
---
Bedrooms
San Marino, San Marino
Immersed in the unspoilt nature of Montefeltro, the farmhouse offers a rustic environment, which recalls the ancient destination of the use of the interior, simple decor, rich in ancient charm, which combine with the modern. We have also a relaxing spa center with iacuzzi and sauna where you can taste tea, Juice and freshwater from our natural fountain while relaxing with our spa facilities.
Camere ristrutturate rispettando il vecchio stile contadino con travi e pietra a vista, pavimenti in cotto e muri a calce. Dotate di tv e bagno privato, sono arredate a tema. Rooms renovated respecting the old peasant style with beams and stone walls, tiled floors and whitewashed walls. Equipped with TV and private bathroom, they are decorated according to themes.
peace and tranquility, surrounded by nature.
Liebe Federica und Family, vielen Dank für die wunderbare und entspannende Zeit bei Euch. Wir haben uns alle sehr wohl gefühlt. Das Haus wurde liebevoll restauriert, mit viel Liebe zum Detail. Unsere Zimmer waren geräumig, luftig und mit allem ausgestattet, was man so braucht. Die Lage im Grünen mit einem fantastischen Rundblick gefiel uns besonders gut. Die tägliche Erfrischung im stets sauberen Pool haben wir genossen. Die Kommunikation mit Frederica war unkompliziert, schnell und jederzeit respektvoll. Die ganze Familie ist sehr liebenswürdig. Es war uns eine Ehre, Euch kennenzulernen und hoffen auf ein baldiges Wiedersehen.
Dorit
2016-07-30T00:00:00Z
Bellissimo weekend, paesaggio incantevole!!! La struttura é magnifica e Federica ci ha messo in condizione di poterne godere al meglio!!!!! Da andarci assolutamente!!
Luigi
2016-07-11T00:00:00Z
Gentilissimi! Il posto è curato ed estremamente tranquillo. Ottima la prima colazione con dolci e confetture fatte in casa.
Benedetta
2016-08-01T00:00:00Z
Room Type
Private room
---
Property Type
House
---
Accommodates
14
---
Bedrooms
Frontino, Marche, Italy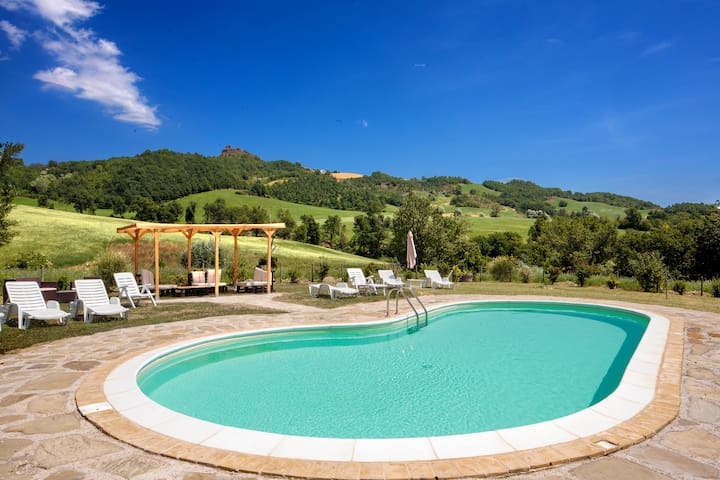 Detached holiday home in half an hour from the sea, with enclosed garden, sleeps 7: 3 double bedrooms each with ensuite bathroom with shower. Pets allowed small and medium taglia.A km.1 pizzeria, food / kiosk / tobacconist / rotisserie. Nearby many attractions: San Marino, San Leo, Verucchio, Santarcangelo di Romagna, Montebello, Petrella Guidi. Countless castles to visitare.Attorno the house also many beautiful walks in the woods and along the river
Around the house many beautiful walks also in the woods and along the river where there is a bike path of 38 km that unites Novafeltria the sea (to the Tiberius Bridge of Rimini). The house is equipped with washer, iron, ironing board, electric oven, microwave oven, hair dryer, barbecue . Pellet stove in the kitchen and wood burning stove in the porch. The price varies according to the number of guests and from low to high season. The holiday in our house is suitable for those looking for a bit 'of peace, here life still flows on a human ..
Room Type
Entire home/apt
---
Property Type
House
---
Accommodates
7
---
Bedrooms
San Leo, Emilia-Romagna, Italy
Cozy 1BD apartment comfortably fits 2 adults plus 2 children or 1 adult on the sofabed. Relax in the peaceful garden and sunbathe near the pool or drive to the nearby beaches and enjoy the Riviera nightlife. Free parking. Pool, veranda and library are at disposal for guests (please check times at desk). Hosts will be happy to give advice on good food, sightseeing and more.
The apartment has: - living room with sofabed that comfortably fits 2 children or 1 adult - fully furnished kitchenette complete with dishwasher (detergent excluded) - master bedroom with king bed and closet - private bathroom with shower. Sheets and towels (bathroom and kitchen) are provided. The little garden in front of the apartment is equipped for outdoor dining and enjoys a beautiful view of the Riviera coast.
The tranquility of these hills is engaging and driving around you can discover beautiful cultural spots. If instead you wnat to enjoy the fun offered by the Riviera, the coast is only 20km away with its beaches and its super fun nightlife.
Room Type
Entire home/apt
---
Property Type
House
---
Accommodates
4
---
Bedrooms
Roncofreddo Cesena, Emilia-Romagna, Italy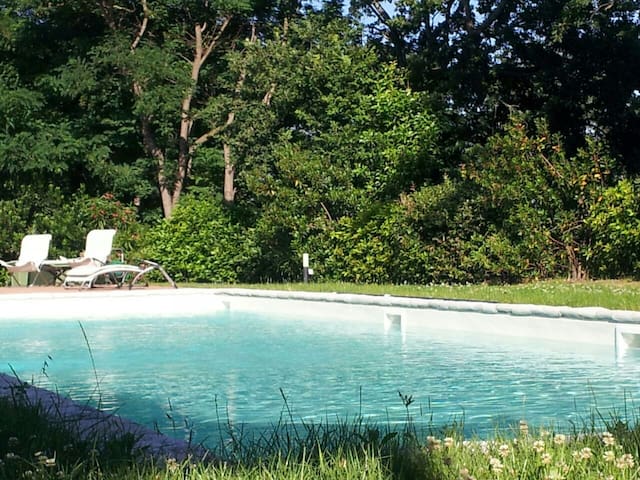 Panorama-Best-Lage für erholsame Urlaube in der Natur. Das Landhaus liegt 4km entfernt vom schönen Städtchen Sant'Agata di Feltria. Hier gibt es ein Schwimmbad, gute Restaurants und Einkaufsmöglichkeiten.Viele andere Ausflugsziele sind in der Nähe. Das Landhaus hat 2 Schlafzimmer, Küche, Bad,Wohnzimmer und im Nebenhaus ein Studio mit Schlafgalerie.
Dieses Landhaus liegt sehr ruhig mitten in der Natur und bietet den Gästen eine wundervolle Panoramasicht mit einem Sonnenuntergang über den Bergen.
Gegenüber - ausser Sicht- und Hörweite - wohnt eine sehr nette Familie. Ansonsten ist das sehr schöne Städtchen Sant'Agata di Feltria in der Nähe. Ein sehr typisches, pittoreskes kleines Städtchen mit sehr freundlichen Bewohnern.
Room Type
Entire home/apt
---
Property Type
House
---
Accommodates
7
---
Bedrooms
Ca' di Vico, Emilia-Romagna, Italy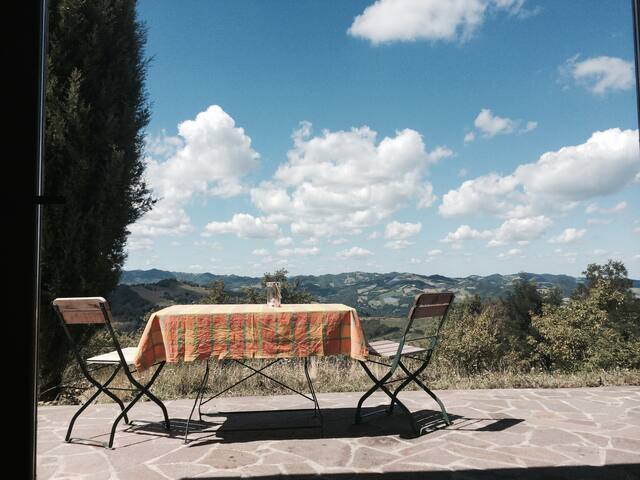 recently renovated farmhouse that maintains the original architectural features. The house is located in the municipality of Pietrarubbia in the heart of Montefeltro and is surrounded by meadows and enchanting forests and an unspoiled beauty.
newly restored rural farmhouse which retains all the architectural features of the agricultural farm building. Located in the municipality of Pietrarubbia in the heart of Montefeltro, on the north of the center of the capital, in an excellent panoramic location at 700 m height above sea level, it enjoys a cool climate and ideal for escaping the summer sultriness. From there you can see to the south the most 'beautiful mountains of the Apennines up to gaze at Monte Conero, and some resorts' typical of Montefeltro which Sassocorvaro and Urbino. To the north-west there is the Monte Carpegna with its nice Ripa called "jumps costs" which highlights the sandstone type stratification of Monte Carpegna. In a central position and 'can reach in a few kilometers, and small important ancient villages like San Leo, Montecerignone, Cavoleto, Montefiorentino and many others that offer, especially in summer, local festivals and medieval interpretations for a blast from the past. The home is surrounded by meadows and forests of outstanding beauty and a pristine environment, inhabited every corner of nature, privileged guest and always present, offers an ideal place for rest of mentx ndsmx mdhe and physical
Pietrarubbia is a hilly town of medieval origins. The town is dominated by the majestic peak of Mount Carpegna, which shows on this side of the steep slopes with dense beech forests alternating with bare rock; It extends around a varied mosaic of cultivated fields, woods and, here and there, with sharp rocky cliffs dominated by ancient fortresses. The 'old town is within walking distance and well worth your attention.
Irene is a wonderful host with a lovely house. I highly recommend this place !
Jérémy
2015-08-17T00:00:00Z
This was our favorite stay out of 7 airbnb's during this trip. Our hosts were very nice and welcoming, and even brought us tea in the evening and pastries in the morning. The apartment is beautiful and simple, but functional. The location is great, in the middle of nature. I was met by friendly cats in the morning when I opened the door. We wished we could've stayed longer.
Lahja
2015-09-23T00:00:00Z
Irene and Emmanuel made us feel very welcome in their tranquil beautifully converted rustic barn overlooking the lush countryside. We had a great week exploring the beautiful hills and valleys and attending the international music and performing arts festival in nearby Pennabilli. - A wonderful location for a quiet break. Many thanks Colin and Sherri.
Colin
2016-06-07T00:00:00Z
We spent two nights at Irene's place. It was a very beautiful farm house and the location was amazing and peaceful. This was one of our best stays in Italy. Additionally, Irene and her friend Emanuele were very nice and helpful. They kept our kids entertained and played with them and had even set up a separate room with toys for our children. We will love to visit again for longer duration.
Raza
2016-05-21T00:00:00Z
Nice place with the beautiful view! Very well and tastefully renovated old farmhouse. Horses, donkey and cats were a nice bonus :) Must be amazing during the summer time.
Anna-Maria
2015-10-24T00:00:00Z
Wir waren sehr zufrieden (für das schlechte Wetter konnte die Familie Pompei nichts ....) Das Haus liegt wirklich traumhaft und ist ein liebevoll restauriertes traditionelles wunderschönes Anwesen. Wir sind herzlich emfangen worden, es war für Alles gesorgt und perfekt ! Ganz besonderen Dank für die entspannte Reaktion auf unser "Hundeunglück" ! Sandra & Carsten
alexandra
2016-03-22T00:00:00Z
Accoglienza eccezionale da parte dell'host Irene ed Emanuele che ci hanno ricoperto di attenzioni. Il casale è bellissimo e confortevole con un panorama superbo nel cuore del Montefeltro.
RENATO
2015-08-22T00:00:00Z
Erg mooie locatie, midden in de natuur en in het echte Italië. Er is veel te doen in de omgeving en de verhuurder is erg behulpzaam om je de weg te wijzen. Ze doen echt hun best om het naar je zin te maken! Je hebt genoeg ruimte en alles is aanwezig. Echt een aanrader.
Leon
2016-08-20T00:00:00Z
Room Type
Entire home/apt
---
Property Type
House
---
Accommodates
4
---
Bedrooms
Pietrarubbia, Marche, Italy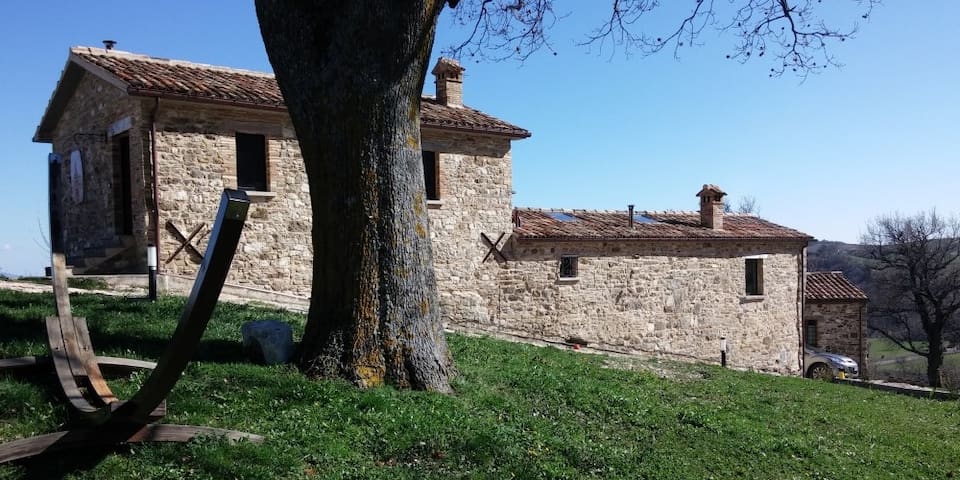 Casa si affaccia su piazza castello piccolissimo e ben curato borgo immerso nel verde a circa 380 metri sul livello del mare. Dista circa 2.5 km da Mercato Saraceno cittadina che offre tutti i servizi. A circa 15 km si raggiunge Bagno di Romagna rinomata stazione termale.
Elisa's place is really lovely with absolutely stunning views of the surrounds. The building is spacious, old and quaint. We were 5 guests and the accommodation suited perfectly. Elisa was very kind and good with her communication. We highly recommend this place.
Andrew
2017-02-25T00:00:00Z
Elisa was a great host. She was easy to communicate with and always available during our stay. She was particularly helpful when our travel plans needed to be rearranged. The accommodation was very clean and comfortable and all the amenities listed were there. If you are looking for a quiet place in beautiful countryside, I would certainly recommend Elisa's.
Michael
2016-06-06T00:00:00Z
Great place to stay, nice, quiet and peacefull. Elisa is great host. Communication is easy. Thank you Lisa
Luka
2016-08-17T00:00:00Z
Very warm welcome, brought us fire wood and olive oil. It was such a joy to stay here!
Samuel
2016-10-13T00:00:00Z
Ho soggiornato a casa di Elisa... una meraviglia, sembrava di stare in un olimpo vicino al paradiso. Lei è gentilissima e ispira una grande tranquillitá, tanto quanto il luogo in cui si trova la casa. I miei amici con cui ho viaggio sono stati contentissimi, ci è dispiaciuto lasciare la casa. Il terrazzo è magnifico dove Elisa ha disposto un tavolino e un dondolo e cosí noi abbiamo potuto fare una dolce colazione e abbiamo mangiato i pomodori del suo orto. Casa pulita con il dispensabile per un buon soggiorno. Consigliatissima. Grazie Elisa spero di ritornare a trovarti. Francesca, Arlin, Keny, Cintia e Sara.
Keny
2016-08-12T00:00:00Z
Ev sahibi iyi misafir sever candan davranan sevimli bir bayandi once evi bize acti wifi nomuzu verdi sonra odalari tanitti bir ondakka sohbetten sonra anahtari bize verdi her turlu burda guvenliginiz korunmustur dedi. bizde birgun kalisimizi gonul rahatligiyla sagladik
Mustafa
2016-08-15T00:00:00Z
Nonostante il nostro brevissimo soggiorno, abbiamo veramente goduto sia della bellezza del paesaggio sia dell'atmosfera di serenità totale che questa casa evoca. Elisa si dimostra davvero un'ottima padrona di casa, molto discreta ma accogliente e presente. Sicuramente da consigliare.
Andrea
2016-08-23T00:00:00Z
La casa di Eligio è un luogo in cui si respira l'atmosfera di tempi lontani, che si riescono a ritrovare forse solo in posticini come questo. Il tempo sembra essersi fermato nel piccolo borghetto sopra mercato saraceno. Del soggiorno ho adorato le risate delle persone sedute sulla piazzetta del paesino fino a tardi, il paesaggio fantastico (dove il telefono prende poco, ideale per staccare un po' da tutto) e il silenzio del mattino... La casa è pulita ed è come si vede in foto. Travi a vista e finestre che danno sul paese e sulle montagne. Elisa ci ha preparato asciugamani e shampoo in bagno, mentre in cucina ci ha lasciato in un angolino fette biscottate, biscotti, marmellate, caffè e tè per le prime colazioni. È stato Davvero rilassante. Consigliatissimo.
Elisa
2016-08-20T00:00:00Z
Room Type
Entire home/apt
---
Property Type
House
---
Accommodates
5
---
Bedrooms
mercato saraceno, Emilia-Romagna, Italy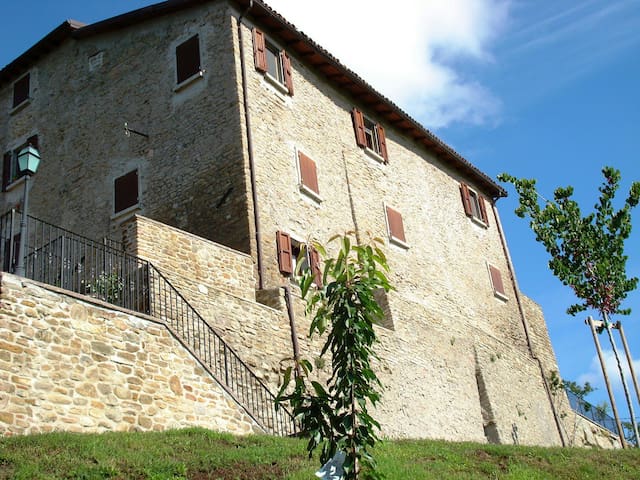 Luogo dal panorama incantevole, ai piedi della montagna, a 800mt dal livello del mare si trova una caratteristica casa di montagna interamente ristrutturata e molto accogliente; situata in un piccolo borgo appena sopra il paese.
La casa si sviluppa in altezza su 3 piani: la cucina è al piano terra e troverai tutto l'occorrente per la tua permanenza, compresa una piccola prima colazione fatta in casa, negli altri due piani ci sono le camere da letto matrimoniali e un bagno nel secondo piano. Tutto l'ambiente è riscaldato tramite una stufa a legna percui è indispensabile saperla usare!
Carpegna è un paesino di montagna ai piedi del monte Carpegna; famosa per il parco naturale del Sasso Simone e Simoncello su cui si possono fare escursioni. La cucina tipica vi conquisterà e non dimenticate di assaggiare il famoso prosciutto!!
Fantastic!!! One of my best experience on AirBnB. Sara and her parents are extremely nice and friendly people! The apartment is ideally clean, neat and cozy! Home-made cookies and a cake for breakfast!!! Delicious! We were absolutely happy to stay in this apartment!
Alex
2016-08-08T00:00:00Z
My family and I had a fantastic stay at Sara's house. They are lovely people. The house is very cute and clean. We hope to have the opportunity to stay there again. Thanks Sara and Giuliano
Gabriel*2008
2016-03-27T00:00:00Z
Beautiful house with great mountain view. There was everything what you need. Breakfast was great, we had delicious homemade biscuits and bread. Thanks for all! Highly recommended! Bardzo ładny dom w przepięknym otoczeniu. Wyposażony we wszystko co niezbędne. Sniadanie było przepyszne, dziękujemy za wspaniałe domowe ciastka i chleb! Serdecznie polecamy!
Dominika
2016-07-30T00:00:00Z
Ottima accoglienza e meravigliosa colazione! Ubicazione ottima, appena fuori paese con vista sulla vallata. Le scale a chiocciola estremamente caratteristiche.
Gabriele
2016-09-02T00:00:00Z
Nós adoramos o espaço de Sara. É uma casa reformada, limpa, confortável e muito agradável. Cozinha bem equipada, banheiro novo e camas confortáveis. O pai de Sara, Giuliano, é prestativo, educado e nos agraciou com torta e biscoitos caseiros, que estavam uma delicía. A casa é agradável por fora, tem uma bela vista e estacionamento. Nós gostamos muito e recomendamos a todos no Airbnb.
Daniele
2017-02-08T00:00:00Z
Casetta carina, molto accogliente e caratteristica dell' ambiente montano. Proprietari disponibilissimi, accomodanti e simpatici. Ottima prima colazione fatta trovare per il soggiorno.
Marco
2017-01-22T00:00:00Z
Room Type
Entire home/apt
---
Property Type
House
---
Accommodates
4
---
Bedrooms
Carpegna, Marche, Italy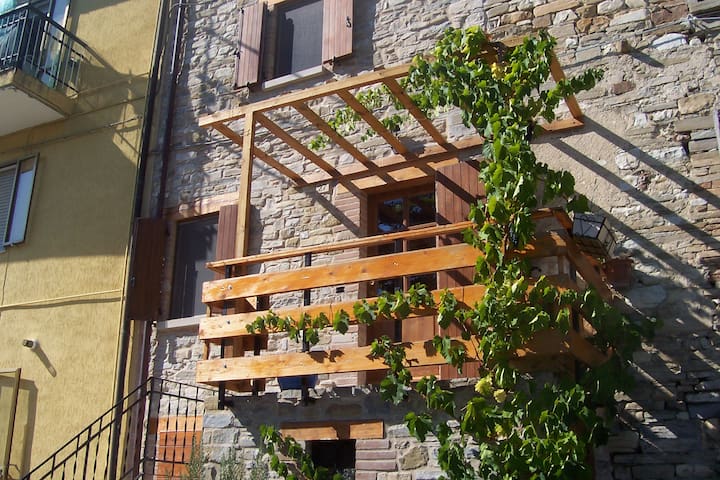 Villa situata su una delle colline del Montefeltro con vista panoramica della Rocca di San Leo e di quella di San Marino. A 25 Km da Rimini La particolarità dell'abitazione è data dalla tipologia costruttiva completamente in pietra a vista anche all'interno. Molto accogliente e soprattutto immersa nel silenzio della campagna Posizione privilegiata per escursioni mare e colline.
L'appartamento è accessibile da quattro ingressi: due dal portico, uno dal giardino direttamente nella zona giorno e un ingresso principale. E' composto da una camera matrimoniale, una tripla, e una singola, da due ampi bagni, uno con la vasca e uno con la doccia. La zona giorno comprende una cucina molto ben attrezzata con la rispettiva zona pranzo e un soggiorno.
Room Type
Entire home/apt
---
Property Type
House
---
Accommodates
6
---
Bedrooms
Pietracuta di San Leo, Rimini, Italy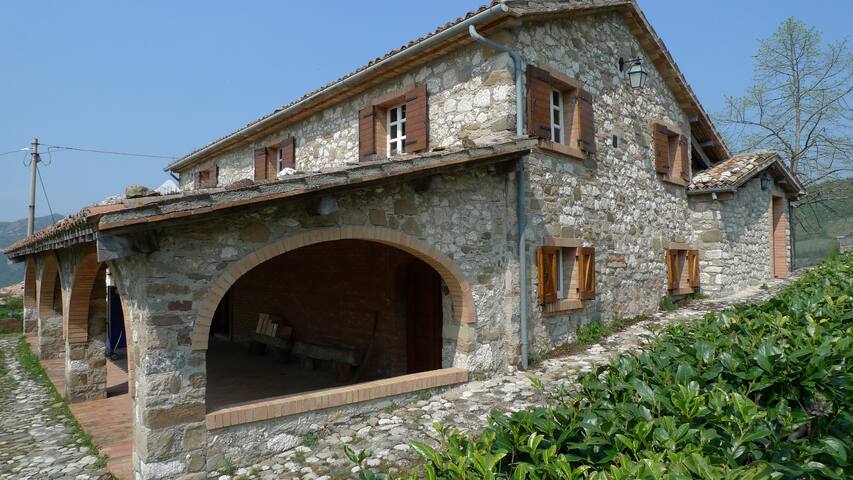 Talamello - Airbnb
:
Average

4.84

out of

5

stars from

157

guest reviews
1

–

18

of

54 Home Rentals
Enter dates to see full pricing. Additional fees apply. Taxes may be added.