Our house is located in downtown Puerto Natales, two blocks from the coast and 2 blocks to the main plaza. There are two bedrooms one on the main floor and a second on the second level. The house has one bathroom and a living, dining and kitchen area in one open space. There is central heating, wifi, and cable tv. Great backyard and a patagonian grill.
The silence and the backyard!
The restaurants, the ocean and the bike path. Easily you can spend a week in Natales doing activities during the day such us biking, trekking, horseback riding, sailing or kayaking. Or just relax in one of the coffee shops in town and enjoy a good book!
We had a wonderful time in Puerto Natales, mostly because of how wonderful it was to stay at Gonzalo's place. Everything was exactly as described if not better. You immediately feel like your at home and the location could not be more convenient to everything in town and the water.
Adam
2017-01-11T00:00:00Z
Truly a hidden gem and a perfect jumping stone to Torres Del Paine (about 1.5 hours away by car). I would love to stay here again. The space is beautiful, clean, cozy, and functional. Gonzalo was so helpful with restaurant recommendations, voice notes over What'sApp, and responded very quickly to questions. The location could not have been better - in the heart of down town and RIGHT next to a travel agent which we used to book a full day trek and boat to the glaciers (both were excellent). My family (4) could not have asked for a better experience in Patagonia! Thank you, Gonzalo!
Destinie
2017-03-03T00:00:00Z
Best place to stay in all of Natales! Very central, beautiful and easy. Gonzalo gave us the best tips, helped book buses and was very easy. The perfect place to prepare for a trip to the Torres from!
Michael
2017-03-18T00:00:00Z
Gonzalo was very helpful over the phone and through AirBnB messages (though we never met in person). The apartment is GREAT! It is very cozy and quaint. It is located in a perfect spot with easy walking to the shore front or to the main town square, as well as many restaurants and tourism offices. The place is clean and very comfortable. I would definitely stay here again.
John
2017-02-10T00:00:00Z
Mejor casa de Puerto natales !!! Muy bien ubicada y de muy buen gusto, distinta de todas que ya vi en natales ! Camas muy confortables con las sábanas limpias y nuevas !! El baño muy lindo y la ducha preciosa !!! Recomiendo para quien le gusta a una buena arquitectura y decoración !!
Alexandre
2017-01-25T00:00:00Z
Recomendable 100% la casa increíble, muy buena ubicación, limpia, muy cómoda. La recomiendo no se arrepentirán! Hay q piro disfrutarla! Los dueños un 7
felipe andres
2017-02-27T00:00:00Z
Room Type
Entire home/apt
---
Property Type
House
---
Accommodates
4
---
Bedrooms
Puerto Natales, Región de Magallanes y de la Antártica Chilena, Chile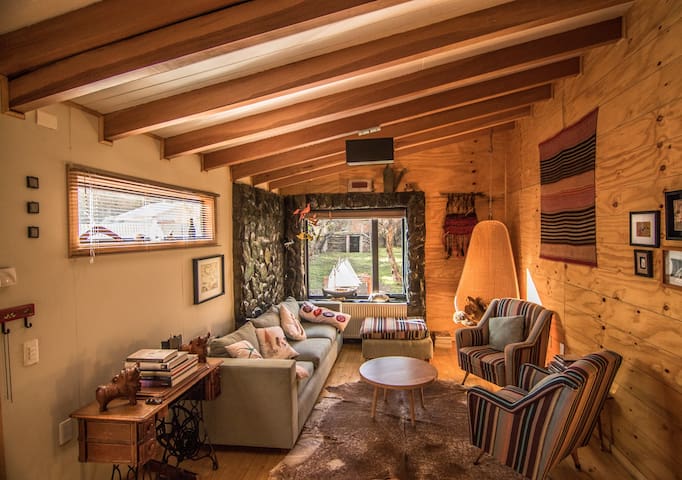 Es una habitación simple, con dos camas individuales, un velador y una cómoda, la ventana de la habitación da hacia el pasillo interior. Acceso a cocina y baño compartidos, pocos huéspedes, solo 2 dormitorios para visitantes. Tenemos buena información de la zona. Mi alojamiento es apto para parejas y aventureros/as, amigas/os viajeros, madres/padres con niños/as etc.
Es una casa familiar a pasos del centro, la plaza y la costanera. Mi espacio es tranquilo y con buen ambiente. Un lugar acogedor para llegar a descansar después de tu visita a las Torres, la Cueva del Milodón, los bosques y alrededores de Pto Natales.
Our stay at Daphnes was a nice option in a big budget city like Puerto Natales. The nights were quiet and the breakfast good, with delicious homemade jam. If you're tight on budget and don't want to spend your nights in noisy dorms I would definitely recommend staying at Daphne's.
Saskia
2017-03-24T00:00:00Z
We had a great time at Daphne's! Our private two bed room was comfortable and private. The shower was awesome (great pressure and lots of heat)! Daphne got up every morning and made us breakfast. Walking distance to a lot of cool places to eat and drink! Def recommend it.
Knox
2017-03-07T00:00:00Z
Daphne was a wonderful host and provided a comfortable welcoming stay. We loved staying here!
James
2017-02-14T00:00:00Z
Love this place! There is everything you need, it's super clean, and really cozy. Daphne, the host, is so welcoming and really goes that extra step to make sure you are comfortable. Great, central location. Everything is a very short walk away. Internet is fast and reliable. Fully recommend staying here!
Gregg
2017-02-08T00:00:00Z
We really enjoyed staying at Daphne's place. She is really sweet, helpful and flexible with the check in. She also gave us a simple but delicious breakfast which was a huge plus. We stayed in both rooms, one of which was a little cold at night but she did provide plenty of warm blankets. Clean bathroom with great hot water. Location was central and an easy walk away from everywhere we wanted to go.
Olivia
2017-02-06T00:00:00Z
All you need from an an Airbnb
David
2017-01-29T00:00:00Z
Nice, calm and clean accommodation. We appreciated the good included breakfast. Daphne is very friendly and helpful!
Mathias
2017-01-27T00:00:00Z
We had a nice stay in Daphne's house. We could use the kitchen and in the morning she served a delicious breakfast. During the night we had a bit cold and the bed is not very comfortable, but we really recommend to stay here! :)
Julia
2017-02-03T00:00:00Z
Room Type
Private room
---
Property Type
House
---
Accommodates
2
---
Bedrooms
Puerto Natales, Región de Magallanes y de la Antártica Chilena, Chile
Como estar en tu propia casa!! Mejor relación precio-calidad. Cómoda, decoración e instalaciones para un descanso seguro. WiFi. Excelente ubicación en zona residencial, no comercial, a 4 cuadras de la plaza principal. Cercana a restaurantes, al sector de comercio y a lugares de interés en la ciudad. ¡No encontrará nada mejor! Idiomas: Español, Inglés, Portugués. Languages: Spanish, English, Portuguese. Responderemos tus dudas con mucho gusto.
Sleeps 4, with 3 beds. Ideal for family groups, friends, or other small group.
House located in central sector of Puerto Natales, 4 blocks from the square, in (non-commercial) quiet and safe residential area. Close to restaurants, cafes, minimarkets, among others.
Die Wohnung ist sehr sauber und verfügt über eine sehr gut ausgestattete Küche mit einem neuen Toaster, guten Töpfen und Pfannen und einem prima Gasherd. Die Heizung funktionierte einwandfrei, ebenso Heisswasser für die Dusche. Ida war sehr nett und hilfsbereit beim check-in. Die Kommunikation mit Raoul funktionierte einwandfrei. Die Gegend ist eine ruhige, vielleicht nicht allerbeste Wohngegend. Aber wir fühlten uns sicher und wohl. Alles ist gut zu Fuss erreichbar. Die Wohnung können wir für eine Familie mit zwei Kindern sehr empfehlen!
Tanja
2017-03-29T00:00:00Z
La casa está recién remodelada, por lo que está impecable. Todo funciona perfecto. Limpia, acogedora, central y de muy fácil acceso a pie al centro de Puerto Natales, es una muy buena alternativa para dormir en la ciudad. Tiene supermercados muy cerca, así como comercio y plaza para niños. La recomiendo 100%
Juan Pablo
2017-03-19T00:00:00Z
Excelente, muy cómoda y equipada casa. Ideal para 4 personas. Excelente, ojalá podamos volver.
Leonardo
2017-03-04T00:00:00Z
El departamento es muy lindo y tiene todo lo que necesitamos en nuestra estancia en Puerto Natales. Muy bien ubicado y todo como en las fotos, muy facil la comunicacion. Gracias Raul y Señora Ida, muy recomendable!!
Marlene
2017-03-25T00:00:00Z
Room Type
Entire home/apt
---
Property Type
House
---
Accommodates
4
---
Bedrooms
Puerto Natales, Región de Magallanes y de la Antártica Chilena, Chile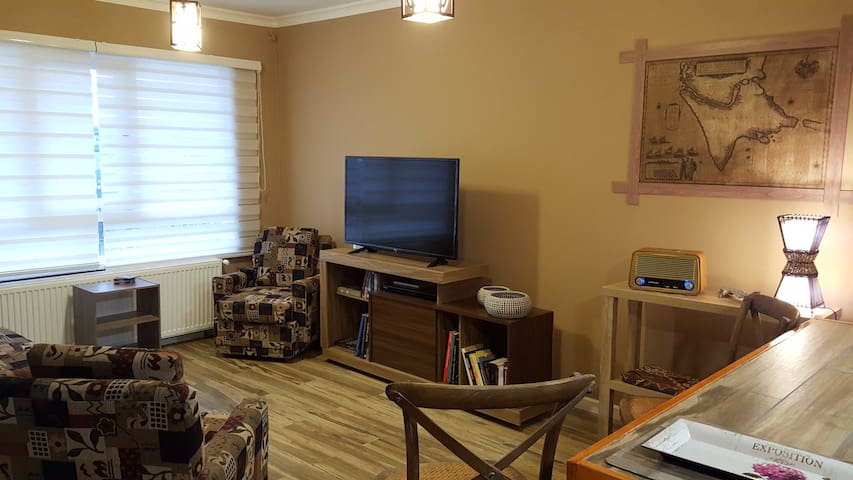 cozy
I had an amazing stay at Colombio's place in Puerto Natales. Colombio is larger than life, and his passion for Patagonia and knowledge of the town make his home a perfect jumping off point for a trip to Torres del Paine. When I arrived he guided me around town and helped me book my campsites and get supplies for my trip. He also cooks an excellent breakfast. His home is a five minute walk from the main area of Puerto Natales, and a short walk to the nearby fjord and some of the best empanadas I've ever had. The house is quiet and clean, with a hot shower and very comfy kitchen. Each room has its own adjustable heater. I highly recommend this spot for a stay, short or extended.
Jeff
2017-03-31T00:00:00Z
Colombio was a fantastic host. His welcome helped me to feel immediately at home. We had many great conversations and I feel extremely grateful to have met him. The house is just as described and Colombio makes a delicious breakfast. I couldn't recommend this place more.
Kara
2017-02-25T00:00:00Z
We are so incredibly happy that we stayed at Colombio's home. Within moments you feel at home and Colombio's energy is amazing. We enjoyed talking with him in the evening and during our delicious breakfast. We returned to stay at Colombio's after hiking for 8 days and it was the perfect place to relax and recover. The apartment is close to restaurants, shops and the best empanadas in town. We would return to stay at Colombio's without hesitation. Muchas gracias Colombio of the stars!
Ville
2017-03-11T00:00:00Z
This has got to be by far the best air B and B experience we have ever had! Sergio has a Beautiful character, open minded & genuinely kind person ,a perfect personality for air B and B. Your stay at El viaje will be one of the best experiences on your stay in Chile. One reason one day we will go back to Natales is to visit Sergio and to visit the park again. :)
Jade
2017-03-05T00:00:00Z
The best thing is Colombio itself. He is an amazing person, open, respecful and very helpfull.
Endika
2017-02-16T00:00:00Z
We had the best time in Colombio's "El viaje"!!! He is such a lovely host, has done so much for us and made us feel like we were a big family. He is such a warm-hearted person, you will like him from the start! He runs the place with all his passion. He made us wonderful breakfast and helped us a lot with organizing things. The place is cosy, clean und you will enjoy sitting and talking together with him and the other guests in the kitchen. Don't miss this place when you come to Puerto Natales- it will change your life- it's truly magic!!! Muchísimas gracias por todo, querido Colombio, y nos vemos otra vez en este vida :-)!!!
Raphaela
2017-01-19T00:00:00Z
Just perfect if You want to meet a beautiful soul..that's the place to go. Colombio gather everything you'wd need when You travel.. Helpfull, Nice, and he's absolutely positiv and à sensitive human..Who makes You feel like home! I adored. The place is confortable and clan.. You'll have really good time thème;)
Sebastien
2017-02-20T00:00:00Z
Me hospedé por varios días y estaba sola, la verdad es que la casa es antigua pero con lo necesario, sólo le hace falta WiFi y seguro en la puerta de la pieza, de tal forma que se resguarde la privacidad y si bien la puerta tenía pestillo este no era de utilidad ya que se podía abrir desde afuera, por otro lado el anfitrión se esforzó por ser cordial pero igual me sentí incómoda en algunas ocasiones, pero nada que no se pueda mejorar.
Charlotte
2017-03-28T00:00:00Z
Room Type
Shared room
---
Property Type
House
---
Accommodates
2
---
Bedrooms
Puerto Natales, Región de Magallanes y de la Antártica Chilena, Chile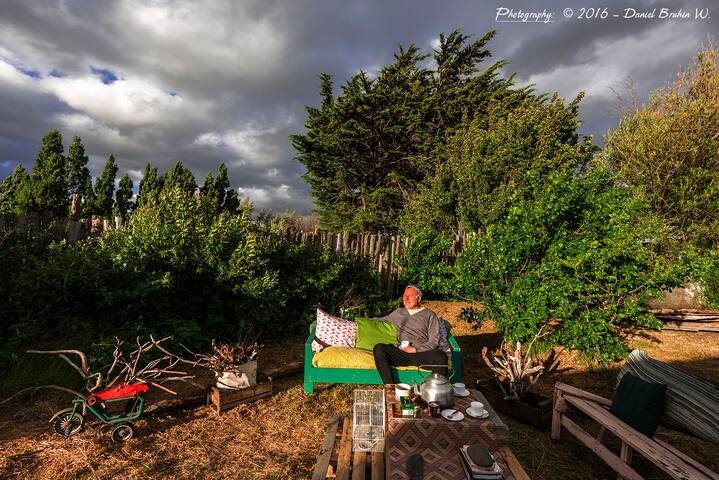 Attractions: Torres del Paine National Park, Milodon Cave, Devil's Chair, incredible views, city center, historical museum. You'll love my space for the location, people, and environment. My accommodation is good for adventurers.
Words cannot express how wonderful hosts Nancy and her family are! If you are looking for a place to stay in Puerto Natales before and after visiting Torres del Paine look no further. 5 stars!
Radek
2017-03-07T00:00:00Z
Incredible host, extremely warm and caring. Always makes sure you are comfortable and happy. Highly recommended!!
Sam
2017-03-08T00:00:00Z
Nancy and Alvaro are great people and its wonderful to meet such people when you travel. They have a comfortable house and Nancy makes great jam. Alvaro picked me up from the bus stop and even dropped me early the next day to take my bus to Torres Del Paine. I highly recommend their place.
Vishwas
2017-02-24T00:00:00Z
Had a great stay with Nancy, the room was tidy, breakfast very nice and they offered a lift to the bus station. Would stay again.
Sidney
2017-03-26T00:00:00Z
I stayed at Nancy's place for 3 nights before doing W trek in Torres del Paine. I have really enjoyed my stay in Puerto Natales mostly thanks to Nancy and her family. I can strongly recommend the place as an alternative to hostels and I am sure you will not regret it. I will definitely stay again if visiting TdP again!
Radek
2017-03-03T00:00:00Z
The hosts were incredibly friendly, and the house was quite cozy and warm. Very comfy bed with the perfect amount of blankets. The living room was great. I especially loved the electric fireplace! Made things very toasty when it was cool outside. They even provided breakfast and drove me to the bus terminal. Overall a phenomenal experience and I would love to return. Great location by the sea.
Connor
2017-02-27T00:00:00Z
Nancy and Alvaro are lovely people and great hosts! They put great effort into making you feel at home and are always up for interesting conversations. And they know every corner of Puerto Natales; so if you need anything before your Torres del Paine trip, don't hesitate to ask!
Daniel
2017-03-20T00:00:00Z
Está muy bien ubicada y es muy calentita la casa
Karina
2017-03-25T00:00:00Z
Room Type
Private room
---
Property Type
House
---
Accommodates
1
---
Bedrooms
Puerto Natales, Región de Magallanes y de la Antártica Chilena, Chile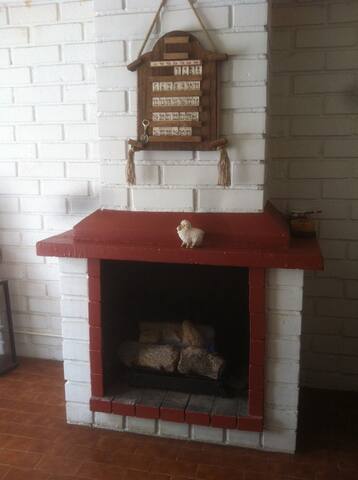 CASA AMOBLADA CON CALEFACCION CENTRAL, SERVICIO DE LOZA Y CON ESTACIONAMIENTO PRIVADO,
Casa nueva, con dos dormitorios, cocina americana, living comedor y baño, estacionamiento privado, calefacción central.
La casa se encuentra ubicada dentro de un condominio, con portero eléctrico, lugar seguro, con estacionamiento privado dentro del condominio.
It was a perfect place for us. Thank you!
Kayoung
2017-02-25T00:00:00Z
House exactly as described. Clean and tidy. Helpful host
CH
2017-02-10T00:00:00Z
Helpful host. Responded to our requests quickly. House clean and comfortable.
Eva
2017-02-09T00:00:00Z
Nosotros llegamos después de haber realizado el treking a la base de las torres del paine, por lo cual llegamos mas tarde de lo acordado, Eugenia no tuvo problemas en esperarnos, mostrando una excelente disposición frente a nuestras dudas. Al llegar a casa, esta estaba perfectamente calefaccionada, muy acogedora, limpia, camas comodas, teniendo todo lo necesario. El agua caliente funcionó perfecto. Nuestra estadía fue muy agradable y segura. La ubicación no fue tema para nosotros, ya que habíamos arrendado un auto, la casa queda un poco retirada del centro, no obstante puerto Natales es una ciudad que tiene todo cerca. Así que nos vamos felices
Solange
2017-02-20T00:00:00Z
Todo OK
Stefano
2017-01-28T00:00:00Z
Eugenia, contesto rápidamente a nuestra reserva y trato desde un comienzo de contactarse con nosotros.
Rossana
2017-02-03T00:00:00Z
Todo impecable, casa en condominio seguro, espaciosa y con todas las comodidades que uno busca. Gracias por la gran atención.
Nicolás
2017-02-16T00:00:00Z
La casa es muy acerca de terminal de buses, y ~10 minutos camina al centro de cuidad. Muy comfortable y limpio :) The house is very close to the bus terminal, and about ten minutes of walk to the city center. Very comfortable and clean :)
Harshath
2016-12-30T00:00:00Z
Room Type
Entire home/apt
---
Property Type
House
---
Accommodates
5
---
Bedrooms
Puerto Natales, Región de Magallanes y de la Antártica Chilena, Chile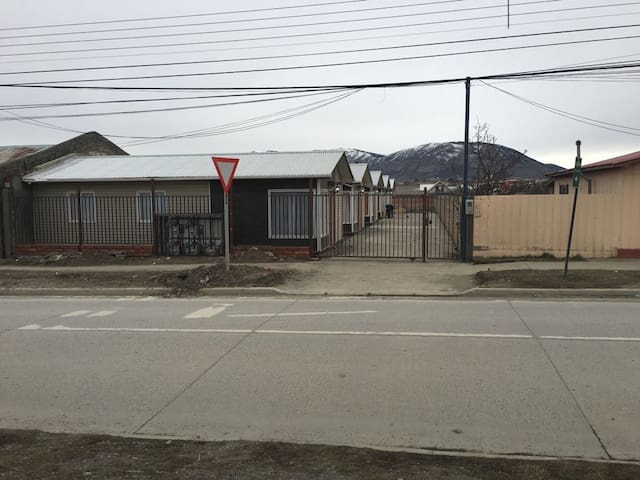 Independent room with shared bathroom. First floor
Central location, quiet area and close to restaurants and attractions for visitors.
Great central location and a quick 10 min walk to the bus station. Barbara is very welcoming and accommodating.
Amy
2017-03-25T00:00:00Z
We stayed in Barbara apartment before and after the visit if Torres del Paine. Very kind and helpful host, comfortable and clean room. We had a good experience! Highly recommended.
Saar
2017-03-24T00:00:00Z
Room Type
Private room
---
Property Type
House
---
Accommodates
2
---
Bedrooms
Puerto Natales, Región de Magallanes y de la Antártica Chilena, Chile
Newly remodeled, with excellent location in the hotel sector, 50 meters from the sea and 5 minutes walk to the center. It has 3 bedrooms, which share a bathroom. Guests can use the kitchen and common areas. We deliver tourist information about the park and surrounding areas. Bicycle rental service and storage for a fee. You'll love my space for location, comfort bed, cozy room and kitchen.
The house has 3 bedrooms shared, where there are two rooms with four beds (two bunk beds) and one with two beds (one bunk). The bunks are 1 1/2 square, which are very comfortable and larger than normal. The mattress is top quality, like the sheets.
It is an excellent location, just steps from the waterfront and dock. From there, sail boats going to the Balmaceda and Serrano glaciers and from the park.
Super comfy bed, the place is very quiet and you can sleep with no noises. The pillows are 5 star hotel class, hehe. You can use the kitchen, shared bathroom and i could park my motorcycle in their driveway. Ivan is a nice guy, thanks for everything.
Daniel
2017-01-19T00:00:00Z
Sebastian is an excellent host. The house is nice and the beds are super clean and comfy. The location is sweet too; lots of markets, restaurants, sights nearby.
Jessica
2017-02-23T00:00:00Z
Sebastian place is just a block away from the port. Everything from bars, restaurants, shopping, cafes are located within a few blocks from his place. He has a clean kitchen with everything you need for your cooking. Also, for a small fee you can you the washer machine which was very useful to me. I had the pleasure to hangout with Sebastian and I had a great time. He directed me to the right bars and restaurants. He also gave me a ride to Puerto Natales Airport. I HIGHLY recommend this place. You will feel at home. Thanks for everything!!
Fredy J.
2017-03-14T00:00:00Z
Estuve solo una noche, pero todo bien. Excelente ubicación, al lado de la costanera. Colchones nuevos ideal para el descanso luego de las actividades outdoor. Sebastián muy buena onda.
Christian
2017-03-12T00:00:00Z
Buen lugar. Recomendado
Daniel
2017-01-21T00:00:00Z
Room Type
Shared room
---
Property Type
House
---
Accommodates
10
---
Bedrooms
Puerto Natales, Región de Magallanes y de la Antártica Chilena, Chile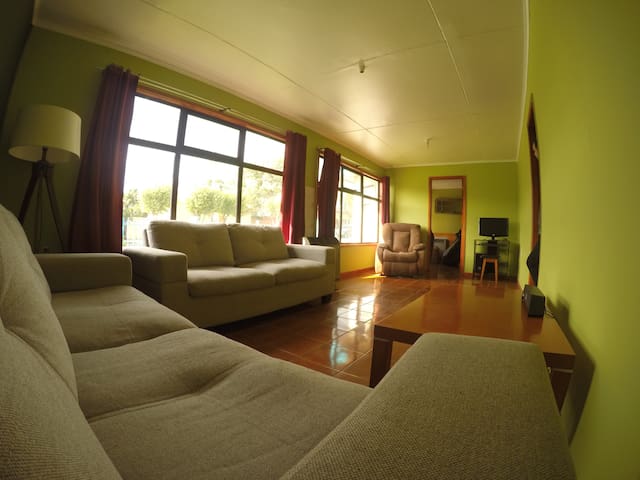 We adapt our office as a room for 2 people with private bath and separate entrance. It has 2 beds with wool and pillows, a table and chairs, kettle and crockery for 2. It has central heating and hot water. Steps away from the center of Puerto Natales. You must bring your sleeping bag and your towel.
It has separate entrance It is steps from the center and the bus station Close to supermarkets and stores.
Room Type
Private room
---
Property Type
House
---
Accommodates
2
---
Bedrooms
Puerto Natales, Magallanes, Chile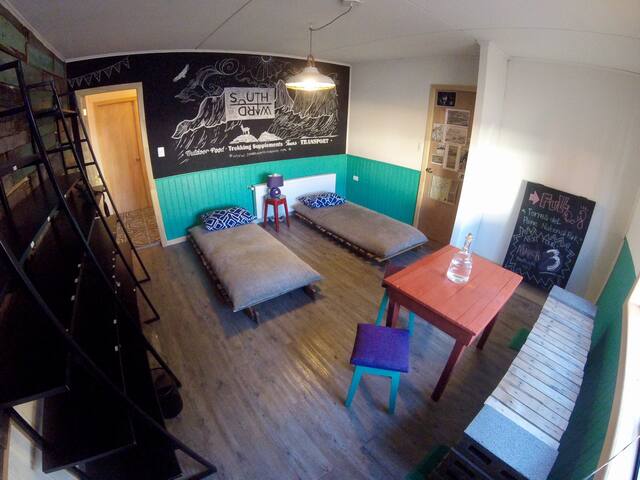 My accommodation is good for families (with children) and large groups.
The host canceled this reservation 9 days before arrival. This is an automated posting.
Rosemeire
2016-12-24T00:00:00Z
The host canceled this reservation 17 days before arrival. This is an automated posting.
Carole
2016-12-05T00:00:00Z
Good house. A car is probably a good idea to reach the house, but if you have one its a good location with a sea view.
Till
2017-03-17T00:00:00Z
If you are looking for a place with an amazing view and far outside in the country side, then this is your place. We had everything that we needed, there is a corner shop which closes late (at 12am). No tv or internet, which for me it makes it more peaceful. Creaky floors, when you walk on the second floor, the house was very creaky. You will need a car to stay here, it's about 5-10 min from town. The fire place had a little wood ready for us, which was a nice touch. Daniel was a nice and helpful host and very easy to contact.
Paula
2017-01-11T00:00:00Z
The house is very big. It could be a very nice place for families, if not... ...the floor would come off, leaving splinters and nails at several points (our infant hurt himself a few times while crawling). ... 100 of nails would stick out from the walls, so you rip your clothes, when taking a corner to short. ...the house would need a general make over, or at least a big thorough clean-up. ...the topfloor squeeked with every step, making it hard to leave a Baby/small child falling asleep silently. ...there was a pile of junk in the 'garden'. Which of course is an extra to the house, so i did not put it into my Evaluation, just saying it would be nice if it wasn't there. Also i have to say, that i did not mention these issues to Daniel whilst we were there because it could not have been fixed during our stay. Else Daniel was always available via (SENSITIVE CONTENTS HIDDEN) and did Check up on us occasionally. It's not a Bad place, just needs maintanance and is therefore a bit offprice.
Jenny
2017-01-19T00:00:00Z
Casa muy cómoda y calientita. Baños muy limpios y amplios. Anfitriones amables y con increíble disposición a ayudar. Muy cómodo y aúna distancia del centro de la ciudad que da gran tranquilidad y no incómoda para nada. No hay televisión y se agradece!!
Daniel
2017-01-27T00:00:00Z
Notre hôte est venue nous chercher surs la routepour que nous le suivions. Merci
Armelle
2016-12-21T00:00:00Z
Un gran lugar para alojar , muy cerca de la cuidad , un lugar recomendable especialmente para familias ....
Felipe
2017-03-05T00:00:00Z
Room Type
Entire home/apt
---
Property Type
House
---
Accommodates
8
---
Bedrooms
Puerto Natales, Región de Magallanes y de la Antártica Chilena, Chile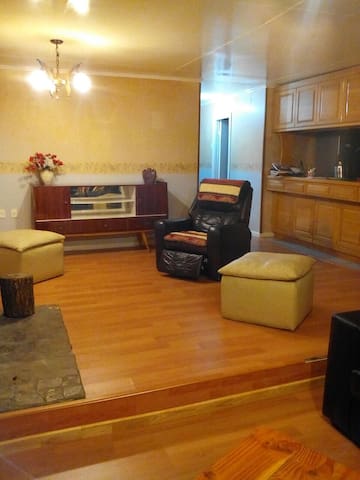 The house is near to the beach and the center of the city, you will love my place because it´s peaceful and friendly enviroment. Special to lay down to rest after you´re visit to the Park, the Milodon Cavern, the forest, and environs of Pto. Natales. You can use the common kitchen and bathroom. Is a little place, suitable for couples, friends, family. We have just two rooms for travelers and good information about the Regional history and geography.
The price is for bedroom, each room have two single beds. If you come with your son o daugther let us know by advence, so we can let some toy in the room to give a little wellcome.
Daphny is very helpful and nice person. She does whatever she can, but house construction and its location requires to pay more attention to warm its up. We were im summer but it was cold. I would add simple heater to room.
Vladimir
2017-02-16T00:00:00Z
Daphne's home is very comfortable, a little old, but very nice. Good value for money. We enjoyed the stay, and she was very helpful in everyway. She is a very nice lady.
David
2017-02-10T00:00:00Z
Good house in a good location, host was really nice and helpful! Recommend this place!
Andrey and Nadya
2017-02-17T00:00:00Z
This is our second review. We loved the place so much we decided to come back after our trek. Thanks again!
Eric
2017-01-29T00:00:00Z
Daphne was super helpful with checking us in and helping us organize our time in town. The room is comfortable, with good breakfast and showers. The location is really good, few minutes from downtown and all the restaurants and shops.
Eric
2017-02-03T00:00:00Z
Good location and Daphne was kind enough to stay up late to wait for us to check in.
Tyler
2017-01-27T00:00:00Z
Very kind and sweet host. Good location. Perfect for a couple on travel budget. Simple but good breakfast - dulce de leche, bread, coffee, oatmeal, cereal. A bit of a hike from bus station if you are carrying hiking packs, but if that is the case (you are en route to Torres) bettering et used to it :) spend an extra day in puerto natales, it's cool.
Jeff
2017-03-30T00:00:00Z
Highly recommend Daphne and this home on your trip to Puerto Natales. The breakfast was great, nice space to cook, excellent bathroom, and comfy bedroom. Wifi was fast and reliable. Within walking distance to grocery stores, restaurants, and the bus station (15-20 minute walk).
Adam
2017-02-22T00:00:00Z
Room Type
Private room
---
Property Type
House
---
Accommodates
2
---
Bedrooms
Puerto Natales, Región de Magallanes y de la Antártica Chilena, Chile
Yemel hostel offers a pleasant atmosphere with spacious and comfortable rooms, our motto is cleanliness and good service. Close to the bus station and the center of the most beautiful city of Magallanes.
Our hostel is a house adapted as a hostel, so we try to keep the family home environment.
The neighborhood is quiet in the city is rare crime. There is a small store across the street, where you can buy some basic things.
Big room, comfortable bed, nice breakfast, great host. I highly recommended!
Miranda
2016-05-15T00:00:00Z
We had a lovely stay here and the host was very accommodating. Breakfast was great and we were able to leave our bag at the hostel while we were at Torres del Paine. It was quite difficult to get into the bathroom at times but this may be as much due to the other guests!
Charlotte
2016-01-29T00:00:00Z
Spacious room and nice bathroom with lots of hot water. Good location for the bus station. A fair bit of street noise but that may be attributable to the fact that it was New Year's :)
Padraic
2016-01-01T00:00:00Z
Oh wow, my girlfriend and I adored this room. Clean, well-appointed, comfy bed and pillows, and great views of the Patagonian landscape. Run by an adorable young couple with small children, the hostel consists of a handful of rooms on the front-end of the house. It's just a few blocks from the bus station, maybe a 15-minute walk from the waterfront. Convenient and safe. We'd come back in a heartbeat.
Jeff
2016-03-27T00:00:00Z
Location is close to the bus terminal which is a definite plus for trekking to torres del pine. Room is spacious but is two singles together and not a double bed. The walls are very thin and this makes the rooms noisy. Also near the window frame there is a loose section that makes a loud banging noise when windy outside. Breakfast is average but limited and the wifi is hit and miss. The booking system once there is terrible, the hosts confirmed we could stay an additional night 6 days in advance, yet we came back from tdp to find we had no room that evening. Extremely frustrating and very badly managed.
Stevie
2016-03-11T00:00:00Z
This is a really nice place: simple, clean, quiet. Everyone was wonderful and helpful. I'd certainly recommend it.
Kamini
2016-01-06T00:00:00Z
A wonderful experience, ideal for travelers seeking a quick night to Torres del Paine National Park. The host greeted us warmly and showed us all the necessities. She knew English well enough to communicate everything we needed. Breakfast was fantastic, with meats, cheeses, freshly made eggs, etc, all ready by 6:30am in time for us to catch the early bus to the park, a five minute walk to the station.
Hans
2016-05-19T00:00:00Z
Location is all about it! Just 2 blocks or 5 mins by walk to the bus terminal, which helps travellers with heavy backpack to take their buses in a short distance. 1km far to the city centre is in turn the compensation. The hosts are very nice and helpful, though don't speak English fluently. The bedroom is cozy, and the bathroom is large and amazing with hairdryer! Breakfast is great with freshly made scramble eggs. Good value to money!
Larry
2016-02-25T00:00:00Z
Room Type
Private room
---
Property Type
House
---
Accommodates
2
---
Bedrooms
Puerto Natales, Magallanes y la Antártica Chilena Region, Chile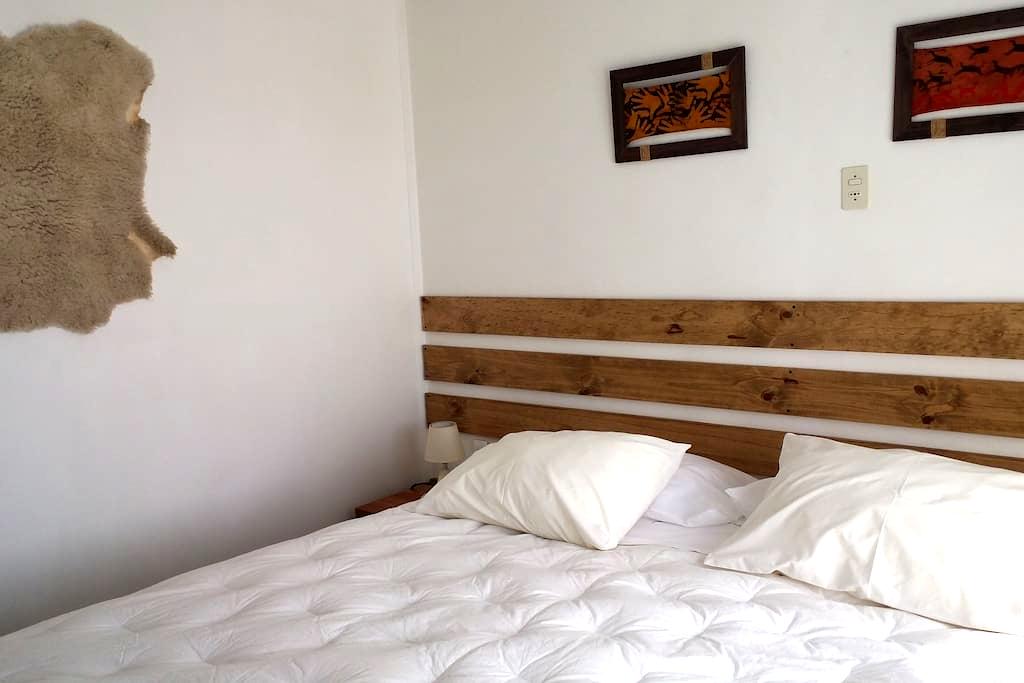 Cozy new two-floor cabin in downtown! Located four blocks from the bus station. Enjoy your time in Puerto Natales in our home.
Both Omar Jnr and Omar Snr couldn't have been more helpful. We arrived late at night and he was there to let us in. The heating was on and they had even supplied wine for our first night and yoghurts and fruit for the morning! They also kept our stuff for us when we went to Torres Del Paine and it's really conveniently located close to town and the bus station. The wifi is great and the place is really cute and charming. It also has a washing machine. Yes the shower gets the floor a bit wet but you can't have everything!
Charlie
2017-03-23T00:00:00Z
Great place in the heart Natales. Omar's father, who greeted us, was very helpful and kind. Highly recommend.
Sierra
2016-12-04T00:00:00Z
Basic accommodations, but if you're looking for a cheap place with few frills, this is the way to go. Omar's father checked us in and made sure we had everything we needed - very sweet man! The bottles of water in the fridge and chocolates on the table were a nice touch. Was perfect for our needs!
Anna
2017-03-18T00:00:00Z
The place is alright for younger people looking to stay a night or two, has a kitchen but would have loved if there were working utensils and basic condiments, oil, etc. For cooking. And the stairs are pretty steep/slippery to to bedroom, so you have to be extra careful. Omar and his father were great hosts though.
Vincent
2017-03-08T00:00:00Z
Great base for a trip to Torres--we actually used it as a starting and ending point, and ended up just leaving luggage there for several days while camping. There is laundry for post trek but safest to use if you have a lot of drying time. Omar's dad was very nice and Omar communicates in advance which is great!
Katherine
2017-02-25T00:00:00Z
Great house, 10 min away from the bus terminal (walking). A few minutes away from the center. The great plus is the washing machine, which comes in handy when you've been traveling. Good wifi, good communication with the owner. Would recommend.
Anicia
2017-02-08T00:00:00Z
Great, cozy place!
Christian
2017-01-31T00:00:00Z
No pb to find the place and we will arrive in early and it was ok to check in. House in good location but heater Doesn t work and gaz cook neither. The washing machine Doesn t dry so without heater our clothes stayed wet. Toilets and shower put water everywhere. For 1 night it s ok but it s expensive
Charlotte
2017-02-02T00:00:00Z
Room Type
Entire home/apt
---
Property Type
House
---
Accommodates
2
---
Bedrooms
Puerto Natales, Región de Magallanes y de la Antártica Chilena, Chile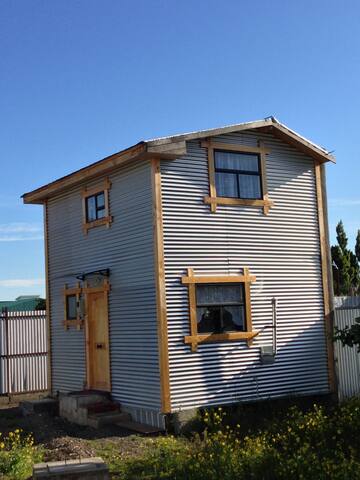 Inglés / Spanish / Portuguese 'In the resort of Puerto Natales -beautiful View, good atmosphere. -all tourist information. -close to the main square, supermarkets, banks, office Vertice / South fantastic. Bus station
Good ubication Tourist information maps Washing machine Kitchen Wifi
quiet and safe neighborhood, in the heart of Puerto Natales
Good place price and people but pretty cold and dirty.
Haewook
2017-01-18T00:00:00Z
Very friendly and helpful host in a very basic place. Big room but just a thin curtain instead of a door. The not very clean bathroom is shared by 6 people plus you, and so is the tiny kitchen. No towels.
Joris
2017-02-28T00:00:00Z
Danilo was very friendly. Let us use the washing machine which was crucial after 7 days of backpacking. We were also able to make breakfast in the morning. Location was great! Very close to the center but not too far from the bus terminal. 1 Bunk bed in the shared room and one single.
Lucy
2016-12-23T00:00:00Z
Danilo and his housemates are so extremely wonderful. We enjoyed every second in their household! Every single person was helpful and generous. Not only did we have a blast and get organized for our trek here, but we also made life long friends. Hope to see you in Seattle next year Danilo!
Stephen
2017-02-05T00:00:00Z
The host canceled this reservation 43 days before arrival. This is an automated posting.
Luisa
2017-01-04T00:00:00Z
Good value, he was a nice guy with very good English and sense of humour, as well the girls that live there too they were really nice. My only question was the drinking with friends that was going on until almost 2am? The walls are very thin and we had trouble to sleep as unfortunately as we had a bus journey leaving at 7.30am. In fairness I heard it was a special occasion as they had friends over and so we kinda understood that part as we would also have done the same. We got to do our washing there which was great! They were all very helpful and accomodating with the kitchen too aswell as giving information. I would still recommend staying as although there was noise, I think it wasn't necessarily a party house and they are good people who spoke good English which we really appreciated. We wish Danilo and the girls all the best for the future.
Tom & Shivs'
2017-01-17T00:00:00Z
This is a good low cost option for Puerto Natales which seems to have very high prices for accommodation. Danilo was great with communication throughout including information about PN and all parts of Chile. The roommates are all very friendly and accommodating. Something to consider is that there are several people living there so it's a fairly active house.
Mitch
2017-02-21T00:00:00Z
Danilo was very helpful and offered to arrange a glacier tour for us as we had some problems to find one online and also arranged a taxi for us to go to the airport. Warm water 247 was a plus and location was convenient. I would thing this place is mostly suitable for younger people and backpackers as it is quite basic.
Eleni
2017-01-24T00:00:00Z
Room Type
Private room
---
Property Type
House
---
Accommodates
3
---
Bedrooms
Puerto Natales, Región de Magallanes y de la Antártica Chilena, Chile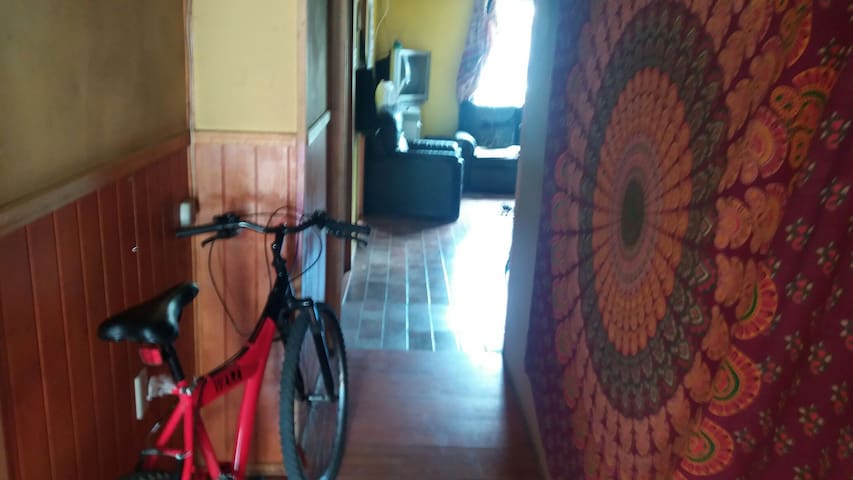 We offer comfortable room + private bathroom in the heart of Natales, the house is modern with 2 floors, with parking, central heating, with access to Netflix curve LED Smart TV 65 inches, wifi, Playstation 4.
Great stay at Jaime and Simon´s while we explored Torres del Paine. Was great to be greeted at arrivals by Jaime who gave us a lift into town. The location is central which is good for exploring town, eating out, etc. However it is a 15-20min walk to the bus station to get to the park so keep that in mind (taxis are available and cheap at $1500). The house was really clean and comfortable, we were slightly sad we didn´t get to spend more time there. Bathroom was great, wifi was quick. TV is huge and has netflix. Would stay again if back in Puerto Natales.
Alex
2017-02-18T00:00:00Z
I came back to stay here again after my w trail. And I found it's so nice to have a cozy and warm home in Puerto Natales after the tough trekking. Highly recommended.
映庄
2017-02-14T00:00:00Z
Jaime owns a beautiful and clean house just beside the main street in town and it's just 3 minutes walk to the beautiful coast. I tried to find a decent hotel in town but Jaime's house is definitely better in interior and equipments. I especially love the bed and the huge tv in the living room. I even want to buy the same one in my home. And Jaime is very friendly, kind and helpful which made the accommodation here a perfect experience. Totally, I think it's the best choice to relax before and after Torres del Paine. Definitely recommended!
映庄
2017-02-09T00:00:00Z
What a gem this place is and Jaime and Simon are fantastic hosts. They recommended things for us to do and restaurants to visit. We were driving so they told us the best routes to get to Torres Del Paine, and in general were just lovely to be around. The only thing which was slightly confusing when arriving was which door to knock on (I think there were 4 within the block). This wasn't a problem though as the first one we knocked on pointed us to the correct door. The room is exactly as described, the bed is very comfortable and the en suite is luxurious. Highly highly recommended, great value and one of if not the best AirBnb places I've stayed in.
Tim
2017-02-13T00:00:00Z
Muito melhor que a expectativa. Casa super nova, arrumada e limpa. Banho e cama excelentes.
Camila
2017-03-12T00:00:00Z
Cet chambre privé est spacieuse et propre. J'aime est vraiment sympathiqu, il a été de bon conseil, généreux en temps, et n'a pas hésité à nous rendre de grands services. Le logement est bien placé. Allez y je vous le recommande
Schneider
2017-02-22T00:00:00Z
Satisfecho!!!
Jose
2017-03-04T00:00:00Z
Excelente alojamiento, bien ubicado, limpio y cómodo.
Claudio
2017-03-13T00:00:00Z
Room Type
Private room
---
Property Type
House
---
Accommodates
2
---
Bedrooms
Puerto Natales, Región de Magallanes y de la Antártica Chilena, Chile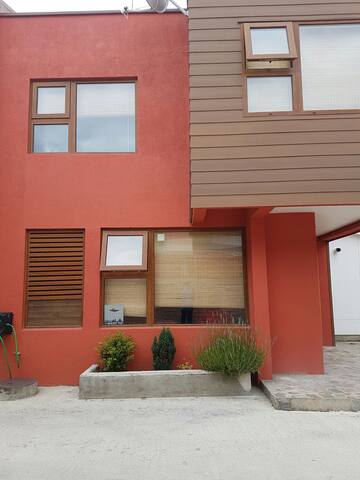 Our house it is located 5 minutes walking to the main port and 10 minutes walking from down town. We offer home made brakfast tipical from Patagonia. In our house you´ll find yours! A clean and confortable place to sleep and renovate energies.
Our place it´s a house of family. You are wellcome to join us and be part of it as long as you need. Here you will find confortable beds to have a gourgeous rest, a clean bathroom, advices and good energy.
Our neighborhood it´s very save, quite, and close to the cost. You can easyly walk from here to down town.
Mirta and her family were so sweet, welcoming, and accommodating, despite our language barrier. When my bag was lost on my last flight into Punta Arenas, Mirta and her family went above and beyond to help us locate it before it interrupted the next leg of our trip. After 3 days of travel, 2 nights sleeping in airports, 5 flights, and a 3 hour bus ride, what more can you ask for than a warm, comfy bed and a clean bathroom to recharge your spirit. The home can be a bit tricky to find via (SENSITIVE CONTENTS HIDDEN) Maps, so it may be best to ask for directions from your starting destination prior to arriving in town if you aren't fluent in the language.
Katie
2017-03-29T00:00:00Z
This is an opportunity to get involved with a very caring family, staying in their home. It is close to restaurants and the centre of town, and near the port where you can enjoy a walk along the water's edge.
Chippy
2017-03-23T00:00:00Z
Maybe my best airbnb experience. Mirta and her family are very kind and helpful. Mirta will provide wonderful breakfast before you leaving the house every morning. The room is tidy and clean. You will have an independent bathroom with hot water.
Anthony
2016-06-08T00:00:00Z
Wir hatten einen super Aufenthalt in Puerto Natales. Mirta und ihre Familie sind sehr nett und hilfsbereit. Das Frühstück ist super und mehr als reichlich. Das Zimmer ist etwas klein und es gibt nicht viele Möglichkeiten, Sachen abzulegen. Dafür ist das Bett sehr bequem.
Florian
2017-04-02T00:00:00Z
La casa esta en una muy buena ubicación, Mirta fue una excelente anfitriona, nos hizo sentir en casa y nos dió recomendaciones de la ciudad. Muy recomendable.
Carolina
2016-05-01T00:00:00Z
Notre séjour à Puerto Natales dans la maison de Mirta s'est très bien passé. Nicolas nous a très gentiment accueillis et a organisé notre excursion au parc Torres del Paine, un grand merci à lui. La maison est relativement petite mais convient tout à fait pour quelques jours. Petit bémol pour la température dans la chambre où il faisait un peu froid du fait qu'il n'y a pas de chauffage... Nous recommandons sans hésitation!
Ken
2017-04-05T00:00:00Z
Room Type
Entire home/apt
---
Property Type
House
---
Accommodates
3
---
Bedrooms
Puerto Natales, Región de Magallanes y de la Antártica Chilena, Chile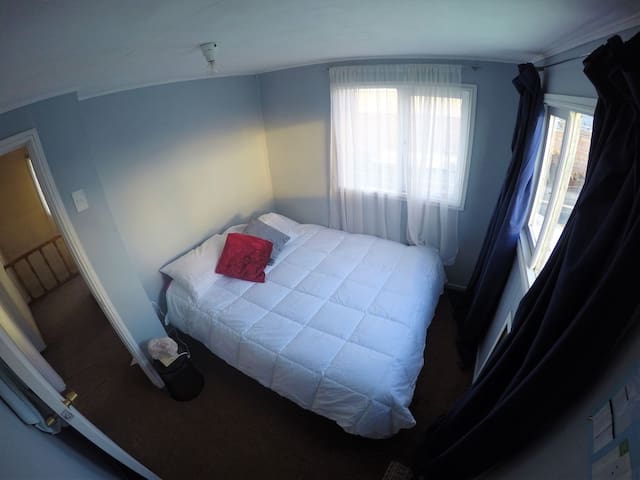 spectacular location, just three minutes from downtown, you will find here a pleasant place to enjoy a couple or with friends you waited.
Room Type
Entire home/apt
---
Property Type
House
---
Accommodates
4
---
Bedrooms
Puerto Natales, Región de Magallanes y de la Antártica Chilena, Chile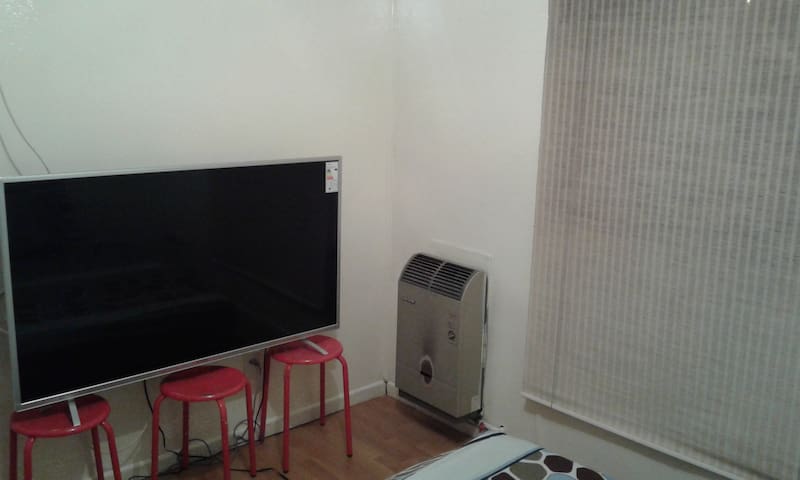 spacious and comfortable home to share with travelers, plus give you all the information you need to plan your adventure
Warm and comfortable room with heating
quiet neighborhood with great connectivity with the environment
Nice stay in the place. Jimmy runs a tour company, so if you're missing things for your Torres trip, you can buy from him, gas etc. Jimmy actually came to the bus station to find us and walk us to the place, which is good, since the maps app in (SENSITIVE CONTENTS HIDDEN) messes up the address a little.
Ivan
2016-12-23T00:00:00Z
This is a quiet and convenient place to stay in Puerto Natales on the way to/from Torres del Paine. Jimmy was very helpful and gave us a ride. Note that the address posted at Airbnb has a wrong house number (not Jimmy's fault).
Leonid
2017-03-23T00:00:00Z
We really enjoyed our stay here. Jimmy is a super friendly host, lodging is basic but nice, we had several shared meals together, very friendly atmosphere, we fully recommend it!
dagmar
2017-01-25T00:00:00Z
We had a great stay at Jimmy's place! I was a bit apprehensive before we arrived as there weren't any photos of the bedroom, but I needn't have worried as it was a big clean room with a comfy bed! Jimmy himself is so friendly and welcoming - we even got picked up from the bus station when we arrived, and he gave us some advice on places to go. The place is great value too, about half the price of anywhere else in Puerto Natales. Gracias, Jimmy! :)
Selene
2016-12-15T00:00:00Z
Jimmy was very considerate and helpful and when we arrived late from the W-trek without enough groceries, he offered us pasta and eggs. The house itself as well as the room we stayed in are very spacious and cosy, there is a bathroom upstairs and a bigger one downstairs. Both nice and clean. Jimmy's place has a good vibe. Recommended for sure. Thanks, Jimmy!
Zorana
2016-12-19T00:00:00Z
Based on the limited description, a few reviews and a few pictures, plus Jimmy's assurance thru email, that we will be in the second floor room with exclusive use of the 2nd floor bath room, I booked the place. The place is also operated as a hostel. The room I booked was still occupied until the following day. We were placed in a small room beside the kitchen. It was disappointing. Jimmy was very nice, easygoing and was very solicitous in trying to resolve the situation. He reassured that we will get our room the following day (but not exclusive use of bathroom). When we came back from our excursion the following day, the second floor room was ready for us. The room was still basic but much more spacious and airy than the previous one. The place has a very homey atmosphere and very accommodating. However, it is a hostel and not a B&B.
Socrates
2017-01-31T00:00:00Z
Room has a great view of the water. The other reviews are spot on, Jimmy is a super nice host that will do anything to help you out. He's running a hostel, the kitchen is a bit limited and it's chaotic at time but hey, it's cheap.
William
2017-03-03T00:00:00Z
Jimmy was a great host. After a tiring circuit at Torres del Paine, Jimmy's place was the perfect location to get some R&R. He really made me feel like a friend, going as far as inviting me to fish with him and his family. I definitely recommend staying at his place. -Alex
Alex
2017-01-09T00:00:00Z
Room Type
Private room
---
Property Type
House
---
Accommodates
2
---
Bedrooms
Puerto Natales, Región de Magallanes y de la Antártica Chilena, Chile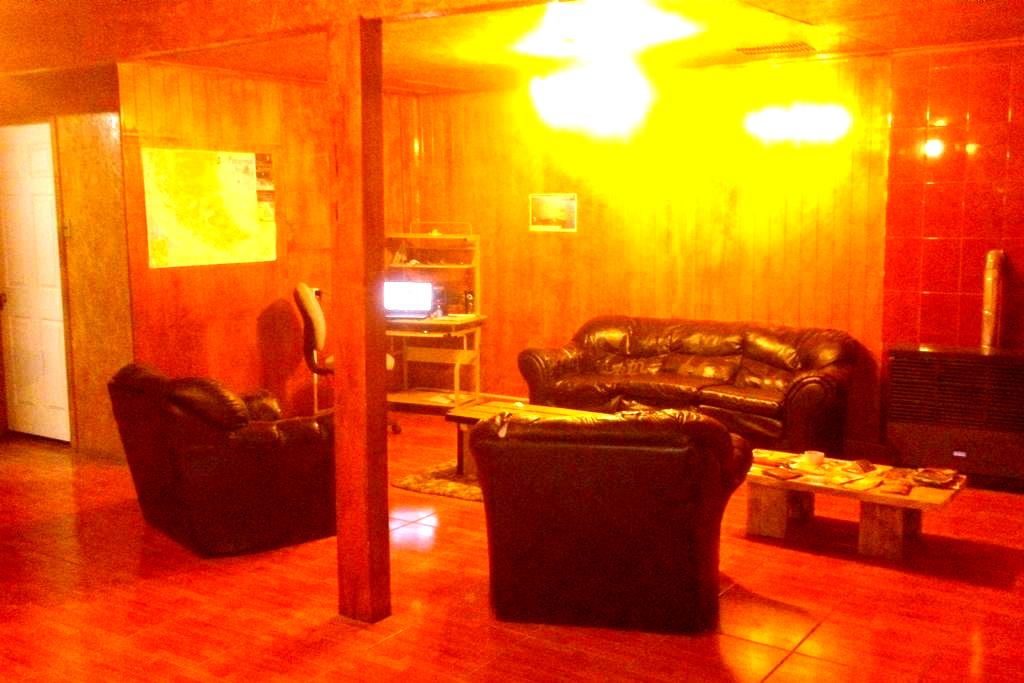 1

–

18

of

31 Home Rentals
Enter dates to see full pricing. Additional fees apply. Taxes may be added.