House in stones and exposed beams, at the heart of the romantic Brittany to Combourg, not far from the Mont Saint-Michel. This holiday cottage of 100 m2, very comfortable offers you a fantastic view over the countryside.
House renovated in hurdy-gurdies stones, at the heart of the romantic Brittany, unless a half-hour of saint Malo and of the Mont Saint-Michel. This holiday cottage of 100 m2, close to the farm of the owners, in the peace, can welcome 5 people and offers you all the comfort of the new in a renovation of character, in beams and visible stones. You have a big room of life including fully-equipped kitchen, Dining room panoramic view, lounge equipped with flat screen, home cinema, DVD player. In the floor you have 2 rooms of 2 and 3 people with 1 reads baby as well as all the equipment, 1 bathroom with bathtub. TOILETS in the floor and in the rez of road. Outside, you can take advantage of the terrace with garden furniture and barbecue, or still the deckchairs to admire the countryside
Combourg est une petite cité de caractère, avec son château, son lac tranquille, ses maisons à colombages dans le centre ville et ses petits lieux historiques. Petite escapade culturelle (Francois-rené de Chateaubriand) et historique à travers ses légendes...
The host canceled this reservation 163 days before arrival. This is an automated posting.
Cara
2016-02-07T00:00:00Z
The host canceled this reservation 11 days before arrival. This is an automated posting.
Béné
2015-10-15T00:00:00Z
The reservation was canceled 32 days before arrival. This is an automated posting.
Fabrice
2015-03-26T00:00:00Z
Positive: - We were welcomed with a nice basket of marmalade - Yolande and her husband are warm and communicative - The house is indeed very lighting and comfortable, with a very good heating system and plenty of space. - The farm is nice and their dog very friendly Negative: - The picture in airbnb gives the impression that the house is more isolated than what it actually is. - We had many problems with the pipes, which caused water leaking all around the house. Unfortunately, Yolande was on Holidays so we had to clean everything ourselves. - There were many dead flies in the windows at the kitchen, no idea why. - Some cutlery were still dirty - Remark: bed-sheets and towels are not included in the airbnb price. You will get the prices after booking, which is rather uncomfortable. I suggest to make this crystal clear in the description.
Rolando
2017-02-26T00:00:00Z
La maison indépendante, est situé sur une propriété de ferme à 4.6km du centre de Combourg, magnifiquement à l'écart et au calme. Maison avec toutes les commodités nécessaires, spacieuse, lumineuse et agréable à vivre, un jardin privé avec bbq, transats, et meubles de jardin... L'hôte, bien que nous n'ayons eu que deux contacts brefs, était très accueillante et sympathique. Nous recommandons vivement ce logement à un rapport qualité prix indiscutable.
Mélanie
2016-08-28T00:00:00Z
La casa es genial, perfecta, en un ambiente espectacular, rodeado de naturaleza, (URL HIDDEN) mágico!!!! Tiene todo lo necesario, exquisitamente decorada con buen gusto, completamente equipada, todo muy limpio y cuidado, incluso con equipamiento para bebés!!! La familia Aubree es encantadora, muy simpáticos y amables!! Sus tres niños son estupendos y Ibis (su perro) hizo que nuestras vacaciones fueran inolvidables para nuestra hija!!!! Gran perro perfectamente educado y cariñoso!!! Nunca olvidaremos nuestra hermosa estancia allí, recomendable al 100%, esperamos volver pronto!!! Es mucho más bonito que en las fotos!!!
Yolanda
2015-07-11T00:00:00Z
Séjour de 4 jours début septembre très agréable ! La maison est spacieuse et possède ce petit charme breton que l'on attend. Idéalement située entre Rennes, le Mont-Saint-Michel et Saint-Malo.
Renaud
2016-09-02T00:00:00Z
Nous avons passé un séjour très agréable, avons été très bien reçus, la maison est conforme aux photos et à la description. La situation centrale est idéale pour profiter de la campagne et découvrir cette partie de la Bretagne. La découverte de la ferme est un pur bonheur pour les grands et les petits!
Judith
2016-03-05T00:00:00Z
Room Type
Entire home/apt
---
Property Type
House
---
Accommodates
5
---
Bedrooms
Combourg, Bretagne, France
We are at equivalence distance of Rennes, Saint Malo, Dinan and Mont Saint Michel. We are looking for people who can take care of our animals when we are not here : dog, cat, rabbit, chicken, parrot. And when we are here, we take care of you.
We have 2 bedrooms available : one with a double bed and another one with one double bed and a bunk beds. If we are here, we leave some space in the refrigerator and the possibility to take your meals as meals and breakfast are not included in the price.
Whe are in the countryside near a farm where you can go and buy your milk.
The hosts were kind, despite the fact that we have come too late. They kindly gave us the use of their washing machine and fed breakfast, although we did not agree on this. Well, the house is in a beautiful, secluded location. Thank you very much!
Marat
2014-05-08T00:00:00Z
We interrupted Catherine and her family on Easter Sunday. They generously let us stay at the last minute. Their home was clean and comfortable and suited us perfectly. It's not in town, but with a car it was very handy to St Malo and Mont St Michel. She makes delicious conserves.
Stuart
2014-04-22T00:00:00Z
Nous avons passé une nuit chez Catherine à l'occasion d'un mariage dans le coin. C'était parfait, les lits sont confortables, la vue sur la campagne magnifique et nos hôtes charmants. Je recommande cette chambre !
Coline
2015-04-12T00:00:00Z
Très bon séjour. Catherine nous a bien reçu! Merci encore pour vos conseils. Nous reviendrons sans doute chez vous lors de notre prochain passage a Saint Malo
Afifa
2016-07-18T00:00:00Z
Un accueil très chaleureux et familial : on se s'en tout de suite très à l'aise dans cette famille ! Merci encore Catherine pour la visite de la ferme voisine. Un petit bonjour particulier à Youyou...
elisabeth
2015-03-22T00:00:00Z
Un grand merci à Catherine et sa famille pour leur accueil et sympathie. Je me suis sentie comme chez moi.
Veronica
2015-10-26T00:00:00Z
Nous avons passé un très bon séjour chez Catherine. L'emplacement est idéal pour visiter la région. Le petit déjeuner en bonus fait bien plaisir ;) A recommander!
Ludovic
2015-05-03T00:00:00Z
La chambre est spacieuse et nous avons un magnifique point de vue sur la campagne environnante.
Marie-Paule
2017-02-23T00:00:00Z
Room Type
Private room
---
Property Type
House
---
Accommodates
4
---
Bedrooms
Lourmais, Bretagne, France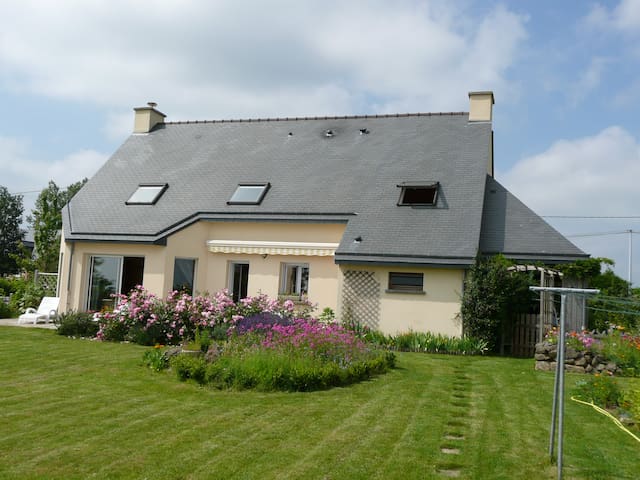 En plein centre ville de Combourg, à 2 pas de tous les commerces et du château, au calme.... maison offrant un séjour avec canapé convertible, cuisine américaine entièrement équipée. A l'étage, vous trouverez 2 chambres et la salle de bains/douche/WC. Jardin clos et privatif avec terrasse bien exposée et BBQ. On y habite, vous y trouverez tout dedans ....
Room Type
Entire home/apt
---
Property Type
House
---
Accommodates
6
---
Bedrooms
Combourg, Bretagne, France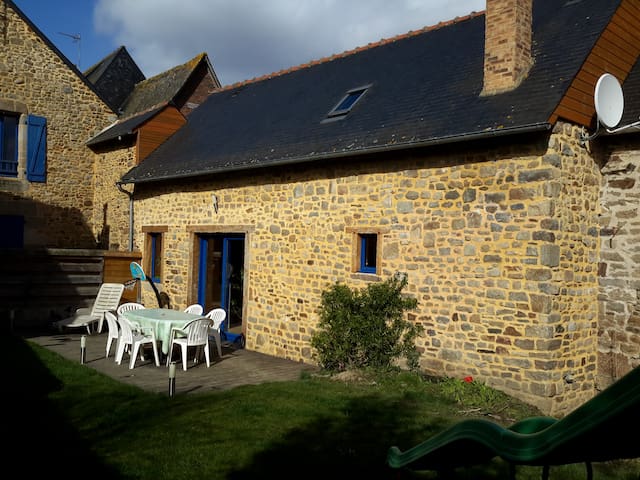 house ideally located in Combourg near to greenery near places of exception and gives a taste of the sea. this house is totally independent, the living room and bedrooms have direct access to the fenced garden, ideal for small children; covered parking, local bike.
Room Type
Entire home/apt
---
Property Type
House
---
Accommodates
5
---
Bedrooms
Combourg, Bretagne, France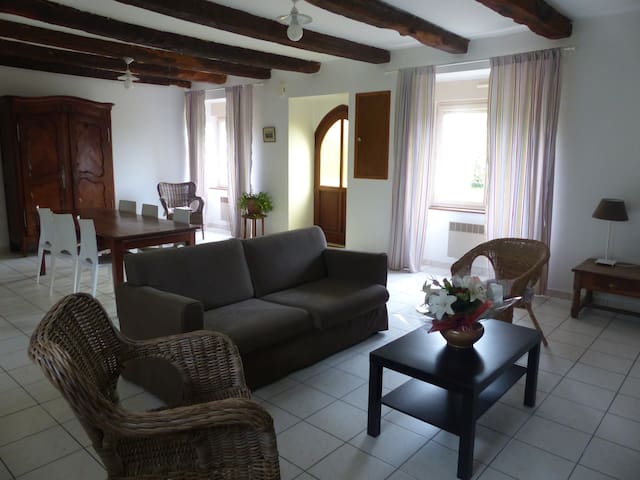 Entrée et salon privatif(télé,frigo) 1 grande chambre de charme avec s. de b. grand lit 1 chambre de charme ,salle de bain sur palier grand lit 1 chambre 1 lit 160x200 Cette maison sans cuisine , salon de jardin,est au calme Vélos a disposition
Ce logement ne comprend pas de cuisine ,mais pouvez vous servir de la mienne,ainsi que de la machine a laver
Vous aurez l'occasion de faire vivre a vos enfants des moments uniques parmi les animaux et la traite des vaches
Isabelle is a fantastic host and we loved to stay at her farm. We would definitly visit Combourg again. Higly recommend ! ️
Sofia
2016-08-07T00:00:00Z
The host canceled this reservation 5 days before arrival. This is an automated posting.
Javier
2016-07-10T00:00:00Z
je n'ai que des éloges à faire sur Isabelle et son mari pierre !!! la description du gîte est parfaite très propre au calme et Isabelle est une femme extraordinaire !!! A recommandé sans problème !!! Très satisfait de mon séjour chez les Bretons ***
Philippe
2016-01-02T00:00:00Z
Nous sommes ravis de notre première expérience avec Airbnb. Nous avons été très bien reçus. Isabelle est très accueillante, disponible et à l'écoute de ses hôtes. Le logement est agréable. Les chambres sont belles et spacieuses.
Marie-Laure
2015-08-23T00:00:00Z
très bon logement, excellent accueil, rapport qualité-prix idéal! N'hésitez pas
Bettara
2017-02-12T00:00:00Z
Merci Isabelle, nous avons passé un très bon week end! Cela nous a donné une bouffée d'air frais.. Nous n'aurions pas pu être mieux accueillis! Et merci pour ce gâteau qui nous a permis d'aller jusqu'à la ligne d'arrivée du marathon!! Nous reviendrons pour traire les vaches!! Merci encore B, M et F, les sportifs du dimanche.
raphaelle
2016-05-30T00:00:00Z
Tres gentil accueil. Un logement plaisant et spacieux avec deux salles de bain tres agreables.
veronique
2016-08-29T00:00:00Z
Mes parents, mon mari et moi avons très bien aimé notre séjour chez Isabelle ! Chaque chambre est décorée avec beaucoup de soin et de goût. Les tableaux d'Isabelle sont l'élément clé de l'esprit de la maison. On a aussi pu profiter de la ferme: avec du lait frais le matin, et le rencontre de veaux de 4 jours ! À recommander !
Tatiana
2016-11-13T00:00:00Z
Room Type
Private room
---
Property Type
House
---
Accommodates
8
---
Bedrooms
Combourg, Bretagne, France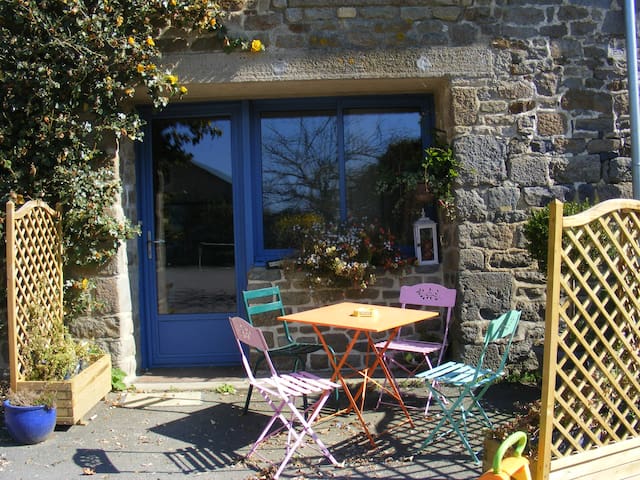 This charming little house should make your trip a calm and joyful one. Nature is all around.
Dans cet endroit calme et surprenant, vous n'aurez ni wifi ni canalsat. En échange, nous vous proposons un moment unique en pleine nature et à l'abri des regards . Vous ne serez pas loin de tout pour autant : sautez dans votre voiture et en une demie heure, visitez Rennes, Saint Malo, ses plages, Le Mont Saint Michel, etc.. et à seulement quelques minutes profitez de Combourg, "petite citée de caractère" pour acheter les croissants du dimanche matin et si vous êtes sages, nous vous les livrerons.
We have had a lovely time with our small family in the wooden house of Charlotte and her parents. During our stay they gave us useful tips about the area and helped out if anything was missing in the house. It was nice for us and also for our teenager kids that we were welcome to check the mail in garden or the neighboring house of Charlottes parents. The house is easy to find with the GPS. It is very tastefully decorated and has a nice fireplace for cold evenings. Thanks a lot to Charlotte and her parents. All the best with your last two months of pregnancy Charlotte! We hope to see you again.
Corine
2015-07-12T00:00:00Z
We had a fantastic family holiday here - our two children (9 & 7) absolutely loved it, especially the garden. The house is just lovely - unique, very comfortable and had everything we needed. The setting is amazing, very picturesque and peaceful. The BBQ came in really handy and we ate all of our meals outside surrounded by the beautiful countryside with views of the fields and also a family of wild deer. We couldn't have asked for better hosts. Charlotte's parents and family were friendly and welcoming and on hand if we needed anything but we also had total privacy. It felt like our own house for the week. The house is in a good location - peaceful but also close to the town for shops and restaurants - the Intermarche is only a 5 minute drive away. Thank you Charlotte and family for a lovely week.
Alicia
2016-08-27T00:00:00Z
What a wonderful little place to stay! The house is exactly the size it should be: not too big but totally enough space. It is decorated with a lot of good taste, nice furniture and a very homey feeling in 'full' nature (corn field-garden-woods). The hosts too are very charming and concerned of your well being, which we appreciated immensely. (We had a little issue about the cleanliness which they arranged right away.) I would absolutely recommend this place.
alexia
2014-08-27T00:00:00Z
The house was absolutely adorable. Far surpassing our expectations. Charlotte's mother was welcoming and accommodating. When we're next in the area we plan on staying again!
Bea
2015-06-01T00:00:00Z
"Wow, like a dream" - this is what we thought when we drove toward's Charlotte's white wooden house with beautiful flowers hanging from the roof. We were welcomed and shown around by her Mom and immediately felt at home. The house is rustic and unique - you can find old books in Latin, a comfy red leather couch, a bench from Indonesia etc. in it! A big plus for cold days is the fireplace. All in all, we had a great and relaxing couple of days there!
Susanne
2015-05-04T00:00:00Z
Wonderful little place in nature. We thoroughly enjoyed our time at the woodland cottage :-)
Charles
2014-07-27T00:00:00Z
Wow! What a 'charming wooden house within nature' this is! This location in Bretagne is perfect for trips to the beach, cute little villages and castles. Making use of the charming wooden house as home-base is adding big value to the whole vacation and travel experience. Charlotte has proven her self to be the most welcoming and warm host you could wish for. Very helpful and open in communication. All together one of our best trips so far. It left a charming memory in our hearts.
Merel
2014-07-23T00:00:00Z
A very nice house. Kids love staying there. we didn t meet Charlot, her mum gave us the keys, very kind, but we didn t see her until we went back home. The place is very quite, fantastic to be with nature... really recommned!!!!!!!
ainhoa
2016-09-01T00:00:00Z
Room Type
Entire home/apt
---
Property Type
House
---
Accommodates
5
---
Bedrooms
Combourg, Bretagne, France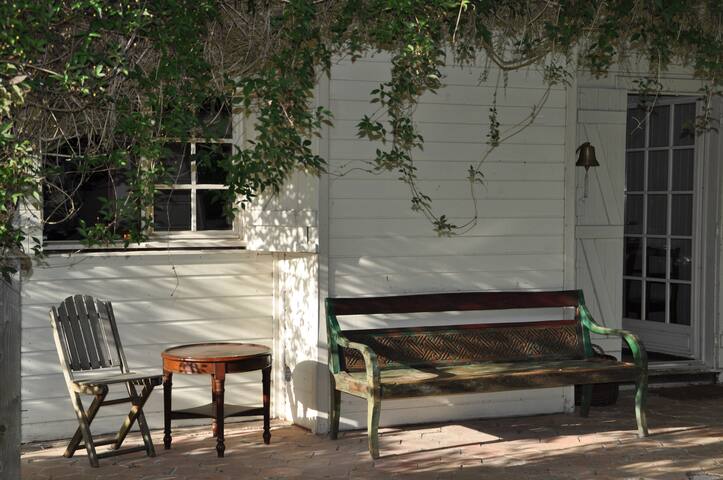 My home is close to the city center. Enjoy my accommodation for the area, brightness, kitchen and comfort. My accommodation is perfect for couples, solo travelers and business travelers. Time of arrival and departure flexible, depending on your needs. Breakfast included in the rental price. Sleeping arrangements for 6 people: - A room with 1 bed 140 and 1 bed 90 - A room with a bed 140 - 90 sleeping loft
For your short stays in the Saint Malo region, I propose two spacious, bright and comfortable with their own bathroom and WC on the floor of a renovated house late 2015. Breakfast included in the rental price. You can park your car on the grounds of the property. The house is located in the center of the triangle Rennes / St Malo / Mont St Michel, in the city center. Combourg is known for its castle, its lake, and has a railway station and several shops open including Sundays. Each of the 2 rooms have a double bed 140 cm. One room has a single bed 90 cm extra. There is also an extra bed in the multimedia center: a 90 cm bed.
The house is located in a quiet residential area, surrounded by greenery.
Gaela was a great host and went out of her way to make us feel comfortable and welcome. We only had a 1-night stop but staying with her made the visit worthwile and memorable. A beautiful house and we really recommend a stay!
Erik & Sandra
2016-08-07T00:00:00Z
What a perfect air bnb experience! Gaela came to pick us at the station at 22.40 and show us the way to her home by car (we were by bike and she let us put them in her garage). We slept for one night in a bedroom at the second floor which includes also a bathroom only for us. We are very grateful to Galea for our stay, super recommended!
Raphael
2016-08-07T00:00:00Z
Séjour très agréable avec une hôte à l'écoute et très sympa. Adresse à recommander
Abdou
2016-08-15T00:00:00Z
Gaela était une hôte très gentille ayant le sens de l'accueil et de l'amabilité. Sa maison correspond exactement à la description. Elle nous a énormément plu. Et en plus elle nous a offert un bon petit déjeuner complet et le dernier jour on a un peu discuté et c'était très agréable. Un grand merci Gaela et on n'hésiterait pas à revenir si on passe par là-bas.
Lizzy
2016-10-30T00:00:00Z
Room Type
Private room
---
Property Type
House
---
Accommodates
6
---
Bedrooms
Combourg, Bretagne, France
Je mets à disposition une chambre pour deux personnes dans la région de la Bretagne romantique près de Combourg où se trouve le château de Chateaubriand.
Logement très agréable dans le petit village de Tremeheuc à 2 km de Combourg. Vous profiterez au réveil du chant des oiseaux.
Room Type
Private room
---
Property Type
House
---
Accommodates
2
---
Bedrooms
Trémeheuc, Bretagne, France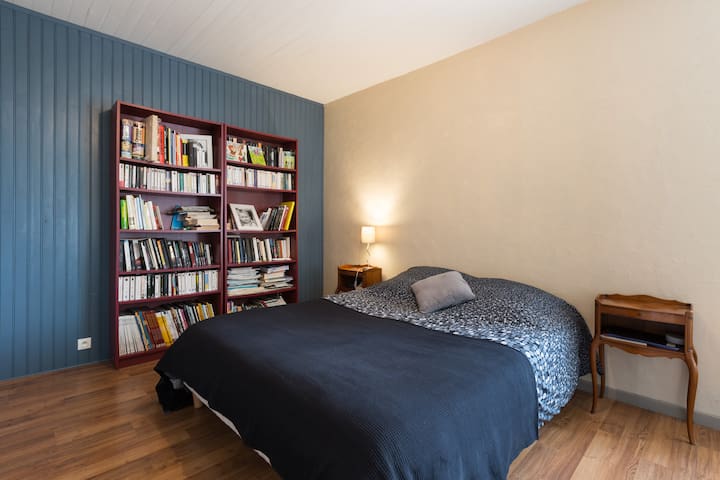 En Bretagne Romantique à 30 mns de RENNES,St MALO, Mt St Michel, Dinard et Dinan, notre maison est idéalement située pour découvrir cette belle région. Nous proposons 1 chambre privée avec SDB. En plus,petit déj Bio/Maison vous sera servi dans le salon spacieux.
On a une vue magnifique sur le Chateau de Combourg)))
Lucie and Thibault were fabulous hosts. We had such an amazing time together. We had 3 scrumptious breakfasts that were filled with variety and kept us full until dinner time. She is a fantastic cook and uses many of the ingredients straight from her own garden. If your staying here order breakfast it is a wonderful time of sharing together and tasting great French cuisine. Thibault helped us plan our days in Brittany and trip further on in France which has been a fantastic experience. They are very kind, generous and the most wonderful hosts. Our bedroom and bathroom were spacious and we had the best sleeps in the most comfortable bed. Hope to keep in touch with our new friends from Brittany.
Bryce and Janine
2015-05-25T00:00:00Z
Very nice house, clear and homely room. Friendly housewife. Absolute satisfaction.
Stepan
2014-09-28T00:00:00Z
I had a really nice time at Lucie and her husbands home. The house is amazing and perfect located for trips to Mont Saint Michel and Saint Malo. I appreciated very much their recommendation going to Cancale where I bought fresh oyster. Thank you very much Lucie Cheers Anton
Anton
2014-12-29T00:00:00Z
We had a great stay with Lucie. Her accommodation was absolutely stunning. Modern, clean and very tasteful. The international breakfast was a banquet! She was most helpful with tips on "must sees" in the area and also on where to purchase the best oysters, mussels and patisseries.
Bruce
2016-07-15T00:00:00Z
Lucie and her husband are very warm, kind and friendly people. They let us feel at the first minute at home. The house is extremely nice and clean. We had a lot of privacy. The house is located in a really beautiful place, with a lake and a castle near by. It is nice to walk around again and again. We enjoy a nice conversation with Lucie and her husband and they recommended to see very nice places in the area. We will come back for sure.
carlos
2014-10-13T00:00:00Z
Lucy and Thibaut are the best hosts you can get, absolutely wonderful! We looked forward every morning to the great breakfast, fresh fruit, bread, cheese , yoghurt etc from their own garden, locally produce and ecological. We had booked four days but stayed another night a lot due to them. We would definitely stay with them again if we went back. So make sure you book more than one night and of course you should book breakfast.
Beerit
2014-07-07T00:00:00Z
Lucie is so very nice host! She welcomed us to her home as we were a part of the family and very important guests. Home is spotless, sheets and beds are clean and so amazingly comfortable. W e had a great sleep. Neighborhood is super quet and neat to the wonderful places to visit. Lucie and Tibot are so sweet-they will tell you all about it and will help you to plan your days there.
Maria
2015-04-15T00:00:00Z
We had an amazing 2 nights with Lucie and Tibholt!!!! They are such gracious, warm and welcoming people! We booked dinner with Lucie on the first night - her cooking is amazing and you must try it! She absolutley SPOILT us! We had lovely conversations with the help of (SENSITIVE CONTENTS HIDDEN) translate at times! It was a wonderful highlight of our trip to meet such beautiful people. We really hope you visit Australia one day so we can see you again! Thank you so much for everything you did for us. You truly extended yourselves for us. Good luck with your new venture! If you read this review I strongly recommend you book here! We drove to St Malo, Dinard and Dinan from here :) Also, thank you for the map of what to do! X
Leisa
2015-07-03T00:00:00Z
Room Type
Private room
---
Property Type
House
---
Accommodates
2
---
Bedrooms
Combourg, Brittany, France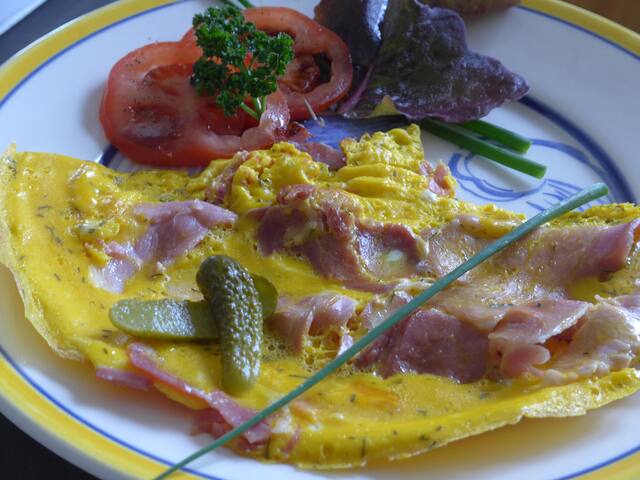 Located in a beautiful natural environment where you can enjoy horse riding on site; the house is spacious and cozy. It is perfect to relax in the countryside while enjoying the beautiful sites on the seafront.
typical Breton farmhouse of 90 sqm with veranda, very pleasant. Ideal for getting away weekend or week with family or friends.
Le Haut de l'Orée est un hameau composé de 4 longères en campagne, aux alentours de beaux chemins balisés pour une promenade à pied en vélo ou à cheval puisque une petite association équestre est présente sur le site. Un manoir classé monument historique et l'accès au canal de la Rance avec ses sorties kayak . Pour le farniente, des espaces communs sont aménagés.
Un logement spacieux et agréable. Un endroit idéal pour découvrir une partie de la Bretagne. À refaire sans hésiter
audrey
2016-08-28T00:00:00Z
Merci pour ce séjour qui était au delà de nos attentes. La maison est magnifique, fonctionnelle, très lumineuse et spacieuse. Merci Anne Sophie pour votre accueil. Notre fils nous parlera longtemps de son séjour chez vous au milieu des nombreux animaux. Nous reviendrons certainement. A très bientôt
Virginie
2016-08-12T00:00:00Z
Logement propre très bien.
Julien
2016-09-08T00:00:00Z
Anne Sophie est très accueillante. Elle nous a offert un jus de fruit à notre arrivée. Le logement est spacieux et propre. Nous avons passé un agréable séjour.
NATHALIE
2016-08-19T00:00:00Z
Maison agréable spacieuse et très lumineuse conforme aux photos avec une véranda très agréable au petit déjeuner comme au dîner. Hôte très discrète mais disponible. La proximité des animaux est un plus non négligeable. Le logement est proche de tout : très pratique.
Sylvie
2016-08-27T00:00:00Z
Anne Sophie a été une hôte très arrangeante au niveau des horaires. Le logement était conforme aux photos et au descriptif. Propreté irréprochable et très beaux volumes. Une petite attention a notre arrivée dans le frigo a été fort appréciable après le trajet. Je recommande fortement ce logement. J'ai hâte de retourner profiter de la beauté de cette région et de revenir séjourner au calme chez Anne-sophie.
arnaud
2016-05-08T00:00:00Z
Le séjour était très agréable. L accueil convivial. Notre hôte nous a mis très à l'aise aise et le logement était très fonctionnel.
sylvie
2016-08-08T00:00:00Z
Room Type
Entire home/apt
---
Property Type
House
---
Accommodates
5
---
Bedrooms
Combourg, Bretagne, France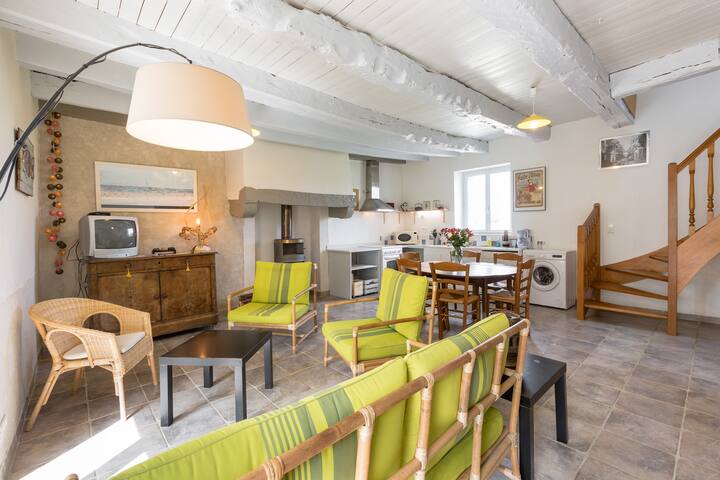 Bien installée entre Rennes,St-Malo,Mt St-Michel,Dinard,Dinan,Cancale,notre maison attend ses visiteurs de toute part. Vous avez votre chambre avec le confort,ainsi que une SDB à part,avec toutes les serviettes nécessaires. Salon partagé. Un bon petit déj Bio/Maison,sucré-salé;)
- la chance d'avoir une très grande cour pour recevoir plusieurs voitures -une belle vue sur le château
On est à 2-3 minutes en voiture du centre-ville,mais on est en plein campagne,tout est vert,fleuri,calme.
Out of all the AirBNB places Ive stayed at I can truly say this is the best place Ive ever stayed at!! The hosts Lucy and Thibault were very welcoming. We decided to stay a second night since our first one was so nice. Our hosts prepared dinner for us for an additional cost, and prepared a wonderful dinner of steamed mussels, fries, with wine and typical cider from the area and topped it with a wonderful dessert of crepes with ice cream. Breakfast was also available with an assortment of homemade jams and jellies from fruit picked from their garden. They were wonderful to my two girls and we even went sightseeing the second day. We went to see a midieval festival in Dinan, and visited the coast including St. Malo. This was the most memorable stay of my whole trip to France and my daughters and i would love to visit them again.!!!
gladys
2014-07-22T00:00:00Z
Lucie & Tibot are superhost, the best we have met so far. We have had a great time with them. They are kind, generous and helpful. The rooms are very comfortable and clean and the breakfast was superbe! We liked the atmosphere of Combourg and it is well located, within reasonable driving distance to Rennes, St Malo and Mt Saint Michel. I would recommend anyone wishing to have the best quality for price accommodation to stay with Lucie and Tibot!
Christian
2015-03-23T00:00:00Z
Merci à Lucie et Thibault de nous avoir avoir accueilli mon fils et moi pour cette petite escapade Bretonne. Couple d'une gentillesse rare, conseils sur les visites, itinéraires et restaurants qui nous on bien servi. Nous avons eue une chambre spacieuse et confortable, la salle de bain est aussi très grande, rien à redire sur la propreté de la maison !! Le petit déjeuner est idéal, bio, équilibré parfait pour commencer une belle journée dans une belle région ;).Nous reviendrons  avec grand plaisir chez Lucie et Thibault et aussi parce que la Bretagne, ça vous gagne !!
Zineb
2015-07-15T00:00:00Z
Muy buena relación calidad/precio. Teníamos baño privado. Los desayunos son muy buenos y abundantes y están recién hechos por la misma Lucie. Muchos consejos sobre que visitar en los alrededores. Sitio perfecto como base para visitar montStMichel. Muy simpáticos lucie y su marido.
Giuseppe
2015-09-05T00:00:00Z
J'ai fait la réservation pour mon beau-père, Raymond. Voici quelle a été son expérience : «Je suis parti à la rencontre de mes ancêtres et j'ai trouvé sur mon chemin les Juhel. Thibault avec sa bonhommie, sa simplicité et sa bonne humeur est vite devenu le cousin Breton que je cherchais. Lucie, Arménienne d'origine m'a fait découvrir une grande culture, que j'ignorais, pleine d'attention et de délicatesse. Ses petits plats m'ont tout simplement conquis! Deux personnes qu'il faut connaître pour croire encore en l'amour chez les humains par ces temps si difficiles dans notre monde de cruauté. J'ai profité à la fois d'un endroit fort agérable à la campagne et en même temps d'être à quelques minutes de Combourg, des restaurants, du château, du marché, du parc autour de l'étang, c'était merveilleux! Et que dire des promenades à vélo dans la campagne bretonne! 3 Merci! Votre Raymond du Québec, à Québec »
Jason
2014-10-04T00:00:00Z
J'ai été accueillie dans une très jolie demeure par Lucie et Thibaut qui sont un couple d'une grande gentillesse. Ils m'ont donné beaucoup de conseils pour découvrir la région. J'ai pu visiter beaucoup de lieux beaux, sympas, mystérieux, légendaires.. Combourg est une jolie petite ville très bien située, les sites á découvrir ne se trouvent pas loin. De plus, Lucie prépare des petits déjeuners copieux où tous les produits proviennent de son jardin. Un vrai régal. Je me suis ressourcée dans cette belle maison "néo bretonne" que je recommande vivement.
Marie
2015-08-15T00:00:00Z
Excellent séjour chez Lucie et Thibaud, nous avons été reçus comme des rois, avec une grande générosité. Tout le confort était là, bonne discussions, pleins de conseils sur la région. La petit déjeuner est délicieux, avec beaucoup de produits faits maison, génial !
Raphaël
2014-06-09T00:00:00Z
Le séjour chez Lucie était extraordinaire et super agréable! Cela a commencé avec notre arrivée, qui était trop tot, mais Lucie et Thibault étaient très flexibles....merci! Nous avons eu de la chance parce que juste avant notre arrivée, ils ont fini les nouvelles chambres dont on a profité! Moderne, avec beaucoup de gout pour le détail,très calme, pour que l´hote se sente à l´aise! Je n´oublie pas de parler avec enthousiasme du petit déjeuner, ce qui était majesteux :-) Lucie fait tout avec amour et c´est ce qu´ on peut sentir partout! En plus c´est super situé pour découvrir les sites à Dinard, Dinon, St. Malo et quand meme d´etre dans la nature , à quelques mètres d´un lac très charmant! Nous recommandons absolument , merci Lucie pour toutes les commodités, on n´oubliera pas notre séjour chez vous, les Autrichiennes Marion et Teresa
Marion
2016-07-17T00:00:00Z
Room Type
Private room
---
Property Type
House
---
Accommodates
2
---
Bedrooms
Combourg, Brittany, France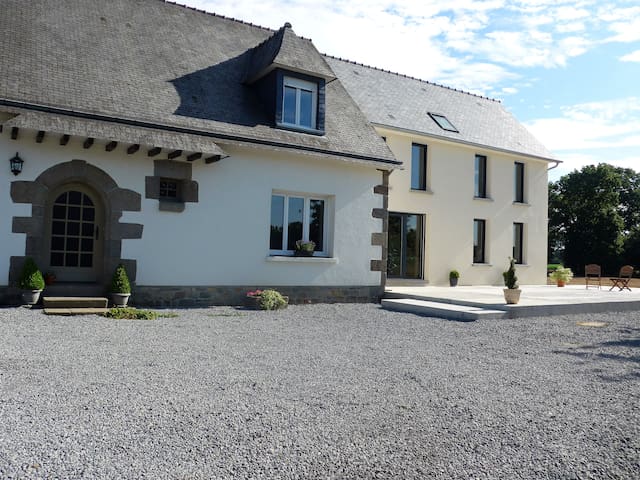 Mon logement est proche de les activités adaptées aux familles. Mon logement est parfait pour les couples, les voyageurs en solo, les voyageurs d'affaires et les familles avec 1 ou 2 enfants.
The Holiday cottage in campain combourgeoise, is a house renovated in old stones, at the heart of the romantic Brittany. You have a room of life including fully-equipped kitchen and lounge with a sofa bed and tv. In the floor you have a bedroom and a bathroom with shower. Outside, you can take advantage of the terrace with garden furniture, barbecue, and deckchairs.
The holiday cottage is situated in a very attractive place in campaign Combourgeoise near the channel of Ille and Ranceand near the coast of Emeraude. It is a place completed to rest in the peace around forests.
The host canceled this reservation 2 days before arrival. This is an automated posting.
Marion
2016-12-16T00:00:00Z
House is clean and stylish. Owners were nice and friendly and even gave us a gift. House was pretty cold but sooner it has become warmer (We were here in january). A good choice for people who wants to relax in a countryside.
Dmitrii
2017-01-06T00:00:00Z
A fascinating little house, in a lovely green landscape. Inside was comfortable and clean. Sonia and Chris were really kind and heped us a lot
Miriam
2016-08-23T00:00:00Z
Chris was wonderful and very helpful. The apt. was perfect. It was a ideal location.
Wayne
2016-11-23T00:00:00Z
Très bon accueil de la part de Sonia et son époux, le gîte est confortable et décoré avec goût. Nous avons particulièrement apprécié la tranquillité du lieu!
Guillaume
2016-10-16T00:00:00Z
Super accueil, belles prestations
Max
2016-09-25T00:00:00Z
Accueil au top ! Logement conforme à la description, donc super ! Je recommande ! Merci encore !
sophie
2016-09-19T00:00:00Z
petit logement au vert, très mignon et au calme. environs très jolis à visiter.
Audrey
2016-11-02T00:00:00Z
Room Type
Entire home/apt
---
Property Type
House
---
Accommodates
4
---
Bedrooms
La Chapelle-aux-Filtzméens, Bretagne, France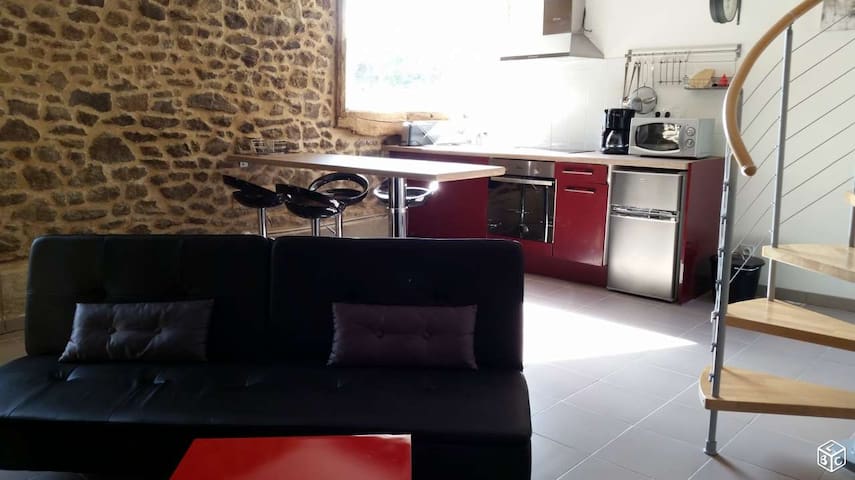 belle chambre avec vrai lit, dressing et plancher en bois refaite a neuf, avec une salle de bain à votre disposition , dans un cadre sympa , calme avec la possibilité de faire de belles randonnées sur place et aux alentours (petit déjeuner compris). La chambre se situe dans notre maison d'habitation. Nous avons un petit chien (croisé fox et beaggle) ainsi qu'un petit garçon de 2 ans. Nous vous accueillerons avec grand plaisir!!
La maison est en pleine campagne mais il y a tout le nécessaire a proximité, nous sommes a 7 min de Dol de Bretagne (ou il y a: Boulangeries, piscine, cinema, théatre, bowling, supermarché, restaurants, le glacier sanchez réputé par chez nous! ect...). A coté de la maison il y a le chateau de landal a voir ainsi que le parc de la higourdais, très sympa pour se ballader. Et aux alentours il faut absolument aller voir: Dinan, Saint Malo, Dinard,Cancale, Le Mont Saint Michel..
What a Nice hosts!! Very friendly and we felt very welcome. Breakfast is great, yammie muffins!!
Vicky
2016-03-30T00:00:00Z
Beautiful location and kind hospitality. We had a great time surrounded by nature and tranquility of the Breton countryside.
Emanuele
2016-07-25T00:00:00Z
A great host- Nadege and her husband with their little toddler. They make you feel at home, comfortable and are extremely warm. They don't speak English but use an online translator to communicate. Nadege was extremely polite and she made all efforts to make my stay memorable. The house is cut off from public transport, but she made sure that when we wanted to go out for dinner ( about 5kms away), catch a train, she would pick and drop us for no additional charge. She also helped us find local taxi hires and also helped research on things to do near where she lives. We went to mont st Michel for a day and lived with Nadege for 1 day and night. She and her husband spoke with us in the evening on our return from the abbey and offered us hot chocolate, muffins etc which is otherwise not included in the package price. They are extremely accommodating to their guests and made sure we had a good time with them. My only suggestion to future guests would be to figure their transport Coz there isn't any from her home. There's a little castle right by her backyard, walking distance and a small forest to walk by. For the rest, you need to get into town. Either get your own car or ask Nadege to help find a local day hire. It costed me 50 Euros to get dropped to the mont st Michel bus station from nadage's home by taxi- which is about 10-15 Kilometers away. The breakfast in lauded in the price is great- we were offered crepes, toast, muffins, marmalade, juice, coffee etc..I'll definitely recommend a stay with them anytime :)
Nat
2015-12-04T00:00:00Z
We had a lovely stay with Nadège, Bastian and their little boy. They have a great and well restored old house in an excellent location very close to Mt Saint Michel, St Marlo, Dinan and other locations. The floors are a little creaky, but it all adds to the charm. They have an adorable dog, Luna, who led us to the chateau near their house. We had tasty crepes for breakfast and got to try some of their home-made cider and liqueurs! Nadège also met us nearby to show us the way to their house. Language was tricky at times, but we communicated just fine. We felt very welcome. Would recommend for a great stay in the region, Thanks!
Jeff
2016-06-27T00:00:00Z
Nadege and her family are amazing! They are more than friendly and helpful!! The communication was easy even we cant speak french! With Nadeges help the place was easy to find! The house is wonderful and absolutely authentic! The bedroom is huge with a cosy bed and the bathroom is very clean with everything you need! We had water, snacks, fresh towels and everything we need! The garden is great, it's calm, many plants are in there and the neighborhood is amazing! Nadege made us a tasty breakfast every morning with selfmade jam and Bastian let us taste from his selfmade liquer! Thank you! :* I wish we had more days to stay there! Nadege, Bastian thank you so much for all! Your family is so lovely, all the best for you and petit Noah!
Kathrin
2016-06-17T00:00:00Z
Nadège and her Husband were very friendly, even though we could not understand each other there were no problems in communication. The room was super clean and cozy, I would definitely recommend her as your host.
Rasmus
2016-07-24T00:00:00Z
Made to feel very welcome. Relaxing stay.
Alan
2016-07-11T00:00:00Z
Nice place to stay. Very nice and helpful hosts. Quiet bedroom with a private bathroom. The house is lovely and well decorated. The bed is very comfortable. Delicious French breakfast. A bit difficult to find, but the hosts were helpful and met us on the road quite late at night. The next day recommended some local sight seeing and even lent us their boots. Would definitely recommend and would stay again.
Ruslan
2015-12-18T00:00:00Z
Room Type
Private room
---
Property Type
House
---
Accommodates
2
---
Bedrooms
Epiniac, Bretagne, France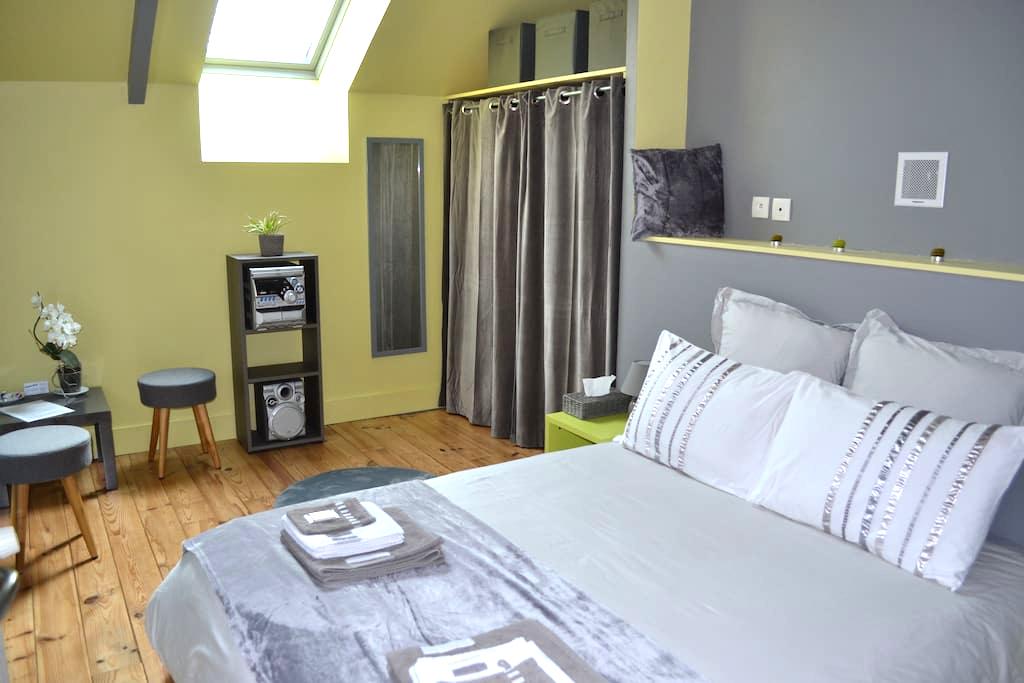 In a green setting in the heart of Romantic Britain, charming cottage in the countryside Combourg. This cozy cottage, renovated, with a computer and an internet connection. Its large independent garden promises wonderful evenings
Ideally located to enjoy the beautiful Breton heritage, not far from Mont Saint Michel and Saint Malo, the seaside where you can enjoy fresh oysters in Cancale, the farmed mussels, you will not have a minute to get bored! If you prefer relaxation, the beautiful beaches of the Emerald Coast will seduce you for a little nap, get a massage by the waves or pick up pretty shells. In a green setting in the heart of Romantic Britain, we are happy to welcome you in this terraced house in the countryside Combourg. This cozy cottage, fully equipped with a computer and an internet connection. Its large independent garden promises wonderful barbecue evenings and relaxations.
Small hamlet in the countryside, consisting of several houses, in lush greenery and tranquility.
Cosy and very nice cottage! Equipped with everything you need. Sabine is very helpful and communication was perfect. Recommended!
Leona
2016-04-03T00:00:00Z
We had a long stay at Sabine's place and everything was perfect. Cottage is very cosy and Sabine is a great host!
Leona
2016-04-08T00:00:00Z
We had a long stay at Sabine's place and everything was great. House is very nice and cosy and Sabine is a great host, always ready to help with anything! Recommended!
Leona
2016-04-06T00:00:00Z
Прекрасное расположение для путешествий по Бретани. При заселении нас ждал очень приятный сюрприз. Есть место для парковки. Сам дом прилегал к хозяйскому, но имел собственный вход. было очень тепло несмотря на морозы. Жилье нашли только с третьей попытки, т.к. был сильный туман, ночь, а табличка с номером дома была только со стороны дороги с автобусной остановки. Но на это у нас ушло не более пяти минут) Excellent location for touring Brittany. On arrival we waited a very pleasant surprise. Parking is possible for two o more car). The house fits to the master's, but had its own entrance. It was very warm despite the cold weather. The house is found only on the third attempt, because It was heavy fog, night, and a plate with the house number was only on the side of the road with a bus stop. But it took us less than five minutes) Very nice place. If you would go to the children, it would be was not afraid of them)) I recomend Sabina for traveling)) Thank you. Sorry, if something went wrong
Дарья
2017-01-06T00:00:00Z
Logement pratique, bien équipé, et bien agencé. Localisé dans un petit village au calme, il est parfait pour se reposer après une journée de balade.
STEPHANE
2017-04-04T00:00:00Z
Les propriétaires sont tres sympathiques. Le logement est tres bien.
gerome
2017-03-31T00:00:00Z
Très bon accueil de la part de sabine, logement très propre et cuisine très bien équiper ! pas besoin de prévoir grand chose, tout y est ! Séjour très agréable
Damien
2017-01-12T00:00:00Z
Adresse à recommander. Sabine a été particulièrement à l'écoute de mes attentes et le logement est un havre de paix, conforme à l'annonce, et des petites douceurs présentes à mon arrivée
Christophe
2016-09-15T00:00:00Z
Room Type
Entire home/apt
---
Property Type
House
---
Accommodates
4
---
Bedrooms
Combourg, Bretagne, France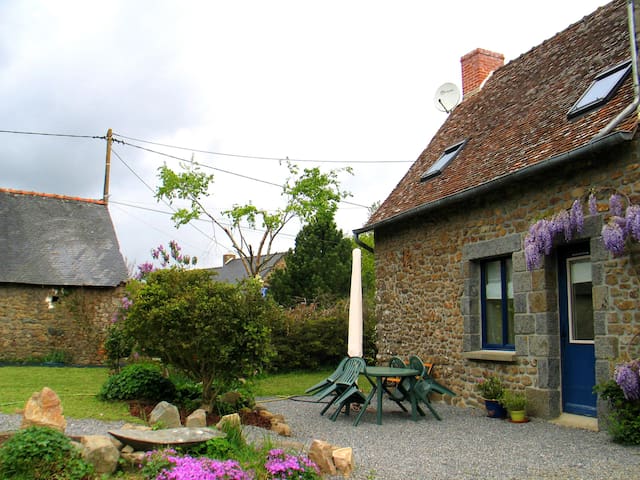 pièce à vivre avec cuisine américaine 35 m², 2 chambres & une SDB. Grande terrasse, barbecue, Jardin de 2500 m², environnement très calme. Proche Dinan, St Malo et Mont St Michel. 30 mn de Rennes. Accès commerces et gare SNCF 5 mn. Linge fourni.
Nice 65 square meter typical breton house. Fully equiped for 4 persons. Main room with a kitchen, 2 bedrooms (1 with a double bed, the other with 2 single beds), bathroom with a bath-tub and independent toilet. Large terrasse and access to the 2500 m² garden of the main house. Barbecue area. Internet box.
Things ans places nearby : - Dinan is a wonderful medieval city with old houses and a medieval tournament every july - St Malo the famous pirate city - Mont St Michel, the most visited site in France after the Eiffel tower - Fort La Latte, etc.
Anne est une hôte chaleureuse et accueillante qui a mis tout en oeuvre pour répondre à nos attentes.. Nous avons bien dormi, les lits sont confortables et le cadre est calme et verdoyant. Le logement est central par rapport à St Malo, la pointe du groin et autres curiosités locales. Merci Anne et bonne continuation.....
Danièle
2016-05-17T00:00:00Z
Une belle rencontre.Un grand merci à Anne qui nous a accueilli avec beaucoup de convivialité dans son havre de paix breton à proximité de nombreuses visites (St-Malo, le Mont St-Michel,Dinan...).
Agnes
2016-05-09T00:00:00Z
Room Type
Entire home/apt
---
Property Type
House
---
Accommodates
4
---
Bedrooms
Combourg, Bretagne, France
Set in a small picturesque rural hamlet with it's own private garden and patio accessed through the back door. Fully equipped for four people, kitchen/diner/lounge with a log burning fire. Close to village shops, bars, restaurants & art galleries.
Petite maison située dans un hameau très calme, idéale pour quelques jours de repos et pour découvrir l'arrière pays breton. La maison en elle même est très agréable, cosy sans être luxueuse, on s'y sent très bien tout de suite et le jardin est agréable. Malcom et sa femme ont été accueillants et disponibles. Pour les amateurs de calme un endroit très recommandable.
yann
2016-08-22T00:00:00Z
Room Type
Entire home/apt
---
Property Type
House
---
Accommodates
2
---
Bedrooms
Bazouges-la-Pérouse, Bretagne, France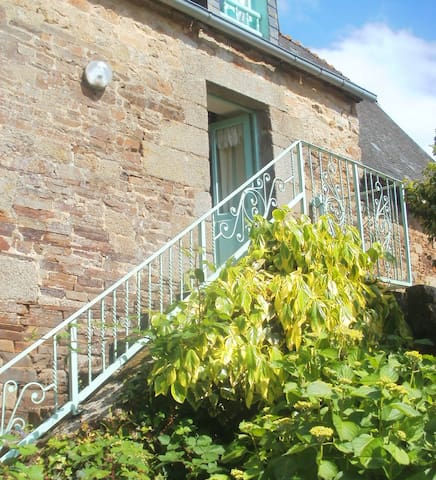 Longère indépendante, sur terrain de 5000 m2 rénovée en 2009. Pas de mitoyenneté, aucun vis à vis Séjour lumineux de 45 m2 avec cheminée, 4 chambres, cuisine équipée, 2 terrasses. Proche de Combourg, Saint Malo, Mont St Michel, Dinard, Cancale.
Longère rénovée en 2009, sans vis à vis. Possibilité de venir avec 2 chevaux. Connexion internet en wifi.
La maison est très agréable, en pleine verdure. Très bien équipée et idéalement située pour visiter la région. Hôte chaleureuse toujours joignable. Merci pour ce bon accueil !
Anne
2015-08-21T00:00:00Z
Room Type
Entire home/apt
---
Property Type
House
---
Accommodates
8
---
Bedrooms
Dingé, Bretagne, France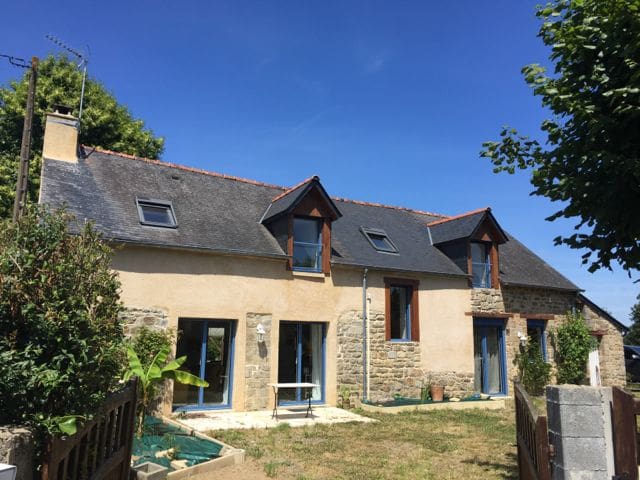 Near Combourg set in the hamlet of La Ville Briand in Brittany. Close to Mont St. Michel, St.Malo and Dinard. Two bedroom , two bath fully furnished farm house fully equipped with large kitchen and outside entertaining area with outdoor grill.
Peace and quite
The farmhouse is in a lovely quiet spot, with the caretakers living off a small road behind the property. They were on hand if ever we needed them but gave us total privacy.
jacquie
2016-08-09T00:00:00Z
This was an absolutely perfect Airbnb experience. The house is impeccably renovated and decorated and was utterly clean, with everything we needed for our stay (the kitchen is not extensively equipped but still had all the basics). The immediate neighborhood, a small cluster of houses, is charming and quiet. And the neighbors who serve as caretakers for the house could not have been more welcoming and gracious. We loved staying here and hope we get to return!
Andy
2016-08-12T00:00:00Z
Very nice house in a lovely area. Charming neighbours, beautiful countryside around, St-Malo, Cancale and Mont St-Michel at driving distance. We just loved it. Thanks a lot
Gregory
2016-07-18T00:00:00Z
The home was exactly as advertised, warm, well-appointed, ready for the most discriminating of guests.
Jack
2015-09-26T00:00:00Z
Nous voulons remercier Ashley pour l'hospitalité dans sa très agréable maison en Bretagne. L'ambiance silencieuse qui nous a permis des se détendre, placé aussi au milieu d'une grande quantité de beaux sites à visiter. Tout çà à laisse le désir de faire retour. Nous nous sommes regrettés ne le pas avoir rencontré, mais il a réussi à nous accueillir avec un bienvenu agréable, cidre et biscuits.
ANNAVITTORIA
2015-08-15T00:00:00Z
Una casa preciosa, muy bien situada para visitar la zona, con todos los complementos necesarios. Está situada en un nucleo residencial alejado del pueblo, aunque con coche hay buena comunicación. Los vecinos son muy cordiales y serviciales.
anna
2015-08-19T00:00:00Z
Nous sommes restés 3 nuits chez Ashley. Nous avons mis un peu de temps à trouver le hameau par les petites routes mais avons tout de suite reconnu la maison qui est exactement comme sur les photos : charmante, entièrement refaite à neuf, ultra propre, accueillante et avec une belle terrasse à l'abri des regards. L'emplacement est très calme et parfaitement situé pour visiter la région de Combourg, Saint Malo, Dinard et la côte de Cancale, tout en restant à l'écart de la foule du bord de mer. Une adresse à recommander sans hésitation, quoique plutôt pour 4 personnes car le cinquième voyageur dort dans le salon (mais sur un vrai matelas).
Sophie
2016-08-14T00:00:00Z
Room Type
Entire home/apt
---
Property Type
House
---
Accommodates
5
---
Bedrooms
Dingé, Bretagne, France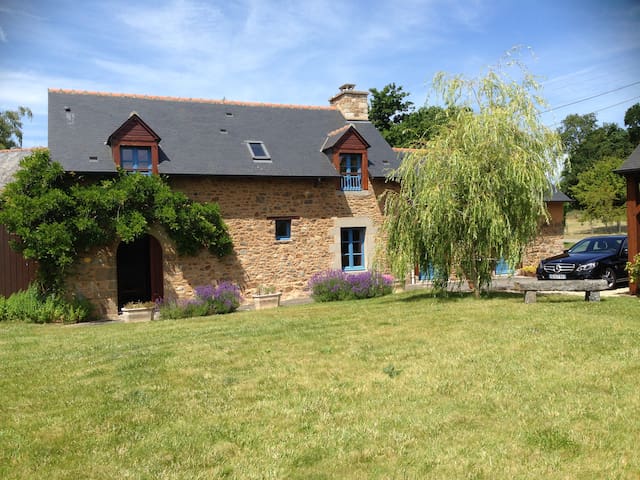 Trémeheuc - Airbnb
:
Average

4.61

out of

5

stars from

253

guest reviews