Naturalistic home less than 30 minutes south of Detroit off of Lake Erie. Sleeps 6, 8 with futon, can accommodate more. Plenty of outdoor recreational opportunities. It's up north Michigan but down state. Long-term rentals available. Come live off Lake Erie and experience 1 of the largest Great Lakes
Come on out and stay for the day or rent the place and I can take you and your party kayaking. Plenty of campsites along the shore so if you are the adventurous type. During the summer if it's nice out people are partying on the boats behind the house. There is even a band that comes and plays 3 times a year. I also have kayaks and canoes and SUP's available to rent. Let me know what you need and I'm sure I can make arrangements. Whatever you need, let me know I can accommodate just about any request. It's up north but downstate Can arrange personal transportation UBER - (website hidden) - use promo code q5kz4a for $20 dollars off your first ride. Let me know what kind of access you are looking for. I am going to do my best to make sure you have a good time. Let me know what you are looking for and I can see if I can accommodate. It's up north but downstate UBER - (website hidden) - use promo code q5kz4a for $20 dollars off your first ride
It's up north but downstate
Doug was a great host. He's very responsive and good with communication. I didn't have any confusion or concerns which made the trip all the more smooth and panned out according to the schedule/plan! Doug's place has various sizes of rooms, sun room, a couple of decks (1st floor and upstairs), big living room and open kitchen/dining area with a big table. I recommend it for a family or friends group gathering of ~8 people and up to 10 people. The view right through the windows of the house is simply beautiful and amazing. It was easy to park and the neighborhood was quiet, safe and neat. It has a lake town feel as though you're on the west coast of Michigan. The Maple Beach which is only 3-5 minute drive from Doug's place has a nice big field like a park, a walk way, a lot of picnic tables, grilling area, and it's right by the water. It would be a great place to go fishing. There's no sand beach and you can't swim there but it's a great place to have a family/friends BBQ and play sports. I was very satisfied with this trip for a one night getaway!
Julie
2016-05-31T00:00:00Z
Douglas was great! He encouraged us from the start to make ourselves at home. The view was excellent!
Porscha
2015-08-25T00:00:00Z
My buddies and I stayed here for a last minute guys weekend and Doug was able to accomodate us with very short notice. We had a good time on this quiet street and had direct access to the lake off the back of the lot. Thanks Doug!
Dave
2014-08-19T00:00:00Z
Our stay was just as we had hoped. The beds and furniture were comfortable, and we had plenty of space. The large back windows have a great view of the water. The house is only a block or two from the park. Douglas was helpful and accommodating.
Teresa
2015-12-28T00:00:00Z
I recently stayed at Doug's house with my boyfriend and 2 dogs for a few days. We had a really great time! Everything was as we expected, and Doug answered my messages very quickly. The house was very clean and had everything that we needed. The neighborhood was quiet, and the view of the lake was amazing. We slept very comfortably and were very relaxed our entire stay. We felt close enough to Detroit that we visited friends for dinner one night and it didn't feel like a huge burden to drive there. We truly got the best of both worlds with a good balance of quiet time at the lake during the day, and then some nightlife in the city! Thanks Doug for your hospitality--we hope to be back again!
Julie
2015-01-05T00:00:00Z
Our stay at Douglas's place was very relaxing. We were in town for a wedding and I had some major duties, decorating/flowers. This was the perfect place to get away from the chaos of being in wedding mode. Saw a beautiful sunrise both mornings. His place is very spacious and nice. Master bedroom was very large and the bed was so comfortable! It was nice to sit outside and watch the boats go by on Lake Erie.
Robin
2016-06-20T00:00:00Z
Incredible house with local charm and thoughtful amenities. I loved staying here and would happily return to this home if in the area.
Casey
2015-08-31T00:00:00Z
Douglas' house was great for my group of 8 people! It was February so we couldn't enjoy the water as much but it still provided beautiful views for us. The space was very roomy and clean. The PlayStation 3 was great to have. I would definitely stay here again!!
Jordan
2017-02-05T00:00:00Z
Room Type
Entire home/flat
---
Property Type
---
Accommodates
8
---
Bedrooms
Milleville/Maple Beach, MI 48173, United States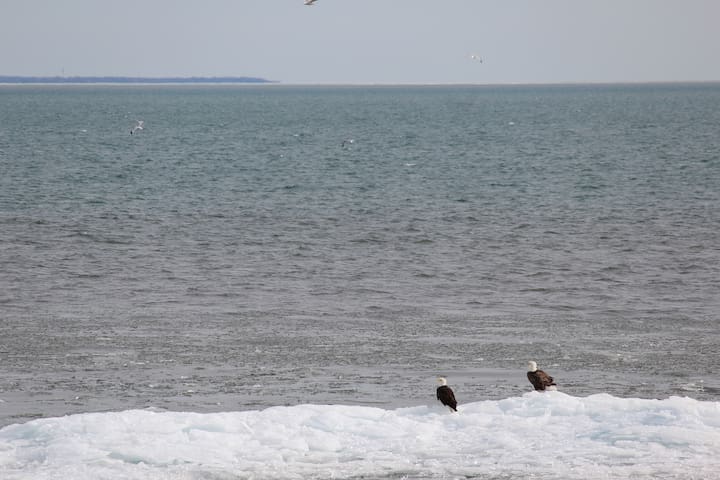 The house is located about 20 minutes from Detroit and just a 5 minute walk from Elizabeth Park. There is a kitchen, bathroom, and living area right outside the room. The backyard contains a bonfire pit, hot tub and picnic table.
Greg made checkin very easy, even though my arrival schedule fluid. Very nice guy.
Stephen
2016-11-05T00:00:00Z
This was a great place to stay! The neighborhood was really nice and very close to a few places to eat and get coffee. I went to the Roundhouse BBQ right around the corner per Greg's suggestion. The room was exactly as pictured and is right inside the front door so it was easy to get to and offered some privacy. The bedroom door also has a lock on the handle just for an extra layer of security but it really wasn't needed. Greg was super responsive and flexibile which was essential for me to use the space since I was in town for work and my days would end at various times. 10/10 would stay here again!
Erica
2016-11-17T00:00:00Z
Great host in a safe neighborhood. I was in town for a medical rotation and the house was a great location for hospital travel. Many food options around. Highly recommended.
Todd
2017-01-30T00:00:00Z
It was nice staying at Greg's, in a typical American house with a wonderful garden and curious big cat. Greg was very kind and helpful, providing a confortable room.
Bartolomeo
2015-10-16T00:00:00Z
Good place. No complaints
Jim
2015-10-21T00:00:00Z
Greg is a great guy, fully committed to your pleasant stay.
Scott
2016-04-10T00:00:00Z
This is a great deal, one of the least expensive rooms I found in the area but we had a pretty large room, it was very clean, wifi worked flawlessly, and Greg is a great host. We arrived with a huge moving truck and still there was ample parking. Very safe / nice neighborhood, quiet but close to ammenities. Highly reccomend booking here! Also the cat is really sweet!
Hannah
2016-12-07T00:00:00Z
Greg was very welcoming, communication was excellent. The room is exactly as shown, and met my needs very well. Will definitely stay again if ever in the area!
Joanne
2015-11-15T00:00:00Z
Room Type
Private room
---
Property Type
---
Accommodates
2
---
Bedrooms
Trenton, MI 48183, United States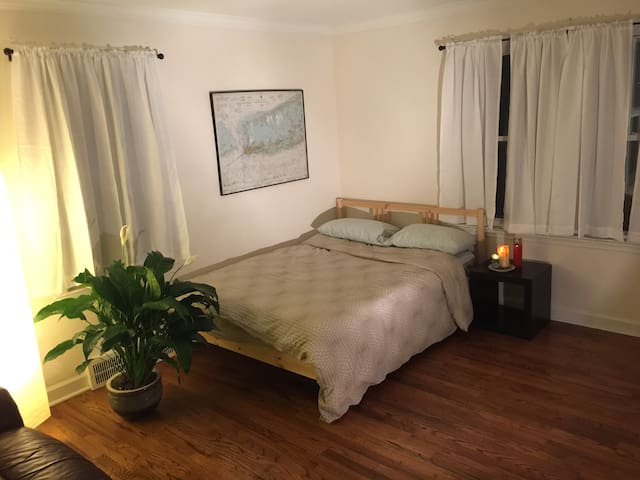 My place is close to the airport and all major expressways. You'll love my place because of the kitchen and the high ceilings. My place is good for couples, business travelers, and families (with kids). One mile from Detroit Metro Airport - townhouse style condo with over 1.500 sqft of space.
The space is a two story townhouse style condo with two bedrooms - each with their own bathroom. First floor is an open floor plan with living room, dining room, half bath, and kitchen with snack bar. The condo has a private entry with parking in front of the unit or behind the attached garage. The space is perfect for families, couples, or business travelers. The complex is close to the airport and has easy access to all the major expressways. Very nice accommodations - 1,600 sqft - for a fraction of the cost of a hotel room.
The condo is located in a very safe quiet area but close to main expressway for easy access to Detroit or Ann Arbor.
Colleen is amazing! She has a wonderful personality and was so welcoming when we got into town. She offered to meet us at her place and show us around and how things worked, where to find things, extra towels, etc... She answered all of our questions about local places to see and shop and had some great suggestions. She was very prompt at replying to our messages when we needed anything or had questions. We were a family of five from California visiting other family in town for 5 days and our stay was VERY comfortable. Nearly everything we could need was available in the kitchen and bathrooms. The house was VERY clean and spacious and the bedrooms were comfortable. Great farmers market down the street and very close to airport and freeways. Parking was easy and always available. I would definitely stay at Colleen's place again and highly recommend it. Great for group of friends travelling and perfect for families, esp those with kids. Major shopping areas are not too close by, but within 10 to 15 min driving and very easy to get to. Loved the place and loved our host!!!
Sara
2016-08-23T00:00:00Z
House was nice and clean. Everything was as described. Colleen was very accommodating and communications were easy. She even added a washer and dryer because I was staying for a month.
Ryan
2016-10-08T00:00:00Z
Colleen is an exceptional host, she has left an ever lasting impression on us for my first time using Airbnb! Beautiful home and person!
Yvette
2016-09-05T00:00:00Z
Very nice place, things I needed where present, highly recommended this host
ijeoma
2016-08-28T00:00:00Z
The host canceled this reservation 117 days before arrival. This is an automated posting.
Navya
Room Type
Entire home/apt
---
Property Type
---
Accommodates
4
---
Bedrooms
Romulus, MI 48174, United States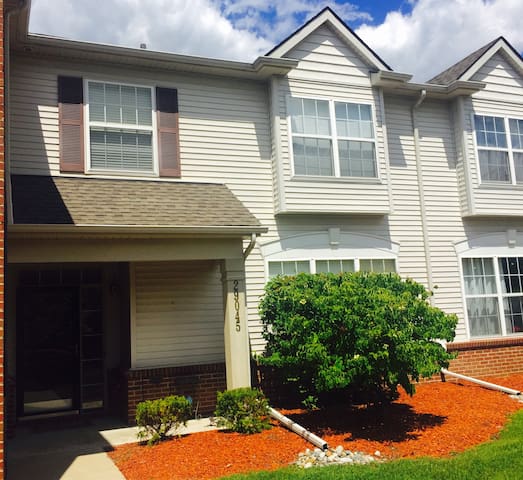 My place is close to restaurants and dining, 20 minutes to Detroit Major Sporting events & windsor sporting events , 15 minutes to downtown Windsor, 15 minutes to major shopping malls, 10 minutes from 401 hwy. You'll love my place because of location . My place is good for couples, solo adventurers, and business travellers.
This is a newly constructed house built as a duplex, sound bearier between main unit and guest unit, seperate utilities so no sharing heat or any other utilitiy, you control your own heat and airconditioning. The living space for guest is approx. 1000 sq. ft. large windows, open concept, master bedroom is 160 sq ft dining room , kitchen and living room is 520 sq ft
There has been 6 newly constructed houses including mine that have been built over the last year within 500 ft. Driveway is 2 cars wide and 80 ft long so parking is not a problem, it is crush stone now but will be paved in spring
Our hockey teammates were so happy to have a comfortable place to hang out between games. Clarence is awesome. The apartment is clean and stocked with just about anything you might need. We had a great time and would definitely come back!
Abby
2017-02-06T00:00:00Z
Nice, quiet, clean place that's close to local amenities. Plenty of space for family and would definitely stay again.
Julie
2017-02-23T00:00:00Z
Clarence was a great host my family and I felt right at home and we enjoyed being there!!! Everything was extremely clean and he was extremely nice!!! It was nothing short of amazing!!!
Melody
2017-03-01T00:00:00Z
Clarence was such a great host! The place was clean and amazing. Worth the money to stay the weekend. It was close to Windsor which is big for shops and eatery. The casino was not that far from the stay. Will for sure stay when we return to Canada!
Jonathan
2016-12-12T00:00:00Z
Room Type
Entire home/apt
---
Property Type
---
Accommodates
6
---
Bedrooms
Amherstburg, ON N9V 3R3, Canada
River front, 2-bedroom, 1 full bath cottage situated in a deep wooded lot on Grosse Ile island. Fairy tale like backyard with a canal, walk bridge & fishing dock. A wood burning fireplace in the living room & a large wood deck + patio for party.
The house has 2 bedrooms, each with a queen size bed, 1 bathroom with a tub, a kitchen, living room, dining room plus den and laundry area with a set of full size washer and dryer. There is also a full size futon bed in the living room which can sleep 2 kids or average height adults. This is a water front property with its own fishing dock. The house sits deep in a wooded lot with wide open lawn in the back yard and a small canal running through it. There is also a walk bridge that crosses the canal to get to the fishing dock. Overall, it's a quite and private property on the west side of the island, nestled in woods. But it's not so remote from the neighbors that if you shout, no one will hear you.
Grosse Ile has been ranked the safest town in Michigan recently. There are bike routes along Meridian, the main road bisecting the island, running north and south. There is a Kroger market and a neighborhood grocery store and other restaurants along Macomb St. During summer months, there is free concert on Macomb street on Sunday evenings. In first weekend of June there is a big Island Festival held in the airport next to the Townhall.
The house is very nice for family vocation. It is very quite and the sunset is very beautiful.
Deng
2016-05-11T00:00:00Z
This is one the best AirBnB experiences I've had to date! The property was more beautiful than I expected and the pictures did not do it justice. Such a gorgeous and lush piece of land located on the river with an extremely charming neighborhood with a welcomes private island feel to it. Between the hammocks, fishing dock and fire pit, we were constantly entertained. The actual house itself was perfect for 4 and everything was very clean and comfortable. Diana was a great host who gave us the full walk through when we arrived(While being very flexible with our arrival time) and was always accessible by phone whenever we needed her. Will definitely be planning another trip to come back!
Eric
2015-05-27T00:00:00Z
The house was fantastic. Exactly what we expected. We were so pleased with it, we are planning to return in 2017. Andy was there and showed us around and made sure we had everything we needed. Diana called me in less than 5 minutes after I asked to speak with her via Airbnb email.
Nancy
2015-10-11T00:00:00Z
Our Stay at Diana''s Cottage was amazing; seriously hard to leave. The view of the water is even better than the pictures. There is a fire pit. It overall Felt like a pretty safe space to rest and have fun.
Vanessa
2016-03-21T00:00:00Z
This was a wonderful place to stay for us. The dock area was a little messy, but the house was much nicer than the photos posted. Great hospitality by all!
Latisha
2015-07-19T00:00:00Z
The caretaker met us at the house and explained everything clearly. The house was nicer than we expected! I grew up on Grosse Ile so was not surprised that the community was quiet and safe. This was a five star bed and breakfast--like being in a cabin on a lake deep in the woods. Delightful!
Katy
2015-07-22T00:00:00Z
We used Andy and Diana's place for a fishing cabin. They were very good hosts. It was adequate for our needs. We would like to stay again next year.
Ann
2015-04-15T00:00:00Z
It was a calming experience at Diana's house. A nice getaway but not too far from what you needed such as stores and gas stations
Travis
2016-08-15T00:00:00Z
Room Type
Entire home/apt
---
Property Type
---
Accommodates
6
---
Bedrooms
Grosse Ile Township, MI 48138, United States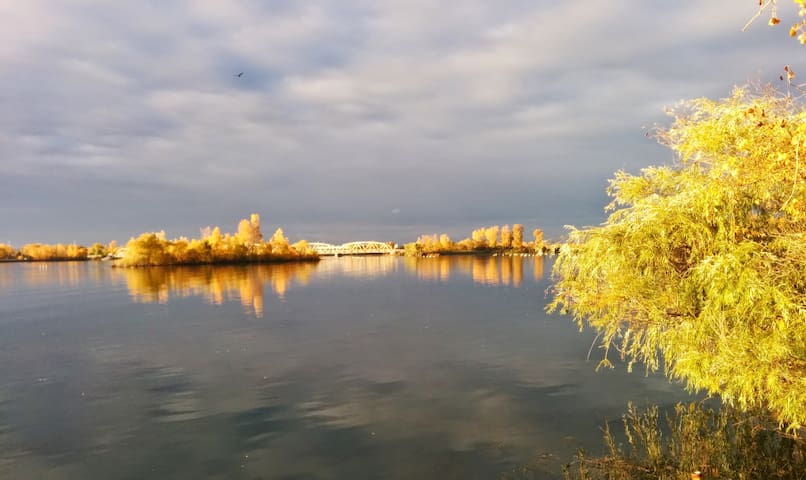 My cozy, condo has an available 3rd BR perfect for the busy traveler. Quiet neighborhood and conveniently located 15 minutes or less from DTW airport, minutes from shopping mall, restaurants, major freeways and just 20+ minutes from Downtown Detroit. You will have access to your own private bathroom that includes a Jacuzzi/jet tub! Parking space available if traveling by car/renting one. Free WIFI & small balcony for those who are smokers. Host has a guinea pig, no other pets.
This is a guest room that has a pull-out (full-size) sofa. The bedroom is separate from the rest of the unit. There is no TV in the bedroom, however, guests have access to the living room to watch TV if they wish; free WIFI available. Pet & Smoke free, with central air. Guest bathroom has a jacuzzi tub! Small Balcony available for anyone who may be a smoker. There are 2 entrances to the home, through the garage or through the front door. Home is SMOKE and PET dander free. I do own a guinea pig but he is hypo-allergenic. I ask that all shoes not be worn throughout the home, this is due to the home being carpeted and because my child has high allergies and shoes bring in dirt and other allergens which become trapped in the carpet.
I love that it is quiet. It's family oriented so you will see children playing. It's a small condo subdivision. Close to the shopping mall, many restaurants, movies, major freeways, and just 15-20 minutes from Downtown Detroit.
Room Type
Private room
---
Property Type
---
Accommodates
2
---
Bedrooms
Brownstown Charter Township, MI 48193, United States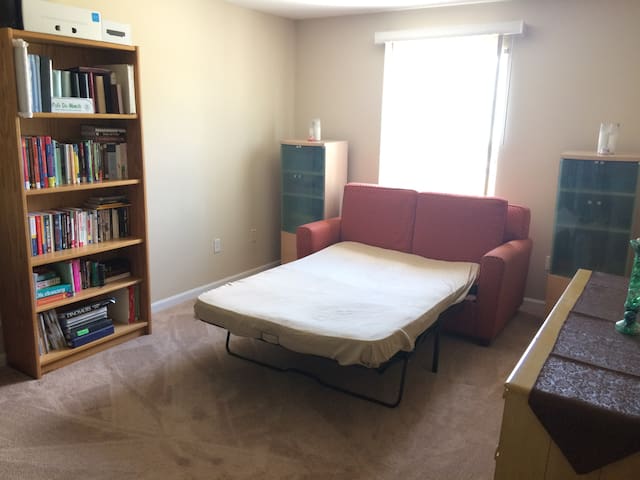 Conveniently located 15 minutes between Detroit Metro airport and downtown Detroit and three major freeways. Great location for sporting events, North American Auto Show at COBO Hall and World Headquarters. I can assist with transportation to and from airport or downtown Detroit depending on schedule. I can also provide meals if need and laundry services. I do have a small hypoallergenic dog that is quite and very friendly.
My house is a typical bungalow with one bedroom and bathroom on the main floor. There are two bedrooms upstairs. The 2nd bathroom is only a shower and toilet in my wash room next to the washer and dryer. There is a hot tub outside. I have extra slippers and robes available. Please let me know prior to arrival if you wish to use it. The house has central air and forced air heating. I normally rent out the rooms on the 2nd floor. I do have a small dog "Lucy" she is hypoallergenic and extremely friendly.
I am 10 minutes away from Henry Ford museum, Greenfield village, Ford world headquarters and Oakwood Beaumont hospital. 15 minutes from Henry Ford Main hospital downtown, Cobo hall, Ford Field, Comerica Park, Ambassador bridge, Canadian tunnel and Detroit Medical Center. I am walking distance to several local bars, convenience stores and restaurants.
We thoroughly enjoyed our stay on Dasher St. Very cute home, comfortable beds, super nice host. I would stay there again. The other couple we brought with us loved it also.
Susan
2017-01-02T00:00:00Z
Dawn's place is clean, comfortable, and beautifully decorated. She was kind enough to stay up to welcome me even though my flight got in quite late, and made me feel right at home. I would recommend a stay with her to anyone!
Jennifer Maya (まや)
2017-01-15T00:00:00Z
Very good place. Clean, cosy and comfortable. Dawn is super host!
Svetlana
2017-01-07T00:00:00Z
Everything as described. Cozy, clean, and comfortable. Dawn was very helpful!
Kurren
2017-01-21T00:00:00Z
Dawn is a fantastic hostess; quick and thoughtful communications, very considerate and accommodating. I had a great stay and would most definitely recommend her place.
John
2017-02-15T00:00:00Z
Dawn is a really friendly host and gave us lots of help. Really enjoy staying at her place!
Sheng
2017-01-05T00:00:00Z
amazing place. it feels like you're in a hotel, the room is spacious and the bed is the most comfortable bed i have slept in in a while. dawn is the best host you could wish for, she offers drinks and food and towels, rides and even toothpaste. her dog is super cute and friendly. over all it was a great experience and if I'm staying in detroit again i will try to stay here
Melanie
2016-12-31T00:00:00Z
Dawn was fantastic! My parents and I stayed since we wanted some place close to downtown and also DTW for an early flight, it was an easy 15 minutes drive either direction so perfect local for us. She was very quick to reply with recommendations and answers to our questions- she knew the city well. Her house was so warm and inviting, easy check in and out, with great lighting, soft bedding, nice kitchen, and comfy furniture- we felt totally at home! Lucy, her little dog was an angel- so fun and well behaved. We had the perfect stay, and would deff. want to book with Dawn again. Thanks for the great Bagels, restful sleep, and detailed care!
Tamara
2016-12-29T00:00:00Z
Room Type
Private room
---
Property Type
---
Accommodates
4
---
Bedrooms
Allen Park, MI 48101, United States
waterfront cottage in Gibraltar Michigan, lower Detroit river, near best walleye fishing, boat slip by seawall, 2 bedroom, one bath, all appliances, air conditioned
Room Type
Entire home/apt
---
Property Type
---
Accommodates
4
---
Bedrooms
Rockwood, MI 48173, United States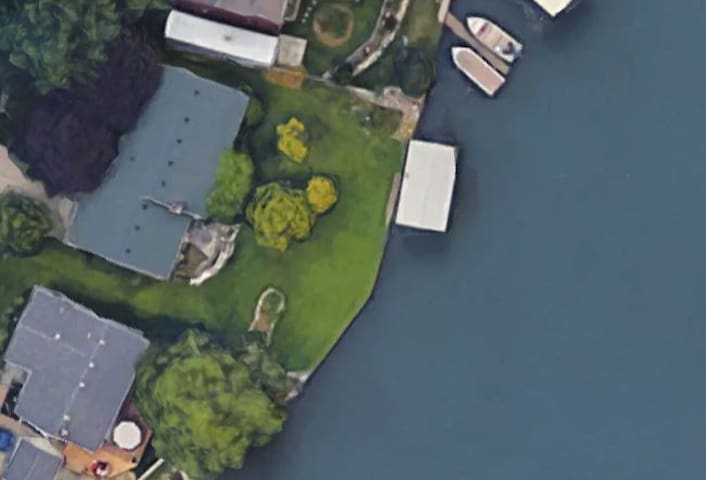 Enjoy our three bedroom cottage with a front porch and large lot! The cottage has been totally renovated with a modern, atomic ranch charm. You'll love the new chef's kitchen, eat in dining room and updated open design. Great location next to Dearborn and Allen Park, just 15 minutes to downtown Detroit culture and nightlife with easy airport access !
Welcome to our charming 3 bedroom cottage with a front porch and park-like lot! This home has a 4 night minimum. Relax while you watch the birds and bunnies crossing the lawn of this downriver home, located in a quiet neighborhood close to the park, restaurants, just 10 minutes from Detroit Metro Airport and close to the University at Dearborn and the nightlife of downtown Detroit! Amenities Include: Master Bedroom- 10x20 Queen size bed for Two Persons Master Bedroom has Fireplace, desk, dresser 2 Kids Bedrooms- 8.5x9 Double size Mattress Twin size mattress Living Room Leather Loveseat Microfiber Chair 32" Flat Screen TV Dish TV Internet Bathroom with Tub/Shower Eat in Dining Room Full Chef's Kitchen Stainless/Black Appliances New Flooring New Cabinets New Granite and Porcelain Tiles Towels and Linens Iron and Ironing Board Front Porch Gas/Log Fireplace Air-Conditioning Carport Parking Backyard Fenced Yard W/D Laundry Utilities- Water, Gas, Electricity Easy 94 or Southfield Freeway Access Restaurants in walking distance Nearby Shopping Close to Dearborn by 10 minutes Close to Airport by 10 Minutes Closet to Detroit by 15 Minute(URL HIDDEN) Wireless internet is available for your convenience. This is ideal for a family or business associates relocating to Michigan or a temporary business stay. This house has been completely renovated with updated finishes and a cool "Atomic Ranch" style furnishings! TV is ready for your watching pleasure. There is a local park and elementary school with one block! Downtown Detroit is a 15-20 minute drive for all the nightlife and culture of Detroit. Please write if you have any questions. Pets are accepted with additional $150 per month or $10 per day. Kick up your heels and relax!
The area is very pretty with a lot of open land, tall trees and wild life but also close proximity to area restaurants and shopping. This is a modest neighborhood with many long term residents. The locals enjoy fishing, boating and hunting.
This was a terrible experience. Our host was very irresponsible. She forgot to pay the electricity and internet bills. She is the only person I have known to believe that the problems with the house are the guests' responsibilities. Instead of trying to figure out a way to find solutions to the problems she would like her guests to find out ways to deal with them. She lives in California and uses that as an excuse. If you're looking into renting this place be ready to tackle someone else's problems.
Gamze
2017-01-05T00:00:00Z
Its just like being in my own home. Laundry facilities,fenced back yard, covered parking as well. The house is clean and we had everything we needed for cooking,relaxed evenings watching tv,and easy access to Detroit or the airport. Quiet safe neighborhood.
mary leigh
2017-03-03T00:00:00Z
Room Type
Entire home/apt
---
Property Type
---
Accommodates
5
---
Bedrooms
Taylor, MI 48180, United States
Nice quiet and safe neighborhood. Colonial style house. Twin bed in bedroom with closet and dresser. Shared bath, or private shower in basement bathroom. Have four little kids, they love having guests over. We also have a packnplay crib for baby.
Room Type
Private room
---
Property Type
---
Accommodates
1
---
Bedrooms
Taylor, MI 48180, United States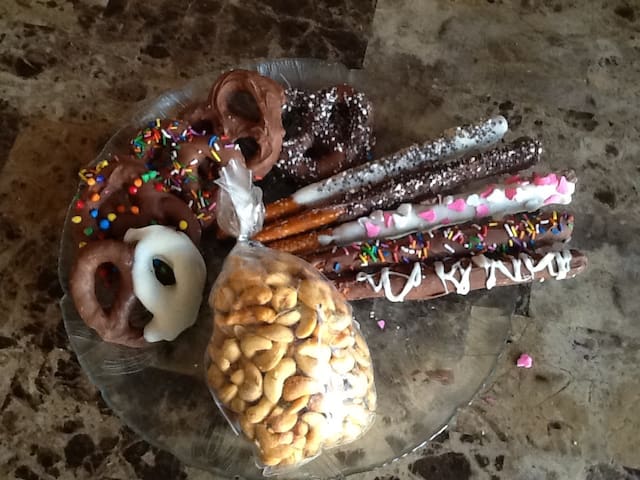 My place is close to Detroit Airport , restaurants and dining. You'll love my place because of the coziness and the kitchen. My place is good for couples, solo adventurers, business travelers, and families (with kids).
Room Type
Entire home/flat
---
Property Type
---
Accommodates
4
---
Bedrooms
Taylor, MI 48180, United States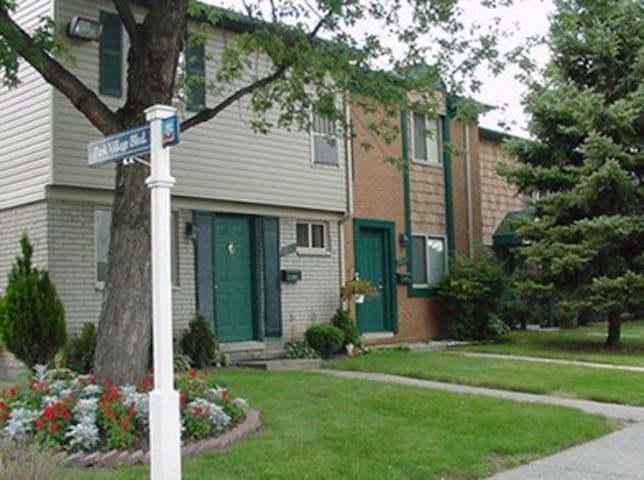 My place is close to Downtown Detroit. You'll love my place because of the kitchen. My place is good for couples, solo adventurers, and business travelers.
Room Type
Private room
---
Property Type
---
Accommodates
2
---
Bedrooms
Allen Park, MI 48101, United States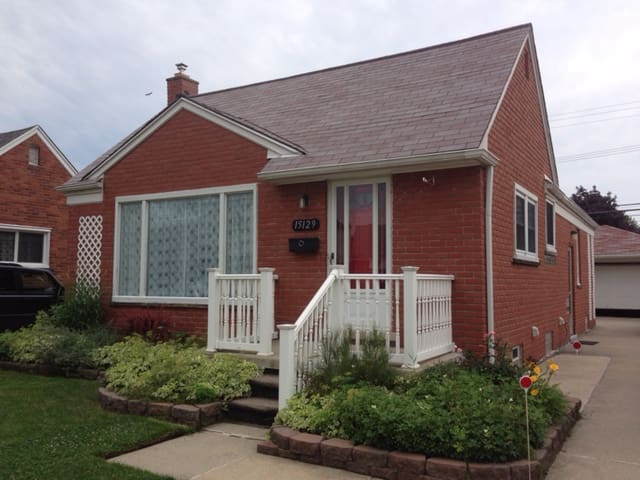 My place is close to Trenton Southshore Hospital (Beaumont/Oakwood) . Hello! I am a resident physician and have a room for rent in my condo for medical students who are rotating at the Trenton hospital. My place is 7 minutes away from the hospital. Currently, there is a 3rd year med student with whom you would share a bathroom. I do have 3 cats and 1 dog who are all friendly. The room is furnished and rent includes utilities, wifi, and cable.
Located in a very quiet condo community next to tons of stores, restaurants, and grocery stores!
My stay was fantastic. Bethany was a wonderful hostess and the accommodations exceeded my expectations. The bed was very comfortable and all of the animals were a delight. I would definitely recommend it.
Alainna
2016-11-19T00:00:00Z
Bethany was a great host! Really great deal!
Liz
2017-02-12T00:00:00Z
Bethany is a wonderful, welcoming host. She has a clean and comfortable home. Everything was perfect, even better than the pictures.
Alyson
2016-09-09T00:00:00Z
Bethany's place was the perfect place to stay during my medical school rotation. The location was great for my purposes- close to the hospital and medical clinics where I worked. Bethany was very friendly and helpful for the duration of my stay. I was able to study in privacy or be social, watch tv, and play with her adorable dog and cats.
Cassie
2017-01-15T00:00:00Z
Bethany was super nice and sweet. The bed was comfy. Internet was fast. I would definitely recommend her place.
Kevin
2016-09-23T00:00:00Z
Room Type
Private room
---
Property Type
---
Accommodates
1
---
Bedrooms
Woodhaven, MI 48183, United States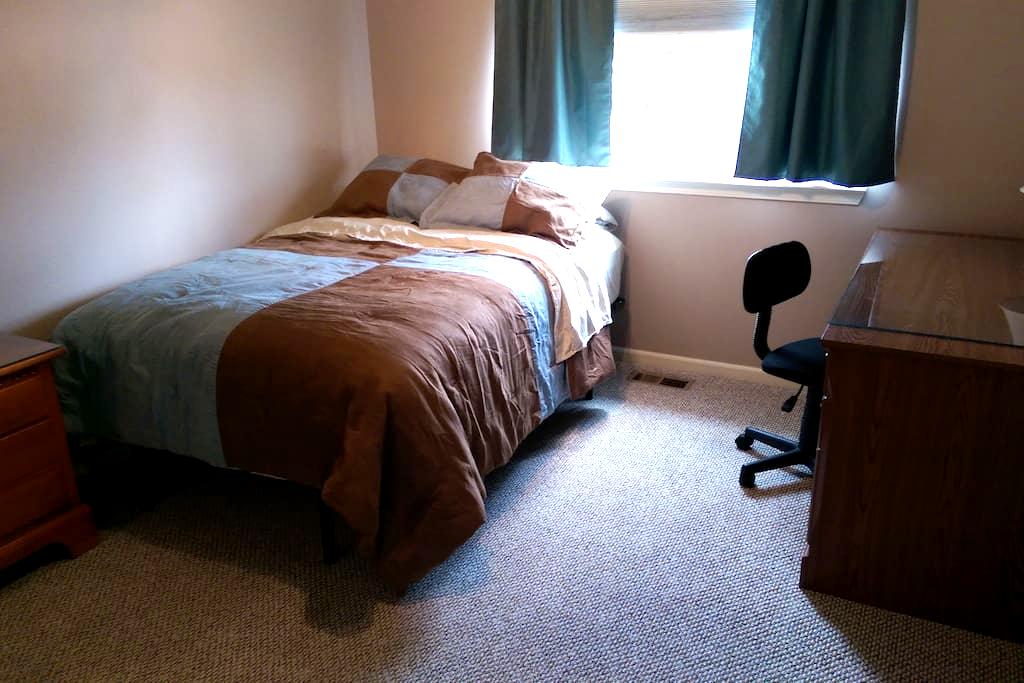 My place is about 8-10 minutes down the road near the Detroit Metropolitan Airport. I have five restaurants, family dollar, dollar general, gas station, CVS, nail salon, dollar tree, five below, check and go all on my street. Southland Mall city bus and uber.
Room Type
Private room
---
Property Type
---
Accommodates
1
---
Bedrooms
Taylor, MI 48180, United States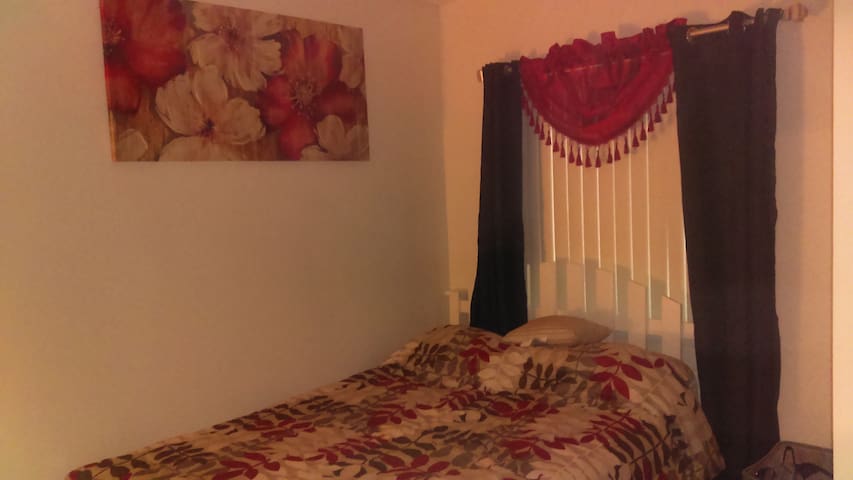 Filled with natural light, this room has private access to a patio. Only available Thursday night to Sunday afternoon.
Room Type
Private room
---
Property Type
---
Accommodates
2
---
Bedrooms
Amherstburg, ON N9V 1T7, Canada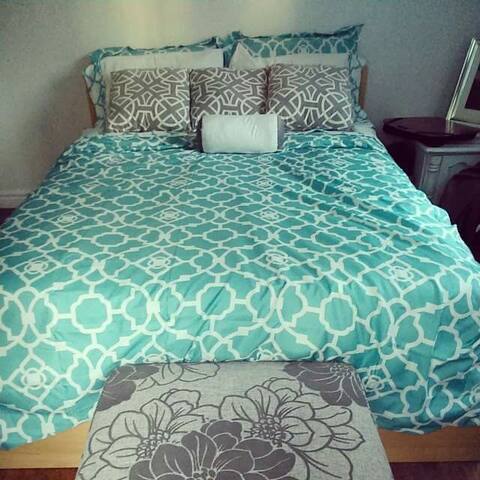 Enter dates to see full pricing. Additional fees apply. Taxes may be added.