Cozy and bright double bedroom looking on a back garden with a marble en suite bathroom. Just 10 minutes far from Florence city center.
Our home is modern and funny, very loved, lightly and with 2 gardens equipped with garden furniture. It's really nice in summer have a drink in the fresh night breeze or eat breakfast under the wooden gazeboo.There is a big free parking area just in front of the house.
We are 10 minutes far from the city (URL HIDDEN) the neighborhood there is a small supermarket, a bakery, a coffe shop,a restaurant/pizzeria, a chemistry, a grocery, a bank, a post office and others shops all within a foot distance.
It was perfect! Sandro and Ludovica are perfect hosts, looks like they did it for years. The place is very modern, clean and its location is very convenient. It takes less than 15min to get to the centre of Florence. We were warmly welcomed, it's family friendly environnement. They even researched the train schedules for us before we arrived. We don't regret at all our stay in their place. I would recommend it to anybody :)
Nathalie
2016-10-21T00:00:00Z
We had the pleasure of being hosted by Sandro and Ludovica in their beautiful home whilst enjoying Florence for a quick weekend trip. The accommodation was excellent - a relaxing haven of a bedroom and en-suite, very tastefully decorated and absolutely spotless. We were warmly greeted by our hosts and made to feel at home straight away. Their place is just a stone's throw from the train station Compiobbi. A short 10 minute train ride from Santa Maria Novella and you've arrived in the idyllic setting of their lovely home, surrounded by the charming Tuscan hills. We strolled along the river and stopped in the local pasticceria for breakfast. Recommend without a doubt! 10/10!
Juan Jose
2016-12-11T00:00:00Z
Our host was very helpful and the room was impeccable. Compiobbi is a gorgeous place that brings an authentic Italian feel with it. The train ride into Florence was only a few minutes and it was enjoyable to be outside of the bustle of a city. Would most definitely stay again if I'm ever travelling through Italy in the future.
Sabrina
2016-12-28T00:00:00Z
Was a pleasure stay in Sandro e Ludovica. With them, we a have a wonderfull time. They really help us and make our night unforgetable. Thanks!
Camilo
2017-02-07T00:00:00Z
Sando and his wife are great hosts! We enjoyed our stay at theirs and Sando even made us a great italian coffee. They also have a very lovely dog. The room was very clean and cozy, as well as the private bathroom.
Arwa
2016-12-29T00:00:00Z
Sandro and Ludovica are really nice and social couple. The room was very clean and looking much better than expected. However there were some issues that spoiled our overall impression. The house is in a nice village area, but very close to the railway and the noise cannot be isolated, especially in the early morning. The hosts never gave us a key for the house and every time we had to go in/out we had to communicate with them. This is in a way disturbing your privacy and limiting your freedom to act on your own(URL HIDDEN)
Ventsislav
2017-03-28T00:00:00Z
We stayed here for a visit of beautiful Florence, reachable with the train within 15 mins. The room was really comfortable, we called it the knot-room, because it was so nice decorated with a heart for the detail! Our hosts were so helpful, warm-hearted and nice in every occasion at questions on sightseeing and also in any other way, they helped us very much!! The check in and check out wEnt on without any problems, all in all we felt very welcomed and there's also a very very cute dog!! Compiobbi, also is worth to take a look on!, the people are very friendly and the restaurant crazy train is absolutely recommendable ;) ENJOY YOU'RE VISIT THERE :)
Irina
2016-10-07T00:00:00Z
We love the place, how clean and beautiful the room was and the good vibe of the owners. Grazie mille!
Vanessa
2016-10-09T00:00:00Z
Room Type
Private room
---
Property Type
Apartment
---
Accommodates
2
---
Bedrooms
Compiobbi, Toscana, Italy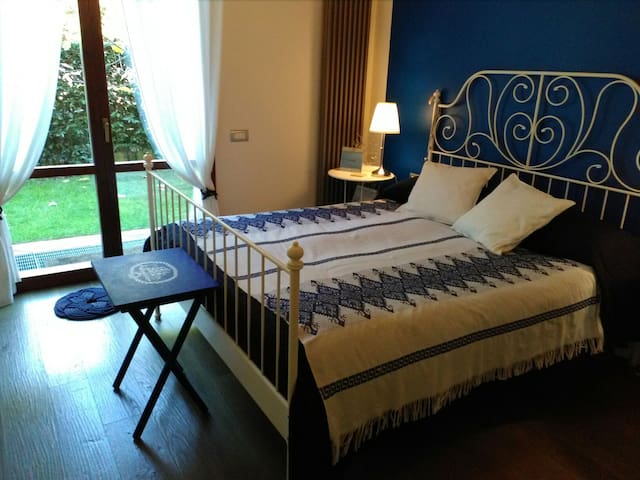 Do you know "Casale Fontibucci was, by repute, originally the home of Michelangelo's stonemason"(The 70's House edited Wiley and Sons) The Tower portion dates back to 1100s, the rest of the building was added in 1500s. Surrounded by olive groves, cypresses and vinyards, you can relax in the park and swimming pool solarium and "touch" the Brunelleschi's Dome before getting down to Florence. Florence, 25 min. far , offers breathtaking sunsets from the Casale!!! Unlimited Fast WIFI offered
This apartment is an ideal retreat if you long for the privacy and quiet of the countryside, but still want to be in touch with Florence. This apartment, at the ground floor, includes: main entrance/living room with sofa bed for 1 person, 1 bedroom with queen size bed, 1 large and bright 2 windows kitchen (table&chairs, fridge, microwave & fires) , and a bathroom with shower All rooms windows are overlooking either Florence, the garden or the hills surrounding . Amazing view! All forniture is my grand parents' antiques I'm really fond of
Casale Fontibucci lies on a hill commanding a view down the valley of the Arno to Florence in the distance past the picturesque array of hilltop palazzi and villas in between. In July, the season of Lavender, my doughter Stefania begins the collection and work of this plant with an intense fragrance. By Car: 10 m. away-In a nearby farm you can buy olive oil, wine and Tuscan honey. The grocery stores, with original Tuscan products, are at Le Case di S.Romolo, Villamagna, Candeli. 15 minutes away-Super market, post office, bank and many other shops are located at Bagno a Ripoli 10/15 minutes away-To taste typical & genuine Tuscan dishes, you can book to nearby restaurants such as Bar Alimentari Innocenti, L'antico Forno 20 minutes away- Riding schools, tennis courts and a golf course.
Our stay was wonderful! Aurora was flexible and helpful which we really appreciated. She even gave us her family wine and olive oil!! I can't say enough about how beautiful the area and the property is, even during the winter. We highly recommend this place!
Jade
2017-01-30T00:00:00Z
This is a really great place with magnificent view of Florence and wonderful hosts. Aurora always ready to help. Through to her advice and help our trip has become even better. Thank you so much. It was a great vacation for us. Thank you for your hospitality, for your tips and your help.
Dmitry
2017-03-25T00:00:00Z
From the moment I met aurora, I knew that I would have a wonderful week staying st the Casale Fontibucci. Aurora was very professional, yet hospitable. When we had questions and concerns, she was prompt in giving an answer and helping us with anything we needed. The apartment itself is situated in the most beautiful part of the Country I have ever seen, which prompted walks at all hours of the day during our stay there. To get to Florence, it was an hour bus ride with a stop not too far from Aurora' s place. Even though my husband and I didn't mind the hour commute, Aurora offered to give us a ride into town whenever she was on her way already. The apartment was equipped with everything a tenant would ever need, including clean linens and towels, trash cans with liners, an available coffee pot with filters, and even a welcome basket made with homemade wines and olive oil. I will never forget Aurora and her kindness, as well as the little piece of paradise we were able to stay in for a week.
Danielle
2017-02-16T00:00:00Z
Magnifique vue sur Florence! Le logement est très propre et fonctionnelle (cafetière, micro-onde ...). Il est un peu loin du centre de Florence et mieux vaut avoir une bonne voiture, car les routes sont cabossées. Nous sommes resté 1 mois la ba en hiver ! Je ne conseil pas ce logement en hiver, nous avons payés environ 200 euros (chauffage + électricité + gaz) ; nous étions obnubilé par le prix. Par contre je le conseil en été , il est très agréable à vivre et doit être très frais l'été.
Adelaide
2016-12-19T00:00:00Z
Corrispondente all'annuncio. Aurora molto presente ma discreta e ha risolto prontamente le mie richieste. Io sono andato nella stagione invernale, ma immagino che questa location deve essere molto bella sopratutto nel periodo estivo.
Giuseppe
2017-01-21T00:00:00Z
Room Type
Entire home/apt
---
Property Type
Apartment
---
Accommodates
3
---
Bedrooms
Bagno a Ripoli, Tuscany, Italy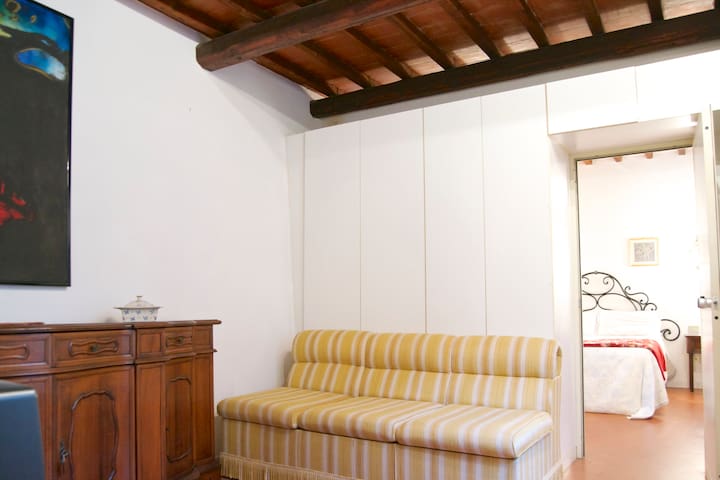 Bella casa indipendente sul fiume Arno a 15 minuti dal centro storico della città, molto comodo da raggiungere sia con i mezzi pubblici che in auto. parcheggio gratuito a 30 metri dalla casa. piu di 100 metri quadri con 2 terrazze sul fiume.
Compiobbi ha una posizione strategica, grazie alla stazione ferroviaria e' possibile arrivare in centro di firenze in 5 minuti. L'appartamento dista solo 5 minuti dall'uscita dell'autostrada Firenze sud.
Really lovely place with pretty views, easy access to Florence
Jemima
2016-07-21T00:00:00Z
This place was fairly close to train station and would be good for a big family...There is no hot tub as listed in amenities, which was why we choose this place. Wasn't the cleanest place but adequate. Very little common things such as wash clothes, dish clothes, coffee, sugar, breakfast goodies, but the washer worked good and we enjoyed hanging our clothes to dry like real Italians. If you want to use the pizza oven, you will need your own wood. The road noise from the two bedrooms facing the river was not bad...if you had a big family some of you might be bothered by the road noise, but it didn't bother us
Julie
2016-09-14T00:00:00Z
Communication with Roberto very good. He answers quick and adequate. Ambiance of the house and view on the river great. Train station to Florence very convenient. Disappointing was the lacking of essential items in the kitchen like cutlery, linen and a tea kettle or coffee maker. Disappointing was also the second bathroom. Better call this a second toilet with sink. Overall a good place!
Marja
2016-09-28T00:00:00Z
responsive And trustable
Maha
2016-08-02T00:00:00Z
We got all instructions by sms and Roberto answered quickly to all our requests. House is very nice, place is wonderful, small quiet village on the riverside, only two stations from Firenze. We had unforgettable time there. Two families with kids - 6 people, fit well to the house. House is clean, romantic and comfortable. Trip from the station was little bit extrim with kids and luggage's on very narrow pedestrian area.
Nadja
2016-07-06T00:00:00Z
Short 5 minute walk from Trenitalia's Compiobbi station. Quaint apartment with deck over looking river and surrounding hills.
Mark
2016-06-11T00:00:00Z
The area was not what we expected, on a very busy street.
Sarah
2016-07-04T00:00:00Z
Very nice house. Although the wash machine was broken before we arrived and the host didn't get chance to repair it, we had a very good time there.
Tao
2016-07-08T00:00:00Z
Room Type
Entire home/apt
---
Property Type
House
---
Accommodates
8
---
Bedrooms
Compiobbi, Toscana, Italy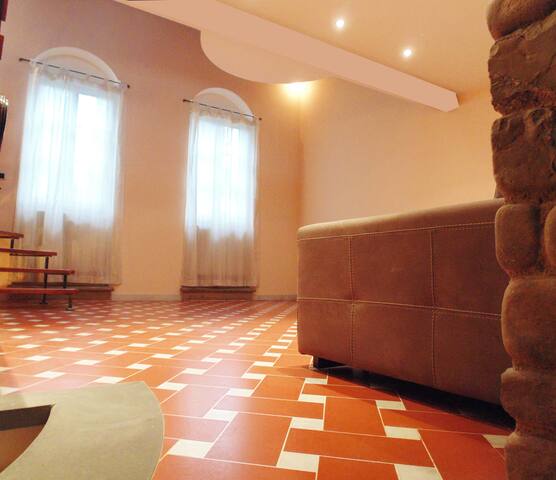 UPDATE (nov. 2013) - We replaced the sofa bed with two ergonomic and comfortable 90x180 cm matresses to make a queen-size double bed. Want to explore Florence off the beaten path? Settignano is the place for you! Located in the hills of Florence, the place is a confortable and newly refurbished independent room (all under lock and key) with a double bed and a bathroom with shower (no kitchen). Please be aware that there is no lounging space, so we recommend the studio only for short stays. The room is situated on the charming hill of Settignano, just 5km from the center of Florence, easily accessible by car or 20min by bus n. 10. Bus stop is just 80 meters away from the house. Bus n. 10 runs from 6 am until 10 pm. After 10 pm you can reach Settignano by taxi (approximate cost €15-20 €). If you plan to reach us by car, there is plenty of free and safe parking just around our house. Typically guests leave the car parked and visit Florence by bus. Walking distance from the house you can find 2 grocery stores, 3 bars, 3 (good) restaurants, bank, post, etc. Right next to the hill of Fiesole, Settignano turned famous starting from the Renaissance for its beauty and for the many artists that lived there. Today immersed in the Florence surroundings, the area offers characteristic landscapes of rolling hills dotted with olive groves and groups of cypress trees that surround the many historical villas built on its hill. Settignano has always been considered the perfect place for periods of rest, study, and meditation. In addition it is rich in itineraries of art, nature and trekking trails. In addition to visiting Florence, there are many walkings that you can do in Settignano or closeby Fiesole, walks of particular beauty (and with a nice view of the city). If you want to walk around, ask us for some itineraries.
Ciao ereryone!!! My best friend and I stayed in Luca's House and was amazing!!!! The Place is calm, clean and perfect. The neighborhood is very beautiful. Luca give us great tips, like how rent a bikes in countryside and good places to eat, even outside of Firenze. We want to come back in the future!!!!! Just pay attention with the time to the last bus from center. It's 10pm (but, it's very ok take a taxi). Bacio. Renata and Guilherme
Renata
2013-09-21T00:00:00Z
Luca′s place was very nice and extremely clean, the room is small but very well decorated and with many storage. Settignano is a charming place outside Florence. There are some very nice restaurants and shops and the countryside is very beautiful. Although we couldn't meet Luca during our stay, he left all the information about the place written and he texted us to know if we had arrived safe. In conclusion, we truly recommend this place to visit Florence, but keep in mind that you′ll need to get there by public transport or car.
Lucia
2014-07-23T00:00:00Z
Settignano seems nice but we didn't have a chance to explore the area as we moved out after 1 night though we booked 4 nights. The water heater seemed to run out of hot water after one person has showered, and the heating in the room didn't seem to be working well. (We had stayed in the salzkammergut region in Austria just 2 nights ago - supposedly colder - and the apartment was fine for us.) So the room was too cold for us. The room and bathroom are really small. No space to walk if you open 2 luggages. But fine if you just want to sleep. We missed a bus and had to wait 40mins for the bus at night to reach the place and the duration of the bus ride to town seems to be around 30mins rather than 20mins. (Or maybe we just didn't have the luck with buses.) Seems that "Luca and friends" are the managers of the apartment which is owned by someone else? Not clear to us, but maybe that doesn't matter.
Fiona
2015-11-03T00:00:00Z
Very good appartment!!! Near the Firenza city, but no problem with bus. Small village with perfetto ristorante and very relaxible atmosphere.
Pavel
2015-07-25T00:00:00Z
Luca made us feel very welcome! He is very quick with email responses and offers a lot of options regarding tourist destinations and restaurants. The check out time is flexible, which came in handy for our train departure time.
alexa
2015-06-05T00:00:00Z
We only stayed one night but it was a nice place to live even for a short period. Quiet and tourist-free village with cozy and home-like bars. Room is quite small but enough for 2 and has everything you might need inside. The street is rather busy I would say, there are cars going back and forth in the morning and also a church bell ringing every 30 minutes. The location is convenient for those who are traveling by car like we were because it quite hard to park in the center of Florence. The host Carlotta was very nice especially when after leaving we forgot our bag in the flat and she came back to help us.
Mary
2013-08-20T00:00:00Z
This appartment/room is located in a picturesque place. The town is great, with beautiful scenery, I would highly recomend it! You can see Florence from above. Lucas mother was a great hostess. In all a great place if you need to stay overnight.
Zane
2013-12-16T00:00:00Z
The room was the perfect place to crash for the night while visiting the Florence. Like mentioned, Satignano was a great way to experience the area away from the noise of the city. Convenient location and beautiful town. Thanks !
Dobrin
2016-07-22T00:00:00Z
Room Type
Entire home/apt
---
Property Type
Apartment
---
Accommodates
2
---
Bedrooms
Florence, Tuscany, Italy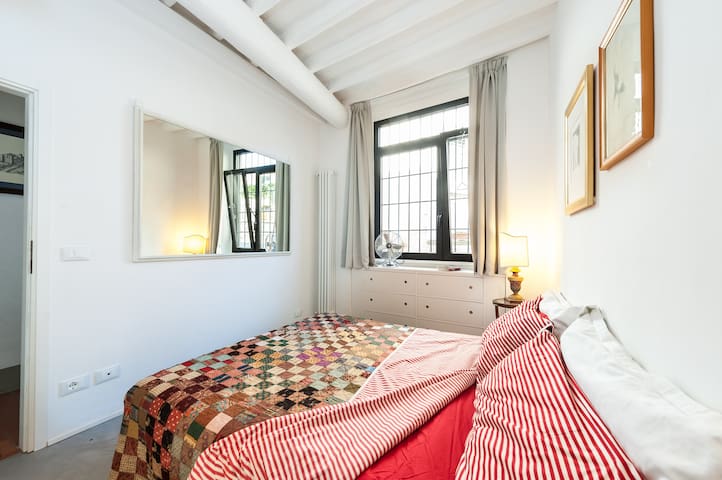 A lovely bedroom in the amazing Tuscany's country side in Fiesole's district, between the woods and Olive trees.Valentina,Marco and Francesco love Good food,music and they are creative people too working in music,cuisine and organising events.
Living in an old farm house (1500 AD) the house is located in an beautiful panoramic location on the top of the hills composed by wood and olive (URL HIDDEN) a perfect location for trekking and biking.The house has a big kitchen with an antique fireplace.There is an amazing terrace perfect for dinner or simply to enjoy the panorama.Up stairs there are 3 bedrooms and 2 (URL HIDDEN) the house there are some "fake monuments" like a bell tower and Letizia's door that it looks like a castle gate.
We had a very nice stay at Valentinas place! The house is not modern but it is beautiful und very comfortable. We felt very welcome by Valentina and her house mates. They helped us with informations and answers all of our questions. We would love to pass again!
Manuel
2015-08-02T00:00:00Z
Nice place for younger travelers, with a bit "hippy" touch
Robert
2015-08-23T00:00:00Z
La casa de Valentina ha sido una de las mejores que hemos experimentado. El sitio es unico, escondido en lo alto de las montañas y a la vez muy cerca de Florencia. La casa es muy acogedora y la paz que sientes es enorme, se respira un karma muy positivo y a la vez cercano. Si quieres pasar unos días en Florencia, es ideal. Si simplemente quieres disfrutar de la naturaleza, tambien. We recommend to anyone this peaceful place and the company and warness of sweet Valentina and her people!
Albix
2015-08-07T00:00:00Z
Room Type
Private room
---
Property Type
Castle
---
Accommodates
2
---
Bedrooms
Fiesole, Toscana, Italy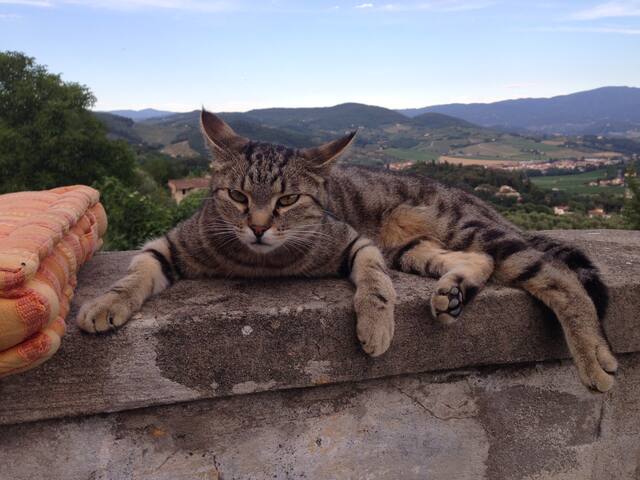 In delightful position at only 7 miles/12 km from Florence center private apartment in stone villa surrounded by beautiful garden and olive groves suited for up to 4 persons. Ideal for a relaxed holiday away from the crowds and yet so close to Florence! Amazing view of Florence and cathedral's dome.
Rental in country house with independent entrance, spacious bathroom wonderful design with shower, new kitchen with dishwasher, 4 gas burners, electric oven - all with terracotta vaults. To the right is the first double room with a king size double bed, lots of space including a walk-in closet and sitting area. From entrance 15 easy steps lead to double room with a king size double bed. Three separate entrances. Tranquility and beauty of the scenery guaranteed. External space and garden available. Sunbeds, chairs and tables available. Unique position and panorama that will leave you with lasting memories!
Here you will be surrounded by nature. Yet in the distance you see Florence reachable in 20-25 minutes' drive. One needs to park the car in a parking lot or on the blue lines (park meter) and walk to the city center that is all pedestrian. One reaches the country house by car or by public transportation. From train station Santa Maria Novella take bus # 8 to Bagno a Ripoli or bus #23 to Sorgane. The take small bus # 48 to property. From property take Bus # 48 to Bagno a Ripoli and then # 8 to Florence center OR from Sorgane take bus # 23A to Florence center.
If you're looking for a Tuscany stay like in the movies then this is the best address. Violetta was a fantastic host and she provided us with great tips. I would come back to this place in a heart beat. Don't miss this gem!!
Amna
2016-08-11T00:00:00Z
A truly authentic experience!! Violetta's home is beautiful and the location stunning. If you want to get away from the hustle and bustle of the city this is the place to be. The views are postcard perfect, rolling Tuscan hills filled with olive groves with sights of Florence in the distance. The backyard is the ideal place to take in the beauty of Tuscany. We arrived by public transport which, with Violetta's instructions was easy. We found the bus runs on time however the times are a bit limited (last bus back to the villa is at 630pm) so if you want more freedom I would advise hiring a vehicle. This is what we did and it was very easy and you can see much more. All the facilities at the villa are modern, function, and are easy to use. Arrive with groceries as per Violetta's recommendation. There is an great pizzeria in nearby Villamagna (walkable). It is only open on Saturday and Sunday night after 730pm but is by far the best pizza we had during our Italian stay. We would definitely stay with Violetta again.
Emma
2016-09-15T00:00:00Z
As soon as we arrived at Violetta's place, we wished we had found it sooner. It's an incredible apartment, with an incredible view (Tuscan hills and vineyards and you can see Florence as well!) and Violetta was so welcoming and friendly. Everything feels new, the kitchen is incredibly well equipped, the bed is comfortable. There were a few mosquitos but as Violetta had a net for the bed that she helped us put up the second night. It is a very quiet spot, about 40 mins from Florence, and the road getting there is not for the weak (windy, narrow), but if you're like us and like your quiet and want some beautiful Tuscan scenery to gaze at while you listen to the cicadas, come here. Would be perfect for a family, as the second bedroom has two twin beds. this is an incredible deal for what she's charging. We were her first guests and I have no doubt she will be booked solid very soon.
Lisa
2016-07-28T00:00:00Z
Excellent. Definitely recommended.
Giovanni
2017-03-21T00:00:00Z
Violetta was amazing! She provided us with great instructions and different options from arriving from Florence as we had spent some time in the city. Allowed us to check in early so we didn't have to lug our bags around Florence killing time. Even having some items for breakfast waiting our arrival! Note that if you are not going in and out of Florence its a good idea to bring groceries before you come if you are without a car. The kitchen is great - all you need to cook and very updated. As the little shop/cafe in Villamagna doesn't have many things to choose from - there is a restaurant that is open in the evenings and on Saturday/Sunday an amazing pizza place that is a must go to! However, this is the perfect place to get out of the city enjoy beautiful Tuscany sunsets every evening after a day touring the city. While eating some of the fresh vegetables in Violetta's garden or her home made olive oil which was outstanding! She went above and beyond by arranging a very early morning pickup when we departed! Bathroom and shower are also like new - hot water and better than any where else we stayed in Florence. The internet was perfect for catching up on some work! If you like the city and the outdoors this is the perfect place to stay if you have transport in as its only 20 - 25 mins and the bus stops right in front of the house with a slightly longer commute!
Cordie
2016-08-08T00:00:00Z
Violetta hat uns herzlich willkommen geheissen inkl. selbstgemachter Marmalade und Olivenöl aus dem Olivenhain direkt am Haus. Das Haus selbst liegt wunderschön über Florenz mit einem Hammer ausblick. Das Haus ist gemütlich und für 4 Personen vollkommen ausreichend und typisch italienisch ( wie man es sich halt vorstellt ) Für uns war es das perfekte Unterkunft. Auch in den Hügeln laufen zugehen ist ein muss. Violetta ist freundlich, herzlich und hat sich rührend um uns gekümmert. Perfetto :)
Hannes
2016-01-03T00:00:00Z
Calme et repos avec belle vue sur les champs d'oliviers. Séjour très agréable.
José
2016-09-01T00:00:00Z
Die Gastgeberin hat uns genau zu der verabredeten Zeit sehr herzlich empfangen. Im Kühlschrank waren schon die notwendigsten Dinge für das Frühstück am folgenden Morgen bereitgestellt. Die Wohnung war vorgeheizt. Alles optimal !
Bernhard
2017-01-05T00:00:00Z
Room Type
Entire home/apt
---
Property Type
Apartment
---
Accommodates
4
---
Bedrooms
Bagno a Ripoli, Tuscany, Italy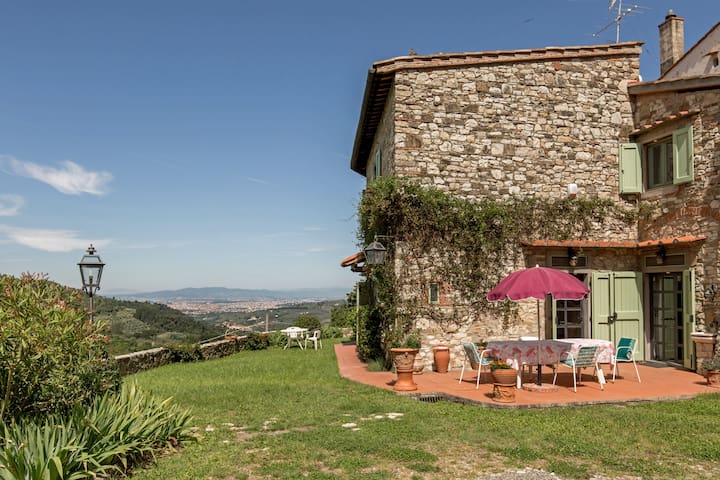 We will be pleased to welcome you in our two apartments, made out of a recently restored old barn, located in a large farmstead dating back to 1600.
The second apartment is called "Il Fienile" and it is located on the first floor. From its windows you will reach the hills running down to the river Arno. It is made of 2 double bedrooms, bathroom with shower, kitchen, a dining-sitting room and a solarium overlooking the swimming pool, for a number of 6 beds.
In addition, a supermarket is just a few minutes walk, in the main square of the village, where you will also find a bank, bus stop, post office, baker's, butcher's, tobacconist's, coffee bar, pizzeria, hair dresser's, clothes and accessories shops.
The apartment is ideally located on the outskirts of Compiobbi, a small village that nonetheless has a shop, bakers, pizzeria and the all important pastry shop/ cafe. The property was as described and equipped sufficiently for us to be able to cook full meals. The pool is small but fine for cooling off after a trip to Florence and not too deep so it was perfect for our two small children. The location really is perfect for visiting the whole of Tuscany by car and our trip to Florence by train was so much more relaxed than trips made by car in the past. Eugenio welcomed us and shared plenty of tips which helped make our stay easy and enjoyable.
Samantha
2016-09-05T00:00:00Z
We spent a nice few days in Eugenios lovely countryside appartment with nice garden. Polite host who was very helpful with his advice and did not make any complication about our late arrival. We recomend Eugenios place.
Jasa
2016-05-10T00:00:00Z
Wonderful little place in the Tuscan hills, but close to public transport making it an easy journey into central Florence. Eugenio made us very welcome and was available in person or on the phone should we need anything. Highly recommended :)
Emma
2016-05-17T00:00:00Z
This is a fabulous place to stay, if you want to explore Tuscany and have the option to visit florence. We loved the apartment, which was very peaceful and had everything we needed. If you want a lovely meal out go to Trattoria Tullia - it's 10 minutes by car and very authentic. The hosts are on sight and greeted us warmly, but then left us to it - perfect! The apartment was will equipped, spacious and clean.
Helen
2016-09-29T00:00:00Z
We had a lovely time at Eugenio's Airbnb near Florence. It is a great place to chill out and use the pool. The proximity to Florence is good, there is a train into the town that departs from Compiobbi, the station is a fairly long walk in the heat, but easily doable! The village has a small supermarket and pizza place. The apartment was well equipped, could have done with a few more caffetiers in the kitchen and the walls are a little thin, which is worth bearing in mind if you have young children. But apart from that - it was well equipped in every other way, very very clean (including the pool), the gardens were gorgeous, Eugenio was kind and friendly, without being obtrusive and his assistant Alessandra was amazingly helpful! We went here with a 2 year old and 4 adults and it was great!! Would definitely go again!
amy
2016-07-31T00:00:00Z
We had a lovely relaxing stay at Eugenio's property. The location is beautiful and a short walk to the town of Compiobbi where the trains to Florence were quick and convenient. The pool was small but great to use on a hot day and the balcony was perfect for evenings meals. The apartment was spacious and comfortable, couldn't recommend more highly!
Harriet
2016-09-16T00:00:00Z
Nice appartment close to Florence, set in the beautiful hills and the friendly village of Compiobbi. The place is well-equipped, it has a lovely garden, a terrace with a view where you enjoy the sun in the late afternoon and the shade during the hottest time of the day. There is also a small pool which we didn't use because it was not yet the weather for it. The hosts are very kind.
jacqueline
2016-05-06T00:00:00Z
We really enjoyed the stay in Eugenio's apartment. It is situated in a very pleasant surrounding with lots of green around as with the house there is a huge garden where the children could spend the lazy days. The views are fantastic, we liked sitting in the swaying bench and looking down into the valley covered with lots of trees. The pool was very much used during our days when we did not want to go anywhere and rather chose to enjoy the calm atmosphere of the place. The description on airbnb was spot on.
Nina
2016-07-01T00:00:00Z
Room Type
Entire home/apt
---
Property Type
Apartment
---
Accommodates
6
---
Bedrooms
Compiobbi, Firenze, Italy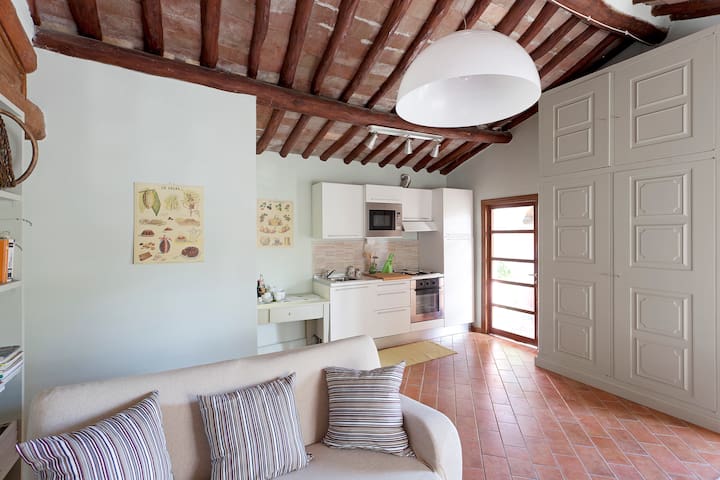 Quite double bedroom in the B&B with shared bathroom (with one other room), at night, in this room you will have the incredible vision of a starry sky directly above your bed. Breakfast, wifi and bicycles are free for the guests. View of garden.
Quite double bedroom in the B&B with shared bathroom (with one other room), at night, in this room you will have the incredible vision of a starry sky directly above your bed. Only 5 km from the center of Florence, the old mill of the thirteenth century, spends quiet days on the banks of the Arno. Only the background murmur of the river you whisper in the ears! Located near a small village is completely surrounded by green countryside. A lovely outdoor garden and a hearty breakfast awaits you in the morning and you will spend a pleasant stay with family. The B & B can be both an ideal base to visit Florence or a starting point for hiking or walking and cycling in the Florentine countryside.The garden is a pleasant break after a day visiting monuments and museums. A few hundred meters guests have at their disposal, without having to use a car, an excellent restaurant, bar, pharmacy and various other shops, in addition to the movies. Availability of bicycles for walks or to Florence on the beautiful bike path on the banks of the Arno. The bus stop within 200 meters will allow you to reach the center of Florence, with departures every 15 minutes. - !!! Look also the other rooms !!!
A small village, full of tranquility, gardens, small shops and absolutely safe for tourists. Situated in a perfect location to visit Florence, but without having to suffer the overcrowding of the tourist season.
This is an excellent room and Claudio is a perfect host. The B&B is only 15-20 minutes by bus to Florence city center and the bus stop is only about a 3 minute walk away. The bus runs until ~1am. The B&B is right on the river with nice views, so this is a perfect place to stay if you want to sleep somewhere quiet and scenic, but explore Florence during the day.
Judy
2012-12-16T00:00:00Z
La Martellina is just charming! We had such a lovely stay. Claudio was so accommodating, and sweet. The atmosphere is even more enchanting and peaceful than the pictures show. The bed was quite comfortable, and the breakfast was yummy. The dog and two cats are totally adorable, and helped us to not miss our animals so much while so far away from home. We will absolutely stay here again.
miles
2011-10-07T00:00:00Z
The room was nice and airy, and the grounds outside the B & B are quite relaxing. It was a nice contrast to the busy city. We only stayed two nights but could have easily stayed much longer. Taking the bikes along the trail to Florence was a highlight, and is highly recommended. Yummy breakfast and a sweet little dog to greet you upon arrival. Claudio was very easygoing and helpful! Great place to stay outside of Florence.
Erin & Pete
2012-07-04T00:00:00Z
Claudio was a wonderful and caring host. He was willing to meet us at the bus station in Fiesole when we arrived late, he provided a marvelous breakfast each morning, and went the extra step to direct us on day trips in the area. Clean rooms, a home atmosphere, and loving pets made the experience perfect for my wife and I on our 20th wedding anniversary trip. Bravissimo!
William
2013-06-16T00:00:00Z
Our expectations for our stay at La Martellina were high to start with. Our experience surpassed our expectations. Lucky Claudio, to live in such a beautiful, peaceful setting, which is also convenient to the cultural attractions of the city by a nearby bus. Lucky us to enjoy his warm cheerful personality, his helpfulness, and his skills as a breakfast chef. We were so happy both with the place and with our host, and sincerely hope to be able to return someday. This review would not be complete without saying that Claudio also has the greatest dog ever, Emilio! Peggy and Mary, Boston, U.S.A.
Peggy
2011-11-25T00:00:00Z
If Florence is the centre of Italian Renessaince and not to be missed, then La Martellina in the beautiful Chianti hills is the place to stay. As you approach the beautiful yellow colored farmhouse, through the hills, you see the river Arno. And as the gates of the yellow building open, the first sounds of the river are enchanting. You are then greeted by the cheery and full-of-life host Claudio and his adorable dog Emilio. The house is amazing and artistic, the rooms comfortable and Claudio makes the best breakfast! It's also very easy to get there as buses run from the doorstep to the center of Florence Our only regret was that we stayed such for 3 days only! But we will be back!
Bhanupriya
2011-04-30T00:00:00Z
Lovely house, with a soul: Claudio! Incredible 5 stars breakfast, a trip every motning trough italian food. Close to the river, with gentle animals. A place where you want to stay. Thank you Claudio.
Marc
2017-01-02T00:00:00Z
Claudio's B&B was lovely! Unfortunately it rained all weekend, so we didn't get to utilize the villa's many outdoor facilities, but we still had a lovely stay. He also has two adorable cats and two dogs, so it's a great weekend away for animal lovers! Would highly recommend to anyone!
Kristen
2016-04-26T00:00:00Z
Room Type
Private room
---
Property Type
Bed & Breakfast
---
Accommodates
2
---
Bedrooms
San Jacopo Al Girone, Tuscany, Italy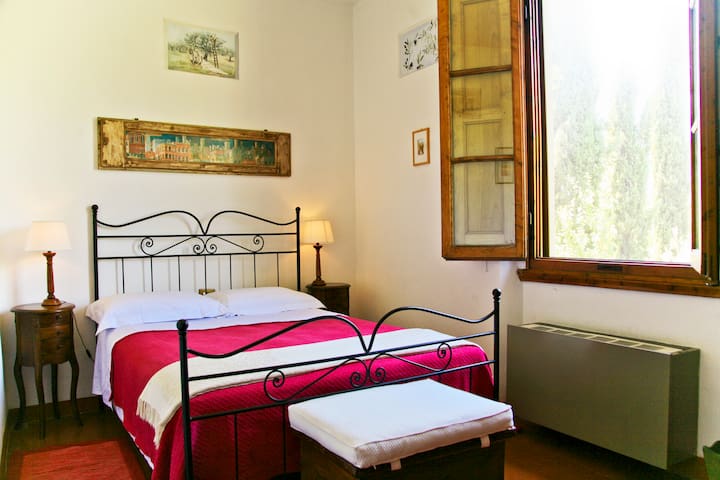 ###Take advantage and book now your stay in a hill just 5 km from the centre of Florence! The loft was completely refurbished, also with a new air conditioning (A/C) system (Cool and heat), and we are offering it at this launch price.###
If you want to visit Florence while staying in a picturesque and non touristic hills neighborhood, this place is perfect for you! Elegant Studio Loft fully refurbished in early February 2016 with WiFi included. Ground floor with private entrance. The loft has a new kitchen (with sink, fridge, electromagnetic stove top and Nespresso coffee machine), a bright lounge area with a modern black sofa, a desk and a closet, and a bedroom with king size bed (which can be divided in 2 single beds upon request at the time of reservation) and further open wardrobe. The bathroom has a new big shower. The comfortable lounge space and the new kitchen make this loft ideal also for long stays. The totally new air conditioning system will allow you to make the location cooler in the summer or warmer in the winter according with your preferences.
Located on a hillside northeast of Florence, Settignano is a picturesque neighborhood with spectacular views of the city, which has hosted many famous artists during the florentine Reinassance, such as Michelangelo Buonarroti. While having kept the appearance of a little countryside village, Settignano is only 5 km away from the centre of Florence, easily accessible either by car or by bus n. 10 (20 minutes). The stop of bus n. 10 is just 80m away from the loft, and the bus runs from 6am to 10pm. After that time, Settignano can be reached by taxi (approximately 15€ from the centre of Florence) or by car sharing services such as car2go (5€ from the centre).
We were welcomed by Stefano's son, who showed us the apartment. It's a nice, small apartment with everything you need for a couple of days. It is a little noisy during the day, because of the street in front of the apartment. At night time there is hardly anyone driving by, so there are no noise emissions. It is located around 15 Minutes outside of Florence and we could park on the street across the apartment. Florence was a great experience! A big THANK YOU to Stefano and his son for their hospitality. PS: Try the restaurant nearby, la Capponcina, great Pizza!
Oliver
2016-05-19T00:00:00Z
Stefano is the best and most helpful host we've ever encountered on Airbnb. Quick and informative communication, going the extra mile to make our stay extra special. The apartment is in the most beautiful location I've stayed in and has everything you could need...literally a stone's throw from the bus stop to Florence, too!
William
2016-05-30T00:00:00Z
Located in a nice and quiet neighborhood, the loft itself is very modern and artistical. We received warm welcome from our host, and got everything we needed. The bus station from this loft to the central part of Florence is very close, at the No.10 bus is REALLY FAST ! Stefano's loft is your best choice for relax in non-touristic place.
Hongyi
2016-05-06T00:00:00Z
Stefano's little apartment is great. Really does feel like you're in a tiny village miles from anywhere but in reality it was a 10-15 minute journey by motorcycle to Central Florence. The place is exactly as described and very tastefully fitted out. Everything needed for a short stay. The village is lovely with several bars and restaurants. When I come back to Florence I would stay again.
Wesley
2016-06-01T00:00:00Z
We loved the apartment! It was clean, fresh and had everything we needed for a great stay. It is located in a lovely small village within 15min from florence by bus, with wonderful restaurants. Stefano was a great host, promptly replying to our messages. We would definitely stay here again!
Ricardo
2016-07-31T00:00:00Z
We had a wonderful stay. Stefano was extremely welcoming and accommodating. Location is perfect with a breathtaking view and access to great restaurants. Only 15 minutes from the City.
Laura
2016-07-10T00:00:00Z
What a great stay in the your apartment.. At first it was a little daunting, as the door opened on the street, with cars flying by, in tiny roads, but we became accustomed to it. But the village was a typical scene that we have seen in films.. Getting to now a little of the local people, and there customs, and foods, was a delightful experience.. And of course Florence. It was an explosion of history, art, cultural visual pleasure. And to top all my dreams, was to sit in the same house of the great master Michelangelo..
Chris
2016-05-11T00:00:00Z
Stefano is a great host. He helped us with all of our questions. He is very kind. We had a wonderful stay on his apartment. Is exactly as described. The place is 20 min away to center of Florence. The bus stop right a block away. Is a magical place. Nice neighborhood with an excellent restaurant just across the street served by his owner. Delicious food. I recommend the place 100%. Thanks Stefano!!
Carlos
2016-09-26T00:00:00Z
Room Type
Entire home/apt
---
Property Type
Loft
---
Accommodates
2
---
Bedrooms
Firenze, Toscana, Italy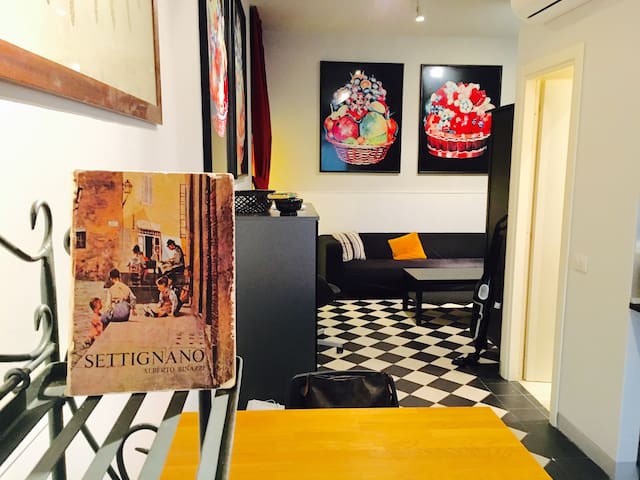 La "Veranda" è costituita da un bi-locale su due livelli completamente ristrutturata recentemente ed arredata con gusto. E' ubicata a Settignano, piccolo borgo distante dal centro di Firenze solo 6 Km, servito dall'autobus n.10, il cui capolinea dista solo 50 metri dal cancello di accesso. In 15 minuti si raggiunge agevolmente il centro della città. Adiacente al cancello è a disposizione il bar Vida sempre fornito di ottima pasticceria e freschissimi tramezzini.
Vicino all'abitazione sono presenti: una farmacia, un ufficio postale, un ristorante-pizzeria e una tipica enoteca. Alcuni cenni storici riguardo il borgo di Settignano: questo borgo ha dato i natali a diversi scultori del Rinascimento fiorentino, come Desiderio da Settignano ed i fratelli Bernardo, Antonio e Giovanni Rossellino. Nel 1898 Gabriele d'Annunzio acquistò la trecentesca Villa della Capponcina, per essere più vicino alla sua amante Eleonora Duse, a Villa Porziuncola. Nel 1430 ca. vi nacque Luca Fancelli, famoso architetto al servizio del marchese Ludovico III Gonzaga di Mantova. Il giovane Michelangelo visse con uno scultore e sua moglie a Settignano - in una cascina nota oggi come "Villa Michelangelo". Nel 1511 vi nacque un altro scultore, Bartolomeo Ammannati. Nel 1893 vi soggiornò Mark Twain, a Villa Viviani. A 300 metri dalla piazza di Settignano si trovano Villa Gamberaia, villa del XIV secolo, famosa per i suoi settecenteschi giardini a terrazza, e la più appartata Villa I Tatti, di proprietà di Bernard Berenson, divenuta un centro di studi di storia dell'arte gestito dall'Università Harvard.
Alessandro is by far the best host and offers the best Airbnb I have ever stayed at. The location is perfect, especially for families with kids studying abroad in Settignano or Florence. Settignano is very peaceful and Florence is easily accessible. I would recommend Alessandros apartment to anyone and I will definitely be back!!
Clare
2017-03-28T00:00:00Z
Our stay with Alessandro was wonderful! He is such a gracious, lovely host. Although he didn't speak much English, he tried his very best and we made it work no problem. He even drove us to the train station after we checked out. The apartment was beautiful, with an incredible view of Florence countryside from the terrace. The bed was comfy, the wifi worked great and the kitchen was fun to cook in. You won't regret staying here!
Erin
2017-04-05T00:00:00Z
Alessandro è un Host eccellente, vi accoglierà nel suo appartmento nuovissimo di ottime finiture, con calore e disponibilità. Comunicazione ed accoglienza eccellente. Vi consiglio proprio questo piccolo gioiello
Monia
2017-04-02T00:00:00Z
Room Type
Entire home/apt
---
Property Type
Apartment
---
Accommodates
2
---
Bedrooms
Firenze, Toscana, Italy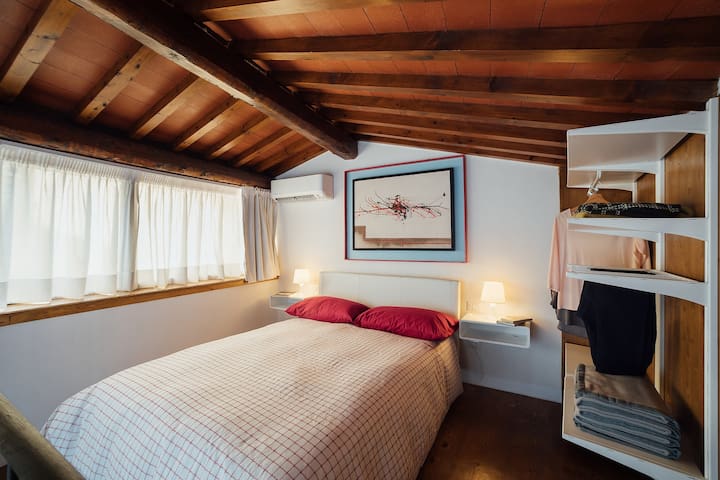 Cozy 3 br apt with finishings in local stone situated in the center of Settignano, a picturesque borgo nestled on a hillside NE of Florence. Away from the hustle and bustle of the touristic area but close enough to enjoy Florence and its surroundings
Cozy apartment overlooking a private courtyard. Recently renovated in respect of its 19th century origins, with original ceilings, floors and windows. Ideal for travelers looking for peace, quiet and comfort. The apartment is made up of a large living room with a queen-size sofa-bed, a comfortable and fully equipped kitchen, a bedroom with a king-size bed and an anti-chamber with a walk-in closet. It can accomodate up to there people. The finishing touch is the brand new modern bathroom with sensory shower. Outdoor space for alfresco breakfast and lunch. The apartment is well equipped: tv, video player, wi-fi connection, toaster, kettle, refrigerator, kitchen utensils, hair dryer, iron and books Independent heating and free parking. We do provide linen and towels.
Casa Desiderio is in Settignano, a lovely and tranquil little village north-east of Florence. The countryside is gorgeous, with meadows, olive groves and cypress trees surrounding the many historical villas along the hillside. Settignano is an ideal place to relax, study, or meditate. It is also full of art, nature and trekking itineraries, including the newly rediscovered Via Francigena trails. It is thus a perfect location from where to start your visit of the city, which is only a fifteen minutes bus ride away, but also to enjoy walks in the countryside surrounding Settignano, or in nearby Fiesole. Feel free to ask, we will be more than happy to recommend itineraries for all tastes. In Settignano you can find: a grocery store, a butcher's shop, three bars for breakfasts, light lunches and aperitifs, a highly rated wine bar, a pizzeria, a lovely and excellent restaurant, post office, ATM and pharmacy. Everything is within walking distance, the bus takes you to the city center in 20 minutes and in 10 minutes you can reach the highway that connects Florence with Siena, Pisa, Lucca, Grosseto and the Chianti.
We had a wonderful stay at Maria's house. Although we didn't speak much Italian, they were great hosts and even got a translator out so they could communicate with us. The house has everything you need, from the kitchen utensils so you can make yummy Italian meals to the bathroom where she had many towels, soap, shampoo etc. The bathroom lights are awesome, like a little disco in the shower! The house is located at the back of hers and with the buildings being quite tall, it doesn't get very much sun however we were out most of the days anyway as we were planning our wedding that we are having not too far from her place next year. The town is small and is only a minute walk from the property. It has a few nice restaurants and shops where you can get small supplies, otherwise you can catch the bus into Florence which takes 20 mins or 30 depending on time of day to go to shopping. I would advise knowing a few Italian words, this helps and they do appreciate the effort! A guy who owns Caffe Desiderio in the town (only a minute walk) is lovely and speaks English which helped us. I highly recommend staying here and thankful to Maria and her husband for being really helpful and caring hosts they even gave us welcome fruit, nuts, bread and oil which was so lovely of them. Grazie mille Maria, fino a quando la prossima volta.
Kura
2015-10-30T00:00:00Z
Maria was very welcoming and had lots of information available for local restaurants, trips and the area! Beautifully kept home in a beautiful town...What more could you ask for! We had a couple of notes to inform us of supermarket opening hours and bus routes which were really helpful in easing us into our new surroundings! A fabulous trip! Thank you Maria
sarah
2016-04-25T00:00:00Z
It is pretty good app with good location and host. Maria is very kind and helpful. We visited Florence by train and it takes less than 10 mins from train station to Maria's app by bus. And it takes 10-15 mins to Florence center by bus. The app is very beautiful and comfortable. Highly recommend you to stay there when you visit Florence.
Wonderful
2015-10-02T00:00:00Z
Good place and well connected to city with public transportation
Praveen Kumar
2015-12-31T00:00:00Z
We had a brilliant stay here. Maria was very welcoming and very kind to our little boy. Would definitely recommend!
Colette
2016-03-30T00:00:00Z
Sympathic and quiet place to stay with good bus connection to Florence and fabolous surroundings. Mariagrazia was very nice (molto gentile) and friendly, an example for Italian hospitality. We would love to come back. Kitchen was perfect to cook Florentine dish.
Andre
2015-12-13T00:00:00Z
What can I say? The apartment was excellent. Better than I expected and really well equipped with everything. Maria couldn't have been kinder or more helpful, or her husband who was a treasure. There were also things like salt and black pepper, herbs and spices and olive oil etc that saved us buying. The shower was a double one with a delightful coloured spot that Maria is really proud of. There is a lovely courtyard table and chairs, ideal for breakfasts or supper etc. It is perfectly located. Settignano is a fabulous and friendly village set in the hills just outside of Florence. Wandering along the lanes was stunningly beautiful. Restaurants, bars, grocers are all within 2 minutes walk and there is a regular bus service into San Marco which costs about one euro. One evening Maria invited us to supper at her sisters. Wow, an amazing meal on a rooftop terrace with views to Florence. A very special evening. We had a fabulous week with Maria and look forward to returning one day. I cannot recommend her more highly. Oh, and we don't speak any Italian and yet we all just muddles along. Brilliant. Kindest wishes Chistine
Christine
2016-05-27T00:00:00Z
We have enjoyed almost a week in Maria Grazias charming and comfortable apartment very much. We had an exzellent contact with her both via Email after booking, as well as personally during our stay. The apartment is clean and well equipped. It is located in an ancient house and pleasantly cool during hot days. The reception upon arrival was very affectionate and we were nicely surprised by fresh fruits and sweets which Maria Grazia prepared for us. She provided us with all the useful information (restaurants, grocery, information about fiesta della rificolona...) Our kids (2 and 3 years old) loved to play in the small yard at the front of the house as well as in the apartment where they found a lot of toys to play with. The stairs between the kitchen and the living- and sleeping rooms upstairs weren't a problem for them. There is a playground for children some 400m up the Desiderio Rd. (next to the cemetery and school), which we in fact enjoyed every day. The playground is well equipped with a spacious grassland, olive- and pine-trees inside. Settignano is a very nice small town, not overcrowded by the tourists, located up the hill over Florence. There is a convenient bus connection from there to Florence but we used our car. Driving distance to Florence is about 10-15 min. We highly recommend Maria Grazias apartment to anyone who is looking for a nice apartment in a quiet surroundings with a Tuscany charm.
Slawomir
2015-09-13T00:00:00Z
Room Type
Entire home/apt
---
Property Type
House
---
Accommodates
4
---
Bedrooms
Firenze, Toscana, Italy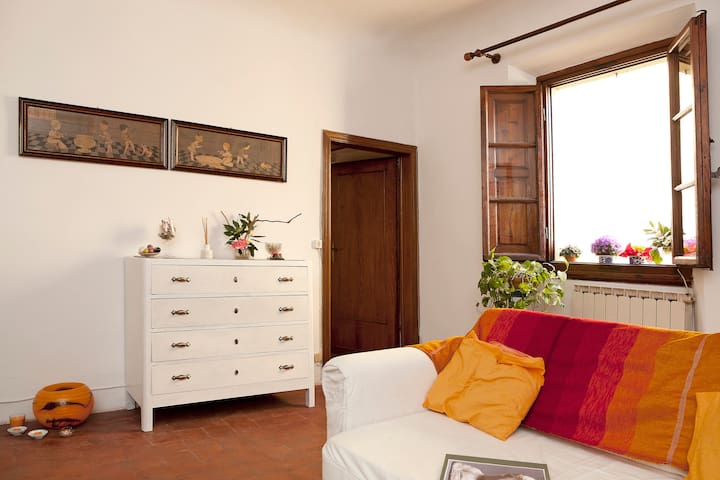 A typical Tuscan country house at 15 minuts by car from the historical city center of Florence. Perfect for group of people or family reunion until 8 people. Private Garden and Swimming pool with a stunning view of Florence.
Master apartment in a historic villa from the 15th century, in the Florentine hills that rise above the Arno valley. The villa is surrounded by large green areas with olive trees and vineyards. Good level of peace and quiet even if a road passes in the valley. Behind the villa, in a peaceful position, is an exclusive outdoor private garden (about 400 m2) that is fenced in and equipped with private swimming pool. The property has a park of 10 hectares interesting to visit especially for the ancient roman bridge recently restored. Private Parking of the Villa inside the property. ACCOMMODATION: (320 m2) Gr. fl.: large entrance, lounge (TV), dining room, kitchen/dining room with fireplace/barbecue (oven, freezer, dishwasher,microwave) with access to the private garden, private swimming pool (just for the guest of the apartment and for the owners), 3 double bedrooms each with bathroom with shower (except one bathroom with bath just outside the bedroom), 1 twin bedded room with bathroom with shower.The Villa is fully equipped with ancient fornitures. Maximum guest: 8. " Really good restaurants around the villa Other service: for those who are interested in a real italian cooking experience, it is possible to organize cooking class at home with a private chef!
Bagno a Ripoli it's a quite town at 5 minuts from Florence (basically it's the south part of Florence) with shops and restaurants. The position of the house it's perfect for visiting Florence, but also the other town such as San Gimignano, Siena, Pisa etc or take a wine tour in the Chianti Hills at 10minuts from here. I suggest to have a car. Private parking of the Villa for free available
We really enjoyed our time at Stefano's lovely villa! We traveled as 7 adults and there was plenty of private and shared space. We really enjoyed being together in the kitchen for wine and cheese! We also had a fun cooking class that Stefano arranged for us. He is a helpful and gracious host! We really loved the private yard and the pool was wonderful. We even enjoyed some fresh figs and plums from the orchard. The view of Florence from the pool is spectacular, and it provided a nice relief after a long day! We rented cars and were glad we did. The drive to Florence was not bad, but driving in Italy in general is quite different than in the US-most of the lines on the road seem to be just suggestions and the round abouts take some getting used to. The driveway to the villa is quite steep so be sure to brush up on driving a standard transmission. There is also quite a walk to the villa from the parking, not a problem if you are relatively fit but could be for someone with disabilities. Stefano was very helpful and responsive both before and during our stay.
Meredith
2015-08-26T00:00:00Z
The host canceled this reservation 443 days before arrival. This is an automated posting.
Lionel
2016-05-18T00:00:00Z
We had an excellent stay at Stefano's villa! The place was great (and the pool was even nicer than in the pictures) and Stefano was very helpful. Already before our stay he replied to all our questions very quickly and while we were there he for example fixed taxies for us when we wanted to spend an evening in Florence etc.
Anna-Maria
2016-07-05T00:00:00Z
The place is Vila very near to Florence. If you are driving this place is awesome as its large house, excellent kitchen, friendly host, ample of parking etc. There is a bus stop outside the house but we never used it. In 7 mins by car, we reached a coop store, which is great. Without doubt, I recommend the place.
Chakshu
2015-10-09T00:00:00Z
Had a wonderful time staying at Stefano's Villa. Beautiful area of the Tuscan region. A step back in time. Around 15 min from Florence. Stefano was the most gracious host, showed us around and gave us a tour of the Villas historical olive oil press and restored Roman bridge that is by the property. Our kids loved the pool after touring in the hot sun. Highly recommend if you want a full Tuscan experience.
Alisa
2015-06-24T00:00:00Z
A really beautiful place. I feel like a hero of the book by Edgar Allan Poe. fully equipped kitchen . Wonderful wood oven in the kitchen and great pool We really enjoyed 15 minutes to drive Florence, and 5 minutes to supermarket. Very friendly host. highly recommend.
Inna
2015-08-05T00:00:00Z
It is a historic villa, so you will have some problems that a 600 year old house will have. With that in mind, the home is fantastic. The ceilings are gorgeous, the rooms are authentic and beautiful. It is not your modern condo, so if you go into your stay with this understanding, then you will have the stay of your life. Stephano, is a great host and we had multiple guests that we never tripped over due to the size, and we could never get over the history of her house every time we came home. It is fifteen minutes from the heart of Florence and surrounded by grape vines and olive trees. What a fantastic stay, we will be staying again when we return.
James & Aine
2017-03-17T00:00:00Z
Stefano was an incredibly gracious and accommodating host. If you appreciate old world charm and you enjoy looking at antique collections, you will certainly enjoy staying at this villa. The pictures depict the property accurately but it is still hard to believe it's real until you see it with your own eyes. At the same time, all the comforts of home are provided. (Even a French Press for those who don't like to drink espresso.) My favorite parts of the stay were waking up to see incredible views from our bedroom window, cooking and eating dinner in the kitchen, sitting by the pool with a glass of wine in the evening, looking at the beautiful decorations, feeling as if we were part of history, feeding the turtles and the fish. Tips: If you haven't driven a standard transmission vehicle in awhile, brush up on this before you rent a car in Italy. The hill going up to the villa is quite steep. When you park your car outside Florence to visit the city center, make sure you know the rules for parking. White spaces are free parking, blue spaces are for paid parking, and yellow spaces are reserved for residents. Stefano did a great job of explaining where we could park the car. If you are prone to getting mosquito bites, don't forget to pack bug spray if you intend to enjoy the yard in the evening or to keep the windows open in the evening.
Ann
2015-06-02T00:00:00Z
Room Type
Entire home/apt
---
Property Type
Apartment
---
Accommodates
8
---
Bedrooms
Florence, Tuscany, Italy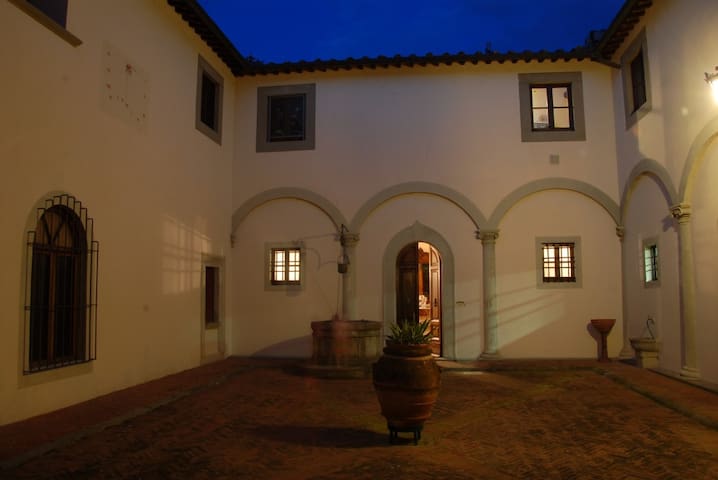 Siete i benvenuti nella nostra " La mansarda della Betty", dove ogni spazio è stato pensato per rendere confortevole e in pieno relax il vostro soggiorno.
L'appartamento ricavato in una accogliente mansarda abitabile in tutti gli ambienti; finemente arredato con particolari di design , travi in legno a vista e con parquet si trova al primo piano rialzato, composta da: ampio ingresso indipendente, appena salite le scale, si apre un open adibito a zona relax con impianto stereo completo di divano letto singolo; una camera matrimoniale con armadio e due grandi cassettiera; cucina completa di piano cottura, frigo con congelatore, forno a microonde, lavastoviglie, lavatrice, ferro da stiro,stoviglie e accessori, tavolo cristallo. A completare un divano letto a 2 posti e televisione. Il bagno con doccia e sanitari rialzati, phon completo di saponi. Gli ambienti sono interamente climatizzati, e forniti di biancheria.
A pochi passi arriviamo nella piazza principale del paese,dove potete trovare un supermercato, la farmacia, una banca, un ristorante pizzeria, l'ufficio postale, tabaccaio, bar pasticceria, macelleria, forno, estetica, parrucchieri, negozi di abbigliamento, accessori e complementi per la casa. La fermata dell'autobus per Firenze e per Fiesole ed a pochi minuti a piedi, la stazione dei treni, che in 15 minuti vi troverete alla stazione centrale SMN in pieno centro di Firenze.
Room Type
Entire home/apt
---
Property Type
Apartment
---
Accommodates
5
---
Bedrooms
Compiobbi, Toscana, Italy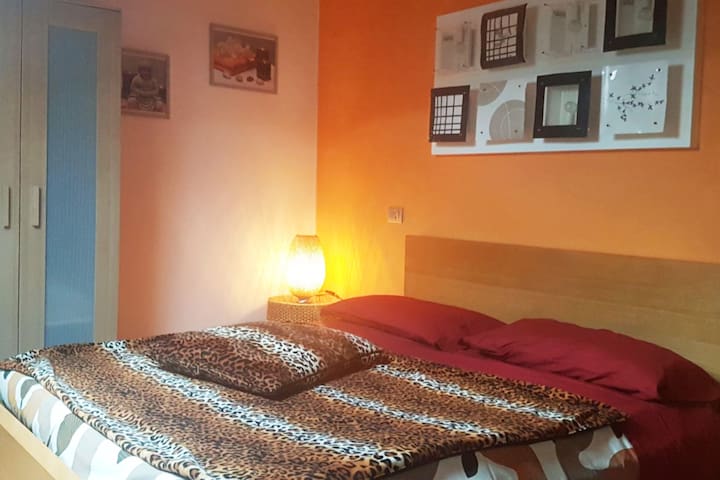 This is not just a house. It's a dream. That can become true. The opportunity to live a full immersion in the nature and silence, but so near Florence, one of the most beautiful city in the world. The house is only 20 min by car from the city centre and, at the same time, is set in the authentic peaceful Tuscan countryside. Live an unique experience: Florence so near that you can look at the Dome drinking a glass on the terrace and in 1 hour: Siena, Pisa, Lucca the Chiantishire and the beach
In a wonderful green valley with a few old houses, the house has the unique privilege to have a peaceful atmosphere, sicence, all the pleasures of living in the country and, at he same time, the priviledge to get in a short time to Florence . How you can see from photos , from the house and the terrace there is a beautiful view on the Cathedral and on the centre of Florence,one of the most dreamy and beautiful cities in the world. The house can host 4-5 people, please write forparticular accomodation, we'll try to help.
The house is in the surrounded by the tipical Tuscan country with olive trees, fields, fruit trees, vineyards and woods. It's in an historical rich territory with villas,towers, little churches and bridges from medieval times and before. If you like and have time a walk around it's a great experience we can help to do.
Isabella was the perfect host. She and her house are lovely. We planned on staying 3 nights, but extended an additional night. She is warm and friendly and made us feel right at home. The house has perfect serenity and an amazing view of Florence's Duomo.
Greg
2015-06-05T00:00:00Z
We stayed here for two nights, just me and my grandmother. We had a great time and I highly recommend it! The view was to die for. It is a short drive outside of the city, maybe 15 minutes. The drive itself was fun. If we hadn't stayed at this B&B, we wouldn't have ventured into the countryside at all. That would be a tragedy! The house is old, which is reflected accurately in the photos. If you are very picky and only stay at four and five star hotels, maybe this is not the place for you. We were not misled and for the price it was an excellent value. She did tell us that they have a lot of renovations planned in the coming months. The terrace was an amazing place to sit and watch the sunset. You can see all of Florence. While we were sitting out there, she brought us a tray of crackers with olives and capers that she had picked herself from the garden. We enjoyed sitting and chatting with her. On our final day, we were tired and didn't even want to go spend time in town before our train ride to Rome, so we just enjoyed our time at the house and took in the beautiful scenery. Isabella took us on a short walk to that beautiful bridge in the photos. It was very cool, and a lot of history! We did not have a car, but I would recommend getting one for your stay here. It wouldn't have been an issue but there was a taxi strike during our stay! Luckily, Isabella had time to give us a ride to town two mornings in exchange for some gas money. If I hadn't been traveling with my grandmother, who has a bad knee, I would've been willing to take the bus. She said the stop is a short walk from the house and that other guests had successfully navigated the bus system. Make sure to look at the map she posted, as the taxi's GPS initially took him the wrong way. I'd recommend this place to anyone, but as a side note I feel it would be suitable for a family. There is plenty of space and it is very safe for children to run around outside and explore. There are two large bedrooms and two full size bathrooms. There was also the attic room, which we did not go up to see. We only stayed two nights, and I hope life grants me the opportunity to come stay for a week! Isabella is a warm hearted, wonderful person. :)
Kelsey
2015-09-25T00:00:00Z
Everyone was right! Isabella was an amazing hostess! When she offers to meet you to lead you in, say yes. Our GPS said it knew where the house was - it didn't. It was so nice to be out of the hustle of Florence, but Isabella gave us directions to get in, where to park, travel tips and suggestions, and everything was spot on! The place is a beautiful old house in the hills, but even if it wasn't, I'd stay here again just for Isabella. She went out of her way to help us with getting our laundry and simply made our visit great!
Erika
2015-05-27T00:00:00Z
Our week with Isabella in her beautiful home was more than we could have ever asked for! She greeted us personally upon our arrival and made sure that we settled in nicely - she even went so far as to provide us with food from her own fridge to help us make a meal when we arrived. The home was beautiful and fully stocked with everything that we could need. It felt as though we were staying with family which made our vacation so much more special. Isabella helped us plan our trips and checked in with us daily to see how everything was going. She made herself available at all times and continually surprised us with sweet things like making us homemade gelato one night to making sure that the cupboards were stocked with gluten free foods for me and little treats for my husband and daughter. The house was tucked away in a quiet area which made for a pleasant retreat at the end of a long day exploring the busy city. Only a short drive from the Florence city center (10-15 minutes), it was very easy to go back and forth. We couldn't have asked for a better home to stay in during our time in Tuscany and we highly recommend staying with Isabella at "Florence with a view!"
Kathryn
2015-01-01T00:00:00Z
This was a lovely place to spend a few days. I highly recommend it because of its location. It is just close enough to the action and still far enough away from the craziness of Florence. The terrace at the house is superb and the hosts are perfect.
Martin
2016-10-10T00:00:00Z
Fabulous villa with a spectacular mountain view, the rooms are really cosy and convenient. The house itself is a beautiful place to visit, you'll feel like wandering in a wonderland when you live here.Isabelle is so friendly and considerate that prepares everything well. Both Isabelle and Macro speak Italian,English and French,so there's no difficluties in communication. You can find lots of books,magazines,boardgames inthe house so certainly you won't be bored. The villa can be a bit remote and difficult to find,but don't worry,Isabella and Macro will provide you with whatever information you need. Strongly recommended and hope to go back again!
Yunhao
2016-11-01T00:00:00Z
Our stay at "Florence with a View" completely surpassed my expectations. The home was large and rustic, and had everything you could possibly need for a pleasant stay. All of the kitchen appliances were at our disposal, and the cupboards were stocked upon our arrival. Plus, the wifi connection was strong and fast. The grounds were beautiful and expansive...fresh fruit, vegetables, and spices growing all about. The view was incredible! From the home's terrace, you can really appreciate Florence's beautiful landscape. However, Marco, without a doubt, was the best part of our entire stay. Marco's hospitality, sincerity, and graciousness really resonated with my mother and me. He was an amazing host; doing everything possible to ensure that we enjoyed not only our stay at his home, but also our time in and around Florence. Marco did everything from assisting me with the car rental, to helping plan day trips outside of Florence, to teaching us how to pick the best figs from the garden, to cooking dinner for us! Not to mention the dozens of phone calls he took to answer all of my random questions. He was really amazing and beyond patient! I received much better service than I would have in any 5 star hotel. Marco's knowledge and love of his city is quite evident; as well as his love of people. Staying at Marco's lovely home was definitely the best way to experience Florence.
Sable
2014-09-10T00:00:00Z
THIS is the genuine thing! An absolute fabulous old farmhouse in Tuscany. What a lovely setting amongst the olive groves, with a beautiful view of Florence in the distance. We had a great dinner on the porch during sunset, capped of by some home made ice-cream offered by Isabela. Isabela was friendly, helpful, cheerful and energetic. She walked up the road to meet us and had great ideas for our limited time in the area. Downtown Florence is only a 15 minutes drive away, and we had no problems with parking. Most of the sites we wanted to see were within walking distance of our car. This was an excellent choice and can be recommended if you are looking for a rural setting with easy access to the city. Clean, quiet, comfortable and close to shopping /grocery store. Highly recommended.
Marius
2015-05-15T00:00:00Z
Room Type
Entire home/apt
---
Property Type
House
---
Accommodates
8
---
Bedrooms
Florence, Tuscany, Italy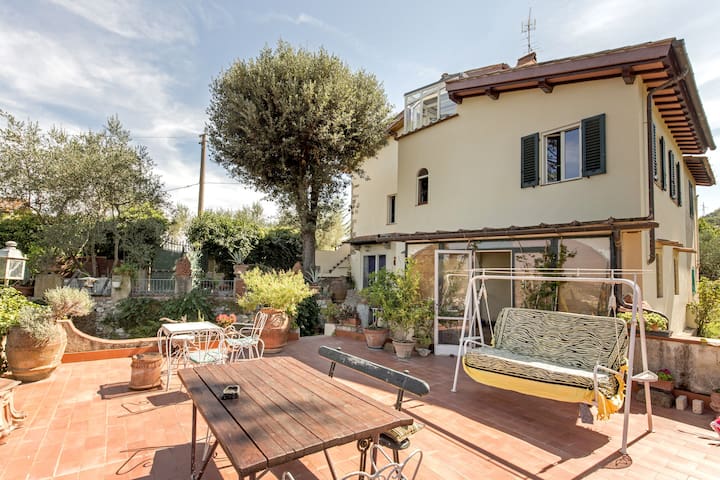 We will be pleased to welcome you in our two apartments, made out of a recently restored old barn, located in a large farmstead dating back to 1600.
The first apartment is on the ground floor and it is called "La Scuderia". Its windows open on the courtyard and the scented garden of the homestead. It consists of a kitchen with dinette, sitting room, bathroom with bath tub and double room, for a total number of 5 beds.
In addition, a supermarket is just a few minutes walk, in the main square of the village, where you will also find a bank, bus stop, post office, baker's, butcher's, tobacconist's, coffee bar, pizzeria, hair dresser's, clothes and accessories shops.
Beautiful surrounding, easy to reach by car and near a supermarket though still in a calm and quiet place. Eugenio was very helpful and polite and the apartment had everything to make our stay comfortable.
Donna
2016-06-13T00:00:00Z
Eugenio's house is very nice and located in a quiet and peaceful town near Florence. It's a wonderful place to stay if you don't want all the hassle and noise in the city. Eugenio and Claudia were very helpful and made my fiancee and I feel very welcome. I'd stay here if I'm visiting Florence again!
Jilong
2016-05-21T00:00:00Z
We stayed at Eugenio's place for a week. The stay was everything we hoped for and more! The description was accurate. Communication was excellent. Location was perfect. The property was so relaxing and quiet yet so close to Florence. Eugenio was away so we didn't get to meet but Alessandra was so helpful and generous with her time. Thank you and we will be back!!
Sheena
2016-09-12T00:00:00Z
Eugenio & Claudia were fantastic hosts, made sure our stay was everything we wanted and they even took the time to show us around the neighbourhood. The house was spacious and rustic. I highly recommend this place as a good base to see Tuscany & Florence. Country living but close to the city. Thanks Eugenio & Claudia.
Vince
2016-08-28T00:00:00Z
Great little get away stay! Lots of space, great little rental! Clean, owners are friendly and helpful! Up in the hills a car would be of help if you are staying here.
jason
2016-09-28T00:00:00Z
Best accommodation possible. Eugenio and Claudia are the greatest hoster's you can imagine, lots of historic information, amazing location inside a beautiful and really kids/pets safe place to relax and enjoy your short or why not a long stay like we did. Place is absolutely lovely and surrounded for the very truly toscana flavor. Super close to train station, local market, tobacco shop and the best pastry shop in town. 110% recommended for a very fair rate.
Paolo
2016-04-01T00:00:00Z
We spent two weeks at Eugenio´s place and we loved it so much that we basically spent the majority time there - relaxing in the nice garden (I loved the swing with the view), at the swimming pool etc. Our friends joined us for the last five days of our stay so we had even more fun. Compiobbi is near Florence (once we used the car and the second time the train which was more effective). In the village there is a COOP minimarket and few shops. Eugenio and Claudia were very nice, polite and helpful. They have a lot of local tips (what to do, see etc.) so don´t hesitate and ask them. Overall it was a really nice experience and we would like to return back :-)!
Katerina
2016-06-30T00:00:00Z
Bon séjour hôte sympa et qui parle bien le français La maison est charmante et placé dans un cadre agréable
Eva
2016-09-19T00:00:00Z
Room Type
Entire home/apt
---
Property Type
Apartment
---
Accommodates
3
---
Bedrooms
Compiobbi, Toscana, Italy
Municipality of Bagno a Ripoli. Location Candeli. Independent apartment, inside a property on the hillside, with a panoramic view of Florence. Quiet and equipped with air conditioning with the possibility of private parking. Double bed. Sofa bed. Available cot. Full kitchen and bathroom. View of Florence and the countryside.
Municipality of Bagno a Ripoli. Candeli. self contained apartment, inside a property on the hillside, with a panoramic view of Florence. Silent with the possibility of private parking. Double bed. Sofa bed. full kitchen and bathroom. View of Florence and the countryside. Municipality of Bagno a Ripoli. Candeli. self contained apartment, inside a property on the hillside, with a panoramic view of Florence. Silent with the possibility of private parking. Double bed. Sofa bed. full kitchen and bathroom. View of Florence and the countryside. BBQ, Gazebo and Free Wi-Fi My family lives in the same property. The apartment has all kinds of services, including free wi-fi. With fitted kitchen, dishwasher, washing machine and linen. BBQ, Gazebo and Free Wi-Fi My family lives in the same property. The apartment has all kinds of services, including free wi-fi. With fitted kitchen, dishwasher, washing machine and linen.
The apartment has all kinds of services, including free wi-fi. With custom kitchen, dishwasher, washing machine, iron, hair dryer, linen change. There is a cot
Daniela and her family have been very good hosts during our stay in Florence. Communication upfront was quick, perfect and warmly. The house is close to Florence in a wonderful area in the mountains. The flat is embedded in the families house with enough privacy to enjoy vacation. It offered everything we needed for our five days stay with our two years old child. We would defenitely recommend the accommodation to friends.
Markus
2016-05-23T00:00:00Z
Daniela's place was very nice. It is tricky to find if you don't have navigation or a car (we had both - and it wasn't quite intuitive). Id advise to align on a time before hand for check in - she wasn't available until 7pm on the day of our arrival so we had to show up twice. Other than that, easy enough place to use when visiting Florence and nearby small towns in Tuscany.
Brennan
2015-05-20T00:00:00Z
Daniela's place is really nice, close to Firenze, well supplied, clean and cosy. We recommend!
amit
2015-10-13T00:00:00Z
Even though we arrived much later than anticipated Daniela and Eugenio were most understanding and welcoming. The apartment was spotless and fully equipped. Beautiful location 15 minutes away from Forenze. We look forward to meeting them again. Thank you kindly, Susana & Dominique
Andreas
2015-07-08T00:00:00Z
A beautiful place to stay and explore Firenze! Daniela and her husband were very friendly and helpful hosts. They even came for us to escort us to their house when we got lost (despite Daniela's perfect directions - shame on the co-pilot ;-)...). The apartment was very clean and had everything we needed. Their garden is just beautiful and there is a wonderful gazebo to sit and relax over a cup of tea or a glass of wine. But the best thing is that it takes only 10-15 minutes and you are in the centre of one of the most interesting cities in Italy!
Christian
2015-07-25T00:00:00Z
We enjoyed our stay at Daniela and her family's beautiful place on the hills close to Florence! When we couldn't find it in the dark her husband picked us up and led us all the way to their home. We had a pleasant breakfast in the gazebo with their home-grown cherries. Now that we know how to find it we'd definitely stay again! :)
Yu Jin
2015-06-06T00:00:00Z
Daniela and Eugenio have a very big and beautiful house. They have a separate unit for airbnb rental on the lower level which is perfect for a small family. Their family along with the kids were extremely welcoming. We got to the apartment at an odd hour when both of them were busy but they were very kind to make arrangements for us to pick up the keys. They had also set up a small breakfast area for us in their garden which was really sweet of them. The unit was stocked with the breakfast and all essentials. The next morning Eugenio spent a good amount of time with us, helping us plan our adventures for the next day. He gave us some very good recommendations for shopping and wine tasting. In fact he also gave us a very nice bottle of Rose as a gift. We would definitely like to visit them again!
Deepanker
2015-09-29T00:00:00Z
My family and I spent a month at this lovely place. Daniela and her family were very welcoming. The place is spotless, better then in description. We highly recommend it.
Denise
2017-04-08T00:00:00Z
Room Type
Entire home/apt
---
Property Type
House
---
Accommodates
3
---
Bedrooms
Bagno A Ripoli, Tuscany, Italy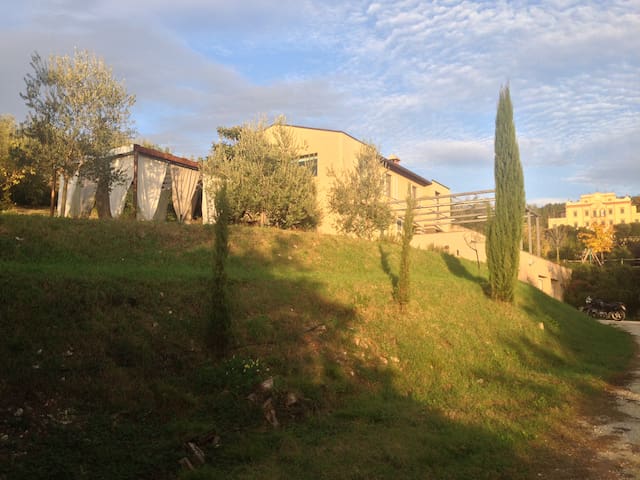 Our small stone country house is located on the hills 15 mins (by car) away from Florence city center. The house is part of an old stone village built around a tower from the 10th century. As visible from the pictures, the Florence dome is visible from the garden ! Being ourselves a familiy, the house is completely child-proof...
Room Type
Entire home/apt
---
Property Type
House
---
Accommodates
4
---
Bedrooms
Candeli, Toscana, Italy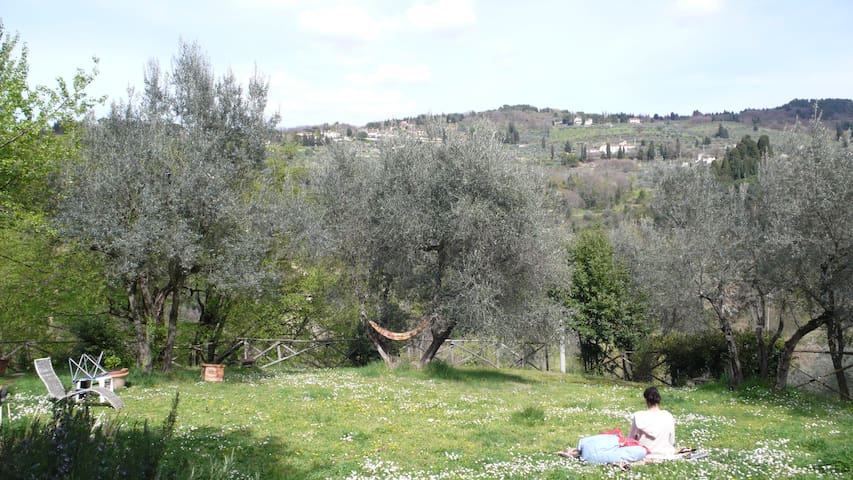 Appartamento è situato tra gli ulivi delle colline intorno a Firenze a Bagno a Ripoli , a soli 10 minuti di auto da Ponte Vecchio e tutti i principali monumenti del centro della città . offre una vacanza indimenticabile e di relax
... situato tra gli ulivi delle colline intorno a Firenze a Bagno a Ripoli , a soli 10 minuti di auto da Ponte Vecchio e tutti i principali monumenti del centro della città . offre una vacanza indimenticabile e assolutamente rilassante per gli ospiti che vogliono trascorrere una vacanza dedicata alle arti , escursioni , natura e sport troveranno vicino a casa un maneggio , un campo da golf e vari campi da tennis e anche molto vicino al appartamento gli amanti delle passeggiate all'aria aperta troveranno il bosco di Vernalese. L'appartamento è finemente arredato e illuminato in un tipico stile rustico la camera da letto matrimoniale è accogliente e calda! In primavera e in estate si può godere di un po' di relax nel grande giardino.
A Bagno a Ripoli troverete tutti i servizi di cui avete bisogno: farmacia, forno, supermercato, ufficio postale, banche e un buon ristorante pizzeria. Un servizio di autobus frequente collega il centro abitato con il centro di Firenze in soli 20 minuti.
La mamma di Beatrice è una Host davvero ospitale, ci ha fatto sentire a nostro agio ed è stata molto attenta nei nostri confronti. Arrivare con la propria macchina sicuramente è più comodo per raggiungere le vicinanze del centro storico.
Carmen
2017-01-01T00:00:00Z
Room Type
Private room
---
Property Type
Apartment
---
Accommodates
2
---
Bedrooms
Bagno a Ripoli, Tuscany, Italy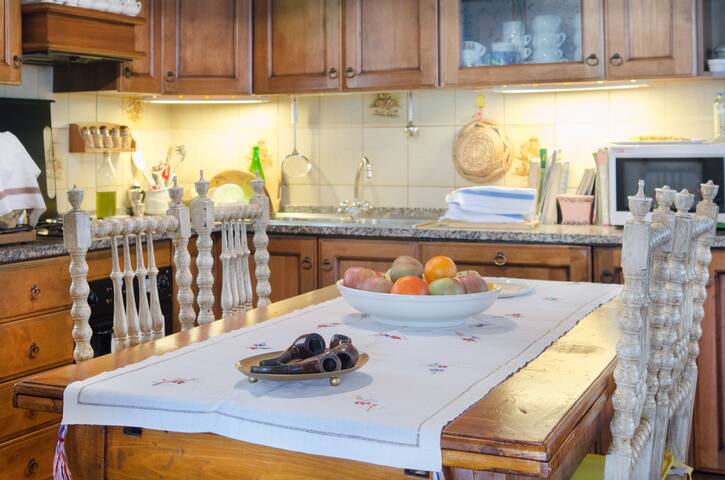 Vallina - Airbnb
:
Average

4.7

out of

5

stars from

556

guest reviews