Conveniently located right in the centre of the traditional Andalusian town of Villanueva de la Concepcion at the foot of El Torcal national park, this 3 bed apartment enjoys a large courtyard with garden and swimming pool. Just opposite is the supermarket and the bars and restaurants are all within walking distance.
Room Type
Entire home/flat
---
Property Type
Apartment
---
Accommodates
5
---
Bedrooms
Villanueva de la Concepción, Andalucía, Spain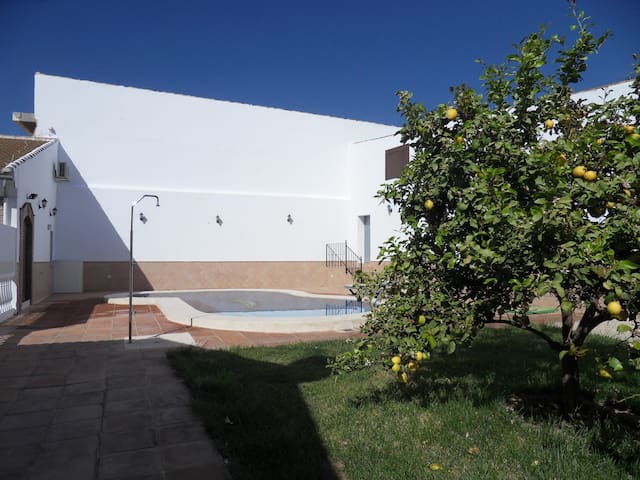 Estudio de reciente construcción con salón con cocina integrada, completa, frigorífico, microondas y utensilios de cocina, baño completo y sofá-cama. Aire Acondicionado con bomba de calor. Muy luminoso y ventilado con amplios ventanales y terraza com
Great Host. We went to the well described adress and there was Even someone waiting for us on the sidewalk, to lead us the way. The room was very clean and there was nothing we missed. A supermarket right across the street and the wifi password was sent to me. I d Come back anytime.
Marvin
2016-04-18T00:00:00Z
The host canceled this reservation 4 days before arrival. This is an automated posting.
Sergio
2016-10-25T00:00:00Z
Logement propre, communication très bonne avec Miguel. Nous sommes arrivés tard et son amie étais là pour nous réceptionner. Je recommende.
auriane
2017-01-10T00:00:00Z
Room Type
Entire home/apt
---
Property Type
Apartment
---
Accommodates
2
---
Bedrooms
Villanueva de la Concepción, Andalucía, Spain
Apartamento Buena Vista is one of a small exclusive block of nine luxury apartments, ideally situated on the edge of the village with magnificent views of the surrounding hills and mountain scenery, and with views of the Costa Del Sol in the distance. Within a short walking distance there are bars, restaurants, supermarkets, shops and the other facilities to be found in the village. It sleeps up to 6 persons, has internet access, and 3 terraces. It is an excellent base for visiting Andalucia.
The living room/dining area is furnished to a high standard, and has sofas and an armchair, dining furniture. table lamps, original paintings, ornaments, satellite TV, a hi-fi system, and air-conditioning/heating. UK IPTV is available as an extra. There is an adjoining terrace with chairs and a table, with stunning views of the countryside and village. The main bedroom is complete with double wardrobe, bedside cabinets, table lamps, original paintings, and with patio doors opening onto an adjoining circular terrace. There are two twin bedrooms with built in double wardrobes, bedside tables and table lampsThese rooms are wonderfully light and airy: one has patio doors and the other a full length picture window. The master bedroom and one of the twin-bedded rooms have air-conditioning/heating. There is an inner patio with a garden: a delightful area in which to relax and enjoy the plants. The paintings in the lounge, dining area, hall and bedrooms are Nalini Cook's original works. From the master bedroom patio doors open onto a curved terrace with excellent panoramic views across to El Torcal and the surrounding hills and mountains, and there is a larger terrace with access from the lounge with similar views. The kitchen is fully fitted and equipped with gas hob and electric fan oven. The inner patio is a secluded outdoor area, a lovely place to enjoy the plants and flowers all the year round in the small thriving garden. The bathroom has a full sized bath with shower, vanity unit, toilet and bidet. El Torcal National Park, with its unique natural limestone sculptures and various walking routes, lies above the village and is 15 minutes away by car. Beyond El Torcal the beautiful historic town of Antequera with its many ancient churches, distinctive architecture and prehistoric caves is a 25 minute car journey from Villanueva. El Chorro Gorge, Cordoba, the White Towns, Seville, Granada and Gibraltar are day trips by car. Malaga and Malaga Airport are approximately 45 minutes by car and the drive to Costa Del Sol resorts takes about one hour. The village of Villanueva De La Concepción is a lovely, friendly, safe place where guests may enjoy the lively, festive traditions of a typically vibrant Andalucian village. Within short walking distances there are traditional bars, restaurants, supermarkets, shops and other facilities, such as the municipal swimming pool, a large pool in grass lawn surroundings with its open air bar with views towards the Torcal. There is another wonderful pool in the mountains about 15 minutes away by car. Villanueva De La Concepción: the view of an ex-pat, who stayed at the apartment:- "Why Villanueva De La Concepción? I've stepped back in time to when dad was a lad:- I can't smell the Hovis baking, but I think I know nearly everyone. I can park almost anywhere I like, and leave it unlocked… A good friend hasn't locked his front door for the last 10 years, and now can't find his key… I went in a shop once, and Nicolas, the owner, chased me up the street, as I'd left the Serrano ham on the counter. I have owed the man in the Moto shop 10 Euros since last year… Visitors keep coming back to check us out. My daughter-in-law, and several others, keep in touch with what's going on in "Concepcion" through Face Book. Last week we had our feria: it started with rock night and free beer in the bottom square. I got caught up in a parade: children wearing satirical papier-mache heads: I recognised the mayor among other local celebrities. Friday night saw the local flamenco classes performing, followed by an exceptional performance by a professional troupe. Earlier in the day the Ruta De Tapas: 13 bars and 13 tapas… As a student in the 60's we did the King Street Run, which was a pint in all 8 pubs, and a commemorative tie for those who completed the Run. There were two bull fights: the real and the silly: the latter when our local frustrated toreadors dress up and "fight" little bulls; other local heroes rush into the arena, as stretcher bearers, or as priests to deliver the last rites… In the winter our mayor laid on rock bands, live music, in our bars… What else? There are several great places to eat and drink, including Rincon De La Villa and Bar Torfa. Our local mountain, El Torcal, is from another planet with its limestone sculptures. Antequera, our nearest big town, the safest place in Andalucia, is a heritage centre, that hosts a free Blues Festival in July: late night atmospheric blues music high above the town in Plaza Santa Maria. Our nearest city, Malaga, has it all: the Picasso Museum, excellent restaurants, tapas bars, fishing villages nearby."
Villanueva De La Concepcion is an unpretentious Andalucian pueblo with excellent facilities for visitors; situated close to El Torcal with its unique limestone sculptures.
Room Type
Entire home/apt
---
Property Type
Apartment
---
Accommodates
6
---
Bedrooms
Villanueva de la Concepción, Andalucía, Spain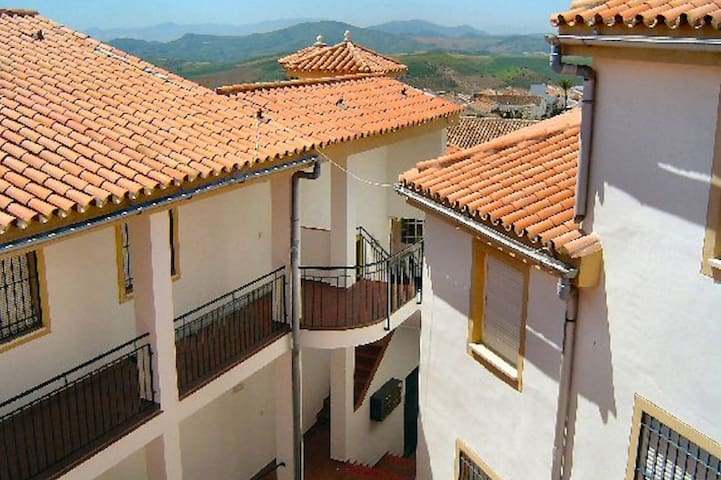 Estudio de reciente construcción con salón con cocina integrada, completa, frigorífico, microondas y utensilios de cocina, baño completo y cama doble. Aire Acondicionado con bomba de calor. Muy luminoso y ventilado con amplios ventanales y terraza compartida en la azotea con extraordinarias vistas al Torcal y a Málaga capital. Situado en la travesía del pueblo, con todo tipo de servicios muy cerca, en zona de bares de tapas y restaurantes donde podrá disfrutar de la comida típica andaluza.
The host canceled this reservation 17 days before arrival. This is an automated posting.
Gonzalo
2017-03-29T00:00:00Z
Room Type
Entire home/flat
---
Property Type
Apartment
---
Accommodates
4
---
Bedrooms
Villanueva de la Concepción, Andalucía, Spain
This lovely apartment at the foot of El Torcal national park has exceptional views over Andalusia towards the coast. Conveniently located in the heart of the white town of Villanueva de la Concepcion, you can take a stroll out for breakfast, lunch or dinner. Cordoba, Sevilla and Granada are all within a day-trip from the apartment.
The location offers some of the most stunning scenery and is a perfect place for nature lovers, walkers, mountain biking, or for driving to key places in Andalusia. Villanueva de la Concpecion is located at the foot of the national park of El Torcal, where you can walk through the limestone landscape. The Caminito del Rey walk is just over an hour away. The ski slopes of Sierra Nevada are only 1.5 hours away, and the cities of Cordoba, Seville and Granada all within 2 hours drive. The historic city of Antequera is 30 minutes. This property is only 35 minutes from Malaga airport and the beach. Enjoy the best of rural Spain, yet just a step away from the coast.
Poder quedarnos en el piso de Donald ha sido una experiencia inolvidable. Las vistas de la terraza más el típico pueblo andaluz nos ha gustado mucho. El piso está muy limpio, amplio y cómodo. Y el anfitrión nos hizo sentir muy a gusto. Lo recomiendo a todos que quieren conocer Andalucía por dentro. La estancia ha cumplido todas nuestras expectativas
Ola
2015-05-25T00:00:00Z
Room Type
Entire home/apt
---
Property Type
Apartment
---
Accommodates
6
---
Bedrooms
Villanueva de la Concepción, Andalucía, Spain
El apartamento está situado en el centro de Antequera. Se puede visitar caminando desde la zona comercial hasta el casco antiguo y todos sus monumentos. Antequera cuenta con una amplia oferta cultural con monumentos Patrimonio de la Humanidad como los Dólmenes, el Torcal o la Peña de los Enamorados. El apartamento está totalmente equipado siendo apto tanto para familias con niños o bebés como para parejas y amigos. Es el lugar perfecto para conocer Antequera y escapar de la rutina.
El apartamento cuenta con un luminoso salón-comedor. La cocina y el baño están completamente equipados con tostadora, cafetera, microondas, vitrocerámica, calentador eléctrico, lavadora, vajilla, cubertería, toallas de baño, secador... Hay una habitación doble con cama de matrimonio y colchón de viscoelástica y otra habitación con una litera donde los niños se lo pasarán genial. La terraza es amplia, preparada para disfrutar del buen clima.
La zona cuenta con panadería-cafetería a diez metros, numerosos bares de tapeo y restaurantes y farmacia. A pesar de ser una zona céntrica, el barrio es tranquilo y poco ruidoso.
Very nice apartment in a great location. One minor concern : parking is not easy immediately next to the apartment.
Vanessa
2016-11-14T00:00:00Z
Very warm welcome, great apartment with everything you need, very good location.
Algirdas
2016-09-11T00:00:00Z
Everything perfect. The hosts where very helpful giving all the hints to find everything we need. The apartment is comfortable and clean.
David
2017-02-10T00:00:00Z
We were met as arranged by Irene , Paqui's daughter, the apartment was spotlessly clean, had everything we needed for our brief 3 nights, a really great location in the town centre just around the corner from good bars and cafes. We particularly loved to sit out on the verandah with the view of the church and the swifts and martins swooping around. Highly recommended.
Heather
2017-04-02T00:00:00Z
Perfect location in the middle of the center with a lovely view from the spacious terrace. The flat is well equipped, modern and really beautiful. The communication was very easy and the check in at midnight no issue. Paqui´s daughter welcomed us in a very friendly and helpful manner. A great home to explore pretty Antequera.
Judith
2017-03-28T00:00:00Z
Not only is Paqui a fantastic host, but the apartment is a treasure in a treasure-laden city. The location is perfect for visiting the wonderful monuments, and for excellent dining and tapas very close by. The bed and living room are comfortable and warm, and the kitchen has just what we needed for our early rising coffee as well as a great fridge for snacks. Train and taxis are an easy walk, and the Dolmens are easy to reach as well. The "attic" apt is just right for up to 4 people, lovely new bathroom with strong shower pressure, and all super clean! Balcony in back is quiet and secluded. We loved Paqui's place!
Joseph and Catherine
2017-03-09T00:00:00Z
We had a super stay. The person who met us and showed us to the apartment was very helpful. The apartment was very clean. The location was great - very central.
Sue
2016-10-19T00:00:00Z
We enjoyed our stay in Antequera. Hosts were easy to communicate with and accommodating. The apartment is comfortable and in a central location. Kids liked the bunk bed.
Anna
2017-03-14T00:00:00Z
Room Type
Entire home/apt
---
Property Type
Apartment
---
Accommodates
4
---
Bedrooms
Antequera, Andalucía, Spain
Estudio de reciente construcción con salón con cocina integrada, completa, frigorífico, microondas y utensilios de cocina, baño completo y cama doble. Aire Acondicionado con bomba de calor. Muy luminoso y ventilado con amplios ventanales y terraza compartida en la azotea con extraordinarias vistas al Torcal y a Málaga capital. Situado en la travesía del pueblo, con todo tipo de servicios muy cerca, en zona de bares de tapas y restaurantes donde podrá disfrutar de la comida típica andaluza.
Room Type
Entire home/flat
---
Property Type
Apartment
---
Accommodates
4
---
Bedrooms
Villanueva de la Concepción, Andalucía, Spain
Apartamento en el centro de Antequera y reciente restauración, donde se ha cuidado con mimo la decoración y acabados del mismo. A 5 minutos de cualquier punto de interés turístico, te permitirá visitar la ciudad con garantía, comodidad y bienestar...
Situado en Pleno Centro
This was our first and only bad experience with Airbnb. The wifi didn't work and the dishwasher did not exist. Parking is any available public spot on the streets. There is no designated parking place. Breakfast is a package of 4 rolls. The hot water in the shower was inconsistent. We informed the owner by text, phone call and emailed from a nearby cafe but we never saw him. So we had no other option but to leave. Therefore I would not recommend this place unless you are sure it has the amenities you need. On a positive note it was clean and pretty.
Nina
2017-03-15T00:00:00Z
Lovely spacious apartment. Very clean and comfortable. We went to el torcal park and el Chorro which are both within an hour drive. Apartment is central for seeing Antequera town. Would recommend!
Lucy
2017-03-25T00:00:00Z
The communication with the host was perfect since the beginning. We just booked the day before, and they did everything in their power to make our arrival hassle free. The house is top notch, it has just been refurbished and everything is brand new. Very spacious living room, and very comfortable mattress in the main room. If I come back to Antequera, I will not hesitate and stay again in Migui´s house.
Jose
2016-10-09T00:00:00Z
Spacious, central, quiet. Perfect for two couples.
Garey
2017-02-16T00:00:00Z
Great place for exploring Antequera by foot. The kitchen had everything I needed and Migui was very responsive.
Chase
2016-10-27T00:00:00Z
The location and the condition of the apartment is great - it is even much better than in photos. Really large place for 4 persons. Nice!!!
Janis
2016-10-16T00:00:00Z
Es un apartamento 100% recomendable. Estuvimos muy a gusto y Fran fue súper amable. No dudaremos en repetir. Por ponerle alguna pega decir que al no tener calefacción y ser grande las estufas no calentaban demasiado. Nada que no soluciones una manta y un té.
Ana
2016-11-27T00:00:00Z
La casa muy nueva. Decoración atractiva. Excelente ubicación. Como en casa.
tomás
2016-11-01T00:00:00Z
Room Type
Entire home/apt
---
Property Type
Apartment
---
Accommodates
4
---
Bedrooms
Antequera, Andalucía, Spain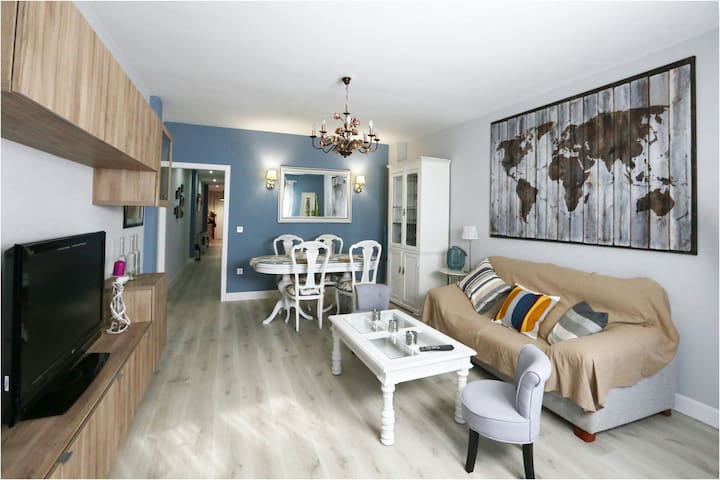 Apartamento confortable situado Casco Antiguo-Centro de Antequera con posibilidad plaza de garaje, tres dormitorios, dos cuartos de baño, salón-comedor con aire acondicionado, cocina totalmente equipada, patio con decoración andaluza, wifi gratis, calefacción en todas habitaciones. Situado en la ciudad declarada Patrimonio de la Humanidad por los Dolmenes de Menga, Viera y Romeral, el Paraje Natural del Torcal a 15 minutos del Apartamento, y a 40 km del famoso "Caminito del Rey".
El Apartamento Cuesta San Judas. Es muy amplio y luminoso. con una patio andaluz donde podrán disfrutar de un desayuno confortable o de una lectura placentera. Con plaza de garaje opcional precio 8€ adicionales por día de hospedaje.
Es una zona muy tranquila, ubicado a 5 minutos de los principales monumentos antequeranos y de la zona de comercio.
Everything was fine! There i only a Problem with a parking place, but finally we have found one!
Thomas
2016-11-09T00:00:00Z
The apartment was both comfortable and very clean. It was in an excellent position being literally accessible to the town Centre in one minute. Maria was an excellent host being friendly, accessible without being intrusive and very generous in terms of supplying Christmas treats - thank you. The kitchen was well equipped, although we did spend a lot of time in the excellent bars and restaurants which were close at hand.
Roni
2017-01-14T00:00:00Z
El apartamento de está en el centro pero es silencioso y tranquilo. Es limpio, cómodo y todo está nuevo. María fue una anfitriona excelente que estuvo muy pendiente de mi y de que me sintiera agusto en su casa. Me dio información sobre Antequera y me facilitó mucho la estancia. Me hubiera gustado pasar más días y si vuelvo no dudaré en repetir. Apartamento y anfitriona altamente recomendables.
Laura
2016-10-23T00:00:00Z
La casa de Maria es muy acogedora, pleno centro y muy limpia. buena comunicación y amable. Gracias
Javier
2016-11-13T00:00:00Z
Logement très bien équipé et très propre, localité centrale. Attention la place de parking est optionnelle et non comprise dans le règlement Airbnb. Séjour agréable, j'ai simplement regretté l'absence de chauffage avant notre arrivée car l'appartement était très froid et à mis plusieurs heures à se réchauffer.
laure
2017-02-03T00:00:00Z
La casa está muy bien equipada y tiene un situación inmejorable
LUIS
2017-02-26T00:00:00Z
Maria,ha sido una estupenda anfitriona siempre en contacto con nosotros,aportando información del lugar. El alojamiento,encantador,confortable sin faltar ningún detalle y principalmente,todo muy limpio. Está en una estupenda,ubicación. Muy agradecida ,por todo..y encanta en volver...Gracias
Loli
2017-02-19T00:00:00Z
Todo perfecto, salió todo según lo acordado.
Héctor
2017-02-25T00:00:00Z
Room Type
Entire home/apt
---
Property Type
Apartment
---
Accommodates
6
---
Bedrooms
Antequera, Andalucía, Spain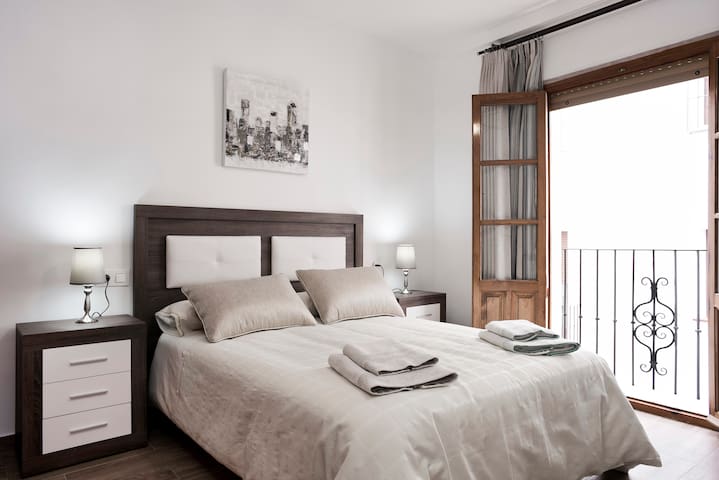 Casa Andaluz is the perfect starting point to start exploring the splendours of the real Andalucia. Antequera is a beautful and typically Andalucian town. The apartment has been decorated with style and has a private terrace with fantastic views of the castle and the surrounding mountains. The apartment offers two twin bedrooms, a lounge, large kitchen, bathroom, and sun terrace. A very comfortable place that will immediately make you feel at home. Free food/drink welcome pack upon arrival!
Let's start with the terrace, because that's the main feature of the apartment! The terrace has stunning views of the surrounding hills as well that the medieval Moorish castle. There is outside furniture (tables, sofa, chairs, parasol, sunbeds...) with enough room for four persons to dine 'al fresco'. The lounge is very peaceful and comfortable, and has two sofas, a fireplace, a big smart TV, and guests can use the owner's Netflix! There are two double bedrooms with ample storage. There is a bathroom with a bath/shower, toilet, bidet and wash basin. Soaps, shampoos and shower gels are included for your use. There is a large, very well-equipped kitchen, with a dining table, 4 chairs, gas cooker, a large hot plate (plancha), electric wok, microwave, kettle, toaster, fridge with a small icebox, washing machine.
Casa Andaluz is situated in Antequera's monumental zone. There are two bars close-by (just a 2-minute walk). We can recommend the Socorrilla bar, which has a beautiful terrace with splendid views.
Room Type
Entire home/apt
---
Property Type
Apartment
---
Accommodates
4
---
Bedrooms
Antequera, Andalucía, Spain
Estudio de reciente construcción con salón con cocina integrada, completa, frigorífico, microondas y utensilios de cocina, baño completo y cama doble. Aire Acondicionado con bomba de calor. Muy luminoso y ventilado con amplios ventanales y terraza compartida en la azotea con extraordinarias vistas al Torcal y a Málaga capital. Situado en la travesía del pueblo, con todo tipo de servicios muy cerca, en zona de bares de tapas y restaurantes donde podrá disfrutar de la comida típica andaluza.
We arrived later, because we had a long way to go, but I wrote about it, when we came, the mobile was not available, we can't find by ourself the right address, people in the city helped us, after one hour we took the key, in the apartment was smelt bad and we even didn't have one more bed linen
Varvara
2016-08-13T00:00:00Z
Room Type
Entire home/apt
---
Property Type
Apartment
---
Accommodates
3
---
Bedrooms
Villanueva de la Concepción, Andalucía, Spain
New refurbished apartment in the city center, modern, quiet and confortable. The apartment includes a private parking for one car. You can visit the city walking from the apartment. Don´t forget to visit Los Dolmenes, El Torcal, the arabic castle and the many beautiful churches.
Vivienda recién reformada, muy cómoda con amplia cocina, zona de lavadero y patio. El piso está en una primera planta de una calle peatonal. Salón comedor con aire acondicionado muy iluminado que da paso a los dos dormitorios (amplios con armarios) y el baño (con armario). En total con el patio son 80 metros cuadrados
Zona centrica, cercana al mercado de abastos de la ciudad
Very central location in interesting town (lots of history). Private parking. Lovely and clean.
Roger
2017-01-15T00:00:00Z
Comfortable apartment, convenient location in centre of Antequera, which is an interesting nice town. Well equipped, clean, light, good size, apartment in quiet side street. Handy secure car parking. Friendly hosts.
Jo
2016-09-14T00:00:00Z
A
Pablo
2017-01-07T00:00:00Z
Brilliant place to stay, amazing location, very central and super quiet. The courtyard is lovely for breskfast or afternoon beer and everything is fresh and clean. I think it's been very recently refurbished. Comfy beds, plenty of towels and air-conditioning useful but not really needed surprisingly (it was roasting out) Carolina was a perfect host meeting us on arrival and showing us around the place. We ate and drank in all her suggestions which were amazing. Lovely peaceful break Thank you so much
James
2016-07-28T00:00:00Z
Carolina hay recebido nosotros con muy atencion y el apto es exatamente como descrito en la publicacion de Airbnb. Ademas, muy bien ubicado en la region central de Antequera. Nosotros lo recomendamos.
Marcos
2016-11-15T00:00:00Z
El piso está estupendo: céntrico, limpio , con parking y bien equipado. La propietaria, Carolina, fue muy amable y vino a recibirnos a las 23h, cuando llegamos. Muy recomendable. Si volvemos a Antequera, esta sería sin duda nuestra opción preferida.
Laura
2016-10-23T00:00:00Z
Gracias por todo Carolina. Nos ha encantado la estancia en Antequera.
ALICIA
2016-12-29T00:00:00Z
Todo correcto, muy centrico.
Facundo
2016-08-31T00:00:00Z
Room Type
Entire home/apt
---
Property Type
Apartment
---
Accommodates
6
---
Bedrooms
Antequera, Andalucía, Spain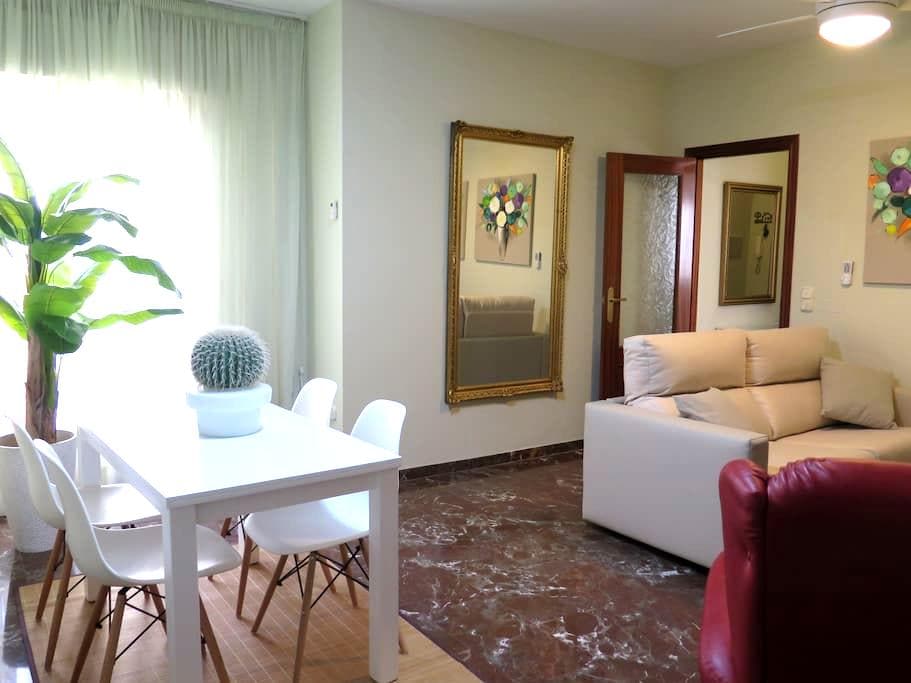 Complete with private pool, air conditioned, convenient for walking, climbing, visiting historic sites and beautiful views CTC-(PHONE NUMBER HIDDEN) Tourism Registration number
We had a great time in Ann and Mike 's flat. The swimming pool was fantastic and the surrounding countryside very beautiful. It is quite isolated but there are many places to visit. Mike and Ann were very helpful and friendly.
Amanda
2016-07-31T00:00:00Z
Room Type
Entire home/apt
---
Property Type
Apartment
---
Accommodates
2
---
Bedrooms
Valle de Abdalajís, Andalucía, Spain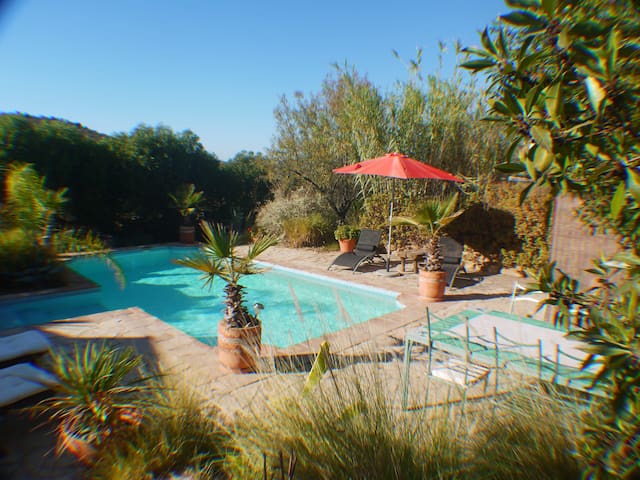 helle Souterrainwohnung für 2-4 Per. eine private Ruhezone mit Pavillon von ca. 100 qm ruhige Lage, eingezäuntes Grundstück mit Parkplatz große Poolanlage Sauna WLAN kostenlos auf dem ganzen Grundstück Satelliten Fernsehen deutsch-spanisch Klimaanlage warm und kalt Babyhochstuhl Babybett möglich Gaskochmulde 4 flammig Mikrowelle Kaffeemaschine Kühl-Gefrierkombination Handtücher Bettwäsche Shampoo usw. Waschmaschine und Bügeleisen außerhalb der Wohnung Bei Bedarf bitte Bescheid geben
Wohnung für bis zu 4 Personen (Souterrainwohnung), aber recht hell. Die Wohnung befindet sich im Souterrain. Das schreckt im ersten Moment vielleicht ab. Es hat aber in den heißen Sommermonaten den Vorteil, dass es in der Wohnung nicht zu warm wird und die vorhandene Klimaanlage daher oft nicht erforderlich ist. Die Wohnung bietet Platz für bis zu 4 Personen. Sie hat einen eigenen Eingang und eine eigene Ruhezone von etwa 100 qm mit großem Pavillon und Grill. Das Grundstück ist eingezäunt und von außen nicht einsehbar. Jedoch erwartet Sie ein atemberaubender Ausblick auf die Berge über Málaga. Genießen Sie auch den wundervollen Sonnenuntergang und die Ruhe und Entspannung vielleicht bei einem Glas Wein. Die Poolanlage ist privat, sie ist tiefer gelegt und von der Straße nicht einzusehen. Sie ist windgeschützt angelegt und hat eine Fläche von etwa 170 qm. Nur meine Gäste teilen sich die Poolanlage. Das sind 4 Personen aus dieser Wohnung und 2 weitere Personen aus meinem kleinen Apartment. Der große Pool hat 10m x 4m, mit einer Tiefe von 1,50m bis 2,40m. In dem abgesenkten, windgeschützten Poolbereich von etwa 170 qm befindet sich: Eine Sitzecke mit viel Schatten. Ein kleinerer Pool im Schatten, von 2m x 3m, 0,80cm tief. Eine Außendusche. Eine Sauna für 2 bis 3 Personen Schlafmöglichkeiten: Ein Schlafzimmer mit Doppelbett, 1,80mx2,00m, mit Latex Matratzen. Ein kleineres Zimmer mit ausziehbarem Schlafsofa für 1-2 Personen, ausgezogen 1,60m x 2,00m. zusätzlich möglich ein Babybett 0,60m x 1,20m Wohnraum mit Klimaanlage Die Einbauküche ist voll ausgestattet mit allem Zubehör. Mikrowelle großem Kühlschrank mit Gefrierfach 4 Flammen Gasherd Kaffeemaschine usw. Eine gemütliche Sitzecke für bis zu 6 Personen Kinderhochstuhl möglich Das Bad hat eine große Dusche und ist separat beheizbar. Satellitenfernsehen deutsch und spanisch. Kostenloses WLAN vorhanden auf dem gesamten Grundstück. Mit einer Klimaanlage kann die Wohnung gekühlt oder beheizt werden. Gas zum Kochen, Strom sowie Kalt – und Warmwasser sind im Mietpreis enthalten. Eine Waschmaschine und ein Wäschetrockner stehen zur Verfügung, befinden sich aber außerhalb der Wohnung. Einfach nur Bescheid geben wenn man sie benötigt. Die Sauna können meine Gäste nach ihren Bedürfnissen und mittels holzbetriebenen Saunaofen anheizen. Für das Holz berechne ich pro Saunagang 5,00 Euro. Fahrzeuge können innerhalb der Umzäunung geparkt werden.  
Wir liegen etwas abseits vom nächsten Dorf. Dafür findet man hier die Ruhe und kann ganz entspannt seinen Urlaub genießen. Am Pool relaxen die Sonne genießen, wandern oder die Landschaft und Umgebung entdecken. Für Tagestouren um die Umgebung zu entdecken ist daher ein Mietwagen erforderlich. Das nächste Dorf, Casabermeja, erreicht ihr in 10 Km ca. 20 Minuten mit dem Auto. Dort gibt es eine Bushaltestelle, auch habt ihr da Anschluss auf die Autobahn nach Malaga , oder auch nach Granada usw. Kleine Bars laden dazu ein dort die einheimische Atmosphäre des Dorfes zu genießen. Auch gibt es dort einen kleinen Supermarkt und eine sehr gute Metzgerei.
We are very pleased with the stay in Brigitte and Helmut residents and looking forward to a long lasting friendship.
Ferhat
2016-08-10T00:00:00Z
Lo mejor de este lugar son sus propietarios. Sin duda. Una pareja alemana encantadora. Brigitte tiene dibujada una sonrisa a todas horas y es tremendamente servicial. La foto de perfil no le hace justicia. El chalet está a unos 10 minutos de Casabermeja montaña arriba. Las vistas del atardecer espectaculares desde un bonito cenador con barbacoa. La limpieza es exquisita y el interior de la casa decorado con gusto y con todos los accesorios que uno pueda desear (aire acondicionado y wifi incluído). La piscina tiene buena profundidad y la zona en la que se ubica es espaciosa y también muy bien decorada. Además cuenta con otra pequeña piscina con agua mucho más fria. Sin duda volvermos a visitar a Helmut y a Brigitte en cuanto podamos. Un 10.
pedro
2015-07-27T00:00:00Z
Nous avons passé trois semaines merveilleuses chez Helmut et Brigitte. La maison est située en pleine montagne : calme absolu et réparateur, et vue splendide sur les montagnes assurée ! A mi chemin entre Antequera et Malaga nous avons pu profiter facilement à la fois des joies de la mer (plages à 1/2h) et de la Montagne (Caminito del Rey ..) La propriété, le logement, la piscine, le sauna sont d'une propreté exceptionnelle. Nos hôtes étaient toujours présents en cas de besoin mais d'une discrétion totale ; nous nous sommes vraiment sentis chez nous : Nous avons eu la piscine et le sauna pour nous seuls pendant tout notre séjour ... fabuleux ! ... un très très bon séjour pour nous trois qui nous a permis de nous ressourcer et d'approfondir notre connaissance de cette partie de l'Andalousie Nous recommandons +++++++++ ! et espérons retourner très prochainement profiter de cet havre de paix
marie
2016-08-27T00:00:00Z
Gran anfitrión, siempre con una sonrisa y amabilidad. La verdad que la estancia ha sido genial.
Javi
2015-08-22T00:00:00Z
Brigitte consiguió que nos sintieramos fenomenal, como si estuviéramos en nuestra propia casa. Muy cuidadosa con todo. No nos faltó de nada, se preocupaba por si necesitábamos algo ya que la tienda está en el pueblo, pero ella nos surtió en varias ocasiones y también se molestó en hacernos un pan alemán riquísimo! Nos dio mucha pena irnos. El lugar es estupendo para desconectar unos días, en la montaña, mucha calma y paz y con una piscina perfecta para pasar los días más calurosos. Seguimos echando de menos la piscina... Y ya hace una semana que volvimos. Todo son buenas palabras y nos encantaría poder repetir la experiencia en la gran casa de Brigitte, es muy espaciosa! con un precioso cenador, barbacoa, el apartamento para 4 que es en el que estuvimos, muy bien equipado y acondiciodado. Recomiendo totalmente el lugar y conocerlos. Brigitte y Helmut, encantadisimos de haberos conocido.
Lucia
2015-08-10T00:00:00Z
Room Type
Entire home/apt
---
Property Type
Apartment
---
Accommodates
4
---
Bedrooms
Almogía, Andalusia, Spain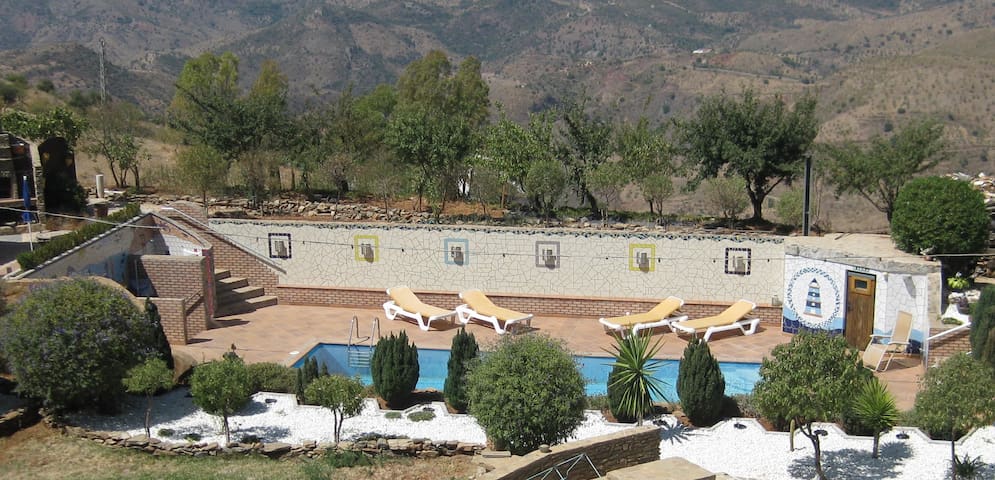 Se ofrece habitación con cama de matrimonio para una o dos personas con baño compartido. Se puede hacer uso de todas los departamentos de la casa, baño, salón, cocina, lavadero, internet. Zona muy céntrica de la bonita ciudad monumental de Antequera.
Piso cómodo y acogedor con todas la comodidades.
Barrio céntrico y calle tranquila, cerca de plaza de abastos y supermercados y centro comercial abierto.
Vicky was a great and welcoming host, she made staying with her very relaxing and comfortable. The flat was really lovely and in a great location. The flat is as described in the pictures. Even though there was a little language barrier due to us not knowing much spainish it wasn't a problem. Happily stay there again.
James
2016-10-05T00:00:00Z
Reception by Vicky in Antequera was very friendly and warm, the room quiet, clean and very central. Vicky was very open and communicative and even prepared breakfast for me - totally unexpectedly. I'd love to return.
Lothar E.
2016-05-12T00:00:00Z
We used Antequera as our fist night's after an evening flight into Malaga and Vicky's flat was perfect for us. Clean and really well positioned for great food options (try "Arte de tapas" - in the nearby square- really superb). Vicky was super helpful showing us to local parking with a great viewing platform on the roof. She even remained nice when we inadvertently locked her out of her own flat! (Again so sorry Vicky). We would highly recommend.
Jane
2016-07-07T00:00:00Z
Parking central convenient and close to the appartment 30€ for 1 week
Alain
2017-03-30T00:00:00Z
Vicky was very nice. She gave me tips on where to do. I wish I stayed longer. Location is in the very center of the town.
Aron
2016-12-07T00:00:00Z
Enjoyable stay with Vicky who is a very Kind and caring Person who even invited me to a typical breakfast Antequera style.
Thomas
2016-11-24T00:00:00Z
Our stay with Vicky was very nice. She was very flexible with our travel schedule. The apartment was clean and comfortable, and Antequera is beautiful.
mary
2016-09-27T00:00:00Z
El mejor de Antequerra! Vicky's house was very well-equipped, very convenient, and vicky has been super friendly and helpful with everything I needed. The apartment is also close to everything, I (very) highly recommend it for anyone!
Shadi
2016-05-16T00:00:00Z
Room Type
Private room
---
Property Type
Apartment
---
Accommodates
2
---
Bedrooms
Antequera, Andalucía, Spain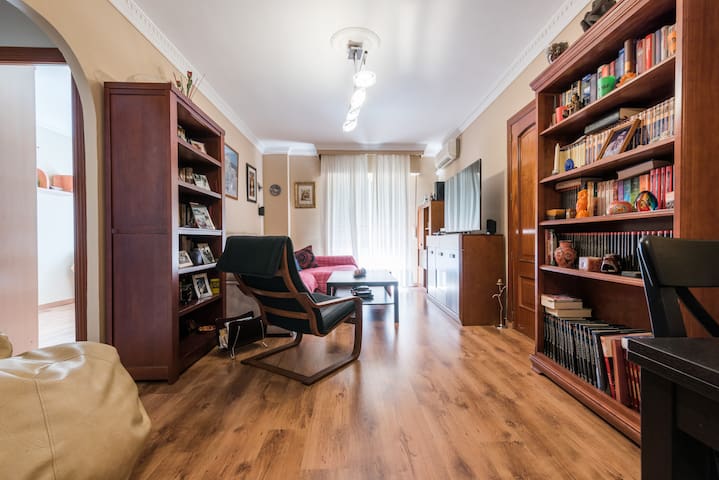 Situada en el centro de la ciudad , con Parkings cercanos uno a 50 m y otro a 500 m. A 1/ 2 hora de Málaga y 1 hora de Granada y Córdoba. Muy confortable y equipado. Cerca de la zona monumental, y apropiado para disfrutar de la Semana Santa
El piso cuenta con un amplio salón .Una sala de televisión , donde se puede trabajar tranquilamente , o disfrutar de la tv , cocina con microondas, nevera , lavadora vitrocerámica , tostador y cafetera. Sartenes y menaje de cocina (ollas , cazuelas...). Cubertería y vajilla. Plancha y tabla de planchar. Un baño y un aseo completos secador y toallas de baño .Champú y Gel de ducha. Dispone de una habitación doble con cama de matrimonio. Otra con cama nido y otra con cama individual
Lo mejor del barrio es que se encuentra en una zona monumental, rodeado de todo tipo de servicios como supermercados, farmacias bares, restaurantes puede ir andando a todos los sitios .Muy tranquilo a pesar de estar en tan buena ubicación
Ideal location, big apartment ideal for family or groups of friends. Well equipped with all the amenities. Angeles made us very welcome. We would recommend this to our family and friends. 5* all round
Hamish
2017-04-02T00:00:00Z
Apartamento perfecto para familias, a 5 minutos del coso viejo, muy limpio, perfecto para estáncias cortas y largas y con una amplia oferta hostelera rodeando el apartamento.
Gui
2017-03-19T00:00:00Z
Nos gustó mucho la casa de Ángeles, es muy confortable y ella nos trató muy bien. Ella es encantadora. Nos dejó como detalle de bienvenida unas tortas de Antequera, aceite, fruta y agua y nos facilitó la llegada a última hora de la tarde. Al llegar nos asesoró con el aparcamiento (Antequera tiene restricciones y el piso está en el centro) que teníamos muy a mano y a buen precio. Los colchones y ropa de cama muy cómodos, así como las toallas muy mullidas. La casa tiene de todo, plancha, cafetera, secador, mucha cristalería, botiquín, costurero, recambios, mucha ropa de cama y mesa y varios radiadores porque la casa es un poquito fría. La pena es que, al no tener ascensor, la subida y bajada de maletas se hace pesado si no estás en forma. El precio es muy competitivo y la política de cancelación flexible muy a tener en cuenta. La relación calidad-precio es inmejorable. Todo ello hace ideal el alquiler del piso de Ángeles si no tienes algún inconveniente con la ausencia de ascensor. Nosotros volveríamos allí con mucho gusto. Antequera es una ciudad preciosa que nos encantó y fue tanto lo que nos dejamos por ver que nos fuimos con la promesa de volver con mas tiempo.
Vega
2017-02-28T00:00:00Z
Room Type
Entire home/apt
---
Property Type
Apartment
---
Accommodates
5
---
Bedrooms
Antequera, Malaga Andalucía España, Spain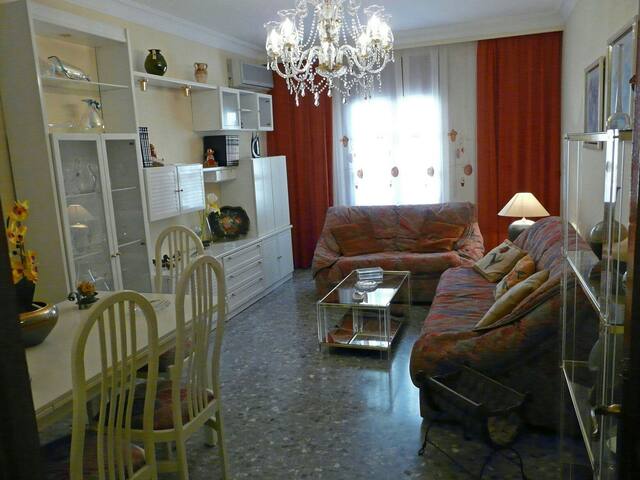 En recinto cerrado del centro histórico. Cómodo, tranquilo y con tres dormitorios con camas dobles. Totalmente amueblado y nuevo. Aire acondicionado frío-calor. Cocina con todos los electrodomésticos. Plaza de garaje, patio y terraza amplia.
La ubicación del apartamento hace posible ir caminando a cualquier parte de la ciudad. Muy céntrico. 1/2 hora de Málaga y 1 hora de Granada. Lugar ideal para visitar la sierra del Torcal, el Nacimiento de la Villa, los dólmenes y la Antequera monumental del Renacimiento y el Barroco.
Su ubicación en el centro histórico, muy cerca de restaurantes, bares, comercios, campo de golf y disfrutar de la excelente gastronomía antequerana.
We stayed in the Reyes's apartment for four nights. The apartments are very comfortable and have everything what you need for a stay of a family with child. Everything is new, clean and modern. Underground parking is very convenient to travel with a car. Reyes, thanks for all. It was a good vacation in Andalusia.
Ilya
2016-04-26T00:00:00Z
The appartment is in a new building with perfect infrastructure: underground parking, clean elevator and staircase. The appartment is very comfortable, fully equipped, furnitured. It is extremely clean. Reyes and her husband are very friendly and nice. The location is very close to the histiric center of Antequera - few minutes walk. Antequera itself is located in about 1 hour drive to Malaga, Cordoba and Granada.
Dmitri
2016-10-08T00:00:00Z
Reyes is a perfect host, kind and helpful. We had to anticipate the time of our arrival, but she didn't mind and came quickly to open her house. The house is simply wonderful: elegant, well-equipped and comfortable. We were sorry we could stay only one night!
Giancarlo
2016-01-02T00:00:00Z
The apartment was easily found and very central to the town (literally a two minute walk). We were met by Reyes husband who guided us to the underground parking. Reyes and her husband showed us around the apartment letting us know where everything was stored. They were both very kind and welcoming. The very large apartment was beautiful, spotlessly clean and bright, with an outside area to the back and a balcony to the front. There were three large bedrooms with ensuite in the huge master bedroom. There is a/c filtered throughout every room which is a delight when it is so hot outside. There is also wi-fi. Reyes hosting was better than any 5* hotel. Everything you could want for was provided from shower gel, shampoo, towels to tea and coffee, it was really home from home. To top it all off she also left us gifts of biscuits, milk and water. We stayed here to visit the Lobo Park which is only a fourteen minute drive away I would recommend a visit. The town of Antequera itself is stunning with its castle and old part of town and seems to buzz into the early hours of the morning. Would definitely recommend Reyes apartment to people wanting to stay in this area.
frances
2016-08-20T00:00:00Z
Reeys was a perfect host. Our luggage was lost and we were very late in arriving but she was there to welcome us. Her husband also came to find us. They spent time explaining all the wonderful things in the apartment. The apartment is in a great location. Leave the car under the apartment and walk to all the great places in the town.
Doug
2016-11-06T00:00:00Z
This apartment is excellent, even better than the photos suggest. Well equipped, quiet, ideally located, the accommodation has everything you need, including comfortable beds, good water pressure & lovely soft towels. We were met at the apartment by Reyes husband, who, although he didn't speak English, managed to show us where everything is. Secure underground parking is a bonus & the accommodation is situated within walking distance of the main street with a load of shops & restaurants. Reyes is an excellent host, quick to respond to messages. The water, milk & other supplies were a welcome touch. I would have absolutely no hesitation in recommending this apartment, its ideally situated to see this beautiful part of Andalusia. Thank you Reyes
June
2016-09-24T00:00:00Z
Nous vous recommandons l'appartement de Reyes. Il est idéalement situé et la description correspond bien à la prestation. Il est très bien équipé, cuisine, vaisselle, produits de première nécessité. Nous avons aussi apprécié l'accueil chaleureux .
Philippe
2016-11-01T00:00:00Z
El apartamento esta mejor aún que en las fotos. Muy nuevo y céntrico. Reyes está pendiente de todos los detalles. Muy recomendable.
Elena
2017-01-22T00:00:00Z
Room Type
Entire home/apt
---
Property Type
Apartment
---
Accommodates
6
---
Bedrooms
Antequera, AL, Spain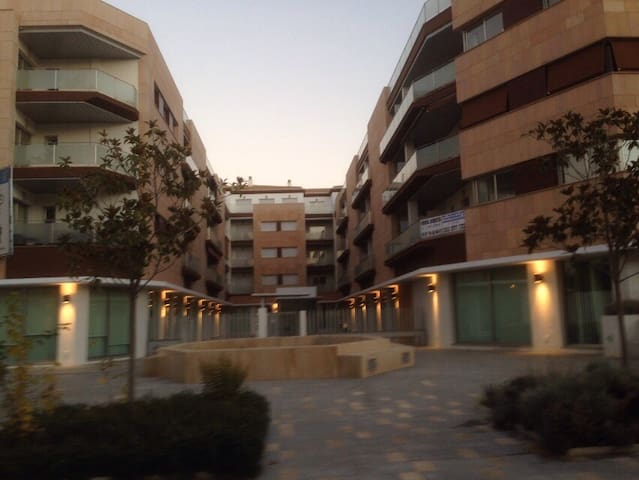 Vivienda inscrita en el Registro de Turismo de Andalucía, con número VFT/MA/10439. Casa situada en el centro histórico de Antequera, junto a la Iglesia de San Sebastian, donde se encuentra situado el kilometro cero de Andalucía. Esta casa, con entrada independiente, está dividida en dos plantas con 4 balcones cada uno que dan a la calle principal de la ciudad. Su magnifica ubicación la hace muy especial para disfrutar de la Semana Santa Antequerana.
Situado en la zona más centrica de Antequera, junto a Plaza de San Sebastian, desde donde se puede coger el Bus Turístico que lleva a visitar los Dólmenes, la Alcazaba, y hace un recorrido por los lugares más emblemáticos. La Oficina de Turismo está situada también a menos de 30 metros, y oficinas locales organizan viajes a cualquier lugar: Caminito de Rey, Torcal, etc.
Room Type
Entire home/apt
---
Property Type
Apartment
---
Accommodates
6
---
Bedrooms
Antequera, Andalucía, Spain
Villanueva de la Concepción - Airbnb
:
Average

4.73

out of

5

stars from

184

guest reviews
1

–

18

of

51 Apartment Rentals
Enter dates to see full pricing. Additional fees apply. Taxes may be added.