The Bel apartment has 2 single beds for 2 persons and a double bad that can accommodate another 2 persons, and a sofa for 1 person so the apartment can accommodate up to 5 people. Apartment is isolated from city noise.
The Bel apartment has 2 single beds for 2 persons and a double bed that can accommodate another 2 persons, and a sofa for 1 persons so the apartment can accommodate up to 5 people. Apartment is isolated from the city noise and has a terrace overlooking the garden. In the apartment you have radio, cable TV, free internet access, AC, central heating. Also with brand new kitchen cabinets and new refrigerator. The kitchen is fully equipped for your stay (cups, glasses, plates, bowls, pots and pans, utensils, cutlery and much more). All linen and towels are supplied, also cleaning service is available. We supplied free town maps and tourist guides. The flat is located in a quiet street abounding with restaurants, bars and street markets. Near by (60 m) is a famous Serbian restaurant "Kovac". Close to Belmedic hospital. The parking place is public and free on the street, or in my garden for 5 euro per day. ⁃Toilet paper and soap ⁃Hair dryer -Iron and ironing board -Umbrella -tea, sugar, condiments -Baby playpen (travel cot), with mattress and bedding (if needed) . Children are very welcome! Also I live near by and I am more than happy to point out places of interest that are not in standard tourists guides and also to answer any questions that you might have. THANKS SO MUCH FOR CHECKING OUT MY APARTMENT! Please feel free to contact me with any questions or inquiries. Wir sprechen auch Deutsch. Hope to see you soon :)
Sanja is really helpful and perfectly nice host. And the apartment is just great! I absolutely recommend to stay there :)
M a r t a
2015-08-16T00:00:00Z
It's a lovely apartment, very quiet and nice and spacious. The host was very helpful with all the information about the city as well as with everything we needed. I definitely recommend this place.
Nives
2016-11-20T00:00:00Z
The appart is clean and near from the center. Sanja was very helpful during our trip in Belgrad. I recommend her for every traveler !
Thibault
2016-08-14T00:00:00Z
We stayed in the top floor of Sanja's apartment building. It is exactly as described in the photo, very nice and comfortable for 4 adults. Sanja and her family are very welcoming and the two dogs too. The location is about 10 min to the centre by car, and it is actually not difficult to drive in Belgrade. The neighborhood is very quiet and you are guaranteed a good night sleep. Very good value apartment, definitely will come back.
Joanna
2016-08-16T00:00:00Z
Sanja's appartment was very nice! It was clean, with enough space, located in a silent place, and with a good transport connection to the other parts of the city. We really enjoyed the time we spent in Belgrade and we liked the appartment very much!
Igor
2013-08-02T00:00:00Z
Very friendly host. Nice apartment. Parking space available on the street .
Temirmalik
2015-08-13T00:00:00Z
Me and my family were traveling by car to Zagreb and we only stayed a night in Belgrade. It was a crowded road so we couldn't park it outside the house but Sanja let us park it in the backyard for 5 euros. The location of the apartment is near the bus station so you can go easily to the center. The place is exactly like the photos, it was nice to drink our coffees and tea on the balcony. Across the street is a big park, and the famous traditional restaurant is also close. The fussball table was a plus. Sanja helped us and recommended where we should go and how to get there even if she had to leave soon.
Simy
2015-05-09T00:00:00Z
The flat was awesome. A bit far from the city center, but we already knew that before booking. So, basicly, it was perfect.
Alexandre
2016-01-07T00:00:00Z
Room Type
Entire home/apt
---
Property Type
Apartment
---
Accommodates
5
---
Bedrooms
Belgrade, Serbia
The place is conveniently close near center about 4.5 km, max 10 mins by car, 5 mins away from Red Star Stadium and 2.4 km away from one of the symbols of Belgrade St. Sava Cathedral.. Free of charge spa+gym. In the same building a world class restaurant with food ranging from local specialty (Serbian grilled meat specialties), fresh fish, fresh pasta and pizza and many other foods.. The place is good for couples, solo adventurers, business travelers, families (with kids), big groups.
More beds can be added if necessary. There is one bedroom, one bathroom, a fully equipped kitchen, free wifi, a living room. There is a restaurant in the building if you chose not too cook, and there is a spa center and gym just a floor below the apartment.
Room Type
Entire home/apt
---
Property Type
Apartment
---
Accommodates
4
---
Bedrooms
Belgrade, Serbia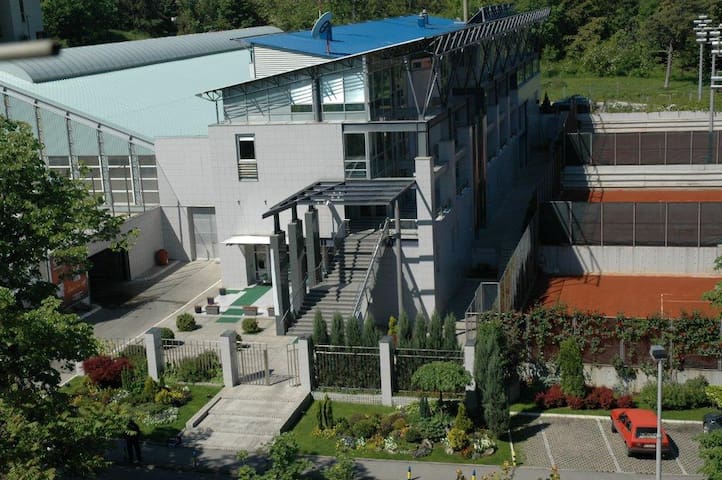 Aparthmen 55m2 fully furnished cable tv wi-fi and also cable internet parking place for car on Vozdovac street Gostivarska 57A Belgrade
The apartment is very quiet place
My flat is very close by the Bulevar Oslobodjenja and the belmedic clinic you can very short walk 5 minutes
Room Type
Entire home/apt
---
Property Type
Apartment
---
Accommodates
2
---
Bedrooms
Belgrade, SERBIA BELGRADE VOZDOVAC REGION, Serbia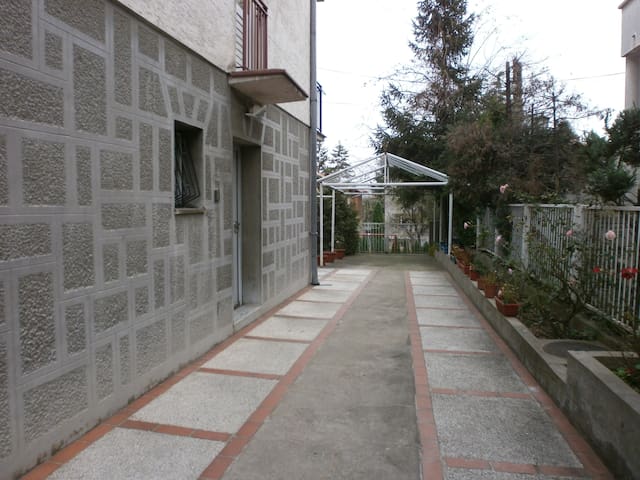 Bamboo is one of the 3 four stars app in Villa K. Located in the most beautiful boulevard in Beograd, across the Hotel M and big park "Byford's Forest", protected natural area. Very easy to get from highway E-75.City center 6 km,airport 20km.
Two separate bedrooms, one with bed size 160/200 and one with bed size 140/200. Big living room with sofa for two persons.
Best western Hotel M, Belmedic hospital, Ostrog hospital, Milos hospital clinic, VMA hospital, MSB hospital, KBC Dragisa Misovic hospital, Orthopedic hospital Banjica,Red Star Stadion, Partizan Stadion, Banjica swimming pool,Gemax tennis centre, Shopping center Stadion, Faculty of Organisational Sciences, Faculty of Political Scieneces, Faculty of Transport and Trafficing Engineering, Faculty of Pharmacy,Torlak Institute, Vero supermarket, Famous restaurant "Kafana Kovač", Italian restaurant "Toscana mia", bakery,butcher, hairdresser,beauty salon...
dusan and jovana were perfect hosts. always available and try to be helpful as much as possible. apartment is clean and spacious positioned in quiet area and surrounded by public parks. apartment has private garage as well. area is extremely safe, people extremely friendly. 4 of us including kid have spent 7 days in apartment and we strongly recommend this house and owner. best wishes to dusan and his family.
Antun
2016-12-05T00:00:00Z
Dusan is a very welcoming host which meet all our needs. The apartment is exactly as it is described, clean and quite worm, with all basic things for a short stay. The neighbor is clean and quiet , perfect for families, near by is a big market, fast foods, pizza restaurants. I recommend Dusan and his villa to everyone.
Ana
2015-12-14T00:00:00Z
The apartment is specious, clean and confortable. Easy to be located, not far away from the center of the city and close to the main highway passing through Belgrade. The host is eager to help and oto ffer useful advise.
Valeri
2016-02-07T00:00:00Z
Room Type
Entire home/apt
---
Property Type
Apartment
---
Accommodates
6
---
Bedrooms
Belgrade, Serbia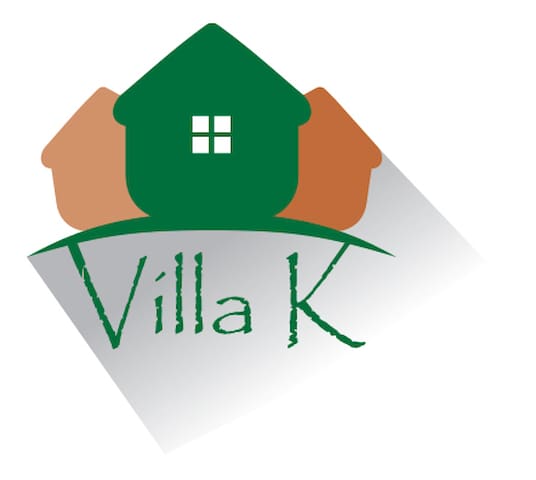 Spacious and light tree bedrooms apartment on the first floor of a family house in a residential neighborhood of Belgrade. Separate entree, you access the apartment by stairs. The apartment is composed of an entry hall, a kitchen with dining room, a big living room with balcony, tree rooms and one bathroom. Up to five adults can sleep in (+ 1 or 2 children under five years old): room n. 1 (1 simple bed, balcony), room n. 2: two simple beds, room n. 3 (one double bed). A baby crib and some other baby/child equipment can be put on your disposal by the host (baby bath, a chair, toys.) The apartment is situated in a residential area near the city center (near to the Autokomanda - Trg Oslobodnjenja square, neighborhood Donji Vozdovac). It is at 10 minutes from the center on car and approximately 20-25 minutes on city transports. Three busses at 1 minute from the house (18, 25 et 39), and many other trams and buses at 5 minutes walking distance enabling you to reach the city center and new Belgrade easily. You will find multiples stores at proximity and a green market working every day at 5 minutes' walk. There is a secured parking place by the house. Do contact me for any additional information...
The hosts are just PERFECT!!! INCREDIBLE welcome, incredible stay and incredible people. Left us local drinks and food to try. We really enjoyed our stay. Recommend! The apartment is just perfect. It is very big and spacious, with a living room and two separate bedrooms. Very clean, comfortable and with everything you need. Looking much better than on the pictures. Thank you very much!
Amer
2017-01-02T00:00:00Z
Very nice appartment and friendly owners, the rooms were warm and clean, we were welcomed very pleasantly. I can only recommend this location to everyone.
Aleksandar
2016-01-02T00:00:00Z
Room Type
Entire home/apt
---
Property Type
Apartment
---
Accommodates
5
---
Bedrooms
Belgrade, Serbia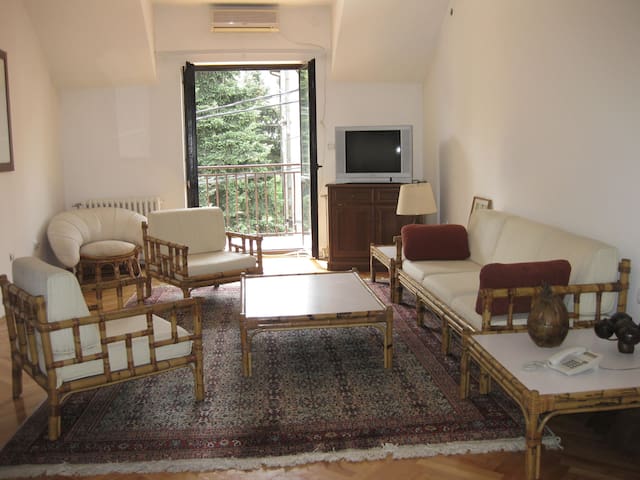 Lovely, cozy, newly renovated one bedroom apartment with modern design and all equipment you might need on 15 minutes from city centre by public transport. It is very well connected and bus and tram stations are in front of the building. Supermarket is in the building, few kiosks that work 24/7 around the building. On 5 minutes walk from the house is wonderful forest, perfect for jogging or nice walk.
Bright and spacious, new and functional, designed and equiped with love and special care. Provided: - bed sheets, - towels, - soap, toilet paper, - dishes, - coffee, sugar, tea - salt, peper, - coffee machine - wash machine - air-co - bus tickets (that can be charged on any kiosk - cheaper then to buy tickets separately or in the bus) - city map - city guide
Nice, family neighborhood. Plenty of cafes, two bakeries and a shop which are open all around the clock (0-24), not far from a big super market, green market and a shopping mall.
Ana's apartment was great, as written. She was very helpul and flexible with the check-in and check-out time. Any time again! Thank you!
Milica
2014-08-28T00:00:00Z
Room Type
Entire home/apt
---
Property Type
Apartment
---
Accommodates
3
---
Bedrooms
Belgrade, Belgrade, Serbia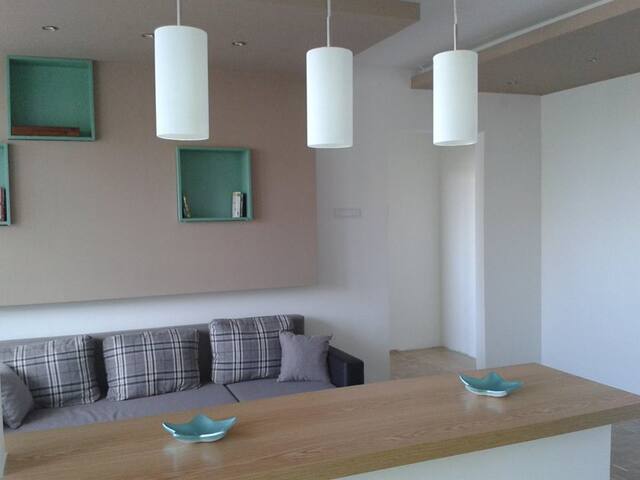 Our quiet and spacious apartment is fully furnished for those who want to feel like at their own home. Apartment comfortably fit four people. Enjoy in two bedrooms, great equipped kitchen, two terraces and good connection with rest of the Belgrade.
Everything was as we had been promised. Alexandar was very accommodating and helpful, and arranged also transportation to and from the airport. There was a great view from the balkony with a beautiful sunset.
Malene
2014-09-30T00:00:00Z
Good communication before and during the stay; the apartment was fully fitted out and included a new experience - 'elevator radio'. Although outside the centre of Belgrade it was easily reached from the airport and the centre by public transport. Most of our activities were in the local area and there were a good range of shops, kafanas and restaurants. We would happily return to the apartment.
Kevin
2014-11-09T00:00:00Z
Room Type
Entire home/apt
---
Property Type
Apartment
---
Accommodates
4
---
Bedrooms
Belgrade, City of Belgrade, Serbia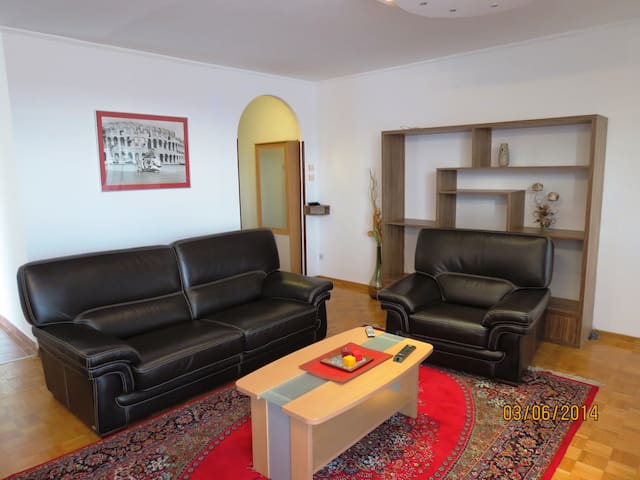 One bedroom apartment in a quiet neighborhood, but still very close to a city centre. Public transport nearby and all essential shops (24/7 supermarket 50m away). Located in a small and very quiet street but near to a big boulevard.
Great host :)
Branka
2017-03-20T00:00:00Z
It is such a great place, warm, cozy and clean. Dimitrije was a great host too, friendly and communicative! I recommend it in every possible way!
jana
2017-03-26T00:00:00Z
Excellent host!
Milutin
2017-01-18T00:00:00Z
Come and see it! You won't regret it! Beautiful!
Viktorija
2017-01-02T00:00:00Z
Excellent! I had a very comfortable and pleasant stay at Dimitrije's apartment. All rooms were well-lit n warm. I felt immidiately like home. Everything was new, modern and clean. The location is central and you can reach everything within few minutes. The apartment is actually bigger and prettier than it looks on The pictures which Dimitrije posted! :) Next time i be in Belgrade, im gonna stay there again, that's for sure. compliments Aida
Aida
2017-02-28T00:00:00Z
The apartment is small but cozy, more than enough for two adults and a child. It has all the facilities that you need less washing machine which can be an obstacle for longer periods of stay, otherwise everything is perfect.
Violeta
2017-04-10T00:00:00Z
Great place, everything is brand new, clean and tidy. Location is good as well, with quiet neighbourhood. Dimitrije is a fantastic host and this place has our best recomendations.
Aleksandar
2017-04-06T00:00:00Z
Very nice flat, clean and cozy with a very kind host...I would recommend it!
Jasmina
2017-04-01T00:00:00Z
Room Type
Entire home/apt
---
Property Type
Apartment
---
Accommodates
3
---
Bedrooms
Beograd, Beograd, Serbia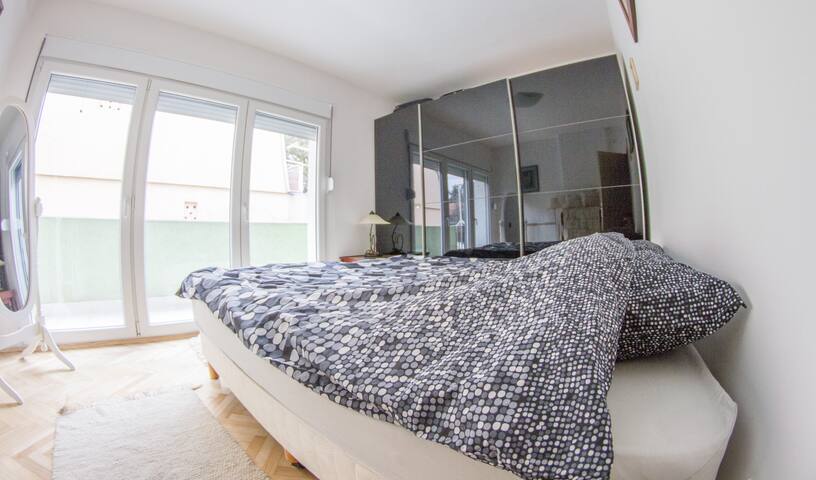 This modern 1-bedroom apartment is located in a quiet and safe family oriented neighborhood, a 5-min walking distance from the shopping center, restaurants, grocery stores, and close to the airport and the city center. The apartment provides a comfortable accommodation for up to 4 people. It offers free Wi-Fi, LCD TV with USB port, cable TV, air conditioning, central heating, fully equipped kitchen, clean bed-linen, towels and everything you require for a comfortable stay in the apartment.
This cozy apartment will make you feel right at home. Fully equipped to host up to 4 people with lots of space!
We had a great time in Belgrade! It was a kind of a business trip, so there wasn't too much spare time for us. Being were pretty exhausted, staying at Olja's and Ranko's place helped us recover in full! :) The apartment was well situated for our needs, we had a private parking just outside the building. It was well furnished, perfectly clean and cozy with all the amenities one can imagine. Our host was pleasant and more than helpful, making us feel like staying in a five-star hotel. I would be happy to recommend this rental to everyone!
Bogdan
2016-09-05T00:00:00Z
Ranko and Olja were great hosts. Very friendly, kind and helpful. The apartment is fabulous, you have really all you need. I definitely recommend!!!
Jasna
2016-07-26T00:00:00Z
Super appartement très bien placer à proximité de tout ! Toujours à votre service pour toute question ! Belgrade j'y suis maintenant que 10 jours et c'est magnifique ...! Merci pour votre service et votre sympathie !
Thomas
2016-06-25T00:00:00Z
Room Type
Entire home/apt
---
Property Type
Apartment
---
Accommodates
4
---
Bedrooms
Beograd, Serbia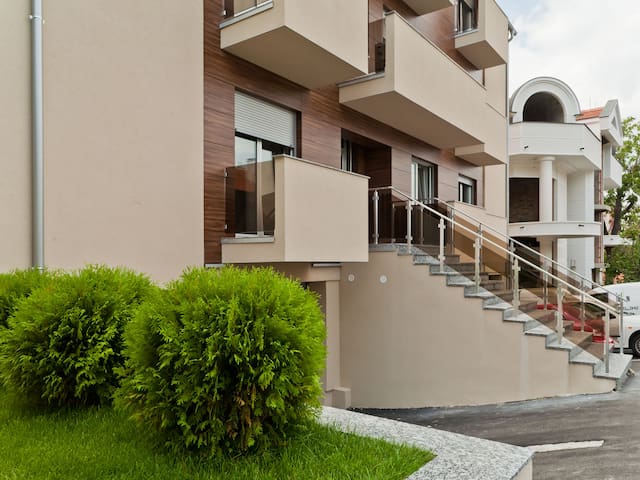 Apartment is located in a quiet part of Belgrade, only a 15 minute trip from the city center. Public transport stops are located at 50m from the apartment and there is good connections to all parts of the city. The apartment is located on the first floor of small building. It is ideal for a stay of three people. The apartment is fully equipped, highly functional, bright and comfortable. The apartment has central heating, free wireless internet and air conditioning.
The hosts speak fluent English, and there is a possibility of transfer from airport to apartment and back. Nearby you will always find free parking. Near the apartments there are catering (restaurants, fast food facilities and a pleasant cafe...) where you can find a meal. Also, there is also a supermarket which is open from 00-24 and a number of stores where you can buy food to prepare by yourself, since the suite has a fully equipped kitchen. In the kitchen you will always find coffee, sugar and home-made brandy as a sign of welcome.
Post office - 100 m Bank - 50 m Exchange - 50 m Supermarket 00-24 h - 100m Jogging through park 100 m Bus and tram station 50 m If you come to Belgrade for medical reasons, the apartment is well connected with transport of the Belmedic Clinic, Military Medical Academy, and the Clinical Center.
Room Type
Entire home/apt
---
Property Type
Apartment
---
Accommodates
3
---
Bedrooms
Beograd, Serbia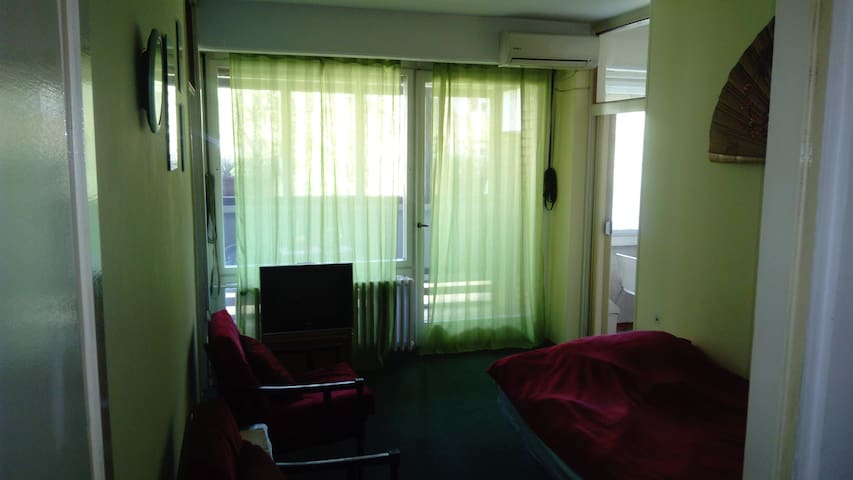 In duplex aparment there is romantic loft with 2 bedrooms and bathroom. You have complete privacy that you need, entrance door are next to stairs. You can rent entire loft or only one room. Price for entire loft is 20 eur per day and 10 eur if you rent one room.
The place it's awesome, the view to the park it's amazing. The hosts are great people, lovely and will give all the attention that you need. I highly recommend.
Keyla Yasmin
2017-01-26T00:00:00Z
Very nice stay.
Markovic
2017-01-27T00:00:00Z
Great host!!!
Milutin
2017-01-18T00:00:00Z
Room Type
Private room
---
Property Type
Apartment
---
Accommodates
2
---
Bedrooms
Beograd, Banjica, Serbia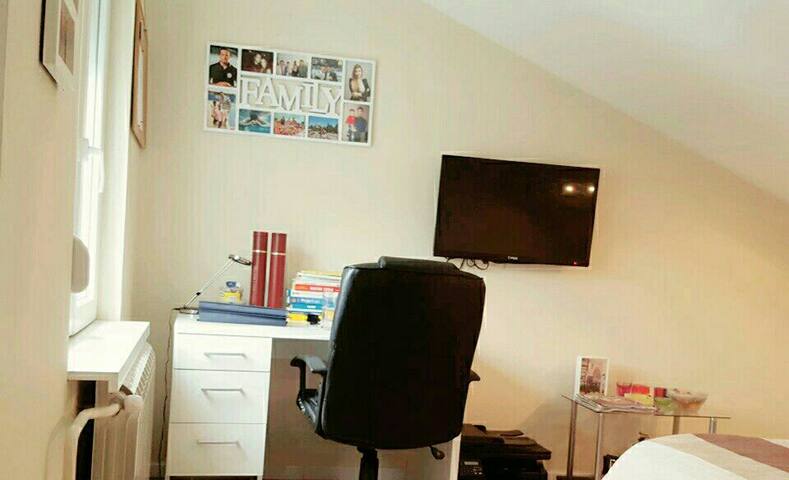 The entire apart is big,completely renovated and equipped with new bed, kitchen, bathroom and toilet. Bed is comfortable, big and easily suitable for two persons. Kitchen is well equipped with modern furniture for your enjoyable stay.
Everything was great. We spent lovely dasys there.
Maria
2015-05-13T00:00:00Z
I loved the place , lovely hostess gave me informations about places to visit and transports; quiet neighborhood with near services like restaurants, supermarkets . I give this place 5 stars :)
Pedro
2015-09-10T00:00:00Z
The host canceled this reservation the day before arrival. This is an automated posting.
Bojan
2015-05-24T00:00:00Z
Andrijana and her husband are very friendly and very helpful hosts. The apartment is even nicer than on the pictures, very modern furniture and appliances. The area is great, has a lots of shops, exchange, restaurants etc in walking distance.
Vanja
2015-01-02T00:00:00Z
I booked this apartment for my brother and the host was so nice and accommodating. The apartment was clean and all necessary items were in the apartment. I would defiantly recommend this host!
Rada
2015-06-12T00:00:00Z
We met Andrijana who showed us the flat and gave us practical info about the city. The neighborhood is pretty calm and has everything from convenience stores to pharmacies, and the bus/trams are right across the building. The flat is perfect for two people, very pleasant and well fitted out. Beds and surfaces were clean but the bathroom/toilet could be cleaned a bit more thoroughly.
Clémentine
2015-11-15T00:00:00Z
The flat is perfectly located for public transportation and walking distance. Parking spots could be hard to get tough. The neighborhood is with great location. We got what we needed and we had a good and comfortable stay. Andrijana has been very kind and responsive
Marta
2017-03-01T00:00:00Z
Room Type
Entire home/apt
---
Property Type
Apartment
---
Accommodates
2
---
Bedrooms
Beograd, Serbia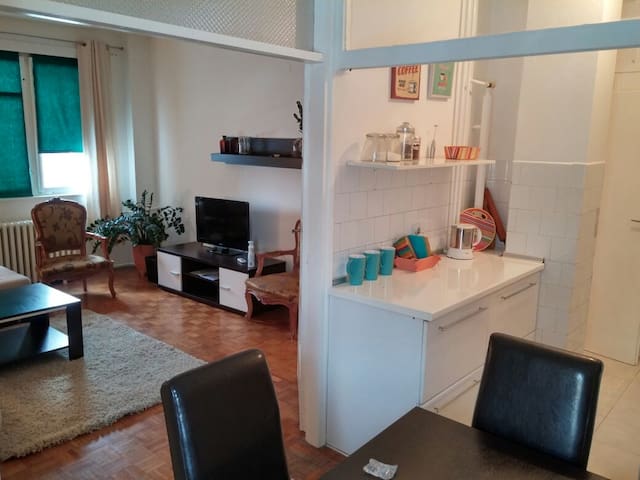 Belgrade Dream Apartment is a self-catering accommodation located in Belgrade.FreeWiFi access is available. Accommodation will provide you with air conditioning and a balcony. The property offers free parking.
The host was very friendly and helpful.
Ivana
2017-04-09T00:00:00Z
The host canceled this reservation 3 days before arrival. This is an automated posting.
Mirna
2015-10-14T00:00:00Z
Room Type
Entire home/apt
---
Property Type
Apartment
---
Accommodates
4
---
Bedrooms
Beograd, Serbia
My place is close to restaurants and dining and nightlife. You'll love my place because of the light, the comfy bed, and the neighborhood. My place is good for couples, solo adventurers, business travelers, and families (with kids).
The space is a modern open space high ceiling apartment. It is 65m2 in space with a beautiful terrace overlooking beautiful pine tree's. The location is close to all things as its located in a super quite neighborhood. Full kitchen with all the bells and whistles. The Bedroom has a queen bed and its sound proof for a great nights sleep. The living room has a sofa bed that turns into a queen bed. It also opens up to a one of a kind terrace which gives you a great place to enjoy breakfast. The bathroom has a full bath and luxury tiles and washing machine. Space is a true serviced apartment comparing to USA standards. People who know will see the value.
The apartment is located 1 min walk to all the sport stadiums in Belgrade which play football. The most valued neighborhood in terms of price per m2 in Belgrade. Luxury at its finest.
Room Type
Entire home/apt
---
Property Type
Apartment
---
Accommodates
4
---
Bedrooms
Beograd, Serbia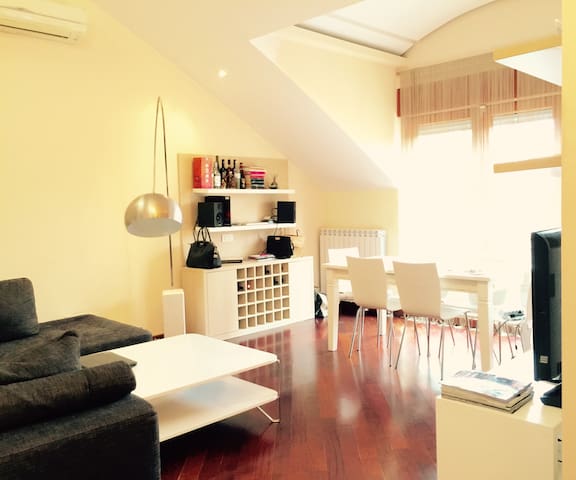 Located in the residential area of Belgrade, close to the National stadium, in a very peacefull neighbourhood, still only 3km away from the city center, this 75sqm apartment has very good connection via public transportation to all parts of Belgrade. It takes a 10-15minute bus ride to the city center. Free parking, parking view from the window. A 24-hour supermarket is 50m away. It consists of a living room with a double sofa-bed, a bedroom, a dining room, bathroom, kitchen and two balconies.
2 bedrooms, 1 dining room, 1 bathroom and 1 kitchen.
This flat is very convenient as it located very close to the (URL HIDDEN) is enough for 4 people.Most importantanly wih his kind,concerned and frienly manners.Stephan is a great host.l would definitely go to Belgrad and stay in thesame aperment again.l certainly advice everyone to rent this aperment.thank you Stephan...,.
SENEL
2016-06-20T00:00:00Z
Definetly a place to stay at when in Belgrade. Me and my family had a lovely time at the apartment. The place was clean, neat and cozy, just as advertized. Stefan, the host, was nice and prompt in comunication and gave us useful tips on how to get around. The neighbourhood was perfectly quiet, yet just next to the center. A big supermarket is across the street. Great price/quality ratio. Will visit again!
Aleksandra
2016-11-24T00:00:00Z
Stefan was very friendly and a helpful host. The area is great and really close to Dedinje, there a lot of shops cafes restaurants etc around it. The apartment is beautiful and comfortable. Everything was fine and i enjoyed my stay.
Marija
2016-06-12T00:00:00Z
Our landlord Stefan was great. He is new to Airbnb but, nevertheless, an experienced host. He greated us at the airport, drived us to his place and provided us with the information about the apartment, as well as giving us a paper with all the public transportation lines, restaurant locations and sites to visit in Belgrade. The apartment was clean and exactly as described. Everything was more than expected!
Đorđe
2016-05-29T00:00:00Z
Stefan's place is perfect! A great cosy location only minutes away by public transport from the center of nightlife in Belgrade. Stefan is very friendly and he helped me all of information a tourist can have. If you are visiting Belgrade, be sure not to miss this place. Thank you Stefan!
Nebojsa
2016-05-28T00:00:00Z
Stefan Is a great host! Our stay at his place was really pleasant. He was kind providing everything what we needed and had full confidence that in apartment is all ok. If I return again to Belgrade I will definetly stay at his place. Puno hvala Stefan!!!
Leonid
2016-07-01T00:00:00Z
Stefan was great with us and really helpful . The house is clean and Well endowed we had a lot of fun
RWalid se q
2016-08-21T00:00:00Z
Everything was accurate, Stefan was very friendly, careful and responsive. He answered very fast and provided useful help; left instructions for all appliances, no. for taxi and home delivery food, provided all kind of stuff - tea & coffee, additional blanket etc. The apartment is accurately described, fully equipped, a mix of new modern furniture (living room) and vintage(kitchen's furniture); very spacious even for a family with two small kids like ours. We had a great experience overall!
Мирко
2016-06-02T00:00:00Z
Room Type
Entire home/apt
---
Property Type
Apartment
---
Accommodates
6
---
Bedrooms
Beograd, Serbia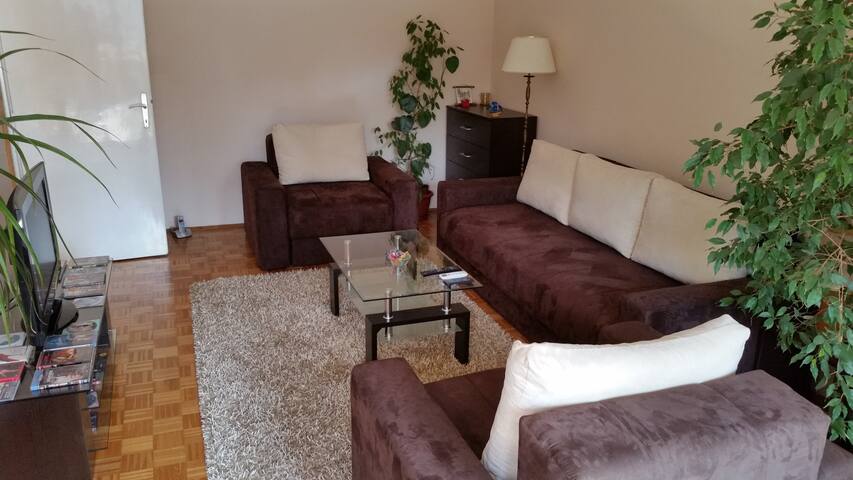 My place is well-connected to the city centre - about 15 minutes by tram or bus. The room is comfortable, spacious and with great ambience. You have private kitchen and bathroom at your disposal as well as a cosy garden. Free parking space.
Room Type
Private room
---
Property Type
Apartment
---
Accommodates
5
---
Bedrooms
Beograd, Serbia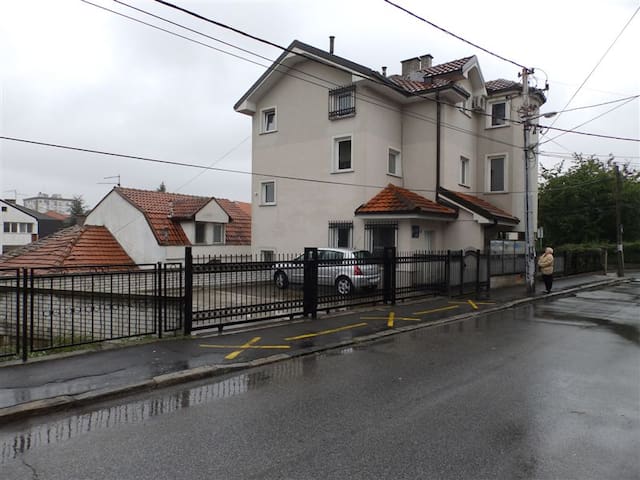 Two bedroom apartment with secure parking
Airbnb only allows 5 stars but Dragan is a 10 star host. He goes above and beyond to cater to the needs of his guests and is incredibly hospitable in every capacity. The apartment is spacious and well insulated. The kitchen is compact but very effective. The shower is large and nice. The building is newer and the neighborhood is lovely, buzzing but not loud, central but not too close to the city center to feel congested. There are a surplus of markets nearby and the bakeries are excellent. I only have positives for Dragan's building and this apartment. For the price and area, this place is unbeatable. Highly recommended!
Jesse
2016-10-16T00:00:00Z
Dragan is a great host who is there to help if needed. His apartment is equipped with everything you need to have a pleasant stay. Underground secure parking comes in very handy. Recommend...
Ninoslav
2017-01-14T00:00:00Z
Dragan was very kind and responsive. Appartment is well located and nice.I would recommend to all who are searching for a pleasant stay in belgrade.
Ivana
2016-08-15T00:00:00Z
Room Type
Entire home/apt
---
Property Type
Apartment
---
Accommodates
4
---
Bedrooms
Beograd, Serbia, Serbia
Peaceful green surroundings , close to Red Star Stadium. Our apartments are located 10 minutes away from city center by bus. Villa Bulevar offers free WiFi and parking places. All units are air-conditioned and fitted with a flat-screen TV, a desk and a terrace or French balcony with park views. The spacious bathrooms are fitted with a shower.
Banjica Park with a running track is just across the street, 50 m from the property. Gemax Tennis Club, Bel Medic private hospital and the Red Star Stadium are within a 500 m radius. Faculty of Organisational Sciences and Faculty of Political Science are located near the property. A fresh food market is 200 m away, while the closest restaurant is 500 m from the property.
I felt well taken care of from the moment I arrived. Communication was very easy going from the start. Apartment was nice in size and had all the necessary amenities for my stay. As I am a large man, most impressing thing was a sizable shower with lots of room to move around. All in all, my recommendation.
Bojan
2016-01-08T00:00:00Z
Great!
Milutin
2017-01-18T00:00:00Z
The location was great for my needs, the Singidunum university was close. The apartment was very spacious except some minor drawbacks in cleaniness. The receptionist was really lovely and communication was top notch!
Ilija
2016-11-25T00:00:00Z
Great place! Clean quiet and very comfortable. Yet near the center of Belgrade! Loved it!
Rocio & Dejan
2016-11-20T00:00:00Z
very nice and good staff
Oguzhan
2016-09-19T00:00:00Z
Excellent stay. Clean and quiet. Located near all amenities.
Rocio & Dejan
2016-07-06T00:00:00Z
Room Type
Entire home/apt
---
Property Type
Apartment
---
Accommodates
2
---
Bedrooms
Beograd, Serbia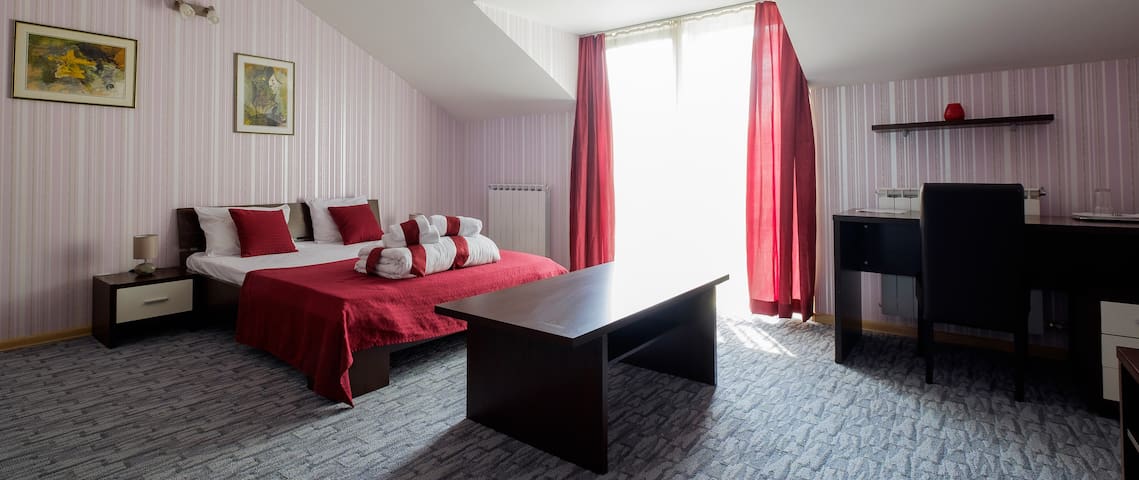 Belgrade - Airbnb
:
Average

4.7

out of

5

stars from

129

guest reviews