Our house is located in Topolia Kisamou 10km from Kisamos city and 29km from Elafonisi. It's on the main road that goes to the famous western and north beaches of Crete and to many beautiful mountainous villages. Outside and inside areas in 3 levels so the guests can enjoy the mountain and sea view! The village with alleys, small courtyards, stone churches, kind and proud people is an inspiration for our guests!
Topolia village was the meeting point for the citizens from the wider region for many years, because was in the center of all the smaller villages and it had the biggest market! Now the village has tradditional coffee places and restaurants, mini market, bakery, traditional shops with local products (most of the hand
Topoliano carge is the most famous area of the village. In short distanse are other villages for more activities like, Agia Sofia church, Milia and Palaiochora (31km)!
Very comfortable little appartament in the middle of the hills, Petros and his wife have been perfect hosts. we enjoyied it a lot.
Cla
2016-09-30T00:00:00Z
This flat is lovely and feels like a real home. We had dinner on the top terrace, with an amazing view and a nice breeze! It was also very clean, which is always an add on. If you're heading south, it's located in a very great area, you can stop here to take a break.
Martina Xenia
2016-09-08T00:00:00Z
This was our first trip using Airbnb and we found the experience very positive. We had a warm welcome from Petros who met us at the taverna in Topolia and escorted us to Koukouli House which was spotlessly clean and very comfortable with everything we needed for our three night break. The house is in a nice location and well positioned for exploring the area with good views over the surrounding hills which we were able to appreciate from the two terraces. Thanks again Petros. Highly recommended!
Robert
2016-09-16T00:00:00Z
Nice Apartment ! Everything was Really good! The Region is Nice, typical small Greek village!
Marces
2016-09-08T00:00:00Z
Amazing little house , close to many attraction points and beaches. Those early breakfast on the roof were just awesome and we had everything we needed from the host. If you go there you much try the lemon raki from the local tavern, it's really good ! Was there with my girlfriend from 04/10/16 to 07/10/16.
Jerome
2016-10-07T00:00:00Z
Petros and his family were such warm and hosts! They really went out of their way to take care of us and made sure we got to where we wanted to. We had a great time interacting over dinner! The house was very cozy and clean with a great view-- a lovely and relaxing experience. The restaurant Petros recommended was really good. I would recommend this place for anyone looking for a more quiet and chill getaway ( while being relatively convenient to places of interest. )
Gloria
2016-08-26T00:00:00Z
Petros is an amazing host. He welcomed us to his place and showed us around. The apartment is really nice and cozy with a standing view and a balcony. Right on the way to Elafonisi, it's a great location for the travelers going that direction. I definitely recommend Petros place and although we stayed only for one night we promise to come back again and this time stay longer. The bedroom is very modern with a A/C installed in the room.
Ioannis
2016-08-27T00:00:00Z
Patros wes graet. And we realy enjoy
Zohar
2016-08-15T00:00:00Z
Room Type
Entire home/apt
---
Property Type
House
---
Accommodates
3
---
Bedrooms
Topolia, Crete, Greece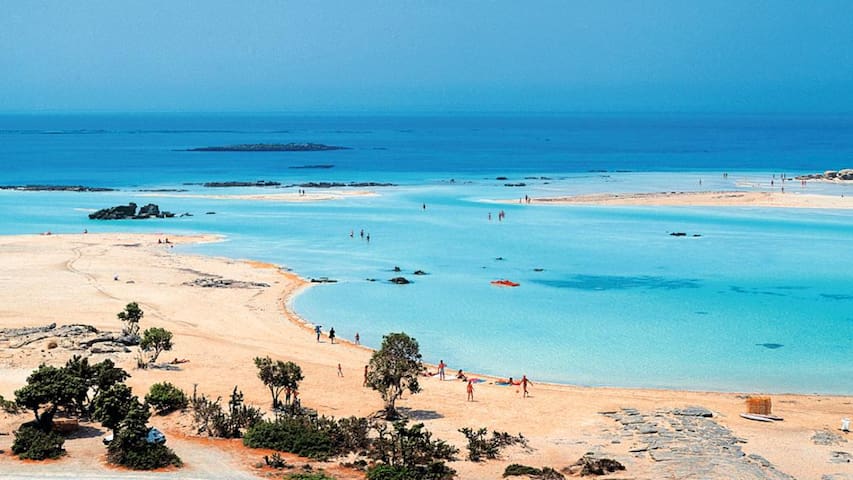 The old House is on very closed to the road to Elaphonisi, Fallaserna, Balos. Magnificant view in Tyflos river valley.
Giorgos was a great host, his house is wonderful, and we missed nothing. Its perfect for relaxing, very quiet, very spacey, comfortable, beautiful views, you hear the birds sing and a cat was visiting us every day. You can go to Chania, Kissamos, Elafonisi or Milia by car and in Voulgaro you have two taverns for eating very good cretan food. Thank you Giorgos for letting us stay in this beautiful paradise.
Christoph
2016-06-09T00:00:00Z
Giorgos was so nice to meet us and supply everything we need! Despite our late arrival to Voulgaro, we felt very welcome - thank you very much, Giorgos! The home is indeed very clean and well equiped for two families, plenty of hot water, decent wifi internet (important for us). There is a great yard with plenty of shade, also you will be surprised by the river valley views. The Voulgaro village is really small, there is basically one gas station, a church and a couple of stores. Still you can eat out and be well connected (10 minutes by car) to nearby Kissamos stores. Although very quiet place, it is strategically located for visiting world renown Elafonisis and Balos beaches on west side of the island.
Alexander
2016-08-08T00:00:00Z
We really enjoyed our staying in this romantic village house. Giorgios was very friendly and helpful, the house is quite spacious and very well equipped. The location is very quiet and peaceful just like we needed. Highly recommended!
Annamaria
2016-09-25T00:00:00Z
A beautiful house fully equipped in the countryside! We were two couples with one child each: the courtyard is perfect for the children to play or for anyone who wants to relax under the lemon tree. Georgios and Elefteria are extremely hospitable and helpful.
Viola
2016-04-30T00:00:00Z
Giorgos really did a lot to make my arrival and my stay at the house so convinient as possible, he took good care of the house and partly also organized some free time activities. I appreciated that very much. If you look for a quiet, relaxing and inspiring place in the nature this is the right place. Dirk
Dirk
2015-08-11T00:00:00Z
The reality has exceeded expectations, a very comfortable and beautiful home, has all necessarrie equipment. The garden offers fruits, vegetables and spices that make your stay pleasant . The location is great for visiting the splendid beaches in the area. The village is nice and well equipped facilities. Welcome of the owner of the house is exemplary. Thank you George!
Saverio
2016-06-15T00:00:00Z
This was the perfect house for me. The pictures are great, but the house is more beautiful than the pictures depict. For me, I love walking, so I hiked to Kissamos every day, about 7 kilometers. But if you want to rent a car, there are plenty of places in town. Kissamos beaches are fabulous as well. From Kissamos, there are daily buses to Chania and other towns and to the beaches at Bali (or by boat), Elafonisos, and Falasarna. Giorgos and Eleftheria, the host and hostess, are magnificent and provide everything needed for the house. They also provide any information you need about Crete and places to visit. There's so much space in the house -- and the breeze from the mountains is so refreshing. Nature is all around -- lemon trees, olive trees, hawks flying overhead, the neighbor's five turkeys visiting every day, sheep, goats passing by. I'll never forget my stay! And will definitely return! Thank you, Giorgos and Eleftheria!
Robert
2015-09-17T00:00:00Z
absolutely fantastic house in every way , highly functional , great views, quiet calm , pity it's so short , next time for sure we stay longer
Jacek
2016-05-30T00:00:00Z
Room Type
Entire home/apt
---
Property Type
House
---
Accommodates
7
---
Bedrooms
Βουλγάρω, Κρήτη, Greece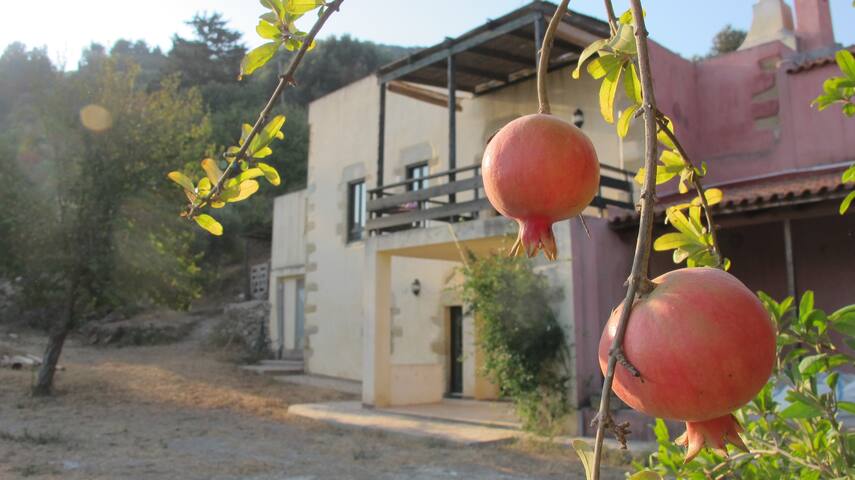 Traditional and private.located 9km from the city of kissamos,our house offers quiet,comfort and contact with beautiful nature.between ancient olive trees and little forest you can discover the local history and culture.close to destinations such as balos beach,gramvousa island,elafonisi beach etc,you will experience the perfect vacations.ideal for families and couples(URL HIDDEN)(more photos to be published)
Room Type
Entire home/apt
---
Property Type
House
---
Accommodates
4
---
Bedrooms
Koukounara, Crete Region, Greece
This is a truly traditional Cretan home located in the village of Tsikalaria at the countryside of Kissamos. The village is right in the heart of real Crete surrounded by the unique nature of the island. The house while traditional, it also has a large size private pool for those hot days in the summer and all the necessary appliances to make your stay a bliss. .
Room Type
Entire home/apt
---
Property Type
House
---
Accommodates
6
---
Bedrooms
Tsikalaria, Crete Region, Greece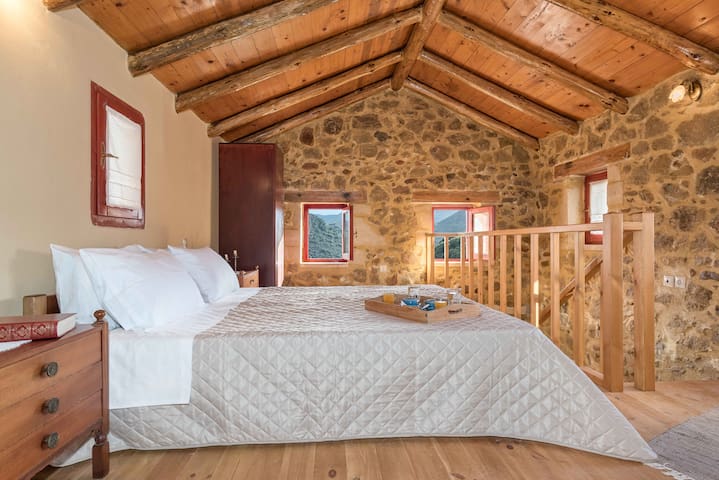 Ecotourism, agrotourism, ecology, the 'great outdoors' and respect to humanity and its needs: simplicity, harmony, clean air, warm hospitality, relaxed atmosphere. This is what you will find in Marediana Village, a small village in Western Crete.
Holidays in Kissamos are ideal for nature-lovers who want to be close to gorges, ecological nature walks, and the beautiful beaches of Elafonissi, Falassarna and Balos (Gramvoussa).
We were the first guests and had a wonderful time at this little house! It is located in a very small and charming village close to Kissamos, very remote and quiet, you just hear birds, sheep and bees! From the balcony, you have an amazing view of the bay and the surrounding mountains. The house was newly renovated, very clean and tastefully decorated. Vasilike was very friendly and hopsitable, the communication with her easy. We met in Chania and she showed us the way to the house, which lies a little hidden in the mountains south of Kissamos. So you definetely need a car to get there, but in only 5 - 10 minutes you are in Kissamos (with lots of taverns and supermarkets) and at the beach. We loved the house and enjoyed every day we stayed there! It is a good starting point to explore western Crete: Balos, Fallasarna, Elafonissi, Chania, etc. So we can fully recommed this little stone house!
Miriam
2016-04-13T00:00:00Z
I stayed for 3 nights with my boyfriend at the little stone house. It was very charming and confortable. We briefly met Vaggelis mother who welcomed us but unfortunately no one was around during our stay. A little down side was the shower, extremely small and without much water pressure. For the rest, everything was neat, fresh towels, little soap and all necessary things were there. We recommand!
Alexia
2016-08-19T00:00:00Z
Vassos' stone house is very charming, nested in a little village in the middle of olive trees. It is well equipped for 2 persons and everything is very clean. The village is a good camp base to visit the western part of Crete: Chania, Fallassarna, Balos, Elafonisi... Vassos and her mother were wonderful hosts, caring and helpful. Thanks !
Aloïs
2016-07-21T00:00:00Z
Fantastic village. the house is beautiful and not so far from Kissamos. if you choose to spend few days in Meridiana, you certainly will live a gretfull experience. recommended
Daniela
2016-08-23T00:00:00Z
We stayed three nights in the lovely little stone house. It was very clean and well presented, in a quiet and relaxing location, and had everything that we needed. Vasso was also very friendly and helpful and the place was perfect for the end of our Cretan trip - thank you!
Gabriel
2016-09-23T00:00:00Z
Really quiet and beautiful place just closed to the beach and the nice town of kissamos. Thank you so much Vasso! We'll recommend your house
Géraldine
2016-09-03T00:00:00Z
The house was as described, in a small, quiet village with great views. it is simple and basic. Everything was clean. There are no shops or tavernas in the village, but Kissomos is about 10 minutes away and has everything you might need. Its a good location for the coast and exploring the west end of the island. There is no parking immediately by the house, but you can park along the road nearby.
chris
2016-09-30T00:00:00Z
The house is located in an ecologically clean area! Very good Relax! The house is very clean! hospitable hostess! thank you very much for the rest! I recommend to all who are traveling by car!
Оксана
2016-06-17T00:00:00Z
Room Type
Entire home/apt
---
Property Type
House
---
Accommodates
2
---
Bedrooms
Marediana, Crete, Greece
Beautiful country villa with private garden and 8m x 4m swimming pool. Lovely sea views of the Kissamos bay. Just 9kms inland from Nopigia beach. Wonderful place to experience Cretan village life. Spacious living area with two bedrooms.
This pretty village house sits on a hillside with beautiful views of green hillsides tumbling down in disorderly fashion to the azure sea in the bay of Kissamos. In contrast, the gardens in which the Villa sits is the undisputed domain of Kyriaki, mother of the owner who works away between bookings, imparting order to the tumbling flowers and shrubs, containing them behind neat stone walls or within terracotta pots; lawns are watered and neatly mown and errant olive trees spilling over from the neighbouring field have whitewashed neatly applied to their trunks. Inside, the ground floor of Villa Kyriaki is open plan, subliminally divided by wide spanned mellow stone arches supporting the wood ceiling. There are four doors to the garden, one on each side of the Villa, so if there is a cooling breeze then you can't help but catch it. The sitting area is comfortably furnished with a sofa and armchairs by a fireplace and a flat screen TV. There's a table and chairs for dining although the great outdoors will be a draw, where you can dine on the shaded terrace. The kitchen cupboards are of traditional dark wood but with a sleek up date and they're topped by a run of gleaming white marble work top. There is all the equipment needed for cooking holiday meals or preparing food to be grilled on the nearby barbeque. The double and twin bedrooms on the first floor share a bathroom at this level and a shower room on the ground floor. They also share a terrace from where the views down to the sea and across to the old village of Tsikalaria are simply sublime. Georgos, the young owner and a carpenter by trade has extended his signature work from indoors to out with a beautiful hammock built in the garden. Joining this handmade furniture is a swing seat, rattan sofa set and dining furniture and of course the beautiful 8m x 4m pool. If you enjoy walking, head inland just 2kms to the cafe/taverna Rotonda. The owner, Stelios, is a cousin of Kyriaki and he will be pleased to give you directions for a 2 hour walk around the village of Kalathenes or if you are really keen the 5 hour circuit walk to Milia and back. At Rotonda, although the menu isn't huge, it is as fresh as it gets with crisp cucumber and juicy tomatoes picked straight from the garden below. The rear terrace has a lovely view of the surrounding area and its a cool spot to sip a glass of raki or two and exchange nods with the locals. Essential Information Sleeps (Max)4 Bedrooms2 Shower Rooms2 Maid ServiceIncluded PoolPrivate 8 x 4 A/CIncluded Floor Area m²114 Booking Information Check-InAny day (after 16:00) Check-OutAny day (before 10:00) Minimum stay5 nights Local Facilities Beach9km Restaurants1.5kms Mini Market9km Distances from Airport/Port Chania63kms, 1 hour drive Ferry Port Heraklion181kms, 2,5 hours drive Ferry Port Kissamos10kms, 18mins drive Ferry Port Souda50kms, 50mins drive Heraklion183kms, 2,5 hours drive Villa Equipment DVD Local TV Washing Machine Hair Dryer Toaster Kettle Sun Lounger WiFi Connection BBQ Filter Coffee Machine Iron & Board Pool Towels Fridge Freezer Hob Cooking Utensils Oven
Koukounara, Kissamos Just over 9kms inland from the shores of Kissamos Bay, the quiet village of Koukounara is perched on the hilltop reached by a road that passes through several small villages. A small cafeneon for the local gents is in the centre of the village whilst the large church with bell tower is at the edge of the village, as always the church has the best view in town. The majority of the locals have stayed in the village and are still living off the land in the area to this day. There are plenty of things which keep them busy year round from picking olives or oranges in winter to tending to the vineyards to produce wine & raki in the fall. They usually have a few hens and of course, a goat for milk and probably a dog for hunting too! The Koukounarians are a prime example of Cretan hospitality, where you will find genuine people proud of their village & heritage. They may wave as you pass through the village or they may hand you a few fresh eggs or a bag of grapes your way just because you crossed paths, as a gesture of their goodwill. Experiencing life in a typical Cretan village is what this place is all about. Just 2kms further inland from Koukounara is the lovely village of Kalathenes, again built on a hillside and where lovely panoramic views of the region can be seen. In the village center is Rotonda, a traditional taverna/café, which serves simple but delicious food. Most of the vegetables are from the owner's garden just below the taverna. Even if you turned up on spec, they would be able to whip up a Cretan omelette & homemade fries as you sip your local wine or Retsina enjoying the views of the olive tree covered hilltops. The owner of Rotonda taverna/café has more information about walks in the area along paths towards Polyrini, Sirikaki or the farther village of Milia. A tiny minimarket is attached to the Rotonda taverna, with basic essential & local products like thyme honey. For stocking up there are a couple of large supermarkets in Kissamos, a short 15 min drive away, as well as any other kind of shops one needs, plus ATM machines. A sunset stroll along the seaside promenade in Kissamos town is a great place to enjoy watching the world go by while sipping a long drink at one of the water front cafés before heading to one of the seaside tavernas for a meal. The seaside taverna of Acroyiali is located right on the shore of Kissamos Bay just 9kms away, where you can find fresh fish & usually some octopus hanging on the line to dry before it gets grilled. There is a small sandy beach just left of the town of Kissamos and another sandy patch of beach with some sunbeds & umbrellas on the beach of Drapanos near Nopigia with cafes & tavernas nearby. If you choose to stay in this area it is a must to go to the lovely Falassarna beach or be adventurous and take the day trip boat to Gramvousa Island & Balos Bay, which departs from the Kissamos harbour daily. A trip to the popular pink sandy of beach of Elafonissi is also easily accessible by heading inland and joining the main road in Topolia village and heading south.
The villa was amazing! The family that owned it were extremely nice. They gave us fresh fruit on arrival, vegetables from their garden and cheese which they had made. We drove around to a couple of beaches but we decided the villa was just too nice to leave so we stocked up and stayed put for the most of our holiday. It was just so peaceful. Occasionally you'd get a bit of noise from the animals in and around the valley but it just added to the charm of the place. I highly recommended it.
Paul
2014-06-29T00:00:00Z
The villa is wonderful. It is exactly is depicted in the photos. It is located in a small and quiet village but yet not too far from nice places. There are some really little issues that can be fixed really easily and I am sure they will be. We enjoyed the place a lot, it is very special and authentic.
Rachel
2016-08-29T00:00:00Z
The house is on a great location, close from a lot of interesting hikes, with great views on both the sea and the mountain. The house itself is very nice and comfortable. we could even enjoy the pool despite the early period of year. Kyriaky and her family is very welcoming and even gave us fresh products from her farm. Finally the instructions on how to get there and how to use the house were well done and useful... we had a great stay !
Nicolas & Alexandra
2016-04-16T00:00:00Z
This is a wonderful place to stay! The house is well appointed, there is everthing you need. The garden is so lovely with the pool area and the beautiful flowers and nice decoration. Waking up to that view is breathtaking!
Anastasia
2016-07-15T00:00:00Z
Best holiday in a long time. Mrs Kyriaki greeted us on arrival and gave us a guided tour of the villa. She had also left us homemade wine and raki in the fridge and a lovely bowl of local fruit. She visited us after a few days to bring us a pudding she had made and some fresh figs from one of her trees. Her mother lives next door and she was a lovely lady too, busy attending her daily chores such as looking after her goat, milking her and making cheese. We felt so much part of the area after being welcomed like family. The photos of the villa reflect the reality. The views are amazing and the pool is incredible. The pool was also the drinking hole for the local swallows who basically skimmed the surface of the water to grab a drink! All in all, a fabulous experience and we would definitely go back. Very highly recommended. There are also some amazing beaches in the area worth driving to. The amazing Balos beach is a must. The nearest town is Kissamos and has everything one needs, great restaurants and bars by the seafront, amazing bakeries, etc... Everywhere we went staff were efficient and very friendly. We had the best meal of our holidays at Zaharias Taverna. Check it out on trip advisor for details. I could go on and on, as everything was perfect. A million thanks to Kyriaki. (FYI we even bought her a plant to add to all the other lovely ones she has in the garden. This is the first we have ever done this(URL HIDDEN)
Bruce
2014-08-06T00:00:00Z
People who like privacy, plug off the wires (still there is good wifi) and just lik to do nothing in the mountains - this is for You. All the comfortable necessities are there - great kitchen with new kitchenware. Two toilets and bathrooms ne the house. Pool and chairs plus barbeque corner and freshness of the whole building. Pictures tell You the truth and if You dont mind driving a car to the shop and beach then You are in a great place. Thanks for offering places that are hidden gems from the crowd and still have the todays comfortness level in the house. Andres Torm
Andres
2016-10-07T00:00:00Z
We had a wonderful time at Villa Kyriaki, and would not hesitate to recommend it. It is a Cretan rural idyll and a perfect base to explore western Crete. We especially appreciated the warm welcome from family Kyriaki.
Sam
2015-05-25T00:00:00Z
Beautiful villa in the hills near Chania. Warm and welcoming host family, lovely people, lovely place. Nice pool. Goats and sheeps next to you, plus lots of olive trees. Wonderful surroundings.
Sissel Astrid
2015-10-20T00:00:00Z
Room Type
Entire home/apt
---
Property Type
House
---
Accommodates
4
---
Bedrooms
Koukounara, Crete, Greece
Une maison magnifique dans le style romantique situé dans un village traditionnel de Crète nommé (URL HIDDEN) maison est de 100 mètres carrés avec deux chambres à coucher un salon salle balcon cuisine prête à satisfaire les besoins de tous les personnages. balcon vue magnifique et les available.Offers de stationnement sunset.Free uniques de grandes opportunités pour les longues promenades Maredianas sont situés à 3 km de Kissamos et l'ancien port de Polirinios (la plus ancienne ville de Crète de Doric).
we enjoy the house of katerina, with a beautifull view at the beach . we stay there with two couples ,for three days . katerina and here mother are verry kind and we receive a nice welkom precent . the house is in a small verry quite village not far from kissamos , from where we make a trip to tigano balos beach , a beautiful place , and we have also make a walk in the hinterland to milia , not far from topolia.
alex
2016-10-03T00:00:00Z
excelent, clean, tidy,renovated, silent, quiet flat with everithing, what you need, with fantastic view!!! many thanks to Skounakis family
Hana
2016-10-12T00:00:00Z
S'il pouvait y avoir une 6 ème étoile, je la mettrais! La maison est décorée avec un sens des détails et un talent tels que le visiteur se sent dans un cocon appaisant de douceur et de beauté. L'accueil est très chaleureux et discret, plein de délicates attentions. Leur disponibilité est parfaite.
Michel
2016-09-28T00:00:00Z
Room Type
Entire home/apt
---
Property Type
House
---
Accommodates
5
---
Bedrooms
Marediana, Crete Region, Greece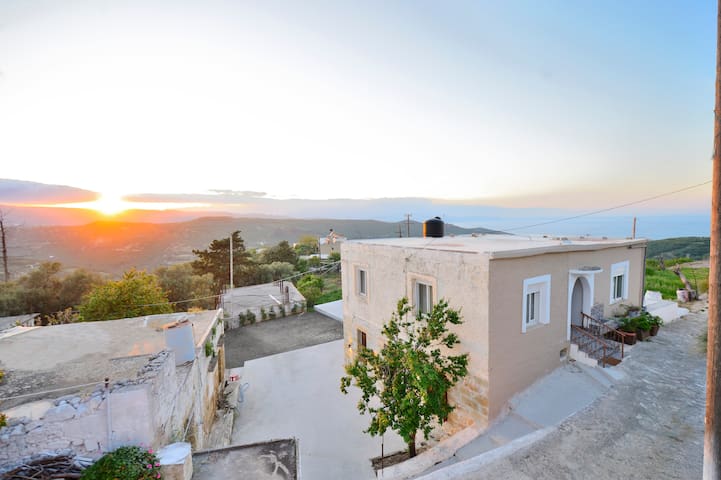 Stefanitsa's house is a charming place for relaxed vacation. You are welcome to stay and experience life on our little farm!
Stefanitsa's house is a lovely, fully renovated stone house in Kaloudiana. It has sunny rooms, comfortable beds,fully equipped kitchen and acharming garden. Depending on the season, you can enjoy our oranges, lemons, peaches or grapes!
Stefanitsa's house is close to taverns with traditional meditteranean cuisine, mini-markets, bucher shop and bus stop for public transport.
We are a family with 3 small children's , the visit in Stefania's house was the top of our trip to Crete , her hospitality was more than we expect. The house is big and clean, located close to the village center and a few minutes from Kissamos. The kids enjoyed feeding the farm animals. But the best was stefania, her carrying and generosity.
Yiftach
2016-10-06T00:00:00Z
Our stay at Stefanitsa's House has been the best so far in our holiday and in our airbnb experience. Stefania and her mother Sofia have been wonderful and kind hosts. When we arrived we found fresh fruits on the table and lots of nice things for breakfast in the fridge. Every day we received something fresh form their vegetable garden and their goats and hens. The kids were so happy to see the rabbits and the ducks and to collect eggs and tomatoes with their own hands. The house is thoroughly renovated and keeps all its charm of a traditional stone house. The kitchen is fully equipped (we like cooking and found more equipments than we have at home!). Both Stefania and Sofia have us information and helped us in every possible way.
Mario
2016-08-30T00:00:00Z
We absolutely loved staying at Stefanitsa's house. The house is beautiful, the photos do not do it justice. It is large and very comfortable. We did not get the chance to meet Stefanitsa (which was our fault due to us changing arrival time at the last minute) but the rest of her family were delightful. They even made us dinner on the night of our arrival and left us wine and a chocolate cake and lots of fruit from the garden. We would definitely recommend this flat to friends and faily!
Lizzie
2016-11-02T00:00:00Z
I am happy to strongly recommend Stefania's house for a number of reasons: the great hospitality of her all family, (the mother especially), the cleanness of the house, and its generous size. We felt pampered by the many attention that the family gave us: we were greeted by chocolate cakes, fresh milk, all kinds of fruits and juices, eggs and tomatoes from their across the street farm. Stefania's mother even cooked rabbit and potatoes for us. The house is tastefully furnished, with working hi-fi, washing machine and everything one can think of.
paolo
2016-09-14T00:00:00Z
tous est super, un plus pour le papy est sont jardin. mmmm!
ugo
2016-11-10T00:00:00Z
Très belle maison, très bien équipée. Les parents de stephania sont aux petits soins (gâteaux maison, visite de la ferme, fruits et légumes du jardin, oeufs frais...). Bien située dans le village, commerces à proximité. Proche de kissamos. Nous recommandons chaudement!!
celine
2016-10-26T00:00:00Z
Nous devions rester deux nuits et avons prolongé car les enfants ne voulaient plus partir, c'est tout dire ! Grande maison très agréable et confortable, un peu sombre (mais ce doit être un atout en été car frais !), avec la petite ferme en face avec les bébés lapins et les oeufs frais au petit déjeuner ! Excellent wifi et très bien équipé. A recommander sans hésitation !
Fabien
2016-10-24T00:00:00Z
Wir verbrachten 4 wundervolle Tage bei Stefania und ihrer Familie. Obwohl wir erst spät nachts ankamen, empfing man uns herzlich mit einem leckeren Abendessen und einem Kuchen. Die Wohnung war großzügig geschnitten und geschmackvoll eingerichtet. Die Küche war perfekt ausgestattet, selbst Gewürze, Toast, Spagetti, Tee und Kaffee waren zu finden. Im Kühlschrank fanden wir frische Eier, Milch, Butter, Saft, Obst und Gemüse und alles Nötige für ein gutes Frühstück. Beinahe jeden Morgen fanden wir frisches Gemüse, Gebäck und andere Kleinigkeiten vor unserer Tür. Wir bekamen auch eine kleine Führung durch die hauseigene kleine Farm. Die Herzlichkeit und Gastfreundschaft der ganzen Familie war überwältigend, man fühlte sich wie bei Verwandten. Wir empfehlen diese Unterkunft aufs Höchste und würden selbst sehr gern wieder zu Gast bei Stefania und ihrer Familie sein, wenn sich die Gelegenheit bietet.
Silvia
2016-09-26T00:00:00Z
Room Type
Entire home/apt
---
Property Type
House
---
Accommodates
5
---
Bedrooms
Kaloudiana, Crete, Greece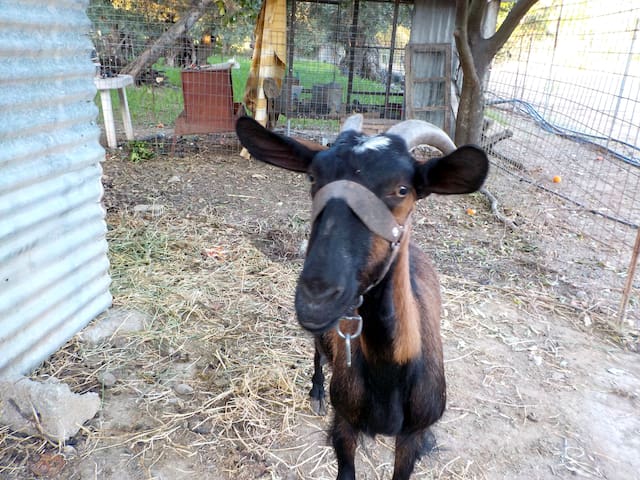 A magnificent house in the village of Cherethiana in Chania, Crete. A panoramic view to the gulf of Kissamos, the valley and the hills. It can accommodate up to 4 persons. 10 min driving to the sea. Falassarna:20 min, Mpalos:40 min, Elafonissi:50 min We cooperate with a rental car agency with cheaper fees! They provide you with a car at Chania airport and harbor at an arranged time (they deliver you a car and get it back, when you wish to). Inform me to give you more details.
An impressive house in the village of Cherethiana, in Chania, Crete. 10 min from the sea. It is fully equipped: a big living room, a cozy dining room, a spacious modern kitchen, a full bathroom, a double bed bedroom with a bathroom, and two bedrooms with a single bed each. There are a beautiful garden and a spacious balcony with a panoramic view to the gulf of Kissamos / Kastelli.
Cherethiana is a beautiful and quiet mountainous village in prefecture of Chania, located only 6,5 km from Kissamos. It is mainly agricultural; it is occupied with green houses, olive oil, sheep and dairy products. The village offers many facilities, many shops and taverns.
It was a pleasure staying at Cherethiana and Angelikis and Nikos place. It is a really big house with very nice spaces and incredible view. The location is quiet in the midst of olive trees and the sound of singing crickets! Nikos is a great host and he gave us all the necessary information to make our stay in Crete memorable. You must absolutely try his rakomelo! Thank you for everything!
Vassilis
2016-08-23T00:00:00Z
Angeliki and Nikos were really kind and helpful. The house is very big (perfect for a family), beatiful (great view, great balcony), well-equipped and wonderfully quiet. You will need a car to stay there, but you are not far away from Kissamos (5-10 minutes) and from some of the most amazing beaches of Crete (Balos, Falàssarna, Elafonissi). Everything was perfect. I would suggest Angeliki and Nikos' house and I would come back soon.
dario
2016-07-27T00:00:00Z
Magnificent ! The view is great just as the street. Not to far from the beach and from the town (10min with a car). We loved it. We highly recommend this house !
Karla
2016-10-14T00:00:00Z
Our stay in Cherethiana was fantastic! Angeliki and Nikos were great hosts. We arrived late in the evening and took long time to get to Cherethiana, but Nikos came to pick us up. He left everything we needed for breakfast and even gave us fresh eggs during our stay. The house was exactly as described. The terrace is very nice with great view! The village is small and quiet - this was exactly what we were looking for!
lorenzo
2016-09-05T00:00:00Z
Abbiamo passato splendidi giorni nella villa in Cherethiana, immersi in un'atmosfera tipicamente greca, circondati da placidi ulivi. Angeliki e Nikos ci hanno sempre circondato di attenzioni non facendoci mancare consigli sui luoghi da visitare, le taverne tipiche da provare e il meraviglioso mare da vivere!!! Speriamo fortemente di tornare presto... Grazie. Massimiliano, Stefania, Paolo e Cristina.
Massimiliano
2016-08-13T00:00:00Z
Room Type
Entire home/apt
---
Property Type
House
---
Accommodates
4
---
Bedrooms
Cherethiana, Crete, Greece
The house is on top of the village Topolia, Kissamos, Crete. Its location fits ideally for visits to the main points of interest (Ballos, Falassarna, Elafonissi beaches). This place is good for couples and big groups.
The house is on top of the village Topolia, Kissamos, Crete. Its location fits ideally for visits to the main points of interest, such as: Drapanias beach (8 kms) Ballos beach (12 km) Elafonissi beach (28 km) Falassarna beach (15 km) Paleochora city and beaches (29 km) The house is ideal for relaxation in a green area with view to the mountains and sea. Topolia is a pure cretan village with tavern and cafe. There are many hiking routes for walking in gorge Topolia and green mountains with caves and historical churches, in which local festivals ("panigiria") often take place. The stone house is very cool during summer. There is private and safe parking.
The house is a two storey House. The neighboorhood is quite and the neighboors are also quite, local people. During spring and summer, you will hear the tweets of birds! The Home is 43 kms from Chania Old Harbour, 49 kms from Chania airport, 165 kms from Heraklio. The Home is ideal for privacy. At a few minutes walking distance from the house you will find traditional tavern with delicious local food and mini-market which stay open until late at night.
Room Type
Entire home/apt
---
Property Type
House
---
Accommodates
6
---
Bedrooms
Topolia, Greece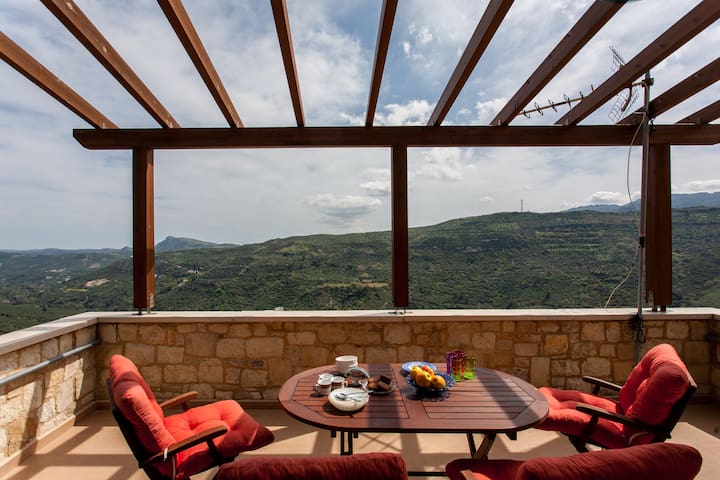 This is a unique old stone house of around 200sq.m located in an idyllic quiet area not far from the town of Kissamos (around 5km distance). It is divided in spacious rooms which are all in very good condition and it is fully equipped and elegantly decorated. There is a big yard with fantastic view enjoying absolute privacy. This house could be described as a watchtower from where real life of Crete can be observed. The view to the mountains, olive groves and close villages is stunning. Apart from the view, taste and comfort, the house is characterised by a very special atmosphere that gives the guest the feeling of a historical, living space and it is indeed by itself a very good introduction to his travel to Crete.
The countryside of Kissamos is a special and distinctive place in the Island of Crete. Even today, visitors are amazed to find a place where the environment and lifestyle have been touched more lightly by mass tourism than in most of Greece. The villa is surrounded by olive groves, vineyards, cypresses and rushing streams. The region has many beautiful villages, country houses, old Byzantine churches and ancient ruins from the late Iron Age. And then of course there is the beautiful coast where small bays and coves alternate with popular seaside resorts and long sandy beaches.
The cock wakes up the sun. The geese join in. Then the peacocks, which like to parade up and down the villages' street in twilight (and sometimes drop in to have an early morning snack at the terrace). You may hear a slurping sound, look down to the spring (at the outer wall of the terrace) and find a flock of sheep drinking. From time to time, cats stroll around, checking if you have some leftovers from last evening's mizithra cheese. They must wait a minute or two, because you cannot leave your observation deck: the sun is just rising behind hills and mountains, every morning dressed in new colors and glows. Speaking of observation deck: Best place in the house with a (day-)bed and twelve windows opening towards the wide landscape ... (there are two more bedrooms - one accessible through a trap door, one connected with the bathroom, and, in the centre of the house, a large kitchen). In short: We spent three quiet, unstressed and absolutely amazing weeks in the House at the Spring and wished we could stay for one year. More than once we idled away a whole day in the house and at the terrace and felt more than happy. Some hints: You absolutely need a car. It is a 15-minutes-drive to Kissamos (opening breathtaking views), 10 to the village of Kaláthenes (visit Rontonta Café!), 40 to Falassarna beach. Whatever road you take into the heartland, you will discover beautiful, peaceful places. And last but not least - our hosts: Very nice, caring and helpful. Thank you very much, Elias and Ioannis!
Claudia
2016-10-08T00:00:00Z
"Dream House" is a fitting description. This beautiful building is a stunning renovation and more than met our expectations for a week's stay in August. Ioannis's parents live in the local village - and were more than happy to help us with anything. The village is quiet and peaceful with beautiful views across the Cretan hills and the only sounds were those of peacocks, farm animals and the occasional passer by stopping outside to drink from the natural spring that gurgles up to a well next to the house. It really is very special - an idyllic place to stay. A 15 minute drive to Kissamos and only 25 minutes from stunning beaches, whilst also enabling a slightly more hair raising drive into the picturesque hills inland.. the house is perfectly located to explore the Western side of Crete. We've already discussed the possibility of going back!
Hannah
2013-08-28T00:00:00Z
The welcome: We were a bit lost getting to the village, so our host met with us at the highway, saved our life! The greeting was amazing, and the house full of little surprises to make us feel welcome. You can see the passion of the hosts to the area and culture. The house: As described, a bit of paradise in the middle of rural crete. The perfect place to chill out, and also a great base to explore the best beaches is west crete (Balos, Falassarna, Elafonissi). The area: Very peaceful, surrounded by nature (plants and animals!) Very relaxing. Would definitely go again!
julian
2016-09-01T00:00:00Z
A wonderful house surrounded by nature and animals. A very nice and quite place to relax from downtown stress. We really enjoied our stay!
Isabella
2013-10-03T00:00:00Z
We truly loved our stay at The Spring House and it's location. Ioannis and his great dad Elias answered all the questions we had. The house is a bit tricky to find but meeting Elias at the Shell Station made it a lot easier. It's about a 20 minute drive to Kissomous. We loved just hiking around the area. We shall be back!!
Neal
2016-09-14T00:00:00Z
Maison splendide dans une région magnifique. Quel bonheur ! Les parents de de Ioannis ont été très accueillants. J'espère que nous aurons l'occasion de revenir...
Delphine
2015-08-30T00:00:00Z
Das Haus ist sehr schön und sehr angenehm ! Komplett ruhig und ideal für Entspannung oder Erholung ganz in der Natur ! Der Landschaft ist wirklich traumhaft !!! Die Gastgeber sind sehr freundlich und immer Hilfsbereit ! Ich kann nur ganz herzlich dieses wunderschönes Haus empfehlen !!! La maison est superbe et très agréable ! Au calme complet et idéale pour se relaxer ou se détendre au milieu de la nature ! Le paysage est tout simplement extraordinaire !!! Les hôtes sont très accueillants et toujours prêts à aider ! Je ne peux que recommander très vivement cette maison magnifique !!! Aout 2013
Eric
2013-09-05T00:00:00Z
Room Type
Entire home/apt
---
Property Type
House
---
Accommodates
5
---
Bedrooms
Koukounara, Crete, Greece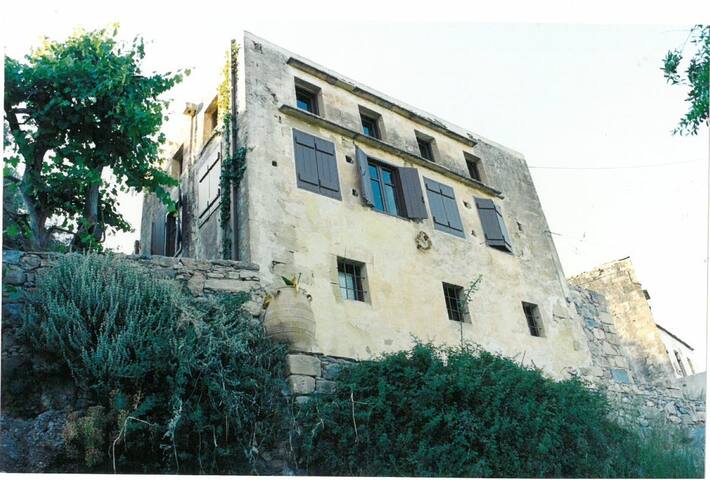 A traditional Cretan 60m2 ground floor house fully restored, built during the Ottoman rule in 19th century, in a peaceful little village near Kissamos (Kasteli) is waiting for you. Cosy and stylish, ready to host families, couples or even lonely travelers. Kissamos is 3 km away, with Falasarna and Ballos beaches nearby. Free parking available in the village. Sea view from the rooftop of the house. A private 30m2 front yard with plants and shadow ready to host your dinner or breakfast times.
We had a really wonderful time at the house of manolis. Its located in a small cretan village withsome goats as closest neighbours. The house is beautiful. Manolis and his parents took really good care of us and helped us with everything. Thank you very much!
Katharina
2016-10-26T00:00:00Z
My girlfriend and me stayed 5 nights in Manolis' beautiful Cretan house. It was a very very positive experience - from initial communication, to arrival at the final destination where Manolis' father came to meet us at a nearby meeting point and brought us all the way to the house. Manolis was also available all the time when needed throughout all our stay, and came with great suggestions for trips and practical facilities. Also, Manolis' father has been kindly checking up on us to make sure that everything was in order and we had all we needed. We were looking forward to arriving, as from the pictures we could see that we had found a great place to start our vacations, but Manolis' place exceeded our expectations by far! The house has everything you need for a long and very pleasant stay - with a charming and cozy atmosphere inside the house and a great courtyard covered by flower trees were hours can be spent in shade to the quiet village vibe. Manolis did everything and more to make us feel at home and very welcome! The village in itself is small with a population of approximately 60 - it has no shops or attractions. There is a bar/coffee place, a church and not much else. But you drive to Kissamos in only 5 minutes which has fine beaches, shops, restaurants and more. Manolis' place is a great base for exploring the western part of Crete like Falasarna Beach, Elafonisi Beach, Balos Beach, typical Cretan mountain villages, caves, archeological sites and much more. We can highly recommend Manolis' place for both short, as for long stays - after having experienced the house and have felt so welcome, we would have definitely loved to have more than 6 nights there!
Brian
2016-08-22T00:00:00Z
Fantastic host, turned my trip to Crete in a special experience. Highly recommended. The house is a small paradise for those who wish to relax and feel the real spirit of Crete.
Iannis
2016-08-17T00:00:00Z
It was an absolutly wonderfull stay in the very nice refurbished real traditional house of Manolis! It is like discribed in a secluded little village near Kissamos aside of tourists and traffic. The accomodation was serving a perfect base for some daytrips to the western part of crete and gave our trip to Crete the desired recreational ambience. With the rented car and also a scooter, the many beatifull beaches in the region could be reached easilly and fast (5 min).
Robert
2016-09-25T00:00:00Z
We spent 5 nights at Manolis' place. The welcome has been really warm and kind. The father drove us till the flat which is cozy as in the pictures. Manolis provided us with all the kitchen basic goods that we might need, including local honey and olive oil. He also sent us really useful tips about the restaurants and beaches around. The neighborhood is quiet and silent, 5 min from the centre of Kissamos.
Silvia
2016-09-09T00:00:00Z
очень гостеприимные хозяева, чистый, уютный, традиционный домик, вдали от суеты! свой садик с огромным количеством цветов и с тенистой зоной для отдыха, всё для комфортного пребывания! старинная мебель и очень красивая посуда, хозяева даже оставили много еды в холодильнике, воду, кофе, чай, вино! хороший wi fi, кондиционер, удобная кровать, выход на крышу. на самом деле дом даже лучше чем на фото, мы очень рекомендуем!
Danila
2016-09-02T00:00:00Z
Room Type
Entire home/apt
---
Property Type
House
---
Accommodates
3
---
Bedrooms
Kissamos, Crete, Greece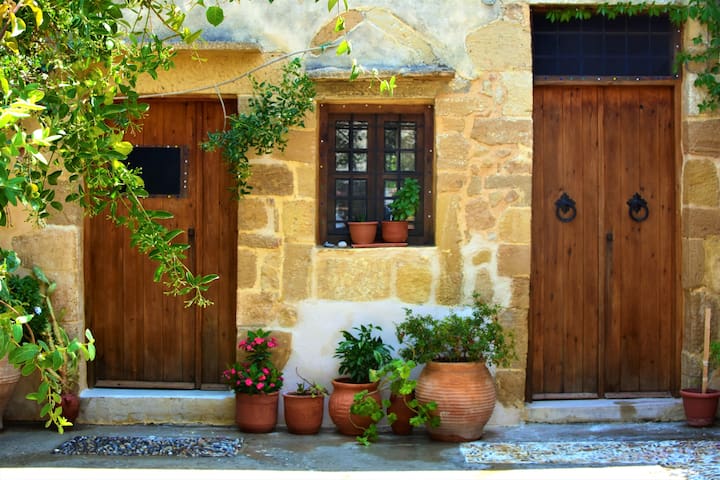 Our cosy stone built home in the village is a perfect place for relaxing. We have renovated our grandparents home that was built in 1800 by our ancestors. It is in a perfect location close to the market of the village, but at its limits.
It is actually built in two stories. As you enter there is the kitchen area with a big barbeque and gas stove as well with a traditional wood-oven which you are welcomed to use (we will be happy to help you with it). On the same floor there is the cosy sitting and dining room area with handmade wooden furniture. Outside and attached to the building there is the newly build bathroom with shower. There is also a spacious terrace where you can enjoy your coffee, tea or your meals. A wooden staircase leads to the bedroom upstairs. There is a double bed provided, a wardrobe and a private balcony with a distant view to the sea. There is a ceiling fan to use in the bedroom. The power is provided only by solar panels so it should be used with care. During spring and autumn we would also love to welcome you. A wood stove in the sitting area keeps the house cosy and warm and you can also enjoy various winter activities.
Spitaki (little home) is located in the outskirts of the village, reached through a narrow street, there are some village houses from one side and the olive groves spreading around. The center of the village is 200 meters away where you can find a super market, local taverns and a pharmacy. The town of Kasteli is just 4 minutes drive away. The beach is just 3-4 minutes drive.
Thodoris is very polite! The house is nice and confortable and in a quite
Serena
2016-08-26T00:00:00Z
I stayed in Spitaki a week to celebrate my birthday together with my two daughters. I was looking for something quite and not too touristy, and Spitaki fulfilled my expectations fully. Everything worked very well, and Thodoris is very quick to respond on any question you might have. He met up with us the first day, and showed us around in the house. The house was prepared with lovely home made little pastries, home made olive oil, flowers and other things to make us feel welcome. He had even arranged a birthday cake waiting for us in the fridge!! We found Thodoris very friendly, helpful and easy to communicate with. Spitaki is perfect place if you look for something quite and restful. After a 3 minute walk you'll find a couple of Tavernas and a little supermarket. The closest beach is about a 10 minute drive (car) from the house. There were also two bikes available, and you can easily reach the beach by bike. There are really great beaches (Elafonisi and Falassarna) within reach by car, and I would recommend guests to rent a car (preferably a little car, narrow little road up to the house). Some of the restauarants/tavernas on the way to Elafonisi are also great. The only little embarrassment was the rooster crowing in the morning. But in a way, chickens, goats and roosters are part of the charm when staying on the countryside. No big deal, really. All in all, a lovely place to stay in and a very friendly and helpful host. I can truly recommend it. Oh, and I forgot, I got a big bottle of Thodoris own olive oil to bring home. The bottle made the flight without being broken, and I'm enjoying the olive oil in my food and cooking every day.
Stefan
2016-10-08T00:00:00Z
Thodoris and Electra more than welcomed us to their lovely Spitaki. As soon as you step through the entrance door you instantly feel at home grasping a detailed sense for a warm and cozy decoration in its minimalistic simplicity. We fell in love with the idea of a sustainable home using solar as only energy source and fire for cooking. Every morning we enjoyed our breakfast on the balkony with an astounding view towards the sea surrounded by ancient olive trees and cute animals of all types. The family offered us so much more than we could ask for, put their heart and soul into every little sweet traditional surprise treat that made us smile and go into rhapsodies about. Nothing left to say except to feel blessed to have met these wonderful people and have spent such a great time on the island. A big THANK YOU to our hosts! Ninija & Jan
Jan
2016-10-17T00:00:00Z
Thodoris is a really nice man and an excellent host. The kindness of cretan people is reflected at his face. The spitaki is situated in an excellent location of one wishes to visit the most beautiful beaches of Crete (elafonisi kesrodasos balos falasarna). It is an old traditional house respecting the agricartural area. It is spacious. The host provided wine rail watermelon olive oil fruits and very helpful information as to where to eat traditionally and nice. The price was ok considering the nice experience. Nothing negative to mention. An excellent stay. I would recomended in any case.
Stergios
2016-08-10T00:00:00Z
Theodoris and Electra were fantastic hosts - very friendly and accommodating. The house was fastidiously clean, and in great condition. There are very narrow streets to get to the house, so keep that in mind. Also, this is very much part of a working farm, so expect the usual animal noises and tractors to be part of the experience. Very easy location to area beaches and nice restaurants. We watched the stars and enjoyed our breakfast from the roof deck.
Polly
2016-05-24T00:00:00Z
The spitaki surpassed our expectations - we are really impressed!! Thodoris and his family welcomed us with warm homemade pies, excellent homemade raki and olive oil (as a gift). Both of them showed us around the lovely stone cottage which they restored themselves: traditional kitchen with a stone sink, comfortable reception room & quiet bedroom - and 2 spacious terraces. Cleanliness  and attention to detail stand out, nothing is left to chance ( from the old photographs hanging on the wall to the very nice shampoo/ shower gel set we found in the bathroom and the olive branches that decorated the towels on our bedroom bed). The lovely hosts also gave us a list of good tavernas to visit in our travels, as the spitaki is ideally located for the famous Elafonissi, Balos, Falassarna and Gramvousa beaches. The overall feeling was that there's nothing they wouldn't do for us to feel at home and have a good time. The picturesque views of the olive orchard, the village and a little corner of the sea - as well as the peace and quiet- rounded things up for us. We couldn't have asked for a better location/home away from home/host!!! Book with confidence.
Victor
2016-09-27T00:00:00Z
We've stayed in a variety of different accommodation whilst on holiday over the years, but this definitely stands out as one of the best. Thodoris and Electra were wonderful hosts from start to finish. They are such kind, welcoming people - going so far as bringing fresh fruit, eggs and other local / homemade produce for us frequently. Their knowledge of the local area was equally appreciated, and we discovered some world-class beaches with their kind help! They also arranged a WiFi dongle for us so we could get mobile internet during our stay, which also came in useful. The accommodation itself is like something from a fairytale. Beautiful stone walls set on an idyllic countryside slope, surrounded by olive groves with the mountains and seaside in the near distance. We particularly loved how clean everything was, in addition to the rooftop terrace for amazing views both in the morning and evening! Location-wise, the property is about 10 minutes drive from Kissamos itself. It is set a little back from the main road, and narrow streets will make it a challenge for those with larger vehicles. However, the advantage is that it's very quiet on the nighttime, despite the occasional cockerel or barking dog. We experienced fewer mosquitoes than in other parts of Greece, although nets are installed just in case. The amenities are pretty good. We didn't cook as much as we perhaps should have done, but the wood fireplace was very fun to cook on. There was also a gas stove as an alternative, which came in useful. Washing by hand, which is fine when you're on holiday like this. Fridge/freezer modern & clean in-line with the rest of the property. Bathroom basic, but clean. All-in-all, one of the best holidays we've ever had. We can't wait to come back!
Ben
2016-07-20T00:00:00Z
We thoroughly enjoyed our two week stay at Spitaki! The house is lovingly restored with tasteful attention to detail, in a traditional Cretan style. Set away from the touristic areas, the house is situated on the outskirts of a charming village that is full of life and has a vibrant sense of community. Thodoris and Electra are wonderful hosts and made us feel more than welcome, it was a real pleasure to meet them and we felt very looked after as guests with numerous little touches like being given fruit and vegetables from their garden. They went to great lengths to make us feel at home, and it really exceeded our expectations. It was easy to find a range of tavernas serving excellent food, the friendly and family-run village taverna in particular. Nearby Kissamos is an unspoilt town with plenty of beaches in and around it. Thodoris and Electra are able to recommend sites of interest around Western Crete, which are all a short drive away. Overall, a unique and memorable experience! We do not hesitate to recommend it!
Will
2016-08-04T00:00:00Z
Room Type
Entire home/apt
---
Property Type
House
---
Accommodates
4
---
Bedrooms
Kissamos, Crete, Greece
Surrounded by a vast area of olive trees, gifted with an amazing view of Kissamos bay, close to the best beaches of Chania-Crete and plenty of amenities, following high construction and architectural standards , 5 min by car to Kasteli.
The apartment is situated at the best place of Chania prefecture, between the best beaches of the west coast and the city of Chania.
The apartment is situated at the 2nd floor of a new built villa at the village of Drapanias (Ano - Drapanias) at Chania Crete. It is completely isolated from the rest two apartments of the building (elevator suitable for invalid people, separate entrance) It consists of three double bed bedrooms, one bathroom , one wc, and a spacious living room - kitchen. The total area of the apartment is 130m2. Every sector of the house is equipped with central air conditioning system (fan coil) that provides heat during winter and cold during summer. The apartment was built in 2009 according to the highest construction standards , with extensive architectural care concerning both its interiors and its exterior so as to conform with the traditional houses of the village and to offer the highest standards of living to its guests. It is situated at the perfect place of the northern coast of Chania prefecture since it combines: 1.proximity to the beach (2km from the beach of Drapanias) 2.traditional character (situated in a quiet , traditional village) 3.stunning view of the Kissamos bay that will make it difficult for you to leave its terrace 4.close to the city of Kissamos (6km) where someone will find super markets, restaurants, cafe's, hospital etc. 5.30 minutes by car from the city of Chania (picturesque old port), 40 minutes by car from the port of Souda and 45 minutes by car from the airport of Souda. 6.close to the best beaches of Chania (20km from Balos, 20km from Falassarna, 35km from Elafonissi) The very high standards of living that the house offers and its ideal position (traditional and quiet village situated in the middle of the distance between the city of Chania and the incredible beaches of the west coast of Chania) makes it IDEAL for long term vacations of a family or pensioners. As far as its facilities are concerned: central air conditioning (heating - cooling) for every individual room - sector of the apartment, fireplace at the living room, fully equipped kitchen (oven, microwave oven, cooker device, refrigerator, dishwasher, laundry machine, nespresso coffeemaker, toaster), solar heating system for hot water, flat TV, dvd player, elevator, 20 m2 terrace with a stunning view, external barbecue situated in a 30m2 courtyard, private parking (indoor or outdoor), free wi-fi, large storage area at the basement.
Very nice house. Very clean and well-designed. Suitable for families, with three comfortable bedrooms. The kitchen is very functional and the views are magnificent. Stavros is a very attentive host, who made our stay welcome with many amenities, such as a refrigerator with fresh eggs, juices and breakfast food, local wine and raki and fresh cut flowers. Stavros went out of his way to ensure that we had everything we needed for a great stay and was always responsive to calls, texts or emails. I highly recommend staying here for a relaxed, enjoyable vacation. The home is well-situated to explore the western half of Crete without the touristy feel or crowds of some of the larger towns.
Austin
2016-06-10T00:00:00Z
PERFETTA
marco
2016-06-21T00:00:00Z
La posizione della casa, nelle colline a pochi km dai centri urbani, ha permesso di godere di pace, vista mozzafiato e aria ristoratrice anche nei momenti di grande caldo. L'accoglienza e l'ospitalita' di Stavros hanno completato un periodo di vacanza magnifico.
Silvano
2016-08-03T00:00:00Z
Room Type
Entire home/apt
---
Property Type
House
---
Accommodates
6
---
Bedrooms
Δραπανιας, Κρήτη, Greece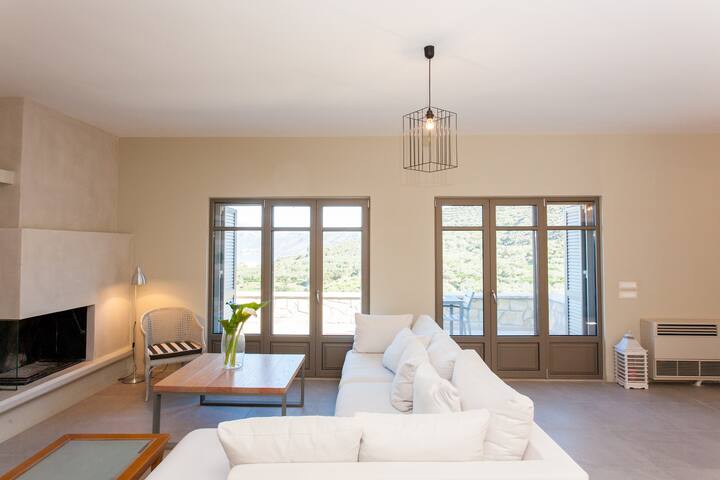 Villa Irene is framed by olive groves and has a spectacular view of the sea towards Kasteli bay. The daughter of the owners is an architect, and in renovating the house she preserved the traditional Cretan style.The closest beach is a 10' drive.
Villa Irene is a picturesque country house located in the village of Hairethiana in Chania. It is is framed by olive groves and has a spectacular view of the sea towards Kasteli bay. The owner is an architect, and in renovating the house she preserved the traditional Cretan feel while discretely adding the elements necessary for comfortable modern living. The house has 2 bedrooms and can accommodate 4 people. There is a living room with working fireplace, which connects to a fully equipped kitchen and bathroom. There is a raised balcony with awesome view, and a table for outdoor dining and lounging. The closest beach is a 10 minute drive. But all the world-famous beaches that have made Chania a top Mediterranean destination can be explored a short drive away. One of these, Falasarna, is a pink-sand beach with turquoise waters and sunsets to die for. Another is stunning Elafonisi beach. Boat rides are available from the nearby port of Kasteli for Balos-Gramvousa, a cape with distinctive coastal geology.
Hairethiana has an altitude of 160 m and lays on the hills above Kissamos-Kasteli, about 25 minutes (40 km) from the port city of Chania. The closest beach is a 10 min. drive. But all the world-famous beaches that have made Chania a top Mediterranean destination can be explored a short drive away. One of these, Falasarna, is a pink-sand beach with turquoise waters and sunsets to die for. Another is stunning Elafonisi beach. Boat rides are available from the nearby port of Kasteli for Balos-Gramvousa, a cape with distinctive coastal geology.
We had a fantastic experience in this beautiful house:everything was perfect and clean.The house is as it is shown in the picture s,the garden and the terrace are perfect for relaxing and have breakfast or a nice (URL HIDDEN) only 10 minute by car from the nearest beach.Evangelia was a lovely host: she welcoming us with typical honey and black bread as we arrived in the house and gave us a lot of information about restaurant,beaches,amenities....We thanks her so much for the amazing experience we had!!! Elena&Peppe
Peppe
2016-08-15T00:00:00Z
Room Type
Entire home/apt
---
Property Type
House
---
Accommodates
4
---
Bedrooms
Cherethiana, Crete, Greece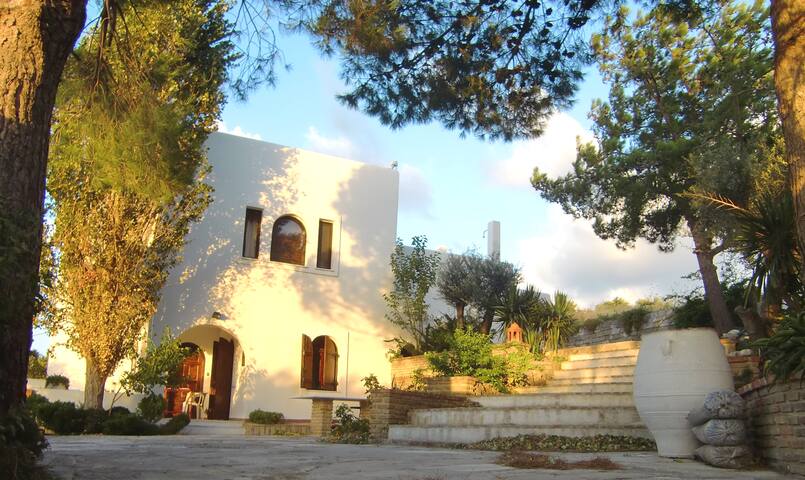 Beautiful 200 year old stone house in quiet village, fully renovated in 2014, with all modern amenities. Shady patio, garden, spacious roof terrace with stunning sea view, private parking. 2 km to lovely sandy beach, 5 km to the nice town Kissamos.
Villa Luna, a 100 sqm stone house, is situated in the tiny village of Pano Drapanias, where you can enjoy absolute quiet and stunning views. The nearest mini market and taverna is in Kato (lower) Drapanias, a few minutes walk down the hill. The area offers lovely walks and some of the most beautiful beaches in Western Crete, like the 5 km long and almost deserted Drapanias Beach (2 km away) and the famous beaches of Falassarna (18 km) and Elafonissi (50 km). The nearest town is Kissamos (5 km), a charming, everyday greek town with many shops, restaurants, bars and all services. Bustling Chania is a 30 minutes and 35 km drive away. Distanse to airport: 50 km.
If you are looking for a beautiful holiday house with a real greek feel, in a quiet village where the goats, hens and wild birds do the "talking", then Pano Drapanias is the right place for you. If you love beautiful beaches and not to many tourists, then the Kissamos area is the right place for you too. The area is also a gem for those who like walking trips and archeology.
In this utmost charming place (terrace, flowers, view on the bay) Trond's lovely house is very welcoming with many nice details (from china to dvd player)...included a very gentle lady cat we decided to baptise Orphée! We slept very well (silence and bed quality) and enjoyed every moment in the house! Only caviat a little problem with the internet. Thank you for the place and for the very kind help on site!
Anne Celine
2016-05-17T00:00:00Z
We absolutely love Trond and Andre's house! It's spacious, charming and quite. There is a terrace with an amazing views and we were very lucky to have the full moon :-) ...and our daughter played with a cat that came and visit us. For us it is 5 star house! Already missing it!!! Thanks again for letting us to stay in this privilege greek house!
Deisi
2016-08-22T00:00:00Z
everything was absolutely perfect. trond and andre have created a little paradise with villa luna.
peter
2016-09-07T00:00:00Z
We really loved our stay and Trond and André's house. Communication with Trond and the housekeeper, Neil, were easy and they were both very responsive. The view of Kissamos bay from the rooftop is breathtaking, and the house is well-appointed. And of course, an added bonus as mentioned by others was the delightful cat, Gunda, who respectfully waited for us outside each morning and became part of our daily routine! It was a restful stay and we would not hesitate to stay again.
Alexandre
2016-10-18T00:00:00Z
Beautiful traditional home nestled by the mountains. All the comforts of home with a spectacular rooftop terrase with views. We loved the proximity to Kissamos while feeling like you were in the country/small town. It was nice to feel at home after three weeks of travel and to have a full kitchen and things like salt, pepper, oil etc made it easy to stay in to eat. Definitely necessary to rent a car as it is not easily accessible by foot or public transport. Loved our stay here, it was very special :)
Tasha
2016-09-21T00:00:00Z
My boyfriend and I had an absolutely wonderful stay in Villa Luna this April. The house was everything we had expected, and more! It's the perfect place for a quiet retreat in the countryside, placed in a tiny village, and surrounded by the sound of birds, goats and the odd dog barking. From the roof terrace there is the most magnificent view over Kissamos bay as well as the surrounding hills and mountains. In daytime you can watch birds of prey soaring the sky, while at night the owls are hooting. The local beach, which was completely deserted this time of year, was lovely, and at ca 20 km distance, there was the absolutely breathtaking Falassarna beach, so there are plenty of possibilities to go sunbathing and swimming. We also went driving in the mountains and to the south cost, a stunning journey through clefts and valleys and up steep mountainsides, with lush countryside and olive tree terraces mixing with more barren and rocky landscape. The house itself is beautiful and well equipped, old yet modern, and feels like a real home, stylish, yet cozy. The house is ideal for 2 people, as there is only one bedroom, but it can accommodate 4 if needed. Everything around our arrival and departure worked smoothly. We were met by the very friendly caretaker, who showed us the house and told us about the area, and were told to contact him anytime, if needed. We warmly recommend Villa Luna to anybody who looks for peace and quiet away from the tourist areas - which are also easily accessible as Chania is only a small hours drive away, and the nearest town Kissamos around 10 minutes away by car.
Tuula
2016-05-01T00:00:00Z
La casa è veramente spettacolare!Le indicazioni fornite da Trond per raggiungerla sono state precise e dettagliate. Pulita e arredata con gusto e dotata di ogni comfort. In 10-20 minuti di auto si arriva in località e spiagge molto belle! Consigliatissima! Neil, che ci ha accolto, è stato molto disponibile e puntuale.
Giusy
2016-05-30T00:00:00Z
Superbe semaine passée à Villa Luna où tout est conçu pour le bien-être et le repos. Maison isolée, au calme, en haut du village de Drapanias mais proche de magnifiques plages. La maison est restaurée avec beaucoup de goût et bénéficie de tout le confort moderne et tout particulièrement de la climatisation appréciable au mois d'août. La terrasse de toit avec vue sur la baie est un endroit idéal pour profiter des soirées. Tous les renseignements nécessaires ont été fournis à l'avance par Trond et l'accueil sur place a été assuré fort sympathiquement par leur correspondant Neil. Nous ne saurions que recommander cette location qui est une base idéale pour rayonner sur toute la partie ouest de l'île. Merci à Trond de mettre à disposition son agréable maison. Florence, Xavier et Violaine.
xavier
2016-08-07T00:00:00Z
Room Type
Entire home/apt
---
Property Type
House
---
Accommodates
4
---
Bedrooms
Drapanias, Crete, Greece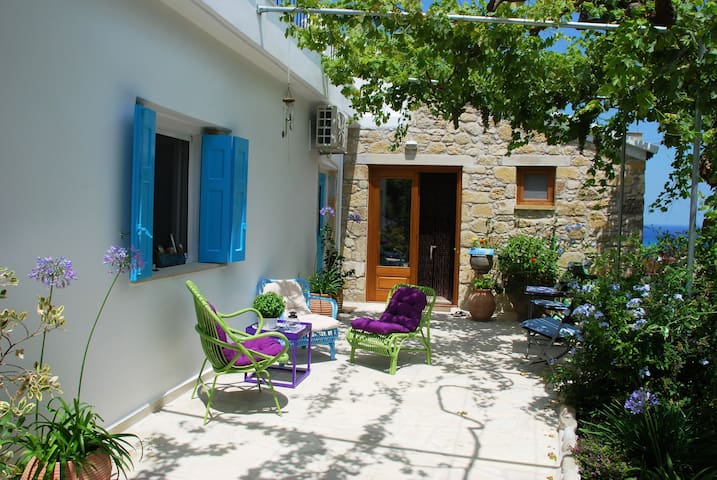 beautiful country villa with private garden Lovely mountains views of the Kissamos bay. Just 5kms irom kissamos beach. Wonderful place to experience Cretan village life. Spacious living area with tow bedrooms for 6 p the house is located in the best position ,great rocks flowers,lovely environment from that place visit balos falassarna elafonisi Sirikari gorge very close start from polyrini is an excellent gorge for the ones that start hiking on their own as well as
beautiful country villa with private garden Lovely sea views of the Kissamos bay. Just 5kms from kissamos beach. Wonderful place to experience Cretan village life. Spacious living area with two bedrooms. This pretty village house sits on a hillside with beautiful views of green I all the equipment needed for cooking holiday meals or preparing food to be grilled on the nearby barbeque. If you enjoy walking, head inland just 2kms to the cafe/taverna Rotonda. The owner, Stelios, and he will be pleased to give you directions for a 2 hour walk around the village of Kalathenes or if you are really keen the 5 hour circuit walk to Milia and back. At Rotonda, although the menu isn't huge, it is as fresh as it gets with crisp cucumber and juicy tomatoes picked straight from the garden below. The rear terrace has a lovely view of the surrounding area and its a cool spot to sip a glass of raki or two and exchange nods with the locals. Essential Information Sleeps (Max)6 Bedrooms2 Shower Rooms1 Booking Information Check-InAny day (after 16:00) Check-OutAny day (before 10:00) Minimum stay5 nights Local Facilities Beach6km Restaurants1.5kms Mini Market6km Distances from Airport/Port Chania63kms, 1 hour drive Ferry Port Heraklion181kms, 2,5 hours drive Ferry Port Kissamos10kms, 18mins drive Ferry Port Souda50kms, 50mins drive Heraklion183kms, 2,5 hours drive Villa Equipment TV Hair Dryer Toaster Kettle Sun Lounger WiFi Connection BBQ Filter Coffee Machine Iron & Board Fridge Freezer Hob Cooking Utensils Oven TSIKALARIA HOUSE is situated in the picturesque village of TSIKALARIA. Distances: 50 kilometers from the city of Chania, 5 kilometers from the town of Kasteli and from the port of Kasteli. It is a lively village ther are only 15 old houses constracted from stones Services Included: Visit the island of Granvousa with its impressive castle, built by the Venetians in 1579, the Balos Lagoon and the coastal ancient Minoan town of Falasarna beach and the synonymous near by beach, one of nd aHome tsikalaria holiday house for 6 people Add to favorites tsikalaria holiday house for 6 people Holiday home – kissamos, 73400 Crete, Greece 3 1 review Photos Availability Map View description in: Description House Description: At a glance • Entire House • Accommodates: 3 • Bedrooms:2 • Bathrooms 1 • Size:100 sqm • City: Kastéllion • Region: Nomós )) (( Piraiós • Country: Greece Private car parking Aircodition TSIKALARIA HOLIDAYS HOME IS A CRETAN HOUSE BUILT IN THE EARLY 20TH CENTURY. IT WAS RENOVATED RECENTLY, IN AN EFFORT TO HOLD ON TO WHAT IS LEFT OF THE CRETAN TRADITIONAL ARCHITECTURAL STYLE. It is constricted with rectangular chiseled stones, it has an interior living space of 180 square meters, . There are 2 bedrooms, 1 bathrooms,.t panoramic views , hills and environs. It is furnished with aptest and simplicity with Cretan antiques, reflecting the personal taste of its current Towner. Location: TSIKALARIA HOUSE is situated in the picturesque village of TSIKALARIA. Distances: 50 kilometers from the city of Chania, 5 kilometers from the town of Kasteli and from the port of Kasteli. It is a lively village ther are only 15 old houses constracted from stones Services Included: Visit the island of Granvousa with its impressive castle, built by the Venetians in 1579, the Balos Lagoon and the coastal ancient Minoan town of Falasarna beach and the synonymous near by beach, the house has a garden of two acres planted with olive trees.
no
it is a wonderful place and very quiet area. We hear all days the song of the nature as when we were children in my countryside in France. We have had the opportunity to test his olive oil and of course his raki. From here we could go everywhere to visit or to do nothing on the most beautiful beaches of Creta.
Michel
2016-07-16T00:00:00Z
Basic but very charming place, near kissamos rural and quiet. Nice!
hazel
2016-07-17T00:00:00Z
We stayed five people (a family with three children) for a week in Tsikalaria stone house. We had an absolutely wonderful time. The house is situated a 15 minutes drive from Kissamos in the mountains with a stonishing view and in a secluded area. If you like peace and nature, choose this house. Kissamos is a nice town, where you can bye everything you need. From the house there are lovely beaches not far away by car (Fallasana, Balos...), and it's about 1-1½ hours drive from the southcoast, through pittoreseque mountain scenaries. The hosts Anna and Michalis are very helpful and give a personal insight tothe Cretan culture and actual situation. They live in Kissamos, but are very, very good at communicating fast and effectively. The house is simple, but sufficient. I highly recommend this house.
Nicola
2016-07-08T00:00:00Z
Very charming country house, along a route scattered with small and beautiful villages. We spent 4 nights here and had a wonderful experience. Recommended to everybody looking for something unique and authentic. Michail was very nice and gift us with a bottle of his own oil production.
Davide
2014-07-07T00:00:00Z
Simply divine!!! It was the best house i have ever had to chance to visit - amazing view, amazing sounds of nature, silence and tranquility. Great offbeat location - you get to see no tourists - and no people in general to be honest. You can have your breakfasts on the tarasse enjoying the mountain view - you can even shower outdoor (although sometimes there is problem with water) and even sleep outdoor - which i did once and it was devine! Having a car is essential - but driving through narrow mountain roads and enjoying the views is a lot of fun. Thank you Michail! We will come back for sure!!! ps. your raki, wine and olive oil is amazing!
Tomasz
2014-09-26T00:00:00Z
Michail and Anna where very hospitable and nice. The house is fantastic situated and is be a paridises in the hills. No tourism around makes that you can really relax out there! I can advice this B&B totally. Pascal&Sylvia
p
2015-04-10T00:00:00Z
Michail is a great host, very welcoming and full of good advices. He handed us the house clean and beautifully equipped, and welcomed us with fresh figs and home-made wine. Tsikalaria is really a magical small village, a little heaven in the beautiful mountains over the Kissamos bay, and only a short car drive from major attractions in the area. Don't miss the view and the silence from the balcony!
Netta
2015-09-01T00:00:00Z
A wonderful location in the warmer part of the year. The house offers everything you could ask for if you are seeking a calm place in a small village and you are not looking for all modern conveniences. The town of Kissamos is not too far away and from Tsikalaria you can easily reach most places of interest in the Western part of Crete. If you visit the place in the colder months (we were there in March) bring warm clothes because there is no heating and the fireplace is used for decorative items. The internet will also not detract from your recreation. Recommended for late spring, summer and early autumn. We would love to return in the warmer season. We enjoyed our stay.
Eckhard
2016-03-31T00:00:00Z
Room Type
Entire home/apt
---
Property Type
House
---
Accommodates
6
---
Bedrooms
Tsikalaria, Crete, Greece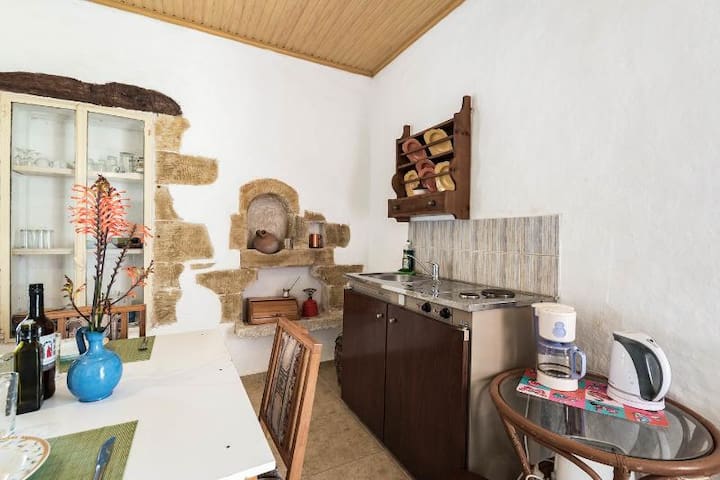 "HORIZONTE Cretan cottage" is a fully renovated stone-built house of 1900 and is located at Drapanias village, northwestern Crete, just 900 meters from the seaside.
''HORIZONTE Cretan cottage'' is 70 m2 and has a bedroom with a COCO-MAT mattress for memorable sleep, a large kitchen-living room with a sofa-bed and a bathroom. The owners achieved to combine the simplicity of the past with the comfort of the present and the final result is breathtaking... Refreshed antique furniture, maintained wall-built stones, renovated old time bathroom. Moreover, a spacious and fully equipped kitchen for preparing your meals and a functional wardrobe for your staff. Outside there is an impressive stone-table, a wood-oven and BBQ facilities. Furthermore, right next to the cottage there is a large olive yard with perennial olive trees from the Venetian times, and many other trees and plants from where you can enjoy tasteful fruits and vegetables. The use of the oliveyard is communal with the owners because they need to take care of the property. ''HORIZONTE Cretan cottage'' can accommodate up to 3 persons. The stay at "HORIZONTE Cretan cottage" is a unique experience and brings the visitor close to the nature and the pure feelings of the old times!
At Drapanias village there is traditional bakery, coffee shops and mini-market. Also the church of St.Nikolaos of 15th century, 500 meters away.
Very nice cottage in a cosy small village Drapanias. Nice interior, practical and pretty. Great location, near the beach, a restaurant and traditional coffee shops. We had a very warm welcome of Marili and Vasilis and family. The cottage has a big garden, ideal for children because of the swing and the chicken. It was also possible to pick our own vegetables from the garden and there where oranges and a big walnut tree! The nice parents of the couple came by every day to take care of the garden and gave us often som tomatoes and fresh eggs. Very nice. They even provided for some extra toys for our children. So, a very nice place that we can recommend!
Hanke
2015-10-24T00:00:00Z
Horizonte Cottage is an utterly wonderful place. The cottage itself is pretty, comfortable, and well-equipped, and the gardens outside--complete with orange and olive trees and some happy chickens--make it very special indeed. The location is ideal: a short drive to the beach, but also right in the center of the charming village of Drapanias, with cafés, a bakery, and a small grocery just a minute's walk away. And Marili, Vasili, and their parents couldn't be kinder or more welcoming. They are also very generous, bringing frequent and much appreciated gifts of eggs, greens, cake and wine. I can't imagine a better introduction to Crete, and hope to return soon!
Lisa
2016-03-19T00:00:00Z
We had wonderful days at Horizonte. Fresh Eggs, fruits and vegetables out of the garden, a homemade cake from Vasilis' mum and a bakery around the corner gave us everything we needed and even more! With our car we could easlily discover the whole area of west crete. Vasilis and his family were wonderful to us and gave us very good recommendations. We love this place!
Amelie
2016-10-01T00:00:00Z
Horizonte Cretan Cottage is an absolutely delightful home and perfect for a couple or a couple with a small child. The home is a renovated 100+ year old property that has been with the same family during that time. A lot of care has gone into the renovation and it is clear that the owners have travelled and understand what we travellers desire to have in their temporary abode. The cottage and its surrounding land is a cool respite from the extreme summer heat. It is such a great feeling waking up to the crowing of the rooster and then walking across to the chicken enclosure to gather freshly laid eggs for breakfast. There are about 30 chicken that are very friendly and scramble towards the fence when they see you come (of course they are expecting you to feed them). Kids would love this as well as adults. There is a lot of fresh fruit and vegetables also growing on the land that you are able to help yourself to. The friendly locals at the village shops are only a 2-min walk away where you can stock up on absolute essentials, baked goods for breakfast and also meals from the local tavernas. Local beaches (many to choose from) are in close proximity as well as a nice winery that is about 1km from the cottage where you can do extensive wine tasting of all their wines. Ask the hosts for restaurant recommendations around the area and you will not be disappointed. Marili who we interacted with in person is an excellent and informative host. Her parents were also very friendly and welcomed us with fresh fruit from their gardens and cake. If you are in Western Crete, I will not look past this property. You get plenty of space, a well equipped kitchen, a nice large yard where you can spend evenings and mornings outdoors, commune with a bit of nature and forget all your worries! Forget about staying in a hotel or some other apartments.
Joe
2016-08-02T00:00:00Z
We had a really fantastic time staying Marili and Vasiliy's cottage. Despite us being nearly two hours late, we were greeted with a really warm welcome and a tour of the place, which includes chickens in the coup (you can run the gauntlet for fresh eggs), a great hammock to lounge on in between the olive trees, and a lovely patio to have a drink or eat at. The house itself has been lovingly restored and contains original furniture pieces from Vasiliy's father but with some nice modern touches throughout. The bed is really comfy and the house remains cool with the option for air con. We loved it here and felt truly relaxed. Thanks guys for the wine and cheese, and just a great place to holiday. Highly recommended.
Toby
2016-06-17T00:00:00Z
We had a fantastic stay in Marlily's cottage; the place is conveniently located in the lovely village of Drapanias - we recommand the bakery and local taverna. The location is great to explore Western Crete, we visited Samaria Gorge, Elafonisi and Falassarna beach. The cottage is absolutely lovely, just as it is advertised on the images; what we loved the most was the garden with the bbq area and the chickens. We got fresh eggs every morning - what a treat! Check-in and out went smoothly.
Marie
2016-09-11T00:00:00Z
A lovely renovated home with a great outdoor area to relax in. It was very relaxing sitting in the court yard watching the sun go down, and having breakfast in the morning in the garden. You can visit the chickens and roosters who are all very cute and follow you around like little pets. Hammocks to relax in underneath the olive trees. The local beach is close by, its nice and quite compared to some of the big famous beaches and had some decent waves during our visit. Marili was very friendly and helpful, and gave us lots of info for our trip and local tips. We loved our stay here and did not want to leave! Thanks for hosting us, would love to come back some time :)
Sarah and Jarin
2015-09-03T00:00:00Z
A very pleasant stay in a traditional style Cretan home with modern furnishings. Lovely large comfortable bed with good quality mattress and lovely linen. Freshly squeezed orange juice straight from the abundance of Orange trees growing in the garden. Great recommendations of tavernas and of places to visit. Very good and prompt communications throughout.
Iain
2017-01-12T00:00:00Z
Room Type
Entire home/apt
---
Property Type
House
---
Accommodates
4
---
Bedrooms
Δραπανιας, Κρήτη, Greece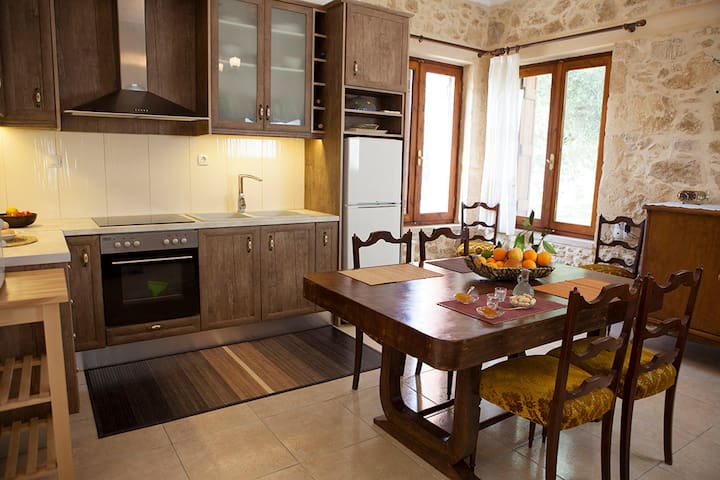 1

–

18

of

71 Home Rentals
Enter dates to see full pricing. Additional fees apply. Taxes may be added.