Enter dates to see full pricing. Additional fees apply. Taxes may be added.
Renovated 4 Bedroom Cottage in a privileged Muskoka location. Direct access to the big three Lakes. Five minute drive (by boat / car) to the amenities of Port Carling. Beautiful views from every window. West-facing with spectacular sunset views from the two lakefront bedrooms, main living and dining areas!
Bedroom #1 - Lakeside - Queen bed + desk Bedroom #2 - Lakeside - Queen bed + desk Bedroom #3 - two Twin beds Bedroom #4 - Double Futon Full access to the cottage, boathouse (2 empty - but somewhat narrow- slips), 4 acre treed property, hammocks, LayBags, outdoor lounging/dining spaces, fire pit and hammocks! The cottage will be all yours; if you're here, we will be roughing it down in Toronto!
We had great experience in David's beautiful cottage. My friends were visiting me from China and I wanted to show them the best color of Canada, that's why we ended up with Muskoka area. His cottage was in a great location with beautiful views. The privacy was great. David was a caring host that always there to answer our questions.
Mengtian
October 2016
The cottage was exactly as listed. The location, site and amenities provided were perfect! I was greeted by our hosts upon arrival, given a walk through of the cottage, land and lakes.
Kim
July 2016
We had a great time in Port Carling. Relaxing beautiful waterfront with a nice sandy beach entrance. Perfect place to relax and deconpress
Kyle
August 2016
Amazing spot! Magical place! Wonderful relaxing location
Shannon
August 2016
We had quick replies to our questions, David was prepared for our arrival and we loved his cottage - we will be back!
Heather
September 2016
The cottage was great for our family with two small children. The main room and two of the bedrooms had fantastic views of the lake and wildlife. The kayaks, hammocks, dock and small sandy swimming area were amazing and made the trip memorable. Small kids ie under 3 yrs old will need help getting into the water but the property worked great for our family. Port Carling is a 5 min drive away making running into town easy. I would highly recommend. Thanks Ignacio.
Frank
July 2016
Room type
Entire home/apt
---
Property Type
---
Accommodates
8
---
Bedrooms
4
Port Carling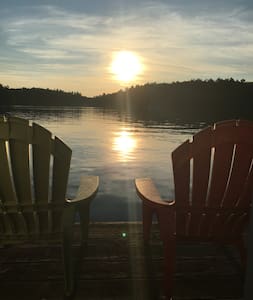 Greetings Bohemians, Pirates & RockStars! ....and now for something completely different! My homebase of Studio/Shop/AIRbnb has (up top) glass sliding doors leading to a private walled deck & onto a magical treetop hill with hammocks for lounging. My FRONT door (downstairs) leads to PortCarling's CottageChic Shopping/Lakefront Eatery district with water access on both sides! My home is best for SOLO adventurers, and/or those SEEKING an artsy, fun, 'boho', communal vibe. Great Bkfst included!
Your private room is ONE OF TWO bdrms in what WAS a highend summer rental, and is now a combo Studio/Shop/off season AIRBnB (see photo) Your room is an eclectic easthetic mix of old world charm with a private view of my magical treetop hill. I personally refinished the antique 4poster bed, it has an Eco-mattress with Egyptian cotton sheets, hand dyed organic cotton covers, and hand knit vintage blankets to choose from. You control your own heat, window fan or air conditioning to your liking. There's wifi, bring your laptop to work quietly at your own desk or choose from lots of DVDs/or Netflix to watch a flick if you like on a large flatscreen tv. I provide towels and toiletries, and there's a big bathroom with a new tub/shower that begs to soak in. Note: It is a SHARED BTHRM, but I am conscious of your need for privacy, VERY used to sharing (raised 5 kids!) and not always around. Note2: Your room is right next to bdrm #2, which may have myself or guests staying in...this is all WITHIN a 2bdrm apt...where I work/design, and sell from as well but only OPEN 11 - 4 to the public and bnb is 4pm - 11am. I'm AIMING for providing an artsy, fun, shared, communal experience and I'm more than willing to host a game night or show you the sights or make recommendations if you let me know your wishes! I have a cute kitchen with everything a good cook needs, uses of which could be discussed if you book a stay longer than 1 night. Tea/cof/homebaking always provided. There is a private deck to use year round and hammocks on the hill provided for napping! You can also borrow my easy to use lawn chair style beach kayak. Remember we are walking distance to waterfront on both sides of the street, with a beach,park, and gorgeous hiking trails literally outside your door! It's pretty comfy inside, but Muskoka is ALL about going outside! You have a private room, with a locked door, use of a big bathroom (towels, toiletries), use of laundry (washer, dryer, soap) preferably after 7pm, and use of kitchen, if staying more than 1 night can be negotiated for a fee. There is also a private deck for your use, year-round, and a hilltop bkfst table spring - fall. Coming Spring 2017, a hilltop 'base camp' platform for camping on! Hammocks provided for napping, or for the adventurous, sleeping overnight (they are huge and fold up around you) Pillows & Blankets for the Hammocks too! Please note you are staying IN My Studio/Shop, it was formally a high end summer short term rental. It is open 24/7 to you to peruse, or use for GameNights, Socializing and its "where we all hang out". Maybe an Astrology Reading? or an Art Demonstration/Share?...Card Game? I am VERY familiar with the entire Muskoka Area, and am happy to recommend highlights in the area! Please note, although you have your own private space, it is right next to another bdrm, and the rest of the studio apt is SHARED space, and very much a happy, friendly, bohemian, creative experience! If you want total quiet, I'm a sensitive person to others, be sure to ask if it's the quiet winter season type of weekend, or the crazy, fun, summer party type of weekend in muskoka!!! I'll be honest to help you find the kind of experience you seek.
Please check out my photos! National Geographic voted Muskoka the #1 destination spot IN THE WORLD a couple yrs running, and if I may say so, Port Carling is at the heart of it! with boho-chic shopping, art galleries, waterfront eateries, a cool happening surf club with live music on sat nights in summer and celebrity approved and attended awesome authentic Mexican food at Grand Electric on the water! even a bus to The Kee on Sat's and Resort Nights! ...all a block away from My Treetop! Note: Almost everything is closed from Thanksgiving to May 24, but if you love the absolute quiet of winters with NO CARS, Starry Skies, winter walks where all you might see is a deer or a fox...candlelit gamenights, a beer for 3.75 at the local legion on wing night...reading a book from your 4 poster bed and a view of a snowcovered hill...year round, its a one-of-a-kind experience here! I have a private parking spot as part of my property, streetside parking space for 2hrs in the summer, or all the time in fall - spring, and a huuuuge public parking lot across the street that you could even park your boat/trailer in. Boat Launch Access is one block away. The Muskoka Private Airport is 1/2 hr away, Shuttle service to anywhere (at a price) is available door to door. Two taxi cars - but not always avail. No busses. Let me know what you require, and I'll get on it, and see what I can do! Please be aware my little dog Bu is there, and that although you are staying in the comfort of a carpeted, comfy space, that feels a bit like an old world urban apt,...right outside your door is ALSO lakeside 'wilderness'...birds, chipmunks, bugs, a neighbourhood fox who runs down the street daily, deer who walk right by the deck a couple feet away in fall/winter, and a BEAR (or two) that usually comes thru in fall before he/they go to hibernate. I wouldn't recommend hammock sleeping in fall then!
Jocelyn responded quickly and in a friendly manner. She offered us a choice of delicious breakfast options to choose from ahead of time and made sure we knew how to find her place. Jocelyn answered all my questions thoroughly and promptly. She was very informative before we even arrived at her place. Jocelyn welcomed us with a warm greeting upon arrival and warm cookies. The bedroom was cute and the shared bathroom was lovely. The deck overlooking a forest was adorable and having a lake a block away was dreamy. We slept very comfortably. Her dog is adorable but be prepared he likes to lick bare toes. If it bothered us Jocelyn was ready to move him in an instant. We found it endearing. Jocelyn made us feel at home and comfortable. I really enjoyed her chatty and friendly nature, but if you are looking for a quieter stay she will provide you with whatever experience you need. Her goal is to make your stay a wonderful one. The space overall is smaller so if you are looking for a lot of privacy keep that in mind. She was very good at giving us our space when we needed. Banana french toast and oatmeal chocolate cranberry cookies were so yummy. Thanks for a great stay :-)
Dimitra
October 2016
Room type
Private room
---
Property Type
---
Accommodates
1
---
Bedrooms
1
Port Carling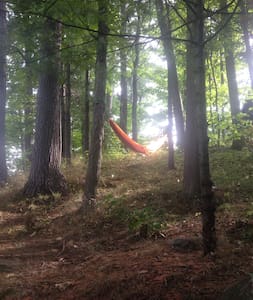 The cottage is located in the heart of Muskoka on Lake Rosseau. It sits at the bottom of a quiet bay. Featuring two flagstone patios situated on the waters edge, south west exposure delivers all day sun and beautiful sunsets. Water access is a breeze: walk in areas right off the the shore or from the dock. Great for kids. 5 mins from Port Carling, the hub of Muskoka and minutes from Windermere House - shopping, restaurants and many golf courses are only a short drive or boat ride away.
Great cottage vacation on this secluded bay with tremendous sunsets. All facilities provided including plenty of activities for the occasional rainy day. All the family loved it.
David
August 2016
Room type
Entire home/apt
---
Property Type
---
Accommodates
8
---
Bedrooms
5
Port Carling
Enjoy Muskoka in the charming Village of Windermere. This cabin is located approximately 100 yards from Lake Rosseau. Activities in the Windermere are endless!! Golf at Windermere Golf & Country Club, one of Muskoka's oldest courses Tennis at Windermere Golf - 2 NEW courts Boat & PWC Rentals - Windermere Marina Kayak & Paddle Boat Rentals - Windermere Marina Swimming - 2 maintained public beaches within walking distance Restaurants - from fine dining to finger food - all in walking distance
Winter 2017 - lots of snow! Ice Fishing Now Open Lake Rosseau Snowmobile - trailer parking, sled chain locks if needed Included in the fully furnished Cabin - appliances, propane fireplace, air conditioning, wireless internet, outdoor fire pit, barbecue. The Cabin is fully detached, private access. Should guests need assistance, owners are generally on site, the Cabin is fully independent.
Windermere is one of the oldest and cherished villages in Muskoka. The Cabin location is approximately 100 feet from Windermere House, 150 feet from Windermere Golf & Country Club. The Village Stores stocks all needed convenience items and Windermere Marina will assist you with boat rentals, water toys and related. District of Muskoka docking is available, arrangements need to be set up with dock master. Boat launch services for fee available within 500 yards. Trailer lock up services available Outdoor Firepit available - firewood available, please inquire Windermere is centrally located between Bracebridge and Parry Sound. Minutes by boat to Port Carling, Minett, and about 15 minutes by automobile. Great bicycling available from door step. Minutes from Port Carling, boat access and docking available - for fee. Trailer lock up available. Parking for 2 vehicles. Rent a golf car to enjoy your mobility in the village (where permitted)
Lovely restaurants within walking distance. Lovely beach close. Fantastic view down by the water. Very comfortable and cozy bed. Nice and clean.
Sharon
September 2016
We spent 3 nights in this cozy cabin while we enjoyed snowshoeing and snowboarding in the area. The gas fireplace kept us warm and we had all the amenities we needed. It was the perfect size for 2 couples. The Jenga kept us entertained! Liz and Sean were very nice and made sure we had everything we needed. I hope to come back in the summer. Definitely recommend it to anyone looking for a place to stay in Muskoka.
Diego
December 2016
We had a wonderful time
Ben
October 2016
Host was very responsive, quickly getting back to me prior to arriving and ensuring all was a smooth for my arrival. Accommodation was exactly as its depicted in the ad, pictures and description are very accurate.
Hayleigh
August 2016
Sean was a wonderful host and had everything prepared for us. Beautiful backyard with a clean fire pit and a BBQ ready to go. The beach was a 2 minute walk and Windermere was the perfect spot to enjoy peace and quiet. The Cabin was clean and had everything we needed. We can't wait to visit again.
Simon
July 2016
What a little gem. Great location if you're attending a wedding or event at the hotel next door and room rates are too high. Sean was accommodations and brought over whatever we needed. My daughter said " best bed sheets ever"
Lisa
July 2016
Sean welcomed us when we got to the Cabin and brought us some linen. The cabin is really cute and self contained; not very private though as the backyard is common with the neighboring unit. The place itself is a small village with a convenience store, boat launch and a 5 star property. It is ideal for people with boat or for someone looking to enjoy quite time. There are other nearby gigger towns that one can go for day trips.
Raj
July 2016
The cottage was lovely! Perfectly equipped and cozy. Beds were outstanding and the outer yard including use of the firepit was awesome. Great location too- half a block to the grand Windermere House which has two great restaurants and a lovely pub. Host was awesome. I would recommend this cottage to anyone!!
Gwen
August 2016
Room type
Entire home/apt
---
Property Type
---
Accommodates
6
---
Bedrooms
2
Windermere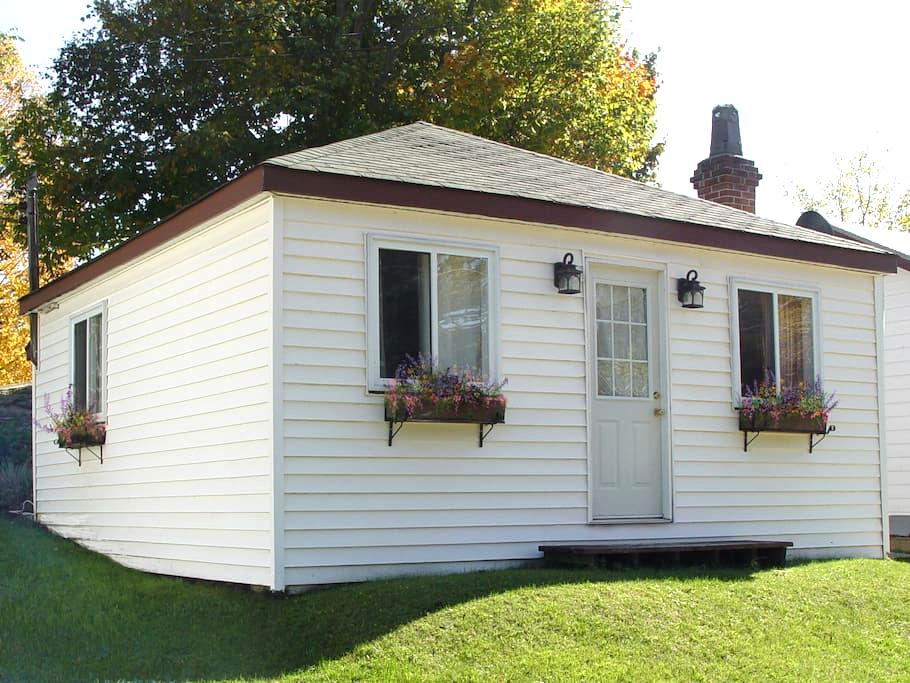 Available Thanksgiving weekend 2016 and Summer 2017 ...5 minutes from Windermere House Hotel $3000 week / $399. night 3 bedroom lake front cottage,Lake Rosseau, Muskoka, gets sun all day, great share for couples/families...sleeps 6-8 people..
$3000week/ $399. night...available June to October 31 2016/2017 available for weekly rentals/monthly rentals/ or 1 to 3 day rentals 5 minutes from Windermere House Resort by boat or car)..20 minutes to port carling or 10 minutes by boat...1000 Sq foot cottage. 3 bedroom Great for family vacations or couples share ...or is a great fishing location for a guys weekend Spring/Summer/Fall.. lake rosseau cottage.. just over 2 hours north of Toronto, Ontario - 1000 sq feet cottage - 3 bedrooms and 3 large couches (sleeps 6-8 comfortably...complete living quarters above boathouse ..that overlooks beautiful Lake Rosseau ) - faces south west.. so you get the sun all day long - bright and sunny large eat in kitchen..seats 6 to8 for dinner - large living room overlooking lakefront - potbelly wood stove - picnic table at back door..and large lawn area to park your cars and boat trailer. - outside docking area for your boat on site - 5 minute drive to Windermere House Resort, marina, spa.golf , tennis, restaurant facilities, variety store, gym at hotel. - 20 minute drive to Bracebridge or Port Carling for groceries and LCBO, fishing bait etc. - boat access to Lake Rosseau and Lake Muskoka - boat and jet ski and sailboat rental available at marina - small dog ok. Under 20 pounds./larger pet please ask monthly/full season rates available. for 2016 and 2017 summers discount for off season rates prices quoted are subject to change before booking is confirmed bbq/picnic table on premises fully furnished. .but please bring your own linens and towels gets the sun all day on the dock..large grassed in back yard for parking and boat trailers, outside docking space available/bbq /picnic table included..please bring your own linens and towels..thank you yes... I have superintendent on call close by
5 minutes from Windermere House Hotel by boat or car, 20 minute drive to Port Carling and Bracebridge for groceries/banking/LCBO, marina require car or boat to get around Muskoka Last minute bookings are ok. Please bring your own linens and towels. Thank you
The place was great - a classic Muskoka cottage. Well situated on a quiet bay - ideal for a get away. The swimming was also great - but may not be the best for people with small children as bottom was very muddy (as is common in Muskoka) so walking in may be a challenge for small children.
E
August 2016
My kids and I had a fantastic week on Rosseau. The boathouse is quaint and charming and has its share of challenges. The water is very shallow and a muddy bottom which does make it a quiet bay since few boats venture near but not as welcoming to dive in or linger in for some. A canoe was to be available but didn't materialize, we got a great deal on a used one in Gravenhurst and love it! The ants didn't break the toaster, I'm pretty sure. My son was so proud of how he McGyvered an elastic band system to hold the button down with. The soaking wet CARPET IN THE KITCHEN from the leaky fridge with the door that won't stay closed was always an eye opener in the morning or during late night snacking. And I repeat...we had a fantastic time, that's how we roll, some may not be as accepting.
Greg
September 2016
The host meet us at the property to give us the key and show us around however she did stick around for about an hour to load her boat and take off to her own cottage close by. She left her vehicle on the premises, hung up laundry to dry and made us feel as if she would be returning throughout our stay. When we confronted her regarding this matter she said that she might come by to check the mail, which was very awkward as it was long weekend. She then mentioned that her father is sick and that she may return in case of an emergency. We would have appreciated a notice prior to booking that she would be leaving her car on the property and that she would be leaving from the property with her boat and possibly returning during our stay. The bed mattresses could definitely use an upgrade.
Milad
September 2016
I grew up as a cottager on the Lake , so I know it well. We just recently sold and we miss it dearly. It is beautiful there. Michelle made our stay wonderful. She went above and beyond and we loved her. The boathouse is just as she describes but what made it so special was just how hospitable she was. The place it self is old muskoka and she keeps it tidy and clean. Everything was there that we needed. Even a place to park our boat. My family , 4 teenagers, my husband our family dog and me , will defiantly stay there again. Thank you for a wonderful special weekend. :)
Johannah
July 2016
The host canceled this reservation 3 days before arrival. This is an automated posting.
Htet
Room type
Entire home/apt
---
Property Type
---
Accommodates
6
---
Bedrooms
3
Windermere