In het mooie en gezellige dorp Zelhem staat deze 30er jaren woning direct gelegen aan het "pieter pad". Het gezellige centrum met diverse horeca gelegenheden is op loop afstand evenals de bushalte. De directe omgeving van Zelhem kenmerkt zich als typisch Achterhoeks coulisse landschap met vele wandel- en fietsmogelijkheden.
Bij mooi weer kunnen wij het ontbijt in de sfeervolle besloten tuin of op het dakterras serveren . Het is mogelijk om met ons mee te eten. U krijgt dan voor € 15,- pp een eenvoudig biologisch menu van drie gangen. Wij koken beide graag. De slaapkamers bevinden zich op de eerste etage in de directe nabijheid van de riante badkamer en het separate toilet.
In de directe omgeven van het dorp zijn verschillende prachtige wandel en fiets routes. Bovendien heeft het dorp verschillende horeca gelegenheden met in de zomer sfeervolle terrasjes.
Room Type
Private room
---
Property Type
House
---
Accommodates
1
---
Bedrooms
Zelhem, Gelderland, Netherlands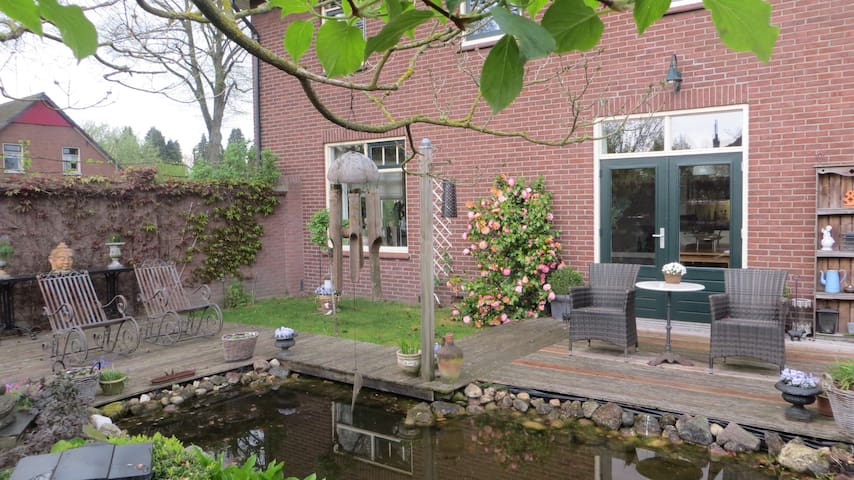 Wonderful house in the eastern part of the Netherlands close to the old Rhine, in beautiful nature. The house is part of a 18th centry family owned farm. There is a big private garden, loft like room with kitchen and a master and small bedroom.
Beautiful location, very close to protected nature, spacious and luxurious living room with beautiful garden. Together with our young daughter we use the house ourselves frequently to escape Amsterdam.
The typical Dutch landscape in a historic area of Gelderland, the Netherlands.
We spent four days in this lovely farm house, with a 2 years old baby. It is very spacious, clean and quiet. We felt at home; our son really enjoyed the house (he had fun playing with the toys!) and the surroundings. Albert was a great host, very welcoming. When we arrived, fresh flowers from the garden and a bottle of wine were waiting for us! Albert's family as well as its neighbor were also very kind with us.
Emmanuel
2016-08-02T00:00:00Z
The host canceled this reservation 4 days before arrival. This is an automated posting.
joris
2016-03-20T00:00:00Z
Lovely place, good hosts and very peaceful. Would reccomend.
L
2016-10-21T00:00:00Z
Wat een heerlijke plek was dit. Zeer smaakvol ingericht, met 's avonds fijne verlichting waarbij je ook lekker kon lezen! Prima matrassen. En dan ook nog bloemen, broodjes op zondag, bakje bessen: wat een attentheid. Heerlijk beschutte binnentuin, waar je altijd kunt kiezen voor zon of schaduw. En dankzij de haan voelden we ons echt op het platteland... Binnen de kortste keren zit je, lopend of fietsend, in de prachtige natuurgebieden van de Geldersche Waard. Wij komen hier zeker nog eens terug!
Nicolien
2016-07-19T00:00:00Z
Alberts Haus war das schönste in unserer langen Reihe von Airbnb-Erfahrungen. Es ist einfach perfekt, wunderschön gelegen und ausgestattet, mit unendlich viel Platz und einem ganz besonders netten Garten. Und ganz besonders nett sind auch die Gastgeber. Obwohl wir Albert nicht persönlich gesehen haben, waren wir ständig in Kontakt mit ihm, und seine Familie und Nachbarn waren zu jeder Zeit ansprechbar und hilfsbereit bei allen Fragen. Man könnte gerne auch zwei oder drei Wochen dort verbringen! Danke Albert!
Gabriel y Sabine
2016-05-12T00:00:00Z
We zijn zeer gastvrij onthaald en er was een goede beschrijving over de werking van de zaken in het prachtige appartement maar ook over de winkels, cafés en restaurants en de omgeving in de buurt. De omschrijving geeft goed weer wat je kan verwachten en de prachtig sfeervol verbouwde deel tot woon-, eet- en kookruimte was boven alle verwachting. De omgeving van de boerderij is een geweldig mooi gebied om te wandelen en te fietsen en als je een beeld wil krijgen waar het gedicht van de eeuw - 'Herinnering aan Holland' van de Nederlandse dichter Hendrik Marsman met als eerste zin 'Denkend aan Holland zie ik breede rivieren traag door oneindig laagland gaan' - dan moet je hier zijn.
Michel
2016-01-01T00:00:00Z
We hebben genoten in het huis van Albert. Het heerlijke landleven en huis voelde als terug in de tijd en thuis komen in het huis van onze ouders. Met zijn rustige ligging in de natuur een aanrader!
Sjaak
2016-08-31T00:00:00Z
Wij waren ruim een week in de prachtige, royale loft van Albert. Voor en ook tijdens ons verblijf hadden we steeds een leuk kontakt met hem. We werden verwelkomd met een fles wijn, een welkomsgroet en voelden ons in dit prachtig gelegen en zeer volledig ingerichte loft al snel thuis. Het was voor ons een perfekte thuisbasis voor familiebezoekjes in de omgeving en we kunnen ons heel goed voorstellen hier nog vaker terug te komen. Bedankt Albert dat we in jullie huis mochten verblijven.
Marieke
2017-01-08T00:00:00Z
Room Type
Entire home/apt
---
Property Type
House
---
Accommodates
3
---
Bedrooms
Zevenaar, Gelderland, Netherlands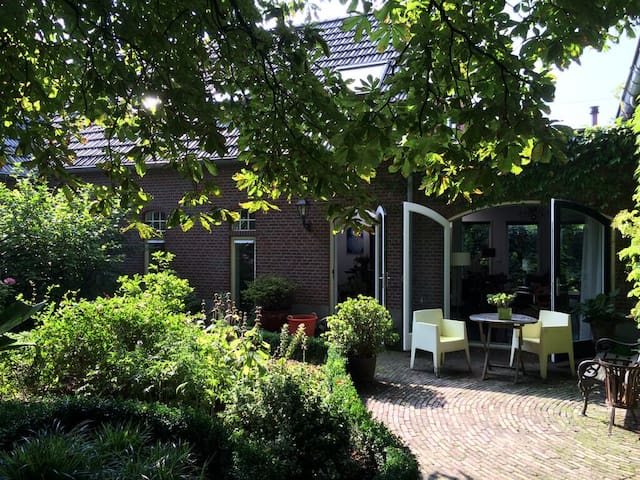 Zevenaar, a town in the Liemers . It is centrally located along the A12 near Arnhem and the German border. Zevenaar has much to offer, for example shops, restaurants, a cinema, swimming pool, a theatre, and the Liemers Museum. Get out on foot or by bike!
Zevenaar, a town in the Liemers . It is centrally located along the A12 near Arnhem and the German border. Zevenaar has much to offer, for example shops, restaurants, a cinema, swimming pool, a theatre, and the Liemers Museum. Get out on foot or by bike! Bright spacious bedroom with a double bed (135 cm x 195 cm). Included in the room is a table and chair, tv, clock radio,storage and towels. There is also coffee and tea available. You can also stay in my lovely garden with various seating areas. Since I live in the house too, we will share the bathroom. The living room is available during breakfast. Breakfast in the garden is also possible when the weather allows it.
Zevenaar, a town in the Liemers . It is centrally located along the A12 near Arnhem and the German border. Zevenaar has much to offer, for example shops, restaurants, a cinema, swimming pool, a theatre, and the Liemers Museum. By foot or by bike you can explore the area and enjoy a beautiful natural features such as water features and dikes with stunning views. Doesburg, a Hanseatic town on the IJssel, is also worth a visit. Germany and The Achterhoek are accessible by bike and car. Arnhem is a large bustling city with several museums and has a wonderful zoo. Prefer something further away? Within an hour trains can reach Utrecht Central Station. transport facilities 3 minute walk to the bus stop. 5 minute walk to the shops. 10 minutes' walk to the market square where you find a wide choice of restaurants . 15 minute walk to the train station,( 15 minutes train ride to Arnhem or Doetinchem) . 20 minutes' walk from all of the above you'll find a beautiful nature area . A12 is only 2 minutes away by car. You can park your car for free in front of my house. Your bikes can be in an enclosed garden . In the immediate vicinity you can also rent bikes. (Send me a message in advance when you want to use this service).
Christel is een super vriendelijke en behulpzame gastvrouw. Heerlijk bed ook en een fijne kamer en badkamer, alles super verzorgd en heel schoon. Ook lekker ontbijt met zelfgemaakt brood ! Was heel fijn om 3 nachten bij haar te verblijven.
Jenny
2016-10-09T00:00:00Z
Voor mijn werk moest ik in Zevenaar overnachten. En wat werd ik na een dag werken vriendelijk welkom geheten met verse koffie / thee door Christel. De woning en kamer zijn sfeervol, schoon, gerieflijk en de badkamer is geweldig. De volgende ochtenden heb ik heerlijk ontbeten met verse jus d'orange, brood, koffie/thee en een gekookt ei. Christel is daarbij een prettige gesprekspartner en ik heb me erg thuis gevoeld. Van de mooie tuin heb ik niet kunnen genieten omdat het te koud was, maar die kom ik in het voorjaar nog bezoeken als ik voor het werk weer in Zevenaar ben. Kortom voor herhaling vatbaar en een aanrader voor iedereen die in Zevenaar een overnachting zoekt.
Edith
2016-01-22T00:00:00Z
aan Airbn(URL HIDDEN)Ik verbleef hier een nachtje omdat ik de dag daarop mee ging doen aan de triathlon van Didam waar ik al vroeg van start zou gaan. Ik trof een brandschoon huis aan met een gastvrije gastvrouw. Ik kon nog vooraf aangeven bij Christel of ik bepaalde voorkeur had voor het ontbijt vanwege het sporten. Extra service dus.
Annemarie
2016-07-03T00:00:00Z
Ik kan iedereen een verblijf bij Christel aanbevelen. Naast een gastvrije ontvangst en prima kamer stond er de volgende morgen ook nog een smakelijk ontbijt op ons te wachten!
Gijs
2015-11-30T00:00:00Z
Ik heb een aantal nachten bij Christel overnacht, echt een aanrader in Zevenaar! Nette kamer die van alle gemakken voorzien is en een heerlijk ontbijt. Christel is erg gastvrij en vriendelijk, gezellig om een praatje mee te maken.
Rachelle
2016-06-18T00:00:00Z
Na aankomst bij Christel, kreeg ik een lekker kopje thee en heeft zij mij verteld waar ik alles kon vinden. Het ontvangst was zeer vriendelijk.
Evelien
2016-02-06T00:00:00Z
Christel heeft een hele sfeervolle woning met een geweldige tuin waar je als gast na een werkdag heerlijk kunt bijkomen. Christel is gastvrij en het onbijt is erg smakelijk met verse jus, heerlijk brood en ei. Verder is het prima locatie om de prachtige omgeving te ontdekken. Ik kom snel weer
Edith
2017-03-31T00:00:00Z
Room Type
Private room
---
Property Type
House
---
Accommodates
2
---
Bedrooms
Zevenaar, Gelderland, Netherlands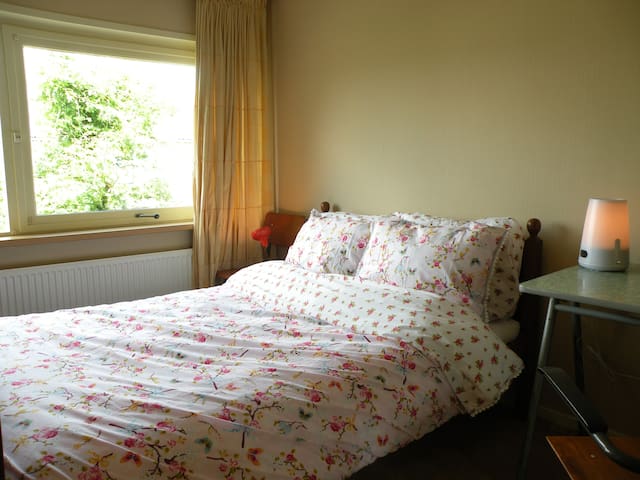 European style decoration, from the housing, with a comfortable bed and cotton bedding and pillows, that can let you sleep, network LCD TV, washing machine and hot water for 24 hours; the kitchen kitchen complete, can let you love a culinary display skills to the full!
If you need to use the kitchen, please communicate with the landlord in advance, food, spices, please bring their own, please clean up immediately after use, kitchen waste, please take away, or you will charge 100 yuan / times cleaning fee.
Room Type
Private room
---
Property Type
House
---
Accommodates
2
---
Bedrooms
Zevenaar, 海尔德兰省, Netherlands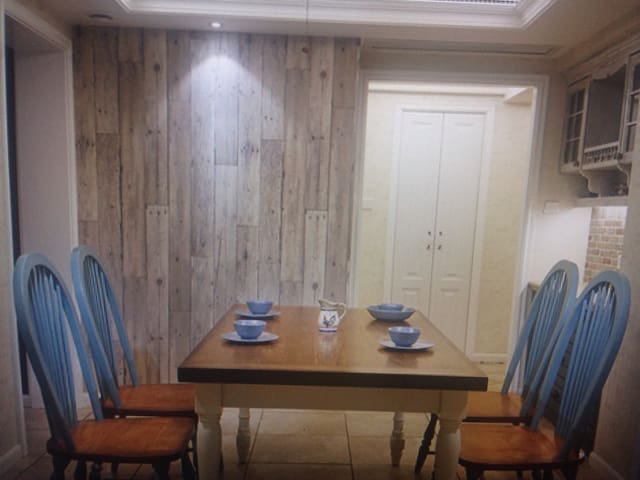 Welcome to the old bakery, in the center of medieval Doesburg. Built around 1870. It has views on two sites overlooking a stone walled garden where chickens roam around. It has its own bathroom with shower and toilet and an entrance through the backyard.
Your room is the former bake house where bread was baked for the main house where once a shop used to be. It has its own entrance, a double bed and a private bathroom with toilet and shower. If you want to come with children we can provide more beds. There is a table with chairs, and a small refrigerator. A sofa to relax and we provide drinks and local products in our alternative minibar. You can make your own coffee and tea and we provide everything you need for breakfast. It is possible to join us for dinner or have your own dinner in your room for 7,50. You are welcome to use the kitchen.
We live right in the centre of this medieval town. Shops are around the corner, so is the river and a parc.
Beautiful lovely place at beautiful medieval city. Very generous and hospitable family who will take care of all your needs. Attention to all the details with a lovely breakfast in the morning. It's great to have this 19th century old room all by yourself and it's also great to mingle with the rest of the family. We were traveling with our 14-month-old daughter and they even had a baby bed prepared. We would love to be back one day!
Yona
2016-11-27T00:00:00Z
We stayed for two nights in Doesburg at the house of Anneke and Henk. The room was very spacious, clean and cosy. It contained everything we needed, including a coffee machine, local beers (extra charge) and a fridge. We were even allowed to use the espresso machine in the hosts' kitchen. Breakfast was excellent and the circle-shaped bed was very comfortable! Anneke and Henk are friendly and relaxed hosts who are not afraid of a nice conversation; we had a few drinks together in the flora and fauna-rich garden when we returned from our day-trip ;) We would recommend this bnb to anyone looking for a nice place to stay in this area of the country!
Barry
2016-09-05T00:00:00Z
We loved staying in Doesburg. It's a quaint little town that has everything you need, located in a beautiful area. The cats and chickens were quite accepting of our presence, and the suite was cheerful and bright. We hope we have the opportunity to stay here again.
Alan & Ruth
2016-08-06T00:00:00Z
HI everything was 5 points? Perfect/ but the site did not take the Five Stars! but for sure Perfect/ Nice/ More then welcoming! Thank you very much!
Petra
2016-06-24T00:00:00Z
A lovely accommodation & warm host. My daughter of 7 yrs and I stayed at Anneke's for 2 nights. Anneke's open hospitality fitted us perfectly. Thank you for making our vacation extra special.
Damian
2016-08-20T00:00:00Z
Our stay with Anneke was great. We stayed for one night after a wonderful nature walk at Veluwezoom. The arrival was very welcoming and the room very cozy and 'gezellig' with a very good atmosphere. After some tips from Anneke where to go for a drink in town and where to eat we went into town, which is around the corner. The bar and restaurant tips from Anneke were good. All in all a very pleasant stay.
Bart-Jan
2017-03-04T00:00:00Z
We cannot speak highly enough about our all too brief stay with Anneka, Henk and their great family. We were extremely warmly welcomed and enjoyed a fantastic and interesting evening which started our holiday off with a real buzz and we almost felt light cancelling the rest of our holiday to Denmark and just staying there. We were offered some great home-made pizza which easily competed with anything we've had at Pizza Hut. We would really like, nay, love to go back at some point and ideally bring our own wine next time as I think we owe them on that score. We think it may also be a slightly neglected part of Holland to visit and deserves further exploration in its own right. Simply put, stay here. It's a hoot!
Alastair
2016-10-22T00:00:00Z
Simple and very practical hosts. The room is large and filled with homy stuff. Breakfast is great. A very comfortable stay, I highly recommend it.
Kim
2016-12-27T00:00:00Z
Room Type
Private room
---
Property Type
House
---
Accommodates
3
---
Bedrooms
Doesburg, Gelderland, Netherlands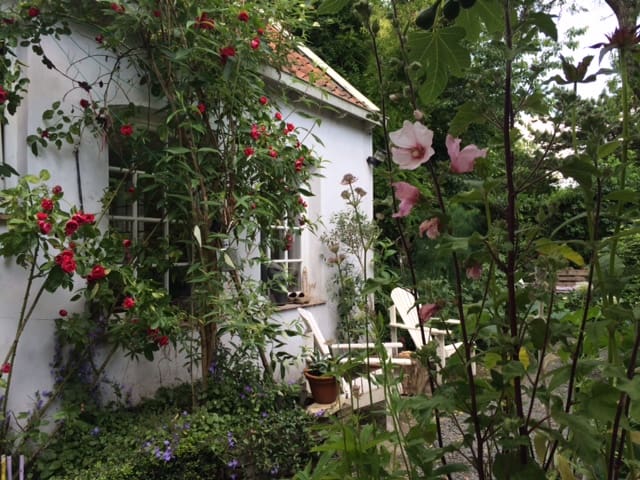 In het buitengebied van de Hanzestad Zutphen ligt onze woonboerderij aan een rustig doodlopend straatje. Met vrij uitzicht aan alle kanten is het hier genieten van een prachtig coulissen landschap terwijl cultuur, restaurants en winkels nabij zijn.
De ligging en de rust van de omgeving zijn aantrekkelijk. Op korte (fietsafstand) ligt de prachtige Hanzestad Zutphen. In Zutphen vind je vele exclusieve en ambachtelijke winkeltjes. In de middeleeuwse binnenstad zijn veel restaurantjes en terrassen, onder andere het Michelin restaurant Schulten Hues. Zutphen heeft een intercity station waar vandaan Amsterdam, Rotterdam en Arnhem gemakkelijk te bereiken zijn. In de directe omgeving van de boerderij zijn prachtige (fiets)tochten te maken. Op 5 minuten fietsafstand bevindt zich een Boerderijwinkel waar veel streekproducten te verkrijgen zijn. Iets verder ligt het Ludgerusgebouw, een koffie en (soms) eethuis omgeven door het landgoed Suderas. Hier bevinden zich diverse wandelmogelijkheden. Naast het Ludgerusgebouw staat de neogotische St.Willibrorduskerk. Op een kwartier fietsen ligt het kasteel Hackfort waar zich ook een biologisch restaurant bevindt. De ruimte biedt ruimte aan twee personen en biedt volledige privacy. Indeling: Begane grond: - Eigen entree - Gebruik van grote zit- en ontbijtkamer (deel) - Keukentje (eenvoudig) - Toilet De deel is voor gebruik van de gasten maar grenst ook aan een aantal andere ruimtes van onszelf (washok en werkkamers). Soms lopen wij even door de deel naar de wasmachine of naar onze werkkamers cq halen de kinderen iets uit de printer in de werkkamers. 1ste verdieping: - Slaapkamer (2 personen): de bedden kunnen ook apart worden opgemaakt en uit elkaar worden geschoven, bijvoorbeeld als je met een kind komt cq anderszins dat prettiger vindt. Geef dit graag even door. - Sanitaire ruimte met douche en wastafel - Klein bureautje Hier komen wij nooit als er gasten zijn. Buiten: - Grote tuin op het zuiden - Tuinmeubilair - Trampoline en voetbalgoal - Vele kleine gezelschapsdieren waaronder de twee Shetlander pony's Max en Diego - Gebruik kan worden gemaakt van onze eigen (eenvoudige) fietsen als we die zelf niet nodig hebben en je even een boodschapje wilt doen of 's avonds naar een restaurant wilt fietsen. Voor € 8,50 per persoon serveren wij op verzoek en rond de klok van 9 uur/half 10 (doordeweeks kan het vroeger) in de deel een eenvoudig, grotendeels biologisch ontbijt. Hier zitten verschillende soorten brood bij van de bekende Zutphense bakkerij Driekant, twee soorten kaas, jam, een eitje van onze kippen, roomboter, cappuccino, koffie of thee en een glaasje verse jus. Graag het ontbijt ter plekke contact afrekenen. Op de kamer is kosteloos thee en (oplos) koffie te gebruiken. In de deel hebben we een kastje gemaakt met lekkere dingen zoals (afwisselend) Hoeksche of Kettle chips, appel- en andere sapjes, rode en witte wijn (klein en groot) en Tony Chocoloni. De prijzen zijn marginaal verhoogd ten opzichte van de winkelprijs. Er is een kleine koelkast en inmiddels ook een eenvoudig keukentje met een tweepits elektrische kookplaat en combi magnetron voor de gasten ter beschikking. Een lichte maaltijd kan hier bereid worden. In overleg is soms een eenvoudige avondmaaltijd beschikbaar voor € 13,50 per persoon incl. een glas wijn (bijvoorbeeld boeren omelet met een salade, pasta met pesto met een salade). Deze maaltijden zijn als uitgangspunt vegetarisch. Voor € 15,50 per persoon wordt aan de pasta ook (biologische) kip toegevoegd en voor € 14,50 per persoon aan de omelet (biologische) spek of salami. De omgeving kenmerkt zich door een prachtig coulissen landschap met vele doorkijkjes, bossen, hei en velden. De kronkelige weggetjes langs beken en rivieren laten Nederland op zijn mooist zien. Voor de deur stopt de buurtbus, die naar zowel het centrum en de stations van Vorden en Zutphen gaat. Hij rijdt niet op zondag. Parkeergelegenheid is bij de woning.
De buurt biedt gelegenheid tot het maken van mooie fiets- en wandeltochten. Ook is er in de nabijheid diverse horeca zoals een Theetuin, het Ludgerus gebouw en kasteel Hackfort. In het nabijgelegen Vorden (5 km) en natuurlijk in Zutphen zijn diverse restaurants.
Great stay with lots of space for a family
Joris
2016-08-22T00:00:00Z
Sabine is nice and warm. Even if we have spent only 1 night here, the stay has been perfect. Sabine was very kind with us: she lent us the bikes and suggested us a beautiful route. She made us feel at home! The house is wonderful and located in a peaceful area; the room big, comfortable and clean. Highly-recommended!!
Carlotta&Marco
2015-08-22T00:00:00Z
A beautiful place - the pictures do not show exactly how lovely it is. The space is large, very comfortable, and pretty. Sabine was a kind and helpful host; she offered us a breakfast for 7.50 and it was deliciously Dutch and worth every cent.
Marcia
2015-07-12T00:00:00Z
Wonderful stay. The space is beautiful, light. So much attention to small details. Lovely breakfast. Great hosts, easy to communicate with. Would recommend to any traveller!
Eveline
2015-04-20T00:00:00Z
We had a great stay at Sabine's place! Nice ambiance, suroundings and friendly people. We enjoyed visiting zutphen and one of the many nice walks through the countryside you csn make.
Antonio
2017-01-29T00:00:00Z
The place is beautiful, very old farm but renovated so very comfortable. The surroundings are also very nice, and if you're lucky, you can borrow a bike from the owner and have a ride.
Thieme
2017-03-26T00:00:00Z
Wauw! I have to agree with all the other positive comments- this is really an amazing place to be. It's the perfect spot to relax, rest and enjoy nature. Room, bathroom, etc. was very nice and clean. Yummy breakfast was served by Sabine's daughter, who was our host for the weekend. She was very friendly and helpful. I highly recommend this place to others :-) I would love to come back soon!!
Stephanie
2015-08-10T00:00:00Z
The place is just as beautiful as the pictures promise. Sabine and her family are great hosts with a sense for details that make a difference. Breakfast was great as well. Highly recommended!
Christian
2015-09-11T00:00:00Z
Room Type
Entire home/apt
---
Property Type
House
---
Accommodates
2
---
Bedrooms
Vierakker, Gelderland, Netherlands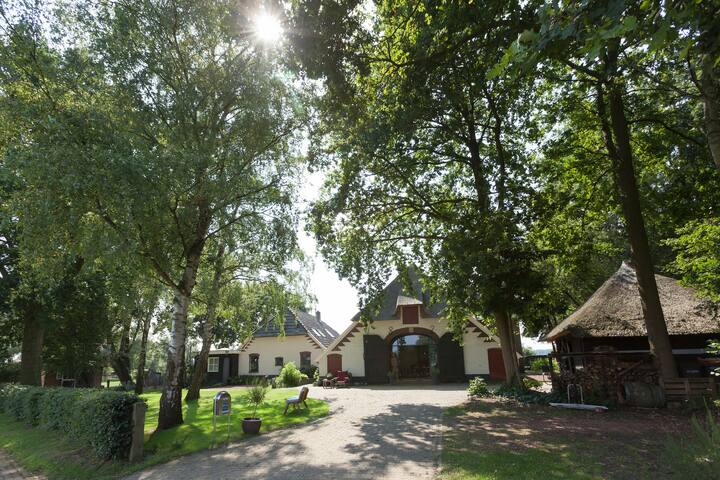 Nice quiet 2 room offered. Using large bathroom with toilet, sink, tub and separate shower, shared with me. Hygiene is important to me. I have a small young dog, Buddy does not come up.
The fresh clean room with two beds, two bedside tables with lighting. A wardrobe and cupboard with extra pillows and towels. The tilt and turn windows are fitted with a blind and a flyscreen.
Terborg, small town in the municipality of Old IJsselstreek. Here you will find the peace and beauty of the countryside. The Achterhoek has been named by the cyclist to the best cycling in the Netherlands. Here you can enjoy history, nature, prachte bike paths and bike trails. Fine local produce and great restaurants. The property is located five minutes from the station, 2 minutes from downtown. Terborg has a pool, gym, library and a cozy shopping street. The tourist office offers great cycling and walking routes.
Very nice place, we liked it very much . Yvette and her dog were a great hosts :)
Svetlozar
2016-03-25T00:00:00Z
It was my second time by Yvette and as always she is very helpful and nice! Highly recommended.
Dario
2016-05-18T00:00:00Z
Best bed in Europe so far. Very modern, very comfortable suite. Yvette is a wonderful host. Quite convenient location to anything Market Garden related. Will request to stay again next time in the area. Thank you Yvette.
David
2015-10-25T00:00:00Z
Yvette is a very friendly person with a lovely home. We felt very welcome and homey. Thanks for everything.
Katharina
2016-08-08T00:00:00Z
Very very nice person, I found what I needed-relax and comfort. When I will be in Holland again, I will definitely book again. Highly recommended.
Dario
2016-01-31T00:00:00Z
This place was great.Good location, comfortable bed and Yvette was very helpful with anything we needed. I highly recommend Yvette place.
Roman
2015-09-28T00:00:00Z
Great place to stay! Super nice and very clean!
Brenda
2016-04-11T00:00:00Z
I stayed with a colleague for two nights at Yvette's house, it was a good choice and I only recommend it! Yvette is a really lovely host and offers a nice and comfortable room - not to forget the rich and yummy breakfast early in the morning, thank you!
Selma
2015-11-16T00:00:00Z
Room Type
Private room
---
Property Type
House
---
Accommodates
2
---
Bedrooms
Terborg, Gelderland, Netherlands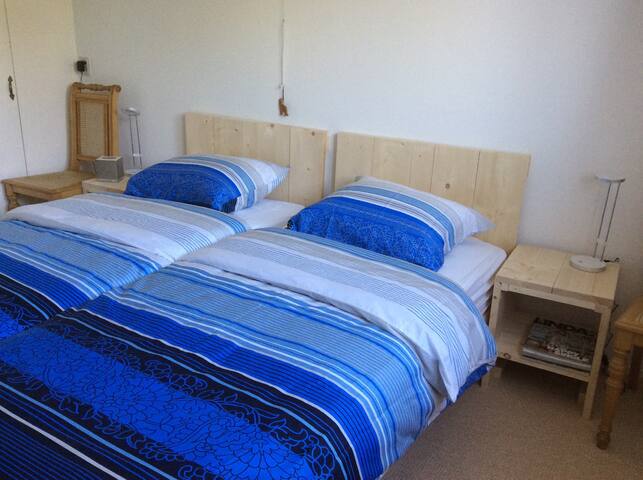 Nice room in a house on the other side of the river. Perfect for cyclists: you can start your tour right away. There is a small supermarket in the neighborhood.
Perfect spot if you want to be in Zutphen and be in a quite place and even more perfect spot if you want to cycle in the area. The house is 5 minutes bike / 15 minutes walk from the old town and direct on the cycle network of the region, terrific to get out! The room is bigger as it looks in the picture, it comes with a comfy bed, a small fridge, coffee and tea maker. Marloes is a 'city refugee' who is clearly enjoying her new found space and quite life, she is a nice and flexible host who brings interesting conversation and personal space when you need it.
Ties
2016-08-29T00:00:00Z
Marloes is a very friendly host, who responds quickly. The room and the bathroom were clean. We slept very well.
Ingrid
2017-04-07T00:00:00Z
Marloe's place was situated in a peaceful and lovely area outside the main town. The whole place was beautiful, and the room that I got was bright at spacious. Marloe helped me out with everything I needed and and very thankful for that.
Nanito
2016-07-21T00:00:00Z
I've stayed at Marloes' place for one night. She's very hospitable. The place is very clean and cozy. It's within a walking distance from the city center. The neighborhood is quite calm and relaxing. The breeze there is extremely refreshing. I really enjoyed my stay and will definitely stay at her place again in case I revisit Zutphen.
Ossama
2016-09-18T00:00:00Z
Marloes is such a sweetheart! Her place was perfect for what i needed. Comfy with a cute little kitchenette setup in the room. Right on the river in beautiful Zutphen!
Keith
2017-02-12T00:00:00Z
My stay with Marloes was really comfortable. I arrived a bit earlier but this was not a problem. She had prepared my room really nice and left a small refrigerator at the room for my personal use. I also had the possibility to boil my own water at the room and make a coffee for myself. Nice view from the house to this historical city Zutphen with lots of things to see. Perfect stay for me for a really fair price. Thanks again!
Giovanni
2017-01-09T00:00:00Z
Marloes is a very friendly landlord, her room is very nice, and close with the train station. The view is very beautiful, there are a river.
Yifan
2017-02-01T00:00:00Z
Marloes is a kind and very helpful host. The neighborhood is friendly. Her house is next to a busy street. Recommended for smokers!
Julia
2016-08-06T00:00:00Z
Room Type
Private room
---
Property Type
House
---
Accommodates
2
---
Bedrooms
Zutphen, Gelderland, Netherlands
Beautiful place near roads. Conveniently located for migratory tourist or business market, near the German border. Ideal for cycling to explore the area of the Achterhoek. Breakfasts with products domestically and bread from the wood oven.
Coffee or tea on the terrace. Only in good weather of course. Otherwise, in the spacious woonkamer.Daarna I'll show you the room / bathroom.
Rural location but close to nice places with history. In addition, ideal as a base for the business market. Near the A 18 and Germany.
Nice host, very welcoming, with good tips for my next-day trip. I surely would come again. Thanks Esmeralda.
elly
2016-04-27T00:00:00Z
Esmeralda is a very good host. She welcomes you with tea or coffee and is very helpful. Talking to her is pleasant and she provided me with some really helpful information.
Malte
2016-08-26T00:00:00Z
Esmeralda was really accommodating. We were a little late but it was no problem. Great, comfortable place , totally relaxing after a hard journey. Would recommend to any-one who appreciates quality. Graham and Claire
claire
2016-06-06T00:00:00Z
I had a very pleasant stay with my daughter at Esmeralda's place. I would recommend it to anyone who likes to be in a warm and quiet environment. The breakfast is really good!!
Marco
2016-10-02T00:00:00Z
Warm onthaal, persoonlijk; erg leuk om de tuin en de bijen te zien. Ontbijt was prima. Kamer kon iets schoner. Badkamer heerlijk.
Hans
2016-07-10T00:00:00Z
Het verblijf bij Esmeralda was in 1 woord geweldig! Heerlijk rustige groene omgeving en de tuin is super: mooie bloemen en planten, groenten, bijen, kruiden en ga zo maar door. Esmeralda laat je meteen thuis voelen en het ontbijt is heerlijk. Nog nooit zulke lekkere aardbeien gehad :).
Danielle
2016-07-25T00:00:00Z
Het verblijf bij Esmeralda was uitmuntend. Een welkom en huiselijk gevoel. Bij aankomst een kop thee. Het huis en de kamers zijn gezellig ingericht. De omgeving is voor natuurliefhebbers fantastisch. Ondanks mn werkzaamheden heb ik nog de kans gehad om op 20 min. afstand flamingo's in het wild te zien. Esmeralda was een fijne hostess, in voor een gesprek maar ook respect voor zelfstandigheid.
Ad-Just
2016-04-14T00:00:00Z
De aankomst verliep wat rommelig maar Esmeralda heeft me er prima doorheen geloodst. Ze heeft een gezellige en warme persoonlijkheid waardoor het een prettige ervaring was. Het huis is fijn en authentiek.
Angela
2016-11-04T00:00:00Z
Room Type
Entire home/apt
---
Property Type
House
---
Accommodates
5
---
Bedrooms
Heelweg, Gelderland, Netherlands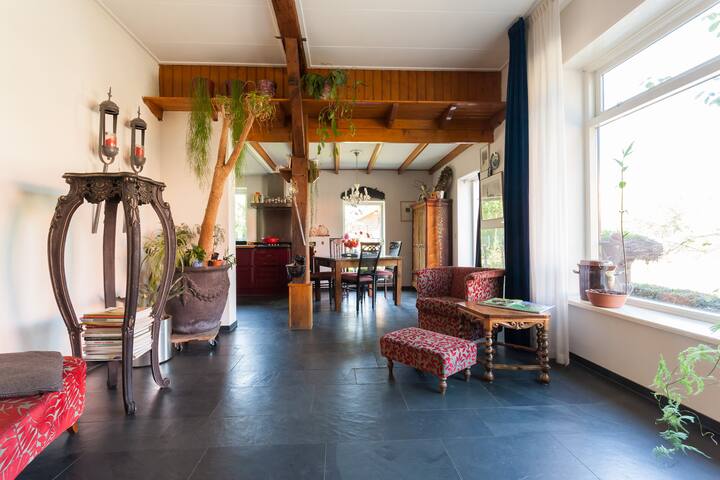 You're welcome in my house.
Room Type
Private room
---
Property Type
House
---
Accommodates
1
---
Bedrooms
Varsseveld, Gelderland, Netherlands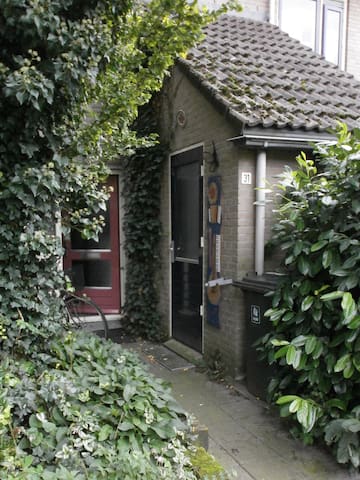 This great and renovated authentic house in the centre of Zutphen, will absolutely give you the feeling of being at home. It has place for 6 guests.
The house, has two living rooms on the ground floor. The open kitchen is located in the basement of the house, and is a true authentic place. From there you can also access the little patio where you can sit as well. Awesome in summer! On the first floor you'll find the bedroom. There is a double (180x200) and equipped with TV. On the second floor you'll find two bedrooms with single beds. There is Wi-Fi throughout the whole home, which makes it appealing to bring your own laptop too. Also on the first floor you'll find a just renovated new bathroom, with toilet and shower Het huis heeft twee woonkamers op de begane grond en een open keuken. Vanuit de woonkamer heb je ook toegang tot de patio waar je geweldig goed kunt zitten . Op de eerste verdieping vindt u de slaapkamer. Er staat een dubbel bed ( 180x200 ) en de kamer is uitgerust met TV. Op de tweede verdieping vindt u twee slaapkamers met eenpersoonsbedden. Er is Wi - Fi in het hele huis, dat maakt het aantrekkelijk om uw eigen laptop te brengen . Ook op de eerste verdieping vindt u een net gerenoveerde nieuwe badkamer, met toilet en douche
Walking is the easiest way to travel in the city of Zutphen. The center is very compact, with almost all points of interest being within walking distance to each other. To use the public transportation in the Netherlands, it is recommended to buy an OV-chipcard. The OV chipcard is valid for bus, train and tram and works like a debit card that you must first charge with an amount. We supply the house with an extensive book with tips and information about sightseeings and get-arounds.
This is very meaningful in the three days of my life!Anke is a very very nice , She was Waiting for me in the house and bring my show every room!and she's house is so wonderful and romantic!if I come zutphen again,I would be stay here again.i love here ,very very much!
Lisa
2016-02-19T00:00:00Z
Anke was very friendly and nice. She showed us around the house and were all things were. This is a very nice place and feels very homey. The pictures really don't do it justice. The location is also great in central Zutphen. Love the patio as well.
Paula
2016-05-21T00:00:00Z
Wonderful house, wonderful patroness.
Sonus
2015-10-17T00:00:00Z
Two out us three unfortunately got the flu just before our stay, so we kept on postponing arrival – Anke was very sympathetic the whole time, but finally we didn't manage to come at all... Hopefully we'll stay in her house some other time!
Jaap
2015-04-13T00:00:00Z
Anke's house was as shown in the photos and very welcoming! We had muffins and strawberries to welcome us plus the bonus of lovely sunny weather. Our stay was very peaceful, exactly as we had hoped. The terrace is lovely when the sun comes out, the kitchen is well equipped and the location perfect for supermarket and the sights of the town.
Merrilyn
2016-06-13T00:00:00Z
Absolutely great. Great location, great ambience and great host. Een echte aanrader! Thank you Anke.
Karl
2016-04-19T00:00:00Z
Beautiful home, well positioned with only a short walk to supermarkets and the town centre. We were there a week but wish we could have stayed longer. Zutphen has much to offer the tourist who wants to get away from the tourist crowds.
Robyn
2016-07-02T00:00:00Z
Very Pleased with our stay at Anke's house in Zutphen. The house is as described, the neighbourhood is very nice, walking distance (s lovely house
michael
2015-05-21T00:00:00Z
Room Type
Entire home/apt
---
Property Type
House
---
Accommodates
6
---
Bedrooms
Zutphen, Gelderland, Netherlands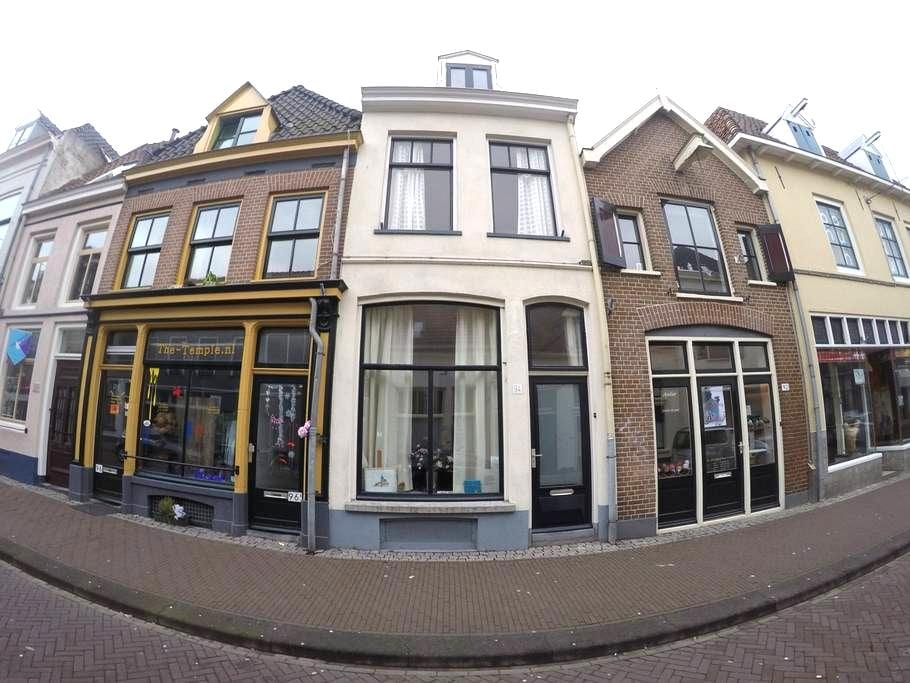 Sfeervolle en luxe verblijf in een woonboerderij aan de rand van de vestingstad Groenlo, 3 minuten verwijderd van het station. Het is een landelijke vakantiewoning van alle gemakken voorzien, rustig gelegen naast een wijngaard. In de omgeving bossen en vele wandel- en fietspaden. Restaurants, supermarkten en winkels allemaal binnen 5 autominuten bereikbaar.
Alle vertrekken in het huis zijn gelijkvloers. Het huis heeft een ruime woonkamer, keuken, badkamer en twee slaapkamers. In de woonkamer staat een comfortabele zithoek met satelliettelevisie. De ruime en moderne keuken is voorzien van een elektrische kookplaat, koel- en vriescombinatie, afwasmachine, combimagnetron, koffiezetapparaat en een waterkoker. Het huis heeft een zeer luxe badkamer met een bubbelbad, aparte douche, toilet en twee wastafels. Daarnaast is er nog een extra toilet en bij de infrarood sauna een extra douche. De twee slaapkamers zijn gezellig ingericht. Beide slaapkamers hebben een tweepersoons boxspringbed.
Dit huis is gelegen in de Achterhoek, in het Gelderse landschap. De Achterhoek is door de fietsersbond uitgeroepen tot het beste fietsgebied van Nederland. Niet verwonderlijk, want vrijwel nergens is de afwisseling in landschap zo groot als hier. Fietsen in de Achterhoek is genieten van historie, natuur, prachtige fietspaden en fietsroutes. Ook is de Achterhoek bij uitstek het gebied om te gaan mountainbiken of wielrennen. De Achterhoek kent drie wijnroutes. De routes gaan langs alle wijngaarden in de streek. Onderweg wijnproeven of wijn kopen? Geen probleem! Daarvoor is in de Achterhoek alle gelegenheid.
It is very comfortable hause. Sylvia is very friendly and welcoming person. He has help us in all our queries. We have spend some chilling evenings siting for fireplace. Enjoing good wine. A nice set of wein is directly in the flat. It can be payed later by Sylvia. Oure childrens enjoyed plaing Fußball in the great garden.
Dimitri
2017-02-27T00:00:00Z
Heerlijke vakantiewoning in de Achterhoek om heerlijk tot rust te komen. De woning is van alle gemakken voorzien: vaatwasser, wasmachine, kookplaat, koelkast en zelfs een sauna. Frans en Sylvia zijn hele hartelijke mensen die je het graag naar je zin maken en als er problemen zijn (lekkende kraan) ook direct voor je klaar zijn. De woning zelf is heerlijk met veel plekken waar je lekker kunt zitten en als het mooi weer is kun je buiten van de tuin en de omgeving genieten. Een aanrader!
Michiel
2017-03-26T00:00:00Z
Room Type
Entire home/apt
---
Property Type
House
---
Accommodates
6
---
Bedrooms
Groenlo, Gelderland, Netherlands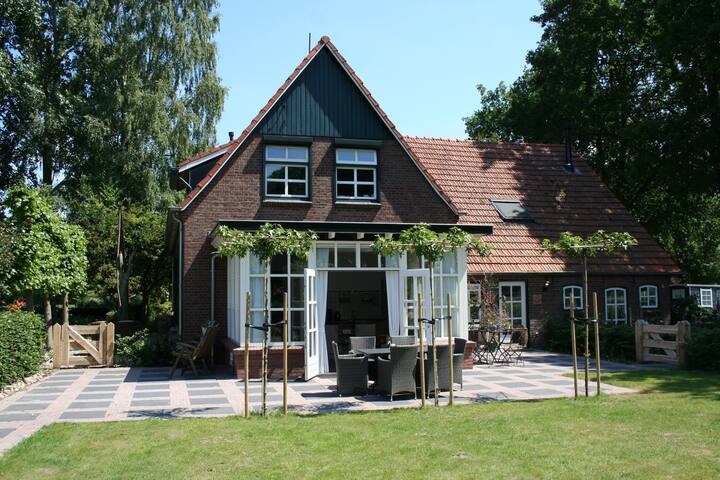 Ons gastenverblijf ligt in het buitengebied van Lochem en grenst aan de landgoederen "De Boekhorst", "De Velhorst "en "het Grote Veld". Op 5 minuten rijden ligt Lochem. Mocht u geïnteresseerd zijn in golfen dan is er een mooie baan op 5 minuten rijden. In het verblijf is beneden een woonkamer met open keuken, wc, toilet en douche en een kamer met 2 bedden. Op de vide is een slaapkamer met een tweepersoons bed. Het geheel is voorzien van cv. Een wasmachine ,tv en vrij wifi zijn aanwezig.
Ons gastenhuis biedt ruimte aan vier personen. Op de benedenverdieping is een slaapkamer met twee boxspringbedden. Ook vindt u hier de doucheruimte met wastafel. Daarnaast is een apart toilet. De woonkamer (ong. 30 m2) beschikt over een gezellige eethoek, zithoek met televisie (groot scherm). WiFi is gratis. Er is een open volledig ingerichte keuken. De trap in de woonkamer leidt naar de vide, waar een tweepersoonsbed (180 x 210) staat. Ook hier is een wastafel met warm en koud water en een ruime linnenkast. In de tuin met fruitbomen staan heerlijke relaxstoelen en een eettafel .
Op 5 minuten rijden ligt het mooie golfterrein 'de Graafschap'. Met de 'Berkelzomp' kunt u een tochtje over de Berkel maken. Het 'Staringkoepeltje' is zeker de moeite waard om te bezoeken. Verder is dit gebied zeer geschikt voor rustzoekers, fietsers, ruiters en wandelaars. Mocht u willen zwemmen dan kunt u terecht in een binnenbad (Lochem) of een buitenbad (Almen). Beide zwembaden op 10 minuten rijden van ons huis.
I stayed with my sister for 5 nights in Aria's lovely house. We had visitors from the rest of the family sleeping elsewhere and we had a great family gathering here. The weather was splendid even hot so we spend lots of time in the lovely big garden in the shadows of the big trees. The house itself stayed nice cool and we had good nights with a lot of sleep. The walks around the house are beautiful in this great landscape of woods, rivers and meadows. All in all a really good time. Recommended.
Wouter
2016-07-23T00:00:00Z
Heerlijke plek in de weilanden. Eigenaars zijn erg aardig en gastvrij
Robert
2017-03-19T00:00:00Z
Mooi, rustig plekje. Vriendelijke ontvangst. Prima verblijf.
Rick
2017-01-01T00:00:00Z
Prima locatie voor rustzoekers en liefhebbers van wandelen en het Gelderse landschap.
Paul
2017-02-27T00:00:00Z
Arya en haar echtgenoot hebben een hele fijne, gezellige AirBnB waar het goed toeven is. Ze doen er alles aan om je verblijf tot een succes te maken. Bij aankomst werden we zeer hartelijk ontvangen en hadden zij voor ons uitgezocht welke locale evenementen er waren waar wij misschien interesse in hadden. Ze wisten ons leuke plekjes te wijzen waar wij met de hond konden gaan wandelen. Ze deden er alles aan om ons verblijf tot een echte mini'vakantie te maken. We komen er graag nog eens terug!
Inez
2016-12-26T00:00:00Z
Erg fijn ontvangst bij Henk en Arya gehad: de borrel stond klaar en binnen mum van tijd hadden we verbinding en leuke gesprekken. Huisje is meer dan prima en mensen die hotel kwaliteit wensen, moeten dan maar een hotel boeken. Omgeving is wonderschoon, Staringkoepel aan de Berkel, het coulissenlandschap, More museum (moderne kunst) in Gorsel. En in deze winterperiode maakt het strijklicht van elke kijkrichting weer een klein schilderij.
Roeland
2016-12-29T00:00:00Z
Wij, twee randstad bewoners, hebben een bijzonder prettig verblijf gehad bij Henk en Arya in Lochem. De ontvangst was al heel bijzonder want we werden verrast met een verjaarstaart voor mijn vrouw Tiny. We kregen een uitgebreide voorlichting wat er allemaal te beleven was in deze mooie streek. De documentatie map was zeer doeltreffend. Het vrijstaande verblijf was een bijgebouwtje van de oorspronkelijke boerderij en was heel compleet met keukentje , en knus en gezellig ingericht. En in de tuin onder de appelbomen konden we ´s-avonds heerlijk van een flesje genieten. De stek was een prima uitgangspunt om de omgeving te verkennen. Lochem lag op ca 4 km afstand. Het is een gezellig stadje met veel fietsers, terrasjes en een prima restaurant Kwaop . De Berkel route is een fijne fietsroute. Niet alleen passeer je het riviertje regelmatig, maar je fietst ook op hele smalle paadjes tussen de mais kolven door. Hij voert ook naar Zutphen, een prachtig stad uit de Hanzetijd. Henk maakte ons ook attent op het Staring koepeltje. Eerst wandelen langs de Berkel oever en dan jezelf met een pontje overtrekken naar het heuveltje waar het gerestaureerde koepeltje te bewonderen was. Ook Deventer lag binnen bereik en is zeer de moeite waard om te bezoeken. En niet de versmaden een tochtje met een zomp over de Berkel , waar de schipper boeiend wist te vertellen over het wel en wee van de streek. We hebben een heel fijne vakantie week gehad bij een bijzonder hartelijke gastvrouw en gastheer.
H.W.
2016-09-09T00:00:00Z
In een ontzettend romantisch liefelijk huisje, echt op het platteland maar toch dichtbij het plaatsje lochem verbleven wij met zijn drien tijdens ons fietsweekend. Het huisje dat je helemaal voor jezelf hebt is erg leuk ingericht, en alles dat je nodig hebt is aanwezig (keukentje, kookspullen, zelfs tv). De gastvrouw en man waren ontzettend enthousiast en behulpzaam, we werden heel warm verwelkomt. De omgeving is prachtig en er is een hoop te beleven. Je bevind je dichtbij het staring koepeltje, wat erg leuk is om naartoe te wandelen. We hebben enorm genoten. (Enige kantekening die ik kan bedenken is dat Wifi verbinding erg zwak was maar voor een heerlijk tot rust komen, fiets weekend hebben we dat eigenlijk toch niet gemist)
Pauline
2016-08-01T00:00:00Z
Room Type
Entire home/apt
---
Property Type
House
---
Accommodates
4
---
Bedrooms
Lochem, Gelderland, Netherlands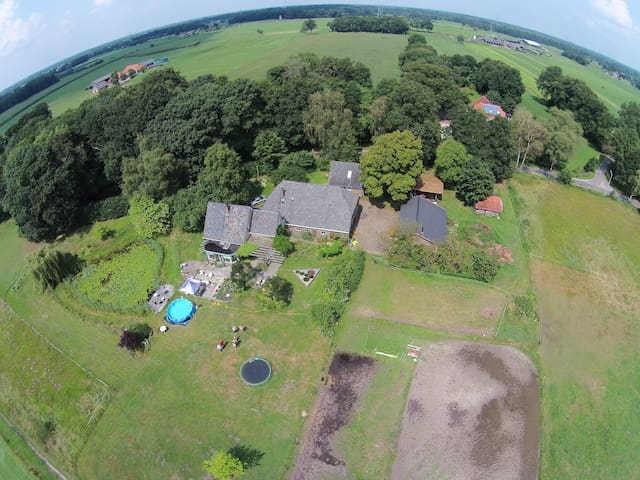 Mijn ruimte is geschikt voor stellen, solo-avonturiers en harige vrienden (huisdieren).
Room Type
Private room
---
Property Type
House
---
Accommodates
2
---
Bedrooms
Westendorp, Gelderland, Netherlands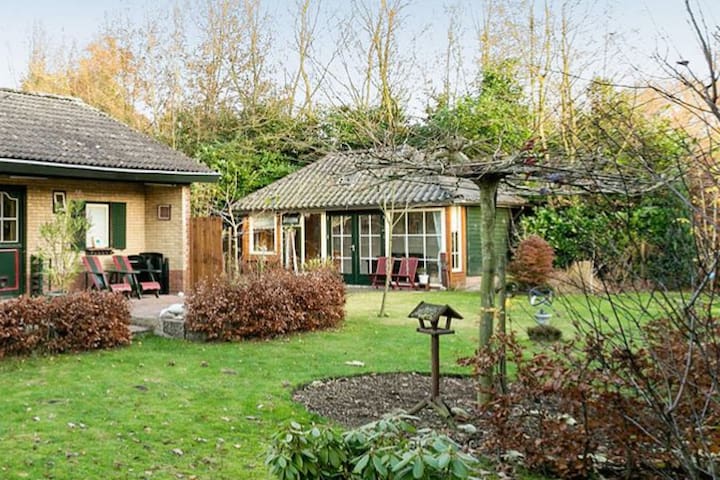 Spacious room with double bed in farmhouse situated in the countryside of Gendringen. Enjoy the beautiful scenery and several cycling and walking routes in the Dutch-German border region.
Die Unterkunft bei Ted und Angelien war alles, was das Herz begehrt auf einer Reise von Deutschland nach Holland, anders herum oder einfach, um sich zu entspannen. Die Gastgeber sind sehr entspannt und freundlich und haben uns von Anfang an willkommen geheißen. Das Zimmer war äußerst gemütlich, hatte ein sehr komfortables Bett und Möbel in einem super Zustand. Alles war sehr sauber. Wir kommen gerne wieder und können die Wohnung wärmstens weiterempfehlen.
Michael
2017-02-25T00:00:00Z
GastheerTed was erg gezellig en gaf een warm welkom. Kamer voldoet aan de omschrijving en is helemaal netjes verzorgd: handdoek, water en badjas lagen klaar! Heerlijk groot bed voor 2 personen. Hele goede waarde voor je geld. Zou dit zeker aanraden aan iedereen die in de buurt moet overnachten. Ook snel in communicatie en flexibel. Dank!
philip
2017-03-18T00:00:00Z
Room Type
Private room
---
Property Type
House
---
Accommodates
2
---
Bedrooms
Gendringen, Gelderland, Netherlands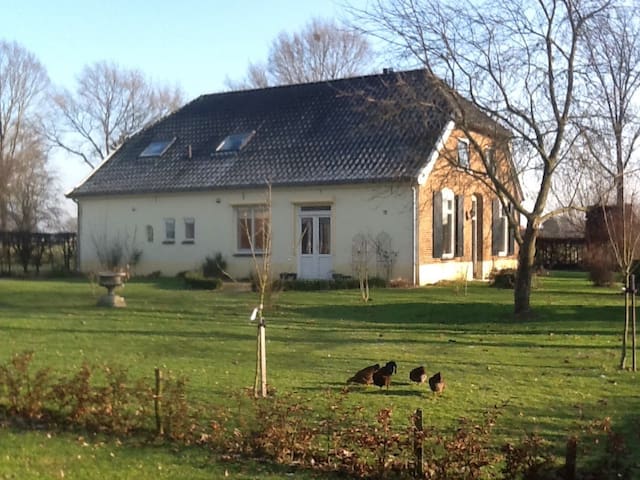 Guesthouse " 't Hooyslag" is situated in one of the most quiet parts of the Netherlands, near a few old historic towns (Lochem, Zutphen, Deventer). 90 minutes from Amsterdam. Ideal for walking and biking. Selfcatering. The living room contains a kitchenette (double electrical hot plate,sink, refrigerator, coffeemaker, microwave, dishes, pots & pans) and all the necessary equipment (TV, internet access, central heating) and bathroom with shower. The property is suitable for 2-4 persons. There is a separate bedroom with a bed for 2 persons, 2.10 x 1.60m. A baby cot is available. Bedlinen and towels are provided. Breakfast is not included: however we can supply all the ingredients for a nice breakfast! We charge 5 euros for a breakfast. Coffee and tea are free. The guesthouse is separated from the main house and has lots of privacy. The house is in an impeccable state in terms of tidiness and cleanliness. Accessibility: nearest railway station is Lochem. Of course we can collect you from the station. Please ask details in advance. You can reach the railway station in about 1.5 hour from airport Schiphol. When using a routeplanner you sometimes will be directed to drive to our house along the "Bouwdijk". This is a sandy road in bad condition that not should be used. The easiest access is from the village Exel, taking the Exelseweg.
The reservation was canceled 42 days before arrival. This is an automated posting.
Christina
2013-07-06T00:00:00Z
Very nice house with everything need.
Gustav
2015-11-06T00:00:00Z
Very cozy, very comfortable and a beautiful view waking up in the morning. Just perfect for relaxation...
Mitchell
2015-04-01T00:00:00Z
We had a great time at 't Hooyslag! The property is peaceful, quiet and lovely, the 1-bedroom house is very clean and has everything necessary for cooking / hanging out. Gerard was very welcoming. TV & Wifi worked well, the house of lots of natural light. It is easy and fun to take walks and bike rides around the area. Lochem is 5km away, and has grocery stores and cafes. We look forward to returning soon!
Elliot
2015-04-07T00:00:00Z
A wonderful house in the middle of nowhere. The pictures are very accurate & give a very good impression of how the house is. We were welcomed by Gerard, who showed us the whole house and explained how everything works. We were offered a welcome drink & we could just settle back and enjoy the beautiful surroundings.
Willemijn
2016-05-08T00:00:00Z
This is good place to just sit back and relax! A most enjoyable get-away near Lochem, with all the listed facilities (not to mention a very enjoyable CD collection) at your disposal. It feels like you're staying with friends. The hosts are happy to share their love for the region, and they did everything possible to make our stay with our 15mo son (baby seat and bed) comfortable. Oh, and we got deli home-grown apples for on the way home :)
Tristan
2016-10-10T00:00:00Z
Superb house. Although small and very basic, we totally relaxed during our four days of holiday. The location is very quiet and literally in the middle of nowhere. If needed, you can dive to several small cities in 20min. Gerard made a great house. Definitely recommended
Niels
2013-01-01T00:00:00Z
Our stay in Gerard and Ellen's little house was wonderful. We thoroughly enjoyed the quality of the accommodation and the quietness and peacefulness of the environment in which it is located. Luckily our dog made friends with their chickens without too much problems. We will certainly be back in Lochem in the near future.
Laury
2015-04-11T00:00:00Z
Room Type
Entire home/apt
---
Property Type
House
---
Accommodates
2
---
Bedrooms
Lochem, Gelderland, Netherlands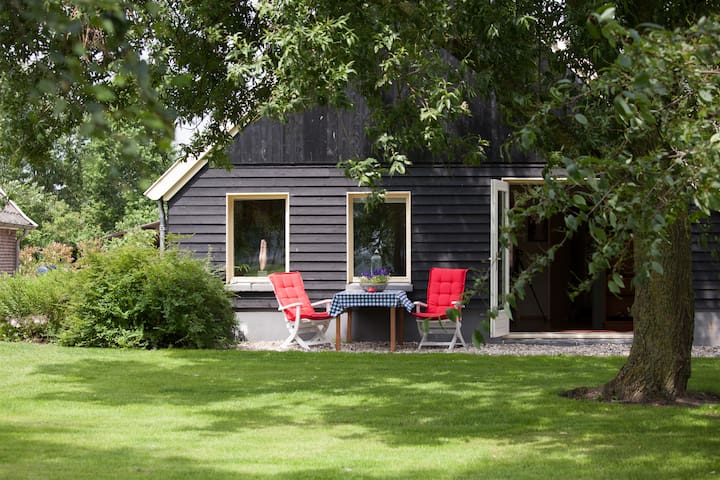 An ideal retreat for rest-seekers and those who love the quiet surroundings with sheep and cows. Visit Arnhem (war-memorials) or Zuthen (old city). Amsterdam is a 1-hour drive away.
Guesthouse Boshoeve is situated in one of the most quiet parts of The Netherlands, near a few old historic towns (Zutphen, Deventer). One hour from Amsterdam. Ideal for walking and biking. Selfcatering. It is fully equipped with a kitchenette (sink, refrigerator, coffeemaker, dishes, pots & pans) and all the necessary equipment (TV, internet access, central heating) and bathroom with shower. The property is suited for 2 persons. Long beds (220 cm). Breakfast is not included: however we can supply all the ingredients for a nice breakfast! Coffee and tea are free. The guesthouse is separated from the main house and has lots of privacy. The house is in an impeccable state in terms of tidiness and cleanliness. Accessibility: nearest railway station is Dieren or Apeldoorn. Of coarse we can collect you from the station. Please ask details in advance. You can reach the railway stations in about 1 hour from from airport Schiphol. Nice restaurants on walking or biking distance. (Free) Private parking available.
A nice little holiday house in beautiful, calm surroundings. The hosts were very friendly and helpful. We were even invited to a private birthday party which gave us the chance to make acquaintance with many interesting people.
Dieter
2012-09-17T00:00:00Z
When we booked we never dreamed we would be in for such a treat. Staying with Hans and Ina was truly an amazing little get away. Their flexible check in and out times took a lot of the stress out of traveling. Ina fetched my girlfriend from the train station to insure her safe arrival at their tranquil haven. The private room( more like little apartment, incl. everything you might need) felt like a home away from home. The peace and quite was truly enjoyable. Sitting out on the little porch and just staring out at the open fields in front of you. Being so close to the city yet not hearing a sound. Apart from the clucking chickens. We also indulged in the breakfast option which was truly a great experience and worth the additional 9 euro's per person. The house is set up with map's and brochures of things to do in the near by surroundings and over all they were really informative and helpful. Perfect for a short or long stay. It is a breath of fresh air away from the rush. They will definitely be seeing as again very soon.
Alan P
2016-02-22T00:00:00Z
A very nice and quiet place. Perfect for relaxing, in the middle of the countryside. The small and cozy cabin is on the same grounds like the house of the hosts, but some feet away. Sitting on the wooden patio, you have a great view over meadows with sheep and horses on them. In the mornings, the only thing you hear is a carking cock. The cabin is small but absolutely sufficient for two people. There is a living room with a stereo and a tiny TV (receiving Dutch and some BBC channels). The living room also comprises a kitchenette (equipped with two hotplates, a fridge, an electric kettle, a coffee pad machine and some pots and pans as well as plates and cutlery). Then there is a bathroom with a shower (equipped with towels and a hairdryer). And a bedroom with a king-size bed (no closet, but there is some space to put your clothes). All very clean and nice. You feel like you are in the middle of nowhere, but from this place you reach the towns of Deventer (worth a visit) and Zutphen (even more picturesque) very easily by car, also Appeldorn (there is a nice castle, the town itself is rather average). The use of Wi-Fi is included in the price. The hosts are very nice and unintrusive. For a calm and unagitated trip (or a weekend) a great place!
Nadio
2012-02-21T00:00:00Z
Hans and Ina were great guests. They give you a lot of privacy at the same time being very caring. The surroundings of the guesthouse are absolutely stunning, if you're in for peace and quiet that's a place to be. How amazing that you can find spots like that not so far from Amsterdam! Thank you for my stay, Hans and Ina :)
Monika
2013-10-14T00:00:00Z
guesthouse boshoeve has a lot of privacy and is situated in an very quit surrounding. The guesthouse is very clean en has a lot of space for two persons. We had lovely cycling trips in the surroundings.
Hans
2013-10-26T00:00:00Z
Hans & Ina are really wonderful hosts: welcoming, polite and friendly, but not overwhelming. The house - built by Hans himself! - is so clean quiet and comfortable it is a perfect refuge for those seeking respite from city noise and traffic. We are beginner cyclists and the location as well as the bicycle paths around were all great for us. We so enjoyed the house in the morning and cycling later on, we didn't find time to enjoy the wonderful and private veranda!For our first experience with AirBnB, it truly was wonderful and surprising even after all the good reviews we read before. Thank you Hans&Ina:)
Kamila
2014-04-22T00:00:00Z
Great little cabin, super clean. We had everything we needed, and Hans and Ina were very friendly and helpful!
Hagar
2013-04-02T00:00:00Z
Boshoeve was perfect holiday home, lovely location amongst green fields and very quiet, approached via country roads ( you can use an unpaved road, it's quite smooth! Or just stick to tarmac if you wish) The accommodation is nice and spacious for two and we really enjoyed being there. We didn't meet Hans, he was away, but Ina was very friendly and helpful. Thanks for the chocolates and it was great to come back one day to find those tasty freshly laid eggs!!
Amy
2013-05-21T00:00:00Z
Room Type
Entire home/apt
---
Property Type
House
---
Accommodates
2
---
Bedrooms
Hall, Gelderland, Netherlands
Geniet van een verblijf in onze prachtige ruime blokhut: een rustgevende en romantische plek. Geheel van dik Fins vuren, super goed geïsoleerd en voorzien van speksteen houtkachel. Uit het zicht van de hoofdwoning en voorzien van keuken en badkamer.
De blokhut heeft tegenwoordig leuke groene gordijnen! Indeling van de blokhut: 1 aparte slaapkamer met twijfelaar en stapelbed, keukenblok in de woonruimte en een nieuwe kleine badkamer met toilet en douche. De houtkachel staat centraal in de woonruimte en geeft een heerlijke zachte warmte. Hand- en keukendoeken, beddengoed en enkele ontbijt spullen (biologische afbakbroodjes - en oventje - en beleg) zijn aanwezig.
Vanaf de blokhut wandel je zo de natuur in; bossen, weide landschappen en de Berkel zijn prachtig in deze buurt. Enkele wandelroutes en fietsknooppunten zijn hier op te pakken. Volg je de Berkel de andere kant op, richting binnenstad, dan vind je een prachtig, historisch centrum met vele leuke restaurantjes en kroegen om uit te gaan. Mooie musea, stadswandeling, fluisterboot-tocht, leuke winkeltjes, een heerlijke ambachtelijke bakkerij waar je koffie kan drinken, kerken, torens en stadstuinen, geheel nieuw zwembad, kortom Zutphen is een heerlijke plek om te wonen en te verblijven. Uiteraard zijn de grotere steden Deventer, Apeldoorn en Arnhem erg dichtbij en ook per trein bereikbaar.
We had a very warm and friendly welcome from the host Wietske. We wanted a beautiful reasonably priced place very quickly, and Wietske had responded really quick and with ease. We had only seen a few pics of the cabin, which looked stunning but when we stepped into the cabin, it felt magical and even better than the photos. The garden in the back, with swings and a trampoline was a magical extension of this dream cabin. We found everything we needed, from towels, shower gel, hairdryer, well equipped kitchen with an awesome small oven, a cosy fireplace with a lovely coach, comfortable bed and even some rolls and bio juice. We couldn't have asked for anything more. Wietske was very accommodating and made our stay as comfortable as she could. We are very grateful for our short but tranquil retreat getaway cabin and for meeting lovely Wietske. Our stay there was a magical gift. We look forward to returning soon.
shahani
2016-05-14T00:00:00Z
Wonderful hostesses in beautiful surroundings. Great romantic wooden cabin with wood fired stove. Great for walking in the immediate surroundings and cycling alongside the most beautiful riverside in the Netherlands. I can only recommend this unique facility and it's welcoming hosts!
ron
2016-02-24T00:00:00Z
Wietske is a lovely host, waited for us even till the late night. The room is cosy and nice in a beautiful area. Would love to stay here again!
Jason
2016-08-11T00:00:00Z
The Dutch word 'gezellig' may be best translated as 'cosy' and that's what Wietske's large cabin is. The wood stove was already burning when we (2 adults, 2 children) arrived, literally a warm welcome! The lentil soup she offered us made our first evening complete. We felt at home right away due to Wietske's hospitable and caring nature. As you'll be staying in a separate cabin you'll have the privacy you wish for and the opportunity to connect with Wietske when you feel it suits. She'll be more than willing to support your stay and introduce you to the area with rivers, forests, old cities and villages. We've been visiting Zutphen, an ancient city with loads of nice little boutiques. We can recommend old village Bronkhorst and we've been fooling around with water in the water museum in Arnhem (and learned on the fly). Not to mention our encounter with 3 hinds in a forest nearby, gathering firewood in order to start a small fire in the backyard and off course the great wood stove in the cabin! What I like most about Airbnb is the idea of not staying at a place that could be anywhere furnished by anybody, but rather staying at a place that breathes a personal history. Wietske's been traveling and you'll be amongst an eclectic collection of materialized memories and inspiration. That's how Airbnb is supposed to be! Thank you Wietske for a wonderful three-day weekend!
Sander
2016-02-14T00:00:00Z
At arrival we were greeted by Weitske's husband Bart, who was kind and helpful. He lit the fireplace and recommended a city (Gent, Belgium) to visit on our roadtrip, which we enjoyed. The cabin was cozy and had everything we needed. We felt at home and enjoyed our stay very much. 10/10 would visit again.
Torben
2016-03-23T00:00:00Z
Great guest for a great place ! Highly recommended !
Marie-Pierre
2016-04-30T00:00:00Z
We had a wonderful time staying here. Very cozy and comfortable bedroom for our family of 4 (2 adults and 2 children). Beautiful surroundings for nice walks and bike rides. Wietske was a very attentive and helpful host, and made us feel at home. Would definitely stay there again!
Doug
2016-05-21T00:00:00Z
We had a great stay at wietskes place. She was very nice and informative.
Niklas
2016-08-13T00:00:00Z
Room Type
Entire home/apt
---
Property Type
House
---
Accommodates
4
---
Bedrooms
Zutphen, Gelderland, Netherlands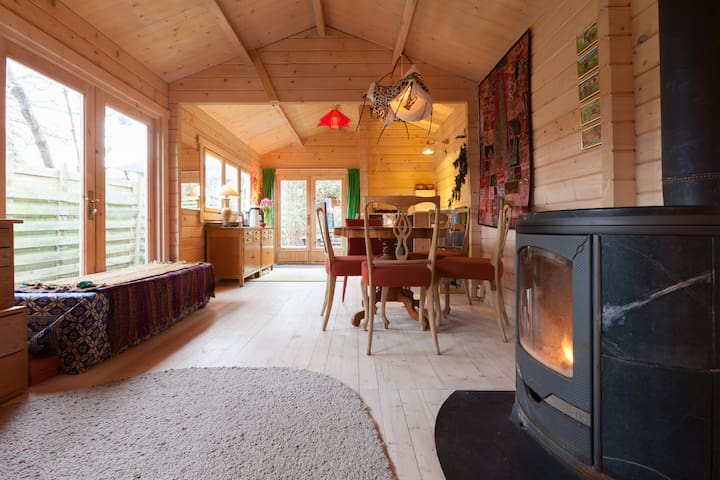 Zelhem - Airbnb
:
Average

4.57

out of

5

stars from

486

guest reviews
1

–

18

of

74 Home Rentals
Enter dates to see full pricing. Additional fees apply. Taxes may be added.