relaxing and beautiful hause with barbecue and wood oven for pizza and brad. spectacular gardens and terrace. the place is 10 km far from rovereto and half an hour from garda lake
The apartment is located in a pristine valley a few kilometers from Rovereto and Lake Garda. Quiet and ideal starting point for excursions to Mount Pasubio and the Small Dolomites. Ideal for excursions to the Great War, and for trips by mountain bike. With spacious terraces, solarium and gardens for a relaxing holiday. The owner is a mountain guide who can advise you for your neighborhood tour. We can rent part of the building as a self contained apartment and provide service B & B (with extra charge 5euro / person / day), excellent pizzas in a wood oven and a professional wine tasting events and local food
Vallarsa is one of the few valleys of Trentino still intact from the naturalistic point of view. the small village of Zocchio is nothing more than an old farmstead of German origin made up of about twenty houses and the starting point for many itineraries of Mount Pasubio and the Small Dolomites. within a few kilometers there are three bars, pizzerias and two restaurants, two banks with ATM, 2 market and a gas station. the same owner provides pizzeria and food service with local food and wine
We booked for an overnight stay on our way to Le Marche. We had a long trip and car trouble in the middle of the night near Zocchio. Luca and Corrina were very helpfull in the communication with the towing company and fire dept. We were on the road again at 8.00 so decided to skip the night in Zocchio. Next time we'll try again!
Jos
2016-07-31T00:00:00Z
Our stay with Luca and Corinna was perfect. The appartment is great, and we felt right at home. We had everyting we needed. The appartment comes with a relaxing terrased garden and beutifull surrondings. Luca and Corinna are very good hosts. They gave us lots of information about the local history and sights, and was very helpfull with all our requests. If you are looking for a place to stay in the area, dont hesitate to book with Luca and Corinna!
Magnar
2016-07-20T00:00:00Z
It was a great pleasure to meet this nice and so welcoming family. They make everything to ensure the journey is great. The appartment is nice, well-equipped and big. Its location in beautiful mountain is good for mountain walks and quiet family stays.
Nicolas
2015-07-30T00:00:00Z
Dear Corinna and Luca, We had a very warm welcome from both of you! We and the kids loved the house and the neighbourhood. We did a lot of very nice walks you recommended and all of them were very nice. You also suggested a couple of restaurants and we did have very nice meals there! The children loved 'the many staired house' and they also loved to play with the cute little Martin! We had our privacy while you were always available for answers to our questions. We strongly recommend this house and the breathtaking environment. We also liked the garden. It was nicely decorated, cosy and still safe for the kids. In the morning we had a breakfast with a spendid panorama! Thanks for the nice stay and we hope we will meet again! Kristien and Derry Lieze, Flor and Tuur (from Belgium)
kristien
2015-08-13T00:00:00Z
Corinna is a wonderful host. So friendly and open. The house in the mountains is like on the pictures- much better in my eyes :) We got a great breakfast and slept very well. Thank you very much. We will come back again.
Katja
2015-07-31T00:00:00Z
Luca and Carinna were terrific!!We spent 2 wonderful days in breathtaking mountains. Apartment was real nice and all as on pictures except view is much better. We had wonderfull time and hope to come again.
Roman
2016-07-23T00:00:00Z
It is a very nice place. Landscape is very beautiful. My family and I were staying in 2 rooms for 5 people. The rooms and the house were exactly as we expected. The house is located in the mountains and there were only the hosts and we. Corinna was a very nice and hospitable. She helped and answered all our questions. We ordered breakfast which was good and solid. Unfortunately we spent only one night there. Hope to visit this place again.
Dmitry
2015-08-19T00:00:00Z
We had a great time in Zocchio! We liked the fact that Luca gave us tips for swimming area's in the river, great hikes and rock climbing. Taking some of us for an expedition to the caves used in the 1th world war was an nice bonus, on top of the pizza-session in the garden. The apartment is clean, has large rooms, a nice garden and the valley is lovely. Luca en Corinna made us feel at home in their home.
Ilse
2016-08-07T00:00:00Z
Room Type
Entire home/apt
---
Property Type
Apartment
---
Accommodates
9
---
Bedrooms
Zocchio, Trentino-Alto Adige, Italy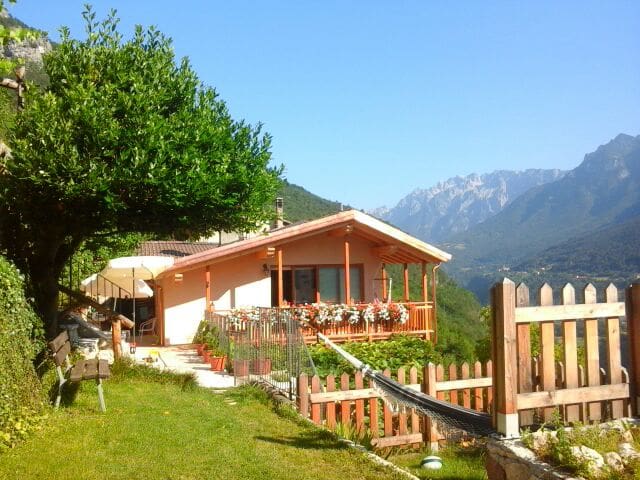 A great place for relaxing, unwinding, enjoying nature and walking. Enjoy the views and experience life off the beaten path.
Large comfortable double room with ensuite toilet and shower. Please note the bed is two single beds put together to form a double, quite normal in Italy but not everyone's favourite combination. A third person can be accommodated in the same room. The house has a fully equipped kitchen, dining room and lounge room that you are welcome to use. The balcony is great as it has beautiful mountain and valley views. There is also a BBQ area you are welcome to use. The house is isolated a few hundred metres away from the main village offering privacy. Please note having your own transport will make your stay easier (there is a bus twice a day but none on Sundays and there is only one little shop in the village with limited hours). No Internet but many walking and relaxing opportunities.
The village is a very cute place off the tourist route. About 100 people live here. The culture is Italian with Austrian influences. That means we eat pasta and sour kraut! There is one shop that sells basics, a church, a hall, and that's about it! The beauty of the place is the various long and short walks you can do around the village, valley and mountains. If you have a car, visiting surrounding villages with bars, museums, memorials and more is a great thing to do. Rovereto is a big town a 50 minute bus ride (or 30 minutes by car) away with lots of attractions including an internationally renowned modern art gallery, museums, a castle and historic centre. Rovereto has a train station which easily links you to other Italian cities and Austria. The big dolomites are accessible in day trips.
Gianna is a fantastic host. Staying at her place was amazing. I immediately felt at home as Gianna is super friendly and relax. The view is just beautiful and inspiring. To be honest there is no picture that can describe the beauty of the view, it was fantastic during the day and night. And it was fabulous when it was raining. Area is not touristic, there is almost no traffic at all, the village is small and wonderful. Place was clean and tidy. The kitchen was well equipped. Thanks again for every thing...
Engin
2016-07-13T00:00:00Z
This place is awesome and one of the best location we had ever been. There are lot of nature surrounded by mountain and a lake at bottom. Gianna is very helpful and her home is very beautifully kept and we would like to recommend
Arun
2015-05-16T00:00:00Z
Gianna is great hostess. The views from the house were stunning. Everything was perfect, accommodation, place, great nature, communication with hostess.. I recommend her, you will be in good hands. Thanks again, Giana.
Martina
2016-07-21T00:00:00Z
Wow......what a place. Views across the valley to mountains and a lake. Just stunning. I have been traveling the world for the last 18 months and the view just took my breath away. Gianna was most helpful with instructions to find the house and ensure I was welcome and comfortable. The room is fantastic with a very comfortable bed and nice ensuite. I can't stress again the magnificence of the location. If you have the chance I strongly recommend you stay in Ometto with Gianna.
Peter
2015-05-13T00:00:00Z
Esperienza fantastica! Gianna e' una ragazza speciale, adorabile e interessante! La sua casa pulita, spaziosa e 'vintage' di Gusto, con vista mozzafiato in una Valle vicino a Rovereto stupenda X essere incontaminata E poco Turistica! Che dire? Peccato Esser rimasti solo 2 giorni! Grazie Giovanni e Filippo
Filippo
2016-07-24T00:00:00Z
dieses haus liegt absolut versteckt u hält viel mehr, als man auf den Fotos erkennen kann. wer eine wunderschöne Umgebung, völlig entspannte Gastgeber und Herzlichkeit sucht, ist hier richtig. man kann traumhaft wandern, der blick von der Terrasse u vom Balkon ist einzigartig. Gianna gibt dir das Gefühl, als hätte sie auf dich gewartet u hält viele tipps für deinen Aufenthalt bereit.
ANNA
2015-05-22T00:00:00Z
Assolutamente fantastica! Absolutely awesome! There's too much to say about this location. Cercavo serenità, sonno, bei paesaggi e stelle. E questa casa in una fantastica esposizione, circondata da una bellissima proprietà recintata, ha risposto ai miei sogni. E' tutto ancora più bello di come si vede in foto. La casa è accogliente, con una vista mozzafiato, e dotata di moltissimi comfort per la cucina. Perfetta per vacanze sia con amici, sia con bimbi. Rovereto si raggiunge rapidamente lungo la statale. Vicino ci sono molti passi e sentieri che aprono una serie di passeggiate. Il Pasubio e il percorso delle 52 Gallerie sono molto vicini. Gianna è stata un host perfetta, molto presente e disponibile. Grazie! Torneremo sicuramente a trovarti. Vallarsa è un luogo molto ospitale, che racchiude una memoria storica del nostro paese.
Oreste
2015-08-23T00:00:00Z
Room Type
Private room
---
Property Type
House
---
Accommodates
3
---
Bedrooms
Ometto, Trentino-Alto Adige, Italy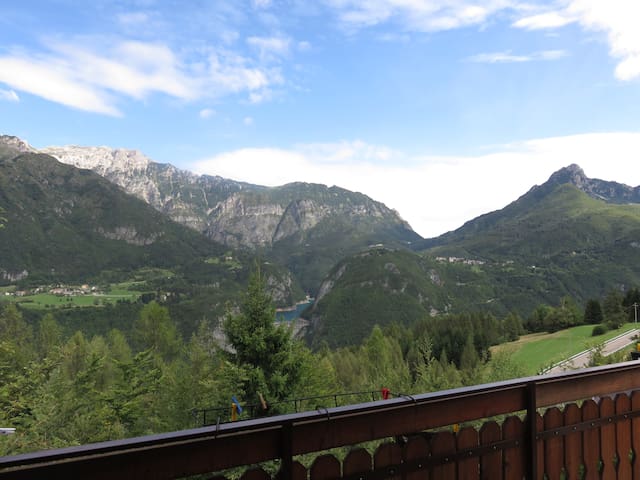 Private room, ideal for those wishing to visit Rovereto, Lake Garda, and the magnificent surroundings. Room for solo travelers and couples. Ideal for those who travel by car by bike or motorbike, placing the home of a large private car park and indoor.
Private room in a private house, with shared bathrooms. Bedroom with a square and a half, with the possibility of adding an extra single bed. Available indoor parking, private and free, ideal for those traveling by car, motorcycle or bicycle. Breakfast with espresso, tea / herbal tea and sweets. Possibility of access to private garden. The house is a 5-minute drive from the highway and is easily accessible by public transport from the station and from Rovereto center in about 15-20 minutes. From Rovereto Station are within easy reach Trento (approx 15 minutes) and Bolzano (about 45 minutes). Riva del Garda is about 25 minutes by car and 45 minutes by bus approx.
Domenico ci ha accolti nella magnifica villa della sua famiglia. Ci ha messo a disposizione una stanza ancora più confortevole di quella offerta, e si è dimostrato un ospite impeccabile. Da segnalare, tra le altre squisitezze dell'ottima colazione, una deliziosa treccia trentina fatta in casa. Raccomandatissimo.
matteo
2016-12-21T00:00:00Z
Domenico è stato davvero gentile e carino. La casa è molto pulita ed accogliente. I Dolci di sua mamma,sono stupendi. Siamo Stati accolti come se fossimo stati membri di famiglia. Consigliato al 100%.
Alessandra
2016-12-09T00:00:00Z
Tutto perfetto e impeccabile!! Grazie Domenico!
Paolo
2017-02-18T00:00:00Z
Room Type
Private room
---
Property Type
House
---
Accommodates
2
---
Bedrooms
Rovereto, Trentino-Alto Adige, Italy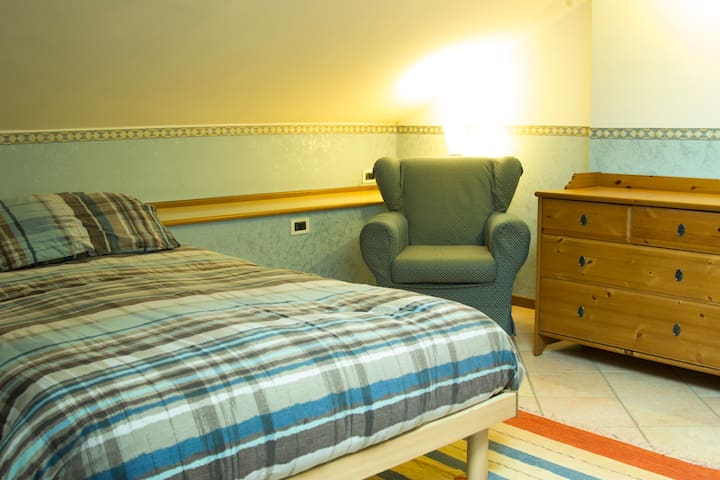 This is a unique modern space featuring a traditional rural townhouse. The place is ideal for bikers travelling in Terragnolo valley and Garda area. Perini is an hamlet frozen in time with many resources for walkers,climbers and bikers. Shops are in the closest center of Noriglio (4km). Rovereto is only 10 minutes drive. Enjoy the outdoors and the freedom of living with a doorstep forest.
Room Type
Entire home/apt
---
Property Type
Townhouse
---
Accommodates
6
---
Bedrooms
Perini, Trentino-Alto Adige, Italy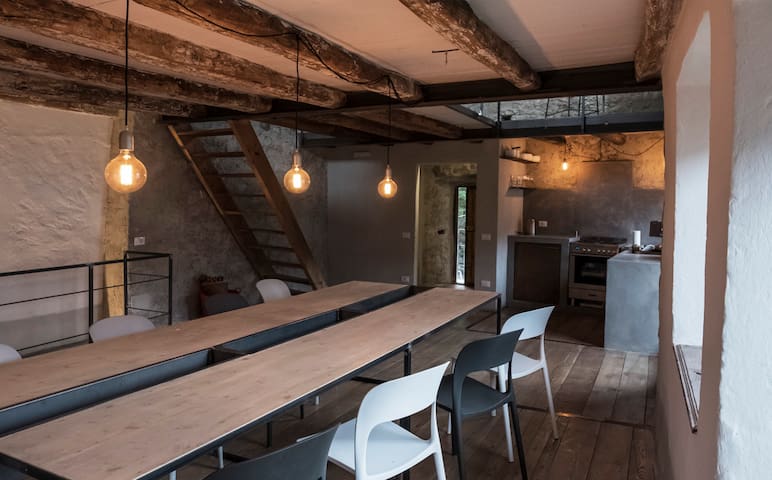 Luxurious apartment, with lift, Wifi access 24 hours 24 PIN (keyless), elegantly furnished with modernity and comfort. Large double room with bright bathroom, living area with kitchen and sofa bed. Bike / Dog / Baby Friendly.
Building of 1787 recently restored combining modernity and antiquity, situated in the district of Santa Maria, historic and quiet area of Rovereto. The Leno river with its crystal clear water cascades driven by lapping the house Sannicolò filling the air with freshness and subtle sound of running water. The castle looks from Santa Maria and nearby houses tell the industry that this neighborhood has always shown in the past, the production of silk art. The apartment is beautiful, with a lift, with Wi-Fi, with ample light, elegantly furnished with modernity and comfort. Large double bedroom with bedside tables and old larch, recovered in restructuring; anteroom and bright bathroom with a resin processing; living area designed for maximum comfort with a central island where there is the fully equipped kitchen point and a large sofa which opens into a double bed to comfortably accommodate two additional guests; the external view is the small square and the ancient church on one side and towards the river on the other. Heating, cooling and humidity control guaranteed by modern and efficient home automation system with environmentally friendly heating. I behaved dogs are welcome.
The neighborhood is really a living picture of an ancient village, where the alpine river brings energy and rhythm. In a few minutes you walk you can get to the castle, in the center of the city, to the Museums. There is a covered parking very close, very easy to leave the car and walk around the neighborhood. Neighbors and quickly reached there are newspaper stand, bar, bakery and restaurants. In the apartment you will find a guide with 12 things that we recommend personally to see or do. Being in the center parking on the blue lines is not easy, but, as stated in the parking instructions that you will find in the apartment, you can stop to unload luggage and then follow the signs to leave the car in a new public car park is 3-4 minutes walk from the apartment.
A beautifully decorated flat in a great location. The flat is very nicely furnished and the views from the windows are lovely. One can just hear the waterfall from the windows. The kitchen is very well equipped and essentials like olive oil and coffee are provided. We would have loved to cook there but unfortunately arrived on a Saturday evening and then on Sunday all of the shops are shut. Instead we had an excellent meal at Al Trivio which is just a short walk from the flat. MART was also fantastic. We would definitely recommend it!
Flora
2015-08-17T00:00:00Z
We had a wonderful time at Carla and Fausto's apartment. We enjoyed particularly the tasteful and modern design of the apartment. In addition it was very comfortable. Rovereto is a charming city. The apartment is located in the heart of the ancient city and on the bank of the Lena river. A perfect location. We didn't meet Carla and Fausto in person, but they were always available and very responsive. We can highly recommend this apartment to future guests.
Philippe
2015-08-31T00:00:00Z
Beautiful apartment in a really nice location of Rovereto. Very thoughtful host and very convenient check in. Would love to stay there again.
Nicolas
2016-08-15T00:00:00Z
Our stay at Carla's apartment was perfect. The apartment is super-modern, beautiful, and in a gorgeous location. Communication was very easy and the whole stay was hassle-free. Definitely recommend!
Arielle
2016-06-21T00:00:00Z
Although we never met Carla, she had arranged a smooth arrival. The appartment was stylish and very nice. We liked the fact that you only need a code to enter the appartment. So no key needed. The appartment was very clean and Rovereto is a pretty town.
Marjon
2016-05-05T00:00:00Z
Staying at Casa Sannicolò1787 was a wonderful experience - again! The house is perfectly located and we really enjoyed it. We would definately love to come back. It was a really lovely weekend that we spent here in Rovereto. The apartment is absolutely gorgeous with a very special and lovely atmosphere. Carla and Fausto have done an incredible job on rebuilding it. Cannot wait to return-Thanks again.
Wolfgang
2016-05-30T00:00:00Z
It was a very pleasant stay. The accommodation was everything the photos promised. When the power was off it was back on in 30 minutes thanks to Carla her quick response! When you go you have to take into account that it is paid parking (€6 a day).
Marleen
2015-07-19T00:00:00Z
The apartment of Carla and Fausto is very well and modern furnished. It was very clean and exactly like the fotos on airbnb. The apartment is well located to visit Largo di Garda, you can reach it in ca. 30 minutes by car. Everything was perfect. Thank you Carla and Fausto!
Marko
2015-08-01T00:00:00Z
Room Type
Entire home/apt
---
Property Type
Apartment
---
Accommodates
4
---
Bedrooms
Rovereto , Trento, Italy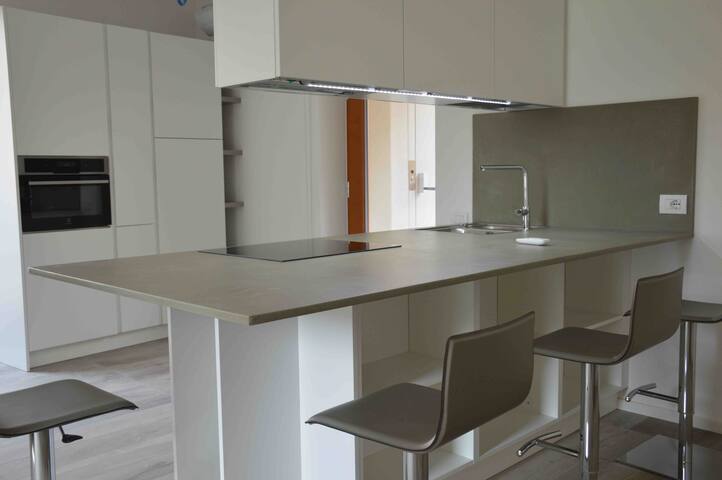 The room is located in a hilly residential area of Rovereto. Surrounded by greenery excellent lodging for those who want to sleep in peace and at the same time at 5 minutes walk from the city center.
L 'apartment is located in a strategic position because walking with stroll to both the Peace Bell that the ossuary that the center of Rovereto, excellent for those who practice mountain biking.
We had a short and very comfortable stay. Marci was very nice and helpful, we were able to arrange a late check in, parking and everything else very easy. Parking in private garage is a great option (VW Multivan fits!), the view is fantastic, the city is in a walking distance and near by (keep in mind that the property is uphill so walking up might take some effort, but nothing hard). I would recommend and hopefully stay more in the future!
Gennady
2016-12-29T00:00:00Z
All great! Home very close to the center, with amazing view, very clean and comfortable place. Marci has been outstanding in kindness and availability, giving us lifts and tips! Thanks so much again!
Eleonora Eta
2017-01-06T00:00:00Z
The host canceled this reservation 24 days before arrival. This is an automated posting.
Andreas
2016-12-23T00:00:00Z
La casa è particolarmente bella e accogliente, comoda per la posizione rispetto al centro. Dispone di tutto il necessario!
Elena
2017-02-06T00:00:00Z
Два путешественника. Останавливались на одну ночь. Это было приятное место. Отличные виды из окна на горы. Отличная квартира с кухней и ванной комнатой. Комфортно и чисто. Marci с подругой очень приятные и необыкновенно сексуальные люди :)
Uladzimir
2017-01-04T00:00:00Z
La cosa migliore del mio soggiorno? L'accoglienza e la disponibilità del proprietario di casa!! Appartamento molto bello immerso nel verde e vicinissimo al centro.
Raffaella
2017-03-23T00:00:00Z
Buona soluzione a 15 minuti a piedi dal centro di Rovereto. La vista sulla vallata e la città è davvero notevole. L'ambiente è giovane e l'accoglienza simpatica e informale. Marci è molto disponibile a dare consigli su cosa fare e vedere in città e nei dintorni. Ci siamo trovati bene e siamo stati accolti come vecchi amici. Raccomandato.
Massimo
2016-12-10T00:00:00Z
La casa si trova un un ottima posizione!molto bella e con una buona vista con possinilita' di passeggiate bella montagna...arribando dalla stazione consiglio un taxi.9€ (URL HIDDEN) stanza e' perfetta tutto nuovo.
katiuscia
2016-12-13T00:00:00Z
Room Type
Private room
---
Property Type
Apartment
---
Accommodates
2
---
Bedrooms
Rovereto , Trentino-Alto Adige, Italy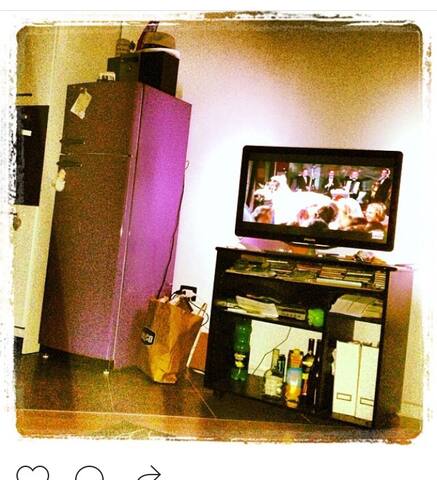 Rovereto is a quaint little city located between Trento and Lake Garda. The apartment building is small, the apartment itself was recently renovated in a smart contemporary style. The Museums and other sites of interest are all within a short walk.
The apartment is 52 square meters arranged as follows: spacious living area with separate kitchenette, bedroom-studio, bathroom with large shower, and balcony. Ideal place for relaxing fter a day of sightseeing, overlooking a colorful, bright and peaceful internal courtyard with a view of the ancient church S. Maria del Carmelo. Garage and parking area.
At the edge of the old city center, nice and quiet and restful.
Oriana was a very nice and friendly host. Her english was excellent and she provides info material over Rovereto. The apartment was very clean and looked exactly like the photos. I also liked the modern design of it. Parking is no problem and attractions like the castle, city centre or the MART museum are in walking distance. I would highly recommend a stay!
Tina
2016-08-04T00:00:00Z
There was so nice place for me. Especially i like the concept of this place and also my host was so kind. I want to comeback this beautiful apartment.
kyuho
2016-05-29T00:00:00Z
Bella.posizione e alloggio confortevole nella.splendida rovereto. La signora Oriana molto gentile e disponibile
francesca
2016-08-29T00:00:00Z
La casa è esattamente come viene descritta nell'annuncio. E' fornita di ogni necessità ed è disposta in modo da rendere il soggiorno alquanto piacevole. L'appartamento si trova in una posizione perfetta poichè è appena fuori dal centro ma a pochi minuti a piedi. La passeggiata per raggiungere il centro è alquanto piacevole. Tutte le attrazioni, compresa la stazione, si raggiungono a piedi. Consiglio vivamente il soggiorno presso questa casa. Grazie ad Oriana di tutto. Particolare da non sottovalutare, la casa era PULITISSIMA!!! Inoltre c'è anche un garage.
Fiorenza
2016-12-10T00:00:00Z
Nossa estadia de 23 de dezembro de 2016 a 04 de janeiro de 2017 em Rovereto foi perfeita. Seu apartamento é extremamente agradável, limpo e exatamente como no site a Airbnb. Senti falta apenas de um wi-fi para poder me comunicar pelo (SENSITIVE CONTENTS HIDDEN) com meus familiares. Adoramos estar aí e conhecê-la ; a senhora é muito gentil e por certo quando retornarmos a esta linda e acolhedora cidade, lhe procuraremos para uma nova estadia. Grande abraço, Francisco e Icléa
Simonetta
2017-01-04T00:00:00Z
El apartamento está muy bien situado; es además muy moderno, funcional y limpio, por lo que ha sido un placer haber podido disfrutar de él y poder así conocer el entorno privilegiado de Roveretto (Trento, Verona, Lago di Garda, Vicenza), así como el propio Roveretto. Oriana nos ha facilitado en todo momento la información que necesitabamos y ha sido un placer conocerla.
Marta
2016-08-19T00:00:00Z
Die Wohnung war sehr sauber und toll eingerichtet. Wir haben uns dort wohlgefühlt.
Nicole
2016-08-25T00:00:00Z
L'accoglienza è stata ottima. L'Host, quando ha saputo che saremmo giunti a tarda sera, si è offerta di venire a prenderci alla stazione ferroviaria e portarci in auto all'alloggio. Questo è splendido: appena ristrutturato su progetto di un architetto (e si vede) e con materiali di qualità. La dotazione di biancheria, stoviglie, elettrodomestici (TV a schermo piatto) ecc. (tutta roba nuova) è veramente completa. Il quartiere è tranquillo ma un pò periferico (il centro città e il MART distano un paio di km). Unico piccolo neo: l'alloggio è sotto il livello stradale, sala da bagno (bellissima) e la cucina sono cieche. Comunque l'edificio è circondato da ampi spazi fruibili tramite un balcone. Insomma, si tratta di un alloggio altamente consigliabile, specialmente per una coppia giovane e di gusti moderni.
Vincenzo
2016-10-02T00:00:00Z
Room Type
Entire home/apt
---
Property Type
Apartment
---
Accommodates
2
---
Bedrooms
Rovereto, Trentino-Alto Adige, Italy
Hello everyone, we are a young couple living in a beautiful villa with a breathtaking view on the mountains, in a nice small village called Cazzano, located in the natural park of Monte Baldo, 20 min from Garda Lake and 10 min from winter resort.
We live in a big villa and we offer you our beautiful mansarda which has a big kitchen fully equipped, livingroom with huge sofas where have good time with friends, two bedrooms with double bed, roomy bathroom. One of the two rooms has private balcony with a fantastic view and another private room next to it with sink and wardrobe. There is a nice atmosphere in the all house, peaceful and private
Cazzano is perfect for bikers, trekking, Garda Lake lovers, for climbing (only 3 min from rock face), for windsurfing, kite surfing, for skiing and for all travelers that like to discoveres unique places
We regret not staying in this house for longer than we did. The region was absolutely gorgeous and nothing that we have ever seen before. There were numerous things to do such as go down and take a swim or walk by Lake Garda or go up in the mountains for a scenic hike. The house was more comfortable than in the description. The rooms were spacious and everything was perfectly clean. Nicola and Irina were wonderful hosts thatwere attentive and welcoming. We had a wonderful time and would reccomend this house to everyone.
Victor
2016-07-05T00:00:00Z
We stayed four nights in this nice apartment. It's really clean, well equipped and peaceful. There are a lot interesting places nearby. The hosts are very friendly and they helped us out with everything. We will come back :)
Maggie
2015-08-28T00:00:00Z
There is so much I want to say about hospitality of Nico and Irina. Very nice people and we felt very welcomed. The location is perfect. It's in the mountains but it's easily reached and not far from big roads. Close to Lake Garda. A lot of nice places to drive nearby. The view from the apartment is spectacular. The apartment itself is huge and cozy and well equipped. We would love to come back. Very recommended!
Oleksii
2015-10-31T00:00:00Z
We really loved this place! Thank you Nico for being so helpful and generous. We got great recommendations for places to eat, and even got to have some cherries from his family trees! It's not exceedingly near to the main tourist towns/to the lake, but with a car it's not too much of a drive. The view is amazing, and the location great for a relaxed and peaceful stay. The loft can get a bit hot in summer though, and only 1 room has A/C.
Jocelyn
2016-06-27T00:00:00Z
This was the best airbnb experience we've had. Nicola was very responsive throughout and went above and beyond to make our stay more than comfortable, including an in house selection of local wines, among them his own brew! The location is unspeakably beautiful and his recommendations for places to eat and go to enjoy the lake and mountains were wonderful. The flat has cool art, all the amenities and a balcony overlooking the mountains. Anyone would be lucky to end up at Nicola's place.
Elsie
2016-10-02T00:00:00Z
Nicola was a courteous and friendly host, who made us have a great time in Cazzano. Check-in/check-out went smoothly. The apartment was spacious, well equipped, calm and as lovely as described. We went for several hikes in the vicinity but also to the Lago and therefore it suited us perfectly well. The street leading to the house is quite narrow, access may be difficult with any "bigger" car but for the regular ones this does not pose a problem. We would definitely come back and are happy to recommend Nicola´s place to any other visitor. We wish him and his little family all the best!
Bettina
2016-08-19T00:00:00Z
Nico was very very very hospitable. He helped us to take the heavy packages. We were sorry to arrive later for nearly 30 minutes. He didn't take offense of that. The most impressed experience was the clean orderly room and very beautiful hill view. We can see the valley from our balcony. It was so great to sit on the balcony and enjoy the natural scene. It's the best one of our 10 accommodation from Airbnb for our 21 days journey. I recommend the perfect house.
Quing
2015-09-03T00:00:00Z
We had a great time at Nico's place and I can totally recommend it. The house is perfectly situated: in the mountains, not far from Lake Garda, in a quiet place without many tourists. The scenery and the view from the balcony is amazing. And last but not least: Nico is a very friendly and helpful host, who cares about his guests.
Felix
2016-03-25T00:00:00Z
Room Type
Entire home/apt
---
Property Type
Loft
---
Accommodates
5
---
Bedrooms
Cazzano di Brentonico, Trentino-Alto Adige, Italy
Bike and Wine B & B is perfectly situated for those coming to Rovereto by bicycle, train or car. L 'accommodation in the historic Borgo Sacco neighborhood is very peaceful, quiet and comfortable. It is two steps away from the cycle of the Via Augusta and is about a 15 minute walk from the center. For those arriving by car it is available at 100 meters ample free parking.
Piera is the best host ever. She was so nice, helpful and cheerful that I felt in her home like as I was at mine. If I visited this area again, I would definitely stay by her. Plus she has a wonderful friends and wine. Do not hesitate to stay by her. Thank you for such a great feeling! Lada
Lada
2017-03-30T00:00:00Z
Mi sono fermato durante un viaggio di lavoro (in bici) e credo che sia il paradiso del cicloviaggiatore! entrambi hanno la stessa passione quindi conoscono perfettamente cosa si cerca dopo una giornata sui pedali!! camera perfetta, TV ipertecnologia e super doccia! per chiudere in bellezza Piera lavora nella cantina di Famiglia e vi consiglio di passare a sentire i loro vini!!!! grazie ancora per tutto!
Roberto
2017-02-28T00:00:00Z
Ho soggiornato da Piera per un week end mototuristico con la mia compagna. Struttura di recentissima realizzazione, arredata con gusto e in grado di offrire agli ospiti ogni comfort. Piera e il compagno Fabrizio ci hanno accolto con un graditissimo aperitivo durante il quale abbiamo potuto gustare eccellenti vini t(SENSITIVE CONTENTS HIDDEN), di produzione della cantina di famiglia. In loro compagnia abbiamo fatto un po di chiacchiere: clima affabile e molto interessante, sembrava di conoscerci da sempre. Ci hanno viziato prodigandosi per esaudire ogni nostra richiesta. La stanza ha ingresso indipendente, un letto comodissimo, riscaldamento autonomo e tutto l'occorrente per fare un'ottima colazione. Con una passeggiata serale in un quarto d'ora abbiamo raggiunto il centro storico di Rovereto, davvero incantevole, una bomboniera. Abbiamo eletto il B & B di Piera punto di riferimento fisso per le nostre future perlustrazioni del Trentino.
Michele
2017-04-09T00:00:00Z
Prenotato all'ultimo momento il B&B Bike and wine si è rivelato essere una piacevole sorpresa. Vicino al centro, 10/15 minuti di passeggiata panoramica su percorso pedonale; stanza molto spaziosa, luminosa e dotata di tutte le comodità, inoltre con ingresso personale e bagno privato. Stupisce la mega tv in 4K con a disposizione netflix e amazonfilm. E non è tutto, Piera la padrona di casa e il compagno Fabrizio sono due persone deliziose e molto disponibili, con cui intrattenere una piacevole conversazione e che sicuramente sapranno accogliere le vostre richieste. Come ciliegina sulla torta al nostro arrivo abbiamo trovato in camera una deliziosa bottiglia di vino proveniente dalla cantina di famiglia che Piera è stata entusiasta di mostrarci. Chiunque stesse cercando un soggiorno allegro e piacevole Bike and Wine si dimostrerà all'altezza.
Giacomo
2017-03-10T00:00:00Z
Al bike and wine mi sono trovato molto bene. Piera è molto simpatica e disponibile ed è stato un piacere conoscerla. La camera è fantastica e superaccessoriata. La camera è vicina al centro città e alla stazione. Perfetta!
Matteo
2017-04-06T00:00:00Z
Ottima posizione, pulizia e decoro degli interni, molto confortevole. Piera è stata molto gentile e precisa. Decisamente raccomandato. Great location, cleanliness and interiors, very comfortable. Piera has been very kind and precise. Highly recommended.
Ludovico
2017-03-26T00:00:00Z
Piera è stata gentilissima e molto disponibile.. all'arrivo ho apprezzato anche la bottiglia di vino buonissima!! Super!
Omar
2017-03-15T00:00:00Z
Piera incarna senza ombra di dubbio l'oste ideale. Gentile, amichevole, disponibile e attenta. Il mio è stato un soggiorno speciale, inaugurato da un insolito, gustosissimo aperitivo a base di vino salame e formaggio che Piera mi ha generosamente offerto all'arrivo. Impeccabile l'alloggio, indipendente e munito tra l'altro di mega TV spaziale con tanto di Wi-Fi e Netflix compresi, mini frigo, caffettiera, bollitore e un cestino per la colazione. Mi è stata inoltre messa a disposizione una bici per girare in città. Infine, ciliegina sulla torta, Piera, da appassionata di ciclismo e ottima conoscitrice del posto, mi ha accompagnato in una escursione in bici sul lago di Garda. Davvero il top! Grazie :)
Danilo
2017-04-08T00:00:00Z
Room Type
Private room
---
Property Type
Bed & Breakfast
---
Accommodates
3
---
Bedrooms
Rovereto, Trentino-Alto Adige, Italy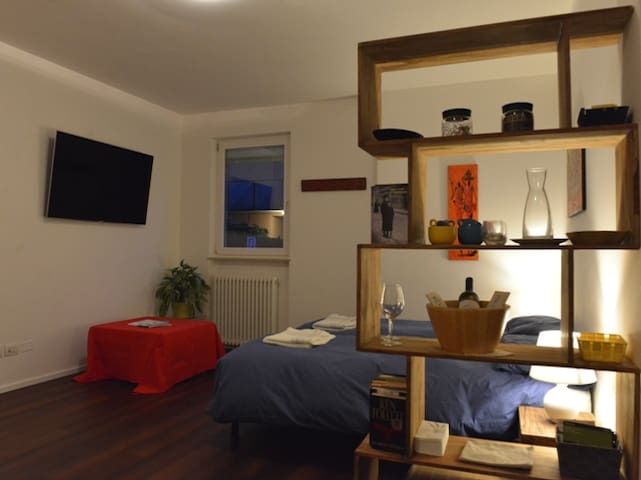 Modern and functional loft, surrounded by the green and quite hills, only 3 kilometers from the center of Rovereto. Ideal solution to spend some holiday or as a home for people who comes in town for studying or working.
L'alloggio offerto ai nostri ospiti è un loft moderno e funzionale ma immerso nel verde e nella quiete delle colline, a soli 3 Km dal centro di Rovereto.
L'appartamento è situato nel quartiere residenziale di Lizzana, fornito di supermercato, edicola e tabacchi, bar e aree verdi. A poca distanza da casa alcune attrazioni storiche e naturalistiche della zona: il Sacrario monumentale di Casteldante e la Campana dei Caduti sono raggiungibili con una breve passeggiata. Nelle vicinanze si trovano la pista ciclabile sul fiume Adige, attrezzata con ampie zone picnic e percorso Kneipp, e il Percorso Orme dei Dinosauri. Il Centro di Rovereto è raggiungibile in 5 minuti d'auto o con l'autobus urbano linea A (fermata a 200 metri da casa); consigliamo tuttavia di raggiungere almeno una volta il centro storico percorrendo la suggestiva passeggiata panoramica che costeggia la collina (durata 30 minuti).
We had a great stay at Emanuele & Valentinas Appartement. Although it was only one night we felt very welcome. This stay was a stop on the way to Italy by car and I can very recommend the appartement for this and other purposes. It has everything what you need to live or to cook and it also has an amazing view over the mountains, especially from the terrace. It is actually a 1-room-Appartement with Kitchen in the same room, but it is well separated by the furniture and we had no problems to stay there with 3 people. The only one thing we missed was an internet-connection, but we enjoyed this "offline"-day also having more conversations :) On the next day we visited the Lake Garda which you also should not miss. We did not expect that it is so amazing and wished we could stay longer.
Sergey
2015-09-08T00:00:00Z
Ottima location per passare qualche giorno di vacanza tra lago e montagna! Il loft è molto bello e offre tutte le comodità che si hanno a casa! Emanuele è molto disponibile e simpatico, ci ha dato diversi suggerimenti su cosa fare e dove andare a mangiare....fidatevi di lui perché abbiamo apprezzato tutto quello che ci aveva consigliato! Probabilmente ci ritornerò con la mia fidanzata.
Enrico
2015-08-28T00:00:00Z
Wir hatten eine tolle zweite Übernachtung in Emanuele & Valentinas Wohnung. Es hat alles gut geklappt und wir kommen gerne wieder.
Raphael
2015-09-06T00:00:00Z
Vi ringrazio tantissimo per la vostra ospitalità, i ragazzi si sono trovati molte bene. grazie silvio
SILVIO DOMENICO
2015-08-25T00:00:00Z
Bellissimo e confortevole loft a pochi minuti dal centro di Rovereto. Molto luminoso e arredato con gusto; il piccolo giardinetto completa il tutto. La casa ha tutto ció di cui avete bisogno e Manu è molto gentile e disponibile!
Sabrina
2016-01-04T00:00:00Z
Schöne 1-Zimmer Wohnung mit einer netten Terrasse mit Ausblick ins Tal. In der Küche findet man alles, was man in der Küche braucht (Teller, Töpfe, Gewürze, Mokkakocher). In dem großen Zimmer gibt es ein Stockbett mit 2 Schlafplätzen und eine ausziehbare Couch mit 2 Schlafplätzen. Das Bad ist durch eine Schiebetür direkt nebenan zu erreichen. Den vorhandenen Beamer konnten wir leider nicht nutzen, da er nur einen VGA-Eingang hatte. Zu Fuß ist der Stadtkern von Rovereto in ca. 30 Minuten über eine schöne Panoramastraße erreichbar. Der Gastgeber war sehr nett, hilfsbereit und flexibel - wir kommen gerne wieder! Vielen Dank!
Raphael
2015-09-05T00:00:00Z
Room Type
Entire home/apt
---
Property Type
Apartment
---
Accommodates
3
---
Bedrooms
Rovereto, Trentino-Alto Adige, Italy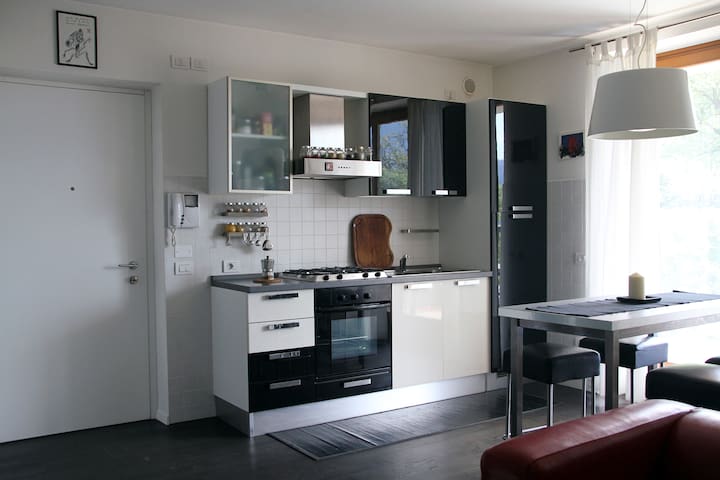 Per la posizione strategica,la nostra casa consente di partire alla scoperta delle bellezze delle montagne e degli altopiani (SENSITIVE CONTENTS HIDDEN) e di concedervi vacanze al lago di Garda,da cui dista solo 25 minuti di auto. Essa dispone di due camere matrimoniali, di due bagni,un soggiorno e di una attrezzata cucina, aperta su giardinetto.Posti auto a disposizione. Parco giochi e servizi a poche centinaia di metri. Il centro si raggiunge in cinque minuti di auto o con i mezzi pubblici.
Disponibilità della cucina attrezzata, di un soggiorno relax con TV,del posto auto privato, della tranquillità della zona e della vista aperta su vigneti e montagne.
Vicinanza al centro pur essendo in campagna. Vicinanza a tutti i servizi essenziali (supermercato,edicola,ristoranti) e a parco pubblico attrezzato con giochi per bambini. Fermata autobus a 330 metri.
Antonella and her husband are extremely generous hosts! They invited me to join them at meals, had great conversations, and offered me rides to and from the train station and to town as well. They brought tea to my room and had the kitchen well-stocked for breakfast and snacks. Their dog, Milady, is such a treat! She's so friendly and loves to get pets and play fetch in the backyard. The view from their home toward the mountains and rolling hills of grape vines is breath-taking. If you choose to stay with Antonella and her husband, it would be good to have a car. I did not and it made getting into Rovereto difficult. It's a 35 minute walk to MART (the art museum) and another 5-10 minutes to the historic center. There is not a good, safe walking route to the train station. Again, Antonella and her husband generously offer rides whenever they can, but it made my independent discovery of the town more challenging. I also did not notice that they do not have wifi or any internet option at the house. As I was traveling for work, this was less than ideal. Antonella and her husband, however, make up for these shortcomings. They are truly wonderful hosts!
Rae
2017-03-26T00:00:00Z
Room Type
Private room
---
Property Type
Townhouse
---
Accommodates
3
---
Bedrooms
Roveret, Trento, Italy
Arredo spartano...
Room Type
Private room
---
Property Type
House
---
Accommodates
2
---
Bedrooms
Pergheri, Trentino-Alto Adige, Italy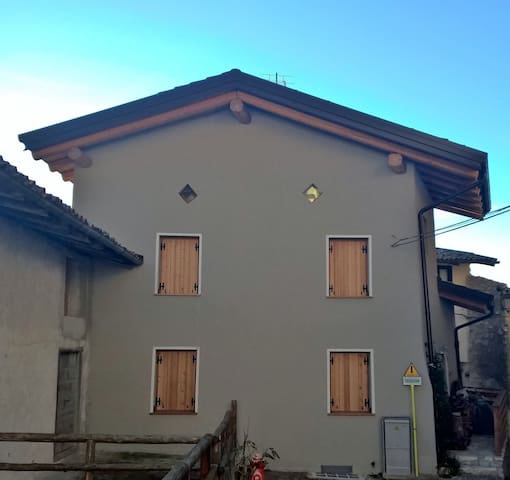 Our big apartment in the middle of the woods welcomes you to find relief from the stressful life of every day. In the surroundings you will find numerous possibilities to hike, stroll around or cycle on your mountain bike (Cima Carega, Baita Sinèl, Passo Pertica, Rifugio Scalòrbi). If you'd like to enjoy the summer just hanging out instead, the garden is perfect for sunbathing and playing in the inflatable swimming pool of 2mØ!
*The rural apartment is among 4 houses surrounded by woods and silence.
A beautiful stay in the mountains! Sara and Emil Are the greatest. /Peter With family
Peter
2016-07-30T00:00:00Z
Non abbiamo conosciuto di persona Sara ed Emil ma si sono dimostrati disponibili a tutte le nostre richieste e rapidissimi nelle risposte. La casa, un ampio bilocale con cucina e soggiorno/camera letto, è adattissima per le famiglie. La cucina è ben attrezzata e l'acqua calda sempre disponibile. Il posto non è poi così isolato come potrebbe sembrare dall'annuncio e i vicini di casa sono molto cordiali e gentili. Il luogo è fresco di estate e silenziosissimo e di notte si vedono migliaia di stelle! Sarebbe utile aggiungere una foto dell'inizio della strada sterrata che conduce alla casa, che è molto vicina alla località Ronchi. Dista solo 15 minuti da Ala, e di conseguenza risulta molto comodo per raggiungere Trento, Rovereto ma anche il Lago di Garda e Bolzano.
Chiara
2016-08-26T00:00:00Z
Logement conforme au descriptif. Situé dans le Trentin Haut Adige, une belle région pour ceux qui aiment la montagne avec de belles randonnées à faire. Un peu loin du lac de Garde mais faisable si on n'y va pas seulement pour le lac. Intéressant : la gare d'Alà dessert Vérone donc idéal pour visiter cette ville. Un plus : Sarà parle bien le français.
Marion
2016-08-12T00:00:00Z
Room Type
Entire home/apt
---
Property Type
Apartment
---
Accommodates
10
---
Bedrooms
Ala, Trentino-Alto Adige/South Tyrol, Italy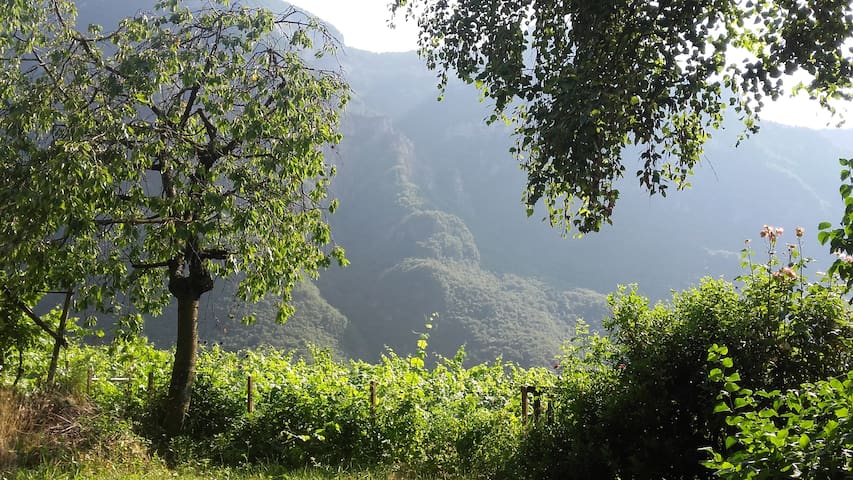 Historic district, in the heart of Rovereto. Walking distance from Hospital. Warm Trentino Alto Adige welcome in famous Art town. Good breakfast. This room in Casa dei Turchi B&B is the best solution for business stay.
Ancient historic building completely renovated offers a memorable experience at fair price for value. You are welcome to sit in very comfortable 1920's armchairs observing the view on Castle or reading your favourite books in the living room where breakfast it's served every morning
Proximity to major art museums and to the city center. Good restaurants, and shopping areas within walking distance, covered parking 100m walk.
What a city! What an apartment! What a host! What a breakfast! It's a big thumbs up from me!!
Rene
2016-07-25T00:00:00Z
B&B Casa dei Turchi: fantastic room fantastic host fantastic breakfast couldn't have been better
Benjamin
2016-10-01T00:00:00Z
Sono stata a Rovereto in vacanza ed ho trascorso 4 notti alla Casa dei Turchi. La location suggestiva, unita alla pulizia, precisione, e bella atmosfera della casa, hanno reso il mio soggiorno davvero speciale. Spero di ritornare!
Angela
2016-10-17T00:00:00Z
Host ideale!
Manfredi
2016-09-09T00:00:00Z
Al B&B di Maria Grazia mi sono sentita a casa dal primo istante! La location è ideale, nel cuore del centro storico di Rovereto. Il B&B è tenuto benissimo, la stanza e il bagno puliti e accoglienti. La fantastica colazione preparata ogni mattina dalla signora Maria Grazia è probabilmente la parte migliore! Il mio soggiorno è stato ottimo e se dovessi tornare in zona sceglierei sicuramente di tornare al B&B di Maria Grazia.
Alessia
2016-06-19T00:00:00Z
Stanza graziosa, con un host fantastico che fa delle ottime torte di mele! Decisamente da provare
Manfredi
2016-11-23T00:00:00Z
Room Type
Private room
---
Property Type
Bed & Breakfast
---
Accommodates
1
---
Bedrooms
Rovereto, Trentino-Alto Adige, Italy
The accommodation is situated in the historical center of Rovereto, just inside the Lion's Gate, in front of Piazza San Marco. The top floor of an old building which stands on the old city walls, a few steps from the castle, the seat of the War Museum, the Depero Museum and 10 minutes from the MART. The building that grows in height, has a wonderful view of the city from two spectacular roof terraces and has a private elevator that leads directly into the living room area.
Die Wohnung ist mitten in der sehr schönen Altstadt und ruhig gelegen. Enrico war sehr nett und zuvorkommend. Seine Wohnung ist definitiv außergewöhnlich. Mit viel Liebe zum Detail ist alles dekoriert und man fühlt sich direkt wohl. Das Zimmer mit Bad im obersten Stock ist groß und sehr privat. Ich kann seine Wohnung auf jeden Fall weiter empfehlen.
Felix
2017-03-26T00:00:00Z
Alloggio bellissimo, ubicato in centro ed arricchito dalle innumerevoli opere d'arte presenti che fanno sentire l'ospite immerso in un clima vivace e stimolante . Ospitalità e cortesia eccezionali, servizi puliti ed in stanza... la signora Anna mi ha anche fatto assaporare un dolce da lei preparato che ho davvero molto apprezzato... se proprio devo trovare una critica, che spero sia presa in maniera costruttiva, il letto non è il giaciglio più comodo nel quale ho (URL HIDDEN) giudizio rimane comunque ottimo. Alloggio in cui tornerei e che consiglierei...
Nico
2017-02-25T00:00:00Z
Accoglienza "ad alti livelli"... Coppia gentilissima e disponibile, non si poteva sperare in meglio. Ubicazione centralissima, alloggio ricercato e particolare.
Giovanni
2016-12-13T00:00:00Z
L'alloggio è delizioso, la casa accogliente e gli ospiti sono persone (URL HIDDEN) collocazione in pieno centro, ma a breve distanza dalla stazione ff.ss., permette di godere appieno della città e di potersi spostare comodamente anche senza auto.
Serena
2016-12-10T00:00:00Z
großräumig, aufwändig ausgestattet
Christoph
2017-03-22T00:00:00Z
La casa e' accogliente e gradevole e i padroni di casa molto cordiali
Aldo
2017-03-19T00:00:00Z
Siamo stati accolti in maniera cordiale ed Enrico ha telefonato prima del nostro arrivo per fornirci indicazioni molto accurate in merito alla strada da seguire ed al parcheggio più comodo (vicinissimo all'abitazione e poco costoso). La casa è molto originale ed arredata con numerose opere d'arte realizzate da Enrico e dalla moglie. La collocazione è splendida, tranquilla e molto centrale. C'è la possibilità di utilizzare, non solo la camera ed il bagno di uso esclusivo, ma anche uno splendido salottino. L'unico suggerimento che darei è quello di sostituire il letto, perché non comodissimo, pur sapendo che su questo tema le percezioni sono estremamente soggettive.
Fulvio
2017-01-22T00:00:00Z
Siamo stati accolti magnificamente dalla padrona di casa. Ottima posizione in centro città. Dall'ingresso alla cima dell'appartamento è tutto da scoprire..interessante, artistico e da curiosi! Nell'arredamento puoi respirare la storia e i viaggi dei padroni di casa, favoloso! Bellissime terrazzine in cima alla torre per godere della vista della città! Consigliatissimo!
Federica
2017-02-10T00:00:00Z
Room Type
Private room
---
Property Type
House
---
Accommodates
2
---
Bedrooms
Rovereto, Trentino-Alto Adige, Italy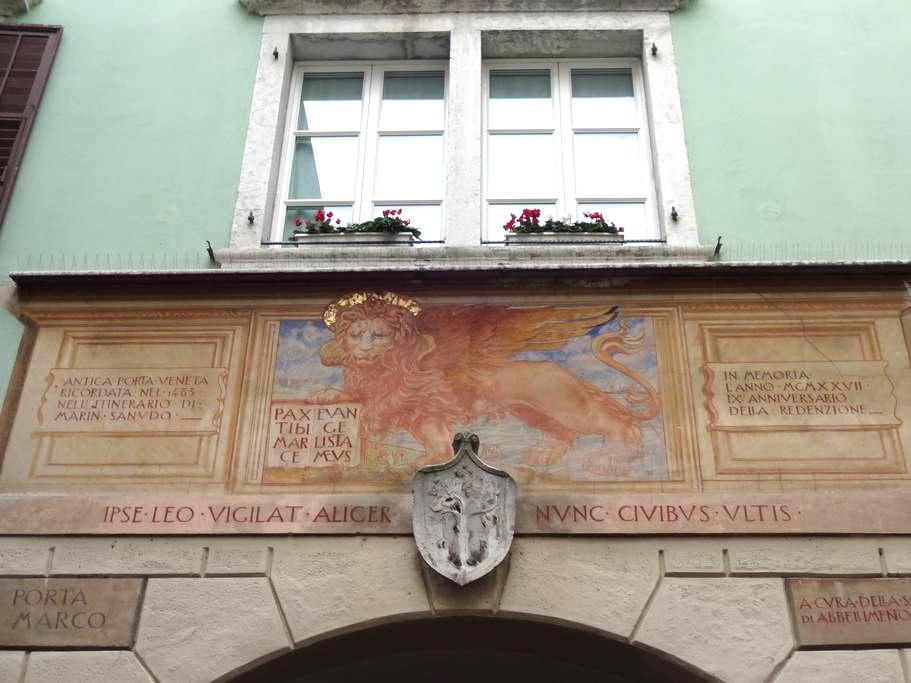 Lodge immersed in nature with a creek that runs alongside. A sun terrace offers guests the opportunity to relax, overlooking a pond inside the property, accessible to guests for trout fishing. Barbecue areas of different sizes are available to guests
Located on the ground floor and equipped with kitchen with oven, coffee machine, two bedroom, bathroom with shower, washing machine and dryer. Simply furnished and functional, is enhanced by an magic atmosphere, thanks to the uncoated colors and the original fittings. Your pet animals are welcome.
From the lodge you can go for walks and bike rides in the woods of the beautiful valleys and mountains rich in history and nature. In winter, some ski areas are easily reacheable.
The most incredible setting in the hills 25 min from Lake garda. The most welcoming hosts, we spent Easter with Thomas and his family who really made us feel at home. Truly thankful for making our trip such a great experience. HIGHLY RECOMMEND.
Seb
2016-04-01T00:00:00Z
Room Type
Entire home/apt
---
Property Type
House
---
Accommodates
5
---
Bedrooms
Ala, Trentino-Alto Adige, Italy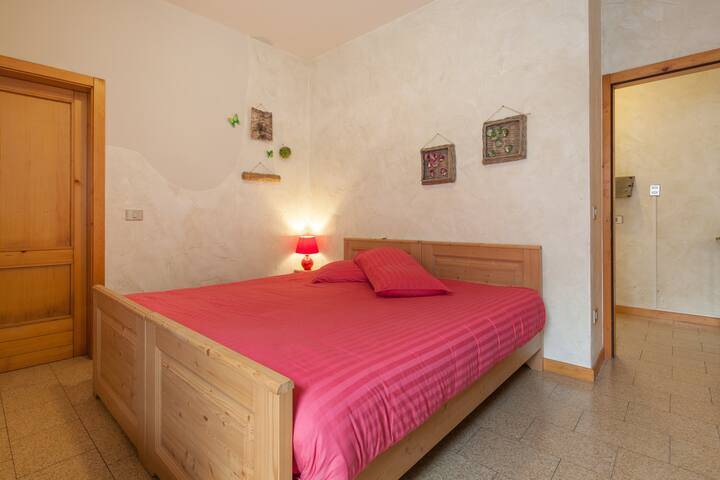 The apartment is located in Noriglio, in a dominant position just above the town of Rovereto. Is surrounded by greenery with a chance to make many walks down to the city or up the mountain. Occasions to visit the Christmas markets.
The apartment is very comfortable, on the ground floor of a terraced complex, it has an excellent view of Rovereto. Easy to find and to reach. The master bedroom has a TV, wardrobe with two doors. The second bedroom has two bunk beds and a sofa bed in the living room can accommodate two additional persons. Floor heating.
In front of the house, within walking distance, there is a famous cliff for climbing. From the house start some nice and peaceful walks in the mountains, including the "Tour of Monteghello". From the garden you can admire the "Piccole Dolomiti" becoming pink, kissed by the sunset sun.
L'accoglienza è stata ottima, la sig.ra Maura e stata disponibile da subito e si è preoccupata che non ci manca nulla. Le sue indicazioni erano perfette
Sara
2016-01-05T00:00:00Z
Room Type
Entire home/apt
---
Property Type
Apartment
---
Accommodates
6
---
Bedrooms
Rovereto, Trentino-Alto Adige, Italy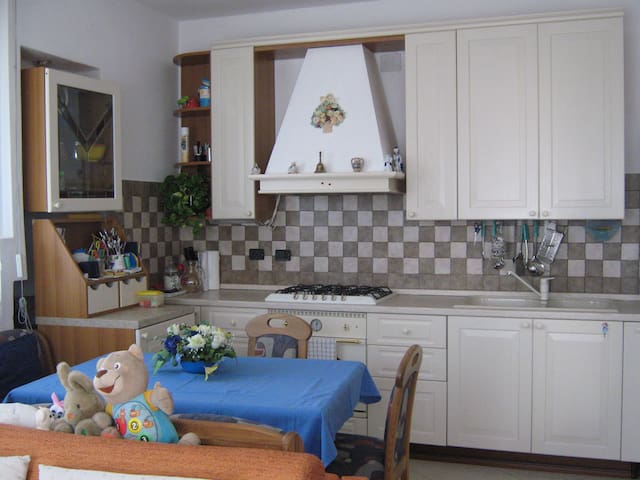 Single room (with the possibility of adding an extra bed) in a quiet area near the hospital in Rovereto. Bathroom and kitchen to share with me and my boyfriend. The apartment is surrounded by a large garden.
The neighborhood where the apartment is located is a quiet residential area, just outside the center of Rovereto (reachable in 5-10minuti). Nearby there are plenty of free parking.
Anna was a fantastic host - on top of providing a great place to stay, she was very helpful and even drove me to the train station after my stay. Her apartment was lovely and great value. Thanks Anna!
David
2016-09-29T00:00:00Z
Wow, wow, wow. Anna is so kind and helpful! The flat is very nice and clean, the room is situated to the garden. You can park your car in front of the house. Excellent value for the money. This could be a hidden gem on your trip. You have to try!
Dan
2016-09-17T00:00:00Z
Anna and Lorenzo are such a sweet couple! They are vegetarians and are helping people with needs! You can not imagine better humans than they are! :) Apartment is cozy and clean, recommend to all for sure!
Aivars
2016-09-23T00:00:00Z
Qualità prezzo va bene. Alloggio pulito. Host di piacevole compagnia, bravi ragazzi!
MARJUT
2017-04-07T00:00:00Z
Io e il mio compagno siamo stati un mese ospiti da Anna e Lorenzo. Sin da subito siamo stati accolti calorosamente. Sapendo che arrivavamo con tanti bagagli si sono offerti di venirci a prendere in stazione. La permanenza nella loro casa è stata come "essere a casa", la camera come da foto è accogliente e luminosa, tutto intorno si trova un bel giardino, il palazzo è molto tranquillo, i letti comodi, abbiamo dormito benissimo. La casa si trova vicino all'ospedale, con una breve passeggiata si arriva al centro. C'è stata pure l'occasione di scambiare quattro chiacchiere che hanno confermato la simpatia e la disponibilità di Anna e Lorenzo. Consiglio il soggiorno in questa casa in tutto e per tutto! Ci torneremo volentieri!
Francesca
2016-11-13T00:00:00Z
Anna hat sich sehr um mein Wohlergehen gekümmert, sie hat sich Zeit genommen und hat mir alles sehr genau und gut erklärt. Anna und Ihr Partner waren sehr flexibel und unkompliziert.
Marco
2016-09-25T00:00:00Z
Fortement recommandée. On a fait le plein de gentillesse et de sympathie. L'appartement est très bien entretenu. La chambre confortable et calme. On y repose très bien.
Silvano
2017-02-12T00:00:00Z
Room Type
Private room
---
Property Type
Apartment
---
Accommodates
2
---
Bedrooms
Rovereto, Trentino-Alto Adige, Italy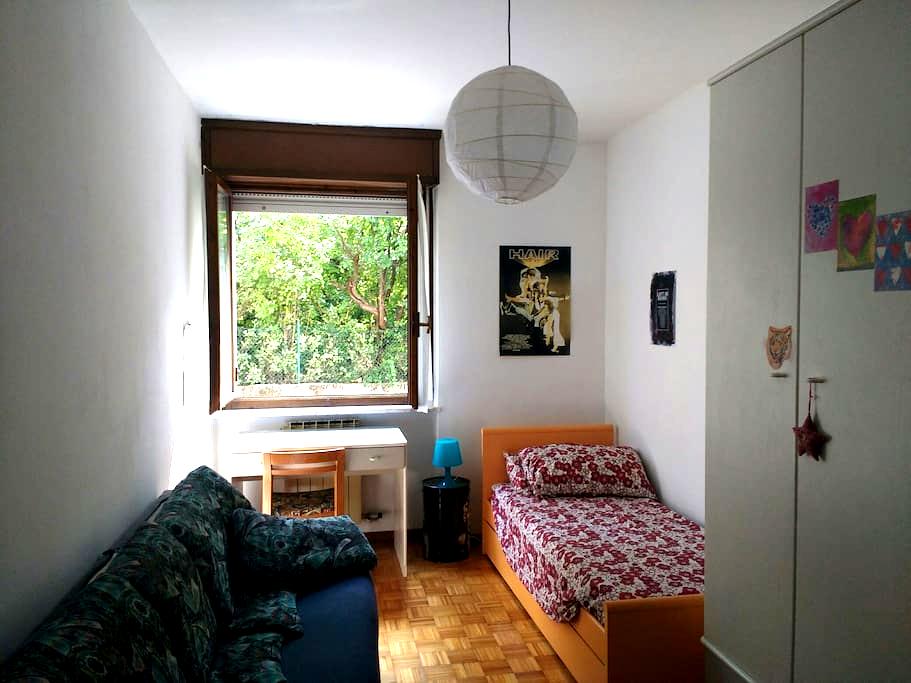 Enter dates to see full pricing. Additional fees apply. Taxes may be added.