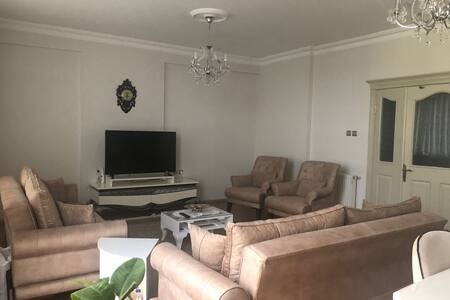 SUPERHOST
Private room · 5 guests · 4 beds · 2 shared bathrooms
ŞANLIURFA GÖBEKLİTEPE'Yİ YAKINDAN TANIYIN...
Güneydoğunun incisi, Peygamberler şehri, medeniyetin beşiği Şanlıurfa'yı yuvanız konforunda, güvenli ve hijyenik bir evde kalarak görmek isterseniz, sizi misafir etmekten mutluluk duyarım. Yeni kültürler tanıyıp, tarihi bir şehirde, modern bir evde benim gibi böyle hobileri olan başka arkadaşlarımın da bu tarz gezi deneyimleri yaşayabilmeleri açısından, imkanlarımı uygun olanaklarla paylaşıyorum.
What guests are saying:
"Turgay was awesome from the moment he said he would pick me up from the bus stop until my last evening when we shared a bowl of his mother's homemade soup. Both him and his mother were super. The room had a solid bed with a large window for fresh air and light. There were plenty of hooks, hangers and closet space. A small desk was useful. There was a large sitting room with couches and a tv but better than thqt there a large space in the middle if you are like me and like to stretch before your day. The apartment is approximately 11 minutes to the beginning of the centre of Sanliurfa where.ost of the main city's tours attractions are. There is also a fabulous secondary shopping district with plenty of cafes, doner & kebab shops and clothing stores. If you are going Göbekli Tepe the local bus (6 TL) is right at the beginning of the city centre as previously mentioned. It is in the stop that also services the Havas bus lines so do not be confused by the prevalence of their buses and not the city Urfakart bus that will take you to the site. The bus departs 2 times (maybe 3 times) a day (for sure at 10 AM and 2PM) and the return is at Noon and 4PM. Turgay was patient with my lack of Turkish and we used our translation apps with great frequency and laughs. The place is advertised, cleanand super hosts. I would definitely stay there again. Thanks Turgay and Mom."
we have got 7/24 hot water and wireless internet in home. market and bus station near the home
What guests are saying:
"Too bad that our host did not give us the key to his accommodation - this is the first time that this has happened when we have been using the airbnb service for many years !!! - waiting more than two hours in a shopping center is not great. Three points in the description are not respected: 1) no towels 2) a single bed and a mattress on the floor ... and finally no breakfast !!! Otherwise, we recommend his accommodation because it is clean and for the kindness of Mahmut !!!"
The apartment is located on one of the most reliable neighbourhoods of Urfa, within the site, 24-hour security, large living area, park and garden etc. It has a very wide usage area, 24 hours of hot water, heating and cooling system. The apartment is four-roomed, quite large with two balconies, bright and forest view. There are two bathrooms and two toilets. The guests have their own bathroom and toilet. I and my husband will help our guest to introduce touristic places within a local eye.
What guests are saying:
"Despite I'm not a regular Airbnb guest that choose a Private Room to stay in, this was a fantastic selection. A very nice, quiet, safe, clean and comfortable place, with all amenities and with a sparkling clean bathroom just for me. Public transportation in front of the building will take you everywhere, and you can commute to amazing Göbekli Tepe, Mount Nemrut, Gölbasi area, Archaeology & Mosaic Museum, etc...exactly as I did. But after all, Cagla and Aydin complemented my fantastic and totally safe stay in Sanliurfa with superb attention to all my needs: a 5-star place with 5-star hosts. I certainly recommend this place. Thanks, Cagla and Aydin!"