If you want to feel the true life-style of Shanghai and friendly neighborhood, old-style "Shikumen architecture" is your best choice! My house is in "Shen Cheng li"(linong), which is one of the largest "Shikumen architecture" group in SFC Area. For business traveler, internet access for mobile phone and laptop is very important. I will offer you and Mobile WIFI router, no mater where you go , you can keep online all the time.
What guests are saying:
"Snow was very good in communicating with us and helped us a lot with our really delayed flight and delayed bags. We really enjoyed the apartment location and would recommend it instead of more central locations around the peoples square. Subway is close enough and a number of good and cheap places to eat are close by. The apartment itself was warm (we stayed in december) and functional. It gets quite during the night what is a plus in Shanghai. All in all we really recommend Snow that was very kind with us during our stay and our troubled arrival!"
The B&B is located in the small bungalow on the Nanchang Road, a quiet and comfortable Xiaoma Road next to the fashionable and prosperous Huaihai Road shopping district. It has a large terrace with 20 flats. In the afternoon, you can enjoy the afternoon tea of the old Shanghai with a cup of coffee. Time. The overall style of the home is retro and modern. It draws on some Art deco period details and some popular Nordic decorations to make the homes retro but not old, but a rich and characteristic lodge. The Huaihai Road shopping district where the property is located is a symbol of Shanghai business that is the same as Nanjing Road Pedestrian Street. It is recognized as the most beautiful, modern and most accented road in Shanghai. It is also a collection of high-end department stores, lifestyle furniture stores, and the century-old brand. One of the rich business districts. There is a modern and fashionable iapm, a new K11 shopping art center, a new concept feminine Xintiandi shopping plaza, and a full range of consumers to meet the needs of different needs. There is ample subway transportation on the 1/10/12/13 subway line, which is a 5-minute walk away. If you like a small tourist route, then Xiaoma Road near Nanchang Road; Yongkang Road, Jianguo West Road, Taiyuan Road, Shaoxing Road, Yandang Road, you are definitely not to miss the punch.
What guests are saying:
"The location is particularly good, very close to Tianzifang, sleeping quietly at night without feeling bad sound insulation. It was dark and the balcony lights were on and it was beautiful to sit in a chair. There are also many coffee shops nearby, thanks for the good day memories."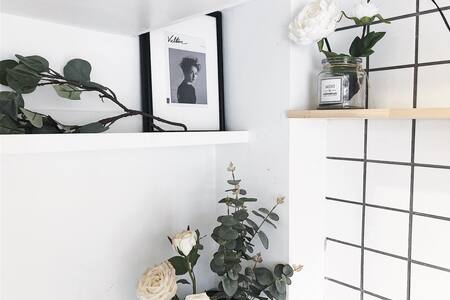 SUPERHOST
Entire flat · 1 guest · 1 bed · 1 bathroom
消毒+WhiteRoof:陕西南路/黄埔/南京西路/巨鹿路/屋塔的独立小世界/Single Room
Be sure to read all house descriptions Please send ID after booking. You can clean the watermark yourself. At this price, I have tried my best to design this lot (눈 _ 눈) If it is consistent with the description of the listing and the photos, cleanliness is in place, and no longer accept harsh harsh reviews under five stars when staying! If you are harsh, please move to other hosts' listings. Owning a small rooftop world at low prices, the landlord personally designed the white roof room with white / black / green as the main theme. I hope that the struggling young people can also have a warm, home-like temporary residence in the city center of Greater Shanghai. 1. The room is small, the size of a bed and a toilet. Trouble looking at the photos carefully. Everything is yours. You can use the toilet alone. 2. The terrace is public. Room on the 3rd floor 3. Do not mind if you care about the old wooden house in Shikumen, Huangpu The gate is located in the very center of the city. One gate is located at the junction of Julu Road, South Shaanxi Road, and the other gate is out of Yan'an Middle Road. In the evening, you can sit in a wooden chair in front of the terrace door, listen to songs and count the stars, and have a small world of one person. The point is on the most beautiful and quiet Julu Road. Surrounded by Huangpu where you can feel the real breath of Shanghai. It is very close to arkham East Lake Road and so on. Many Internet cafes nearby are also close to Shanghai's various attractions, but they also have things that are not in the assembly line, suitable for living and feeling Shanghai.
What guests are saying:
"The room is really small, the aisle is just as wide as a suitcase, but there should be some. A small room on the rooftop will be a bit noisy when the wind is strong. The stairs are steep, and it would be a bit difficult to get up and down the stairs if it was that big luggage."