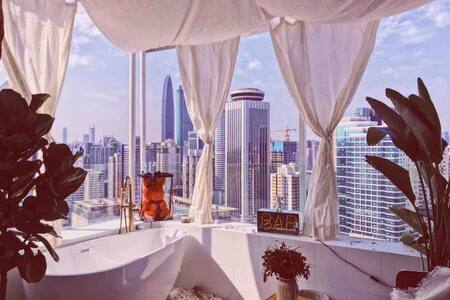 SUPERHOST
Entire flat · 2 guests · 1 bed · 1.5 bathrooms
LAZY 系列之【天露】56m²顶楼带超大露台|繁华之上俯望尘嚣,投影巨幕,新晋网红打卡基地
Hello 欢迎来到【LAZY】· 天露 【天露】(56平一房一厅带超大露台+浴缸+无敌视野)装修风格为时下最流行的简约设计师风格,地板采用德国进口木地板,墙面采用多乐士净味无添加剂油漆等,房间干净整洁,卧室有超大飘窗,采光极佳、阳台无敌视野罗湖中心福田区尽收眼里,大浴缸+绿植+休闲沙发+实木茶桌+幔帐+星星氛围灯点缀十足的城市网红打卡地,任何角度分分钟拍出大片感觉,厨房有厨具可进行简单的烹饪 大廈大堂設有保安員24小時駐守,出入倍覺安全! 【地理交通】 双口岸房源(罗湖口岸and文锦渡口岸)双地铁物业(地铁1号线and地铁9号线)非常适合赴香港东门;深圳高端购物商城万象城;KKmall商场;金光华网红地打卡 【周边配套】 银行柜员机:工商、招商,建设等银行 医药护理:深圳市罗湖医院 吃货知音」周边美食繁多,汇聚天南地北,花样百出、新鲜有趣的小吃。各式粤、港、潮、浙、鲁、川、湘菜等菜系应有尽有。时下流行的地道韩国、日本、西餐数不胜数,这里有喜茶、奈雪、等网红奶茶,海底捞火锅,汕头八合里海记牛肉店,润园四季椰子鸡,太二酸菜鱼,等等美食 魅力酒吧:苏荷,乐巢等酒吧
What guests are saying:
"Parking is very inconvenient, we parked in the hospital, it was very inconvenient to drive by ourselves, the toilet did not have a door, the curtains were not shaded in the morning, it was too bright, I felt OK to take pictures, and the comfort was not very good"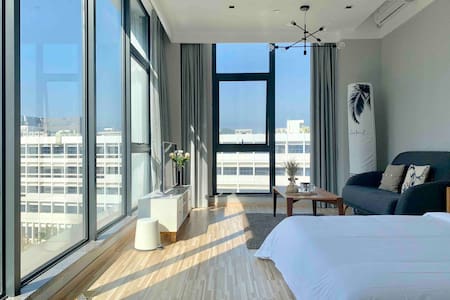 SUPERHOST
Entire apartment · 2 guests · 1 bed · 1.5 bathrooms
猫筑·A#紧邻南科大校区#地铁5号线塘朗站#大落地窗#米家智能家居#100寸投影#赠送早餐#免费撸猫
The house is equipped with millet projection, wireless network, washing machine, refrigerator and other equipment; there is a paid washing machine room on the 4th floor elevator, which can be used for WeChat payment, laundry can be dried, once 10 yuan; 3rd floor elevator has vending machines. Night owls can buy snacks, instant noodles, drinks, and even family planning supplies. The elevator on the 1st floor has a great coffee shop. First, you can drink coffee and read books. It is more than 600 square meters. There are not many in Shenzhen. Such a large coffee shop; it offers light meals, light food, etc.; there are flowers, cats, yes, you are not mistaken, it also buys flowers, also carries out floral training, and most importantly, it is a cat coffee. At present, there are 10 different types of cats in the cat, in the innermost independent area, remember to use disposable liquid to disinfect before entering, wear disposable shoe covers, cat lovers should not be missed; 5 minutes drive from Shenzhen North Railway Station, Futian Xiangmi Lake is a 15-minute drive, Shenzhen Bao'an Airport is a 30-minute drive; the subway station is Tanglang Station, which takes about 5 minutes to walk to the property, about 500 meters.
What guests are saying:
"Amazing place to stay! Came for 2 nights and decided to stay for 5 months. The place is extremely clean, the pictures are spot on! What you see is what you get, there is a coworking space in the buildong, a great cafe with delicious coffee, Pizza, and Burgers downstairs. The location is ideal for anyone in Pekking university, with a great minimarket around the corner that has anything you can imagine. The staff were PHENOMENAL! (Especially Cho) They helped us speak to the bank in Chinese when we had an issue with our account and spent almost 4 hours helping us! The laundry room on the 4th floor is great! Room service twice a week! Projector works phenomenally, building is brand new and modern built maybe 2 or 3 years ago, great overall place. Cons: bed is a bit uncomfortable and hard, only 1 pillow for a person (i always sleep with 2) , a bit expensive (but worth it) breakfast is not something any westerner will eat and is exactly what you see in the pictures. Bottom line: I stayed in 5 different places and hated rhe area, apartment, and building until I came here! If you are coming from anroad this is where you want to stay!"
Apartment address: Jiufang Shopping Center next to Shenzhen North Station 【landlord】 Hi, my name is Tim, and I am a renter, buddha hostel ~ I live here with my good friend, a good-looking little brother. In the entrepreneurial stage, I work as a social company. (Not GAY!) I also have two very good cat stars, gradually, 1 year old, if you mind cats, do not book. We are very easy-going and humorous. You don't have to be restrained when you come to my house. It can be said to be very comfortable, because we basically stay in the room and play games hahahaha, the living room is for you. Watch the movie and listen to the song great! The area around my home is really luxurious, a paradise for eating and drinking. It is Longhua Center. You live here is very cost-effective ~
What guests are saying:
"Transportation: Five minutes from the subway station, very convenient to the surroundings: There are many restaurants and other shops, and Jiufang is next to it. Well, thoughtful arrangements. There are British short cats in the room, docile relatives. Easy to take a bath, drying clothes quickly on the balcony, kitchen, projection, etc. can be used casually"