Do you want to have a cat owner? Welcome to the nest. This listing is located in Chaoyang North Road, west of Chaoyang Joy City. Living facilities, convenient transportation, from the Metro Line 6 Ying Supo Station only 1km. Residential district is in the high-end residential, property, security are very professional. Check into the nest you will have a separate bedroom, and a cat owner. Living supplies complete, free to use the kitchen, washing machines and so on. The housing support self check-in, I hope to bring you a better experience.
What guests are saying:
"If u liked cat, you must stay here during your journey. If you dont, you will be, after staying here. That is just a cutie pie, keeping asking you your attention and meow until u pet her. When she was too excited that she is about to give u a bite, she will stop right after her teeth is touching you, like she's afraid to hurt u.. so cute. About the place its good, stylish, spacious. A bed to crash with and its comfortable, a private room with air conditioning and city view. Location is ok, 3 minutes tuktuk-liked motorcycle ride for 5 cny or 20 minutes of walk if the weather is not too cold from the metro. Host is good but make sure u ask him questions when you encountered any because the host is nice but he is as well very busy, so he wont be there look after you all the time. Afterall i will stay here again if i m coming to the city."
"The home is a two-bedroom master bedroom, please make a reservation before booking." [Insert an ad: Mr. Wang recently added a new set of listings near the subway full of ins network red wind for the convenience of everyone in the media university. The entire rent can be sub-leased, and the long-term rent is also discounted.] The following is a brief introduction: For the privacy and security of everyone, Wang specially bought a pinhole detector and put it in the room for use by the tenants, creating a worry-free for the guys. Accommodation environment, have you never encountered such a good landlord Wang classmate ~ Please know that you need to submit an ID card and a deposit of 200 yuan ha, have not deducted any tenant's deposit, just ask for peace of mind ~ room is The master bedroom of the two-bedroom room is art and nordic style. It is an apartment shared with the landlord. Please confirm before booking! The price is the basic price for 1-2 people. If you are a group of three people, you need to add 50RMB on the original basis. At the same time, Wang will also provide a comfortable single bed ~ The room is quite spacious and can accommodate 6 people. The spacious room of the individual is located in the Gear Factory Cultural and Creative Park, Chaoyang District, Beijing, which is convenient for travel, and can be accessed directly by the Internet. The environment of the park is very similar to 798, which is definitely a good place to take photos. Convenient transportation, with subway and buses, and close to Beijing's online shopping mall Chaoyang Joy City. In the evening, you can also walk to the Media University campus. Dining in the university cafeteria with rich discounts is also a very pleasant thing. I have time to meet Mr. Wang, and can take a set of photos for you for free. Come and be a guest of Mr. Wang ~
What guests are saying:
"The home and bedroom are consistent and clean, the decoration style is the beloved cold wind, the landlord is particularly good, and we do n't charge too much for the shooting because we are students. The Garfield at home is very obedient and special. Hhhh is a favorite homestay."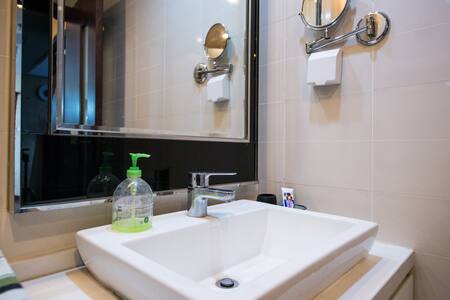 SUPERHOST
Entire flat · 5 guests · 1 bed · 1.5 bathrooms
『云朵小屋』传媒大学二外附近整套公寓Warm home, beautiful sunset,
Apartment heart warmer equipment: air purifier, heated toilet seat. The cloud lodge is very comfortable, close to the Communication University and the Second Foreign Languages Institute. The apartment is also very beautiful. For the community where the card is entered, there is a 1.4m*2m sofa bed and a 1.8m*2m A large bed and a single extra bed are suitable for families.
What guests are saying:
"Very good, complete facilities, clean and warm, convenient living. The communication with the landlord was also smooth and smooth. The landlord noticed the day before the check-in. Since there was no guest the day before, you can stay at any time. Because the high-speed rail is three o'clock in the afternoon, the landlord and the landlord negotiated to check out one hour later, the landlord readily agreed. A particularly warm landlord. The only downside is that it is a bit far from the station, and it takes 20 minutes to walk. Because the elderly travel, there is only a basic taxi."