The quilt is in the closet. The house is large, each room has a lot of space, it is comfortable to live in. The study has a large balcony, there is a brand new treadmill, can exercise for tenants, the entire space is particularly clean, all furniture appliances should It is full-featured and can be used for family gatherings, friends banging, separate kitchens, two bathrooms, and a master bedroom and cloakroom. Adjacent to Xiaogan East Railway Station and Huaiyin Park, it has convenient transportation and complete infrastructure facilities.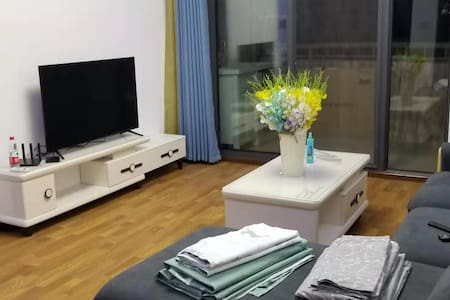 SUPERHOST
Entire apartment · 6 guests · 3 beds · 1 bathroom
幸福之家 恒大小区环境优雅,出门槐荫公园,孝感东站,银泰购物中心。24小时保安非常安全。
The space capital Hengda Property, the top three properties in the country. 24-hour security patrol, professional cleaning to maintain community sanitation, professional building butler service owners, greening is good, the floor space is the largest, there is an open-air swimming pool in summer. Xiaosan Road South Gate 5 Bus Danyang Middle School Station, Tianxian Road East Gate 10 Bus Tianxian Road Traffic Intersection Station, the pedestrian gate near Yintai City is the North Gate can only walk pedestrians to Yintai City, 5 minutes walk! The community is 2.4 km from Xiaogan East Station, 6 minutes by car. Xiaogan East Station arrives at Tianhe Airport City Railway for 16 minutes. Xiaogan East Station arrives at Hankou Railway Station City Railway for 30 minutes. The community will take a 4.9-kilometer ride to Xiaogan Railway Station for 16 minutes. The taxi to Tianhe Airport is 42 km and 49 minutes. 4 rooms, 2 halls, 1 bathroom, 115 square meters, smart door lock, video phone access, brand new 4 beautiful air conditioners, integrated one stove, beautiful drum washing machine, Gree three-door refrigerator, millet TV, cable TV, 100M broadband, 1.8 meters 2 beds, 1 tatami mat, 1 with a hand-washing toilet, and a sun room. The community pay parking lot, if you do not want to charge, you can stop outside the community. Temporary parking is free for half an hour, more than half an hour and two, in turn, plus 10 yuan a night. The card is 60 yuan / month, 720 yuan / year.
What guests are saying:
"The first time I booked on this, I didn't think that the room was clean and tidy, and the environment was good. I will choose this one next time I have friends!"
The most prosperous part of Xiaogan City, you can find everything to eat, drink and play around. The living room and room of the entire house have large floor-to-ceiling windows, and the periphery of the window is clearly visible. Wherever you go is scenery. The interior is full of home furnishings and comfortable bedding. Easy to cook and cook. Community greening is perfect.