Amazing Tempur-Pedic two queen mattresses Opened city view Great location to travel and staying Seoul This place focus on your relaxing You will be in love with Tempur-Pedic topper mattress Free wifi inside.
What guests are saying:
"I wouldn't want to stay anywhere else in Seoul—Anna's place is in such a convenient location. Falling asleep and waking up to a perfect Seoul skyline is something I am going to miss! Anna gave us really helpful directions to help navigate our journey from Incheon airport to her apartment. Getting through subway stations with a good amount of luggage isn't the most fun in the world, but Anna helped us with tips on which exits had elevator/escalator access! I truly loved staying at Anna's place, it is literally across the street from Seoul station. There's plenty of bus stops nearby, it truly couldn't be any more convenient! Also the tempur-pedic mattress is extremely comfortable. I definitely recommend this place, especially if it's your first time in Seoul!"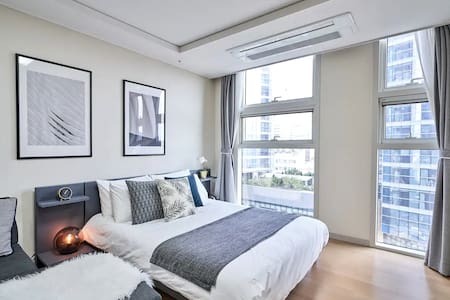 SUPERHOST
Entire flat · 2 guests · 1 bed · 1 bathroom
#09 ⭐ 3min Seoul Stn ⭐ Free Gym | Free Breakfast
[ALL HOUSE LISTINGS] https://www.airbnb.co.kr/users/87299155/listings ★★ Architect's Design House ★★ • Architect's Design House - Modern Chic Design • High-rise Luxury Studio Apartment • The Center of Seoul - SEOUL Subway Station (3min) • Free Fitness Center, Sky Lounge, Roof Top Area • Free Breakfast Cereal, Free Snack • Free Toothbrush • Available Late Check-Out (Flexible) • GIMPO Airport (60min), INCHON Airport (100min)
What guests are saying:
"David's residence is very close to Seoul Station which is close to Lotte Outlet and Lotte Emart. It is very convenient for us during the Spring Festival holiday. In addition, David will pre-set very careful and detailed information for travelers, comprehensively and systematically tell the location, restaurants, scenery, indoor facilities and so on. This is to give the guests who have not set off immediately a hundred percent confidence. The room is clean and fresh, and the environment is open. Love it very much. There are already two big coffee shops downstairs! I asked David several times because of the lockers in the subway store, and he and Jane didn't bother to come to the information to explain. In fact, it is very easy to rent a self-service locker, except that the system's voice instructions and text instructions say that there must be a Korean phone number to get the SMS instruction password. I sincerely recommend David to all my friends who go to Seoul. However, everyone must also take good care of his carefully arranged "home"!"
https://www.airbnb.com/h/ohneul-home3 [친구 없는 친구네 집, 오늘은 여기가 내 집🧡] 여러분을 우리집으로 초대합니다. 높고 탁 트인, 뷰가 예쁜 곳에 사는 친구네 집이 잠시 빈 틈을 타 놀러왔다고 생각하고 이용해주세요 :) 집을 빌려주는 친구인 호스트는 집안 내 모든것을 갖추고 아낌없이 놀러온 친구인 게스트분들께 제공할테니, 놀러온 친구들은 집주인 친구를 생각하며 매너있게 즐겨주세요! [오늘, 홈🧡] 은 '오, 늘 내 집같은!' 이라는 뜻을 갖고 있습니다. 자취생이 구할 수 있는 뻔한 인테리어의 집, 가족과 다같이 함께 사는 공간에서 벗어나 누구의 방해도 받고 싶지 않을 때, 예쁘게 요리 셋팅하고 사진 찍어 추억으로 남기고 싶은 특별한 날에, 🌄해가 지는 시간의 서울 🌃모두가 멈춘 시간의 서울을 친구와 또는 연인과 때로는 혼자서 직접 만든 음식과 함께 즐겨보세요.
What guests are saying:
"1. The view is so pretty. If you just want to event for men, don't worry, just make a reservation here and the view and beam take care of it. 2. The contact with the host is so good that if you don't know what you're wondering, you can get an answer right away. 3. The dish is perfect for this view, but we have all the seasonings to cook. There are so many surprises! Even unexpected seasonings..* Oh, and I'm worried because the dishes are pretty too.. 4. Very clean!!! As soon as I went in, it was a new building. I think everything is new, but those who are sensitive to dirty things are very clean here!!! 5. Host service.. When I went to Wanjoni, I saw the first place where I prepared macaroon and wine.. Happy birthday and congratulations and even a chuckle. Hahaha, I just seem to be a hostess sense. . 6. Finally, transportation!! When you come to the station or by bus, it's just a minute's walk when you come. It's just a minute away from the cafe convenience store Olive Young~ There are a lot of people who ask where they are because they are making a reservation here!! Everyone is envious. I'm not going to regret it. Hahaha It's the best event for a girlfriend or a party with a friend! Anyway it was a happy birthday haha thank you host!"