A great spot to unwind after a long trip or a hectic week in the city, our #OceanNest is cozy and clean, with many nooks. The neighbours are retirees and our old building is quiet at night. It is a 40sqm 3RD FLOOR UNIT in the rainforest 20 mins drive from Subic Bay CBD. 5 mins to Subic airport, JEST, waterfalls and beaches. Ideal for couples, adventurers, triathletes, business travellers looking for a quiet weekend, or a workspace with a view. @thenestbythesea
What guests are saying:
"I had a great time on the apartment. The place is quiet and relaxing. I enjoyed great breakfast and coffee with the wonderful things left for me like the press coffee, home made peanut butter, oatmeal and bread. The interior design is really unique and beautiful. I can definitely recommend the place to my friends"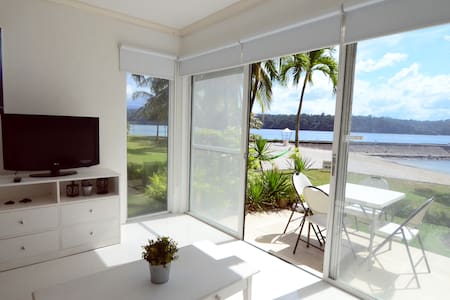 SUPERHOST
Entire townhouse · 8 guests · 5 beds · 2 bathrooms
Paradise Cove Beach Condo... Absolute Beach Front.
Before inquiring please note that the maximum number of guests who can stay at my place is strictly 8 persons. We welcome you to our family beach house facing the clear and calm waters of Triboa Bay, SBMA. Located in the middle of a marine sanctuary, our guests enjoy stunning views of the sea and the virgin rain forest, breathtaking sunsets and access to a private secluded beach. Our beach house - just a few steps away from the shore - offers accommodation for up to (8) guests comfortably.
What guests are saying:
"Marinette's place is amazing. The ocean is right outside your door, and view is beautiful. I have been to Subic before, but this trip in particular really made me appreciate it. The unit itself is quite cozy. I had a party of 7, and we were able to all fit in without it feeling tight at all. The area is safe with a guard at the entrance, and lights are spread throught the area. We were able to have a late bbq dinner outside, followed by a stroll across the beach under the stars. Marinette is an amazing host. She is very accommodating, thoughtful, and quick to respond. My girlfriend and I picked her home to celebrate our birthdays (they are 2 days apart), and we were greeted with a birthday cake once we stepped inside. I highly recommend visiting her place."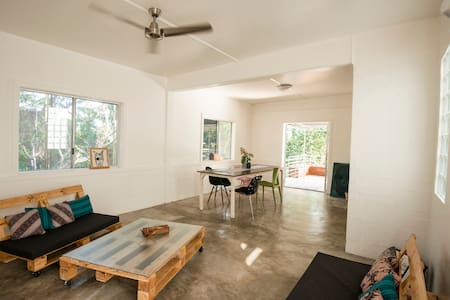 SUPERHOST
Entire guest suite · 9 guests · 5 beds · 2 bathrooms
Subic Rainforest Retreat - hilltop home by the bay
We welcome you to our simple, eco-minded home surrounded by lush rainforest, where families of monkeys are frequent visitors, fruit bats make their home in nearby trees and where the forest creatures combine to perform their nightly symphony. Please keep in mind that this is not a luxury resort or a hotel. It is just our humble home.
What guests are saying:
"Corey's place is simple, spartan and yet with some unique decorative touches. Great for a group of friends or a family of 4-6. We had lots of fun with the workout equipment. The friendly doggies are a welcome addition. The backyard is a canopy of trees and that's indeed a luxury nowadays!"