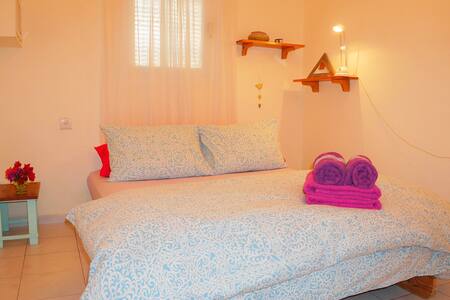 SUPERHOST
Entire guest suite · 2 guests · 2 beds · 1.5 bathrooms
** A five star with 418 fantastic reviews!!**
*** A Wonderful Studio in Eilat *** A great neighbourhood, quiet and away from the noise of Eilat center. All amenities are just a few steps away. A cozy studio with everything you will need for your stay, full of hearts and love plus 2 air - cons which is a MUST in Eilat!!!!!!
What guests are saying:
"Niki's apartment is in a quiet residential area, we always found a parking space nearby. Niki herself is very friendly and easy going and is happy to help. In the kitchen, which we often use, everything was available. We were there in early March and it was still a bit cool in the morning and evening, the air conditioning helped us a lot. The outdoor seating is rather small and very shady, which is probably totally welcome in summer. I found the apartment to be very clean, which is quite important to me personally, and the bed was also comfortable."
The appartment is in the private house, in very quiete area, on the second flour, while the host lives on the ground and first flour of the house. The big supermarket is around the corner, public transport is available, children playground is very close, and free parking lot, too. Bakery and wine shops are 50 metres walk. About 25 minutes in foot to the beach.
What guests are saying:
"I would definitely recommend. Amazing view from front porch of Jordan and mountains. It takes about 15 minutes to walk to the city center or the main bus station. I would recommend especially for the value."
Is a unit of charming and luxurious accommodation suitable for couples or families. Unit is a fully equipped kitchen in every good; 2 LCD TV, air-conditioning; a nice bedroom cozy and romantic with a kingsize bed. Spacious living room with double sofa bed extra large (fits 3 children), couch for extra bed, dining room, courtyard with shaded seating area and barbeque unit available. The beutifull pool is for guests Zimmer coordination Free car parking and free Wifi The unit is 3-5 minutes driving from the city center, the beach,the coffee shops and restaurants הלגונה הכחולה היא יחידת אירוח מקסימה ומפנקת המתאימה לזוגות או למשפחות. ביחידה קיים מטבח מאובזר בכל טוב, 2 מסכי פלזמה, חדר שינה נעים ורומנטי, סלון מרווח הכולל ספה הנפתחת למיטה זוגית גדולה במיוחד, כורסא הנפתחת למיטה נוספת, פינת אוכל, חצר עם פינת ישיבה .מוצלת ויחידת מנגל לרשות האורחים וכל זה לצד בריכת השחיה המפוארת שעומדת לרשות האורחים בתאום ליחידת הנופש חניה צמודה (ללא תשלום) ואינטרנט אלחוטי חופשי היחידה נמצאת במרחק של 3-5 דקות נסיעה ממרכז העיר, מחוף הים, מהטיילת ומבתי הקפה והמסעדות
What guests are saying:
"אנחנו משפחה מהעיר רחובות. היו לנו ארבעה מבוגרים, שניים מהם נכים! נהנינו מאוד !!! הבריכה היא משהו מיוחד. הים והמרכז קרובים מאוד - הן ברגל והן ברכב! בחדרים ובמטבח יש הכול! מארחת מאוד חביבה ומכניסת אורחים! תודה רבה לך !!! מיכאל פסמניק"