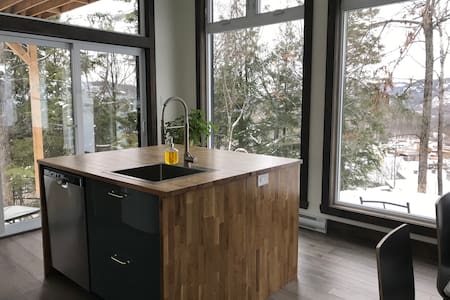 SUPERHOST
Entire guest suite · 6 guests · 3 beds · 1 bathroom
Lower Chalet 99 at Mont Ste Marie (ski in/ski out)
(New for the 2020) Lower Chalet 99 is the lower unit of a duplex located at the beautiful Mont Ste Marie ski resort. Just steps away from the Tornade and Caroline Calvé ski runs - it really is ski in and ski out. When relaxing inside, you will have a breathtaking, 180 degree pano view of the surrounding hills and the main ski chalet. Enjoy this space year round, whether skiing, snowboarding or hiking, mountain biking or golfing. Establishment Number: 301250
What guests are saying:
"We stayed just over a week in this little piece of paradise, with two young kids. It was clean and modern and had a lot of personal touches to make our stay comfortable. Coffee and tea, board games for the whole family, lots of DVDs and bathroom products. The beds are super comfortable and the big open deck that looks out over the mountain and valley below was the perfect place to sit and enjoy coffee in the morning and wine in the evenings. We very much enjoyed our stay and will definitely be back."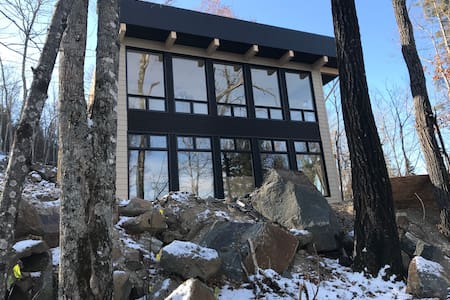 SUPERHOST
Entire guest suite · 6 guests · 3 beds · 1 bathroom
Upper Chalet 99 at Mont Ste Marie (ski-in/ski-out)
Upper Chalet 99 is the upper unit of a stacked duplex style chalet. A short walk or ski over to the ski hill at Mont Ste Marie. Brand new modern chalet on the hill in the Village Tornade neighbourhood. Nature abound. Take a walk by Lac Sainte Marie and learn about the Mont Sainte Marie resort history, eat local food and check out the antique shop. Establishment Number: 301250
What guests are saying:
"Dorota and Steve have created a gorgeous retreat within the treetops; stylish and contemporary with many creature comforts. Communication with Steve was quick and friendly. Upon booking, he had researched and offered many tips on what to do in the area, as it was our first time visiting. On evenings and the weekend, our highlights were spent enjoying the brand new deck with BBQ, watching DVDs or enjoying marshmallows by the fire pit. As noise sensitivity is relative, future guests might want inquire about the status of the construction adjacent to their property. The stargazing from their deck is sublime."
Very bright and cozy studio house with wonderful views of nature out all windows. This small house is definitely off the beaten path and great for a total escape. During the winter months when weather is unpredictable you may have to walk up the driveway depending on your vehicle. Winter tires are a must and AWD is recommended but not always necessary. We are here to assist you. The house is located on our property but very private and separate.
What guests are saying:
"Lucille has a nice cottage on her land which houses her own home, a pack of cute chickens, a really friendly dog, a huge garden, and the most beautiful scenic view of a small valley. The cottage sits at the top and you get to look over the trees and at the mountain across. The location is perfect for bringing a book on local plant life and learning about each unique plant found in Canada. The kitchen is very spacious and lots of comfortable areas to sit and enjoy the evening in. Outside you can build a fire in a little bowl pit to roast some marshmallows and there is a small BBQ to cook up hamburgers!"