Absolute beachfront location , beautiful modern design with Thai details, comfortable bedding and living, breathtaking amazing views from floor to ceiling glass windows , friendly staff . The best luxury is privacy , tranquility and relaxation! Also as being a small Boutique building it is a safe place and easy to be under the new social distancing rules that are needed!
What guests are saying:
"The hotel staff are very good. Phuket can only pick up and drop off the hotel, there is one next to them, so don't worry about this. Facilities are very new, facing the sea, the view is very good! There is a small riverside restaurant next to it, which opens at 1:30 in the afternoon. This small restaurant is very cost-effective. I ordered four dishes and two drinks for RMB 130. Because of our itinerary, the original check out was at 11 o'clock, and the landlord agreed to check out at 12 o'clock, which is great! The hotel's swimming pool can go directly to the beach. It's about five minutes away from the main beach. The only bad thing is that the hotel is far from the city, and there are fewer restaurants to choose from ... the others are all good!"
Entire apartment · 7 guests · 5 beds · 3.5 bathrooms
seaview penthouse 5 min walk to the beach & shops!
*** For the Health and Safety of all our guests we have introduced an Enhanced Disinfecting Cleaning Regime. This has now been put in place and will continue as the new normal *** Our Penthouse is the FIRST building back from the sea. Just a few minutes walk to the beach, shops, restaurants and more! We are a luxury space with a private pool & stunning views overlooking beautiful Kata Beach. We also have a GYM in our building. Along with modern smart amenities and floor to ceiling seaviews!
What guests are saying:
"This place is located about 5 minutes from the beautiful Kata beach. The penthouse is a beautiful, modern space that overlooks the ocean. Zen offered many tips and guides for local restaurants, things to do, and even arranged transportation to/from Phuket airport. Thank you for making our stay such an enjoyable experience!"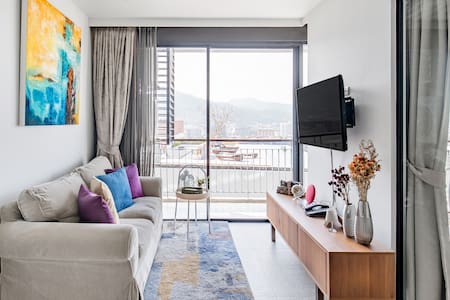 PLUS
Entire flat · 2 guests · 1 bed · 1 bathroom
Endless Patong Ocean View from a Hilltop Condominium, Phuket
Drink in mesmerizing azure expanses of sea, sky, and city from every corner of a glass-walled home. Light dances off a sparkling white palette with cheerful pops of color. Shared amenities include a rooftop infinity pool, gym, and 2nd-floor garden. The property is on hillside. The slope and practical representation of it is 14% slope for 160 meters. Walking up and down are made much easier with wide gradual steps of the sidewalk.
What guests are saying:
"This place is even more beautiful then the pictures. It's one of the nicer places we've ever stayed in. The deck and the rooftop infinity pool are gorgeous. It's decorated beautifully. She was so thorough when creating this air bnb. She made a book of things to do, where to eat, story of herself, etc. As well as a cook book with good recipes book marked. It was a nice touch. And yes, everyone's mentioned the stairs/hill. It is very steep and a good workout. My boyfriend counted, it's something like 150 steps. If you're out of shape, older, or knee/ankle problems it's not the place for you. We enjoyed it. We eat super healthy at home so it's nice to hike off a little of the carbs we're eating out here. One other tiny note, the bed is def more on the firm side. Normally I'd dock a point for that but it seems to be a theme here in Southeast Asia. I'm beginning to think they just like firm beds. Shower was great, plenty of hot water. (Those are the two things i look for, bed and shower heat, so i like to throw that in there). Walk ability is great, we walked everywhere. The only time we got a tuk tuk was to the patong boxing stadium and that was because we were short on time. We might have walked if we had more time. Overall it was fantastic and I'd stay here every time i come back."