With old Milwaukee charm, and comfortable contemporary furnishings, this one-bedroom apartment (parking included) will make you feel at home. Perfect location: Walking distance to the Bus. It is 15 minutes to the lake This apartment is located at Bayshore Mall
With old Milwaukee charm, and comfortable contemporary furnishings, this one-bedroom apartment (parking included) will make you feel at home. Perfect location: Walking distance to the Bus. It is 15 minutes to the lake, North Ave, and Brady Street. This apt is in the bayshore Mall which has grocery store, Starbucks, historic movie theatre, bookstore, Boston store, Bar Louie, Clarks, Ultra, Bed & Bath, liquor store, and a few of Milwaukee's hottest restaurants... everything you could need. One block away from a Walgreens. This safe and lively neighborhood offers a lot of variety, and the apartment is in excellent condition. Perfect for a single person or couple looking to get a great Milwaukee experience. The building is secure and you have to have the key to enter the building. It has a gym place, social room has TV, small kitchen and this place to have fun and do a special party but you have to ask for reservation in advance and it is free. Guests will have access to all shared amenities. Including the kitchen and my clothes washer and dryer. It is one bedroom, living room, bathroom. The living room has a bed sofa which I will use it during your staying sofa therefore, you might be sharing the bathroom and the living room as well. you will have my bedroom which is Queen size, dresser, walk in closet. It has Wi-Fi and TV. The kitchen has microwave, fridge and stove & oven. The only thing that I do not have is a spare key which is only one so you will contact me if you need to get in the building but it is so simple because I will let you in even I am out because it is connected to my phone to open the gate for you anytime you want to get in the building.
This home is in very good spot; you can get almost anywhere from there. You can get to the lake, downtown about 15 minutes. Ideally, my place is convenient to anyone wanting to explore Milwaukee and visit Chicago. You could also take one bus from this apartment to the airport. There are a lot of things around and you don't have to have a car to reach: cheesecake factory, Verizon, Collectivo local coffee shop, Barnes &noble book store, Theater Cinema in the mall that the apartment in and there is a bowling play beside the theater as well opened till 1:00 am.
Room Type
Private room
---
Property Type
Apartment
---
Accommodates
2
---
Bedrooms
Glendale, WI, United States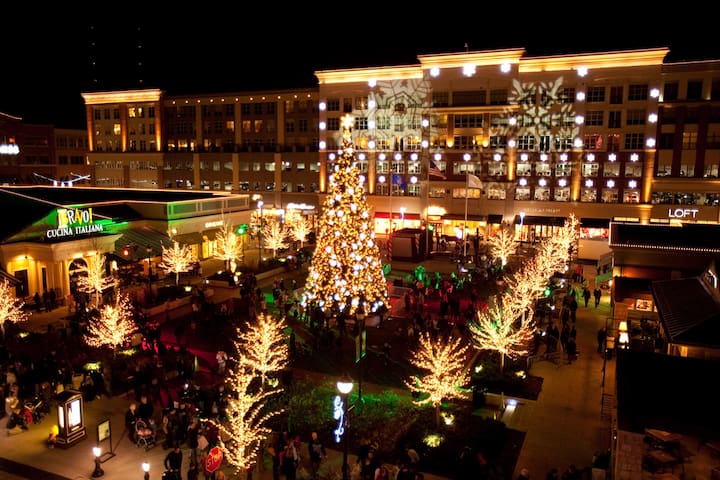 Beautiful corner studio apartment with private kitchen and bathroom. Walking distance to downtown, Lake Michigan, many bars and restaurants, the Milwaukee Art Museum, and more. Just a short walk to Brady Street and the Third Ward. The apartment itself has a ton of natural light. Quiet neighbors and a great vibe.
Room Type
Entire home/apt
---
Property Type
Apartment
---
Accommodates
1
---
Bedrooms
Milwaukee, WI, United States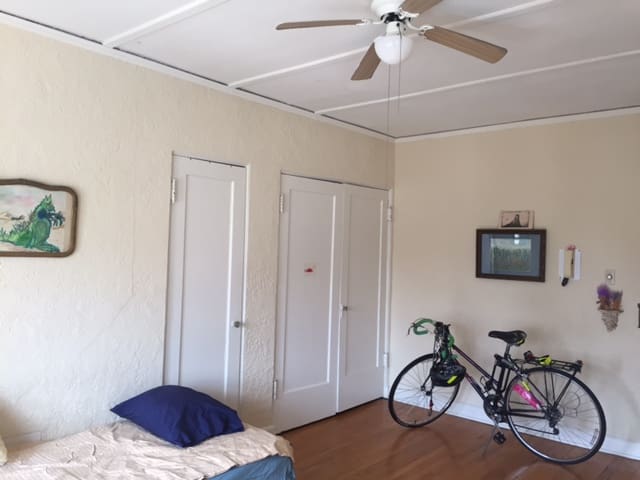 Hello! My boyfriend Roberto and I (along with our 2 cuddly cats and our adorable dog) have an awesome 2 bedroom apartment just a few blocks from Milwaukee's trendy bar-lined Brady St & Water St nightlife. We are also just a short walk from Milwaukee's beautiful lake front. Enjoy a cozy private bedroom with a full size bed and a smart Roku-enabled TV with access to Netflix, Hulu & cable. European-style cappuccinos, a variety of loose teas to choose from, and breakfast is included in your stay!
Our building was built in 1893 and our unit is home to beautiful Victorian-era archways, tall ceilings, and huge windows that let in a constant flow of natural light. Many beautiful and unique works of art from our travels are featured throughout our unit - feel free to ask about where they're from! You will enjoy a cozy private bedroom. Your room features a full size bed with a comfy memory foam mattress, a smart Roku-enabled TV loaded with access to Hulu, Netflix, Amazon Video, and cable networks, a coffee/tea bar, as well as a love-seat surrounded by a set of tall bay windows that overlook our quiet, tree-lined street. Other features of your room include: -Central heating, extra blankets, a space heater & fans -Traveler's guides to the city of Milwaukee, such as books about the history and attractions of various Milwaukee neighborhoods and the history of Milwaukee's architecture; official city guide maps; fun map of attractions along the lakefront; and step by step walking tour cards for downtown -A box of various toiletries just in case you forgot something at home -A closet with hangers and 2 spacious dresser drawers -Fresh towels and washcloths -Plenty of mirrors for getting ready in the morning
We live on Milwaukee's Lower East Side, which is full of quirky bars, restaurants, tea and coffee houses, and shops. While being in the heart of the city, our street is quiet and tree-lined thanks to the school and parks that are nearby. 5-10 minute walk from: Brady St. (restaurants, coffee/tea shops, shopping) Water St. (bars, restaurants) Milwaukee River & River-walk Lakefront 5-10 minute drive or bus ride to: Downtown Summerfest & other Milwaukee festivals Art Museum Local brewery tours Historic Oriental Theater Amtrak Station 15 minute drive to: Mitchell International Airport State Fair Harley Museum Milwaukee Zoo
This place was exactly what we needed for a quick get-away into MLK. The room was nice and private and walking distance to the venue where we were attending a wedding. Our hosts were very accommodating, and friendly. Their two kittens were adorable and also very good hosts.
Chris
2017-01-01T00:00:00Z
It's a perfect place to stay. And it is very close to the downtown
Xiaolei
2017-02-06T00:00:00Z
Very friendly and communicative hosts. The room was nice and comfortable, and the house is in a great central location for doing lots of Milwaukee stuff. Great choice whether you want privacy or a fun conversation.
Nathan
2016-12-19T00:00:00Z
It is easy to go to downtown either by bus or on foot from the house. The room is quite cozy and quiet. The host is friendly and kind. I was really satisfied with the home!
Yotaro
2016-12-22T00:00:00Z
Stayed in Milwaukee for the night and this was the perfect spot. Easy check in, parking, and convenient location.
Rosemary
2017-03-12T00:00:00Z
Gabriela and Bobby are the absolute best. Came into town for an interview and I did not expect to have one of the best Airbnb experience I've had so far. They were very accommodating, friendly, and they are some of the funniest people with the best stories. Their place was very clean and they have 2 cute cats! It's in a great area as well. Would definately stay here again if I were in town.
Lenner
2017-01-25T00:00:00Z
Wonderful young couple. Very accommodating. Comfortable room. Quiet place. The cats were very entertaining. Thank you for allowing me to stay in your home
Karen
2016-12-07T00:00:00Z
Great location, great hosts, great room. I was in town for work downtown and their apartment was perfect. I had wonderful conversations and had a great dinner together. Hopefully their room will be available for my next trip to Milwaukee.
Brian
2017-01-26T00:00:00Z
Room Type
Private room
---
Property Type
Apartment
---
Accommodates
2
---
Bedrooms
Milwaukee, WI, United States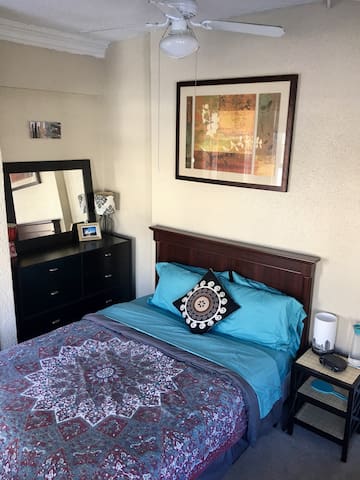 Near great views, amazing restaurants/cafés, cinema, bowling, beach, festivals, colleges, hospital, Whole Foods, Milwaukee River, parks, trails, bus lines, shops, breweries, art, climbing gym, nightlife! 30-minute walk to festivals. Convenient East Side location, urban feel, cozy loft apartment, sunny balcony. 2 flights of stairs. Suits couples, friends, solo adventurers, business travelers. King-sized bed in bedroom. Futon in living room. Parking spot included. Je parle français. Hablo español.
There's a lot to do on the East Side of Milwaukee within walking distance from my place.
Unit was as described, very clean and cozy. Amazing king-sized bed. Great location. Owner was extremely responsive and helpful with area recommendations. Passcode entry was hassle-free and a nice touch.
Daniel
2016-10-22T00:00:00Z
This place is so great I stayed once again two weeks after my first stay! Barb is such a great communicator--she actually looked out to find an opening for us...which worked-out perfectly. Staying at Thomas Hideaway made our trip to The Good Land even better!! Her place is absolutely fantastic, and Barb is just the best...she even left us a kind personal note upon our arrival. Not only will I stay again, we will look forward to it!! Thank you!
Brian P.
2016-11-05T00:00:00Z
Barbara's apartment was so comfortable and easy for my friend and me to share. It was a welcome getaway from our busy convention downtown, which was about 12 minutes away, by car. There is a convenient parking pad in front, which our Ford Fiesta rental car fit into snugly. We were able to have separate sleeping areas, which I appreciated - a king-size bed in the bedroom, and a very comfortable pull-out futon in the living room. The bathroom is divided into two parts on either side of the entry hallway, with the shower on one side, and the toilet and sink on the other, making it very easy to share. Barbara provides lots of amenities, including a clothes dryer rack, which was very handy for the bath towels, and a good-sized walk-in closet. Being from Chicago, we watched the World Series, on a TV that didn't need any directions to use. With a four-night stay, we began to call this home. We highly recommend Beans and Barley, a restaurant, deli, and natural foods store, a couple of blocks away.
Karen
2016-10-31T00:00:00Z
This place is so cute! We loved the deck and the decor. It was just enough space for us to relax and have a place to explore Milwaukee from. Walking distance to bars, restaurants, and shops. Excellent value!
Sheila
2016-07-08T00:00:00Z
I loved Barbara's space - it's more of a studio apartment suite than one private room. Bathroom is very clean with fresh towels, a quaint living room space, small kitchen with basic essentials. The bedroom size is comfortable for us two, with open closet space for our things. Location is perfect, close to bars, restaurants, the lake, etc. Barbara is quick to respond to questions, and setup. I didn't get a chance to meet her in person because we were out exploring the city all day. But she was only text/call away! Overall I had a great stay here and would definitely come back if ever I'm back in Milwaukee in the future!
Danielle
2016-06-20T00:00:00Z
Barb is extremely helpful and easily reachable. Her recommendations were great and the space is cute and functional.
Karen
2017-03-26T00:00:00Z
Place was great: clean, comfortable, and only a short cab ride from downtown. Barbara provided lots of information about the area and how to get around, and was readily available if we needed to contact her. We enjoyed our stay here!
Jasmine
2016-07-04T00:00:00Z
She was waiting when we got there, which was great. Easy place to get to and so quaint. Clean and efficient and comfy for two.
Conny
2016-10-03T00:00:00Z
Room Type
Entire home/apt
---
Property Type
Apartment
---
Accommodates
2
---
Bedrooms
Milwaukee, WI, United States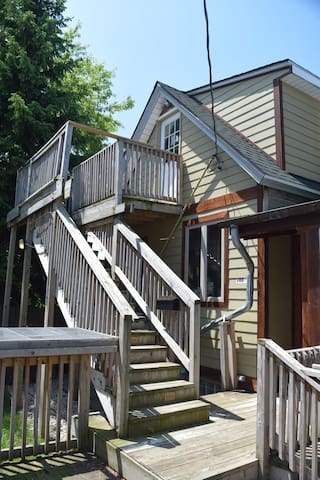 *** Just updated address*** We are on corner of S. 28th St. / W. Pierce St. Just Recently Updated 2 bedroom upper flat across the street from The Domes Horticultural Conservatory. Walk to the indoor Farmer's market on Sat mornings :) Comfy bedroom with a queen size bed, TV with Roku, WIFI, and great coffee. Walking distance to scenic Hank Aaron trail. Close to Riverside Theater, Rave, Marquette, Aurora, Johnson and 5 minute drive to downtown and Summer Fest grounds
Location: Across from Mitchell Domes. Close proximity to Downtown, Miller Park Stadium, Hank Aaron State Trail and Menomonee Valley, Miller Brewery and local Microbreweries, Marquette University and High School, Bucks and Admirals Arenas, Wisconsin Center, Mitchell Park Horticultural Conservatory, Harley Davidson Museum and Headquarters, Pottawatomie Casino, MIAD, UW Milwaukee, Walker's Point Dining and Art Galleries Easy access to Highway and Bus Routes. Uber ride to Downtown for $5.00 !! :) About 10 min from airport
family friendly neighborhood with great neighborhood activity.
Very comfortable room and TV with netflix. Great location right off the freeway. Would totally stay here again.
Eric
2015-11-21T00:00:00Z
In Milwaukee for an overnight and Ruth's place was perfect for us! Easy to find, park, and get in an uber to go for dinner and drinks. They left us coffee to make in the morning which is always a perk. I will definitely look to book here again the next time I'm in WI!
Colleen
2017-03-26T00:00:00Z
It was a good location as far as being close to everything. Quick Uber ride every where. Location was not in the best neighborhood but it turned out fine. They are still remodeling the apartment so it was a bit dusty. Bedroom was fine. It was nice to have the apartment to ourselves.
Lillian
2017-04-01T00:00:00Z
Great place. Just wrong address
Aaron
2017-04-03T00:00:00Z
I was looking for a place to sleep in Milwaukee as I was going to a concert at The Rave. I found this room which is less than a mile from The Rave and decided to book. Turns out the host was very friendly and the room and the bathroom were both great for the price she was asking. She is actually rebuilding the house, so the first floor was not ready yet and some rooms on the second floor were all empty (but clean). The neighborhood is quiet and residential, and the house is pretty close to the downtown Milwaukee (less than 10 minutes by car). i can say it was a great experience and would recommend it.
Gabriel
2015-06-09T00:00:00Z
Good experience overall, everything was as advertised
Drew
2016-09-04T00:00:00Z
I had a great time at Ruth's Brewers Stay! While I didn't get to meet her personally, Beth was very warm and welcoming. We stayed only for one night to attend a concert at the Rave/Eagle and the location couldn't have been more perfect ($5 Uber and 20 minutes walking). Because they are remodeling, Beth and Ruth's kitchen and bathroom are in superb condition with modern finishes. The bedroom, located on the 2nd floor of the house with a private entrance, had just the right amount of privacy. The digital TV, WiFi network, and Keurig coffee machine just outside the door were nice touches! One of the only main drawbacks was that the bathroom was on a different level of the house and initially the neighborhood seemed a little bit less-than-stellar. That said, we walked back to the Brewers Stay at night without issue. Overall, a great place for a mini stay in Milwaukee that's close to Marquette and the Rave/Eagle!
Brittany
2016-03-10T00:00:00Z
Good stay! I had a great sleep!
Nguyen
2016-03-07T00:00:00Z
Room Type
Entire home/apt
---
Property Type
Apartment
---
Accommodates
4
---
Bedrooms
Milwaukee, WI, United States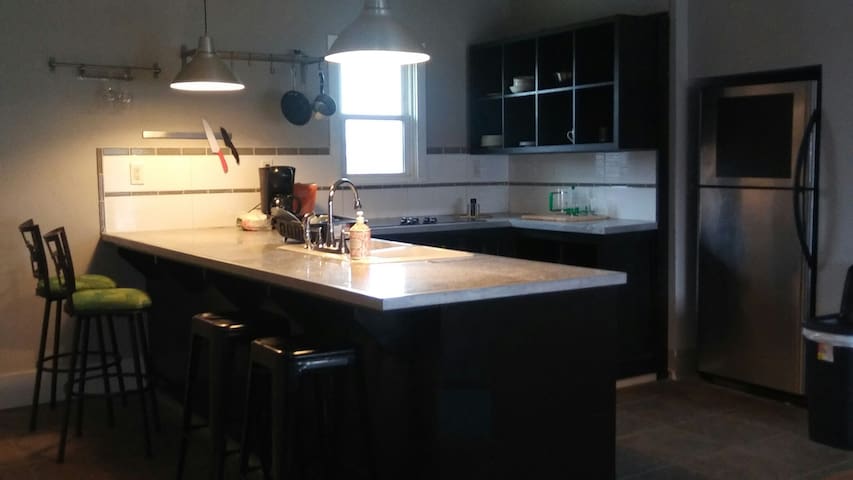 My space is very comfy and cozy, with your own separate entrance and a wonderful, very comfortable bed, a nice place to get some good comfortable rest! I'am located near many great restaurants, bars and great music venues just minutes from the lake and downtown. My place is unique in that it is a converted storefront. Many of my guests find this to be appealing and makes it an attractive feature. The bed is a queen sized bed and very comfortable. The room is cozy.
My entire living space is a whole area with the guests room built into the loft type unique space. You have your own private entrance to your room. I have worked to make the Airbnb guest room private and very cozy. As I said the space is unique and one of the ways it is unique it that you have to walk through a small foyer (front entrance area) to go through the living room area to get to the bathroom, it is very simple and easy. My place is a converted store front so it is not a typical apartment. Many find this to be an appealing and unique feature and really enjoy it. Because it is a converted store front and an older building it has a more rustic quality and isn't as sparkly as a nice new condo, but a lot of people find this to be an endearing quality about the space.
The neighborhood had a lot of diverse things to offer, there are restaurants and coffee shops nearby as well as bars. The neighborhood can get a bit lively in the evenings but it lessens in the colder months
Suzanne's place is in an insanely quiet neighborhood (after living in Chicago for the past year, I had to stop walking and listen to the silence for a minute) near Milwaukee. I stayed in a separate room with its own entrance and a shared bathroom. Two heaters kept the room nice and warm and the bed was very comfortable. Suzanne was friendly and helpful. Couldn't have asked for more.
steve
2016-02-05T00:00:00Z
Suzanne was very welcoming, and made sure we had everything we needed throughout the weekend. This spot is in a great part of town, very quiet, but in easy walking (or bus) distance to the action.
Joseph
2015-08-17T00:00:00Z
Staying with Suzanne was very easy and the accommodations were great. Really enjoy spending time in this neighborhood.
Stephen
2016-12-20T00:00:00Z
Unique place to stay. Great value!
Nicholas
2017-01-22T00:00:00Z
Cool place! One of a kind. Suzanne was easy going and a great host.
Kevin
2017-01-29T00:00:00Z
Suzanne was a very welcoming host and the room was very cozy! She was always personable. Plus she has a great cat who is very affectionate.
Camille
2015-08-09T00:00:00Z
Like staying with a relative. Friendy and flexible. Quiet neighborhood.
Eric
2015-10-08T00:00:00Z
Had a great food coop a block or two from her house. It was great! It was pouring rain when we arrived and Suzanne had the door open for us- we thought it was very nice. Convenient street parking right in front of her house, just a quick call to Milwaukee parking people.
Ilene
2016-09-08T00:00:00Z
Room Type
Private room
---
Property Type
Apartment
---
Accommodates
2
---
Bedrooms
Milwaukee, WI, United States
Fully furnished modern condominium in the suburbs of Milwaukee. Mequon is a safe and quiet North Shore area. Close to the highway and downtown. Features: -wifi -cable -70" tv -central A/C -dining room -queen bed -sofa bed -full kitchen -updated bathroom
Great location. Rare opportunity.
Quiet location with nearby attractions. Close to the highway. 15 min from downtown.
Room Type
Entire home/apt
---
Property Type
Apartment
---
Accommodates
3
---
Bedrooms
Mequon, WI, United States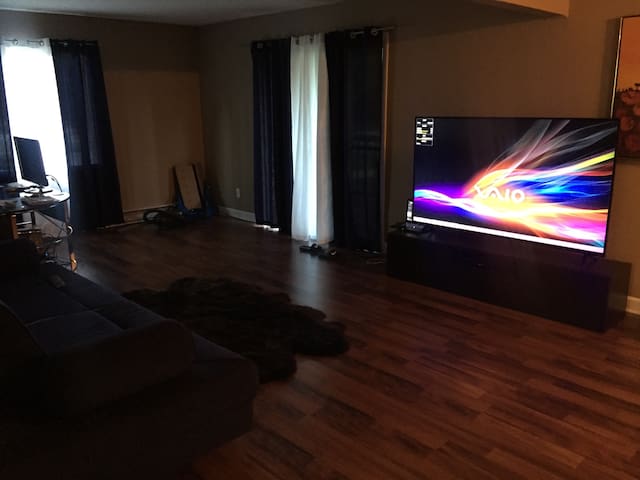 Treat your family or group to a pad with all the comforts of home in the top-level of our duplex. - Spacious two-bedroom comfortably sleeps four (five if a guest wants to sleep an a couch) - Full kitchen with appliances, dishes, and cookware - Hardwood floors throughout - Dining area has seating for six - Work area with desk, lamp, and powerstrip Quiet street blocks from the shops, restaurants and bars on North Avenue. Also an easy walk to Wauwatosa's charming village.
Newly remodeled kitchen, fresh paint throughout, and recently redone wood floors create a bright and inviting space. We like art and we hope you do too. The unit is decorated with pieces we have collected and original collages from Jim's studio. We have also stocked the bookshelf with an ecclectic collection of books--graphic novels, superhero comics, art books, poetry, and more.
Our neighborhood is an exciting community of beautiful houses on tree-lined streets within blocks of a vibrant shopping, dining, and nightlife scene. Some of the areas most popular bars, restaurants, movie theaters and shopping are all within 4 blocks. We are close to major league sports, museums, and the Milwaukee County Zoo as well as the shores of Lake Michigan. You're also a short drive from the East Side, the Third Ward, and Walker's Point--some of Milwaukee's most historic and unique neighborhoods. You'll also be minutes away from Wisconsin Medical College, Froedtert and Childrens' Hospital.
This was my first experience with Airbnb and I couldn't be happier with it. Jim and Sue are awesome hosts - just genuinely good people, attentive and respectful. The flat was great, very clean and comfortable, felt just like home. Check-in/check-out was a breeze. Will definitely stay with Jim and Sue next time I come to Wauwatosa.
Cathy
2017-03-12T00:00:00Z
James and the apt were both wonderful. James was extremely friendly, welcoming and helpful. The house was perfect. Plenty big enough for 3 of us. Great kitchen and bathroom. Beds and couch were extremely comfortable. Great artwork too!
Erin
2017-04-02T00:00:00Z
Short walk to restaurants, bars and shops. Nice quiet neighborhood.
John
2017-03-06T00:00:00Z
Jim and Sue were great the place was clean and comfy and close to downtown. we would definitely stay there agin,
jane
2017-02-04T00:00:00Z
Very good
宏忠
2017-02-21T00:00:00Z
非常安静,干净,设施齐全,方便,可以自己做饭
宏忠
2017-02-27T00:00:00Z
Room Type
Entire home/apt
---
Property Type
Apartment
---
Accommodates
5
---
Bedrooms
Wauwatosa, WI, United States
This place is centrally located to art and culture as well as great views. During the warmer months, you can sit on the rooftop deck and see The Milwaukee Art Museum, Discovery World, Miller Park, and the Domes all from one place. Minutes away from downtown and you can see the skyline at night through the windows. You'll love this place because of the light, the comfy bed, and the high ceilings. It's good for couples, solo adventurers, business travelers, and families.
Xavier was excellent at getting back with me in regard to questions prior to booking his place. Gee (his Mom) was super nice and more than willing to meet me at the place and get situated. She even met me for early check in. The place is exactly as described with lots of room, great kitchen, and washer/drier in the condo. This is a great value for the price. I am hoping to book with Xavier again in the near future!
jim
2016-11-11T00:00:00Z
Perfect rough hewn artist loft for an overnight stay in Milwaukee. Need a low key spot to crash the night before a half marathon in Waukesha. Xavier's mother was sweet and easy to coordinate the key pickup. Xavier was highly communicative and let me check out late which was a huge help.
Antonio
2016-12-04T00:00:00Z
The host was very accommodating to me with my last minute travel situation which I really appreciate! His place is clean and orderly;however, his unit is right outside a garbage composite in which was backed up one night (a sunday) which gave off an extreme odor throughout the hall. The neighborhood as well felt a little unsafe and parking is not particularly easy. I had to rotate my car every two hours during the day (however the spaces were free). The place itself is a nice spacious loft and it's not a bad deal for what you pay. Xavier was very nice and someone I felt I could count on. I would recommend this place to anyone whom is looking for a good deal and doesn't mind the aforementoiomed nuances.
Amanda
2016-10-18T00:00:00Z
Our host was easy to talk with, has a very unique and comfortable apartment to stay in a convenient neighborhood very close to downtown. He steered us to the art museum which was lovely.
dave
2016-10-01T00:00:00Z
We asked to stay at Xavier's place on SUPER DUPER short notice (I'm talking hours). Not only was he swift to respond but also very easy to communicate and coordinate with. Easy parking, HUGE apartment and easy access via bus or car to fun stuff in town. When traveling to Milwaukee I'll be sure to look Xavier up first! Thank you so much!!!
Natalie
2016-10-06T00:00:00Z
Not the safest-feeling area, but the apartment is spacious, parking is easy, and it's super close to downtown.
Mary
2016-12-03T00:00:00Z
Xavier had excellent communication with me regarding renting his home. If you are coming into town and family comes to visit. Go to there home, his neighbor cannot tolerate noise after 10pm. For the most part the stay was everything expected.
Nika
2017-01-29T00:00:00Z
Once again, everything was perfect, great place to stay.
Seth
2016-12-31T00:00:00Z
Room Type
Entire home/apt
---
Property Type
Apartment
---
Accommodates
2
---
Bedrooms
Milwaukee, WI, United States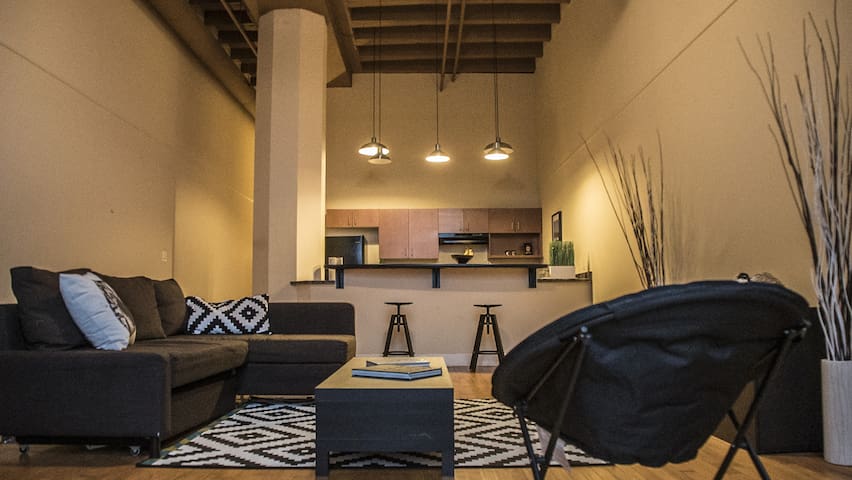 Contemporary, spacious, super quiet apt close to downtown in Milwaukee's historic Walker's Point neighborhood. Several micro breweries, spirit distilleries & hip restaurants. Close to the legendary Harley-Davidson Museum, Potawatomi Casino, Miller Park, 3rd Ward & lakefront. Easy access to Interstate, train station and several bus lines to airport and downtown. You'll love the convenience, cozy character and balcony access of loft. Excellent for couples, solo adventurers, and business travelers.
Walker's Point is one of Milwaukee's original three neighborhoods. Several houses date back to the Civil War era and have been beautifully restored. As a Federal Historic District, you'll see many architectural gems while being close to the lakefront, downtown and many other attractions.
Room Type
Entire home/apt
---
Property Type
Apartment
---
Accommodates
4
---
Bedrooms
Milwaukee, WI, United States
My place is close to parks, art and culture, great views, restaurants and dining, and the beach. My place is good for couples, solo adventurers, and business travelers.
Walking distance from Lake Park, Bradford Beach and Milwaukee's fashionable East side.
Turn of the 20th century Mansions along beautiful park views of Lake Michigan.
Loved this place! Would definitely recommend!
Kay
2017-02-26T00:00:00Z
I was extremely impressed with Andrew's place and its proximity to the break.
Amy
2017-01-04T00:00:00Z
Great location! Safe, quiet & beautiful neighborhood! So close to lots of great places, restaurants, etc....Apartment looks just like the photos and is clean, spacious & comfortable. All the lights in apartment were on remotes and so welcoming when we first arrived. There is a lake view out of one of the livingroom windows. The bed was cozy, comfy & we slept great! We did not use the kitchen at all or turn on the tv. No wi-fi, hairdryer or laundry in this unit. I didn't notice when I booked. There is on street parking right in front of the house/building. Be sure to let Andrew know about the make, model & license plate of your vehicle for the street parking. Andrew is a great host & prompt and helpful with communications! Would definitely recommend & look forward to returning to Andrew's property!
Nicki
2016-11-21T00:00:00Z
Andrew's AirBNB is great! One of the best I've ever stayed in. It's in a neighborhood with many beautiful, large houses right along the lake. There's a walking/running trail nearby. The apartment itself is very nicely laid out, with a spacious clean living room and bedroom. The interior design was top notch.
Andrew
2016-11-29T00:00:00Z
A comfortable stay in a 2nd floor apartment w/ more than enough room and amenities. The windows let in vast lighting and the home is walking distance to a scenic view, convenience stores, hospital and restaurants. We're given great instruction and host was reachable at all time. Definitely hope to come back.
Rebecca
2017-02-12T00:00:00Z
We really enjoyed our stay. The space had everything we needed to be comfortable.
Julia
2017-02-24T00:00:00Z
Andrew's place is a perfect location if you want something quiet and beautiful. It's on a tree-lined street one block from a lake view and just minutes from Bradford Beach and Veteran's Park. The bedroom is large and gorgeous, the bathroom is lovely and super clean, and the living room is really comfortable for relaxing. It does get hot in the apartment with the heat on, but opening a window was a perfect fix for us. We had a wonderful stay and so enjoyed having Andrew's place as our home base for our time in Milwaukee. Highly recommend!
Rachel
2017-03-02T00:00:00Z
The apartment is in Milwaukee's premier residential neighborhood near the lake, and is well-decorated and clean. It's also a quick walk to shops restaurants, parks, and movie theaters. I'd stay there again in a heartbeat. Thanks!
Steve
2017-01-23T00:00:00Z
Room Type
Entire home/apt
---
Property Type
Apartment
---
Accommodates
2
---
Bedrooms
Milwaukee, WI, United States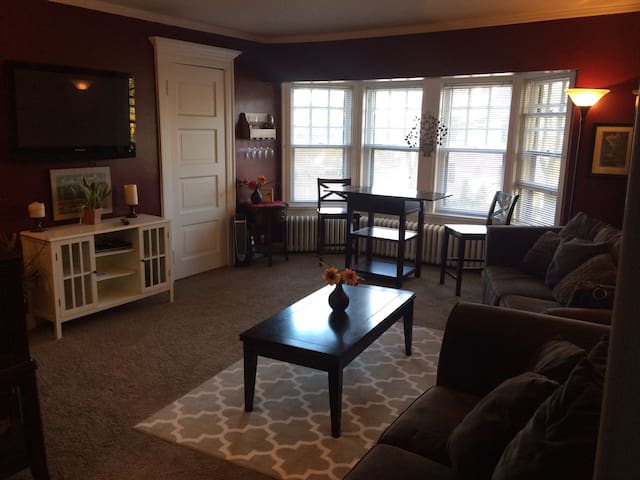 Our contemporary, 1 bedroom condominium is near the lakefront, downtown, and East Brady St with numerous shops, restaurants and night spots. It is also right off the green line bus from the airport.
We typically stay there ourselves Mon-Th night, fall through the spring 3D includes a secure parking space (#13) in an underground (heated in winter) garage. Coin washer and dryer on site It is a contemporary remodeled one bedroom ( 1 bedroom or 1 BR ) condominium @ Prospect & Brady on the lower Eastside, one of Milwaukee's most walkable neighborhoods, near the Lakefront, Downtown and the Eastside. New windows complete the unit in a quiet, ideally located high-rise condominium building. Walk to the lakefront, McKinley Marina, Milwaukee Community Sailing Center, the Milwaukee Yacht Club, Bradford Beach, Veterans Park, Juneau Park, McKinley Park, Back Bay Park, Milwaukee Art Museum, Charles Allis Art Museum, Villa Terrace Decorative Arts Museum, Discovery World, Shank Hall, Jazz-in-the-Park (2 folding chairs are provided), Cathedral Square, East Town, Milwaukee Public Market, Historic Third Ward, Maier Festival Park (home of Summerfest & Milwaukee Ethnic Festivals), Lakeshore State Park, shops and restaurants too numerous to mention, and Brady St or North Ave restaurants, bars and nightlife. The Oak Leaf Trail running and bike path leading to/from downtown, north to Milwaukee River parks and northshore communities is accessed less than one block from 3D. Launch your kayak or canoe in the Milwaukee River or on Lake Michigan, rent a paddleboat on the lagoon, or just go fly a kite in Veterans Park; they're all a short walk away. Or relax after a walk on one of 3 roof-top decks to view sunrises, sunsets, summer weekend fireworks, or the stars and city lights. 3D is within 5 minutes +/- by car or bus to UWM, MSOE, MATC, the Bradley Center, Delta Airlines Convention Center, US Cellular Arena, Pabst Theater, Milwaukee Theater, Marcus Center for the Performing Arts, Broadway Theater Center, and Milwaukee Public Museum; less than :10 to Marquette University and the Harley-Davidson Museum; less than 15 minutes to Miller Park baseball stadium, Bayview and the vitality of S Kinickinic Ave, Shorewood, Whitefish Bay, Glendale and Bayshore Town Center. Via your bicycle 3D is less than 15 minutes to the convention center or :30 to/from the Lake Express Ferry. There are over 50 restaurants within walking distance in summer months and more than half that many on very cold winter days, but 3D also has a galley kitchen equipped with range, microwave, dishwasher, refrigerator w/ ice-maker, coffee maker, toaster, and pots & pans, etc. if you wish to prepare a meal and dine in. We can help with grocery suggestions from Beans & Barley to Whole Foods, Koppa's neighborhood grocery store or Glorioso's Italian Market, the Milwaukee Public Market or Metro Market. They each have a deli if your time is better spent kayaking on Lake Michigan, biking or hiking along the Milwaukee River, checking out museums, or walking along the RiverWalk from north of downtown to the Historic Third Ward or just shopping on Brady Street. 3D's Walk Score: 91 - A Walker's Paradise. If you plan to use public transportation, 3D is on bus Routes 15 and 30 and less than 5 blocks to Route 10. If you are flying into Milwaukee, you can take the Milwaukee County Transit System (MCTS) Greenline Express bus to 3D from the airport for $2.25 in a lovely ride of about 35 minutes. It has a stop within 1/2 block of 3D. (The Greenline can also be used to go north to Bayshore Towne Center in about 15-20 minutes.) From May 30-September 8 you can also ride the Downtown Trolley. It's a 3 block walk to the Loop which can transport you to East Town, Westown, Water Street, Old World Third Street, the Historic Third Ward, the Milwaukee Art Museum, and many favorite spots in Milwaukee. The Trolley Loop operates 11 am to 9 pm, Wednesday – Saturday. Rides are $1 per person, round trip. Visit the Milwaukee Trolley Loop website for more info. Cable television, a DVD player, and high-speed Internet connection, wired or wifi are provided to keep you connected or entertained when in the unit. Come enjoy Milwaukee and all it has to offer; we'd love to host your visit. Check-out our Guidebook: https://www.airbnb.com/rooms/232616#guidebook on the 3D Airbnb website for more reasons to choose 3D on Prospect- near downtown, and also our page on social media. (Note: If you're not a past or regular guest, any stay must be for a minimum of two-nights.)
The lower eastside and Brady Street area is one of Milwaukee's most walkable neighborhoods with many amenities unavailable elsewhere in the City. From 3D it is a short walk to the lakefront for sailing or other boating activities at McKinley Marina, kite flying, or paddle boating on the Veterans Park lagoon; running, biking or walking north or south on the Oak Leaf Trail. There are more coffee shops, restaurants, drinking establishments, within easy walking distance of 3D than probably anywhere else in the city. You'll also find unique shops, art museums, pharmacies, groceries, and residences in this interesting neighborhood. If you like to walk, it isn't too far to all areas of Milwaukee's downtown, the North Avenue business district, the eastside, and the historic Third Ward, but public transportation (and the trolley in summer) are readily available as well.
My boyfriend and I had a great experience staying at 3D. Bruce and Jo were extremely accommodating in answering emails, questions, and meeting us late on Thanksgiving night (!). They showed us around the building (including the indoor parking spot), helped us get our bearings by pointing out nearby places to visit from the rooftop deck, and left the kitchen stocked with coffee and milk, etc. The apartment itself was recently renovated, clean, and nicely decorated. The best part was the location- we could walk everywhere (and we did!). We spent time walking through the Third Ward, working in nearby coffee shops, eating at Beans and Barley (our favorite restaurant), watching a movie on the tv/dvd player in the apartment, and visiting the Milwaukee Art Museum. We also utilized the fully stocked kitchen to eat breakfast and a delicious stir fry at "home" while indulging in a reality tv marathon. I would highly recommend staying at 3D while in Milwaukee!
Ann
2011-11-28T00:00:00Z
Thank you to you both for a stress free, lovely stay at your condo. Ideally placed, if you have no car a short bus ride to downtown. It has everything you could want, peaceful neighbourhood, near to great restaurants (try the Maharaja for Indian, and a great Ethiopean restaurant) and all the amenities you could possibly need in the condo. Thank you again.
Paul
2016-09-11T00:00:00Z
Wonderful location. The property was well kept, clean and safe. The underground, heated parking was a bonus! Jo was easy to contact and a wonderful host. You don't have to leave the neighborhood of Brady Street to experience the depth of the culture of Milwaukee. I had a great time and will most definitely be a return customer. Thank you Jo!
Kent
2014-12-15T00:00:00Z
Excellent place , has a rooftop with 360 view of the city. Place was a lot nicer than I had imagined, directly in font of the lake and down the street from dozens of bars and small restaurants. Bruce was great!! Had plenty of suggestions when it came to places to eat and was super attentive. Wonderful experience overall.. Will be back soon!!
Erik
2011-11-07T00:00:00Z
The apartment was beautiful, clean and quiet. The location is excellent. We were able to walk to the 3rd Ward, Downer St. the museum, etc. We highly recommend staying at this location.
Marcia
2012-08-22T00:00:00Z
The place was great. Great location and the condo is exactly as described and perfect for a couple. Parking was very convenient. Would definitely stay there again.
Chris
2015-09-29T00:00:00Z
3D was just the perfect spot for our trip. It was super close to a bunch of great restaurants, bars, shops, and attractions. Having both a 24hr CVS and Walgreens on the corner was super convenient. The place was great, the kitchen was well equipped, the bed was comfortable, the entire place was super clean. We arrived just in time for the first snow of the winter, so the covered parking was perfect. Completely recommend this place, would come back in a second. Jo was great to work with, her instructions and communication were first rate. She had a great binder of information about things in proximity to the place that was very useful.
Michael
2015-11-22T00:00:00Z
Our host was great and available when we checked in. The listing is accurate and it is part of the neighborhood I grew up in so of course it was good.
George
2016-07-14T00:00:00Z
Room Type
Entire home/apt
---
Property Type
Apartment
---
Accommodates
2
---
Bedrooms
Milwaukee, WI, United States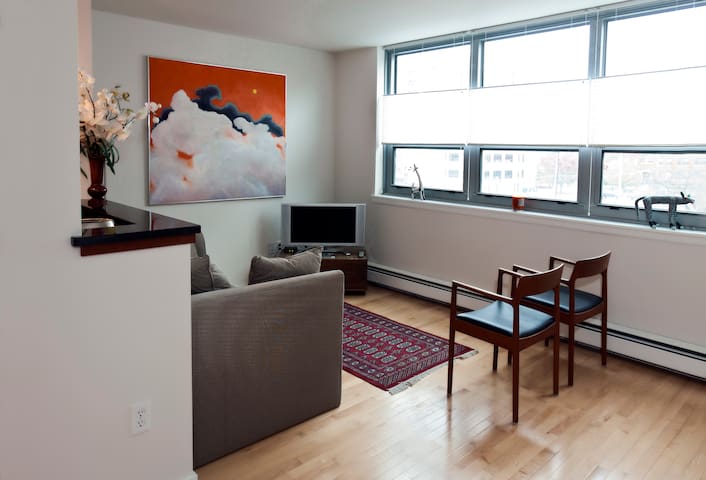 This listing is for the lower apartment in our bungalow. It has two bedrooms with queen sized beds, as well as a full-size sofa bed. It's full of original craftsman details and our crazy art collection, and we'd love to have you stay.
Beautiful arts and crafts bungalow with funky mid-century furnishings on a quiet cul-de-sac in Riverwest. Kern Park is next door, and our backyard slopes down to the river trail.
We are in a very quiet part of Riverwest. Our cul-de-sac is primarily apartment residences, and we are one of only two houses on it. You can expect a racially and economically diverse neighborhood that is very quiet and about as safe as you can get in a big city. We are a short drive to almost anything in the city, directly adjacent to a gorgeous park, and our lot backs right up to the Milwaukee River. Our home feels like a small country retreat in the middle of a bustling city. We recognize that our neighborhood might not be a good fit for everyone, so please ask us about the neighborhood before you book if you're unsure. Racist reviews or comments are absolutely not tolerated. Guests of every color, creed, religion, sexual orientation and gender are welcome here :)
We enjoyed staying at Anna's Riverwest Arts and Crafts bungalow. While we were staying just one night in Milwaukee en route to the ferry to Michigan, we wanted to feel like we really stayed in Milwaukee, not a generic hotel that could be anywhere. The house has so much character, eclectic charm, and comfort. We felt at home immediately. All logistics were easy and managed perfectly by Anna. We were able to pop into downtown for a brief look-see, so everything we wanted came to be. We snarfed down some delicious granola and a banana for breakfast before arriving at the ferry terminal at 5:15am. Anna described the neighborhood accurately and we felt we parachuted into a real city, with real people living real lives. Anna's house and hospitality are why we love Airbnb.
Martha
2016-06-04T00:00:00Z
Staying here was like stepping back in time - and it was so fun! The house is exactly as described and allows for easy access to the city. Communication with Anna was open and easy, making check-in simple and fast. Note - this house is old, so the floorboards creak. Completely understandable. The upstairs of the house is a separate rental, and you can hear any movement and talking. No problem during the day, but if you're an extremely light sleeper, like me, this could be a problem. Despite this, I would definitely stay here again.
Kaylee
2016-10-25T00:00:00Z
Everything was exactly how it was described in the description! Located in a great neighborhood. The place had a nice, warm and cozy vibe - made us feel right at home. Had no issues upon arrival, Anna communicated prior to our trip.
Simone
2016-09-11T00:00:00Z
Cannot wait until we can stay at the Hobit House again!! Clean, comfortable, and very inviting! We loved the 60s / 70s inspired decor. I recognized many items from my childhood. The girls weren't thrilled there was no TV bit had a great time listening to Johnny Cash and playing Monolopoly. WIFI was great! Water pressure for showers was excellent! Anna was a dream to work with!
Colleen
2016-11-05T00:00:00Z
The house is lovely! It's also so much bigger than we expected. Little touches like the coffee and granola were much appreciated. It was our first time in Milwaukee and we were very sad to leave. Our best Airbnb experience so far.
Melani
2016-09-26T00:00:00Z
We loved Anna's sweet place, which was in a great location and had everything we wanted and more, including a cozy fireplace. Anna was a great host; we will definitely be back!
Sarah
2016-11-25T00:00:00Z
My husband and I recently stayed at Anna's place. We loved it!! Very warm and welcoming and simple. Anna was very quick to respond about any questions we had. The bikes were a huge plus too!!! I would definitely stay again!!
Kristine
2016-09-20T00:00:00Z
Great place! Would definitely go back.
Nicolette
2016-11-03T00:00:00Z
Room Type
Entire home/apt
---
Property Type
Apartment
---
Accommodates
5
---
Bedrooms
Milwaukee, WI, United States
Sophisticated English Tudor duplex (early 1900) with hard wood floor, crown moldings, sunken living room, natural fireplace, built-in bookcases, and fully furnished. Spacious 2200 sq. foot second floor unit. Safe and quiet neighborhood just blocks from Atwater beach. Read the reviews. I do need to update the photos as they are from when i started Aug 2015. PLEASE NOTE summer stays books up in March/April. I do have cats on the property but they do not go on the second floor.
Sleeps up to 10 Sleeps 8 in beds (queen, 2 doubles, 2 twin beds) - Queen in bedroom 1, double and twin beds in bedroom 2, and double and twin beds in bedroom 3. Plus 2 twin and 1 double air mattress beds – if needed usually setup in large living room behind one couch (very spacious living room).
Quiet, beautiful neighborhood! Blocks from Atwater Beach which is all sand - search internet for pictures.
Great location and beautiful house. Lori went above and beyond to make us feel at home.
Bryce
2016-02-11T00:00:00Z
Excellent place to stay! Location is great, the house is exactly as described, and Jodi makes sure that you have everything that you need. My family stayed here for five nights and the house worked very well even with two small children. The house is very well equipped and she even had a pack and play for our infant. we wouldn't hesitate to stay here again!
Brian
2016-10-25T00:00:00Z
Staying at the Jodi's AirBNB was truly a pleasure. She welcomed us upon arrival! The house was immaculate! She even left us some treats in the frig. Plenty of room for my family, and then some. We even had space in the living room to practice the first dance for our wedding! I really liked how the lights in the front hall all came on via motion. We came home late the first night and didn't have to worry about finding the lights. I would stay here again! Thanks Jodi
Julia
2016-05-04T00:00:00Z
Jodi's place is perfect. The location is in a beautiful area of Milwaukee, quite and residential and not far from downtown and the lake. You feel safe walking the neighborhood during the day and evening. The apartment is spacious and well stocked. The place was clean and welcoming. Definitely recommend Jodi's.
Gloria
2016-12-05T00:00:00Z
Our stay was great! The house is very nice, spacious and well appointed. It's really close to beach access and shopping. Would love to visit again.
Chris Q
2015-12-14T00:00:00Z
Spacious home in a safe and beautiful neighborhood right outside of Milwaukee! The house was very clean, with beds for all five of us, beautiful hardwood floors, fireplace and balcony. Communication with Jodi was prompt, friendly, and easy for checking in/out. She really welcomed us with snacks, drinks, and fresh flowers. Will definitely stay again next time we're in the area! Highly recommend
Lauren
2015-08-15T00:00:00Z
Jodi's home is amazing. Very clean and stocked with treats.
Brandon
2016-02-22T00:00:00Z
Jodi's place is in a lovely area of Milwaukee close to the lake. It is quiet, clean and very nicely set up. We had everything we needed and Jodi was very available for any questions we had. We enjoyed our stay.
Manohar
2016-09-26T00:00:00Z
Room Type
Entire home/apt
---
Property Type
Apartment
---
Accommodates
10
---
Bedrooms
Shorewood, WI, United States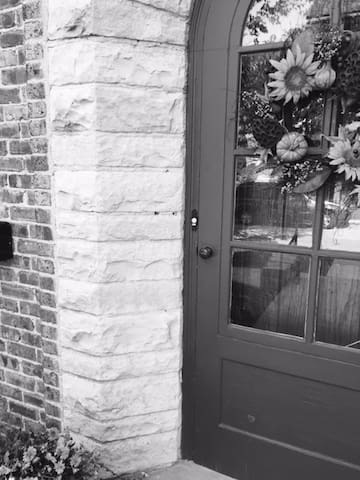 A shared space, located right near Marquette University Campus downtown Milwaukee. A 5 minute drive from the Historic Third Ward, 15 min drive from the airport and within walking distance to The Rave/Eagles Ballroom!
Enjoy your stay on a comfortable futon in our living room with complete access to the kitchen and full bathroom. We have a 50" TV with Netflix and Amazon Prime that you are free to use. We also have a standing speaker that can play music via Bluetooth or as an aux cable. We love to cook and share meals with our guests if you're interested! If you prefer to cook on your own, you are welcome to our kitchen, many spices, and range of cooking utensils. We have coffee in the morning and a wide selection of teas. We love our books and board games and guests are welcome to enjoy anything from our library!
We are on Marquette University's campus and are within walking distance of The Rave/Eagles Ballroom, and a short cab/Uber ride from Downtown, Water Street, or Miller Park, to name a few.
This was a charming little spot. Their place is tucked into the edge of Marquette University, and the room brought back a lot of good memories of college days :) Cool little living room, nicely furnished and welcoming. Place was very clean and had tons of small amenities available (AC control, t.v. entertainment, board games, kitchen access, board games, books, extra toiletries). Comfy futon for sleeping, too! Steph and David were SUPER accommodating, they really went above and beyond. My flights were delayed and they worked around my changing schedule, even staying up until midnight to welcome me at the door. Awesome hosts, thanks again so much.
Chris
2015-09-10T00:00:00Z
Steph & David raised the bar so high for my first Airbnb experience - they were the most welcoming and accommodating during my trip to Milwaukee with my best friend. We got good suggestions for places to go and got to sleep on a super comfortable futon. They were always willing to help make our lives easier and I greatly appreciate their hospitality during our visit!
Kimberly
2016-04-17T00:00:00Z
Great place to stay! Friendly hosts and great location.
Jian
2015-10-21T00:00:00Z
Steph and David were great hosts!
Luis Lorenzo
2015-10-03T00:00:00Z
Great experience at Steph & David's cozy place! It's not a big apartment, but they had everything necessary prepared for us. The location was great, super close to Amtrak downtown station, waking distance to downtown and lake view, and not far away from Airport. The campus was quiet and beautiful, very nice place for some walk. Although we did not really get a chance to talk due to our schedule, they seem to be very friendly and nice people. I would recommend this place for a short stay in Milwaukee.
Sophia
2016-08-22T00:00:00Z
Amazing place, great people
Kartier
2017-03-03T00:00:00Z
D
Jeong Hoon
2017-01-29T00:00:00Z
Awesome stay with great people! The room is as described, and is a nice place to crash and relax at night. Steph and David did everything they could to make me feel comfortable and welcome. I would definitely recommend to anyone!
Josh
2016-07-13T00:00:00Z
Room Type
Shared room
---
Property Type
Apartment
---
Accommodates
3
---
Bedrooms
Milwaukee, WI, United States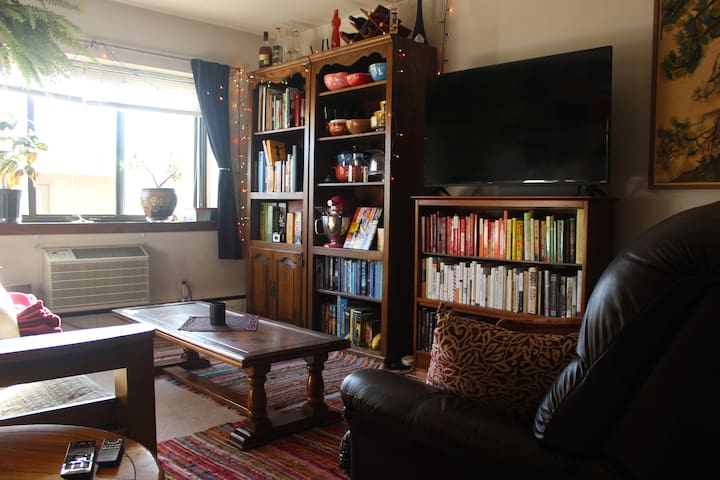 This beautiful studio apartment is in The Beam House, a newly renovated historic building in Milwaukee, Wisconsin. Walking distance from several of the City's finest restaurants and bars, the location doesn't get much better. The Beam House is within one of Milwaukee's only downtown gated communities, located on the border of The Historic Third Ward and Walker's Point
Newly redeveloped historic building from 1871. Formerly part of the Pfister Vogel Tannery complex.
Amazing restaurants on 2nd St are just blocks away.
Peter's place is perfect! I made a quick weekend trip driving to mke so the parking right outside of his place was great. There are tons of restaurants within walking distance. The apartment itself was spacious and extremely clean. Overall, would definitely recommend!!
Katy
2017-03-12T00:00:00Z
Our stay was perfect. Peter's communication was efficient, great location, easy parking, incredibly clean. Could not be happier with our experience.
Michael
2017-03-31T00:00:00Z
The studio was beautiful in a wonderfully restored factory building. Very clean and new. Lots of cool bars and restaurants close by. Communication was a breeze. Would definitely return and recommend.
Michael
2017-01-29T00:00:00Z
This is a great find if you're looking for a clean, comfortable, updated and reasonably priced stay. Peter was great and got us to the building with ease. It's a great location with restaurants, bars, coffee shops and more within a block. The building itself is gorgeous.
Brianna
2017-01-15T00:00:00Z
Great Place!! Great Host!!! Just Great All around!!!!
TreVante
2017-02-14T00:00:00Z
Great place, very new and clean, and location is excellent
Jeffrey
2017-03-02T00:00:00Z
Very clean, new building. Loved the space and would definitely stay again!
Leigh
2017-02-19T00:00:00Z
The space: Our stay was really great. The place looks much better in person than the pictures show (although based on the pictures you're getting a really great understanding of the amount of space). I would just suggest that even though it's listed as a studio, it's more like a one bedroom apartment space (minus a full living room). Overall, everything was as described. Also, the lighting was really great throughout. There were two large windows with blinds. At first glance it appears you can see through the blinds (which would be a problem for anyone staying there unless if you're voyeuristic), but from the outside looking in you truly can't see inside (believe me, my husband and I checked lol). Location/safety: Check in was seamless, and the environment was really safe (there is a gated community parking area where you have to key in a code to get in, double locked front doors to the complex and also locked doors to the actual apartment). Also, everything (including downtown) is only a couple minutes away by car, so traveling was a breeze. The location is also close to all the main highways so traveling anywhere was pretty easy. Inside amenities: There is a full kitchen, refrigerator, dishwasher and plenty of dishes for more than 2 people (plates, glasses, silverware). The entire place was really clean and had temperature control (a plus). There were also clean towels and plenty of laundry detergent if you wanted to wash. The only feedback I would share is that it would've been nice to have an iron and also an ice cube tray/ice cubes for the drinks we brought back. Checkin/checkout: the check in time was flexible, but the check out time wasn't; so just make sure to be packed and ready to go on time because a cleaning crew comes in to straighten up.
Cori
2017-02-05T00:00:00Z
Room Type
Entire home/apt
---
Property Type
Apartment
---
Accommodates
2
---
Bedrooms
Milwaukee, WI, United States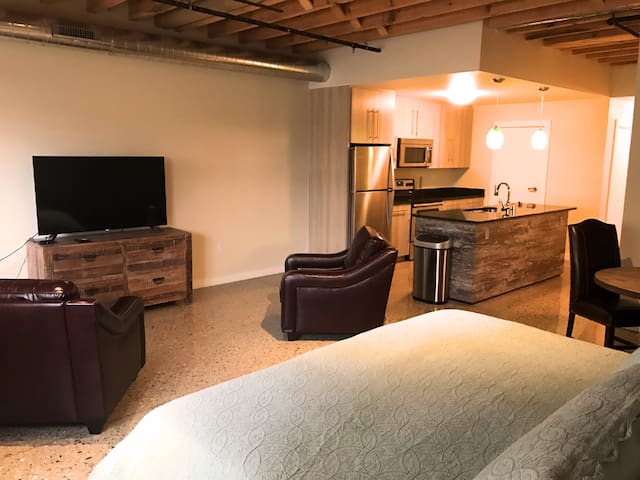 Delightful and charming Wauwatosa 2 bedroom home on a quiet street (lower unit of a duplex). Sleeps five. Enjoy an evening on the patio with a fire, or cozy up in the living room. Near the village with easy access to the interstate. Just minutes away from downtown. A very short trip to Miller Park to tailgate for a game in the summer (with local bars providing shuttles as well)! Two off street parking spots available - One garage spot and one driveway spot.
Paul made us very welcome in his home. He was prompt in responding to our emails before our trip and was helpful answering our questions. He provided a useful list of nice restaurants in the area and places of interest. The accommodation was clean and he added a lot of nice personal touches. The neighbourhood was nice and we were not far from grocery stores, restaurants and the motorway.
Jesse
2015-12-03T00:00:00Z
This duplex was clean, well furnished and well provisioned. It is located in a good neighborhood and was close to family and shopping. Garage parking was great. Dollar for dollar this is a great deal.
Timothy
2015-10-24T00:00:00Z
Paul is always a gracious and helpful host. Walking into his lovely home is like being in your own, comfortable and welcoming. I appreciate how well equipped the kitchen is for any cooking project.
Lynn
2016-11-05T00:00:00Z
YES! This place is awesome. Paul was beyond accommodating to our many requests. The house was clean, welcoming and everything we needed. It was an $8 Uber to downtown and just six minutes to the zoo. We plan on returning.
Kelly
2015-09-07T00:00:00Z
Paul's place is very comfortable and clean, and Paul was great to work with.
Justin
2017-02-26T00:00:00Z
Paul's place is the best. Central to Milwaukee and all the surroundings. Communication was great! Looking forward to staying many more time.
Andre
2017-01-26T00:00:00Z
We came for the Santa Rampage bike ride. Paul's house is neat, clean and accommodating. I was so happy to find creamer in the kitchen because I had forgotten mine. Also, thank you so much for bottled water. Came in handy after a long day out and about. The neighborhood is quiet and quaint. There's a great restaurant and a McDonalds within a couple blocks. Wauwatosa is a fun little river town with restaurants/pubs for everyone. Paul is very attentive to texts/emails.
Chris
2016-12-04T00:00:00Z
The house was perfect and exactly as depicted. It was incredibly comfortable and had all necessary amenities. It as spotless, cozy and charming. Paul was attentive and available.
Nancy
2016-10-25T00:00:00Z
Room Type
Entire home/apt
---
Property Type
Apartment
---
Accommodates
5
---
Bedrooms
Wauwatosa, WI, United States
Enjoy the best Milwaukee's East Side neighborhood has to offer with this clean & modern apartment. Ideal location for travelers who want to live like locals: take a rental bike for a stroll down the coast of Lake Michigan, grab amazing cuisine from the dozens of ethnic restaurants on Farwell Ave, and end up on Brady St. for a night on the town, all within 1 block of this vacation home.
1 bedroom, 1 bed, 1 sofa couch and a brand new bathroom and kitchen. Make yourself at home and don't hesitate to reach out with any questions at all!
Less than 1 block away is Brady street, one of Milwaukee's most lively neighborhoods. Some guests don't like the noise on weekends as much.
Kyle and Ruthie's apartment was perfect! Adorable, comfortable, and a great little home away from home for a few days. I would have loved to explore their neighborhood more, but I didn't feel like dealing with the rain. (: All in all, I had a wonderful time! Thanks again!
Teresa
2017-04-05T00:00:00Z
Loved the stay! Everything was clean and comfortable. Very nice place to spend a weekend away!
Andrew
2017-03-21T00:00:00Z
A nice stay in a pretty quiet yet active neighborhood. We enjoyed the stay very much, especially for a quick weekend escape. Everything was so close by compared to Chicago, we were able to get to all of our destinations within a 10 minute drive from this location!
Jeremy
2017-03-31T00:00:00Z
We loved how the place felt so at home and comfortably. We also really appreciated the printed documents with guidelines and instructions. The place was very clean and organized. Very convenient self check in and check out. Great communication and the host made themselves available if needed. We would definitely highly recommend this place or come back to stay.
Jose
2017-03-13T00:00:00Z
It felt like home. Very modern and cool. I recommend it
Brittany
2017-03-06T00:00:00Z
Perfect location and newly redone apartment. Walking distance to great restaurants, Good City Brewery and Gloriosos Italian Market. Loved it!!!!
Barbara
2017-03-24T00:00:00Z
Kyle's place was incredibly clean and well maintained! Had everything we needed and it was a short/cheap Uber ride down town.
Greg
2017-03-17T00:00:00Z
The space was very clean and comfortable. Perfect for one night in Milwaukee. Easy to catch an Uber under $10 to get downtown.
Molly
2017-03-27T00:00:00Z
Room Type
Entire home/apt
---
Property Type
Apartment
---
Accommodates
4
---
Bedrooms
Milwaukee, WI, United States
Glendale - Airbnb
:
Average

4.83

out of

5

stars from

1047

guest reviews
1

–

18

of

176 Apartment Rentals
Enter dates to see full pricing. Additional fees apply. Taxes may be added.