My place is close to Montrose, a quaint historical town nestled in the Endless Mountains of Northeast Pa. Private Lake house on Lake ChrisAnn. Only a short drive (approximately 30 minutes) to Binghamton, NY and Scranton, Pa. Nearby activities include hiking at Salt Springs State Park, golf, and shopping. Also, enjoy kayaking, swimming, fishing right here on the Lake! My place is good for couples and families (with kids).
Lake ChrisAnn is private Lake nestled in the mountains. There are no motor boats allowed on the lake, making it a peaceful location for those who are looking to relax and enjoy nature. If your lucky you might even catch a glimpse of one of the bald eagles that soar overhead.
We loved our stay at this wonderful lake house! Situated on quiet ChrisAnn Lake near Montrose, PA, we couldn't have asked for a more relaxing and enjoyable weekend away. Jennifer was very accommodating, and check in/out was a breeze! I've never stayed somewhere where the pictures are as close to the real thing as this home. We were pleasantly surprised from the moment we arrived, and would definitely stay here again! You can't go wrong with this wonderful gate away rental.
Nathaniel
2016-10-02T00:00:00Z
Thanks for hosting us and we felt right at home. Jennifer was prompt in responding back to any questions we had including check-in. House has all the amenities that one would require and great escape from city for a quite weekend. We had a great time and would definitely consider going back again.
NANDKISHORE
2016-10-10T00:00:00Z
We had a great experience at this lake house. It was perfect for a relaxing, quiet weekend (especially during the Fall with the leaves changing). The place is clean and comfortable and right on the water. It is private without being too secluded. We definitely recommend and hope to make it back out in the future. Jennifer was great with communicating and directions.
Anne
2016-10-16T00:00:00Z
Jennifer's lakeside retreat home is lovely. Large enough for a family, but also small enough for a romantic getaway. Secluded enough to make you feel that you have left everyday life but close enough to a town, just in case you forgot a few things. The is a lake view from all rooms except the bedrooms which allows for hours of peaceful gazing.
Cindy Helfman
2016-11-27T00:00:00Z
Beautiful home with beautiful views. So private and we felt right at home! We will definitely be utilizing this home again. If you love nature this is the place. Many places to hike and gorgeous water falls. Our host Jennifer was available at any time if needed but truly every need was supplied.
Dawn
2016-10-30T00:00:00Z
Our stay was incredible - the house itself is very cozy with all necessary amenities included but the true magic lies outside. Great fire pit (with firewood provided) as well as a grill for all your culinary needs. The lake is splendid as well - small and perfect for a morning cayak outing. Jeniffer is super communicative and will answer all of your questions promptly! Will definitely be coming back!
Daniel
2016-11-06T00:00:00Z
Room Type
Entire home/apt
---
Property Type
House
---
Accommodates
6
---
Bedrooms
Montrose, PA, United States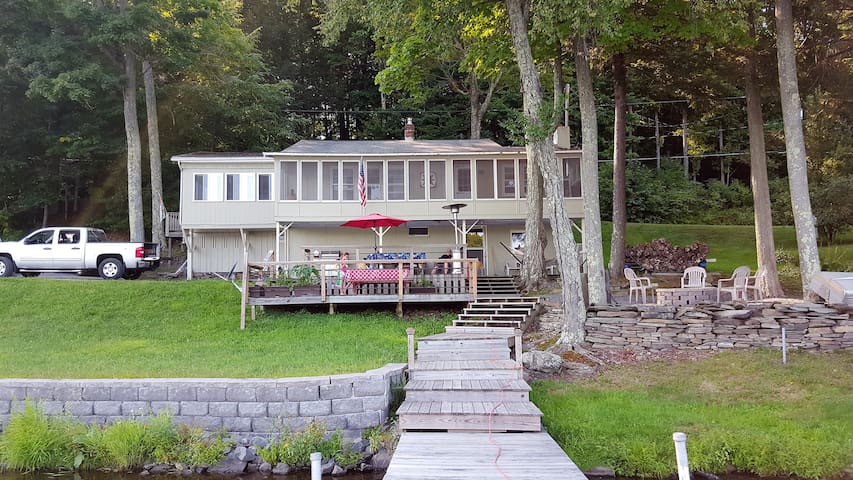 2 Bedroom, Apt on Private Lake 1 King size bed & 1 Queen size bed with closets Includes washer & dryer Lots of lights & windows, high ceilings (9ft), Propane cooking grill Custom Concrete countertops Wireless Internet Large Deck TV with USB
2 Bedroom, walkout basement apartment. With high ceilings (9ft), many lights and windows. Custom concrete countertops, dishwasher, microwave, toaster, water filtration system, Cork flooring, large closets in bedrooms. Ironing board, Iron, Hairdryer are also provided. HVAC -- Forced Hot Air and Air Conditioning controls available to you. On the main floor there is a 4 bedroom, 3 full bathroom house. Upon special request the main section of the house is also available to rent. Inquire via the Airbnb website.
Very quiet, remote private lake. The apartment is approximately 1000 square feet and faces South. No immediate neighbors for most of the Fall and Spring. No immediate neighbors during the winter. During the summer there families who enjoy the Lake.
As soon. as you walked into Jim's apartment you could see the time and effort that was put into it. The decor was stunning, and there were so may accommodations that were provided. Jim provided us kayaks, a boat, and a dock so there was tons to do around the lake. The apartment exceeded my expextations, not to mention the beds were EXTREMELY comfortable. Look foward to coming back very soon!
Jazmyn
2016-04-30T00:00:00Z
Absolutely beautiful and relaxing place. Super clean and pleasant . Highly recommended
abed
2016-05-08T00:00:00Z
Really enjoyed the house and the relaxing lake. We had a great time
abed
2016-05-06T00:00:00Z
The lake house is breath taking and in the middle of complete peace and quiet! Jim is very generous and the extra goodies he provided (kayak/boat/golf cart) were one of the best parts! Our dog happened to bust through the screen door right when we got there and he was so understanding and fixed it on the spot! Lastly, the beds were amazingly comfy! We highly recommend this place, thanks for an amazing first time using AirBNB!
Peggy
2016-04-22T00:00:00Z
We had a great time at Jim's house by the lake. The pictures don't do the place justice.
Jesus
2015-10-25T00:00:00Z
Jim's lake house experience was exceptional. From start to finish, Jim was a pleasure to work with, providing great correspondence and friendly service. We stayed for just a week, but we felt at home here and could have stayed for months! The space was exactly what we needed to accommodate our time in PA. The house is bright, new, and spotlessly clean. Plenty of space to spread out, cook meals, and sleep like rock in the quiet and peaceful atmosphere. This is a truly rare find in the world of hospitality, and I would recommend a stay here ANY day!
Jordan
2015-11-13T00:00:00Z
The lake house was warm and comfortable on the coldest day of the year. Jim was very kind, communicative and accommodating. During the off season, there were no other people nearby, which was exactly what I liked about it. If you plan to stay during the snowy season, be prepared to drive an unplowed one lane road and otherwise cope with snow. I did and had a great stay.
Drew
2016-02-14T00:00:00Z
Jim was very easy to deal with and the apartment was exactly as the listing described. Everything was clean and well organized. The location was beautiful and very peaceful. I would absolutely stay there again - highly recommended.
Beau
2015-09-21T00:00:00Z
Room Type
Entire home/apt
---
Property Type
Apartment
---
Accommodates
5
---
Bedrooms
Montrose, PA, United States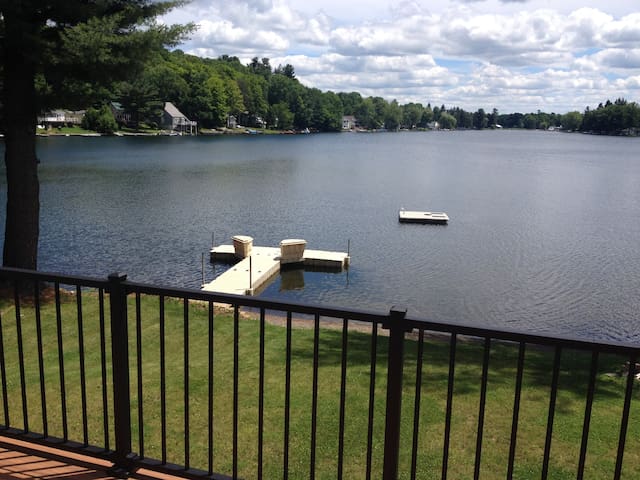 Exquisite true timber frame lake-house in the Endless Mountains, 4 miles from the town of Montrose, PA the county seat of Susquehanna County. This luxury house is a perfect venue for a family vacation, friend reunion or corporate retreat.
Common Areas: The stunning great room features a vaulted 28 foot timber frame barn board ceiling, open grand staircase with cat walk, gas fireplace and 55" smart TV and Blue Ray DVD player. This is a perfect room to accommodate the whole family for movie marathons or memorable board game challenges. The gourmet kitchen features a sub-zero glass refrigerator and freezer with a Wolf 4 gas burner stove and double flat top, and double oven cook for an intimate affair or the whole crowd. An added bonus is the herb garden off the back deck, please use in your specialty drinks and cooking. The kitchen, separate bar, and full pantry boast granite counter tops; 3 sinks and 2 dishwashers. There is a 10 person elevated bar seating area that surrounds the kitchen so the cook is never alone, but free to work in their own area. There is a large dining room off the kitchen or on a nice evening use the large deck and table to enjoy the lake view. Spacious deck offers a gas grill and attached covered gas fireplace seating area. Bedrooms & Bathrooms: There are 6 bedrooms and 5.5 bathrooms. Every room has a flat screen TV and Wi-Fi throughout the house. The first master bedroom has a king bed, large bathroom with 2 sinks, wraparound shower with 4 shower heads and the washer and dryer in the walk in closet. The second master bedroom has a king bed and private bath with a walk in tile shower. The third bedroom has 2 queen beds and a private bath with walk in tile shower. The fourth bedroom has a queen bed and a princess loft with a twin bed; large walk in closet with a pack n play and private bathroom with a tile shower and claw foot tub. The fifth bedroom has 2 queen beds one being in a unique hunting lodge loft setting. The sixth bedroom is a bunk room with 2 sets of bunks sleeping 4 comfortably. Bedroom five and six share a bath. Also, for the fitness buffs there is a Body Solid 4 stack home gym and an open space for yoga, Pilates or aerobics. OUTDOORS: Property offers breathtaking views of the 45 acre lake as well as the endless mountains. Lake is stocked with bass, pickerel, catfish, sunfish as well as perch for summer or winter fishing. There is a fishing boat that comes with the rental. There is a 10 person pontoon boat that you may rent for an additional $500. Enjoy nature hiking, mountain biking, ATVing, or snowmobiling on any of the back dirt roads or the rails to trails access that is at the end of the driveway. Try your hand at a guided Clay trap/skeet shooting event (at additional cost) from a fantastic vantage point on our land a mile away from the property.
The main town is Montrose, PA with shopping, an old time movie theater, library, historic center, 4 miles. For grocery stores, there is a Price Chopper, Rays Sure Save and Russel's Farmers Market 3 miles from the house. Beer distributor, liquor store, Rite-Aide all 3-4 miles from the house. Nice Restaurants: McCormacks at the Inn is right in our town. A very nice Irish pub with outdoor dining, fire pit great atmosphere and good American fare food from steaks, seafood, burgers and salads. We are 17 miles from Binghamton, NY where there are multiple great restaurants. Our favorite restaurant is Moxey's in Conklin, (15 miles) and Number 5 in Binghamton (18 miles). Sporting Clays: Hausman Hidden Hollow: 19 Miles - Rock Mountain Sporting Clays: 25 Miles - Golf Courses: Conklin Players Club, 16 miles - - beautiful course, I love the carts have GPS. Don't let the cheap greens fees fool you this is one of my favorite course on the East coast. Tall Pines Players Club, 15 miles - Some tight fairways, playing among the PA pines trees. This course was appropriately named. Skiing: Elk Mountain Ski Resort - 26 Miles, just down 81S. If you're looking for an upscale experience in the Endless Mountains, this property surely has something for everyone.
We had a wonderful time a this beautiful house.We always have spring break trip every year,and this is our 4th year doing this.Compare to the other three trips,this one is the Best ! The house owners had taken us as his family.Whatever we need,they'll try their best to get it for us,so that we can enjoy our time here even more.We had enjoy our day with fishing,kayaking and watching the beautiful lake view.We truly appreciate their host.We will definitely come back and more great memories will be made.
XING (ERICA)
2016-04-25T00:00:00Z
Spectacular! This is definitely the most beautiful, unique, and luxurious property that we've enjoyed through Airbnb. Gretchen and Dan are wonderful hosts, and were super responsive and considerate throughout the whole process. We stayed for a long weekend with our extended family, and the house was perfect inside, and out. At the lakefront, it's a great set up, beach, dock, fire pit and deck all within 20 feet of each other. Wow! I definitely recommend, A+
Ben
2016-05-31T00:00:00Z
This place was a dream, lives up to every expectation. Dan and Gretchen were gracious hosts and made helpful suggestions and recommendations.
Rachel
2016-05-17T00:00:00Z
I think the pictures on the site actually don't do the house justice, as it is even more beautiful in person! Gretchen and Dan made sure everything was perfect for our arrival. With a bunch of little kids in tow, the space was perfect. The kids had places to explore, and the princess loft was a big hit with the girls. The outdoor space was great, we were able to fit all 10 adults in the covered outdoor patio space (with fireplace) while the rain came pouring down. We did have a minor issue with the oven turning on, but eventually it came on -- not sure if that was user error or if something is wrong with it. But, Gretchen was very responsive when we explained the issue and helped us troubleshoot to get it going. While Gretchen and Dan stay in the guest house on the property with their 4 year old, they left us alone unless we had an issue. We loved that we had an ice machine and a fountain soda machine readily available. Those both came in handy. In summary, great hosts, great property, great weekend. I wish we could have stayed longer!!
Lori
2016-10-11T00:00:00Z
We had a lovely family vacation at 38 Heart lake rd. Dan and Gretchen are terrific hosts. They were there to meet us when we arrived and gave us a tour of their beautiful home. They left to stay at the gatehouse on the property and were only a phone call away if we needed anything. On Thanksgiving Day we realized we did not have any fish for our pescetarian daughter. We called Gretchen and she gave us shrimp that we could use as her dinner. The house is absolutely amazing! There was plenty of room for our 5 families. We use Airbnb quite often and this was by far the nicest place we have ever rented! Thank you Dan and Gretchen for helping us to make wonderful memories with our family!
Suzanne
2016-11-27T00:00:00Z
Room Type
Entire home/apt
---
Property Type
House
---
Accommodates
16
---
Bedrooms
Montrose, PA, United States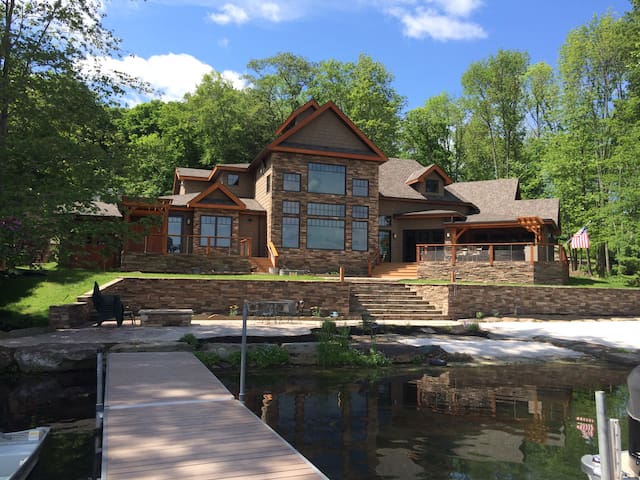 Cozy bedroom with queen bed, shared bath in a small town atmosphere. You're within walking distance of the library, a small downtown with funky theater, a few restaurants and hiking trails through the woods. There's a small lake nearby and a variety of parks to draw you outdoors or if you prefer, just feel free to sit on the deck, in the loft, or by the fire with a good book. We can provide breakfast on most days. Wifi works well and your room has its own adjustable heat plus good ventilation for your comfort. Near-by parking for one vehicle. Maximum of two adults, short-term stays only, and we request a photo with your reservation request. Thanks in advance!
Bill and Anne were great hosts; very accomodating. I advised Bill that I would have a late arrival and he and Anne were kind enough to wait up for me. Their home was very welcoming and neat. The room was very spacious and clean. Although I didn't have the coffee offered in the morning it smelled amazing. Bill and Anne are definitely an asset to the Airbnb community.
Michal
2016-07-10T00:00:00Z
I absolutly loved this place! Bill and his wife Anna were amazing and the price was well worth it! They were very welcoming to my wife and three month old daughter. They also cooked breakfast for us, absolutly great!
Thomas
2015-07-22T00:00:00Z
Bill and Anne were very welcoming, friendly, and made us feel right at home. The room was very cozy, comfortable, and private. They gave us great information about their quaint little town and the local restaurants. Beautiful home in a great location, walking distance to town. We enjoyed spending time and sharing great conversation with them. They are a charming couple with great stories to share. They were concerned about any dietary restrictions and offered us options for breakfast, which was great. Overall a wonderful experience
David
2016-07-17T00:00:00Z
Staying with Bill and Anne couldn't have been more of a treat! Blessing us with great food, and wonderful conversation - it was like staying with old friends! The house is in a cozy PA town, and was a 'half way' stop for us on our way to NYC. The house itself is charming, the bed is comfortable and the room spacious with a private bathroom. Would highly recommend staying with Bill and Anne for a terrific above and beyond Air BnB experience.
Elisa & Josh
2015-12-21T00:00:00Z
Bill, and the smell of fresh-baked raisin bread, greeted us at the door of this lovely, comfortable home in a beautiful small town in the mountains. Anne and Bill are generous, accommodating, friendly hosts. Our breakfasts were home-made and tailored to our tastes. The bedroom and bath are clean and adorned with special touches--from French-milled soaps to fresh-cut flowers from their beautiful gardens. Chocolates on the bedside table! Delicious coffee! Interesting conversations! It was so special, we're looking forward to a return visit.
Molly
2015-09-07T00:00:00Z
We would have stayed here forever. Bill and Anne are the perfect hosts and we felt more than welcome and comfortable in their beautiful home. Montrose is a very small but beautiful town between Buffalo and NY. So the perfect stop to come down and relax before heading off to the big cities. Bill made us popcorn and Anne offered us self made cake with cream in the evening. For breakfast they served us waffles. We felt like in heaven :) The room is lovely and the bed was comfortable btw. So in total: 5 of 5 points in every category :)
Annika
2015-10-27T00:00:00Z
Our short visit to Montrose, PA was wonderful! Bill and Anne are incredible hosts; they are generous, thoughtful, and very friendly. We enjoyed talking with them over breakfast and have to say that Anne is an amazing cook!! The first night we stayed she made homemade bread which filled the whole house with a mouth-watering aroma! They also suggested a great walking trail which we were able to do in about 1 hour. If you are headed to Montrose, we highly recommend staying with Bill and Anne. They are an amazing couple!
Christine
2015-09-27T00:00:00Z
Bill & Ann are perfect hosts! We enjoyed their company, excellent advice, charming accommodation. Would love to stay with them again!
Sam
2016-09-04T00:00:00Z
Room Type
Private room
---
Property Type
House
---
Accommodates
2
---
Bedrooms
Montrose, PA, United States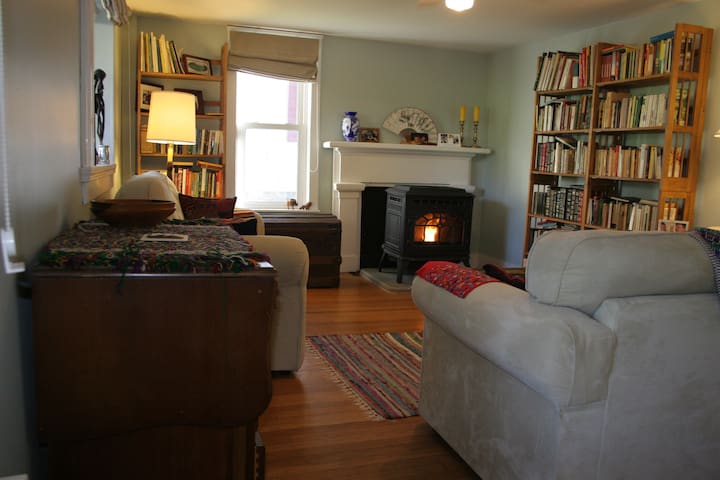 (URL HIDDEN)This ground-level modest efficiency apartment located on 10 acres of sloping meadows boasts unique & eclectic furnishings of comfort with essentials for your serenity, including WiFi and Dish!
Elizabeth was a super good host and even an enjoyable conversationalist. She has a very Home-like Place. Everything is there that is needed for daily living except of course the personal stuff and food. I would recommend this place and probably will be back in the future. It is a good deal for the price!
Elam
2016-06-22T00:00:00Z
If you are looking for a quiet retreat in the hills of Northeastern Pennsylvania Elizabeth's place could very well be it. It has everything you may need and Elizabeth is very attentive. I thoroughly enjoyed my stay.
Sydney D
2016-06-03T00:00:00Z
What a fabulous time I had during my stay! I arrived earlier than I had expected and was greeted by Elizabeth who invited me to join her and her friends at a local musical event that night... what a treat! The accommodations were superb. A completely self-contained unit with a charming little patio where you can sit and relax and sip your coffee over-looking Elizabeth's marvellous grounds. Elizabeth went above and beyond trying to help me sort out an issue I had with my cell phone (out of country problems). Nothing was too much to ask for and her concern for my comfort and well-being was most appreciated. As a single woman travelling alone I felt extremely safe and comfortable. What an ambassador Elizabeth is for the "Airbnb experience" as well as her lovely community. I would highly recommend a stay with Elizabeth... an experience I will cherish. Thank you Elizabeth!
Mary Margaret
2015-08-24T00:00:00Z
This is a very private and quiet location. Out in the country and peaceful. Working out of State and was able to find this Gem. Elizabeth the host is just a joy and was very friendly. She helped us feel right at home and I would highly recommend this location.
Brandy and David
2017-02-01T00:00:00Z
Elizabeth was super sweet and welcoming. The homemade baked goodies, apple juice and coffee were great to get me through the first day. Very cozy, quiet, pretty remote place, but still only 8 minutes or so from a grocery store. Eventhough it suddenly got very cold in PA, Elizabeth did her very best to keep me warm and make sure I was OK. Thank you again, Elizabeth!
Cecile
2016-10-27T00:00:00Z
Elizabeth met us on our way in and gave a complete tour of the rental. She had left juice, coffee, and English muffins for our morning enjoyment. She was exceedingly pleasant to chat with, and she made our stay delightful.
Cari
2016-06-06T00:00:00Z
I was in town for a nearby event with a crazy schedule (early morning until the wee hours each day), but Elizabeth was super-accommodating. The bed was very quiet, comfortable and climate-controlled, which was all I really needed. But the fresh apple juice and English muffins in the fridge, plus honey, and coffee grounds for the coffee maker, were great additions and huge time-savers as I was heading out each morning. If I'd actually been spending more time in the room, I'd definitely have taken advantage of the kitchen and fridge too. I wouldn't hesitate to stay here again!
David
2015-11-08T00:00:00Z
Elizabeth's apartment provided us once again with a perfect mid-point "sleepover" spot on our journeys after the holidays. Read our earlier review in August, and there isn't a thing I would change - great quiet location, natural setting in the rolling hills of rural northern PA, and easy access. We recommend Elizabeth and her place highly - and yes, she is pet-friendly! Adam & Christine
Adam
2016-01-01T00:00:00Z
Room Type
Private room
---
Property Type
House
---
Accommodates
2
---
Bedrooms
Montrose, PA, United States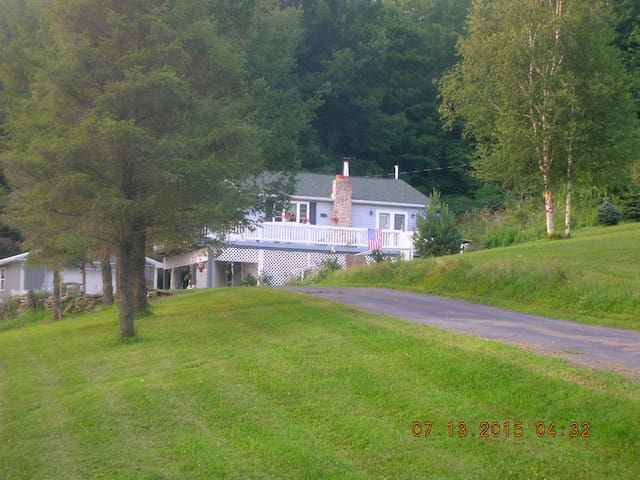 Single family home located on Binghamton's west side. Conveniently located near Binghamton University and easily accessible to I-81 and route 17/I-86. The house has two full updated bathrooms, kitchen with a dishwasher, back patio with table and access to a propane grill. Window air conditioners are available in each bedroom during warmer months.
Kevin's place was very well maintained, neat and centrally located on a quiet street. We found everything we needed. We liked the older character of the home. We will certainly see if this place is available when we visit the area again!
Michael
2016-09-18T00:00:00Z
Kevin's place is extremely clean, super nice, and definitely would stay again if in the area.
John
2017-02-05T00:00:00Z
Kevin was an excellent host! He made my group feel welcomed and his home is very comfortable and tidy. We loved the available entertainment system and his promptness in responding to any concerns. Will rent from again if in the area.
Robert
2016-08-29T00:00:00Z
Everything was great, welcoming home and great communication. Highly recommended!
Brandon
2016-12-26T00:00:00Z
Room Type
Entire home/apt
---
Property Type
House
---
Accommodates
4
---
Bedrooms
Binghamton, NY, United States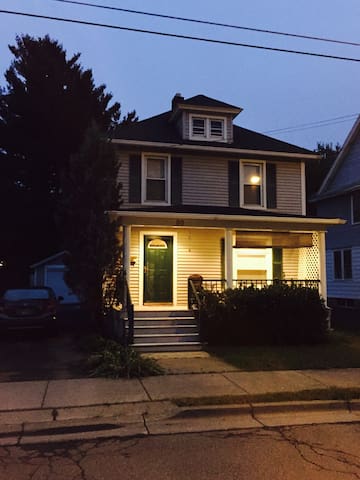 Lovely B&B-style room in a beautiful, hardwood floor home. On direct bus line, close to downtown, Recreation Park, Binghamton University, Lourdes Hospital & 24/7 Emergency Room, and several grocery stores. Perfect for short-term stays while attending Binghamton University's orientations, tours, or more long-term stays for medical rotations in Binghamton hospitals. Couples, solo adventurers, business travelers, families, and furry friends welcome! Breakfast and toiletries provided.
Lovely B&B-style room in a beautiful, quiet neighborhood. This large room has a brand new full-sized bed with four down pillows and 1000-thread count sheets. The bathroom has a beautiful antique claw bathtub. Enjoy morning coffee and breakfast in a family-style kitchen or on the wrap-around porch! Beautiful, safe location in Binghamton, NY. A short drive/walk to grocery stores, hospitals, restaurants, hikes, and Ithaca, NY! Guests have a private, quiet space of their own, and are welcome to share the kitchen with us.
This is a very safe, family-oriented neighborhood. Incredibly quiet and plenty of parking at all times! We are a short drive/walk from downtown, grocery stores, restaurants, etc.
Room Type
Private room
---
Property Type
House
---
Accommodates
2
---
Bedrooms
Binghamton, NY, United States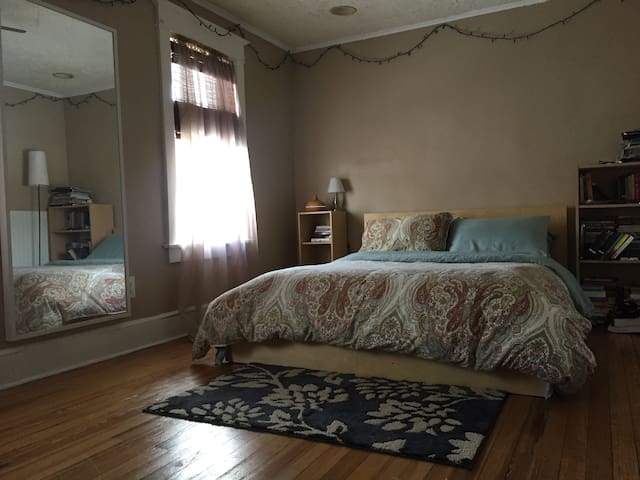 Friendly environment, nearby bus stop, nearby shops, nearby downtown
Room Type
Shared room
---
Property Type
Bed & Breakfast
---
Accommodates
1
---
Bedrooms
Binghamton, NY, United States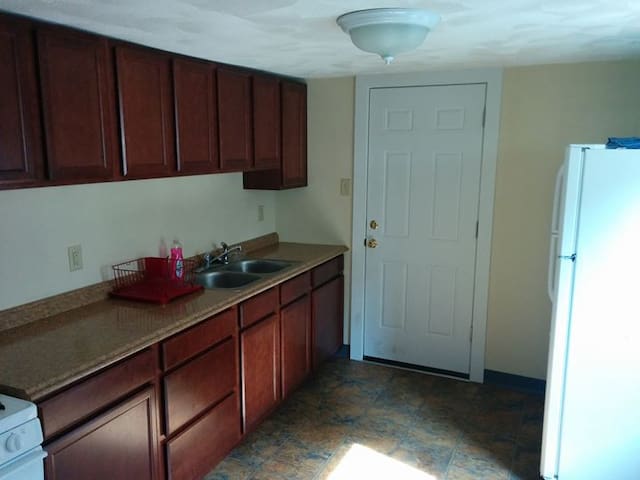 2 rooms in the apartment are rented so please be respectful, we just installed a fenced and new blacktop. The kitchen tiles are newly remodeled and is about a 10 minute walk from the downtown Binghamton attractions.
The space is on the second floor.
You get what you pay for. Good for one short night stay! Sandra was very nice.
Alexis
2017-01-01T00:00:00Z
This is a good accomodation if you're looking for a budget place to sleep. Sandra was very very nice. The neighborhood is not the best but it was quiet and I didnt have any issues although my car was full of stuff. There is a kitchen but it is not really very well equipped for cooking even minimally. (No cookware, pots, minimal dishes available). Bathroom was not so clean but ok. Overall a passable budget accomodation that Ill probably use again. Thank you Sandra.
Heather
2017-01-13T00:00:00Z
Accurate description on this cozy spot. Super easy walk to anywhere you want to go either downtown or on the west side. Sandra was an amazing host, extremely friendly and great with communication. Would definitely stay here again.
Jeff
2017-03-21T00:00:00Z
It is a really cheap offer and you should reconsider that before you book.
Fabian
2017-03-25T00:00:00Z
I stay in this place for one night during my trip to Binghamton. I feel that it is definitely worth its price. Sandra was very welcoming and helped me to find everything I need for my stay that night (i.e. ironing board)
Ekaterina
2016-12-09T00:00:00Z
It's very nice to stay there, the room is comfortable, and people are excellent!
Yueming
2017-03-07T00:00:00Z
Very easy check-in. Clean, quiet apartment very close to downtown and public transportation. Great value. I would definitely stay there again.
Pat
2017-02-15T00:00:00Z
The room was exactly what we were looking for and Sandra went out of her way to help. Thanks!
Henri
2016-11-13T00:00:00Z
Room Type
Private room
---
Property Type
House
---
Accommodates
2
---
Bedrooms
Binghamton, NY, United States
Private, clean, and small bedroom for a single traveler in craftsman style home with Internet and a twin size bed, let me repeat that, twin size bed. Bike and walking distance to downtown Binghamton. Ten minute drive to Binghamton University or SUNY Broome. I do have a small, quiet and well-behaved dog. If you are allergic or uncomfortable around dogs, do not request a reservation.
Small room with full use of the house. The only negative is that this room is in the front part of house, which gets more street noise from a busy street a block away.
Quiet neighborhood.
Tom is a great guy! The house is gorgeous and very clean. He's very kind and interesting person! Absolutely go to Tom house if available!!!
Alessio
2016-01-21T00:00:00Z
This BnB is situated in a nice quiet setting. It is super close to, and easy access to all of major attractions and roadways. The owner is kind, friendly, and very flexible in regard to making your stay as comfortable as possible. Two thumbs up!
Alexander
2016-11-11T00:00:00Z
Tom was a very sweet host. He was very nice to interact with. The house very well maintained, nice, clean and comfortable. I'd definitely go to Tom's house if it's available the next time I'm in town.
Vibhav
2016-10-07T00:00:00Z
The host canceled this reservation 3 days before arrival. This is an automated posting.
felipe
2016-09-13T00:00:00Z
Tom is a great guy and very accommodating host. He made me feel comfortable right away and had everything I needed. His house is clean and quiet. The neighborhood was quiet while I was there and seems to be very safe. I came in late at night several times and felt no concern about my safety or the safety of my vehicle. I would definitely stay here again and recommend it to anyone.
Whitney
2015-12-27T00:00:00Z
Tom was great in every way. It's a nice unique house, the bed was very good, everything was clean, and Tom was friendly and would be very willing to provide background for Binghamton or wherever else he might be hosting.
lewis
2016-12-25T00:00:00Z
Tom was terrific. He made you feel like his home was your home and your were a guest of the family. And the bed was very comfortable and there was a table and chair in bedroom where I was able to get my work done.
Pat
2016-11-14T00:00:00Z
Tom's house was lovely, warm and comfortable, and Tom was a great host. He was flexible with my arrival time, welcoming and gave me some good Binghamton tips. I highly recommend him!
Jennifer
2016-12-10T00:00:00Z
Room Type
Habitación privada
---
Property Type
House
---
Accommodates
1
---
Bedrooms
Binghamton, NY, United States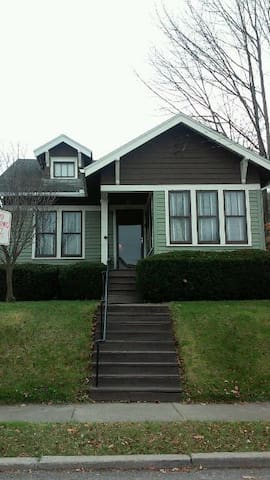 Enjoy a stay in a period Victorian house, centrally located and close to major highways and fine restaurants. I will prepare you a healthy breakfast and I am happy to be your arm-chair guide, while you are in Binghamton.
I have two guest rooms at the Queen Anne Bed and Breakfast. This listing is for Room #1, the larger of the two rooms, a sunny space with a newly acquired pillow-top queen-sized bed. The room contains a dresser and a desk, as well as space to accommodate a single airbed for an additional $10 per night. The room is air-conditioned. My two guestrooms share the full upstairs bathroom, which has an enormous claw foot tub with a hand-shower. I supply shampoo and a hair dryer for your use, and there is a drawer where you can store personal items while you are visiting. I also have a half-bath off the kitchen. I provide an informal, self-serve breakfast--granola or oatmeal, toast, fresh fruit, coffee and tea. I will do my best to satisfy your dietary cravings or restrictions. Weather permitting, we have breakfast in the garden. I offer wireless Internet access throughout the house, off-street parking, and kitchen privileges. You are always free to brew yourself a cup of coffee or tea. I encourage travel-weary guests to do their laundry and make themselves a home-cooked meal. I also have an iron and an ironing board that you are welcome to use. My house was built in 1892 for Chester Larrabee, co-owner of the Sturtevant-Larrabee Company, Builders of Fine Carriages and Sleighs. I purchased the house in 1990 from the estate of Helen Larrabee, Chester's youngest child, who lived here her whole life. The house is well-preserved example of the Queen Anne style, with chestnut and oak moldings that have never been painted, pocket doors, three fireplaces, a laundry chute, and potato bins in the pantry. It gives me great pleasure to share it with you.
My house is located in an urban neighborhood close to downtown and very close to bus routes. It is about five miles from Binghamton University, and BU Blue Buses travel to and from there regularly. There are several excellent restaurants nearby. I've got menus on hand. You can get more information about them and check out other Binghamton a(EMAIL HIDDEN) For those of you who like to go running or walk your dog, Otsiningo Park is just a short drive away.
Mary is the absolute best! She is delightful company, and her house is amazing. We especially loved the homemade granola in the morning, the clawfoot bathtub, and Einstein the wonder pup! Mary also took a fair amount of time to shat with my husband and I about the area--what a windfall to have an expert tour guide.
Sarah
2016-05-02T00:00:00Z
We enjoyed our stay with Mary, Eistein, and Bayliss! We arrived later in the evening than we had anticipated due to traffic, but Mary graciously stayed up to welcome us and Einstein kindly showed us to our room. She offered us a delicious breakfast in the morning (local granola and yoghurt) and we enjoyed a tour of her beautiful home and backyard garden. The rental rooms upstairs are comfortable and convenient to a private bathroom (complete with a gorgeous claw foot tub). Thank you Mary, Einstein, and Bayliss! We will be back again!
Megg
2015-08-26T00:00:00Z
Lovely old Queen Anne house with lots of original woodwork and character. Descriptions and pictures were accurate. Mary was warm and welcoming and I enjoyed chatting with her in the evening. The breakfast granola she made was too good to describe. I may stay here again just for another bowl. Mary was full of helpful advice, including a recommendation to spend an hour at the Bundy museum (who knew that IBM started out making time clocks???). If you like diners, Danny's Diner a few blocks away on Main Street is great (Danny's mother bakes the pies - try the sugar-free lemon pie). I loved this place and will return next time I'm in Binghamton. I recommend it.
Tom
2014-10-24T00:00:00Z
My boyfriend and I really enjoyed our staying in Mary's place. This is an old house with great decoration. Many travelers have been here and put their hometowns on the map. The breakfast Mary provided us was fantastic and I really enjoyed our conversation! Highly recommended.
Emma
2016-08-11T00:00:00Z
Anyone who appreciates a beautifully-crafted Queen Anne home that's been lovingly restored and lived in will enjoy a stay at this B&B. Mary welcomed us warmly and was quick to provide us with whatever we needed (an excellent iron!). Breakfasts of home made granola (the smell of it baking was divine), fresh fruits and freshly brewed coffee were made even more enjoyable with the company of the pets Einstein, Bayliss and Sophie, the selection of newspapers, and most of all, spirited conversations with Mary. Our bedroom was spacious and nicely appointed—the bathroom, with its big claw-foot tub and amazing inlaid wood floor, was outfitted with a fine selection of toiletries. Lovely gardens, off street parking and the central location made it a perfect choice for our visit.
Larry
2014-08-05T00:00:00Z
My husband and I were looking for a place to spend the night on our way up to the fingerlakes and we're glad we went with Mary's home. Although our stay was really short, it was wonderful! The room was just as shown in the picture. The house itself is even more impressive in person. Lots of great antiques throughout. The bathroom was my favorite part of the house - beautiful tub with lots of handmade wonderfully scented soaps. Mary was a great hostess. Prior to arriving she gave us some great recommendations for dinner/night out in downtown Binghampton (which by the way is walking distance) and also really helped us out by recommending a local autoshop since we got a flat on the way up from NYC. Breakfast was delightful. Delicious farm fresh produce, granola, coffee, bread, etc. accompanied by great conversation. Would definitely stay again if we ever find ourselves back in Binghamton. +++Highly recommend +++
Kristina
2015-09-06T00:00:00Z
We loved our stay at Mary's! Her house is beautiful and well cared for. Mary was, herself, delightful - wonderful to chat with and extremely helpful (she seems to know everyone in Binghamton!)
Mary
2017-04-02T00:00:00Z
I have stayed at Mary's place many times and each stay has been excellent. I highly recommend this Airbnb stop to any travelers in the area!
John
2016-12-15T00:00:00Z
Room Type
Private room
---
Property Type
House
---
Accommodates
3
---
Bedrooms
Binghamton, NY, United States
Professional suite with leather and mahogany furniture and queen bed. Full kitchen & large living /dining room with queen sofa bed too. Private entrance, parking, & security system. Great for business meetings. High speed WIFI. Walking distance to Binghamton General Hospital and 2 minute drive to Binghamton Univ. Upscale breakfast/lunch restaurant across the street & No. 5 steakhouse one minute away. Ten minutes from downtown. Located on second floor of medical office.
You'll love having our professional suite apartment within walking distance to No. 5 Restaurant and South City Public House as well as from BGH.
Across the street from (URL HIDDEN) and Weis market. Walking distance to No. 5 and South City Public House and Binghamton General Hospital. Two minute drive to downtown Binghamton and Binghamton University.
Great place, and highly recommended. The apartment is on the second floor of an office building, but has a private secluded parking lot with essentially your own entrance to come and go without any interference of office operations. The apartment does not receive any noise from the downstairs, and most certainly meets its description of professional/business and is what I would consider upscale for the Binghamton area. Spent two nights and plan on returning. The host checked in daily and was very accommodating. All in all five stars.
Ian
2017-04-02T00:00:00Z
Room Type
Entire home/apt
---
Property Type
Apartment
---
Accommodates
4
---
Bedrooms
Binghamton, NY, United States
1 private bedroom with a single bed access to kitchen, Wi Fi, shared bathroom it's a 3 bedroom Apt. right next to bus stop 15. off street parking Meeting new friends matter most
we are 2 graduate students living in a 3 bedroom apt. Guest room has a single bed and .... there is a piano in the room which you can use in reasonable hours. Please be aware that if you are looking for a place like a hotel it might not be the best fit for you. We host mainly because we like to interact with new people. We respect our guest and in return expect respect :) We are pretty flexible over check in ,check out time but need to have the information of arrival beforehand to adjust out schedule. You can use the kitchen ,wi fi , living room... so practically everything beside other private rooms is accessible. you can ask me if you have any special request. Room is next to front door so beside shared kitchen and bathroom you can have your privacy. If you like to Hang out, while we have free time we are open to that. It's a nice safe neighborhood and i feel really safe walking by myself (I love to take long walks) there is a big park, 15 minutes walking distance and with 7 minutes walk you'll have access to main street right next to bus stop 15 5-7 minutes walk distance to another bus stop for 23,35, and WS/LRS blue buses if more than 1 person want to use the space they can sleep on a futon in the living room that turns to a queen bed
It's a nice neighborhood and I feel safe walking by myself in the night. there is a park in 15 minutes walking distance and a price chopper in 7 minutes walking distance. CVS and few restaurants are available in walking distance as well.
Leila was great and room was spacious and comfortable.
Jennifer
2015-11-02T00:00:00Z
The neighborhood is quiet. Very nice room with a piano in it. They give you a key and towel. I only had one issue with the bed sheets which was taken care of promptly. The place is worth the price. You also get wifi and access to the living room and kitchen. The housemates were all very welcoming and friendly. They kept asking if there was anything else that I needed. The access to the 15 bus is right outside. Taxi service in Binghamton is overpriced and unprofessional. They seriously need uber or lyft. Overall, good stay. I'd stay again.
Jhilene
2017-03-19T00:00:00Z
Leila was very welcoming and flexible with arrival and departure time to fit with my schedule. I felt safe and the room was just what I needed for my stay in the Binghamton area.
Jamie
2016-03-11T00:00:00Z
I had a delightful time thanks to Leila, who was a very welcoming host. The house is located in a residential neighborhood near the university, just down the street from a public school. The room was quiet and comfortable, and being able to play the piano was a bonus. It is very much a student apartment, nothing fancy with a spacious living room and a shared bathroom just off the kitchen. Leila took time to explain everything when I arrived, was flexible about my arrival time, and even encouraged me to play the piano. The only hiccup was a malfunctioning smoke detector which went off in the middle of the night - which she took care of immediately. If you are comfortable living like a student and need a place to stay near the university, I would highly recommend staying here.
Rob
2016-04-15T00:00:00Z
Description accurate. Leila is very nice host. She will make sure you are very comfortable.
Adeeb
2016-02-10T00:00:00Z
I had an excellent time. Only needed a place to stay for a few nights for a conference. Good location, close to downtown. Leila was very nice and easy to reach.
Nathan Elliot
2015-05-10T00:00:00Z
Leila was an excellent host. I made my reservation at the last minute and she was quite accommodating. The room was private and comfortable enough, and was all I needed for a quick resting point on my way home. Thank you, Leila
Robert
2015-12-07T00:00:00Z
Leila and her roommates were great! My reservation got sorta garbled along the way, and Leila still did her best to make sure I was in the house. (thanks AirBnB for the help!) The room was nice and cozy, they had a safe place for my bicycle (a bonus!) and everything was very hospitable. Thanks so much for the room (and the understanding)!
Rob
2015-11-08T00:00:00Z
Room Type
Private room
---
Property Type
Apartment
---
Accommodates
1
---
Bedrooms
Binghamton, NY, United States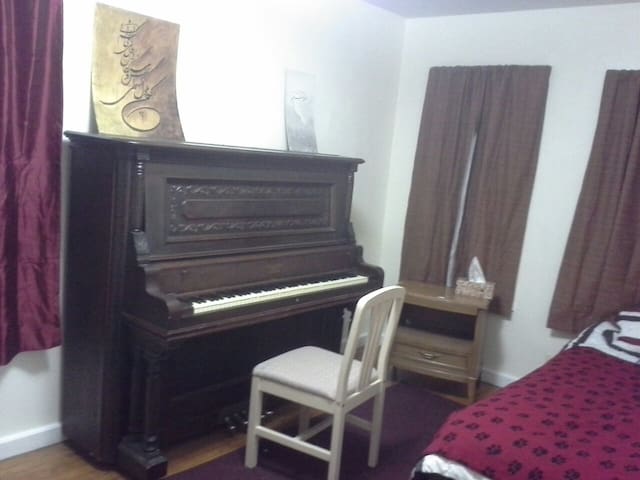 The Cortland Room in our beautiful B&B in the heart of Binghamton has a queen bed and shared bathroom. Full B&B breakfast included! We are less than 10 minutes to downtown or the university. Price includes all room and sales taxes.
If You looking forward to have privacy this is the place for you
Shaquan
2017-01-16T00:00:00Z
The Park House was a great place to stay for our night in Binghamton. The hosts were welcoming and accommodating, showing us around, serving breakfast and making our stay easy and enjoyable.
Jessica
2015-10-11T00:00:00Z
I stayed at Park House during a relocation to Binghamton. Both David and Pamela were amazing! The place is quiet, well-kept and very clean. I would recommend Park House to anyone I know who is visiting Binghamton.
Michael
2017-03-11T00:00:00Z
My daughter and I arrived much earlier than expected and we were greeted warmly. The house was so inviting! We quickly felt right at home.
Michele
2015-07-26T00:00:00Z
Room Type
Private room
---
Property Type
Bed & Breakfast
---
Accommodates
2
---
Bedrooms
Binghamton, NY, United States
交通便利,离亚超、Price Chopper等步行可达
Room Type
Private room
---
Property Type
Apartment
---
Accommodates
1
---
Bedrooms
Binghamton, NY, United States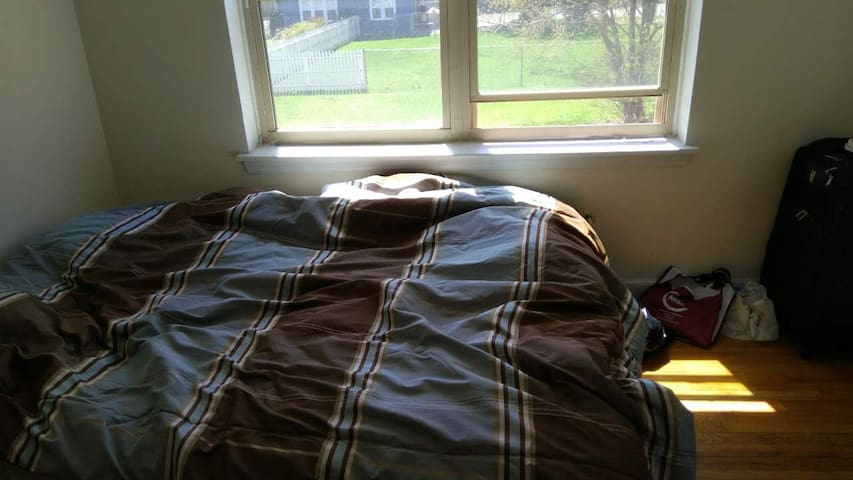 Enjoy a cozy room with comfortable double bed in our quiet home built in 1886. This upstairs room has rocking chair, selection of reading material, lamps for softer lighting, and empty dresser drawers for your use. We are conveniently located on the west side of Binghamton near Recreation park, within walking distance of many interesting restaurants, close to downtown breweries, theatre and music venues, and on bus line for destinations in the triple cities area, including SUNY Binghamton.
Room Type
Private room
---
Property Type
House
---
Accommodates
2
---
Bedrooms
Binghamton, NY, United States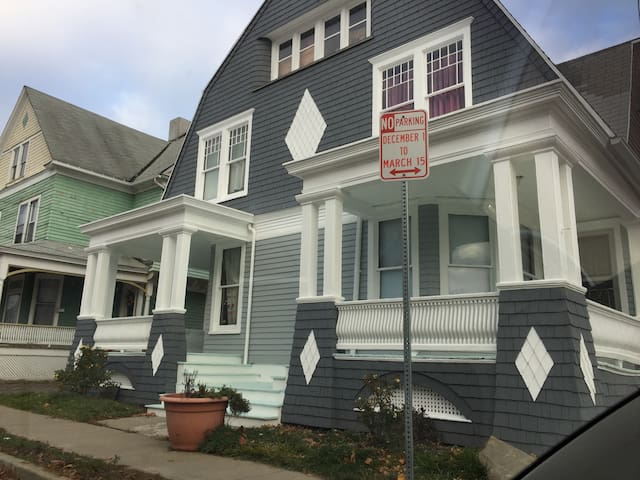 Unique home, eccentric décor, and fun place to stay on the Southside of Binghamton! Located within walking distance of some great bars, restaurants, and shops located in downtown Binghamton. Located a few miles from Binghamton University and Broom Community College. You would receive some great amenities like laundry, parking, access to the full house, a kitty and puppy to cuddle if you wish, and the host isn't too bad either!
The bedroom is located on the 2nd floor and laundry is in the basement so it is not handicap accessible. The bed is full size. You would have access to any appliances in the kitchen and washer and dryer.
Quiet neighborhood! Wonderful neighbors!
Andrea is a pleasant young woman who was very accommodating. She even put towels, two bottles of water, and some nice little chocolates and a couple of protein bars in a basket on the bed. I also needed to borrow a chair from her office and she was fine with that. Also the bed was very comfortable.
Pat
2016-12-28T00:00:00Z
Staying at Andrea's place was great. The bed was extremely comfortable - I didn't want to get up in the morning! It was also in walking distance (half mile) from several restaurants and bars/taverns, which was pleasant. My only regret is that I couldn't stay longer. I highly recommend staying at Andrea's!
Allyssa
2017-03-26T00:00:00Z
Andrea is lovely and changed things to fit with our plans! The room was comfortable and spacious, exactly what we were looking for during our stay, but could have happily stayed there for longer! A basket was left in our room with towels and treats which left a personal touch and made us feel very welcome, I highly recommend staying here
harriet
2017-01-20T00:00:00Z
Staying at Andrea's place was fantastic. Her hospitality was welcoming and room was extremely clean. She even made a nice basket for me with bath towels, bottled waters, and granola bars! She was very accommodating to me arriving earlier than expected. I highly recommend staying here if you're looking for an affordable place and exceeded expectations.
Demetrios
2017-03-05T00:00:00Z
Andrea has a beautiful, clean, cozy and centrally located home. She really went above and beyond to welcome me and make my stay pleasant and comfortable. Her communication was friendly and quick. She was flexible about my arrival and departure times. I really enjoyed talking with her and her friend, Tam, as well. I highly recommend staying with Andrea!
Jennifer
2016-12-17T00:00:00Z
Excellent stay, great communication, and good value!
Megan
2017-03-24T00:00:00Z
Andrea's place was really clean and cozy. She was accommodating and friendly, and even picked us up from the bus terminal. Highly recommended!
Raghava
2017-01-28T00:00:00Z
Andrea was super friendly. The room, cozy and clean. The memory foam bed was one of the most comfy I've ever slept on. Bathroom was clean and modern. Neighborhood was quiet and centrally located. Highly recommend staying here on your next trip to Binghamton! I even threw Andrea curve ball on my arrival time and she was gracious and accommodating. A++
David
2017-02-19T00:00:00Z
Room Type
Private room
---
Property Type
House
---
Accommodates
2
---
Bedrooms
Binghamton, NY, United States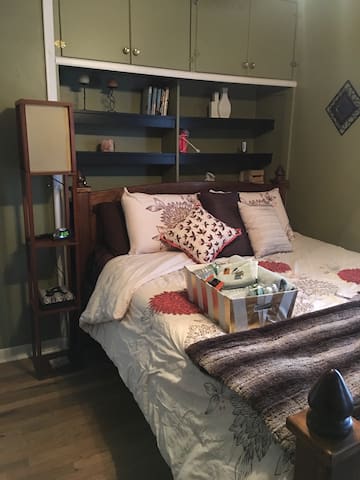 The Peace Pad! A wonderfully peaceful place to land! Eclectic & tranquil, feng-shui principles applied. Ample gathering places indoors & out. Convenient location, 7 min. drive to BU Binghamton's charming Westside Very bright, high ceilings, wood floors,1898 Victorian Amenities: Chemical free environment, RO water filter system & Shower filter Breakfast: w/ advance notice $15/person/day Eggs,bacon,homemade muffins, fruit... Food allergies? I can accommodate! Complimentary café & tea
Room Type
Entire home/apt
---
Property Type
House
---
Accommodates
5
---
Bedrooms
Binghamton, NY, United States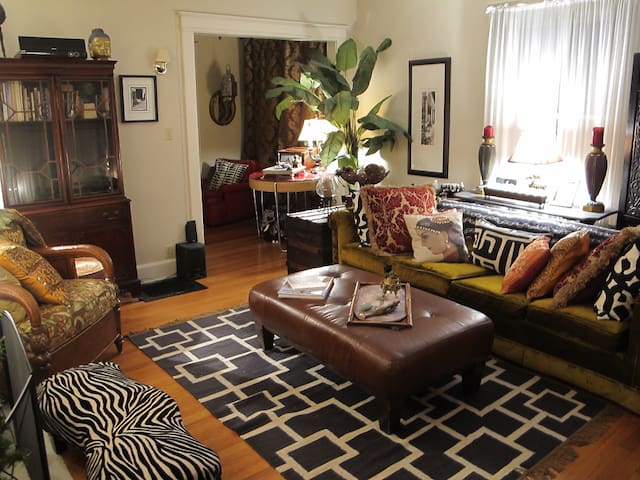 Enter dates to see full pricing. Additional fees apply. Taxes may be added.