Our clean, comfortable cabin in Pioneer has everything you need to enjoy your time in the Sierra Nevada Foothills. Our cabin is a great place to relax and enjoy many activities including hiking, skiing, golfing, gambling, wine tasting and much more. Yosemite is approximately three hour drive from my cabin.
Our cabin in Pioneer is at a perfect location to enjoy both the Foothills and the High Sierra. The elevation of the cabin is 3,100 feet. The elevation is high enough to escape the valley heat but low enough so travel to the cabin in the winter is usually easy. During the winter the cabin occasionally receives significant snowfall. The cabin is close to snow parks and world class skiing at Kirkwood. Gambling at Jackson Rancheria Casino is a short twenty minute drive. The cute towns of Sutter Creek and Plymouth are close by and both have excellent wine tasting. Volcano is a fifteen minute drive, the town has restaurants and live performances in the evenings. Volcano is also close to Black Chasm Cave and Indian Grinding Rock State Park. Finally, Bear River Reservoir and Silver Lake are close by. Both offer excellent boating and fishing opportunities. Yosemite national Park is approximately a 3 Hour Drive from my cabin. We have satellite TV in the living room and the bedroom. The kitchen is stocked with everything you need to cook and barbecue. The washer and dryer works great for your laundry. The upstairs loft/bedroom has an air conditioner and heater that works great for creating ideal sleeping conditions. Downstairs the cabin can be heated using the wood burning stove or cooled using fans. Sleds are in the shed for recreational use. There are videos and games to play as well located near the TV sets. We will not be present during the stay. Our property manager will greet you and show you around the cabin. Please be sure to read the house rules as there's information about bedding and laundry expectations that you will need to know before checking in. Thank you. The neighborhood is peaceful and quiet. Deer and wild turkey have been seen frequently from the deck in the afternoon and evenings while relaxing on the deck. You'll need your car to get around because there's no public transportation close by. There is a taxi service available.There are many things to visit within half an hour drive or closer. Bring your cell phones, there is no connected land line. Cell phone reception is marginal at times but Pinegrove just down the road at the Post Office gets cell reception. I get reception a lot of times on the deck or by the kitchen window inside the cabin. There is no Wi-Fi.
The neighborhood is peaceful and quiet. Deer and wild turkey have been seen frequently from the deck in the afternoon and evenings while relaxing on the deck.
We stayed in the Pioneer Cabin for just 1 night. It was a great experience. The cabin was just as advertised and a lovely place to stay. All equipment worked well including the stove which warmed the whole cabin quickly. Great bed in the master bedroom upstairs. Our greeter Amy was very friendly and answered all our questions. And the host chery; was very prompt in her responses. Thanks for making a wonderfull stay possible!
Stan
2014-03-27T00:00:00Z
The Mountains Are Calling And I Must Go.....Muir. Loved this cabin!!! My nieces and I had so much fun. They loved the rope swing and running around playing tag and hiding go seek. The cabin was clean, neat and tidy. Beds were very comfy. Cheryl was flexible and easy to communicate with. Amy her greeter is so sweet and helped me out when I realized I left a set of keys behind at the cabin. I definitely would like to return sometime.
Sue
2014-04-14T00:00:00Z
The peaceful pioneer cabin met our expectations well. It was a cozy cabin in a very quiet area. We brought our own sheets and slept quite well. It was very pleasant to wake up to the sound of a rooster nearby. Our host gave us a tour and made us feel welcome at this lovely spot.
Jeffrey
2014-09-12T00:00:00Z
Absolutely fell in love with this place, has a very cozy and home-like feeling. Amy was wonderful! Exactly what we were looking for a weekend getaway.
Adriana
2017-03-27T00:00:00Z
The cabin truly is a wonderful place to stay: clean, cozy and plenty of room. It even has a fully operational fireplace. While you could always take the 90 minute drive up to Lake Tahoe the surrounding area offers some great scenery as well. At check-in we were greeted by Amy who was very kind and helpful.
David
2014-09-27T00:00:00Z
Listing description was accurate. Nice quiet place.
Helen
2015-02-08T00:00:00Z
Had a great time in pioneer. Spent a few nights here planning to relax ad nothing more found exactly what we were looking for. Not much around so bring your own food. No ac so the cabin stays pretty cool but warms up in the late afternoon heat.
ryan
2013-08-18T00:00:00Z
Cheryl was quick to reply and attentive. Overall the cabin was clean and in good condition. Only bad things were that the bed in the master bedroom was too hard, my wife couldn't sleep on it and we had to sleep on the smaller double, and that the propane was completely empty on the BBQ so we couldn't use it even though we inquired. Other than that, a great value and comfortable place to stay! Definitely check out Bear River Reservoir nearby. A nice swimming spot :)
James
2016-08-14T00:00:00Z
Room Type
Entire home/apt
---
Property Type
House
---
Accommodates
6
---
Bedrooms
Pioneer, CA, United States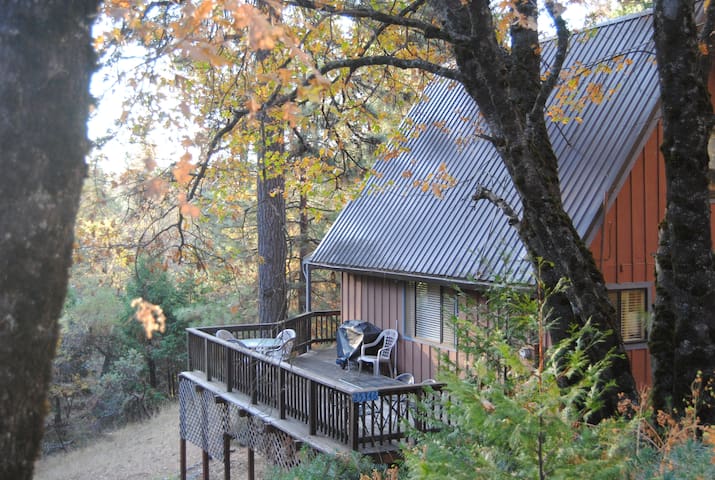 35 miles to Kirkwood Ski Resort 11 miles Jackson Rancheria casino, 2 min. Mace Meadow golf, explore the mountains, high Sierra lakes, streams and many wineries all within minutes away. Tour the caves, gold mines and historic Gold rush towns
Check out cleaning instruction All floors should be vacuumed and at least spot clean any spills. Kitchen should be left as you found it. Please clean the sink and wipe the counters. Take out all garbage from kitchen and bathrooms. Clean the barbeque if you used it.
Cozy place in a quiet, wooded setting. Perfect for a getaway.
David
2016-09-29T00:00:00Z
We enjoyed the magical dome. Its very nice and having wifi was a plus.
Tandra
2016-10-16T00:00:00Z
The visit at the magical dome was one to remember. You won't regret spending your days here. The property is super peaceful and surrounded by trees. The outside deck seemed to be everyone's favorite place. There is enough beds for everyone to be comfortable. If you decide to book the magical dome expect to have a peaceful getaway.
Alexander
2016-07-25T00:00:00Z
The name says it all! We spent three glorious nights at the Dome and had such an amazing time as a family. We played games. Sat together at the booth for meals. We loved, loved, loved the deck. NO shortage of deer, wild turkeys, or hummingbirds. Location close to caverns and Tiger Creek swimming hole. We are already planning our return. Thank you for sharing your lovely home.
Dawnne
2016-07-19T00:00:00Z
My family and I had a great time in Pioneer. We stayed an entire week and never got bored. Rodica was very quick and responsive when I messaged her for a personal concern. Access to Wifi was great; daughters were able to complete their online assignments without a problem. I loved her "Honor system" for the pantry. Plentiful ingredients found in the kitchen.
Mary Lou
2017-02-25T00:00:00Z
Perfect retreat. Beautiful location. The dome is magical, just what we needed for 3 teenagers and 3 dogs.
Stephanie
2017-02-13T00:00:00Z
We had a fantastic stay at the "Magical Dome". The location was just as described. The host was very communicative and helpful.
Philip
2016-07-01T00:00:00Z
My friends and I felt very welcome there and would love to visit again. We had adventures in the local trails, movie nights in the living room and barbecues on the back deck. Our host made sure that we wanted for nothing and that we felt right at home at Half Dome.
Brandon
2016-07-11T00:00:00Z
Room Type
Entire home/apt
---
Property Type
House
---
Accommodates
10
---
Bedrooms
Pioneer, CA, United States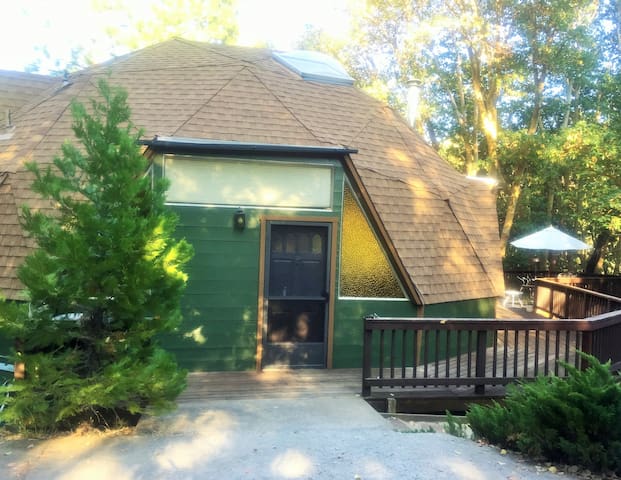 Gorgeous Gold Country Retreat The Wineries of Shenandoah Valley and the fun town of Sutter Creek are close by. This property was created for those who expect the best in quality when they travel . Imagine getting away from it all, surrounded by nature .
4 very comfortable bedrooms with all pillow top mattresses. All bedrooms are beautifully furnished and good size. 1 ex large master suite 2 king beds 2 queen beds 3 full bathrooms. *single daybed sofa in master suite /media room ( for child ) Fully Equiped Gourmet Kitchen with Wolf Range. Round Dining Table with 8 chairs Why stay at a resort when you can rent your own! weekend getaway far from the hustle bustle of the city. Come sleep among cedars, maples and pines and take a deep fresh breath of mountatin air. A romantic getaway for couples or family retreat . Once you get here...you won't want to leave. The Charming Towns of Sutter Creek and Volcano are only 25min away . These towns are ideally situated in the heart of the Sierra Foothill Wine Country. Sutter Creek is Amador County's most walkable town with wonderful outdoor restaurants and shops along the main street. Sutter Creek is the perfect hub to begin exploring the Sierra Foothill Wine regions, including Amador's own Shenandoah Valley. The Wineries of Shendandoah Valley are 40 min away. The Stunning Caples Lake is only 30 min away. In 2006, Amador County was voted by Frommer's as one of the top 10 places to visit. The area is rich in history, small friendly towns, bucolic settings, outdoor adventures, underground tours, award winning wines and so much more. Come see for yourself why Amador is the best place to call your own private escape. Only 2-1/2 hour drive from the San Francisco Bay Area and just over an 1 hour- 1/2 from Sacramento. A host of activities await you in Amador County. The rolling foothills are dotted with quaint communities offering shopping, outdoor cafes, antiquing, and cultural events… answering the call of those looking for a slower-paced experience. The rolling hills can answer the call of those looking for more action with the likes of mine tours, hiking, golfing and biking. These hills are inner-twined with streams and lakes for fishing, swimming and water sports. The rolling hills aggressively convert to the towering cliffs and summits of the Sierras, answering yet the final call to those hooked on more extreme experiences, such as climbing, spelunking, skiing and off-road adventures.sorry - 25 min to Caples Lake ,Silver Lake or Bear River , take a swim or hike amongst California's most beautiful Sierra Mountains. Solar Heated~ Resort Size Pool. May thru September pool temp is 82-92 degrees Solar turned off in winter Standing Heaters down by the pool so you can still enjoy We can get a light snow December - January. Cleaning fee is for deep cleaning , laundry etc , we still expect the house to be left as it was found. Thank you We require you to complete Verified ID before you book with us Thank You PLEASE RESPECT OUR PROPERTY AND HOME If you're interested in having a small gathering, you must inquire within/ host . Limited parking at property This would also have to be approved and there is an event fee
country setting..surrounded by trees and other country properties. we have a private road shared by 2 properties. Now there's a new surge of interest in the area. The overcrowding of Napa has tasting groups in Plymouth — spread languidly across the bar at the Plymouth Hotel, which serves Vino Noceto on tap — lamenting. "You can't even get in on a Monday in winter," says one patron. There is a flurry of new wineries with different attitudes (and altitudes) focusing on different wines — from California heritage zinfandels to Iberian, Rhone and Italian varietals — being championed by roguish and talented winemakers and growers teeming with personality.
Our family spent 4 days by Tricia's place, and for the first time in our lives, we got a glimpse of what it must have felt to live like nobility. The pictures do not do justice to this incredible place. It is stunning, organized, clean, new, and tasteful. We explored every inch, every plant, and every wildlife (deer, cats, bats, hawks). You will never want to leave the pool, or leave the fireplace, or stop enjoying the scenery. Tricia thought of every amenity, from the coffee, to the soap, towels, and the firewood. And of the house was spectacular, clean and very well upkept. Thank you Tricia for giving us this opportunity.
Tzippy
2015-08-18T00:00:00Z
Fantastic house with beautiful grounds, a lovely pool and a kitchen with just about every pot, pan, tool and serving dish that you'd want. Tricia was communicative and quick to answer any questions we had. Great experience, will definitely try and come back.
Simon
2016-05-31T00:00:00Z
My friends and I rented Tricia's home over a weekend and it was amazing! We were there for a girls' weekend and we couldn't have picked a better place. The pool is fabulous, it was very private and the trees surrounding it were stunning. Being a girls weekend, we had to take advantage of the outdoor amphitheater! It's a perfect spot for games or a small dance party(just be careful!). The house itself is very spacious. We had a pretty big group but were able to sleep very comfortably. Oh, and the beds! So comfortable. One of the things that I love about the property is that there are multiple spots for people to hangout. So if you're with a large group and need some time to yourself, there is plenty of options. There is a cozy outdoor space that is covered and has a wood stove that was perfect for the evening that it rained. Also, there are plenty of spots for yoga, or just laying around. Tricia was very helpful when we had questions leading up to the weekend. She responded very quickly and gave recommendations about nearby wineries. You can tell that the propriety is loved and taken care of. I can't wait to go back.
Kelly
2015-06-08T00:00:00Z
Tricia maintains a high class property with all of the touches of a of a high end boutique hotel. All of the touches were accounted for, all the way down to the luxury bath soaps. Tricia herself was extremely personable, helpful and kind. She assisted with our itinerary while in the area and even asked if she could stock the house with anything specific in advance or our arrival. Just Like a Great Concierge Would. The property was stunning, a luxury retreat in the midst of the woods all the way down a private road. The pictures were completely accurate (and there were no omissions of 'bad' parts like sometimes is the case). Notwithstanding the luxuriousness of the property, it was still a perfect spot for our Summer Family Trip with my wife, four children (ages 3-11) and housekeeper. That said, I also want to return with only my wife. There were plenty of activities in the area for the adventurous as well as the mellow minded.
Daniel
2015-08-05T00:00:00Z
We had a great time at this property. The house is beautifully furnished with an artistic flair and impeccably maintained. The pool is wonderful - large and not too chlorinated, just a few steps from the house. This place is perfect if you are looking for a secluded private retreat. We had a great time wine tasting in the Shenandoah valley which is around 1/2 an hour from the house. The host was very gracious.
Addy
2015-09-08T00:00:00Z
We stayed at this lovely house with our toddler son and 2 other families. It was a perfect getaway--the pool feels like an exclusive resort, the kitchen has everything you need to prepare meals, and the bedrooms are very comfortable. The master bedroom has a fabulous tub that the kids loved! Additionally, Tricia gave us two great restaurant recommendations in the area!
Elizabeth
2015-07-27T00:00:00Z
The house and grounds were in impeccable shape. The photos are a very fair representation and we had a great time. We stayed for three nights and Tricia did an excellent job in preparing the house for our stay. One additional note - the house has multiple outdoor dining areas, all of which were very nice
Jonathan
2015-05-26T00:00:00Z
We had a wonderful time staying at Tricia's property. The house and grounds were even better than the pictures, everything in the house was modern, clean, and comfortable, and the amenities were perfect. We spent time by the pool, visited a few local wineries, enjoyed cooking in the spacious kitchen and on the grill on the deck. We are already talking about our next trip back!
Elizabeth
2016-08-01T00:00:00Z
Room Type
Entire home/apt
---
Property Type
House
---
Accommodates
9
---
Bedrooms
Pioneer, CA, United States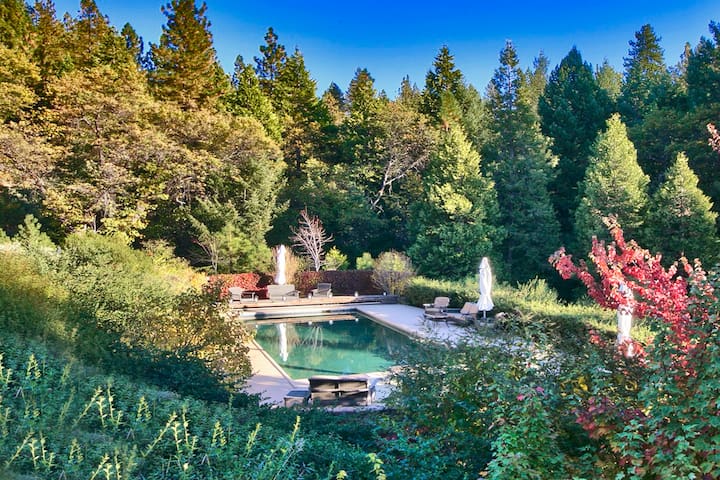 My place sits on Mace Meadows golf course and is close to Kirkwood Ski Resort, South Lake Tahoe, Carson City, Reno, Historic Amador County, Fishing, Camping, Jackson Rancheria Casino, Community Theater, gold mining and more. You'll love my place because the views are beautiful, the home is custom and beautiful yet comfortable and cozy. There is enough room to not be on top of each other. It's an amazing home. My place is good for business travelers, families (with kids), and big groups..
High speed internet is on site. Beautiful custom designed home with all the amenities you need for your stay. Large dining room table in the custom kitchen for large groups to eat together. Relax in the upstairs living room. Spend time on the 2 level decks Play some board/card games on the poker table or simply enjoy some tv on the large and comfy couch, all located in the spacious downstairs family room.
Beautiful and quiet golf course neighborhood. Great place for taking walks down to the beautiful pond on the golf course or just enjoying the tall trees and nature that surrounds this neighborhood. Golf course restaurant is open just down the street or enjoy other small town restaurants in Pioneer. Local grocery store about 3 minutes away. Great place to relax and enjoy the quiet surroundings.
Room Type
Entire home/apt
---
Property Type
House
---
Accommodates
9
---
Bedrooms
Pioneer, CA, United States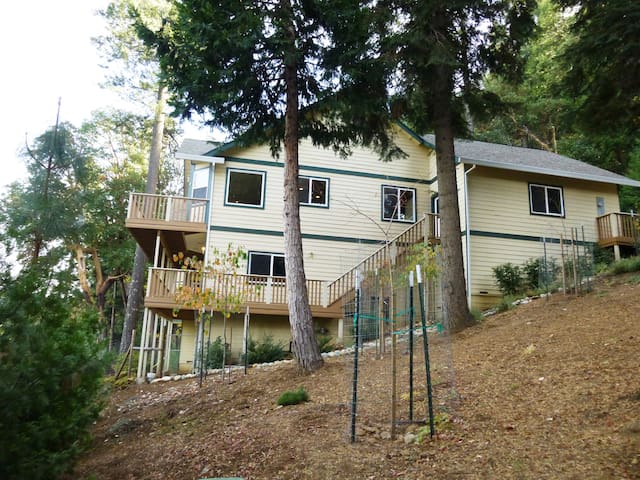 Pioneer - Airbnb
:
Average

5

out of

5

stars from

299

guest reviews
Enter dates to see full pricing. Additional fees apply. Taxes may be added.