My place is close to Stansted Airport London, Cambridge, Hatfield Forest, Bishop's Stortford, Sawbridgeworth, transport. You'll love it's quiet but convenient location. Good for couples, solo adventurers, business travellers, and families (with kids). Kitchen, double bedroom, bathroom and lounge. Extra beds can be provided in the lounge. Garden can be enjoyed, no smoking anywhere on the premises. Car parking available.
A large space with access to a very large garden and parking for the duration of your stay.
A quiet area close to footpaths and river Stort. Pubs, shop, Tea Rooms all in walking distance. Close to the historical town of Bishops Stortford and the new town of Harlow.
We spent 3 weeks in Virginnia's annex and we definitely recommend it. It was very peaceful and comfortable. The annex is very well furnished. Virginnia pays attention to every need you have. Bus/train/taxi connection to the airport exists, however, if you want to commute regularly, a car is desirable.
Erwan
2017-04-11T00:00:00Z
Beautiful house in the marvellous countryside, very close to London. Mrs. Virginnia has delighted us with her warm hospitality. We have appreciated very much the welcoming greeting card written in our language we received at our arrival and the nuts she donated us. The house is perfect, very clean, spacious and confortable, perfectly suited to two people, but she made her best to suit three. It's located just wher we needed, as we had to take our flight at Stansted on monday, but we wanted to visit London before departure. Both location can easily and quite quickly be reached by train, thanks to Sawbridgeworth's train station, which is little further than 1 mile from the house. Recommended!
Donatella
2016-10-31T00:00:00Z
Everything was nice. Thanks.
Amr
2016-10-22T00:00:00Z
This is a perfect place to stay when you are flying out of STE. Virginnia's place and clean and roomy. Would stay again!
Kevin
2017-03-10T00:00:00Z
Cosy, clean, respect your privacy, easy going. Perfect for holidays with family.
Vladimir
2016-12-02T00:00:00Z
Nice house in a beautiful place. Very close to Stansted airport, ideal for spend the night before or after a flight. Virginnia was very kind and helpful. We will come back soon. Hermosa casa en un bellisimo paraje. Muy cerca del aeropuerto de Stansted, para dormir a la llegada o antes de la salida. Virginia fue muy amable y atenta. Volveremos pronto.
Ramon
2016-11-15T00:00:00Z
Room Type
Entire home/apt
---
Property Type
Apartment
---
Accommodates
4
---
Bedrooms
Hatfield Heath, England, United Kingdom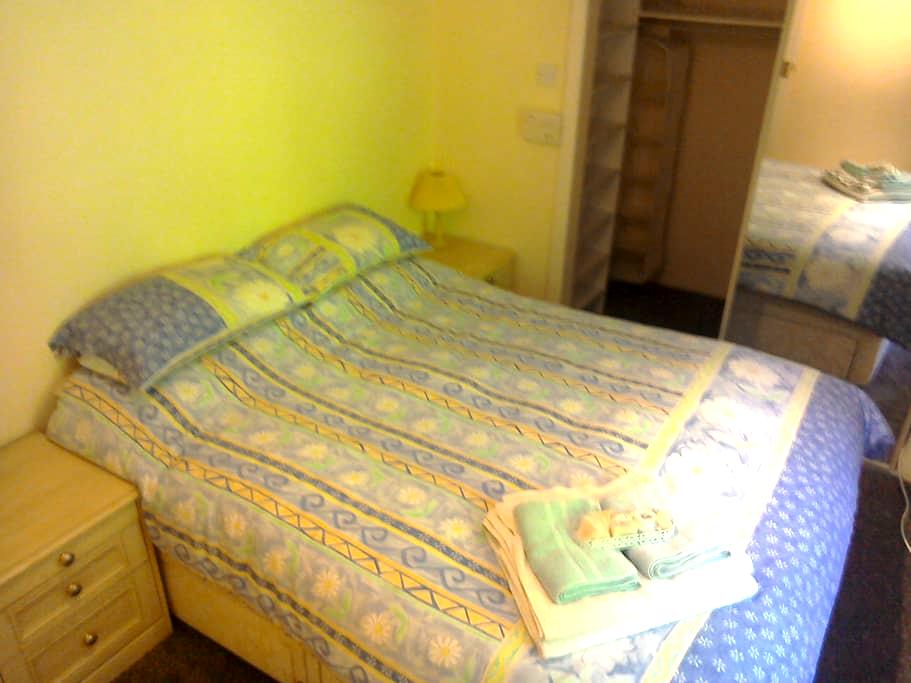 Welcome to our studio apartment with cooking facilities and private patio area. It's conveniently located with public transport links to London, Cambridge and Stansted Airport (also close to beautiful countryside). It is good for couples, solo adventurers, business travellers, and families/friends. One parking space is available. Breakfast foods provided.
Self-contained with small patio area with table and chairs for use.
The studio is well positioned for a work or holiday stay. Road/rail access makes London and Cambridge very accessible. Lovely countryside is on the doorstop with a footpath walk opposite. The towpath of the River Stort (that adjoins the River Lee and eventually East London) is a five minute walk away and runs through pretty Pishiobury Park. There are many local pubs and restaurants a 10 minute walk away in Sawbridgeworth.
Thank you very much Anna & Chris for a warm welcome, for having me and my parents at your place. Your place just felt like home, was specious, very clean, quite, safe, that's exactly what we needed. Everything was provided, as per description. Location suited us as well, next to the town, to the train station, easy to find by driving. Thank you for letting us to park the car too. I'd for sure recommend your lovely studio to anyone. All the best, Kat and the parents
Katarzyna
2016-10-09T00:00:00Z
Great space, location & host! Really friendly host and the space was perfect with us, along with how greatly located this place is! Thanks for having us :)
Timothy
2016-10-02T00:00:00Z
We really enjoyed our stay.
Martin
2016-11-14T00:00:00Z
Anna and her mum Chris made an excellent job with this apartment - cozy, comfortable, decorated with charm, the apartment is also located in a very quiet and beautiful part of rural England - away from any noise and therefore ideal for a relaxing time in the English countryside. The terrace outside makes for great breakfasts/lunches outside if the weather is there. What's more, the hosts are lovely - communication was extremely easy (Chris replying within the hour to any queries), they welcomed us with tea and had breakfast ready for us in the apartment. The place is also conveniently located 15 minutes drive from Stansted which makes it handy for a weekend in England. I would strongly recommend staying there and will no doubt hesitate to go back next time I'm in the area! *** Anna et sa mère Chris ont fait un travail remarquable avec cet AirBnB: confortable, accueillant et tout à fait adapté pour un séjour au calme, en famille au milieu de la campagne anglaise. Situé à une quinzaine de minutes de Stansted Airport, le lieu est idéal pour toute personne souhaitant faire un weekend au calme et visiter la campagne environnante (Cambridge n'est qu'à une demi-heure de route). Je recommande fortement et n'hésiterai pas à retourner à Sawbridgeworth lors de mon prochain weekend sur place.
Maxence
2016-09-26T00:00:00Z
This apartment was VERY spacious! Unfortunately, our stay here was short (left early in the morning) but we had a great night and a very comfortable rest. My husband and I would definitely stay here again!
Linette
2016-11-29T00:00:00Z
Anna and Chris's studio flat is perfect as a home from home! It is deceptively large and has everything you need for a comfortable stay. The bed is very comfortable. Everything was clean and tidy and having a separate entrance to come and go is very convenient. Ideally situated on the outskirts of the town you have the convenience of shops pubs restaurants and bars and also close to the countryside. The train station is close by so have easy access to London or Cambridge. Stansted airport is also nearby. The house is on a residential street which is quiet and upmarket. I didn't personally meet my hosts as I was always returning late but they provided a nice breakfast selection and the kitchenette was well stocked. I have no hesitation in recommending this property
Paul
2016-12-09T00:00:00Z
We had a comfortable and quality stay at Chris's place. It is conveniently located for travelling to Cambridge as well as London. We were pleasantly surprised by Sawbridgeworth - Lower Sheering, it is a nice area with car access into towns as well as beautiful countryside. Chris has been friendly and helpful. Thank you so much Chris :) !
Priyanka
2017-02-19T00:00:00Z
Christine heette ons hartelijk welkom toen we op vrijdagavond om 10 uur aankwamen. Ze had voor brood melk appels en koffie gezorgd! Heel erg fijn dat we de volgende dag niet meteen op zoek hoefden naar n supermarkt. Toen we een probleem hadden met de oven kwam ze meteen helpen en we kregen halverwege de week schone handdoeken brood en melk. Heel lief!
Christel
2016-10-22T00:00:00Z
Room Type
Entire home/apt
---
Property Type
Apartment
---
Accommodates
4
---
Bedrooms
Sawbridgeworth, England, United Kingdom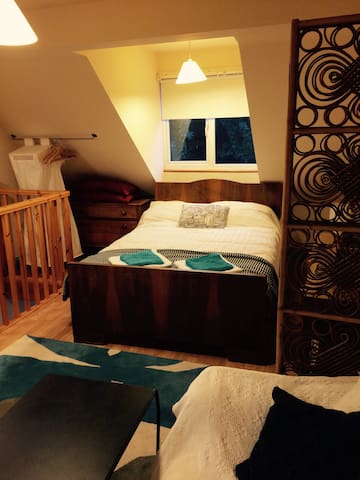 Light and airy studio flat in the picturesque town of Sawbridgeworth. Only 10minutes walk to mainline train station with great services to the city of London and Stansted airport. Fantastic local pubs, restaurants and supermarket on adjacent Bell St.
My flat is small but perfectly formed, lovely for a long weekend getaway or to stay during the working week.
The flat lies just next to a bustling village high street which is refreshingly free from the usual chains. There are plenty of shops to keep you busy for an afternoon, or tea rooms and cafes, pubs, restaurants and takeaways - if that's more your thing!
Alex made the stay very easy, she was really easy going and instant with communications. The flat is quite basic. I would't want to spend much time there as it's almost empty, just furniture. But it was great for one night, would recommend for ease of location and comfy bed.
Helen
2016-04-04T00:00:00Z
Alex was always very responsive, even though we arrived late in the evening. She went out of her way to provide an extra inflatable mattress. We enjoyed the complementary orange juice and pastries.
Volker
2015-07-02T00:00:00Z
Alex was a great host!. She made us feel welcomed by walking us through the apartment and informing us about the area providing directions to the nearest supermarket, train and etc. She was very thoughtful-- leaving little bits and bobs in the kitchen (cereal, milk, eggs, etc), clean sheets every week, and stocking the bathroom with deliciously scented products to bathe with. The place is very cozy and warm just as pictured. It is equipped with all that you would need for a short visit and has a very comfortable pull out bed. The area is conveniently located being on a street with many mom and pops stores, a local supermarket, post office, library and is only about 10 mins walk away to the train that will take you into London in about 40 mins. Thanks Alex!
Hass and Jay
2015-11-25T00:00:00Z
We had a lovely stay at Alex's flat. She very kindly left us a few bits we would need, the flat is located in a quiet but central area. Perfect for our stay thank you Alex. Karen and Kev
Karen
2015-09-12T00:00:00Z
Alex is more than wonderful, even though i have never met her before. Even before we arrived, she'd always check upon us on our arriving timing and made sure that we know how to get to right places! When we have arrived, the place was amazing. It really makes you feel like home. There's literally everything in there. She bought us cereals, milk and M&S oats bites...etc for breakfasts and snacks. I love her Coconut and Vanilla showergels and shampoo, smells heavenly! There's hair straightener as well s doing it with passion and pay attention to details in the apartment to make sure everything is there. Really, it is a blessing to have chosen this place. She always have prompt replies no matter how late it was and the Wifi in the apartment was superb! Haha! Highly recommended! One thing to regret is that i have never get to have the chance to meet her in real life. Thank you for everything that you have done for us, we truly appreciate it! Thank you. :)
Ledia
2015-10-02T00:00:00Z
The host made us feel extremely welcome in her flat. Alex had left us a couple of treats to welcome us to her flat. Its a very nice little flat on the ground floor, and spot on for what we wanted. We stayed for two nights and used the local station to get into the centre of London for some shopping! Not only that though, the local village was stunning, and great for a relaxing walk. Although we didn't actually use any of them, there were lovely local pubs and restaurants that make it a great place to stay! All in all, if you're looking for a place to stay that is within easy reach of London, but you don't want the constant roar of the city, then this is the perfect place. I couldn't rate it any higher! On top of all of this the host, Alex, was exceedingly nice and always willing to offer up any information on the local area or anything else you wanted to know. She knew everything that we'd needed to find out and I would advise anyone to make the most of her knowledge in order to get the best out of your stay! Thank you Alex.
Matthew
2015-08-10T00:00:00Z
Staying at Alex's was great! The apartment has everything you need and is situated in the center of Sawbridgeworth, with a supermarket, pubs and restaurants all in walking distance. Being only 15 minutes from Stansted and less then 30 minutes from Liverpool st. London by train, its located conveniently close to both. Alex was very welcoming and helpful, responding almost instantly on any questions or needs throughout our stay. The apartment itself is kept clean and has a very comfortable sofa bed. All I can say is that my girlfriend and I had a wonderful stay in London, and staying at Alex's was a good part of it!
Elias
2015-05-17T00:00:00Z
Alex's flat was perfect! The location was a 40 or so minute train ride from London and it was quite easy to navigate. I loved Sawbridgeworth. The flat itself was exactly as expected. Alex left food in the kitchen which was appreciated as I had no food my first night staying there. The flat was a bit cold, but other than that everything was great. I would definitely stay here again if I had the chance. Thank you, Alex!
Traice
2015-10-27T00:00:00Z
Room Type
Entire home/apt
---
Property Type
Apartment
---
Accommodates
2
---
Bedrooms
Sawbridgeworth, England, United Kingdom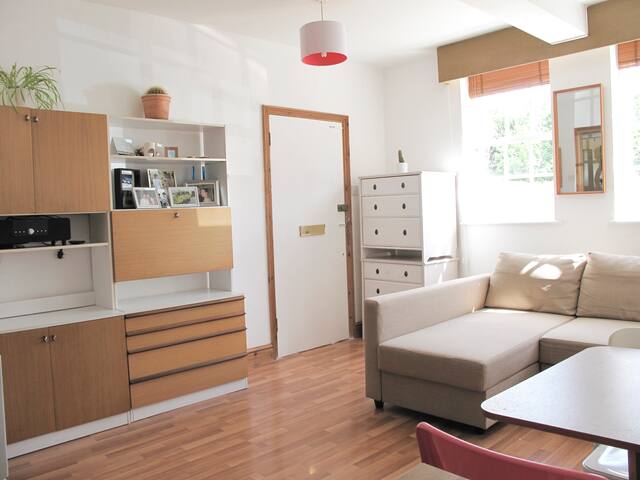 The Acorn is on the southern side of Bishops Stortford, roughly 15 minute walk from town centre. There is a river behind you can stroll along, outdoor space, and the room is light and airy. Private gated parking for one vehicle. The place is secluded good for couples, solo adventurers, business travelers, and one well-behaved furry friend (pet). (Please note that the hosts live 15 mins away & not next door). With transport links nearby (bus, train, Stansted airport), the adventure starts here!
The building sits alone with a large paddock behind for your use, so providing private secluded accommodation, all within walking distance (15 mins) of the town centre, and local pub (Coach and Horses) which serves good pub grub. The apartment is new build, with a very modern feel and 100meg fibre broadband.
All the restaurants, pubs and bars to visit in the town a 15 minute walk , or short taxi drive away, also with green areas, with walks along the river Stort, and up to Thorley Church.
Nice Place
Carina
2017-01-01T00:00:00Z
Sarah and Reuben went out of their way to ensure that we had peace and privacy for our short break at The Acorn, whilst being available if we did have any queries. The decor is lovely, fresh and modern, with all the amenities you need for a comfortable stay. Great walks along the navigation just at the back of the property, enclosed garden much enjoyed by ourselves and dog!! Appreciated the welcome muffins to start the New Year off in good spirits.
Jen
2017-01-06T00:00:00Z
The host canceled this reservation 4 days before arrival. This is an automated posting.
Jane
2017-03-06T00:00:00Z
The host canceled this reservation 5 days before arrival. This is an automated posting.
Kelsie
2016-11-14T00:00:00Z
The apartment was just as described and pictured. We stayed as a family of four and we took a travel cot and ready bed for our children which fit easily into the bedroom. The apartment was very clean and well-equipped. We enjoyed sitting outside for dinner overlooking the garden and our toddler liked being able to explore after a long journey. The homemade treats were a lovely touch. Thanks to Sarah and Reuben.
Kathryn
2016-09-05T00:00:00Z
Really lovely host, felt comfortable and enjoyed a quiet get away.
Kiera
2017-02-15T00:00:00Z
Stay was nice. Sarah and Rueben we considerate hosts. It wasnt as secluded as I imagined from the pictures (but i should have checked more). also a bit noisy from the road, especially in the mornings. But flat is nice and cosy and enough space for 2 people (and a dog). Great pub down the road serving food.
kieran
2017-03-01T00:00:00Z
Our stay at the Acorn Lodge was really lovely. The banana chocolate welcome muffins were delicious! Great communication from Sarah & Reuben throughout the booking procedure. The place was beautifully decorated, shower had awesome power and overall a very peaceful spot. Would recommend.
James
2016-09-05T00:00:00Z
Room Type
Entire home/apt
---
Property Type
Apartment
---
Accommodates
2
---
Bedrooms
Thorley, England, United Kingdom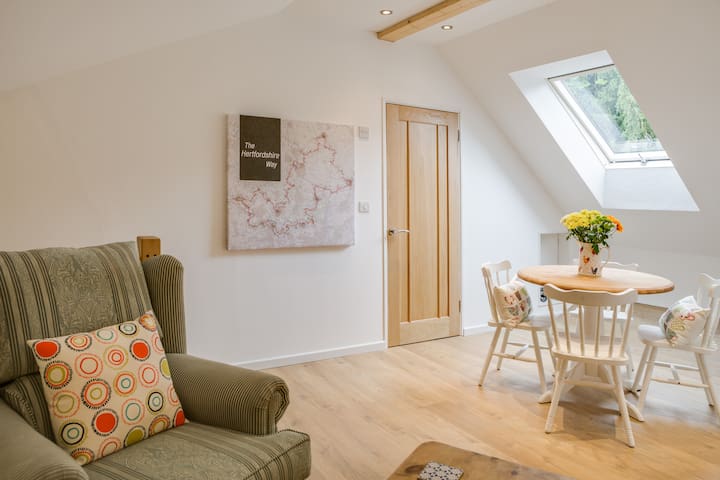 The location of this apartment is superb; close to the M11, Stansted Airport and Bishop's Stortford station with the centre of town no more than 5 minutes walk to quaint tearooms and great restaurants. This apartment is great for business & leisure. The apartment features: - FREE HIGH SPEED WIFI - TV PACKAGE WITH 1000'S OF FREE MOVIES - HOTEL QUALITY LINEN AND TOWELS - GREAT CENTRAL LOCATION - CLOSE TO STATION - PARKING NEARBY - FULLY EQUIPPED KITCHEN - GYM AND CINEMA NEARBY
The apartment has been furnished for comfort to an exquisite standard. It will comfortably sleep 4 but can go up to five if required. It caters for the most discerning traveller/s. The kitchen is equipped with multiple functional microwave, washer/dryer and washing machine. There is weekly clean including linen and towel change.
There is so much to do; if you are a movie buff, the cinema is no more than a stone's throw away. If you often find yourself in need of a good workout, Nuffield Health Fitness & Wellbeing Gym can be found right on your doorstep. If you love walking or running, the scenic River Stort imbunes you with a sence of peace and tranquillity like none other. Eateries in Bishop's Stortford are simply divine and leaves you with a hunger for more. The apartment is well located for easy commute to Stansted airport, Cambridge and London.
Plaxy met us at the apartment and was very welcoming. Plaxy has a wonderful apartment. Everything is finished to the highest standard. Very big room with an extra large double bed and nice on suite. Another smaller room with 2 very comfy beds. The bathroom is very nice and very modern. Lovely kitchen and sitting area with great wifi and everything you need to make it a home from home. 2 mins walk from train station and 5 mins from the town centre. Absolutely fantastic stay and would definitely recommend.
john
2017-02-24T00:00:00Z
Room Type
Private room
---
Property Type
Apartment
---
Accommodates
4
---
Bedrooms
Hertfordshire, England, United Kingdom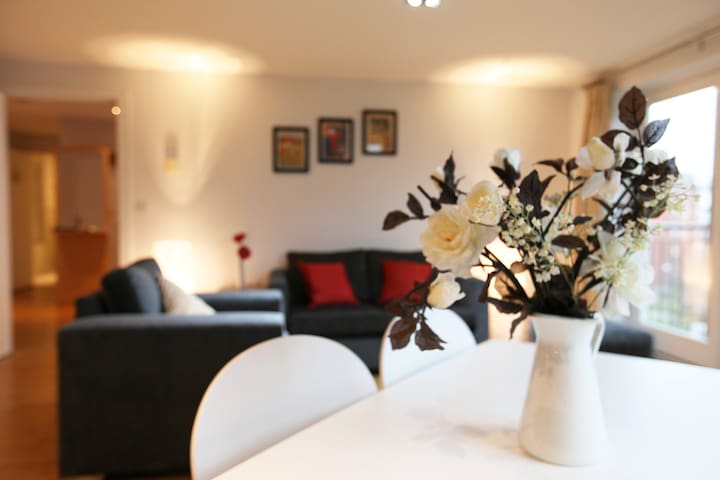 Charming, light and airy one-bedroom cottage apartment in rural location 10 minutes from Stansted Airport. Fully equipped kitchen. Spacious lounge. Wonderful garden views. No aircraft noise. Ideally situated for Bishop's Stortford, Saffron Walden and Cambridge; one hour from London. Secure parking on site. Use taxi, not Uber.
It's in the grounds of a beautiful old Victorian house, overlooking an island.
Rural, quiet.
This is a truly wonderful hidden gem! The apartment is decorated beautifully throughout with lovely personal touches. The hosts were incredibly accommodating, greeting me even though I was particularly late. Thank you for your kindness and hospitality. Regards
Debbie
2016-10-21T00:00:00Z
Friendly and accommodating
Debbie
2016-11-25T00:00:00Z
The pictures don't do the cottage justice. It is so cosy and clean. Definitely recommend staying here !
Frankie
2017-03-12T00:00:00Z
A wonderful home from home!
Nikki
2017-01-20T00:00:00Z
Friendly and any problems sorted very quickly
Debbie
2016-11-04T00:00:00Z
We stayed here after arriving back from a holiday via Stansted. It was really easy to find and get to. The cottage it's self was beautiful and cosy and the facilities were everything we needed. Lovely hot shower and big well equipped kitchen perfect for nights in and big home cooked meals. The grounds it is set in are beautifully maintained and Philippa was an excellent host. Thank you, would definitely stay again and recommend to friends and family.
Myles
2016-10-14T00:00:00Z
Really nice apartment in a very quiet area. No shops/cafes/bars within walking distance but surrounding area was very scenic. We stayed for 3 nights and commuted in to London for a day via the airport. Had everything we needed for our short stay.
Rachel
2016-11-28T00:00:00Z
Nice comfortable apartment in a good location. Private and cosy
Clare
2017-01-31T00:00:00Z
Room Type
Entire home/apt
---
Property Type
Apartment
---
Accommodates
2
---
Bedrooms
Takeley, England, United Kingdom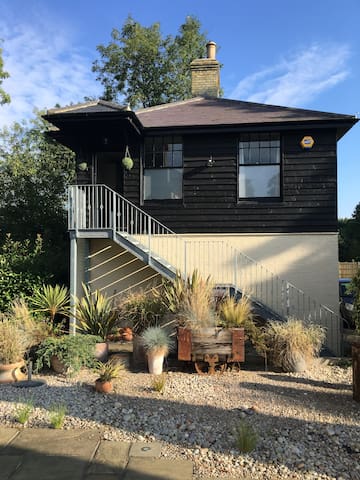 My place is close to Stansted Airport (with easy access), a train station with great access to the heart of Cambridge and London, and there lots of restaurants in Bishop's Stortofrd. You'll love my place because of the location. It's a great place to stay for couples, solo adventurers, and business travellers.
The apartment was very clean, cosy and welcoming. The shower was powerful and refreshing. There is no parking around the apartment but Gareth kindly allowed us to use his space in the secure area. There are plenty of restaurants within walking distance. It took 20 mins to drive to Stanstead airport so very convenient.
Anne
2017-03-24T00:00:00Z
Great hostess, everything spotless. Very close to the train station in a very nice area.
María Isabel
2017-01-30T00:00:00Z
Perfect for our quick stay! My husband and I had an early flight the next morning from Stansted Airport and this apartment was super close to it, so we finished our day in London and took the train to their place in the evening so we could sleep close to the airport the night before. It was perfect for our one night stay. Sheila and her partner were very kind and accommodating to our check-in availability. It was pretty far from London, so we didn't want to check in early during the day then head back to London then back to their place at night. So we came later in the evening and they were totally ok with it. Her partner greeted us warmly when we arrived and left us to rest up for the night. Everything was very clean and the neighborhood felt very safe to walk around in at night. Very very close to the train that takes you to the airport.
Cassandra
2017-04-04T00:00:00Z
Perfect stay before my Stansted flight :) Good location, clean & comfortable, and Sheila is lovely and welcoming!
Casey
2016-12-10T00:00:00Z
Sheila was a good host and my stay was a positive experience and close to the airport.
Joe
2016-08-24T00:00:00Z
Sheila and her boyfriend are nice people, they are so warm and welcoming. Apartment is really clean, beautiful and cozy. Best place to stay in Bishop! =) Thank You!
Elo
2017-01-13T00:00:00Z
Sheila was so lovely and accommodating during our stay; the room was great, and the location is great as it's a short 10 minute walk to the train station - ideal for anyone with a flight from or to Stansted (which is a short 10 minute train ride from Bishops Stortford). Would definitely recommend!
Austin
2016-08-20T00:00:00Z
Sheila is flexible (with the check-in and check out) and very organised, they have a very nice and clean home, we had our own room and bath room. Thank you for everything, it was nice to meet you :)
Vlad
2016-12-14T00:00:00Z
Room Type
Private room
---
Property Type
Apartment
---
Accommodates
2
---
Bedrooms
Hertfordshire, England, United Kingdom
This is a lovely studio apartment in the centre of bishops stortford. Close to both the bus and train station for direct links to Stansted airport or London Liverpool Street , It is part of an old coaching inn that has private court yard parking on a first come basis .
The flat has a double bed , sofa bed, small fully equipped kitchen, shower room, tv. Computer if needed . Coffee and tea making facilities .
Old market town, close to open countryside and pretty villages, great transport links , plenty of places to eat and shop
Room Type
Entire home/apt
---
Property Type
Apartment
---
Accommodates
4
---
Bedrooms
Hertfordshire, United Kingdom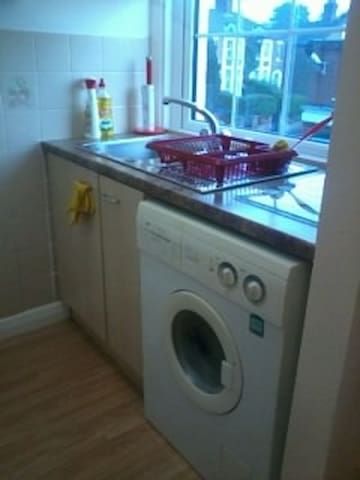 Spacious two bedroom apartment, with two bathrooms and open plan kitchen and living area. Fully furnished and located close to the centre of Bishops Stortford with excellent road and rail links to London and Cambridge.
The host canceled this reservation 9 days before arrival. This is an automated posting.
Fabrizio
2016-03-07T00:00:00Z
Very good location,we were pleased with clean and modern flat interior with good size bedrooms and living room,own parking space. A nice extra was cupboard stocked with milk and some food
Suzanne
2017-03-04T00:00:00Z
Amazing location and the host is 5 stars. I would stay here over and over again! Very nice flat.
Jason
2016-08-26T00:00:00Z
Graham's apartment is ideally located; one can explore the town of Bishop's Stortford on foot, with dozens of stores and restaurants nearby, and the train station for a quick hop to London is a 10 minute walk. Stansted Airport is also virtually next door. I had everything I needed in the apartment, from cookery to TV stations.
Jason
2016-02-21T00:00:00Z
Lovely flat and very well equipped, convenient location and handy to be able to park. Graham made sure we had all the relevant information and was very helpful, only wish we could have stayed longer.
sharon
2016-04-05T00:00:00Z
Graham was really welcoming and responded really quickly to our emails, even when he was away. He did everything possible to make our stay comfortable and the flat was great. We quickly got used to the noise from the trains and it was great being so close to town. The neighbours were really lovely. Our three year old was also very at home there, and loved being close to the playground (we were glad to have packed a portable blackout blind as the rooms are very light). The supplies were really useful and parking really easy. We're grateful to Graham who was really kind and a great host. This is a brilliant flat.
Madeleine
2016-08-07T00:00:00Z
Graham was a great host. He met me at the flat and then took the time to show me the best way to get to the town and where the grocery stores and train station were located. The flat was excellent. It had everything that I needed and the town was just a few minutes walk away. I stayed for work and one of my employer's major concerns was safety. The flat could not be more secure with a code to get into the building and two locks for the door. But the neighborhood is extremely safe and quiet - mainly small families. There is the commuter train that goes by in the back - but it is so quiet I didn't really notice it. I would definitely recommend staying here.
Megan
2016-06-19T00:00:00Z
Room Type
Entire home/apt
---
Property Type
Apartment
---
Accommodates
4
---
Bedrooms
Hertfordshire, United Kingdom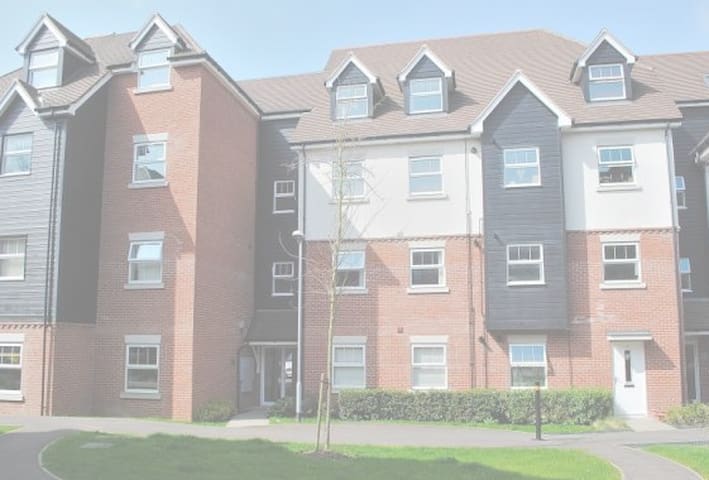 This trendy, bright and airy studio with its own private access is within the peaceful curtilages of a gorgeous English Heritage Grade II listed Georgian townhouse, extremely close (a minutes walk or less) to the very centre of the very quaint Bishop's Stortford town. It is very spacious and comfortable with everything you need for a great stay, whether for just a fab' long weekend away treat, perhaps a few months between home moves - or even longer.
It sits in a third of an acre, private manicured grounds, close to the very centre of the town and railway station, whilst benefiting from private, gated access parking and access to all restaurants, bars and amenities that Bishop's Stortford has to offer - without the need to pay for or use a taxi, saving travel costs (and/or your driving license!) whilst staying in a five star rated studio.
Amazing, picturesque and fun town central location, yet it is 'countryside quiet', protected by a row of shops and surrounded by beautiful things and places to see.
Fabulous place to stay five stars
Tony
2017-03-11T00:00:00Z
If you want to stay at just 30 minutes from London and still enjoy the beautiful English countryside, Simon's apartment is the place to stay. You'll have all the space of flat for yourself with all amenities you need to feel at home. Nothing like being able to cook your own food when you are on holidays, what will help you to save money and eat well. If you feel like eating out, though, Bishop's Stortford offers quite a few restaurant options within walking distance from the apartment. The train station is just a short walk, and you can get to London or Cambridge. It's important to mention that the apartment is separated from the main house, so you'll have all the privacy in the world. Simon was a terrific host and is always just a message away if you need anything.
Nelson
2016-09-15T00:00:00Z
It is a great place with a great owner. Almost centre of town, but really quiet and cosy place. Highest level of privacy and private property parking. High-end fitted kitchen, stylish furniture, natural sunshine during the morning shower and sofa which you never want to leave once lain on)) It was hard to leave this lovely place and mostly because of hospitable friendly and helpful owner - Simon. He is the most liable, reliable and responsive man, we have ever met!)
George
2016-11-13T00:00:00Z
The flat is in a great location, very close to shops and restaurants. Simon is a very friendly and helpful host.
Helen
2017-01-27T00:00:00Z
Room Type
Entire home/apt
---
Property Type
Apartment
---
Accommodates
2
---
Bedrooms
Bishop's Stortford, Herts, United Kingdom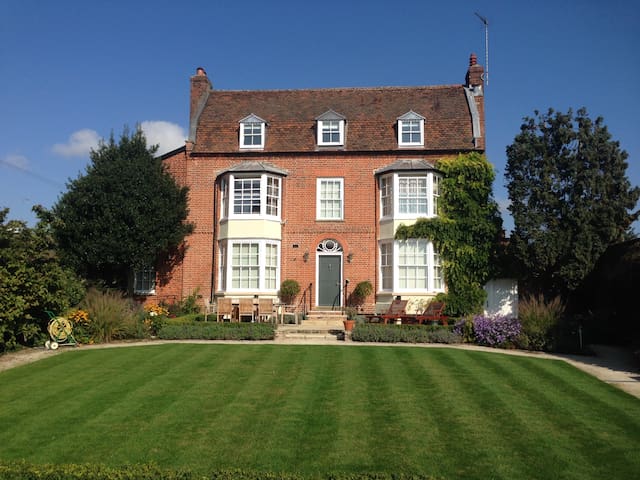 Hatfield Heath - Airbnb
:
Average

4.8

out of

5

stars from

96

guest reviews
1

–

10

of

10 Apartment Rentals
Enter dates to see full pricing. Additional fees apply. Taxes may be added.