Private ground floor apartment facing Lake Wallenpaupack offering beautiful sunrises every morning. Cozy fireplace in the living room, and fire pit by the lake. Fishing, kayaking, swimming right out your door. Many hiking trails close by.
The house is right next to the lake. The whole bottom apartment is for the guests.There is a dock for fishing and sun bathing. Owner is not responsible should you decide to swim. Two kayaks are available for guest use. Boats are available to rent near by. WiFi and firewood included. Owner has two cats, one is a long hair.
It is very quiet and beautiful, the deer have become the neighborhood pets!
Dawn's place is wonderful! We had bad luck with weather, but still had a great time thanks to the amazing view, covered porch, and gas grill. Thanks so much, Dawn!
Lauren
2015-06-22T00:00:00Z
Staying at Dawn's lake house for the 2nd time was wonderfull for myself and my husband!!! She made sure we had all of the comforts of home, plus! The weather couldn't be more beautiful and we had the best weekend on the lake. We love her two kitties also! Dawn is the best host and we're looking forward to going back again and again when were able to. Thank you Dawn for everything!
Larry N Lori
2016-09-06T00:00:00Z
This is definitely a special spot with a special host! Dawn made our 25th wedding anniversary a memory we will cherish. The apartment is comfortable and quaint with places to relax (big couch) and enjoy the view. Coffee on the porch overlooking the lake will be missed! Dawn made it easy to book, arrive, stay and leave. The use of her canoe made it perfect for us!
Louise
2015-09-15T00:00:00Z
Dawn made me and my girlfriend feel extremely welcome right as we arrived. She explained us all that we need to know about the cabin, and the surrounding areas such as activities, and made sure we had all that we needed to settle in right away. About the place. It is simply like to other. Pics do not do justice. I will certainly visit again, and refer this place to anyone looking for serenity, and relaxation. I especially loved the views and the fireplace, and how generous Dawn was about everything accommodations related.
Simon
2016-01-28T00:00:00Z
Dawn was there to greet us. she is just wonderful. Her home is warm, inviting and she made us as comfortable as she could. The location for us is perfect.
Larry N Lori
2015-12-28T00:00:00Z
Dawn's place was so so great! First off it was so incredibly peaceful and the view was gorgeous. The neighborhood deer were a fun surprise, we had 10 of them right out the back door that were not shy at all. I've never been so close to deer before and we even fed one out of our hands! The space was so comfy and relaxing, we used the fireplace plenty and it was so cozy. The bed was very comfy and I loved that there were plenty of games and books for use. Dawn's cat Einstein was very friendly and added some comedy with his spying on us through the back door. We needed a quiet and relaxing weekend away and this was beyond expectations. We loved the book of activities and things to do that Dawn put together and thanks to that we enjoyed some pleasant hikes and an ice show! Whether winter or summer, I'm confident to say that you can't go wrong staying with Dawn!
Steph and Clint
2017-02-12T00:00:00Z
My wife and I loved it. Dawn was there for any help or question all the time. She is so nice. You will feel like it's your home. I recommend you to go there. We definitely go there again.
Naif
2016-03-18T00:00:00Z
Wow, we had such an amazing time at Dawn's lakeside cabin! Words can't describe how beautiful it was there and it really is right on the lake. Dawn was an incredible host and let us use one of her canoes to paddle around the lake! There is a grill, a fire pit, and even a private dock where you can wade in the water. What a great escape from city life!
Pat
2015-09-12T00:00:00Z
Room Type
Entire home/apt
---
Property Type
Apartment
---
Accommodates
2
---
Bedrooms
Lake Ariel, PA, United States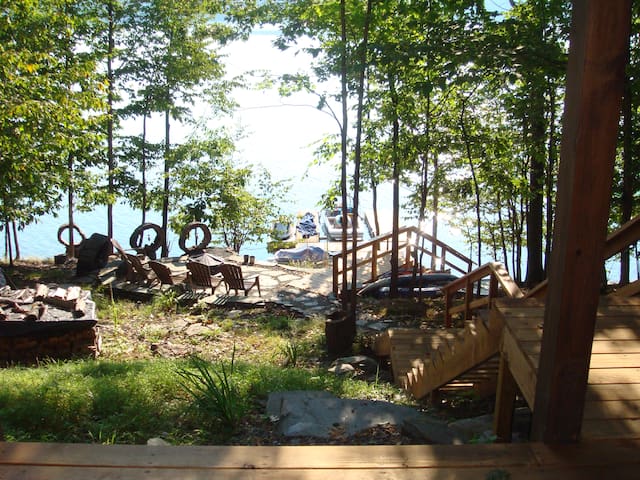 Close to Historic downtown Honesdale with farmers markets, cafes, shoppes, scenic train rides, and a quaint central park. Some of our favorites are: Branko's Patisserie du Jour Dyberry Forks The Cooperage Stourbridge Line Train Our historic farm house with private entrance hotel-style rooms is nestled on a beautifully landscaped 5.5 acres. Fully stocked pond with sand beach. Easily accessible and yet wonderfully quiet. My place is good for couples, solo adventurers, and business travelers..
This is an incredibly sweet place, well decorated, clean, and easy to access. Steve was very nice and efficient. Booking was easy. I would definitely stay here again.
Kate
2016-08-15T00:00:00Z
Room Type
Private room
---
Property Type
Apartment
---
Accommodates
2
---
Bedrooms
Honesdale, PA, United States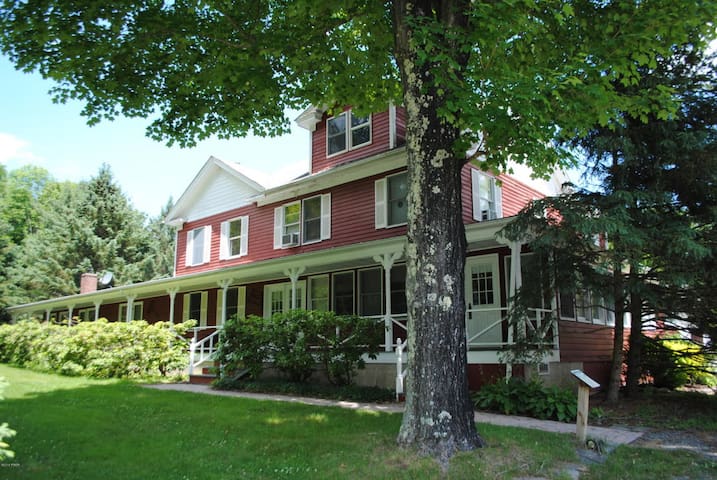 Our house is located at the end of the a road.Private backyard surrounded by trees with hot tub-sound system , bon fire, outside projector hookup & screen.Access to lake , pool and activities.
Private home private backyard hot tub , bedroom 1.5 bathroom, living room,Smart TV&SONOS sound system, dining area & large fully equipped kitchen,stove,dishwasher,large refrigerator,microwave,coffee maker,electric tea pot,utensils plates,pots and pans. We provide clean bathroom towels,covers and sheets.Outside- dining table,grill.With a 5 min drive you can relax at the pool,as well as play some tennis or basketball. The area has a lot of interesting attractions to visit-zip-lining,paintball asylum,Indian museum ,to beautiful Bushkill Falls ,Shawnee Mountain Ski Area (about 20 min).Camelback Mountain Ski, outlet stores (35-45 min away).We also have a projector , roku available as we have a screen installed outside Bring your own laptop , Apple TV , or other streaming media player.We hope you have a great time!
The lake is 5 minutes away walking distance , there is a beach , playground for kids and volleyball court . Drive to the pool & and tennis courts takes about 5 minutes.Nearest gas station, stores,bars and restaurants about 15 min !
Room Type
Entire home/apt
---
Property Type
Apartment
---
Accommodates
2
---
Bedrooms
Bushkill, PA, United States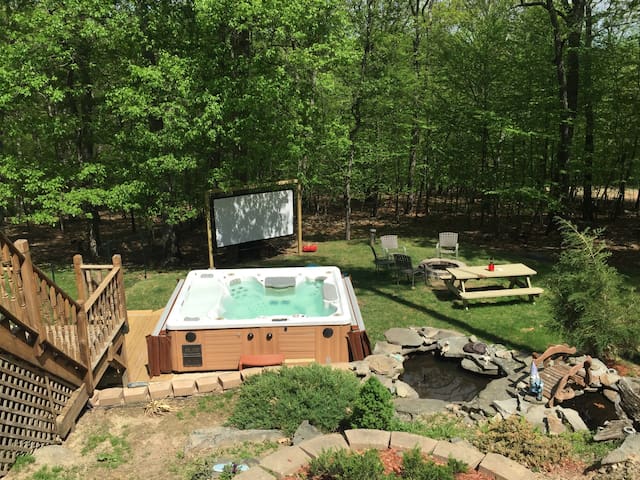 You'll love my place because it's a great experience for adults and children alike. The area sports, lakes, falls, nature parks, amusement center and more. My place is good for couples, solo adventurers, and families/kids.
Trailsend is a gated community that offers so many eminities. The modular cabin is basically a place to sleep while you get out into nature to explore the beautiful surrounding.
Situated in a campground area.
Great location to tube on the Delaware river. Brady was so nice and provided some area recommendations. Would definitely recommend to someone wanting to be "city" type wilderness.
Jennifer
2016-08-15T00:00:00Z
Brady was very nice, and welcomed us with an informative phone call. However, the stove and oven were either not working or not hooked up, and the fridge/freezer smelled so bad that we could not use them at all. The bathroom was also very dirty. This is in a trailer park, it is not a cabin (should be on the listing). Beds were okay. Would not stay here again - it was pretty ridiculous that we had to vacuum the floors and clean everything when nothing was clean when we got there in the first place. We left it MUCH cleaner than we found it.
Gabrielle
2016-08-29T00:00:00Z
Brady was amazing. As someone else said, the best way to put it is that he was accommodating and very helpful yet not at all intrusive. He was very clear with instructions and directions, things of that sort. The place is charming and beautifully decorated. Good amount of privacy, and just a wonderful place to relax. Amazing experience and hope to go back again soon.
Mina
2016-07-25T00:00:00Z
Our stay at Brady's was absolutely perfect! He was caring, informative but not intrusive, and very accommodating. He welcomed us with a very nice basket filled with essentials like towels, shampoo, soap, and chocolate. His place was well kept, clean, and comfortable. We will definitely stay again!
Lauren
2016-07-03T00:00:00Z
Brady was very helpful he even left a basket in the dinner table with full of flyer from different activist we can do around the location. the cabin was very clean small but very nice comfy for my family the pool was a plus every one in the community was very nice and welcome. Hope to be back soon he is a great host. If you want to a a little get away from the city it's very great choice.
Rom
2016-08-24T00:00:00Z
Cute getaway spot, close enough to River and Lake and with a great pool in the community. Would have been nice to have tv and Internet, but we survived 2 nights without!
Michelle
2016-08-21T00:00:00Z
The host canceled this reservation 2 days before arrival. This is an automated posting.
Alma
2016-05-25T00:00:00Z
Room Type
Entire home/apt
---
Property Type
Apartment
---
Accommodates
6
---
Bedrooms
Shohola, PA, United States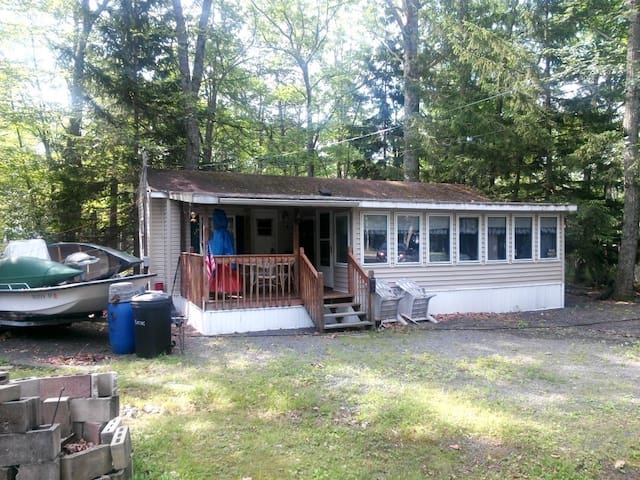 My place is close to Narrowsburg and Callicoon. You'll love my place because of the play of color and light, two stair cases, 2 minute walk to delaware, 5 minute drive to callicoon, 10 minute drive to narrowsburg. My place is good for couples and families (with kids). CAVEAT: Due to extreme heat of late, and that there is no AC, please be aware the bedrooms may be too hot for heat-sensitive persons (like me). There is also a train that comes through around 6am i.e. not good for light sleepers
this 3-story home has two staircase from the ground floor to the second where the two large bedrooms, main bath, and laundry rooms are located, and an additional stair case to the third floor where the smaller bedrooms are located.
this minute town consists of a few Victorians, a church, and walking distance over the bridge to the river. There is a stable nearby for anyone wishing to take horse riding lessons.
Anne was a wonderful host, responsive, accommodating, generous and helpful. She responded quickly whenever we had a question or needed something and helped us get oriented in the area which she knows well. The place was easy to find, impeccable, clean, and had everything we needed, fresh towels etc.. the fridge was stocked with great breakfast items, sparkling water... that came in very handy in the morning. Anne's place is a dream house, more beautiful in reality than in the pictures, and with great atmosphere and beautiful light, tranquility. Every piece of furniture is as fine and as the house itself. It's a very large but cozy place that could easily accommodate two families with its 5 uniquely decorated bedrooms on two floors. The house is located in a quiet very small town or intersection called Cochecton, which is in close proximity to Callicoon, Narrowsburg and North Branch that all have great restaurants and attractions, notably the North Branch Inn where we had an amazing meal. We had a wonderful time there, we loved the area, which seems to be up and coming destination. For a weekend get away from the city, Anne's place is definitely a top choice in the area.
Noemie
2016-07-26T00:00:00Z
The house is big and pretty, and is in a beautiful scenic area in the catskills. Anne wasn't there to greet us since she was on a trip abroad. Communication could be better. The property is so big and a little dark that it can feel a little spooky. It could be a bit more maintained and instructrions to get inside the house could be more clear. Also, we couldn't access the wifi and when we asked the host there was no response. Overall the experience was nice for a night but we felt it was a bit overpriced for what it is.
Hernan
2016-08-28T00:00:00Z
Anne was easy to communicate with and she left really good breakfast food. She told us we would have to light the stove but actually the stove has a working pilot light.
arlene
2016-08-08T00:00:00Z
Room Type
Entire home/apt
---
Property Type
Apartment
---
Accommodates
6
---
Bedrooms
Cochecton, NY, United States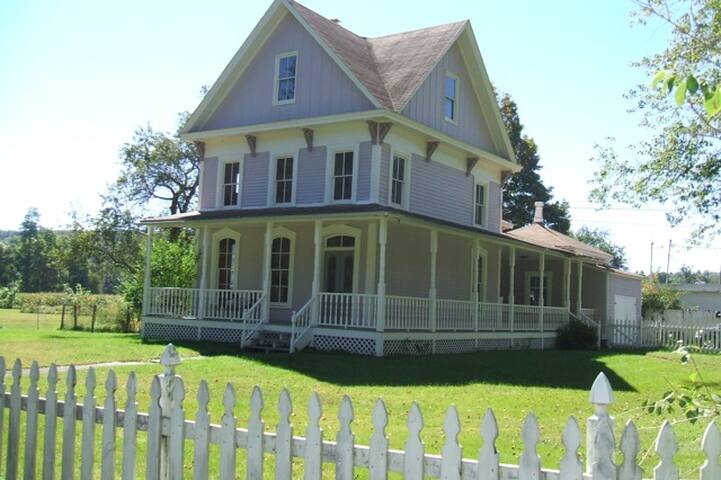 Brand new modern apartment above barn. Separate from the main house, but a stone's throw away if you should need anything. Everything you need to have a relaxing stay. Full kitchen, gas fireplace, big screen tv with apple tv and dvd, king size bed, pullout queen couch bed, air mattress, and wifi. Enjoy the privacy of our 10 acres. Make friends with the wiener dog. Feed the chickens. Snuggle in front of a campfire. BBQ some ribs. Most importantly, relax, unwind, and enjoy you stay!
Simple, yet provides every amenity you need while away from home. Clean and comfortable. Everything in it is brand new. You don't have to worry about a thing. Apartment is cozy but well laid out so it doesn't feel cramped. A great place to enjoy some down time between sight seeing.
The apartment is located in a rural area, but is within 10 minutes of all surrounding cities. It is situated right in the middle of all Poconos attractions. My place is close to multiple ski resorts, including Jack Frost, Camelback, and Shawnee. There are two water parks within 10 miles (Camel beach and Kalahari). Both have separate indoor and outdoor parks so you can enjoy them in any season! If hiking, biking, kayaking is your thing, there are too many to list here. Its what the Poconos is known for! Take in the sights at Bushkill Falls or do a ropes course at Camelback. Canoe down the Delaware river or golf until your hearts content at one of our country clubs. If you are a hunter, you are sure to bag a deer/bear/small game as the forests are teeming with them. (Seriously, the deer here are as plentiful as chipmunks.) Fishing is great too with many beautiful rivers and lakes. Pocono raceway, Claws and Paws zoo, Skirmish paintball, bowling, laser tag, roller skating, and the list goes on and on. Relax for a day in one of the many upscale spas. History buffs can visit historic Jim Thorpe, ride the steam town railroad, take a tour of Delaware Water Gap in a trolley, see how 19th century folks baked bread in wood fired ovens and collected ice to store in their ice house for use in summer at Quiet Valley Living Historical Society. If you're looking for some fun adult entertainment, Mount Airy casino and Desaki nightclub are a 10 minute drive. Culinary experts will appreciate the fine dining at our many first class restaurants. Desaki is a gorgeous sushi/hibachi place where you can practically have your eyebrows singed while watching your meal sautéed in front of you. Also check out the Frogtown Inn, Alaska Petes, the Chophouse, and Van Gilders Jubilee. The quaint town of Cresco itself has a few gems that are worth checking out...Callie's Candy Kitchen and Callie's Pretzel Factory are fun for the kids. Sometimes they demo how pretzels and candy are made. Mountain Creek riding stables offer horseback riding with excellent friendly guides. Cool little antique shops are all over here. And lets not forget the Casino Theatre for dinner and a movie. They bring your meal to you while your enjoying the movie! Speaking of movies, there is a drive in theatre in Dickson City, not too far away. I could go on and on and not list nearly all the things to do around here. Rest assured you will not be bored!!!.
Tiffany's place is absolutely wonderful. It is extremely spacious and cozy. They really went above and beyond to make the place special. There was plenty of cookware, towels, condiments, and toiletries. The place was very clean. I would definitely recommend this listing to anyone looking to get away for some time in a great space.
Zachary
2017-02-19T00:00:00Z
I highly recommend staying at this place.
Sara
2017-04-02T00:00:00Z
THE MOST MAGICAL STAY EVER First off, the house was beyond spotless and everything was neatly arranged. Secondly, there was a book upon arrival that suggested to us where to eat and have fun. The steak house that was recommended was so good we went there back to back nights. The name of the steak house is (The Pour House) Third, I decided to use this location as the place to propose to my girlfriend. In that very house SHE SAID YES. It was a magical weekend for sure. Lastly, anyone who chooses to stay here will have an amazingly comfortable stay with truly all small details already looked out for and planned. Tiffany is an amazing host and because of the memories we have made here, I AM SURE WE WILL BE BACK.
Joseph
2017-03-05T00:00:00Z
This place is amazing! Has everything you need and is a great location. Tiffany is great at making you feel right at home too! Was everything that I was looking for and more! Nice and private too.
Frankie
2017-01-29T00:00:00Z
It was great. Loved the house and the remote area. Worth every dollar and the dog was super nice!
Ellie
2017-02-12T00:00:00Z
Lovely, just lovely. Apartment was just as pictured. The linens and bedsheets were all like new. There were many extras in the kitchen area. The apartment had pretty much all you needed. It was very warm, homey and comfortable. Love your taste and design. (Side note - no TV reception - bring some DVD's Wi-Fi is spotty)
Laurie
2017-04-09T00:00:00Z
Tiffany is a great host and the barn was a beautiful, comfy place to stay. It took us around 25 minutes to get to the barn from Camelback Mountain. Definitely would stay here again!
michael
2017-02-18T00:00:00Z
The apt was amazing and Tiffany is super helpful and amazing host! She responded quickly to help guide us in. Perfect!! The pictures dont do it justice we loved everything about it, from the roominess, the decor, to the comfy and cozyness as well. A must stay and we definitely will return.
john
2017-02-25T00:00:00Z
Room Type
Entire home/apt
---
Property Type
Apartment
---
Accommodates
4
---
Bedrooms
Cresco, PA, United States
Cozy studio style apt . This gem has a 60" TV. Satellite and high speed internet included; Queen size bed lots of closet space. Patio w/fire pit & huge yard. Located 5 min from downtown.
This cozy space is private quiet and clean. The place has been updated recently. We are located just 10 min from Montage mountain resort (skiing, water park, concert venue). Just a short drive from walking trails, museum, and parks. Inside the space features 60" flat screen with satellite TV, queen-size bed, pullout sofa, hardwood flooring, and full kitchen. Full access to back yard and fire pit.
Quiet, close to downtown great neighbors:)
John was an awesome host. The checkin and checkout was smooth and he gave us full reign of the apartment even though he was nearby. Loved the satellite options and the kitchen was stocked very well with appliances, spices and condiments. Be sure to log out of your Netflix account before you leave, it's easy to forget. If you're into hiking, or traveling to some ski resorts or maybe into historic sites, this is the area to be in. Neighborhood appears to be a little rugged at first sight but it's actually really quiet and the neighbors are friendly. I would stay again if I ever decide to travel through Scranton again.
Leighanna
2016-10-04T00:00:00Z
John is a great host, he kept in contact with me throughout the waiting period and made sure someone was there to greet me and show me around. He is very friendly and informative and also very accommodating. He also checked in with me after the first day to see if I needed anything. The listing was accurate and even better in person. It's a nice quiet neighborhood.
Ridhi
2016-02-15T00:00:00Z
I was very welcomed by John. He made me feel right at home and was extremely accommodating to me, as I did not have my exact check in and checkout times planned. Thanks!
Will
2015-12-21T00:00:00Z
The experience was for my friend. She has come from the middle east to Scranton for visiting and I contacted John for renting on behalf her. John was an amazing person. good communicator, very flexible, welcoming and friendly. He checked with me at arrival time and met my friend and her husband after they arrived. He usually checked from time to time if there is anything she needs. He offered even snacks and beverages. The listing was extremely accurate. Great location and safe neighbourhood. My friend Reemah (the tenant) Says " John, Thank you so much for a fantastic hospitality and flexibility, and I definitely will stay again".
Reem
2016-05-28T00:00:00Z
Good stay.
Anoop
2016-10-14T00:00:00Z
We really enjoyed our stay in the apartment. It was spacious and well decorated and suited our needs well for the overnight visit to a friend's wedding.
Mariellen
2016-05-30T00:00:00Z
Quiet and Clean. have couple of bookings in near future at this place.
Anoop
2016-10-08T00:00:00Z
The host canceled this reservation 15 days before arrival. This is an automated posting.
Donna
2016-09-01T00:00:00Z
Room Type
Entire home/apt
---
Property Type
Apartment
---
Accommodates
4
---
Bedrooms
Scranton, PA, United States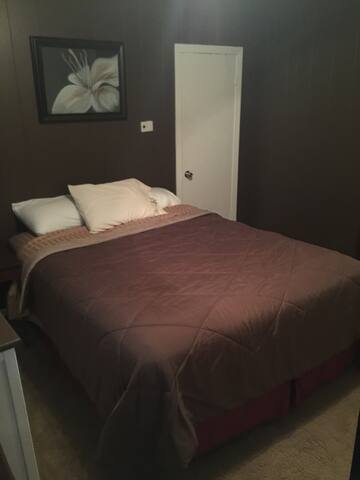 This 2 bedroom riverfront apartment can comfortably accommodate a family of 4. Set on over 2 private acres, it is approximately 15 minutes from the Metro North Train, a 1 minute drive to the town of Barryville, and it is a 2 hour drive from NYC. Additionally, we are attached to a small apple orchard, and ranger station (park) which we encourage guests to utilize as an additional amenity. There are lots of nearby hiking trails, winter skiing, canoe rentals,fishing and swimming (on our property).
This 2 bedroom riverfront apartment can comfortably accommodate a family of 4. Set on over 2 private acres, it is approximately 15 minutes from the Metro North Train, and a 1 minute drive to the town of Barryville, where you can find restaurants, antique shops, grocery store, and a weekend farmers market. We are also located minutes from Canoe rentals, Zip lining, hiking, The historic (Revolutionary War) Minisink battlefield park, etc..The apartment also features a beautiful deck, small firepit (please bring your own wood), Smart TV (no cable,but it has Netflix), Bluray/dvd player, kitchen, refrigerator (no freezer), and Wifi access, and private phone line. The landscape is dominated by the Delaware River, which is directly accessible for fishing, boating, swimming, or just gazing at the sunset. Bald Eagles are commonly seen from here. *A permit is needed for fishing, and daily/weekend passes are available minutes away at the local sporting shop. The location has very poor cell phone service, but a landline is available.
Everything was good.
Nellie
2016-08-08T00:00:00Z
This weekend was wonderful ! The house is lost in nowhere, very good to relax :) it is perfect for 4 people, very big and clean, and have a nice patio. It also has a very big property on which you can a little tour. The view on the river is wonderful. The house comes also with some games, very convenient for the calm evenings !
Mido
2016-11-06T00:00:00Z
The house was super clean, the location is perfect for a family vacation or a romantic getaway. I'd recommend this place for everyone. Additionally, Mike is an amazing host. He was ready to help for anything.
Cem
2016-11-20T00:00:00Z
Mike's place is not a one-timer get away place. I am definitely going back there in the future.
Byungkwan
2016-12-25T00:00:00Z
Mike was a great host. He lives in the apartment next door. The apartment was perfect. It was more spacious than what I could tell in the pictures. The place was decorated with an early american history around the revolution time period, which was pretty neat. Mike was a great host, very fast with communication as we emailed every night leading up to our stay since I was planning to use the place for a little engagement ceremony. The river access was beautiful with a couple adirondack chairs looking into the Delaware river. The foot bridge was cute and came out pretty in pictures. I highly recommend anyone who wants to spend a weekend on the Delaware river here. 5 STARS all the way! :)
Sonja
2016-09-06T00:00:00Z
Without even going into details about everything, I just wanted to say as to how wonderful Mike and Veronica were. They were very attentive and friendly. They made us feel right at home and went out of their way to make sure that we have a wonderful time. Thank you guys! The place is wonderful. Located in a secluded part of the area where you have complete peace infront of a beautiful lake. There's a trail for the guests to walk along the river and even go swimming during the summer time. I can't stress enough as to how beautiful this location is for a quick get away. I definitely plan on visiting again very soon and I highly urge everyone to give this location a shot without any hesitation!
Sayeef
2017-02-12T00:00:00Z
Sublime, private riverfront.
Andy
2016-08-29T00:00:00Z
Mike was a great host who warmly welcomed us to his home and then left us to do out own thing. The house is in a wonderfully tranquil location with the river just a few steps from the back door and a lovely patio that overlooks the entire scene. Mike was accommodating of our needs (including by providing a barbecue) and extremely quick with the communications. Would happily stay here again.
Ben
2016-10-02T00:00:00Z
Room Type
Entire home/apt
---
Property Type
Apartment
---
Accommodates
4
---
Bedrooms
Pond Eddy, NY, United States
This charming two bedroom, 1,200 sq. feet apt. is only 2 blocks away from Main Street, Narrowsburg. Enjoy walking over to this adorable hamlet overlooking the Delaware River, dining, shopping and then returning to the quiet and serene view of a lake.
This downstairs apartment of a duplex is overlooking little Lake Eerie and very close to Main Street which is colored with great shops and dining. While the building is mid century, the entire apartment has been newly renovated. There are two bedrooms each with a full size bed and ceiling fan. A brand new eat in kitchen and cozy little living room are included.
I love this area so much, we moved here full time from Manhattan in 2003. While Bethel Woods (15 min. away), and the Delaware River (5 min. walk) remain destinations in and of themselves; there are many fun activities nearby including : bowling, hiking, antiquing, rafting, eagle viewing,etc. But truly all you need for a lovely weekend is within walking/biking distance. Enjoy the sounds of birds chirping, church bells ringing and an occasional train in the distance. A herd of deer trespass almost daily to pass by, or eat the apples from the apple tree. I am happy to answer any questions you may have to personalize your experience here.
We loved our weekend at Cheri's home. She has incredible taste and the apartment is decorated with beautiful and comfy furnishings. A great spot for a quite weekend of reading and cooking. The local village is super cute too and we had great meals at the restaurants Cheri recommended. I highly recommend staying here.
Alice
2016-02-16T00:00:00Z
Great place!
Matthew
2017-02-20T00:00:00Z
Wonderful place - country charm with excellent modern amenities. Could not be better, would definitely stay again. Loved the tranquility, but also the convenience to town and the beauty of the area.
Philip
2016-07-25T00:00:00Z
Excellent and relaxing weekend at Cheri's duplex. The apartment is even nicer and more inviting than the photos! Cheri was great with information and directions. We had a great weekend hiking and kayaking/swimming in the Delaware. We can't wait to go back! Thanks Cheri!
Rachel
2016-06-27T00:00:00Z
Cheri's place was a wonderful spot for us to hang for the weekend of my niece's wedding. The house is exactly as described, extremely comfortable and meets every imaginable need.
Giovanna
2016-07-18T00:00:00Z
Accurate as described. A quaint and charming home with antiques. Clean, close to town, and a fully stocked kitchen.
Dan
2015-07-20T00:00:00Z
We were attending a wedding at a friend's cabin in Narrowsburg, and booked Cheri's place as a home base. My parents met us there to babysit our two-year-old while we were at the event. Everyone involved loved the place. It was thoughtfully decorated with vintage antiques, and the kitchen and bath had been modernized and were great for our needs. We enjoyed sitting on the back porch in the morning, watching deer and other wildlife. "Downtown" Narrowsburg is only a short walk away; we had a delicious brunch at The Heron Restaurant, and wandered in and out of the shops where before heading to the wedding. We would gladly stay here again.
David
2015-08-24T00:00:00Z
If you're looking for a great town to visit, a great escape to truly feel like you've gone off the grid -- and the best place to throughly enjoy your stay -- Narrowsburg and Cheri's place is it! The town was relaxing, friendly (and gay-friendly), quaint and beautiful. Cheri made setting up our stay easy and gave us so many great tips to enjoy it. Her place looks exactly like the photos and it was clean and perfectly set up for us. The unit is in the same house as Cheri and her husband's residence, yet you feel like you're completely on your own. Parking and entry is easy and you can come and go freely and comfortably...you have your own entrance and independence. We never actually saw the owners once...though we were perfectly welcomed. We plan to go back to this lovely town soon and would ONLY stay at Cheri's!!!! Thanks for the BEST weekend. Ed & Harv
Ed
2015-10-12T00:00:00Z
Room Type
Entire home/apt
---
Property Type
Apartment
---
Accommodates
4
---
Bedrooms
Narrowsburg, NY, United States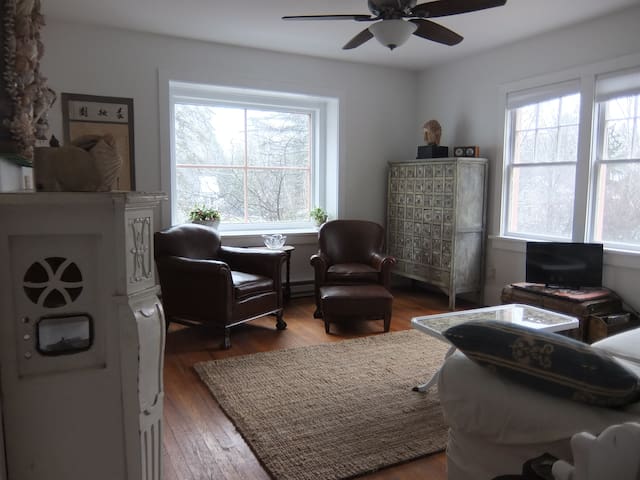 This is an apartment located in a stone house, on the Delaware River, that dates back to 1768. It is walking distance from a canoe rental, and situated on one of the areas prime fishing locations. The private Pilates studio is open for appointments, and fishing excursions available upon request.
The only complaint we have of this stay was to mother nature. Lots of snow made it impossible to reach the river. Only a few feet away but yet so far away!. We will be coming back for sure!!! & we strongly reccommend a stay at Bianca's airbnb. The apartment was everything we expected and more.. location, views and the drive in was fantastic. Bianca was fantastic, gave us directions, recommendations and accomodated to every request. I cannot say enough of how great the place was!! Thanks Bianca, and see you soon:)
giovanna
2017-03-20T00:00:00Z
The stay was exceptional. By the river side, with complete privacy. Bianca's hospitality was overwhelming. The place is fully furnished. Warm n cool. We enjoyed the stay. Oh yeah, and the jacuzzi, don't miss that one. Cheers!!!
Saravanan
2017-03-25T00:00:00Z
Room Type
Entire home/apt
---
Property Type
Apartment
---
Accommodates
4
---
Bedrooms
Pond Eddy, NY, United States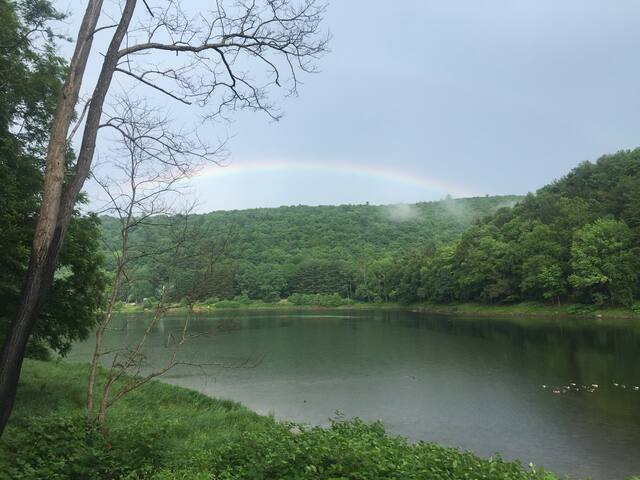 A cute and comfy apartment 90 miles from New York City. Located one block from the lake in a private lake community. A short walk to the beach. Close to Bethel Woods and the Monticello Casino.
Bright and open apartment with a large yard and outdoor entertaining area. Sleeps two in a queen bed in master bedroom and two in two twin beds in smaller bedroom... NOTE: The house is a two family home with a separate apartment above on the opposite street that is available independently. It has its own entrance, deck, yard and hot tub. Great for the in-laws or friends who want to be close (but not that close)... See my listing "Cozy Lake Community Home" on Airbnb.
Excellent, secluded retreat -- exactly what we were looking for. Beds were comfortable, main living space was roomy and open, bathroom was surprisingly spacious with good water pressure, kitchen was well-stocked with spices and cooking equipment. Most importantly, there was an idyllic outdoor space with a canopied patio, hot tub, fire pit (plenty of scrap wood in the back), and hammock. Perfect for eating outdoors and enjoying the evening. Also, John was kind enough to provide us with a list of reservoirs nearby -- we ended up spending our Saturday afternoon swimming and sunbathing/napping at Toronto Reservoir, a short 10-15min drive away. Would recommend having a roof-rack of some sort to transport the provided kayaks. Unfortunately, the host encountered a personal emergency just prior to our stay, which understandably, impacted the promptness of his communications with us. Since he was unable to check on the rental prior to our arrival, the hot-tub was not heated and therefore unusable our first night there. Also, as an FYI - we did have some issues with the heating elements of the grill (only the pilot lighting areas seemed to work), but the oven/broiler in the kitchen worked as a substitute.
Steve
2016-08-22T00:00:00Z
John's place: The booking was absolutely wonderful. Everything was so easy, he gifted my bf and I wine and chocolates. That wine was delicious btw so thanks for introducing it to us! We booked the first floor rental & it was adorable and looked exactly like the pics (except there was snow from a blizzard). No problem though, we shoveled a bit so you won't have to ;) I loved the kitchen. I brought food to cook and everything you could need was there, even ketchup. Privacy: Totally private! We never saw John but he was available right away anytime we had a question and he gave us all sorts of things to do. Fire place: The TV was nice and we enjoyed Netflix. It was above an electric fireplace that I sat by for hours. (Loved that!) and the furniture was super comfortable! Decorations were sweet and actually the pictures don't do the place enough justice. It's actually cuter in person. Next time I will take some awesome pics for John lol. Jacuzzi: The jacuzzi was hot (super hot - beware if you have sensitive skin lol) but man it was amazing watching the stars in the night while in there and a glass of wine. There were plentiful towels and blankets and I love that there was a robe and slippers- I totally used them for the hot tub :) Fire pit: There is a fire pit outside btw and 5 blocks of wood only cost us $5 up the road at the gas station! We enjoyed that as well even though it took us an hour to get the fire started (purely our lack of experience lol!) If you are as lame at building a fire as we were, I highly suggest stopping at the Dollar General up the road and grabbing that charcoal bag you can start the fire with and teepee the wood over that. Or ask John lol. Things to do: We went to White Lake and walked in the lake of ice! We got that of our bucket list! Java Love Coffee was about 5 mins away - DELICIOUS coffee (we had almond milk Chai lattes- bomb). We went to Monticello and ate at an amazing Greek Restaurant. It's the only one around and a few miles from the neighborhood. Host: John was super responsive and genuinely kind. He allowed us to check out late since no one booked the place the day we had to leave. It was nice not having to rush out early in the morning like usual and it made our stay even more wonderful. Overall- I will totally look to book with John when in the area again. He was so awesome that I have listed him and his properties as my go to. Thanks for everything, John! Best! Fefe & Neo
Felecia
2017-02-19T00:00:00Z
John was an extremely helpful and welcoming host. He prepared the house for our arrival, including setting up the outdoor fire pit so all we needed was to light the wood! The house and all amenities were as described in the advertisement and we were very pleased with the rental. It is about one block from the small lake, where we kayaked two days. It is a really beautiful lake and we would highly recommend utilizing the water! It is much easier if you have a car that can load your kayak(s), but we managed by carrying them. John was in contact with us throughout the weekend, which was very helpful. He let us know about local restaurants and even a special event happening in the town. The town is very charming and everyone we met was incredibly friendly and helpful. I would recommend using all amenities provided, as well as asking some locals where to find the small waterfall nearby. We spent a little time one evening at the waterfalls, which were beautiful, and had a great time. John went out of his way to provide anything we needed and we would happily rent from him again!
Kate
2015-09-08T00:00:00Z
John was a great host and he was very friendly. He was always available to answer our questions. He provided us with all the information needed. My family and I loved his place. It was very clean and he had everything we needed. Its a very beautiful town and swimming areas are just awesome. We would definitely come back to his place again.
Azmary
2016-08-05T00:00:00Z
Jon was incredibly welcoming, making us aware of all the go-to sites in the area. The home was comfortable and clean, and we were able to make use of the BBQ grill and hot tub (the tiki torches are a great touch). Rocky (my twelve year old mixed breed) had a wonderful time as well. Plenty of space for a couple and central to all of the beautiful lakes and reservoirs in Monticello.
Jeff
2016-07-24T00:00:00Z
Another wonderful weekend at John's private retreat! The rain hampered our visit a bit, but even so we had a wonderful experience with my brother's gang staying in the upstairs unit.
Susan
2016-07-12T00:00:00Z
John was the best host we could have asked for. Was readily available the whole weekend and the place was way nicer than we expected. He goes out of his way to make your stay more comfortable and enjoyable. Thanks for an awesome wknd john!
Kevin
2015-10-19T00:00:00Z
This home has lots of space to spread out. We spent most of our time here outside on the deck. John has everything you need here and if you can't find it he will get it for you. There's also a Dollar General and a gas station/deli/liquor store less than a mile away. Bethel Woods Art Center is only a few minutes away if you are so inclined. Bottom line is that John knows what he is doing and he will make sure your stay is worry free.
Dominic
2015-07-21T00:00:00Z
Room Type
Entire home/apt
---
Property Type
Apartment
---
Accommodates
4
---
Bedrooms
Smallwood, NY, United States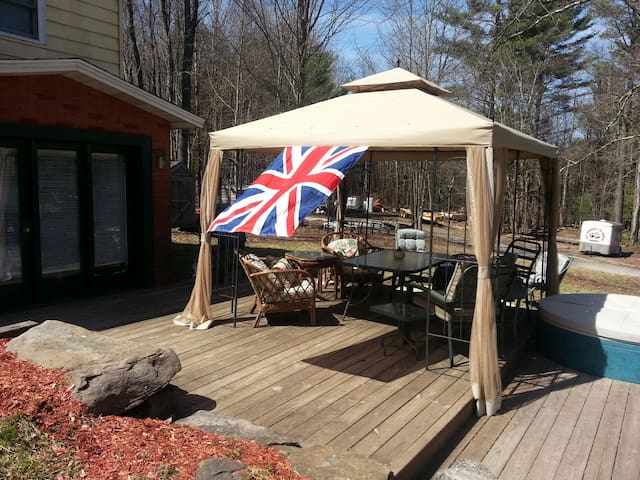 My home is close to Italian restaurant, the town of Hawley, has great views, parks and hiking. My place is good for couples, solo adventurers, and business travelers. you will have access to a sauna, pool table, bar, tvs, wifi internet, dock, swim float, patio, firepit, canoe and kyaks.
There is a king size bed with tv and sliding door leading to a large patio overlooking the lake. The private bath has access to a sauna. There is also a safe to protect your personal items. The beach at he lake is 400' long and ideal for swimming. The boat dock can accomadate one boat
Rockledge is a quiet family neighborhood on the lake and walking distane to an Italian restaurant and close to the town of Hawley.
Room Type
Private room
---
Property Type
Apartment
---
Accommodates
2
---
Bedrooms
Lakeville, PA, United States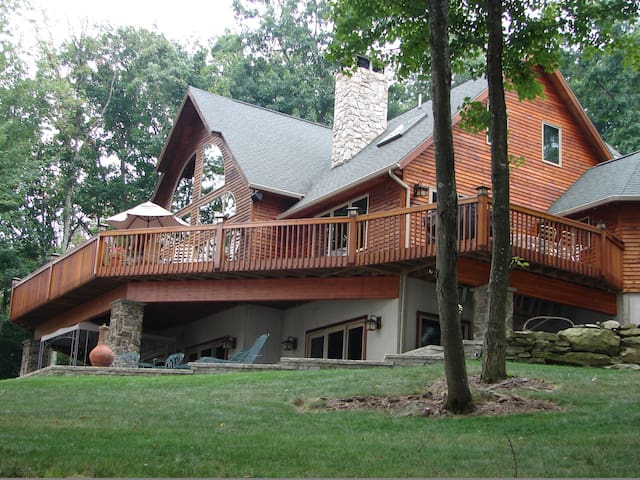 My place is close to Bethel Woods, Monticello Raceway, Delaware River, NY State Parks, Milford, PA and other restaurants and dining. You'll love my place because of the coziness. Very quiet location, cool wooded area. My place is good for couples. It is currently unfurnished!! Working on getting set up for rentals. The kitchen/Livingroom all open with cathedral ceiling with separate bedroom.
Room Type
Entire home/apt
---
Property Type
Apartment
---
Accommodates
2
---
Bedrooms
Eldred, NY, United States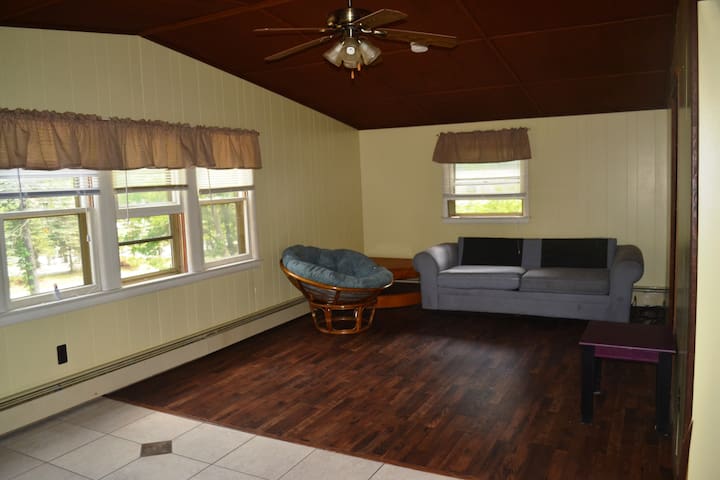 Located two hours north of NYC , one bedroom, one bath, living room and kitchenette. A beautiful spot to visit and leave all the reality behind. We are five minutes from the Delaware River, twenty minutes from Bethel Woods(home of the original Woodstock and close to many activities). Come and enjoy!
The Country Home was exactly as advertised. Additionally, the reviews for Paul and Fed are spot on. When you arrive, Paula leaves you a handwriting greeting, welcoming you and outlining the location of key places and areas of interest. The home is secluded and quiet. Paula and Fred provide kayaks for your use on the private lake, which is beautiful as well. Paula and Fred are superb hosts! They give you your space, though they are very approachable and helpful. The local attractions and people are wonderful too. There is a restaurant about 1/4 mile from the Country Home that has excellent food! Plus all other amenities and attractions are within 10 miles of your stay. Best of all, you get to meet new people as folks come and go from the other cabin that is rented. The stay was absolutely perfect!
Scott
2016-07-10T00:00:00Z
Room Type
Entire home/apt
---
Property Type
Apartment
---
Accommodates
2
---
Bedrooms
Yulan, NY, United States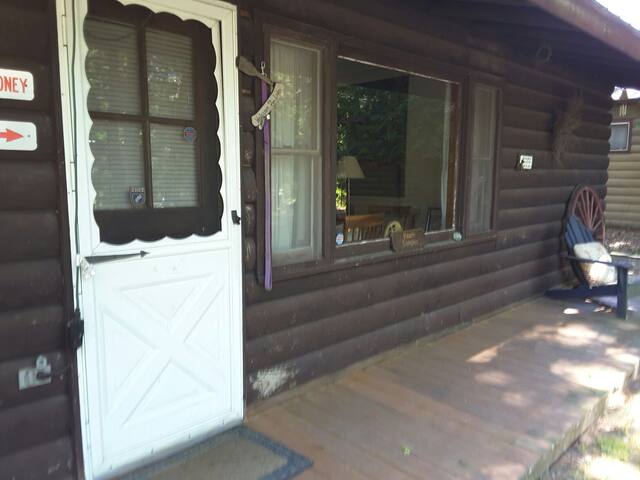 My place is close to the airport and parks.
Jill was there to welcome us by phone. She was very friendly and gave us information of the place and some info on the area. She was extremely accommodating on some extra requests and was never anything but receptive and pleasant. The location is quiet and friendly, and they have beautiful places to chill outside. All I can say, What a sweet place! Jill was such a lovely host - accommodating, thoughtful, friendly, and easy to communicate with for check in/out. The house was peaceful, charming and incredibly clean, with every detail thought of to make it a cozy space. The house is in an excellent location of this cool little town. Quick walking distance to eateries and great views. We definitely hope to return again! Jill was great about coordinating with me before our arrival. Jill's place was peaceful and aesthetic in its setting and its decor. The hosts Jill made us feel very welcome; there was a thoughtful bottle of wine when we arrived at the house to make us feel welcome. My boyfriend and I had a lovely three-night stay. Our weekend stay at Jill's home was peaceful and relaxing. All of the amenities are covered: excellent WiFi, effective A/C for hot summer nights, beautiful bedding, a clean bathroom with lots of space, and plenty of kitchenware. She also had a great wealth of information about the local area. Everything was wonderful. I would definitely stay here again when back in the Poconos Lakes!
Carmen
2016-09-06T00:00:00Z
Room Type
Entire home/apt
---
Property Type
Apartment
---
Accommodates
1
---
Bedrooms
Coolbaugh Township, PA, United States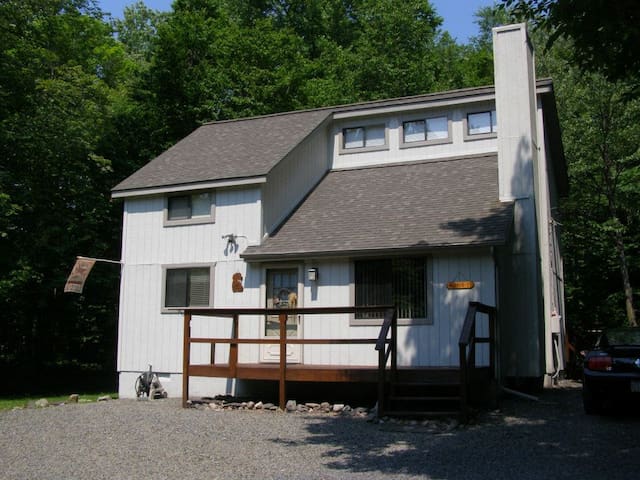 My place is close to Ski Resorts, Water Parks, Lake Wallenpaupack, Promise Land State Park, Restaurants and Dining, Antique Shops, Candle Shop, Candy & Pretzel Factory, Casino, Zip Lining. . You'll love my place because of the location, the outdoors space is right on a beautiful stream. Enjoy Relaxing & Fishing, watching Deer, Hummingbirds, the occasional Bald Eagle & the Fire Pit in the evening. This apartment is located on the ground floor (back side) of our home. It is quiet & private.
The Knipes' home in Cesco, PA made for a spectacular weekend. My friends and I were able to stay in the bottom portion of the home with access to a fire pit, stream beside the house, and we're only a quick 20 minute drive from hiking, swimming, and kayaking. The host family also made for a relaxing stay and could help us out whenever needed.
Ray
2016-07-05T00:00:00Z
Place is cozy and private. We loved our stay there and owners were so nice! Place is amazing and deff will go back for summer.
Anna
2017-01-02T00:00:00Z
This was my first stay at an airbnb home and I have to say how much of a wonderful stay it was. Justine and Chuck went above and beyond our expectations. Everything was very organized and clean. We greatly appreciated the generosity and thoughtfulness that went into making our stay a great one. I would definitely stay here again and recommend it to anyone thinking about it.
Danielle
2017-02-19T00:00:00Z
Room Type
Entire home/apt
---
Property Type
Apartment
---
Accommodates
4
---
Bedrooms
Cresco, PA, United States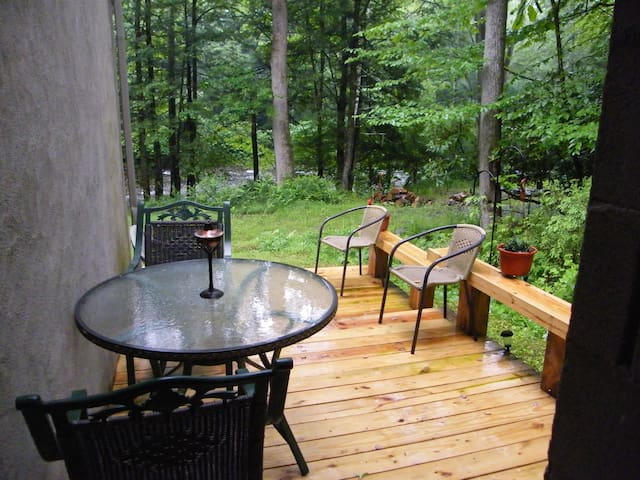 Our wonderful and like-new sub-first level one bedroom (a lower part of the house) with sauna (upon agreement and extra fee) and full kitchen is an ideal retreat for those who want to enjoy hiking, skiing, lake skating, and fresh air. Shawnee mountain is a 25min ride away. The community house with indoor pool and sauna is a 10-12 min walk within the gated community. The apartment has new appliances, a nice Hollywood kitchen, Apple TV with channels, and air-conditioner (in summer months).
Wonderful One-bedroom Apartment in a private home, nestled in the woods of the Poconos Dingmans Ferry gated community with lakes, giant swimming pool (open summer only), tennis courts, near Shawnee Mountain (25min ride), with all amenities (including dry sauna room). Living Room, Bedroom, Kitchen (open), 1 bathroom. Access to backyard for picnicking and grilling. The apartment is located on the 1st-sub-ground floor (not really a basement) - brand new kitchen, appliances, dishwasher, meticulous condition. Move-in state with all all appliances, utensils, cable, etc. Fresh air, State Park, Skiing (Shawnee Mountain within minutes), Golfing (in summer season), Biking (in Summer), Hiking, Swimming (Summer only), Fishing (and ice fishing on Delaware), Whitewater Rafting (Summer), Canoeing (Summer), Hunting, all nearby. Guest passes to the pool area (summer only). Within minutes to Milford, PA with restaurants, shopping and Walmart Plaza. Easy access via Rt. 80 in NJ or PA Turnpike via Rt. 15 and across Dingmans Ferry Bridge. Delaware river within minutes for fishing, swimming, and canoeing.
Wonderful quiet area, wooded, residential. Access to nearby olympic size pool, clubhouse (walking distance), lakes, and playgrounds.
Alex's home was in a beautiful setting, very remote and in a cozy basement apartment. The family was there when we arrived and Alex's wife was very friendly and showed us the ropes. When they left for their own trip, they left us cereal and coffee and the home was equipped with all of the items we needed. Please note that the home is about 1/2 hour from true closest stores and restaurants so before you head up, stock up! It snowed while we were there and it was lovely! It was also very clean and there was enough bedding to accommodate myself and my 3 kids. I would recommend their place for a beautiful, mountain getaway!
Rachel
2016-01-01T00:00:00Z
My wife and I really enjoyed this clean and thoroughly modern apartment. In addition, there were pools, lakes and tennis courts within easy walking distance within this gated community. We wouldn't hesitate to recommend this place to our friends. Thank you, Alex, for this wonderful country get-away place. Bill Cullen
William
2014-08-24T00:00:00Z
Alex, kept in touch with us and welcomed us to his place upon our arrival. The place was comfortable and convenient to the family event we were attending. Thanks, Alex.
Deb
2014-08-13T00:00:00Z
Alex was a gracious host and included perks such as use of his grill and community pool passes. The apartment was clean and relatively quiet. We enjoyed our time there.
Doreen
2016-08-21T00:00:00Z
Move in was pretty smooth although I was seeing and hearing things that were listed but weren't available. I made a list and Alex addressed them the next day and made them right The unit was clean but pretty remote to restaurants and stores. Also pretty winding if anyone is car sick hard to travel Many pictures but wasn't sure what was in their back yard or the community. All lake pictures in community. Pretty hilly for bikes. George Childs park is lovely for waterfalls and easy walking 2 hrs to NYC loved the 911 museum and Aladdin show. The grill worked well and we enjoyed coking out . Wanted more comfortable furniture to relax on. Pretty hard Bedroom was better linings and towels were nice Alex and Sylvia are lovely people with beautiful children Thank you for giving us a place to rest. Bless.
Mickey
2016-08-13T00:00:00Z
The place was very difficult to find..but upon arrival it was everything Alex states. The family stayed upstairs and the children were polite. You could hear the children playing upstairs yet for the price very private. The owners were very nice they tried to assist us in all our adventures we planned. One night when we arrived home late the owner left a candle out for us to find our way to the basement apartment. The place was very clean. The bed was soft but the couches were comfy. They had a little dog who snipped at my husband one evening. I would return if I ever went back to the Poconos because it was very economic...and safe
Lynn
2013-08-08T00:00:00Z
Alex and his wife Sylvia made our stay extremely pleasant! They were accommodating and offered great hospitality. The apartment was comfortable and had all the amenities we needed. The place was great and we hope to be back soon.
Fara
2015-08-24T00:00:00Z
Alex was fantastic and very accommodating! He was very easy to reach, responsive, and extremely helpful. The place was really comfortable and clean and the kitchen was fully stocked with all the dishes and cookware we needed. If you really want to get away from city life for a bit, this place is perfect. We had a bit of a snafu with one of the heaters and he was right on top of it, even though he wasn't in town. He troubleshooted with us and offered to send an electrician right away. He also had portable heaters as back up, which ended up being enough to heat the entire living room. Great place and great host!
Pamela
2015-01-19T00:00:00Z
Room Type
Entire home/apt
---
Property Type
Apartment
---
Accommodates
4
---
Bedrooms
Dingmans Ferry, PA, United States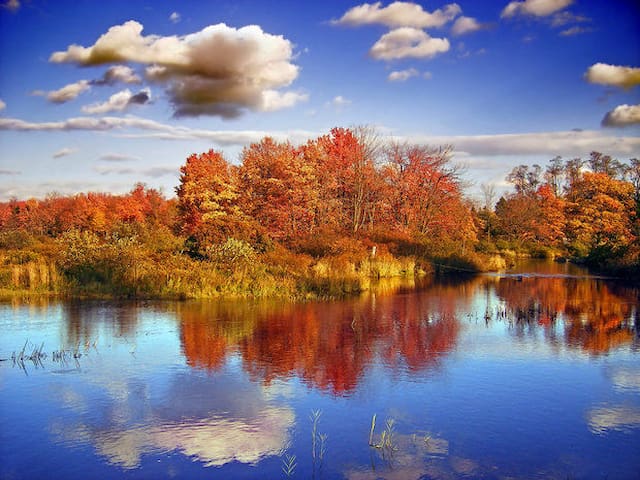 Families with kids and big groups
Room Type
Entire home/apt
---
Property Type
Apartment
---
Accommodates
2
---
Bedrooms
Clarks Summit, PA, United States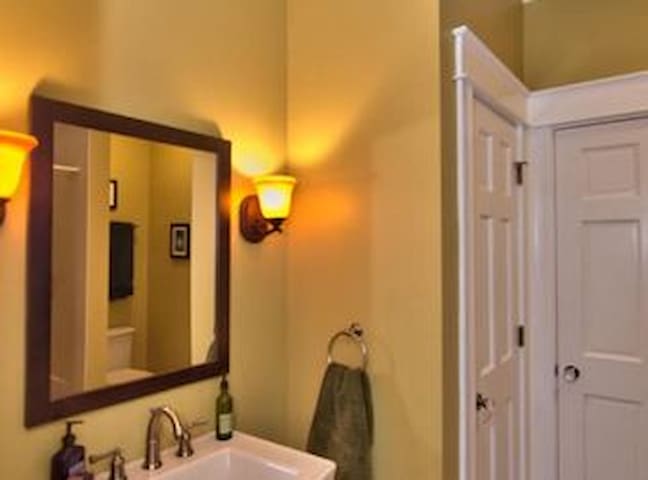 Lake Wallenpaupack - Airbnb
:
Average

4.92

out of

5

stars from

362

guest reviews
1

–

18

of

32 Apartment Rentals
Enter dates to see full pricing. Additional fees apply. Taxes may be added.