Apt in 800's palace renovated. It can accommodate up to 5 people in 2 bedrooms . For guests a delightful garden for breakfast outdoors and a barbecue for open air dinners. A few minutes from most beatiful beaches and Aspromonte National Park.
Guests have the entire apt at their disposition, so relax and privacy are granted. Feel like home and enjoy Calabria!
My neighbors are so sweet and surely they will invite you for dinner or tasting typical wine or spirits like Limoncello or Bergamino.
We spent two nights in Giorgia's house and it was the best place we have ever been! Although we didn't have a chance to meet Giorgia because we arrived late she was always available through the phone, checking if we had all we needed and giving advise on what to visit in the area. We were welcomed with an amazing homemade cake and various other options for breakfast. The house is well located, had been recently renewed, all amenities were good and it was very tastefully decorated.
Cátia
2016-05-07T00:00:00Z
Giorgia was extremely helpful. She collected us from the train station and brought us to the apartment in Chorio. When we arrived she had bought us delicious specialities of the region. It was a beautiful place to stay. Very clean and spacious. The locals were lovely also. It seems an ideal place to hike or cycle. The nearby beaches were wonderful.
Danielle
2015-07-12T00:00:00Z
Giorgia and her family went out of their way to make us feel welcome. The apartment and the facilities were fantastic. I thoroughly recommend Giorgia's apartment for anyone looking for a peaceful spot away from the crowds.
Anne
2016-07-15T00:00:00Z
We had a very beautiful time in this special place... we were impressed for the first time so much for the extremely beautiful decoration of the house and the great hospitality of Giorgia!!The whole house was a particular idea of beauty, but also very well equipped, clean and fresh, made unforgettable our staying in this beautiful village... As for the owner, we would like to thank Giorgia for the great hospitality and we feel lucky we have stayed in this wonderful place. Even if we couldn't meet her, she made our staying comfortable and memorable with her Kindness, well organizing everything. She was very friendly, communicative and a beautiful person! Thank you very much Giorgia for everything you made for us, for the great hospitality you extremely organized and for your presents to us!!! Arrivederci alla prossima volta! Tanti saluti dalla Grecia!!
DIMITRIS
2016-07-19T00:00:00Z
Giorgia's apartment was exactly what we were hoping for. Really spacious (huge roof top, perfect for dinner), clean and right at the town square of a small 'sleepy' South Italian village. Giorgia was always quick in responding to our messages and we even found fresh produce in our fridge upon arrival! Giorgia also left a ton of useful information about the surroundings, including a nice top 10 to do's. Oh, and good wifi :) We would have loved to stay longer.
Jurjen
2016-08-29T00:00:00Z
So lovely...they left us so much food we couldn't eat it all!! So thoughtful. There is a minimarket and a macelleria within easy walk around town. A real experience of calabrian hillside town life. The road driving in is not for the fainthearted, but is easy to continue to Aspromonte or as we did, to other tiny town further into the hills....A wonderful experience and so easy to communicate.
H & A
2017-04-01T00:00:00Z
Giorgia's place was just amazing. my boyfriend and me had a very nice time at her apartment. She was very quick in responding and help us straight away when we had some questions. She even prepared a cake and left some pasta for us when we arrived in Chorio. We spend some lovely evening on her terrace in the middle of Chorio. we would definitely recommend Giorgia's apartment if you want to relax and take it easy for a few days :)
Adela
2016-09-16T00:00:00Z
We had a great stay in Georgia's apartment. The roof terrace is great to spend your evening, the apartment itself is large and contains all (more than) you need during your holiday, and Chorio is a very charming town. The village is located ideally between the beach and aspromonte national park. We'd definitely recommend a stay here!!
Marlies
2016-09-06T00:00:00Z
Room Type
Entire home/apt
---
Property Type
Apartment
---
Accommodates
4
---
Bedrooms
Chorio, Reggio Calabria, Italy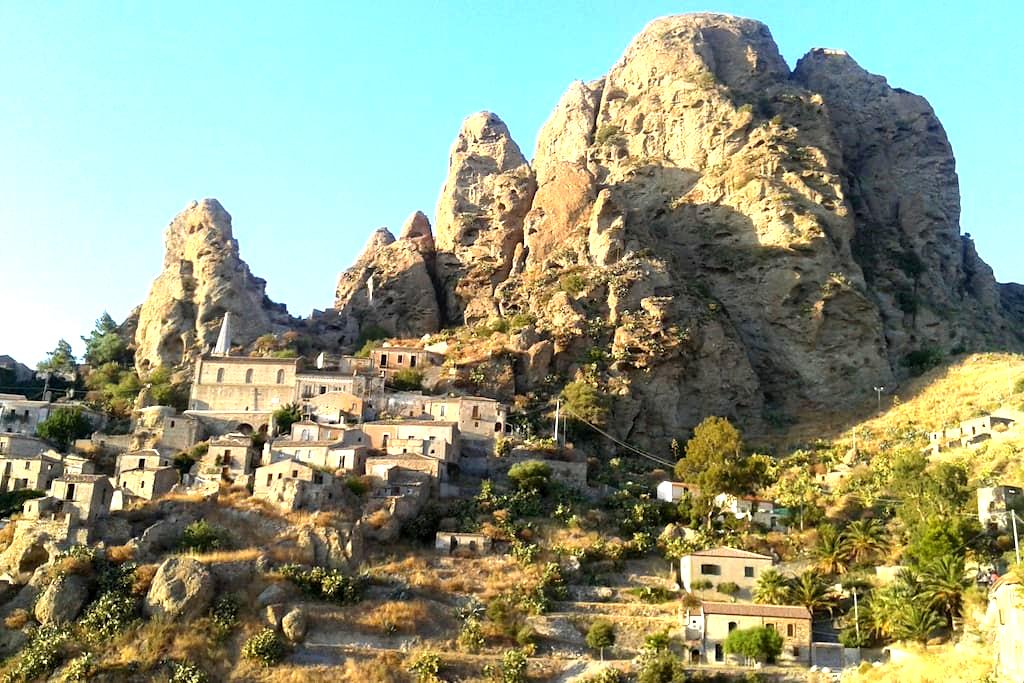 Appartamentino sul mare, ideale per il vostro soggiorno a Reggio C. Se ami passeggiare in riva al mare, la pesca, il windsurf, immergerti nel blu, il relax, la buona cucina, i prodotti tipici.. SEI NEL POSTO GIUSTO. Due camere da letto. Dotata di aria condizionata. Bagno con doccia. Biancheria pulita per la camera da letto e il bagno. Cucina attrezzata di posate ecc. Veranda sul dal mare. Posteggio auto riservato. Animali ammessi. Barbecue per le vostre grigliate. Mare eccellente.
Siamo sul mare di Bocale, località a pochi chilometri dal centro di Reggio Calabria. Scuola Kate surf a 2 km. A 10 minuti a piedi dalla stazione ferroviaria di Bocale. La fermata del pullman vicinissima. La Sicilia come sfondo con il vulcano più grande d'europa che da spettacolo con le sue sporadiche eruzioni ben visibili da dove si trova l'appartamento. In mezzo al verde, circondato da alberi di olivo che nel mese di Ottobre danno un genuino olio extravergine. Molti alberi da frutto . Il parcheggio riservato. Il barbecue per le tue grigliate nella zona riservata. Gli ospiti dell'appartamento dovranno rassegnarsi al rumore del mare.... Cucina attrezzata per cucinare in comodità. Abbiamo wireless e v'è la possibilità di usare la lavatrice.
Zona tranquilla, aria pulitissima, mare eccellente e prodotti locali di grande qualità.
Antonio is very kind. He is a good man with a good heart. He has proven that humanity still exists in this world. Antoino's place is so close to the sea that the ocean will sing you a beautiful lullaby every night. Antonio was kind enough to do a pick up from the station and he he was more than accodating going above and beyond the call of duty.
Lyricus
2017-03-13T00:00:00Z
I cannot recommend this place enough! Antonio is the absolute best host you will ever have. He took time to show us all around the city, his favorite cafes and places to visit. If you are visiting Reggio you have to stay at Antonio's! The location was beyond perfect. Just steps away from a beautiful beach. I will without a doubt be coming back.
Catherine
2017-03-19T00:00:00Z
It was a good stay! Antonio is a nice person!
Gustavo
2017-01-04T00:00:00Z
Антоніо - надзвичайно гостинний господар. Зустрів мене з дитиною, супроводжував під час всього перебування, неодноразово возив на екскурсії у різні унікальні місця та до магазинів. Провів і посадив у поїзд, коли ми їхали. Краєвид з його апартаментів - фантастичний, місяць ми жили з видом на вулкан Етна - це назавжди залишиться в моєму серці. Природа - словами не описати всю красу! Доброта Антоніо, здається, безмежна. Ми почували себе, як удома. Не було жодного разу, аби він у чомусь відмовив. Впенена, що лише завдяки Антоніо ми полюбили Реджіа Калабріа назавжди!
Anna
2017-02-13T00:00:00Z
Il b&b è proprio adagiato sul mare, la notte senti il rumore delle onde, luogo tranquillo, almeno in ottobre. Antonio è stato gentile e disponibile, è venuto a prenderci avendo avuto qualche difficoltà a trovare il posto. I cani sono ben accetti, ci ha dato un appartamentino con giardinetto recintato. Da consigliare a tutte le persone che hanno difficoltà a trovare un alloggio per i loro amici pelosi.
Mario
2016-10-14T00:00:00Z
joli appartement bien décoré;vue magnifique sur l'Etna et la Sicile;mer et temps magnifique;mème fin octobre,nous avons pu nous baigner;viva Reggio Calabria
majda
2016-11-02T00:00:00Z
Room Type
Entire home/apt
---
Property Type
Apartment
---
Accommodates
4
---
Bedrooms
Reggio Calabria, Calabria, Italy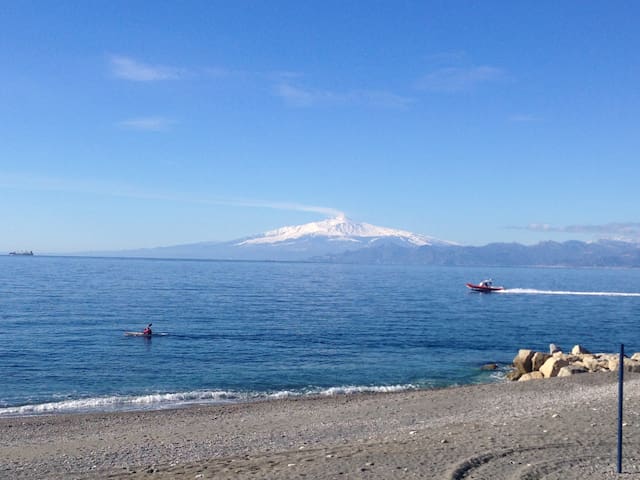 Double room with TV, Wi-Fi. A short walk from the museum, from public and private beaches of the city and the shopping streets of Reggio Calabria. A picturesque view of the Strait will brighten your stay. You are welcome!
The room has: TV, Wi-Fi .Cucina external to the room. Next to the hotel there are shops and attractions, restaurants, bars, tobacco shops. A few meters from the shopping street, the promenade Falcomata 'and museum. Every day is done cleaning (URL HIDDEN) 'accommodation has been recently renovated and all the rooms are new .uso pagamento.Giornalmente washing is carried out cleaning rooms.
The central district of the city is equipped to meet any particular requirement.
I stayed at Emanuela's bnb for 3 nights and spent a good time there. The host was very helpful, Emanuela messaged me every day to ask if everything was OK. Both room and place descriptions are accurate. Well-furnished rooms, breakfast, daily room cleaning, kitchen with breathtaking sea view! And all these for a very reasonable price. Highly recommended. Thanks a lot!
Tatyana
2015-08-24T00:00:00Z
GREAT, very spontainious meeting and handing over the keys, easygoing. Fully equipped kitchen, even with coffee :-) 3 Great view from the flat! Great place to be...
Dan-Felix
2016-04-07T00:00:00Z
Emanuela was a great host and very nice. She suggested places to see and eat in Reggio and even picked me up from the port. The rooms are just as pictured, comfortable and with a great view from the kitchen. The apartment is located a couple minutes walk from the center and breakfast is provided. I highly recommend this place.
Lidia
2015-11-06T00:00:00Z
Emanuela was really helpful and welcoming and picked me up at the airport even though I arrived quite late in the evening. She was available if needed and was easily contactable and patient with me when my stay was prolonged day by day!! The b&b was as described; with wifi, daily cleaning and an amazing view from the kitchen. Breakfast was typically Italian with a few cake bars to choose from and some toasted bread with jam. The location is really central and a 5-10 minute walk from the corso and lungomare.
Jo
2015-09-26T00:00:00Z
I had a fantastic stay here in a beautiful city. The place has a nice view over the city onto Scilly and I was given lots of information about what to visit, where to eat and where to get the best ice-cream. Emanuela was a perfect host and if I come back to Reggio Calbria I would stay here again without hesitation
Chris
2017-02-27T00:00:00Z
Quiet. Spacious. Emanuela picked us up at the airport and drove us to the ferry when we left. Wonderful view of the Strait of Messina, good places to eat nearby, and only a few blocks from Corso Garibaldi.
Julia
2016-05-09T00:00:00Z
The room was as pictured. We were a little frustrated with our broken fan which continually fell over and the only way to keep the room cool. It took us a little while to figure out how to close the door (you have to lock it) but that might just be an American thing. The Wi-Fi connection was spotty at best unless you use your device in the kitchen directly next to the hotspot (which is kindly provided by the host). The view from the balcony was breathtaking and the kitchen was always stocked for breakfast along with any cooking utensils you might need to cook your own lunch or dinner. The host was extremely nice and welcoming and was happy to arrange transportation on our behalf. I really enjoyed Calabria and would definitely return in the future.
Alex
2016-06-21T00:00:00Z
Emanuela was a great host. She responded quickly and picked me up at the ferry station with her sister in law. She gave me all of the instructions on her place and showed me the apartment. The apartment itself is as described, comfortable and has everything I needed. I would easily stay here again.
Ian
2015-11-11T00:00:00Z
Room Type
Private room
---
Property Type
Apartment
---
Accommodates
2
---
Bedrooms
Reggio Calabria, Calabria, Italy
A 10 minuti d'auto dal centro, l'appartamento si trova sulla collina di Condera. Fornito di ogni comfort: TV, uso cucina, ampio salone con caminetto e aria condizionata, parcheggio interno.
Equipped with every comfort in residential area 10 minutes from downtown.
Fuori dal caos cittadino ma a 10 minuti di auto dal centro.
Gaetano's place was lovely and we enjoyed the stay very much. Eventhough the place was a bit far from the city center, Gaetano picked us up at the train station when we arrived and dropped us off when we had to leave. We can definitely recommend it.
Anna
2017-02-22T00:00:00Z
Gaetano is a very kind host, he showed us everything in his apartment, which has several separate rooms and a communal kitchen and living room. I would like spent more than one night in his apartment.
Ondřej
2017-01-24T00:00:00Z
Great experience! Gaetano was communicative and welcoming, and very accommodating. The room was as described. Recommended!
Jessika
2015-09-14T00:00:00Z
Gaetano was by far the kindest host that I've ever stayed with. He willingly showed us around Reggio Calabria and Scilla while also driving us to wherever our hearts desired (supermarkets, nightlife, etc). He always had breakfast and snacks prepared for us as well. The apartment was spacious and home-y. Our room fit the 2 of us comfortably and had a super conveniently attached bathroom. I would definitely recommend this to anyone looking to get a taste of local Italian hospitality!
Vivian
2015-09-02T00:00:00Z
We were very well received by Mr. Gaetano. Great accommodations! Highly recommended!
Breno
2017-03-03T00:00:00Z
The London room was very nice and cosy so we felt like in England surrounded by English items. The host was very friendly and easy- going and Italian pizza which we have eaten was delicious ;) We strongly recommend this place :)
Stefan
2017-03-06T00:00:00Z
Quick and good comunication for a last minute reservation. Very friendo y and helpful. The room was very clean and beautifully decorated. The only that could be improved is the bed. You could feel the springs un the mattress. Overall very recomiendes.
Michele
2017-01-06T00:00:00Z
It was awesome staying at Gaetano's place. He was super friendly, welcomed us and shared nice suggestions for places we can visit around Calabria. The place is very nice, clean, comfy and great for a racing time!
Petko
2016-12-13T00:00:00Z
Room Type
Private room
---
Property Type
Apartment
---
Accommodates
2
---
Bedrooms
Reggio Calabria, Calabria, Italy
Renovated apartment in elegant environment, situated in the center, pizza area Carmine, a short walk from the Cathedral and to the main street, Via marina.Composto living room / bedroom, separate kitchen with snack area terrace level, bathroom
Very nice to stay on Giuseppe's place. It's near from the everything you want. Very clean and the listing description is accurate.
Marcelo
2017-01-13T00:00:00Z
Giuseppe's flat is exactly as pictured. It is incredibly clean and comfortable and I loved the retro decor. The location is great, about a 10 minute walk from the main train station, a 20 minute walk to the archeological museum and a 35 minute walk to the ferry terminal. Kitchen is well equipped to cook your own meals. Loved it!
Sara
2017-03-25T00:00:00Z
Nice place as described
Charles
2017-03-02T00:00:00Z
Giuseppe was very warm and friendly and the apartment was even better than it looks in the pictures! Very cozy, clean and well decorated. We didn't even want to leave the room to tour the city after arriving because the accommodation was so relaxing and lovely. I'd definitely recommend the place and when I'm back in Reggio will likely request to stay there again.
Ayana
2016-08-07T00:00:00Z
Exactly the way was announced. Excelent location. Apartment clean, organized and funcional. Fully recommended
Alberto
2016-11-26T00:00:00Z
Very nice little appartment, very clean and within walking distance of downtown Reggio Calabria, its restaurants and the oceanfront.
Norberto
2016-09-28T00:00:00Z
To say that Giuseppe's place was extremely clean is an understatement. This is THE cleanest place on earth! I really liked the decor, a lot of thought has obviously gone into furnishing the place, which made it a rather comfortable and welcoming environment. There is no washing machine but every other utility is there, including air conditioning, which is much needed in the sweltering Italian summer
Fiorenzo
2016-07-12T00:00:00Z
Favoloso, piccolo ma carinissimo! Super consigliato
Marina
2016-08-25T00:00:00Z
Room Type
Entire home/apt
---
Property Type
Apartment
---
Accommodates
2
---
Bedrooms
Reggio Calabria, Calabria, Italy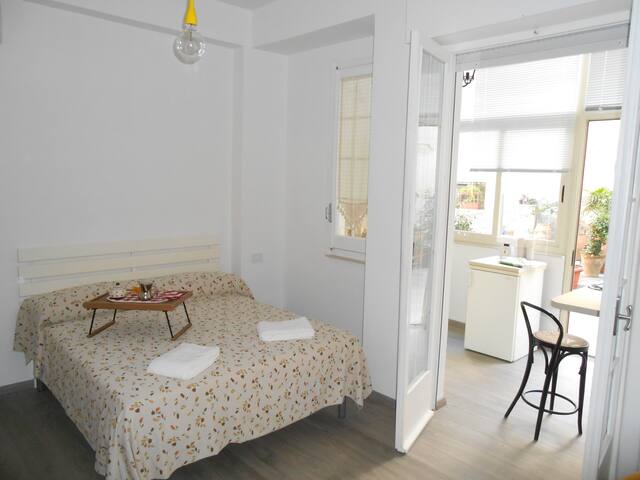 Hospitality availability and convenience! House with three bedrooms and kitchen service with tiled bathroom! Ample parking! Service Car rental or shuttle! Rich breakfast buffet! Private bathroom!
Room Type
Private room
---
Property Type
Bed & Breakfast
---
Accommodates
4
---
Bedrooms
Melito porto salvo, Reggio Calabria, Italy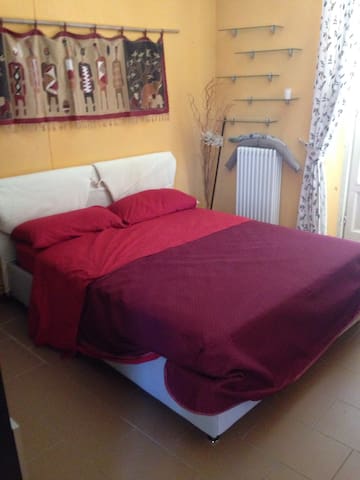 Beautiful apartment on the second floor at 200 mt from the sea. two large and bright bedrooms matrimonali. equipped kitchen. bathroom in excellent condition beautiful easy walk to the beach
Room Type
Entire home/apt
---
Property Type
Apartment
---
Accommodates
4
---
Bedrooms
Reggio di Calabria, Calabria, Italy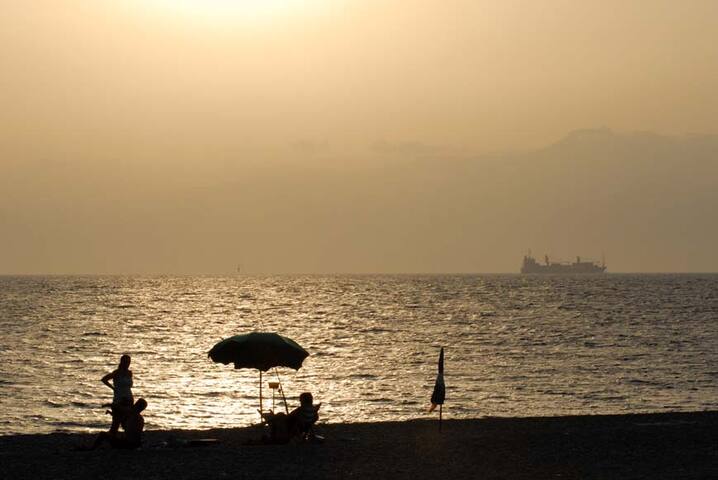 The accommodation is near Reggio Calabria centre: 8 minutes walk from the central station, Corso Garibaldi, and the wonderful Promenade Falcomatà. There are two bedrooms: one en-suite double and the other with a sofa bed and single bed with private bathroom.
The accommodation is near Reggio Calabria centre and that's why you can greatly enjoy the city attractions: the stunning Promenade Falcomatà with the view of the Strait of Messina, the crowded shopping street Corso Garibaldi, the Archaeological Museum of Magna Grecia and so on. You can easily reach the accommodation from the central station (about 8 mins walk) and the airport (10 mins by bus) although I hope I can pick you up when I can. The house has two floors and it has been recently refurbished. The kitchen and the private bathroom are on the ground floor while the bedrooms on the first floor. They are comfortable and fully equipped for your long or short stay. You can use the kitchen and enjoy the typical Italian breakfast. The cosy&comfortable atmosphere will let you to spend an enjoyable stay.
The neighborhood is calm. There are supermarkets, cafés, shops etc. The house is 50 metres from the bus stop to the city centre.
Super accueil par Simone! Very great welcoming by Simone! I really recommand! House is Nice at 5 min from train station and main road . Simone Will recommand You all the best places in reggio di calabria! I really enjoy my stay un this city. ! Thanks Simone and Calabrian people!
Sévy
2016-12-23T00:00:00Z
Simone was very nice, he picked us up on the corner around the flat, and when we left he brought us to the bus station to get to our next destination. The flat was very clean and nice, great room with balcony, and there was everything we could wish for, for breakfast. Simone made us a list with locations to visit and a list with places to eat at - including ice cream! Simone was a great host - very friendly and helpful. Thanks again!
Florentine
2017-02-06T00:00:00Z
The host canceled this reservation 175 days before arrival. This is an automated posting.
Maria Cristina
2017-03-27T00:00:00Z
Simone and his girlfriend were very kind, they made everything to make me feel comfortable and enjoy my stay at Reggio Calabria. They were always eager to help me and also provided my breakfast and picked me up at the airport. The house was very clean and well located. I definetely recommend this place!
Manoela
2016-12-20T00:00:00Z
This was an amazing place to stay. Easy to get to anywhere in Reggio and the hosts were so very helpful. Top notch recommendations to stay here
robin
2017-02-26T00:00:00Z
Simone and his girlfriend are the best host ever, they are so kind and helpfull all the time. They provide everything that we need to have a nice time in Reggio Di Calabria, also they recommend nice places to visit, to eat, things to do. I was very well received by them. The house is amazing and exactly as we can see in the pictures, clean and tidy. The breakfast is gorgeous...the city centre is really close and easy access to everything...Thanks a million Simone and Tonia for the great time ;) I hope see you soon
Elaine
2016-11-20T00:00:00Z
Simone è stato cordiale e puntuale. La posizione è ottima per spostarsi verso il centro. Ho gradito in modo particolare la pulizia della stanza e la disponibilità di Simone . Da risaltare l'abbondanza della colazione. Tornerei volentieri.
Pietro
2016-12-14T00:00:00Z
Una casa vivibile anche se su più livelli. Ben fornita di quello che serve per soggiorni brevi e di medio periodo. Nuova nelle rifiniture. Andrebbero sostituite le luci alogene che consumano molto e assobono molta energia.
Giacomo
2017-01-06T00:00:00Z
Room Type
Private room
---
Property Type
House
---
Accommodates
4
---
Bedrooms
Reggio Calabria, Calabria, Italy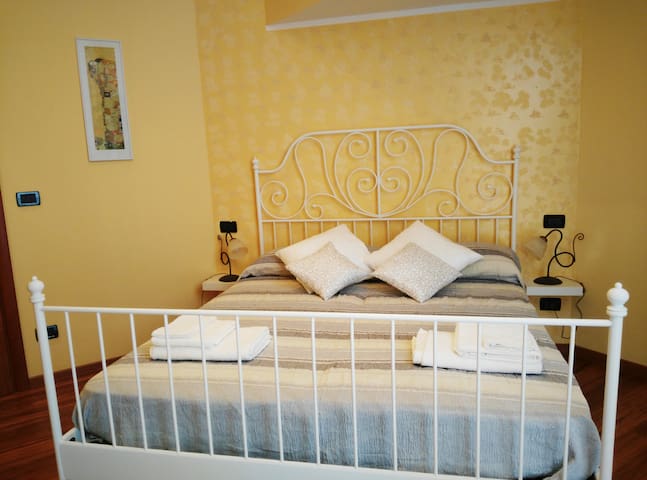 My accommodation is close to the airport. You will like my accommodation for these reasons: the light, the kitchen and intimacy. My accommodation is suitable for couples, lone adventurers, business travelers, families (with children), large groups and furry friends (pets).
... House is situated on a hill just outside the historic center it is surrounded by a family-owned orchard and several hectares of vegetation. Its location offers a wonderful panoramic view of the Straits of Messina.
Room Type
Entire home/apt
---
Property Type
House
---
Accommodates
6
---
Bedrooms
Aretina, Calabria, Italy
My accommodation is close to the city center and public transport. You will like my accommodation for these reasons: location and people. My accommodation is suitable for couples and adventurers solitari.Sito in Ionian Saline, 20 km from Reggio Calabria on the Ionian coast grecanica area, you can admire the wild nature of Calabria and visit the places of 'interest more rinomati.L 'apartment is located in the heart of the village in a residential area just 10 minutes walk from the beach.
The host canceled this reservation 4 days before arrival. This is an automated posting.
victor
2017-03-25T00:00:00Z
La signora Palma è stata gentile ed ospitale, ci ha dato ottimi consigli sui posti da visitare e ristorante per la sera, ma il pezzo forte è la casa grande, pulitissima, completamente ristrutturata a nuovo con un grande terrazzo, e di notte nessun rumore, insomma soggiorno 5 stelle ad un piccolo prezzo. Consiglio a tutti i viaggiatori in zona di fermarsi da Palma.
희경
2016-08-25T00:00:00Z
Room Type
Entire home/apt
---
Property Type
Apartment
---
Accommodates
4
---
Bedrooms
Montebello Ionico, Calabria, Italy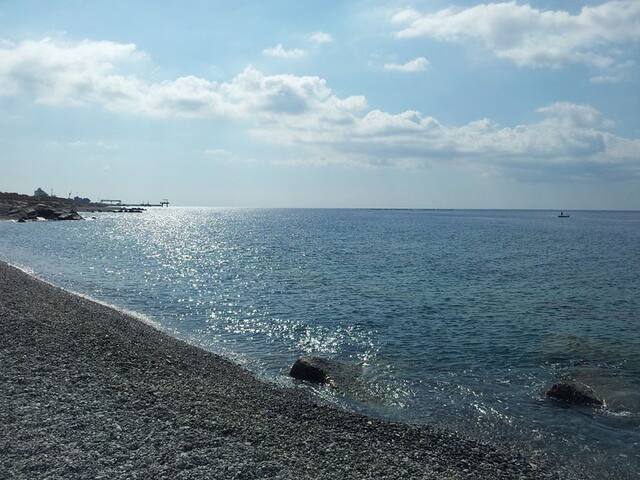 My accommodation is suitable for couples, lone adventurers, business travelers and families (with children).
Description Romantic studio, private and comfortable Rent studio furnished as photos, for short periods of time, with entrance to the kitchen living room, kitchen, bathroom with shower, sofa bed, veranda, panoramic terrace, TV, washing machine, electric oven, refrigerator, air conditioning / heating, wifi and all utilities included, starting from € 19 for 2 adults and 1 child. Discounts from 7 nights up. The apartment is located a few km from the center of Reggio Calabria, has free parking and is 50 meters from the bus stop, located in quiet reserved and very quiet, great for short trips or nature work and tourists.
Room Type
Entire home/apt
---
Property Type
Apartment
---
Accommodates
3
---
Bedrooms
Reggio Calabria, Calabria, Italy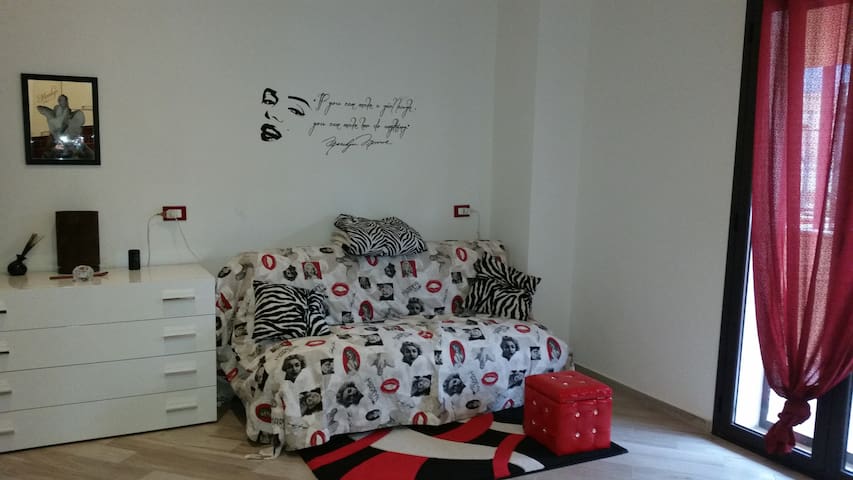 Villa on the first floor just steps from Punta Pellaro kite surfing paradise site in via Provincial Old Pellaro Reggio Calabria 18 My accommodation is suitable for couples, lone adventurers, business travelers and families (with children), fishing opportunities sports, boat rental, boat, snorkeling, kite surfing courses, etc., about 800 meters from a shopping center, bus stop 60m, railway station 1 km Reggio Cal Pellaro
the position at 5 meters from the shoreline with beach and the sea veranda
the sea
Beautiful and quiet place. Very good.
Bruno
2017-02-03T00:00:00Z
Amazing place next to the water Loved it.. ! Really nice apartment with a great view from the private balcony . I'll definitely stay there again and Clemente is a great host .
Pasquale
2017-04-02T00:00:00Z
The host canceled this reservation 14 days before arrival. This is an automated posting.
Matteo
2016-12-17T00:00:00Z
Ottima location panorama fantastico e zona molto tranquilla dove passare un tranquillo weekend da soli o con amici
Salvo
2016-12-11T00:00:00Z
Velky byt v romantickem dome na pobrezi. V sousedstvi vyborna restaurace
Bogdan
2016-11-13T00:00:00Z
Room Type
Entire home/apt
---
Property Type
Villa
---
Accommodates
5
---
Bedrooms
Reggio Calabria, Calabria, Italy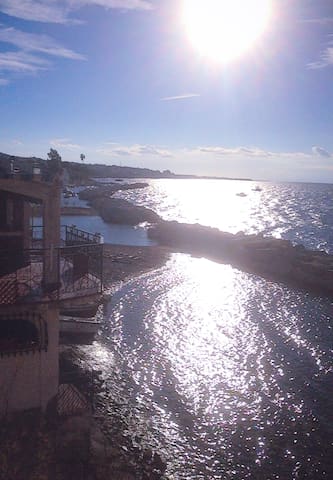 Sito in località Punta Pellaro, 3 camere dotate di tutti i comfort e giardino, sito a 200 mt dalla spiaggia e dai centri di Kite surf, a 50 mt dalla fermata bus, a 1 km dalla stazione ferroviaria, a 6 km dall'aeroporto, a 10 km dal centro di Reggio Calabria.
Camera dotata di tutti i comfort in un contesto padronale che consente di offrire tranquillità, riservatezza e relax in un ambiente piacevole ed accogliente a 200 mt dalla spiaggia di Punta Pellaro e dai principali centri di Kite Surf. La struttura dispone di un ampio giardino e consente di raggiungere facilmente i principali siti archeologici e culturali in quanto dista 50 mt dalla fermata del bus, 1 km dalla stazione ferroviaria di Pellaro, 6 km dall'aeroporto Tito Minniti, 10 km dal centro di Reggio Calabria, 20 km dal borgo di Pentidattilo e 35 km da Scilla e Chianalea.
Il mare, le iniziative enogastronomiche, svaghi vari.
Room Type
Private room
---
Property Type
Apartment
---
Accommodates
4
---
Bedrooms
Reggio Calabria, Reggio Calabria, Italy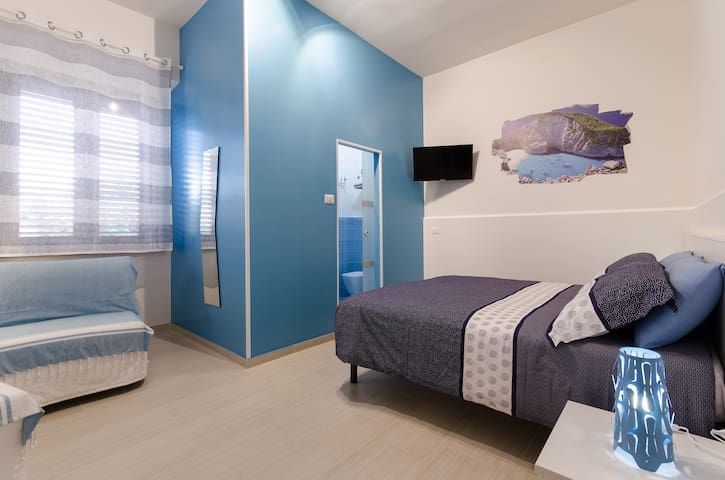 In un piccolo paese abbandonato a 4 km dal mare si trovano questi due appartamenti, dove avrai la possibilitá di trovare pace e relax.
Una coppia di appartamenti indipendenti, semplici ed essenziali, a disposizione per un massimo di 6 ospiti. Entrambi dotati di bagno privato e cucina/cucinotto. Dalla terrazza panoramica è possibile godere dello splendido panorama scosceso della costa jonica reggina.
Il borgo di Pentedattilo sorge arroccato sulla rupe del Monte Calvario. Il nome deriva dal greco penta + daktylos = cinque dita, ispirandosi appunto alla forma della rocca che ricorda una ciclopica mano con cinque dita. Nella seconda metà del XVII secolo il paese di Pentedattilo fu teatro di un crudele misfatto noto come Strage degli Alberti. La sciagura causata da un amore negato e da un tradimento che si trasformò in un bagno di sangue, ha circondato l'atmosfera ovattata e quasi fiabesca della montagna reggina di un fitto alone di mistero, destinato a perdurare fino a giorni nostri. E siccome storia e fantasia popolare si intrecciano inevitabilmente, la terribile vicenda ha consegnato il quieto paesino alla leggenda. Si racconta, infatti, che quando Lorenzo Alberti fu colpito a morte dal barone, poggiò la mano alla parete, lasciando l'impronta delle cinque dita insanguinate, e che questa sia tuttora visibile nella rupe di Pentidattilo quando, nel chiarore dell'aurora, le pareti di roccia colpite dal sole si colorano di rosso. Per questo motivo Pentidattilo viene indicata come "la mano del Diavolo" e si narra che nelle sere d'inverno, quando il vento s'alza tra le gole della montagna, interrompendo col suo sibilo il silenzio della solitudine, si riescono ancora a sentire le urla di rabbia e di dolore del marchese. Nel corso dei secoli, svariate leggende nacquero intorno alla musa dalle cinque dita alzate al cielo, le cui grandi rocce di arenaria, illuminate dalla luce rossa dell'aurora sembrano veramente i segni terreni lasciati da un intervento divino.
This is a magical spot with a truly amazing host.
Gregory
2015-09-28T00:00:00Z
Pentedattilo is spectacular place, the whole area is just amazing. The apartment is nice and with a lot of character. The special bonus is a terrace overlooking the Ionian Sea and the Etna Mountain (at the beginning of May still under snow). Rossella was a perfect host. Even thou she lives more than 50 kilometres from Pentedattilo she waited for us and came to say goodbye a day before we left. The first day she even cooked us a dinner and brought us her homemade products and fresh fruits. She is really an amazing person. Rossella è una persona speciale. Ha un grande cuore. Ti vogliamo bene Rossella! Grazie mille! Rosella, il vino che non ubriaco è fantastico ☺
Vojko
2015-05-03T00:00:00Z
Rossella is an amazing host. She welcomed us making sure all was ok for our stay. We were lucky enough to be able to taste the products from her small farm, which were deliciuous. The house is amazing and the view over the valley breath taking. Shame we only spent one night there! Rossella e' una persona veramente bella, nel vero senso della parola. Ci ha riservato una fantastica accoglienza nella sua casa, assicurandosi che tutto fosse predisposto al meglio per noi. Abbiamo avuto la fortuna di poter assaggiare i prodotti della campagna che lei coltiva con tanta passione e vero amore per la terra nella quale vive. L'appartamento dove abbiamo alloggiato e' bellissimo, arredato in modo semplice e funzionale. La vista dalla camera e' meravigliosa. La casa di Rossella e' un posto ideale per rilassarsi e godere del posto incredibile che e' Pentidattilo. Torneremo sicuramente!
Lorenza
2016-08-21T00:00:00Z
Perfect place to stay in peace with an AMAZING view! Recommended !
Angel
2016-08-08T00:00:00Z
Rossella is a wonderful host. Very welcoming. The area is charming. It was a great experience.
Jean-François
2016-10-05T00:00:00Z
One could not have wished for a better host! Rossella is the most generous, friendly and hospitable person you'll ever meet. I feel i have made a new friend. We had laughs and I've had the honour to taste Rosella's amazing meals from her own produce, which are amazing. It's important to note that the house itself is basic, but very charming. It's location is absolutely unique. The folks running the handful of art boutiques and workshops nearby are also all very friendly. I stayed there for several weeks and had an amazing time discovering Calabria and finding some peace and quiet. I definately hope to come back here some day! Grazie mille, Rossella, non dimenticarò mai questa esperienza! Spero che sarò ritornare. :)
Peter
2016-10-01T00:00:00Z
Fantástica experiencia!
Manuela
2016-07-18T00:00:00Z
Pentidattilo è un luogho fantastico un vero tuffo nel passato. Abbiamo trovato un appartamento confortevole con una splendida terrazza. Un panorama con vista sul mare; nelle giornate limpide si riesce a vedere anche la costa siciliana.
Sabina
2015-08-15T00:00:00Z
Room Type
Entire home/apt
---
Property Type
House
---
Accommodates
7
---
Bedrooms
Pentidattilo, Calabria, Italy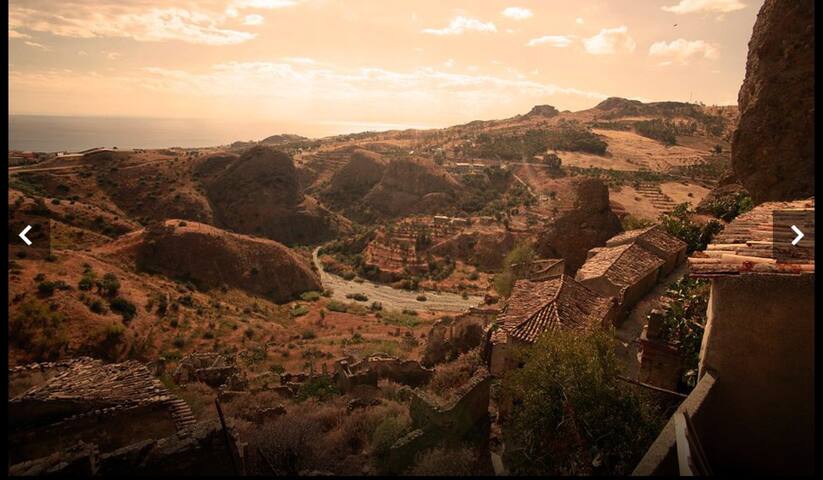 Apartment with all amenities just a few meters from the sea in the center of Reggio Calabria. Two bedrooms, (one double and one twin) bathroom, kitchen and living area.
air-conditioned apartment with all the amenities entirely at your disposal, for vacations as a couple, family or business trips.
Once there, guests can leave the car in the garage and take advantage of a variety of services always at hand. Will get to know the delights of local cuisine in the many nearby restaurants, discover the beaches, the nightlife of the area and the shopping streets. The museum of Ancient Greece with the famous Riace bronzes and major tourist attractions are within walking distance. the central station also connected with the most beautiful places on the coast is a few blocks from the house.
Barbara and Mauricio were very attentive to our needs. The apartment is beautiful, well furnished, and in a perfect location, close to downtown, the beach, shopping, and the train station. We had everything we needed from a hair dryer to a washing machine. They provided us with a nice guide sheet where they listed restaurants and places to see. We were so happy to have air conditioning as it was quite hot. I hope I can return to to Reggio Calabria and this apartment.
Azucena
2016-09-11T00:00:00Z
Beautiful apartment in the heart of Reggio. Perfect location for visiting the city and region. The appertment is perfectly kept with many supplies and has a at home feeling. Our host Barbara was excellent and provide us with very useful information about the region. We will be coming back again.
Basilio
2016-06-19T00:00:00Z
We could't be happier being lodged at Barbara's house! The house is pretty good, clean, large enough to allow a family of 4 people live perfectly. Barbara and her brother Maurizio were amazing, giving us a lot of hints and helping anytime. Location is perfect, close to everything interesting in Reggio Calabria. We'd like to thank Barbara and Maurizio for allow us to enjoy our trip with the comfort of their home. We strongly recommend their apartament if you're going to Reggio Calabria.
Ariane
2016-10-15T00:00:00Z
Very very nice people ! They were friendly and proposed us another apartment with A/C. So, very nice apartment and warm welcome = much apreciated ! It was good to stay in this place and I highly recommend travellers to stop at Barbara's place ! Furthermore, they offered us a free breakfast in the morning. I wish this stay would have lasted a bit more in Reggio de Calabre !
Fabien
2015-08-12T00:00:00Z
Barbara & her brother were very helpful both upon arrival & departure. The apartment was very clean, modern & had everything we needed,
Michael
2015-12-31T00:00:00Z
l'appartamento è esattamente come appare dalle foto, e anche le recensioni precedenti rispecchiano esattamente la verità, Barbara è stata una host veramente gentile e molto disponibile. siamo rimasti pienamente soddisfatti
emanuela
2016-08-14T00:00:00Z
Ottimo alloggio, ben arredato, pulito e in una posizione centrale.
Rocco
2017-02-05T00:00:00Z
5* O apartamento é acolhedor, confortável e com tudo o necessário para passar umas excelentes férias nesta bela região. Tem uma vista belíssima para o mar e para a Sicília. Enconta-se muito bem localizado. Os anfitriões são muito simpáticos e estavam sempre disponíveis para o que fosse necessário. Recomendo vivamente este apartamento. Obrigado Barbara
Marco
2016-07-21T00:00:00Z
Room Type
Entire home/apt
---
Property Type
Apartment
---
Accommodates
4
---
Bedrooms
Reggio Calabria, Calabria, Italy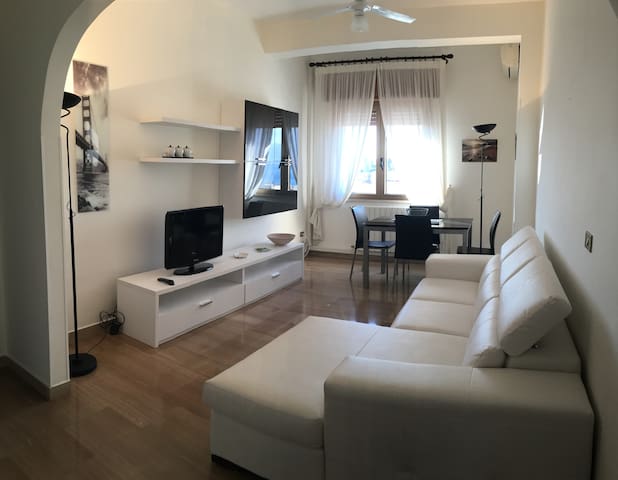 Indipendent apartment of 55mq at the first floor of a building, 10 minutes walking away from central station and city center. With air condition and WiFi. If you rent it you will be the only guests, no one else, full privacy. Kitchen equipped and washing machine.
Ideal apartment for your holiday in Reggio Calabria, located in the central area. Placed at the first floor has a balcony and a very bright kitchen, equipped with everything you need, from cutlery to the various tools, a bathroom with shower and a 'large bedroom that can comfortably accommodate up to three people. It is supplied clean linens for the bathroom and the bedroom. There are washing machine, iron and ironing board. Me and my family live in the same building and we will always be available for whatever you need or even for a simple conversation. In the immediate vicinity there are also various activities such as Foodstuffs, Bar, Bakery, Pizzeria, Fish Market, Gelateria, Newsagent, Supermarket, Tobacconist etc.. It is a 10-minute walk from the Central Station, you can reach the historical center and the Lungomare Matteotti without the use of buses or other means. Anyway, the bus stop is right in front of the house. The airport is only 5 minutes by car. The nearest beach can be reached on foot in 5 minutes Services included in the price: - Internet Wi-fi - Car parking (in the inner courtyard with automatic gate) - Digital TV - Autoclave - Washing machine (iron and ironing board) - Linen (blankets, sheets, towels, towel for the shower, soap, hair dryer ...) - Pets welcome Our hospitality and courtesy will accompany you throughout the duration of the stay, to make it even more enjoyable!
Wow. What a find. Beautiful people with a great apartment in a great location. We couldn't be happier with our stay in Mariella's place in Reggio. I'd recommend it to anyone visiting this wonderful part of the world. We will definitely be back, thank you so much Mariella!
Ben
2015-11-05T00:00:00Z
Mariella and her family have been perfect hosts. Their hospitality and friendliness made me feel at home from the start and they were always ready to help. The apartment is very clean and comfortable and with only 10 min to the train station it´s a good place to stay if you want to see other parts of Calabria too, even if Reggio is nice of course! Scilla was fantastic for example. This place is definitely a good recommendation!
Pernilla
2015-07-14T00:00:00Z
Mariella and her family were incredibly welcoming. We had snacks, water and a free rides! The place is perfect for what Reggio Calabria offers. super clean, spacious and semi good location. you will def need a car if you do not have one already. OR Mariella's family is always willing to give rides as well. Don't forget to go to Scilla, the beach is AMAZING!!! its about a 45min car ride from the town middle of Calabria. so worth it and more!
Ashley
2013-09-04T00:00:00Z
Very nice apartment and very nice hosts.
Adam
2015-05-03T00:00:00Z
Lovely apartment and the host picked us up from the station which was helpful.
Adam
2015-05-06T00:00:00Z
Mariella and her son are lovely people. They immediately made me feel at home, by helping carry my bags, offering coffee, wine, and snacks. Their hospitality is second to none. The apartment is comfortable and attractive and I spent a relaxing evening there on my way through town. Definitely recommended
Justin
2013-07-09T00:00:00Z
Very nice apartment! I loved it a lot! Qiet, clean and just beautiful! Mariela and her son are perfect hosts, so I felt very comfortable. Highly recommend their apartment to everyone who is going to visit Reggio and looking for a nice place to stay. Hope to visit it in summer :)
Viktoriia
2015-01-06T00:00:00Z
The apartment is well-located, very clean and well-equipped with everything one might need. Mariella and her son came to pick us up from the train station and were very friendly and helpful. I would definitely recommend their apartment for anyone.
Alena
2014-01-30T00:00:00Z
Room Type
Entire home/flat
---
Property Type
Apartment
---
Accommodates
3
---
Bedrooms
Reggio Calabria, Calabria, Italy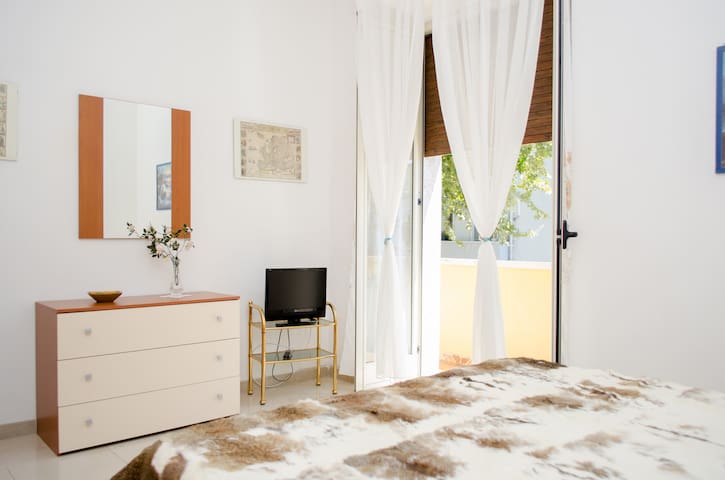 My accommodation is very central, a few meters from C.so Garibaldi, the Via Marina, from the central station. Very close to the splendid Villa Comunale, ideal for young and old, the promenade full of bars and all basic amenities at hand: pharmacy, supermarket, tobacco .. it is suitable for couples, business travelers and families (with children).
Central and well served
Tiziana's apartment is spacious and well-equipped. It is on the ground floor which means no stairs to climb, but no balcony or view. There is no separate sitting room, but there are two bedrooms. Tiziana is very friendly and helpful and lives in the same building so is on hand if there are any problems. I only stayed for one night, but had visited Reggio earlier in the month and it is a very interesting and lively city.
Colin
2017-03-30T00:00:00Z
La casa è spaziosa, pulitissima, è stata rinnovata di recente, la cucina super accessoriata (abbiamo apprezzato molto la macchina da caffè nespresso, proprio come a casa ..) , adatta anche a lunghi soggiorni, una vera casa. Tiziana è un'ospite molto disponibile e premurosa (siamo stati accolti con un sorriso anche arrivando la sera della vigilia di Natale! ) . Ci torneremo molto volentieri.
silvia
2016-12-27T00:00:00Z
FABIO
2017-02-21T00:00:00Z
Il mio breve soggiorno nell'appartamento di Tiziana e' stato semplicemente perfetto sotto tutti punti di vista: il posto e' centralissimo, nuovo, accogliente, grande, pulito, calmo, letto comodissimo e, per completare il tutto, una speciale menzione va all'accoglienza super attenta e cordiale di Tiziana! Che dire di piu'? Altamente consigliato per ogni soggiorno a Reggio Calabria! Grazie di tutto e arrivederci a presto! The perfect place for your stay in Reggio: everything was simply spotless, the place is beautiful, quiet and with every modern comfort, very well located nearby the Corso, Via Marina and the station. Tiziana has been very kind and attentive. I cannot recommend her place enough. Thank you so much for making my stay in Reggio very smooth. I will definitely come back!
Rosaria and Bertrand
2016-11-18T00:00:00Z
L'appartamento di Tiziana è in pieno centro e dotato di tutti i comfort, nei dintorni sono presenti tutti i servizi necessari, supermarket, farmacia ed ogni genere di negozi. A 30 metri dal Corso Garibaldi, arteria centrale della città. Tiziana è un host gentile, cordiale e disponibile. Consigliato.
Matteo
2017-01-09T00:00:00Z
Room Type
Entire home/flat
---
Property Type
Apartment
---
Accommodates
3
---
Bedrooms
Reggio Calabria, Calabria, Italy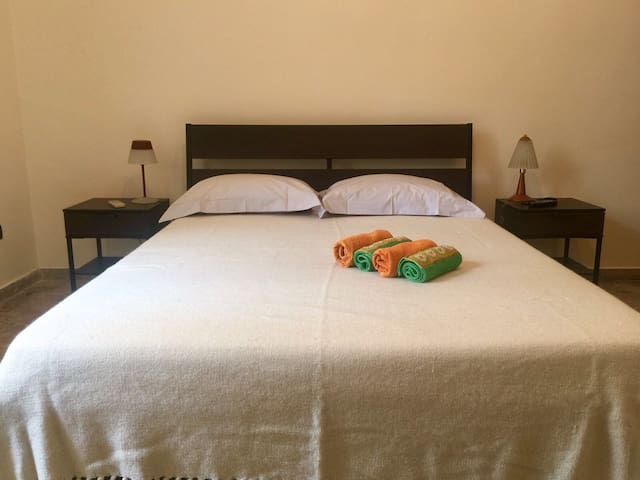 Private room with double bed and possible additional bed. With ample wardrobe and balcony mountains to the sea. Including use of the cooking-breakfast area. Ideal for lovers of Kitesurf, played 5 minutes away.
The apartment consists of three private rooms with single beds, double and double, and two bathrooms with shower. All with furnished balconies with panoramic views of the Straits of Messina and the Aspromonte. The rooms are on the fourth floor of a nice building with a separate entrance through a private courtyard where guests can park between plants and flowers of many colors. common services are the living room and lounge, the beautiful balcony, from which you can see the Straits and Etna, breakfast-dining area with a fridge, freezer and microwave. The reviews left by our dear guests, are your guarantee. There are additional extra costs.
The room is located 200 meters from the Airport of the Strait in a street well stocked with all the shops and services necessary for everyday life. A quiet area just steps from the sea. And 'well it served by public transport with a bus stop and 50 meters from the entrance taxi. They are near the Supermarket, Pizzeria, Restaurant, Bar, Tobacconist and all the services needed to stay.
Saverio is a very kind man! His women is also very helpfull. When I arrived it was like 23:30 pm. I didnt ate that day because I was rushy. He gave me some food to eat. i really appreciate that!
Ayisha
2016-03-11T00:00:00Z
Both the host and his daughter went out of their way to make my stay comfortable. The room was clean and I had everything I needed for my short stay. Thanks so much.
Kate
2016-04-22T00:00:00Z
Saverio was a terrific, enthousiastic host! He picked us up from a café in the city and during the trip to his place he showed us some beautiful places. His house has a great view over the town of Reggio di Calabria and we had the entire appartement -with a big balcony- to ourselves. The city and the beach are a '10 walk. We definitely recommend staying at Saverio's place.
Benjamin
2016-08-15T00:00:00Z
Nice place, really well received and a nice flat for your own self. I recommend.
Félix
2017-02-06T00:00:00Z
It was a cordial and kind staying. It seems Saverio is new in bnb service, but I believe he will make his best to know the specific of this business. Nevertheless, the human qualities of our host are fantastic!
Anna
2015-06-27T00:00:00Z
Saverio é un ottimo host. É stato molto gentile sia lui che sua fidanzata. L'appartamento é perfetto si trova vicino all'aeroporto. Grazie di tutto!!
Kata
2016-05-01T00:00:00Z
l'accoglienza stata molto bene, Saverio Flavio è una persona gentile, preciso, il quartiere tranquillo con grande vista sul Mare montagne molto bello...... Mi sono trovata abbastanza bene.... :-) ..
Jannyn
2015-08-21T00:00:00Z
Ho stato con Saverio per due notti e lui è stato uno bravissimo ospite. Molto gentile e ha me aiutare molto. Raccomando la stata con lui.
Wesley
2015-08-08T00:00:00Z
Room Type
Private room
---
Property Type
Apartment
---
Accommodates
3
---
Bedrooms
Reggio Calabria, Calabria, Italy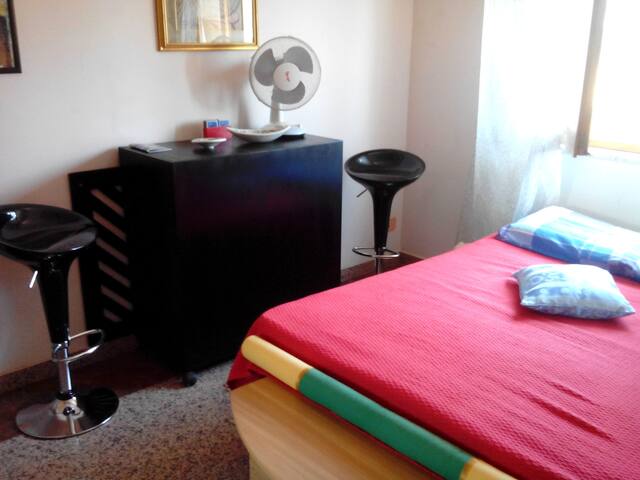 Enter dates to see full pricing. Additional fees apply. Taxes may be added.