Rooms close to Portillo! Only 40 Min in house of the family. You can enjoy the garden, the court, the quincho and the rest places. Cars can be parked inside the home. It is a relax place to go out to walk, and ski for the day in the Ski Center Portillo and then, back to rest and sleep. Also we have space for tents. The bath and the kitchen is of use shared with other guests. The price is for person. Ask for availability.
What guests are saying:
"If you want to feel at home on Chile, this is the place. Berta and her husband are very warm and friendly and will make sure your stay is comfortable. The location is close to the road leading to the high mountains and Argentinian border so you can go hiking at Laguna del Inca or cross the border to visit the Aconcagua park."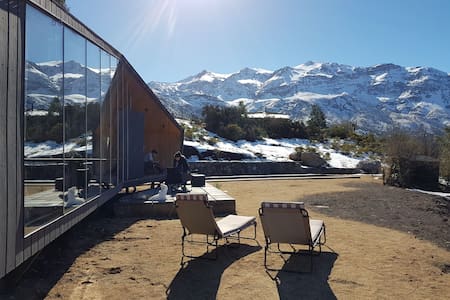 SUPERHOST
Entire cabin · 4 guests · 3 beds · 1 bathroom
Cabaña Refugio montaña Fdo San Francisco Los Andes
Refugio de Montaña, 1er premio The American Arquitectural Price small size 2017 USA, www.masdeco.cl/la-casa-en-la-montana/.... arquitecto Gonzalo Iturriaga. Concebido para familias y deportistas que amen la vida al aire libre, trekking y montañismo (500 a 2.000 mts de desnivel), bicicleta (caminos tierra), natación ( piscina 20 mts), vista panorámica espectacular, cielos estrellados, lunas imponentes, aire puro, silencio absoluto. A 23 km de San Esteban y 14 km termas del corazón. Bienvenidos!
What guests are saying:
"I've been a very active Airbnb guest for years. Never have I stayed such an amazing place. Never. My girlfriend and I got away here for the weekend and literally couldn't stop saying how special this place was. Ha, we also didn't get annoyed with the constant compliments this house warranted. It's silent, very dark at night and has everything you could want in little cabin to keep yourself satisfied. If you're interested in getting away from the city to experience natural beauty from a luxurious perk, then this is the booking for you!"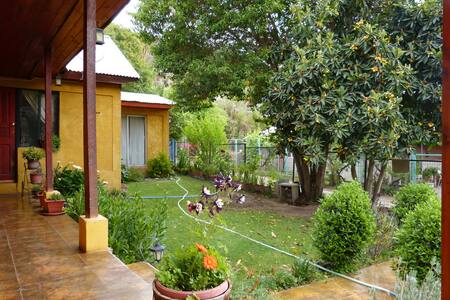 SUPERHOST
Private room · 9 guests · 7 beds · 2 shared bathrooms
Rooms close to Portillo, Los Andes, Chile.
Places close to our home: -1 hour of Center Ski Portillo and Paso Los Libertadores -6 hours to Mendoza, Argentina -3 hours to Viña del Mar/ Valparaíso -1 hour to Santiago -15 minutes to Los Andes (Center)
What guests are saying:
"Very kind and wonderful family! Mr. Berta's worry was also wonderful, I was able to spend comfortably and comfortably. Free water server (hot, cold), coffee, tea and hair dryer are available anything. It was a bit far from the center of the town, but I was able to go shopping by taxi at 1200 pesos. The surroundings of the house was surrounded by mountains and it was a perfect place for me who was looking for a place to do it slowly!"