Gemütliche Wohnung im 1. OG eines 2 Familienhauses, vollständig eingerichtet und möbliert, mit Balkon und Stellplatz
Frisch renovierte gemütliche 3-Zimmer Wohnung. 1 schönes Wohnzimmer mit 3- und 2 Sitzer Sofa, Couchtisch, Wohnwand und TV, Radio und CD-Player. Voll eingerichtete Küche mit 2-Platten Herd, Grill, Mikrowelle, Kühlschrank, Spülmaschine, Kaffeevollautomat. Kinderstuhl vorhanden. Badezimmer mit einem Waschbecken, Badewanne und Dusche, separates WC, sowohl Badezimmer als auch WC frisch renoviert.
Ellwangen ist eine wunderschöne Kleinstadt im Ostalbkreis mit hohem Erholungswert.
Room Type
Entire home/apt
---
Property Type
Apartment
---
Accommodates
4
---
Bedrooms
Ellwangen (Jagst), Baden-Württemberg, Germany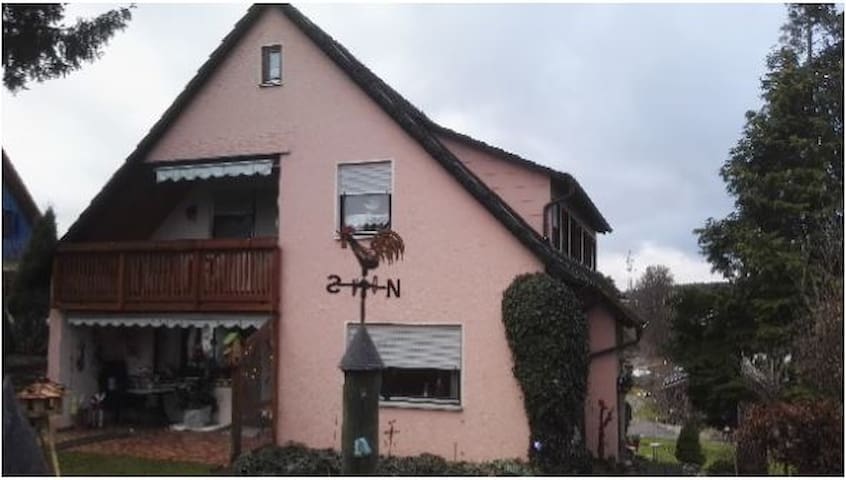 Living in the castle! Welcome to us on the fir Castle. The castle is located on a mountain top with excellent views, guests stay on the second floor of the main building of the castle with panoramic views of the Upper Bühlertel south. The castle and the rooms are mostly equipped with antique furniture from the collectors treasure of Opa. Our Burgstube located downstairs, here you can enjoy breakfast in a cozy atmosphere. The extensive buffet ensures that you strengthen and go satisfied in the day. Evening meet here in cooler weather, guests to a glass of wine to be so common end the day. The Burgstube also offers various board games, books and satellite TV / dvd. The Burgstube is also particularly good for family gatherings. It has room for 25 guests and can be just as you wish to decorate. The apartment: On the first floor of the castle, a lovely accommodation with bay window over the gate area of the castle. Again, the windows are oriented to the south. The apartment is 65 m² and has a spacious living room with full size bed and dining area, a separate bedroom for children (extra beds are possible), a bathroom and a fully equipped kitchen with refrigerator, microwave, kettle, coffee maker and utensils. Bed linen, towels and tea towels please bring. The apartment offers space for up to 5 people. The romantic attachment with the castle courtyard, the ancient linden Gundula, the Turmstüble, the walk-shield wall, the fireplace with a large grill hut on the castle wall and the well-kept grounds offer many opportunities for relaxation. Come in...
The castle is surrounded by fields, meadows and woods in small-scale structure. Hiking / bike paths enhancing environmental
We had a really nice time in Bühlertann, experiencing the castle with its wonderful view and the farm on the premises, which is a paradise for children. The accomodation is very unique: having antique furniture, a collection of antique clocks, but not lacking functionality and expectations of modern living either. Always clean and tidy, well maintained. I would recommend it to anyone who would like to enjoy the quietness and hospitality of countryside, especially with children.
Nora
2016-04-11T00:00:00Z
The Zipperer family Ernst and his son and daughter in law were wonderful. Friendly and very informative about local history and the running of the farm. Our kids loved helping out with feeding the animals morning and night. We were there for the new year and they invited us to their Sylvester party, fireworks no sekt galore.
Nigel
2017-01-04T00:00:00Z
My family had a wonderful time during our stay. Despite six days of record snow we had a warm and blessed place to enjoy our time together. The history and work that are required to produce an experience such as ours is rare and truly appreciated by our family. The Zipperer are wonderful and offer a chance to meet real german farmers working to feed their neighbors.
Troy
2015-01-03T00:00:00Z
The host canceled this reservation 6 days before arrival. This is an automated posting.
Aymeric
2016-06-19T00:00:00Z
Fantastic castle with amazing views. Excellent value accommodation and very friendly hosts. Easy 20 minute walk down to the village where there are a number of eating and drinking places. Looking forward to staying again in the future.
Andrew
2016-07-04T00:00:00Z
Ernst and his wife were such wonderful and gracious hosts. From the moment we arrived we were welcomed with warmth and open arms. We genuinely felt wanted there. Our stay was truly magical and unbelievable. From the moment you arrive, you are transported back in time and your imagination of what life was like starts ; yet you have all the amenities and conveniences of today. The castle and land has so much rich history and Ernst gave my family and I a wonderful tour of the grounds. The kids had such fun; whether it was playing on the playground , feeding the bunnies...chasing their cat or a visit with Rosie and Truffles (the family pigs); they were entertained and loved every minute of (URL HIDDEN) electronics nor phones and not once did they complain) The breakfast spread is beyond words. This is a lovely get away if you are wanting to stay in a quite place and relax . You can even make the hour drive to Rothenburg or closers by is Dinklebhul. But you will not want to leave here. This will be one of our favorites. The beds were comfortable and the rooms immaculate. We look forward to returning. .....
Michelle
2015-09-07T00:00:00Z
The host canceled this reservation 26 days before arrival. This is an automated posting.
Christophe
2016-06-22T00:00:00Z
Definitely one of the unique and quaint accommodations on Airbnb. A real old-time castle with all the bells and whistles - period furniture, a lookout tower on the wall, etc - yet functional and comfortable to stay in. Various apartments/rooms/dormitory available. This apartment has a living space, kitchen and queen bed in one large room, and bunk beds in the other - with nice antique furniture. Ernst-Martin knows quite a bit about the history of the place. He has kept a little museum with old clocks and other interesting paraphernalia, including nice paintings by his grandfather. Around the castle is a farm with cows and horses. Games like table tennis and maybe other activities available. Bed-linen and towels was a one-time extra at 7.5 EUR per person, hence it works out better for longer stays. Breakfast was also available at 7.5 per person, and quite nice. A good place to relax, and to explore the Romantic Road - Dinkelsbuhl is a half hour drive, Rothenburg a bit more.
Vinayak
2016-06-24T00:00:00Z
Room Type
Entire home/apt
---
Property Type
Apartment
---
Accommodates
5
---
Bedrooms
Bühlertann, Baden-Württemberg, Germany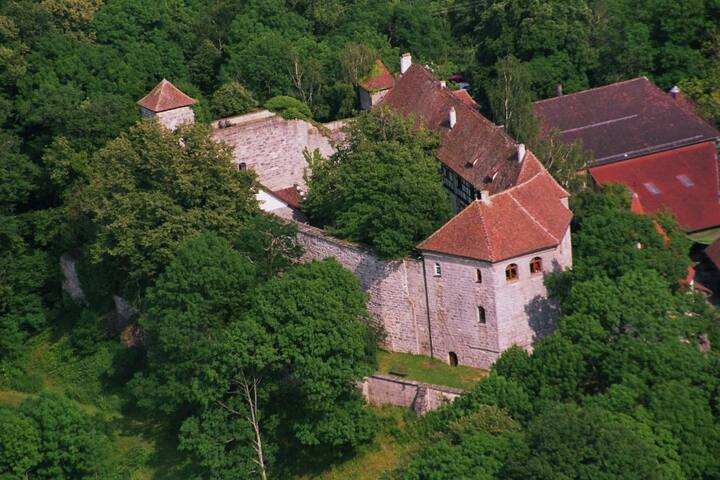 Amboss ist eine unserer Ferienwohnungen in der Dorfschmiede in Hüttlingen das 2016 neu erbaut wurde. Natürliche Verarbeitung des Holzes, sowie bodentiefe Fenster und große französische Balkone machen diese Wohnung einzigartig. Die Wohnung ist 55 m2 groß. Das Haus steht zentral und bietet für sie die Möglichkeit in wenigen Gehminuten den Wald und Skulpturenweg sowie im Sommer das Naturerlebnisbad zu erreichen. Der Kocher-Jagst-Radweg führt auch in unmittelbarer Nähe am Haus vorbei.
Die Wohnung ist mit einer Fußbodenheizung ausgestattet und sie hat bodentiefe Fenster und elektronisch gesteuerte Verdunklungsjalousien. Durch die 4 m hohe Decke sowie die natürliche Verarbeitung des Holzes herrscht ein wunderbares Klima. Die Küche verfügt über eine Spülmaschine sowie über einen Backofen Das Bad verfügt über eine Regendusche sowie über einen modernen Spiegelschrank mit Kosmetikspiegel und einem bodentiefen Fenster.
Room Type
Entire home/apt
---
Property Type
Apartment
---
Accommodates
2
---
Bedrooms
Hüttlingen, Baden-Württemberg, Germany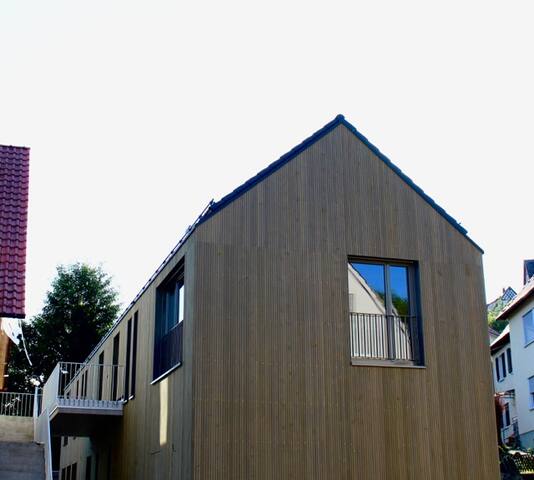 Abseits der Wege mit Flora und Fauna auf Du und Du! Ankommen, ausspannen, durchatmen. Willkommen in Weiler 1
Der komplette erste Stock des alten Bauernhauses ist zur Vermietung bereitgestellt. Er gliedert sich in drei separate große Zimmer und zwei kleinere Zimmer, die jeweils mit einem der großen verbunden sind. Für die Gäste die kein Durchgangszimmer wollen, stehen im zweiten Stock Ausweichzimmer bereit (siehe Fotos und Bildunterschrift). Ebenfalls im ersten Stock: Ein großes Bad mit Dusche, Badewanne und Toilette sowie eine separate Toilette im Flur. Eine weitere Dusche befindet sich außerhalb des Hauses. Im Sommer ein Traum! Im EG ist die große Wohnküche mit Kamin und Eßtisch. Genug Platz für ALLE!
Toller Wald, tolle Bäche, großes Mineralfreibad, Saunawelt (Gschwend) Badeseen, Freizeitpark (Legoland 1,5 h, Schwabenpark 0,5h mit dem Auto), Limes, Reiterhöfe, … Schwäbisch Hall, Schwäbisch Gmünd, Aalen, Stuttgart… Im Winter ist die Gegend ideal für Skilanglauf. 20 Minuten entfernt gibt es ein kleines Skigebiet (Gschwend). Super für Familien mit Kindern.
Felix has created a perfect holiday experience. You should definitely bring couple of days, the time just stops. So much to see outside, so comfortable and nice inside the village house. We were there as three young couples, to celebrate the birthday. The grill outside, the very special huge outside oven, campfire outside and then finally the fireplace talks inside - that was the perfect weekend. Felix has shown us the great walking paths around the village in the forest. Greatest host I've ever seen yet.
Andrey
2017-03-26T00:00:00Z
The host canceled this reservation 4 days before arrival. This is an automated posting.
Bikebandit
2016-04-18T00:00:00Z
We had wonderful time at Felix place.both Felix and his mum was kind and thoughtful (URL HIDDEN) kids made friend with Felix and his dogs.love to come back again!thank you!
Joanna
2016-07-28T00:00:00Z
Rosa and Felix have been great guests to us and our children. They spent time to make sure we would make the best of our stay. Their home is very warm and confortable. It was fantastic for the kids to spend some time with the animals, and to play in the big ward. We will not forget our stay !
Gaëlle
2016-08-07T00:00:00Z
We chose this house because we needed plenty of space for a family reunion. This included some young children who needed to run around and loved the animals, and the ability to enjoy a bonfire! Felix and his mother were very welcoming and helpful as well as being very friendly and chatty thoughout our stay
Frazer
2016-08-14T00:00:00Z
Perfect
Jérôme
2016-09-18T00:00:00Z
Wir haben uns sehr wohl gefühlt auf dem Hof - Orga im Voraus und vor Ort war tipptopp, herzlicher Empfang, Rosa war immer da für uns- danke! Idealer Ort wenn man Zeit in der Natur verbringen möchte. Wirklich schön mit den Tieren und dem Wald gleich neben an. Wir waren mit 8 Erwachsenen und 5 Kleinkindern vor Ort. Haben die Wohnküche mit dem Ofen beheizt- heimelig. Was ich aus der Beschreibung vorher nicht gelesen habe, ist dass ein Zimmer ein Durchgangszimmer ist (hat uns für ein Wochenende nicht weiter gestört). Der Garten ist riesig und bietet Platz für Lagerfeuer, Pizzabacken - sehr empfehlenswert! Wir kommen sehr gerne wieder!
antje
2016-10-16T00:00:00Z
Unser Aufenthalt war super. Wir, das sind eine Familie mit drei Jungs (14, 10 und 4), haben uns alle sehr wohlgefühlt. Felix war super nett, hat alles genauestens erklärt zur Unterkunft, hat aber auch Vorschläge gemacht, was man in der näheren Umgebung unternehmen könnte. Und als unsere beiden Großen auf einer kleinen Wanderung "verloren" gegangen sind, hat er sie gleich mit dem Auto gesucht - und gefunden. ;-)
Katja
2016-08-02T00:00:00Z
Room Type
Entire home/apt
---
Property Type
Apartment
---
Accommodates
9
---
Bedrooms
Sulzbach-Laufen, Baden-Württemberg, Germany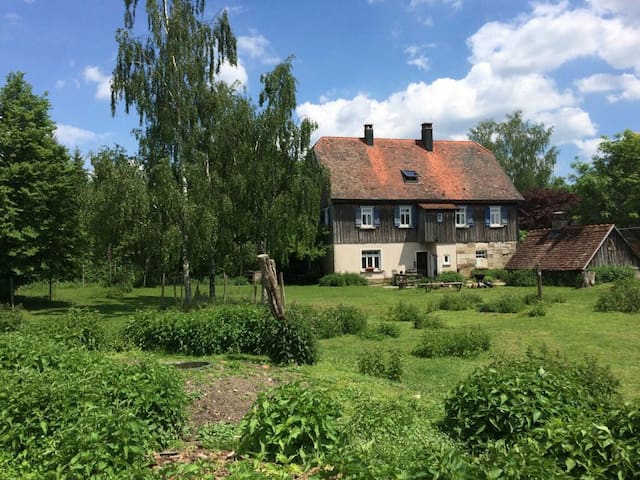 La vida en el castillo! Bienvenido a nosotros en el castillo de abeto. El castillo está situado en una montaña nariz con excelentes vistas, los huéspedes se alojan en el segundo piso del edificio principal del castillo con una vista panorámica de la Alta Bühlertel sur. El castillo y las habitaciones son en su mayoría equipadas con muebles antiguos del tesoro colector del abuelo. Nuestra Burgstube está situado en la planta baja, donde se puede disfrutar del desayuno en un ambiente acogedor. El extenso buffet para que vaya a fortalecer y satisfechos en el día. Por la noche, donde los huéspedes se reúnen en un tiempo más fresco para una copa de vino a ser tan común final del día. El Burgstube también ofrece varios juegos de mesa, libros y TV vía satélite / DVD. El Burgstube también es particularmente bueno para reuniones familiares. Tiene capacidad para 25 personas y se puede decorar a su gusto. Las habitaciones de madera del techo: A su disposición dos habitaciones con dos camas y un baño con ducha y WC. Las habitaciones de madera del techo proporciona el alojamiento ideal para una pequeña familia de 2-4 personas. El apego romántico con el patio del castillo, la antigua Linde Gundula, la Turmstüble, la pared a ras de escudo, la chimenea con gran cabaña barbacoa en la pared del castillo y los jardines bien cuidados ofrecen muchas oportunidades para la relajación. Por favor, introduzca ...
Wir haben spontan auf der Tannenburg übernachtet. Dort oben ist es wirklich wunderschönen, alles ist top gepflegt und für jeden gibt es etwas zu entdecken. Ernst-Martin führte uns nach einem leckeren Frühstück auf di(URL HIDDEN) Bogenschießanlage auf der wir großen Spaß hatten :) Wir haben uns auf der Burg und bei Familie Zipperer sehr wohl gefühlt und waren gerne hier zu Gast. Liebe Grüße, Verena und Michael
Verena
2016-10-16T00:00:00Z
Room Type
Entire home/apt
---
Property Type
Apartment
---
Accommodates
4
---
Bedrooms
Bühlertann, Baden-Württemberg, Germany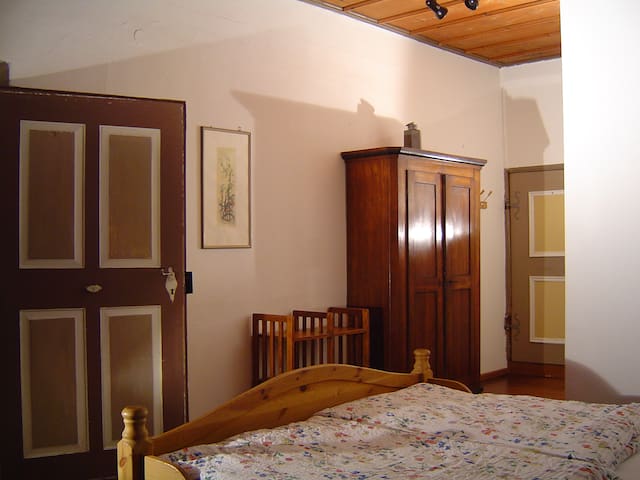 Entspannen sie sich in einer unserer Ferienwohnungen in Hüttlingen. Diese wurden 2016 neu erbaut und ist 75 m2 groß. Das Haus steht zentral und bietet für sie die Möglichkeit in wenigen Gehminuten den Skulpturenweg sowie das Naturerlebnisbad zu erreichen. Auch sportlich haben sie die Möglichkeit zu Nordic Walking, Radfahren oder Jogging. Nicht weit von unserem Haus führen der Deutsche-Limes-Radweg sowie der Kocher-Jagst-Radweg vorbei.
Unser neu erbautes Holzhaus besticht durch seine 4 m hohen Wände und durch die hellen bodentiefen Fenster und einer großen Dachterasse. Die Küche ist mit Spülmaschine, Cerankochfeld und Backofen ausgestattet. Der Kühlschrank besitzt ein kleines Eisfach. Wasserkocher, Kaffeemaschine sowie Toaster stehen auch in der Küche zur Verfügung. Die Wohnung hat ein Schlafzimmer sowie ein Kinderzimmer mit zwei getrennten Betten. Das Bad hat eine Regendusche, einen Spiegelschrank mit Kosmetikspiegel sowie ein Haarfön sind vorhanden. Im Bad befindet sich auch ein bodentiefes Fenster.
A great place and a great host. We look forward to staying again next year.. Dan
Daniel
2017-01-28T00:00:00Z
Die Wohnung ist neu gebaut und innen fast vollständig aus Holz. Es gibt eine Fußbodenheizung, der Aufenthalt war sehr angenehm und gemütlich. Vielen Dank!
Johannes
2016-12-08T00:00:00Z
Room Type
Entire home/apt
---
Property Type
Apartment
---
Accommodates
4
---
Bedrooms
Hüttlingen, Baden-Württemberg, Germany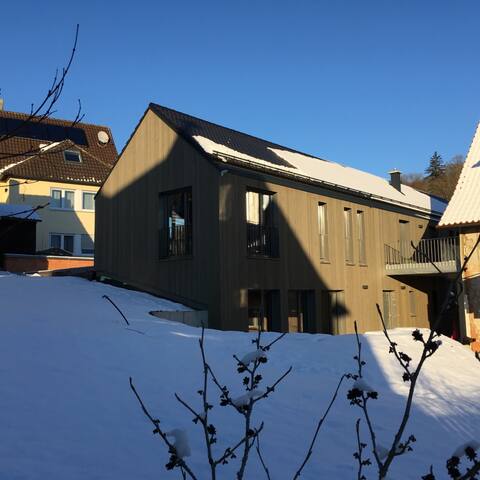 ca 50 qm Bett 1,40 x 2 Meter Schlafsofa bis drei Personen,voll ausgestattet mit tv internet... Küche und Bad. Schöne Terrasse mit Teich und Garten Parkplatz vorhanden
Apartementbeschreibung Das voll ausgestattete Apartement hat einen herrlichen Blick über die schöne und abwechslungsreiche Landschaft der Schwäbischen Alb. Das komfortable Apartement ist vollmöbliert. Es ist ausgestattet mit einem Bett (140 cm x 200 cm), Sitzecke (Schlafsofa), Schrankwand, Schreibtisch, Regale, TV und Internet ect. (Bodenbelag: Laminat). Es verfügt über eine voll eingerichtete kleine Küche mit Essbereich sowie über ein separates Bad mit Dusche, Waschbecken und WC. Bettwäsche und Handtücher sind inklusive. Darüber hinaus verfügt das Apartement über eine wunderschöne Terrasse mit Teich und Garten. Genießen Sie die herrliche Aussicht und die Ruhe. Parkmöglichkeiten sind am Haus vorhanden. Die Wohnung ist eine Nichtraucherwohnung, gerne kann auf der Terrasse geraucht werden. Lage Das Apartement befindet sich in zentraler Lage zu den Städten Ulm, Stuttgart und Schwäbisch Gmünd. Wasseralfingen am Fuße des Braunenbergs, ist mit 11.700 Einwohnern der größte Stadtbezirk Aalens. Ein touristisches Highlight stellt das Besucherbergwerk "Tiefer Stollen" dar, welches auch für Asthmatiker Therapieplätze bietet. Zentral in Wasseralfingen gelegen finden Sie alle Einrichtungen des täglichen Bedarfs. Die Natur vor der Haustür lädt zu Spaziergängen und Radtouren ein. Die Stadtmitte der Kreisstadt erreichen Sie bequem per Bus oder Bahn in kürzester Zeit (ca. 4 km entfernt). Hier wartet eine tolle Innenstadt mit schönen Lokalen, ansprechenden Geschäften und ein interessantes, kulturelles Leben auf Sie. Mit dem Auto sind Sie in wenigen Fahrminuten auf der B 29 in Richtung Stuttgart oder auf der A 7. Lassen Sie sich von den zahlreichen Vorzügen begeistern.
Wonderful place. Large and clean. Recommended for sure!
Chris
2015-09-21T00:00:00Z
Very nice and quiet place. We enjoyed the garden and had a very nice sleep. Frank and his wife was very freindly and there was cold drinks in the kitchen wich was nice on a very hot day.
Birgitte
2014-07-20T00:00:00Z
Nice stay for relax in a residential zone. Unfortunately, we couldn´t enjoy it more, because of work.
Jiri
2014-04-17T00:00:00Z
My family and I had a lovely stay at Frank's. The apartment is very clean and comfortable and located in a quiet neighborhood with beautiful views of the hills of Aalen. We happily used the eat-in kitchen which had everything we needed to cook. We also enjoyed stepping out of the apartment into the garden to see the beautiful flowers and small pond. Frank's parents were wonderful hosts and very accommodating. We will definitely be coming back.
Natasja
2015-08-01T00:00:00Z
The host canceled this reservation 18 days before arrival. This is an automated posting.
Karen
2015-11-22T00:00:00Z
The host canceled this reservation 4 days before arrival. This is an automated posting.
Ana
2016-07-11T00:00:00Z
We had a nice stay at Franks apartment. There is a pizza place nearby which is really great! :-) The view is amazing and the apartment has a cute little garden.
Mette
2016-09-03T00:00:00Z
Thank you for a lovely stay. Nice and peaceful. All you need.
Brigitta
2015-09-12T00:00:00Z
Room Type
Entire home/apt
---
Property Type
Apartment
---
Accommodates
3
---
Bedrooms
Aalen, Baden-Wurttemberg, Germany
In a rural location 15 - 20 minutes drive away from 73575 Schwäbisch Gmünd and about 20 minutes drive away from Aalen Fully furnished everything is there for a guest to stay or for a couple of nights. Cooker, washing machine, tumble dryer Kühlschr. Ect ...
(2 sleeping places) 2 rooms with bunk bed (4 beds) So with couch up to 9 beds! Living room with dining area and pull-out couch (2 beds), small kitchen with small oven and 2 hot plates, Please pay attention! 2 -3 beds on couch, which are for a few days absolutely as a sleeping place. WC and bathroom together a room. Shower room extra. Everything in the apartment Rural location, lots of peace, small terrace. Cities 15 Km Umkr. Non-smoking apartment
Residential area with family house. Directly behind the house it is on meadows and forests. Very quiet location, very children and families friendly
We had a nice experience in Obergroningen. Frank is a very helpful host and the surroundings are very quite and peacefully. Tks for all.
Adrian
2015-07-13T00:00:00Z
Franck and his wife were very welcoming , smiling , tolerant and helpful. The house is clean and functional. The neighborhood is very quiet and charming neighborhood. Small negative note for the weak wifi connection.
waoue
2015-08-01T00:00:00Z
The host canceled this reservation 59 days before arrival. This is an automated posting.
Birgit
2016-03-24T00:00:00Z
Super Wohnung!
Rüdiger
2016-10-14T00:00:00Z
Hat alles gut geklappt, vielen Dank
Patrick
2015-10-17T00:00:00Z
Wir könnne die Unterkunft weiterempfehlen und werden sie auch zukünftig gern wieder nutzen.
Frank
2017-03-09T00:00:00Z
Es ist eine sehr große Wohnung, die in eines klein und ruhig Dorf liegt. Frank ist freundlich und diskret. Unterkunft für di ganze Famile. Empfohlen um sich zu erholen.
Antonio
2015-07-29T00:00:00Z
Auch diesmal war wieder alles zu unserer Zufriedenheit und wir kommen gern wieder.
Frank
2017-03-23T00:00:00Z
Room Type
Entire home/apt
---
Property Type
Apartment
---
Accommodates
9
---
Bedrooms
Obergröningen, Baden-Württemberg, Germany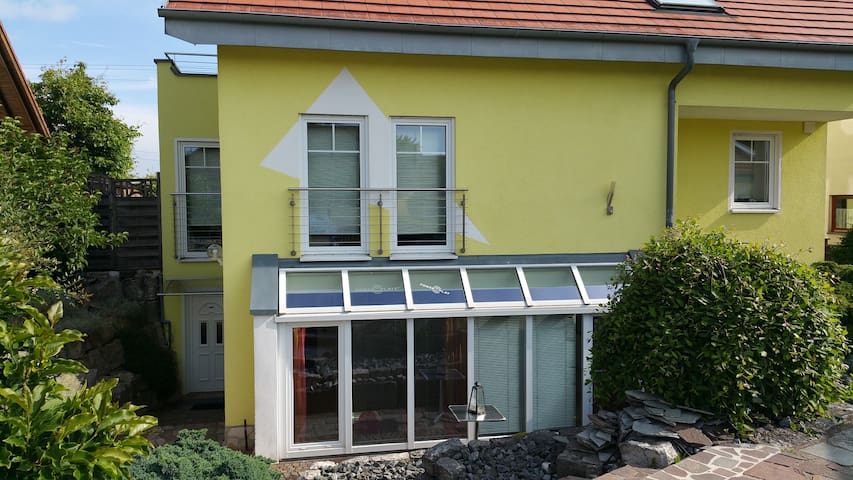 The beautifully cut building was completely renovated in 11/2016. It is suitable for single travelers, business travelers, couples or families with children. Pets are also welcome. The apartment is located in close proximity to the cycle path on the stove. In 10-15 minutes' walk from the pedestrian area of Aalen, with its pretty old houses and inviting restaurants and pubs. Supermarkets and cinema are within a 5-minute walk.
The immediate city area, and the direct proximity to the forest make your days in Aalen to experience.
Very nice neighbors and the beautiful location in Aalen, speak for themselves.
Jürgen and Leila are wonderful guests ! Very nice peuple! The flat has been entirely renovated very recently, and Is very comfortable. It Is close to the centre of Aalen, a beautiful little city, and only three minutes by foot from the supermarket. We do recommend to all travellers to visit Aalen and stay at Jürgen and Leila's!
THIERRY
2017-02-11T00:00:00Z
the Appartment is wonderful, really clean and modern, and had everything you wanted. if you want to go to city center ,you will find the bus station only 3 minutes walk from the place. Jürgen had kindely printed the busplan for me and also gave me mobile number for a cheap Taxi instead of the central expensive one. you would definitely enjoy the lovely terrase infront of the garden in Summer as appartment is in a very quit place. i would really recommend it . thx Jürgen and Leila
Amira
2017-02-03T00:00:00Z
Sehr ruhige Lage und modern ausgestattet. 1a Kommunikation. Bestens für Geschäftsreisende geeignet. Danke und gern mal wieder.
Felix
2017-04-13T00:00:00Z
Die Unterkunft ist sehr zu empfehlen. Die Vermieter sind freundlich und die Wohnung war sauber und schön dekoriert. Es war alles da, was man braucht und erwartet hat.
Bieber
2017-01-06T00:00:00Z
Wenn man Wein Trinker ist oder auxh mal einen kleinen Schnaps, sollte man sich Gläser mitbringen oder fragen.
Martina
2017-04-08T00:00:00Z
Sehr angenehmes Wohnen. Tolle, ruhige Lage. Nette, freundliche und hilfsbereite Vermieter.
Rafaela
2017-03-05T00:00:00Z
Das Appartment ist wunderschön ausgebaut und liebevoll gestaltet. Jürgen und Leila sind sehr nette Gastgeber.
Werner
2017-02-25T00:00:00Z
Sehr netter und unkomplizierter Kontakt, man fühlt sich sofort willkommen. Die Wohnung hat einen sehr hohen Standard, die Ausstattung ist neuwertig und sehr modern-geschmackvoll. Besser als die meisten Hotels!
Daniel
2017-03-14T00:00:00Z
Room Type
Entire home/apt
---
Property Type
Apartment
---
Accommodates
4
---
Bedrooms
Aalen, Baden-Württemberg, Germany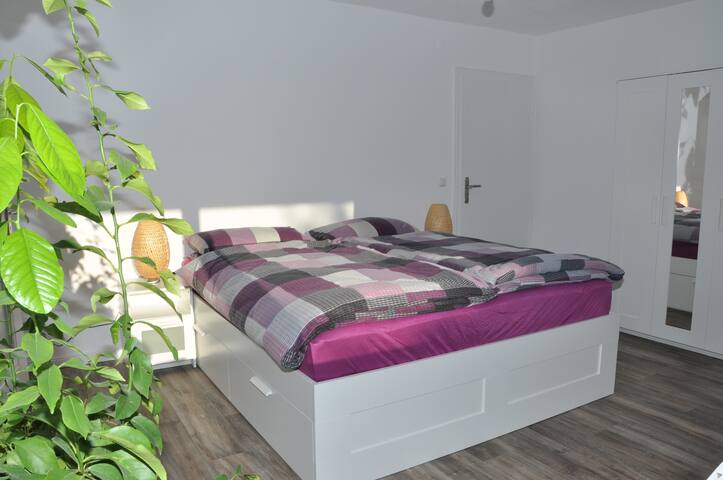 My house is near the town center of Wasseralfingen. Bakers, butchers, supermarket and bank are within walking distance. The apartment is on the ground floor of a well-maintained 3-family house and has about 85 square meters and a dream terrace to relax. The region is perfect for swimming, hiking, cycling and relaxing and is very attractive for families. Therefore, the apartment is child-friendly equipped and can be passed on request highchair and baby travel bed.
The price includes bed linen, towels, dish towels, Wi-Fi, car parking space.
Room Type
Entire home/apt
---
Property Type
Apartment
---
Accommodates
4
---
Bedrooms
Aalen, Baden-Württemberg, Germany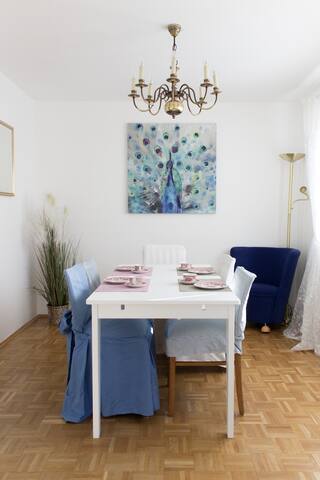 - Apartment at Braunsberg in Aalen-Wasseralfingen - Ideal for families, business and hiking friends - For 4 people (.. 2 adults + 2 children) suitable - In a calm neighborhood - Completely furnished - Less than 10 minutes from the A7 motorway
Our quiet, bright apartment (approx 48 sqm) located in the attic (2nd floor) and offers a beautiful view of the surroundings. The apartment is equipped with modern furniture and has a bedroom, a living room with satellite TV and a dining area, a kitchen-dining room, and a bathroom with bathtub. Bedroom: Our box springs offer reclining and sleeping comfort that you, according to your desire, can together or separately positioned. Living room: Cosy sofa, chaise longue and double bed in one easily into a bed (mattress 140x200) transform. A glass table also holds ready the ability to optionally use the table as a workplace. Kitchen: A fully equipped dining kitchen gives you the opportunity to provide for themselves. In the basement is available free to a washing machine. There is ample parking directly on site. Children under 2 years free. A baby equipment (baby cot and changing table) is available at an additional cost (EUR 5 per stay).
Our apartment - it's a great starting point for hiking and cycling.
We had car trouble, so we didn't make this stay...
Henriette
2016-07-01T00:00:00Z
Alles hat wunderbar funktioniert. Netter und unkomplizierter Kontakt.
Tobias
2016-11-15T00:00:00Z
Mieszkanie czyste. Gospodarz bardzo pomocny i miły!
Luk
2016-06-26T00:00:00Z
Die Wohnung ist schön und entspricht der Beschreibung Bei Airbnb. Die Räume sind hell und gut ausgestattet. Alles wirkt recht neu, sauber und ordentlich. Verbesserungswürdig ist die Parksituation ( ich musste an der Straße parken, was aber nicht weiter schlimm ist) und definitiv das fehlende Wi-Fi. Vorhanden ist nur ein Telekom Hotspot, bei dem eine Woche Wi-Fi 20€ kostet, das ist nach meinem Verständnis nicht mehr zeitgemäß, ein freier WLAN-Router ist mittlerweile normal und zu erwarten. Nichtsdestotrotz eine schöne und empfehlenswerte Wohnung, Marina, die Gastgeberin, war sehr nett.
Moritz
2016-02-27T00:00:00Z
Sehr saubere Wohnung, gut ausgestattet. Alles Bestens!
Barbara
2016-08-02T00:00:00Z
Nette Wohnung, die unseren Erwartungen und der Beschreibung entsprach. Sehr sauber und top ausgestattet. Wi-Fi funktioniert einwandfrei. Die Kids haben im Garten zusammen gespielt. Sehr freundliche Gastgeberin und Familie. Wir waren leider nur für eine Nacht dort, die Wohnung ist auf jeden Fall auch für längeren Aufenthalt geeignet. Parken ist direkt vor dem Haus möglich.
Robert
2016-07-29T00:00:00Z
Wohnen wie Zuhause ... Bei Marina fühlt man sich sehr wohl, die Kommunikation läuft einwandfrei und in der liebevoll eingerichteten Ferienwohnung lässt es sich bequem mehrere Tage aushalten. Die Küche ist perfekt ausgestattet.
Andrea
2016-09-18T00:00:00Z
Room Type
Entire home/apt
---
Property Type
Apartment
---
Accommodates
4
---
Bedrooms
Aalen, Baden-Württemberg, Germany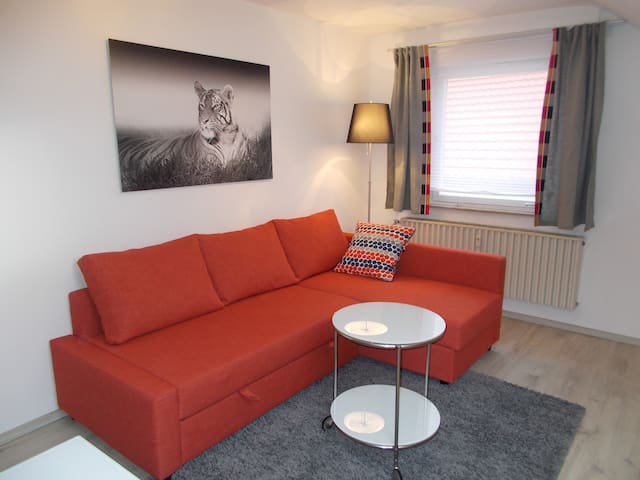 Eine Einzelbelegung ist zwischen 1-4 Personen möglich. Die Mindestbelegdauer der Wohnung beträgt 3 Tage. Der Preis inkl. Nebenkosten beträgt: 2 Personen die Nacht für 45,00 € Familienpreise nach Vereinbarung; Kinder unter 6 Jahren frei Sonstiges: Die Ferienwohnung wird von einer schönen und gepflegten Gartenanlage umgeben. Die Lage in Westhausen ist zentral, Einkaufsmöglichkeiten sind in wenigen Minuten zu erreichen.
Die Unterkunft ist geräumig, sehr sauber und gut ausgestattet, ruhig gelegen. Wir waren sehr zufrieden.
Berta
2016-11-20T00:00:00Z
Super nette Gastgeberin, sehr gute ruhige Lage mit allem was man braucht in Fußweg weite. Schöne Unterkunft mit sehr gutem Preis-Leistungsverhältnis ...jederzeit wieder!
Benjamin
2017-01-21T00:00:00Z
Viele Dank. Wohnung ist supper
Aleksej
2016-12-30T00:00:00Z
Room Type
Entire home/apt
---
Property Type
Apartment
---
Accommodates
3
---
Bedrooms
Westhausen, Baden-Württemberg, Germany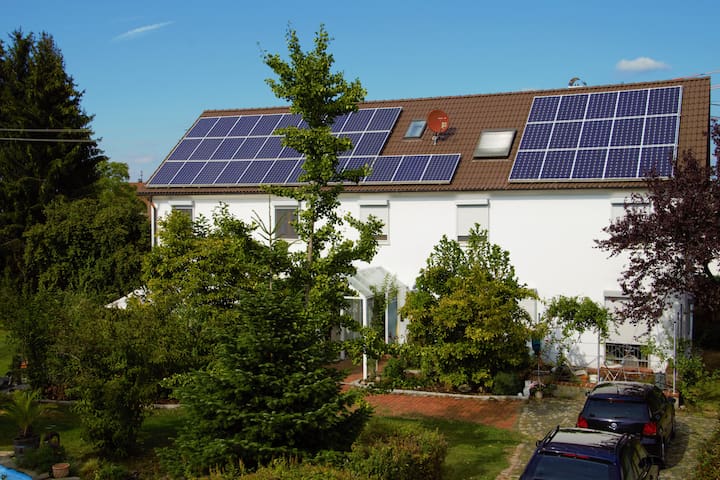 My house is near the town center of Wasseralfingen. Bakers, butchers, supermarket and bank are within walking distance. The apartment is on the 1st floor of a well maintained 3-family house and has about 85 square meters to relax. The region is perfect for swimming, hiking, cycling and relaxing and is very attractive for families. Therefore, the apartment is child-friendly equipped and can be passed on request highchair and baby travel bed.
Room Type
Entire home/apt
---
Property Type
Apartment
---
Accommodates
4
---
Bedrooms
Aalen, Baden-Württemberg, Germany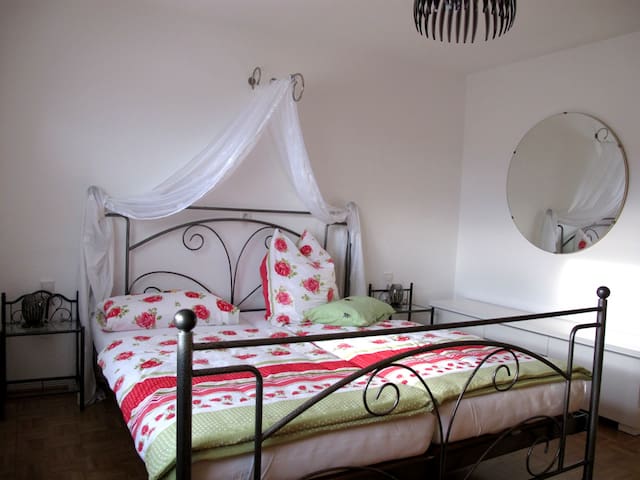 Os nossos elegantes apartamentos estão localizados em um local tranquilo em Braunsberg em Aalen e são um ponto de partida ideal para caminhadas, caminhadas, ciclismo e explorar as belas regiões recreativas e culturais da Alb da Suábia.
Zona calma, alguns com varanda ou terraço, eles apresentam um design moderno. Totalmente mobilado com alta qualidade Mobilar nossos apartamentos garantir uma atmosfera em que os requerentes de negócios e lazer também vai se sentir em casa.
Os apartamentos são um ponto de partida ideal para caminhadas, caminhadas, ciclismo e explorar as belas regiões recreativas e culturais da Alb da Suábia.
Room Type
Entire home/apt
---
Property Type
Apartment
---
Accommodates
1
---
Bedrooms
Aalen, Baden-Württemberg, Germany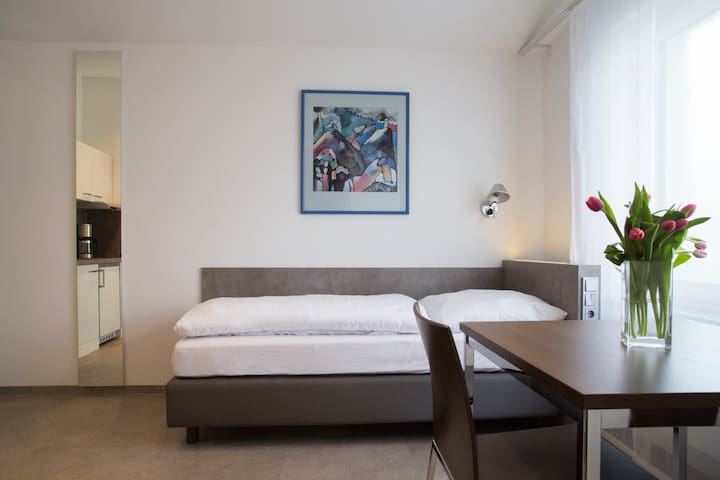 My accommodation is good for solo adventurer, business traveler and furry friends (pets). The apartment is located on the first floor. It has a parquet floor, a separate bathroom and toilet. There, an additional extra bed are provided.
Very clean flat, communicative host. I recommend.
Ramu
2017-03-01T00:00:00Z
Schöne Wohnung.
Bo
2017-03-03T00:00:00Z
Netter Gastgeber, Top Wohnung.
Jan
2016-09-16T00:00:00Z
Ich war zwei Tage in Aalen. Mir hat die Unterkunft und die Stadt sehr gefallen. Die Komunikation im Vorfeld hat tadellos funktioniert und ich konnte trotz vieler verspätungenen jederzeit anreisen. Ich bin sehr dankbar, dass das so reibungslos geklappt hat.
Stefan
2017-02-25T00:00:00Z
Perfekt !!
Suwandi
2016-09-06T00:00:00Z
Super Platz . Mann kann gut schlafen. Jürgen ist sehr nett .
Yannick
2017-02-22T00:00:00Z
Juergen est très sympathique et réponds rapidement aux demandes. La réception des clefs se fait sans problème et Juergen est très flexible. je suis sur de reprendre ce logement dans les prochaines semaines.
Yannick
2016-08-25T00:00:00Z
Die Unterkunft bei Jürgen kann ich nur wärmstens empfehlen; sie bietet alles, was man für einen entspannten Aufenthalt braucht. Wer Wanderungen vom Haus aus machen möchte, ist hier an der richtigen Adresse. Zwar liegt die Wohnung etwas vom Zentrum Aalens entfernt, doch liegt die Bushaltestelle nur wenige Meter entfernt. Alles in allem eine hervorragende Bleibe, zumal Jürgen ein sehr netter Gastgeber ist.
Martin
2017-04-04T00:00:00Z
Room Type
Entire home/apt
---
Property Type
Apartment
---
Accommodates
1
---
Bedrooms
Aalen, Baden-Württemberg, Germany
Welcome to our apartment. Our apartment can be found in a quiet village location. The 65m² apartment is available fully available. Within walking distance you will find a restaurant.
Room Type
Entire home/apt
---
Property Type
Apartment
---
Accommodates
4
---
Bedrooms
Kirchberg an der Jagst, Baden-Württemberg, Germany
Cozy and comfortable apartment for 2-4 persons, about 70 square meters on the upper floor of our country house in Hopfach, 15 km from Schwäbisch Hall. Private entrance, fully equipped, incl. Bedlinen and towels. Large garden with barbecue area.
Our apartment is located in the small village Hopfach in the Valley of Buhler. It is located on the first floor of our country house, to which we have converted one of the typical, large Hohenlohe barns. You will find peace and can enjoy original nature. From the apartment you have a wonderful view of the Bühlertal, you only hear the sound of the small river, the murmur of the fountain in front of the house and the voices of the birds in the trees outside the house. The small village Hopfach is surrounded by a nature reserve, this can be experienced even more original, romantic nature. Our house is about 200 meters from the Bühler and surrounded by a large garden. Opposite is a riding stable with Iceland horses: (URL HIDDEN) 1 large living and dining room with sleeping - leather sofa, armchair - folding as needed 2 guest beds - French balcony - color satellite TV, DVD player, - WIRELESS INTERNET ACCESS - stereo with CD player - books, CDs, DVDs, games 1 bedroom - 1 double bed - large wardrobe - 2 dressers 1 kitchen - quality brand fitted kitchen - stove with oven, microwave - Dishwasher - coffee maker, kettle 1 bathroom - Bath, shower Hallway and storage room with washing machine Barbecue area with seating and a fire pit in the garden
The beautiful Bühlertal offers itself for hiking and cycling. Both the Bühlertal Trail and the Kocher-Jagst bike path leading directly past Hopfach. The well-developed roads offer heavenly opportunities for walking and cycling in beautiful countryside and traditional towns and villages. Hohenlohe is the land of castles, valleys, rivers and forests - and the historic half-timbered towns such as Schwäbisch Hall, Vellberg, Langenburg, Öhringen or Waldenburg. Hopfach located 15 kilometers from the charming town of Schwäbisch Hall with its well-preserved buildings from many eras - from the Middle Ages to modern times. Cultural highlights offers Schwäbisch Hall many: the Kunsthalle Würth, is shown in the modern world-class art, the exhibition of Old Masters in the Johanniterhalle and Hällisch-Franconian Museum. In summer, the well-known open-air performances take place on the famous stairs of the Church of St. Michael, the Globe Theatre is by Shakespeare model gespielt.Einen insight into the rural tradition and culture are the Hohenlohe Open Air Museum, the Hohenlohe Cultural Summer presents internationally known artists at many venues in the country. Hohenlohe is proud to be allowed to call "Gourmet region." Numerous high-quality products are manufactured here, from wine to meat of Hällisch-Franconian country pig and Bouef de Hohenlohe. The gastronomy of the region offers 4-star restaurants to cozy country inns and beer gardens everything that makes a holiday stay a pleasure. Attractions • Schwäbisch Hall: 15 km • Rothenburg: 35 km • Crailsheim: 15 km • Langenburg (castle, climbing park and Car Museum) 15 km • Heilbronn: 40 km Distances • Airport 120 km • Station 3 km • restaurant 1 km • Shopping facilities 2 km Leisure Opportunities • Hike •To go biking •To jog •Horse riding •Fishing • adventure •Outdoor pool •Golf •Tennis •Swim •Sauna • thermal baths • Indoor Swimming Pool • Table tennis • Kletterpark
Great place and apartments! Traditional German house with all conveniences and wonderful view from window. Nature is beautiful. Recommend everyone. Thank you very much Barbara. Best regards from Minsk.
Siarhei
2015-05-12T00:00:00Z
Barbara was amazing host, we really like the apartment, every thing was perfect. we will come next time.
Abdullah
2016-07-28T00:00:00Z
Very nice place. We love the place.
Ziyi
2015-10-03T00:00:00Z
Barbara made us feel immediately welcome. Hopfach doesn't have any stores, so Barbara had delayed her own shopping until we arrived. She offered to lead us by car to the closest food market (which is surprisingly gourmet!) and cafe. If anything, the apartment is even lovelier than the pictures indicate. Our original plan was to spend a day at Rothenburg ob der Tauber, but, on Barbara's suggestion, we explored Schwaebisch Hall (art museum) on one day and Langenburg (castle, car museum, lovely cafe) on the next. Both proved to be scenic and interesting with few tourists. We still went to Rothenburg for a couple of hours, but were glad to have spent the bulk of our time in the less touristy villages Barbara suggested.
Julia
2016-08-19T00:00:00Z
Dear all! I am sure that anyone want to come to stay at Barbara's house will read this message. I can say simply: You will feel at your home, you will find the unlimited gentleness of Barbara. You will find a very nice apartment that misses nothing. You will find a beautiful garden. You will find the quietness of this fabulous place near the Buhler river, in the middle of the Wald. You will find the peace of your soul. I recommend strongly to anyone that want to visit Baden Wurtemberg, to stay here in this heaven on earth. Thanks to anyone will read my message. Jani.
Jani
2017-01-31T00:00:00Z
The place was as described. The house is very warm and the kitchen very well equipped. Barbara is a nice guest also. Place to repeat, with many outdoor activity options and close to nice places like Swäbisch Hall.
Sam
2016-03-20T00:00:00Z
Lovely stay, very helpful. Would definitely recommend to anyone who wants to get away to a quiet and beautiful retreat from everyday stress.
Henrik
2017-02-26T00:00:00Z
Barbara is a lovely lady. Her house is beautiful in a very quiet neighborhood. The room was very comfortable with all the amenities. Her husband went out of his way to help us find a restaurant on the evening of our arrival. Barbara had also prepared a grand breakfast for us the next morning. They both are genuinely nice people. Would love to go back for a stay if we get a chance.
Anurima
2015-04-07T00:00:00Z
Room Type
Entire home/apt
---
Property Type
Apartment
---
Accommodates
4
---
Bedrooms
Wolpertshausen, Baden-Wurttemberg, Germany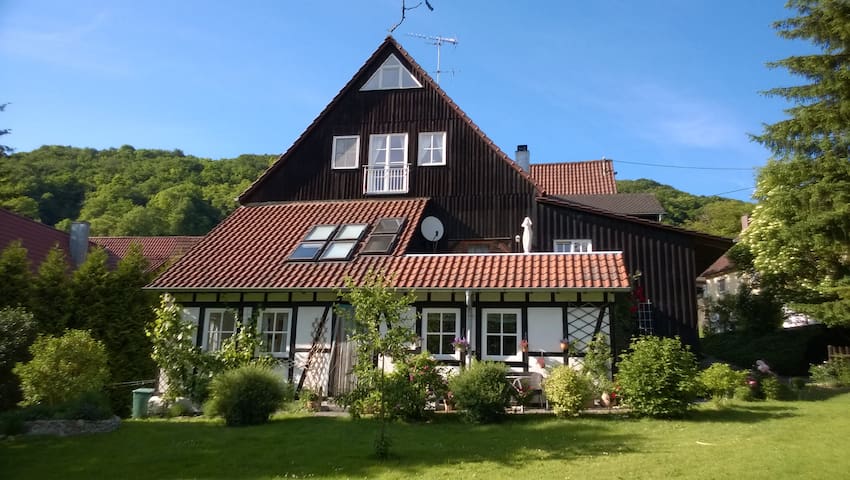 Evim kasabasında tren istasyonu, Aalen birçok restoran ve barlar ve sağ yakındır. Sen çevre, mahalle ve şehir Aalen merkezinde sevebilir benim konuk olacak. Benim konaklama yalnız gezginler, çiftler, maceracılar ve iş seyahati için iyidir.
Everything was great. Thanks a lot!
Anıl
2016-10-02T00:00:00Z
Chris ist ein sehr netter unkomplizierter Gastgeber. Wir haben ihn nur bei unserer Ankunft kennengelernt. Das Zimmer ist groß und mit allem eingerichtet, was man braucht. Es ist sehr sauber und trotz zentraler Lage sehr ruhig. Wenn wir mal wieder nach Aalen kommen, würden wir wieder bei Chris wohnen wollen :)
Lisa
2016-10-30T00:00:00Z
Alles okay
Franziska
2016-11-01T00:00:00Z
Chris war ein super Gastgeber. Der Aufenthalt war wie erwartend - sauber, ruhig, und sehr unkompliziert . Gerne wieder!
Carlos
2017-01-27T00:00:00Z
Der Aufenthalt bei Chris war sehr gut. Die Wohnung ist ganz neu renoviert und liegt zentral in der Stadt.
Harald
2016-09-30T00:00:00Z
Die Wohnung ist Klasse und Chris ist sehr zuvorkommend, alles Top! Gute Lage mitten in der Stadt trotzdem Nachts sehr ruhig, hat mir sehr gut gefallen.
Alfred
2016-10-07T00:00:00Z
Room Type
Private room
---
Property Type
Apartment
---
Accommodates
1
---
Bedrooms
Aalen, Baden-Württemberg, Germany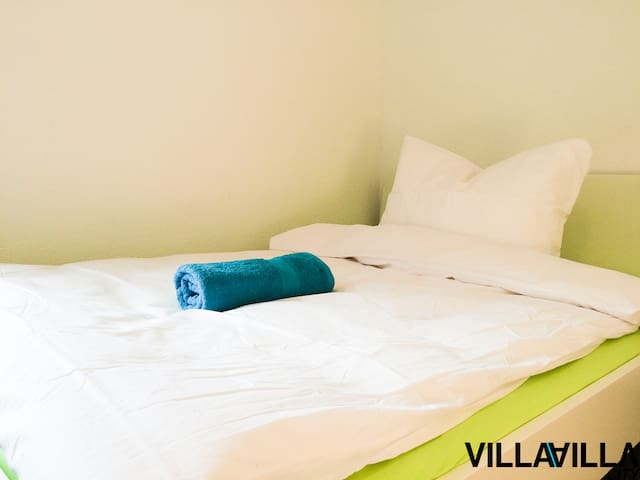 1

–

18

of

68 Apartment Rentals
Enter dates to see full pricing. Additional fees apply. Taxes may be added.