Our apartment is located in the well known Avenida Diagonal, in the heart of the Poblenou neighborhood, just 15 min. by subway from the city center and 10 min. walk from the beach, "La Mar Bella". The apartment is tastefully decorated and equipped with high speed Wi-Fi. The neighborhood has bars and restaurants that are concentrated around the main avenue "La Rambla de Poble Nou", less than 5 minutes from the house. Bus and tram are right in front of the house and the subway just 3 minutes walk.
What guests are saying:
"Brais and Francesco are extraordinary people and I was staying in their house from February 4 to 6, they are good, unbeatable humble hospital hosts, I have no words to describe it. The accommodation with impeccable style with detail and personal touch with incredible service. I feel like I'm in my house, I just want to tell Brais and Franicesco publicly that thank you for your hospitality and I hope to see you soon. To all of you who are thinking of going to Barcelona, I recommend that you go to Brais and Francesco's house are great. Thank you again"
- 5 minutes get straight to the city centre in just 4 stops - Buses within 20metres that go straight to airport (aerobus) & city centre - Cute, cosy&convenient apartment for 4 with PRIVATE chill-out terrace - Well-equipped, air-conditioned/heated apartment - FREE Wi-Fi&TV, washing&dryer machine, hair dryer... - Easy walk from Plaça Espanya&Montjuïc - Ground floor, so no lugging your suitcases up steps
What guests are saying:
"We were only there one day, because the next day we went to Madrid. The apartment is comfortable for a couple or small family. It is very well decorated and clean. It has everything you need for a stay in Barcelona. It is a first floor, no stairs or elevators that complicate for people with limited mobility. It has a double door, one facing the street and a second one in glass. The apartment is just in front of the exit of the building. Hot water, towels, the basics of a kitchen, washer and dryer, television, internet, heating. The excellent location. Ten minutes From Plaza España, and the Las Arenas shopping center and the subway. The Aerobús stops at Plaza España, which I will do very convenient from the airport. There are cafes, bars and others very close with a lot of variety. Sonia is an excellent hostess. Highly recommended."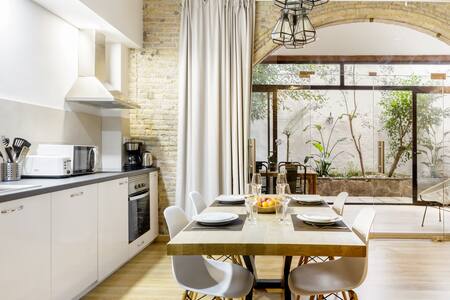 PLUS
Entire loft · 4 guests · 2 beds · 1 bathroom
Grand & Cozy Loft with Indoor Patio in Center of Sitges
Gaze through an incredible arched window that extends almost across the whole room and to the ceiling of this light-filled loft. Soaring above are exposed beams, below lie pale wooden floors, while in-between is beautiful exposed brickwork.
What guests are saying:
"Mary's loft was absolutely incredible! The location was perfect and made exploring the beautiful Sitges so easy. It is nearby so many bars restaurants and supermarkets and we highly recommend the Spice Garden vegetarian Indian restaurant a 6 min walk away! The loft is next to the train tracks and you can hear the train, but this really was NO bother at all and didn't affect us in any way we always felt relaxed and at home! The loft was beautifully decorated and clean, and Mary left us some water in the fridge, fresh towels and hairdryers. The bed was comfortable, the WiFi was fast and the kitchen was well equipped. Mary's loft is so close to the beach which you can reach multiple ways through the wonderful winding streets of Sitges! The restaurant Tagliatella nearby the beach was gorgeous!! We really felt at home in the loft and hated that we had to leave! Mary even helped us organise our taxi to the airport which was so appreciated and helpful. We can't recommend Mary's place enough, and if you're looking for a quieter and calmer area near Barcelona this is the place for you! Thank you, Mary!"