Small house with a very central location. It is in a quiet neighbourhood in our garden, which is connected to the Kloster park. From the windows you will have a view towards two of the seven mountains that surrounds Bergen, apart from our neighbors gardens. The house is 40 square meters over two floors. In the ground floor you will find the bedroom with a 140cm bed, and bathroom. In the upper floor a living room with sofa converting to 140cm bed, and kitchen.
Bedroom with 140cm double bed and bathroom in ground floor. Combined kitchen and living room in upper floor, with sofa converting to 140 cm bed.
Nice and quiet neighborhood. The aquarium five minutes away, outside the Nordnes Park, where there is a swimming pool in summertime. The city center with the fish market is ten minutes walking away.
The stay in Bergen and in Birger's house was amazing! The house is wonderful!! Really well located, cozy and with everything one can need! Thanks to Birger, he was very kind to us and that made our trip to Bergen an absolute delight! :)
Anna
2016-01-16T00:00:00Z
Very nice house. Had a lovely time in the city. Apartment very well equipped to feel like a home. Gentleman very nice, even offered us some sleighs to go down the mountain on. We declined for our own safety.
Angus
2016-01-21T00:00:00Z
Warm welcome, very helpful and caring host, beautiful norwegian house. We loved it!
Lisa
2016-07-30T00:00:00Z
The house was absolutely beautiful and full of character and history. by far our favorite place we've stayed on this trip. Great location-close to the fishmarket and public transportation. Birger was a great host, helpful and friendly. He even helped us find a place to stay when our plans on a different night fell through. We definitely recommend this lovely home!
katelyn
2015-06-04T00:00:00Z
Birger's house made our stay in Bergen perfect. Birger was very considerate about the time and method of our arrival. Even when we arrived later than we expected, we were still warmly greeted at the house. The location is very close to the port of Bergen and the traditional street of Bryggen. We loved the traditional style of interior decoration of the house, which is well-equipped with everything, way more than travellers might need. The living room and kitchen are totally fantastic. Overall, it was a very memorable stay. Thank you, Birger.
Jing
2015-07-31T00:00:00Z
The host and his family were lovely, very accommodating and helpful. The location was central and in a nice quiet neighborhood with traditional architecture. Definitely recommend this to anyone wanting to spend some time in Bergen.
Michael
2016-01-10T00:00:00Z
Birger was most welcoming and helpful with places to eat and with getting to the Hurtigruten the next day. Beware of using (SENSITIVE CONTENTS HIDDEN) maps to locate Birger as maps seems to oversimplify its directions which made things more difficult than they should have been but that is a (SENSITIVE CONTENTS HIDDEN) problem and unrelated to the accommodation . When mo in around the accommodation please be aware that it was not made for tall Aussies but the door jams will quickly remind you to duck when going through door ways. All part of life's rich tapestry . All in all a good location and very agreeable host.
Robin
2015-06-17T00:00:00Z
Birger's house is fantastic. Comfy bed, heated bathroom floor and a cozy kitchen / living area upstairs. We couldn't have asked for a better stay to end our Norway trip. And thanks Birger for accommodating our late arrival!
Edward
2015-04-14T00:00:00Z
Room Type
Entire home/apt
---
Property Type
House
---
Accommodates
4
---
Bedrooms
Bergen, Hordaland, Norway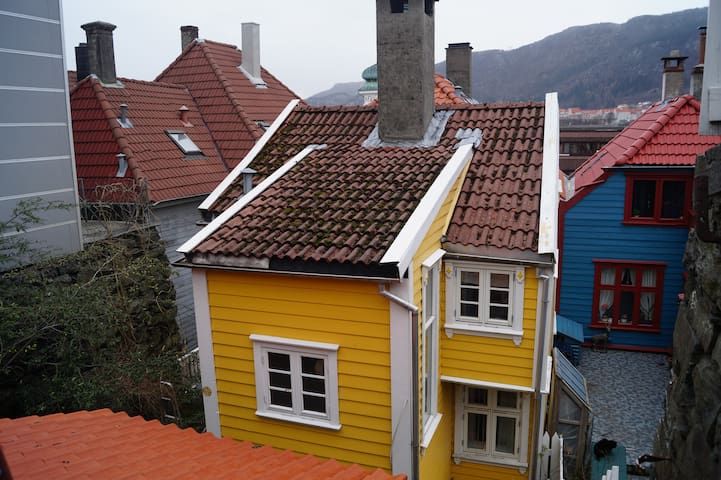 Our wonderful manor gives the feeling of happiness and lies in calm surroundings. Its location suits families as well as singles. Enjoy a barbeque in the garden as the sun sets or visit the beautiful dock in Engelsviken for your dining experience.
A lovely house for rent in special periods of the season. Everything that you need in a house and a spaceful garden.
Our neighborhood is great for lazy days and evenings where you can listen to the birds or take a short drive to the Beach.
Eileen and Rene were very helpful hosts. They organised for us everything we needed. It was very nice of them. The house was beautiful. It was great quick country side vacation. And little Leon - coolest Viking ever!!
Margit
2015-08-24T00:00:00Z
The location is in a quiet and very nice neighborhood with attractive homes and well kept properties. Eileen and Rene makes you feel like old friends and makes your stay pleasant and comfortable. No request is too much trouble and you are always met with a smile. The accommodations are very well decorated and immaculate, and with an extremely comfortable bed we slept like babies ;-)) C u soon / Thanks. Tor , Ana y Mira Mirona.
TOR
2016-01-20T00:00:00Z
Eileen was incredible to work with. She did everything she could do to make our stay pleasurable. We would highly recommend and encourage others to stay here.
Bryan
2016-05-20T00:00:00Z
Our stay with Rene, Eileen and little Leon was amazing. Right from the start we were treated very well as we messed up our arrival time and they hopped in the car straight away to pick us up from the airport. The room was immaculate, as is the rest of the house and it had a balcony overlooking the garden which was so charming. The house as a whole is absolutely extraordinary, it is stunning! Rene and Eileen were superb hosts and very sociable people. On our first night we had a late dinner with them and then breakfast together the following morning. We had no food to start with so Rene drove us to a food shop on the way back from the airport but also kindly shared their food with us. They were very accommodating at all times and even let us use their bikes when we wanted to explore the area. We have had an unforgettable experience and we highly recommend this beautiful house and lovely hosts. P.S. Eileen makes a plum jam to die for.
Iwona
2015-08-31T00:00:00Z
Everything was fine - as before!
Aleksander
2015-08-29T00:00:00Z
Eileen was a great host & made us feel very at home in Norway. The house was beautiful & we had a very relaxing stay.
Judy
2015-06-18T00:00:00Z
We spend a good night at Eileen's house and would like to spend more time there next time, the whole family was very friendly and welcoming. The house is very beautiful and rooms and bathroom spacious and well furnished.
Jenny
2016-08-21T00:00:00Z
Thanks a lot for your kindness. We were very welcome and happy to meet you and your son. The 2 rooms were perfect for us 6 :-) The bathroom 2! Very closed to the sea in the nature. Thanks again and good luck for the next months...
Marie
2015-10-25T00:00:00Z
Room Type
Entire home/apt
---
Property Type
House
---
Accommodates
15
---
Bedrooms
Fredrikstad, Østfold, Norway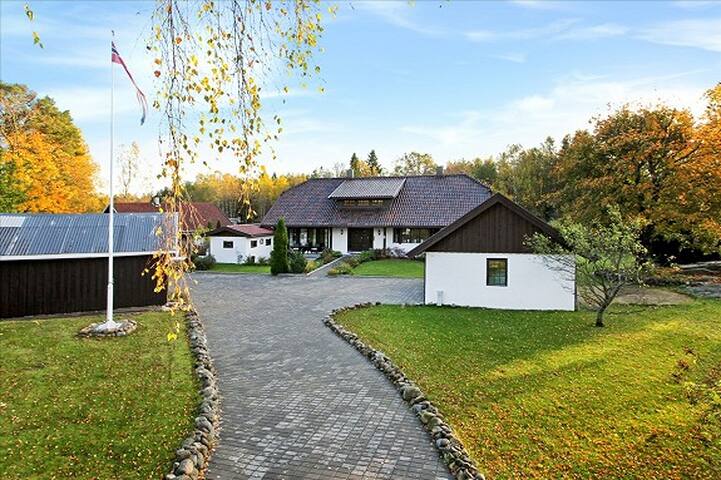 The bus to town it's almost outside of the door. A walk take 15-20 minutes. You get your own PRIVATE room, and predispose rest of the house with me my son and a dog.
This house is on the island, about 15-20 minutes walk from town. Bus almost outside of the door. From the airport its about 15 minutes with car/taxi. If you want to go outside Tromsø it's lot of places to visit. The wintertime and summertime can be a fantastic time. Hopeful you will see the Northern lights to, or the midnight sun. You have the dark period from November to Januar. The sun is coming back in Tromsø around 21. january.
The house is a short trip from airport, and a walk to town. Bus almost outside the house. Good places to go nearby the house. It is good skiing on the island. If you want to go outside the city i recommends bus, or better with a car.
Nice house. Host was not around, but communication was great so everything went well.
Kevin
2016-07-25T00:00:00Z
Ronny is a very kind person. We have lived there for 3 nights, he prepared everything we need. This apartment is near by the center. It takes not too long to get there. This house is amazing, just like be in home. And when we want to search for the northern lights and go skiing, he gave us all the information we wanted. I think, everything was super here. Nearby is also a lake, we took a walk there, that point is also a good place of this city to get the northern lights. Supermarket is about 500 meters from here, you can buy things there. With Ronnys help, we save much time to search the information. In a word, when we got in Tromsoe, everything was wonderful as we expected.
YUELIN
2016-03-05T00:00:00Z
It is a nice experience at Ronny's! He cares about the guests and the facilities are amazing! The walk from the city center to his house is a nice one if you want to see Tromsø from a different angle. Takk takk, Ronny!
Jia
2016-08-26T00:00:00Z
Ronny is a very friendly and welcoming host. His instruction in accessing his house was clear. Beneath an ordinary looking house from the outside is a beautifully done up house within, especially the very well furnished and equipped kitchen. Almost perfect. Thanks Ronny for hosting us.
Michael
2016-10-03T00:00:00Z
We stayed overnight in Tromso and we wished we had stayed longer. Ronny is a very nice host. We didn't get to meet him as he was away. However, he left very clear instructions and made getting access easy. His house is very nice and is in a great location on top of the island.
Jesse
2016-07-14T00:00:00Z
Ronny is a very attentive and helpful host, he usually reply my message instantly or within an hour. He even helped me to book taxi when he is not in town. Only managed to met him once, his house is very big and clean, especially the newly renovated kitchen. The toilet floor is heated, its awesome.! The dog is very obedient and lovely. He entrust his house to us, we felt warmth and stay like our house. Walking distance to city centre, but be prepare to walk uphill when going back his house. Scenery is superb from his house view and along the way. Suggest to take taxi to and from airport because it only take 10 mins to reach his house, and charge 170-200NOK. Otherwise the whole city centre only take us 1-2 hours except visiting the attractions. Highly recommended.! Super host.! Love this house to the max.! =)
Pey
2016-04-08T00:00:00Z
Everything was perfect. Ronny is a very thoughtful host that will make sure you enjoy your stay. The house has everything you might need, is clean quiet and comfortable. Highly recommended.
Jan
2016-08-09T00:00:00Z
Everything was very fine. Ronny was very careful and gave us very useful informations. The house is located in the center of Tromsø and is really big. Very nice stay
Maxime
2016-08-05T00:00:00Z
Room Type
Entire home/apt
---
Property Type
House
---
Accommodates
8
---
Bedrooms
Tromsø, Troms, Norway
Our guests are charmed by a stay at the Annex. A intimate, little house which is perfect for a couple - with or without children. The view to the fjord will calm and relax you, the house itself has its surprizes - tiny and rough - yet comfortable.
The Annex in Hanevik offers a perfect base for your exploration of Bergen and the fjords. A stay in one of our two houses will add a pleasant memory to your holiday. On the seafront in Askøy is our "tun" - a yard surrounded by five traditional Norwegian west-coast houses. We are located half an hour by car (27km) from the buzz of Bergen. Enjoy a calm atmosphere in nice and quiet surroundings. The woods can offer beautiful walks. With our rowing boat you can enjoy the surroundings from the sea or you can make a BBQ in the garden. Bergen has a lot of attractions and it is also possible to use our place as base for visiting the more spectacular fjords north and east of Bergen on day-trips. Askøy is also called "little Norway" for having very changing landscapes, it is rocky and barren in the north-west and green and fertile in the south-east. It has its own attractions, such as nice walks in the woods, lakes and small mountains. There is golf-course on a beautiful neighboring island called Herdla. There are bridges connecting our islands to the mainland. Our place is in a rural area, so the closest food-stores are 5 km away. The Annex has two beds in the loft and a double sofa bed in the living room. There are 20 buses pr day, leaving from the main bus-station in town, next to the railway-station - where the bus from the airport also stops. The bus takes about one hour. During the low season we give special prices, depending on the length of the stay . We have two houses for rent, the other one is listed as "Peaceful by the sea next to Bergen". Please make sure that you book the one you want.
The Annex sits in a tranquil village at the seafront. The neighbourhood consist of private houses and cottages. The business next door is a sheltered workshop with working hours 8-15.
Absolutely stunning home in a stunning place. We hired a car and parking was really easy. Driving to Bergen was easy too and there are supermarkets nearby so you can cook or go out to eat. We took a walk in the forest that Ingrid wrote down in her little guide for us which was nice. Would 100% reccomend! Want to go back already :)
Hollie
2016-01-02T00:00:00Z
We stayed in the smaller cottage. It is cosy, tastefully decorated and has everything one needs. It was very quiet and the view from the front window is beautiful. We were lucky to have good weather and enjoyed sitting outside. We didn't have a chance to meet Ingrid and her husband as they were travelling. Her German neighbor Elke took good care of us. While it is a good base for touring in the area and Bergen is 30 minutes away by car (60 minutes by public bus with the bus stop close by), keep in mind that where ever you want to go, you need 20 minutes to leave Askoy Island. The double bed is up in the eaves ( standing room only in the doorway, accessible by steps up something between a staircase and a ladder). My husband has knee trouble and was somewhat challenged but it is cosy if you are physically fit and we slept well. The size is OK for 2 people.
Anne
2013-07-28T00:00:00Z
This is such a gorgeous place! Beautiful, clean romantic wooden house with all comfort. although not extremely close to bergen (20 minute drive) it is on a fantastic spot with beautiful surroundings. And Ingrid and Peer are very friendly hosts. Highly recommended and we promised ourselves to come back!
Dirk Jan
2014-05-27T00:00:00Z
We very much enjoyed our four-night stay in The refuge : beautiful, cosy and typically Norwegian house in an amazing location. We really enjoyed the view on the Fjord and the opportunity to have a little tour on it by our own with the blue little motor boat provide with the house (excellent idea). The house was clean, with all the practicalities (hairdryer, whashing machine, hanger, towels, filter coffee machine, etc). Ingrid and her husband were delightful hosts, really relaxed and friendly. They were helpful and welcoming. Communication before and during our stay was excellent. Our stay was a great experience and we would go back to Ingrid's place with no hesitation! Arnaud
Arnaud
2014-08-19T00:00:00Z
We very much enjoyed staying here. It's a beautiful little house in a picturesque area. Everything we needed for a pleasant stay was present and we were given directions in advance. We never met Ingrid even though she was around, but a man, presumably her partner did knock on the door on the evening of the second night to welcome us. Sadly the cutlery and plates all had to be re washed before we could use them and the fire hadn't been cleared out. Minor details for us but may be a bigger deal for others? Overall we would probably stay again but maybe check out some other options also.
Sara
2016-02-23T00:00:00Z
We absolutely loved our time at this wonderful retreat cottage...even in the rain! :-) :-) So though disappointing to not be able to use the boat, or take many of the hikes they suggested due to the downpouring rain, still the views, the rainbows, the quiet, the fireplace and the warm hosting by Pers and Ingrid were good for the soul. We received detailed information about bus schedules, boat schedules and hikes which were so helpful. Pers and Ingrid are delightful hosts, allowing privacy yet there for whatever is needed and a friendly spirit. We would love to return one day and highly recommend this little bit of heaven!
Jan
2016-09-30T00:00:00Z
Communication before the trip was really helpful. Ingrid made us feel really welcome and gave us tips about how to get around the area. I can't remember whether the listing mentioned that the bedroom was in the roof space though it was obvious from the pictures that it was. I don't think the steep stairs were mentioned, however, before we left Ingrid emailed to ask if we'd like the sofa bed made up instead because of the steep stairs. We opted for the bed which was very comfortable, just a bit difficult to manouver around. The area was really beautiful - just a huddle of houses by the tiny harbour.
Teri
2015-06-12T00:00:00Z
The place is quiet and really charming. Everything was clean and nice. The view on the bay adds to the charm of the house. Ingrid and her husband are really welcoming and very charming people. I've really enjoyed talking with them about many subjects. This is the best place ever in Bergen ! TAKK !!!! We really recommend the place ++++++++++++++++++++++++++++++ and now we know that there's a great place to stay in near Bergen. Hope to see you very soon.
Nina
2012-07-20T00:00:00Z
Room Type
Entire home/apt
---
Property Type
House
---
Accommodates
4
---
Bedrooms
Askøy, Hordaland, Norway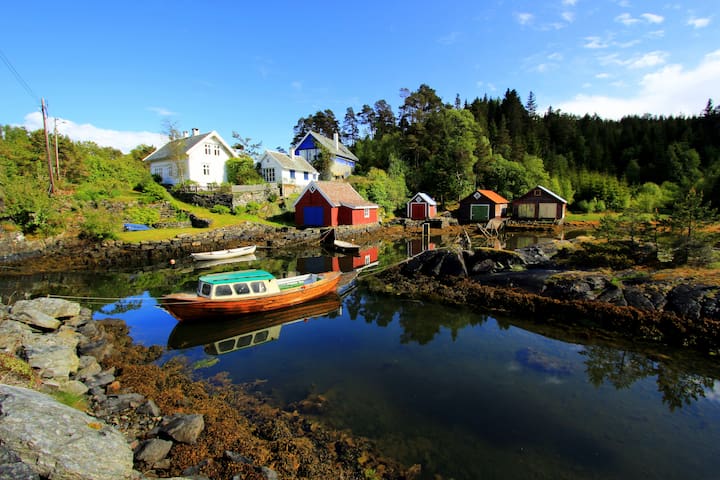 - Private suite in wooden, waterfront house in Oslo - Only 12 min from city centre - 2 bedrooms + sitting room with sleeper sofa - Sleeps up to 6 persons - Ideal for 1 to 5 persons - Private balcony - Stunning views
What about a seafront suite that has a view of the Oslo Fiord, the islands surrounding Oslo, the city itself, and the famous Holmenkollen ski jump? From which you can step out on the balcony to enjoy a sundowner? Or venture into the garden and dip into the Oslo fiord in the summer season? We are lucky enough to live in this great spot, right on the water, inside the city of Oslo, only 12 minutes by bus or car from the new Oslo Operahouse and the rest of the downtown area. We are happy to share this space with others, and rent out a suite on the house's first floor. The entire floor is at your disposal, and contains, - a sitting room with a sleeper sofa, - two bedrooms, - a bath and - a toilet. Your sitting room is 20 square meters and furnished with a sofa, a sleeper sofa, a table and two chairs; a TV and DVD player; loudspeakers; and a refrigerator, microwave oven, waterboiler and coffee maker. From the sitting room there is direct access to a private balcony. There are two bedrooms (one large and one smaller), each with comfortable double beds. There is a separate toilet and bathroom, the latter fitted with a bath tub. Fresh towels are provided. The place is ideal for one, two, three or four persons. If there is a fifth person, an additional bed can be added (the sitting room is equipped with a sleeper sofa). Free wireless internet. Excellent opportunities for walking, jogging, running and fishing close to the house. A full Norwegian breakfast can be served (NOK 100 pp). If you wish, we can also take care of your laundry for a small fee. We speak the three Scandinavian languages + English, German, Spanish and Swahili.
The house is located in a neighborhood along the Oslo fjord. There are several beaches in the vicintiy of the house, and plenty of opportunites for walks and jogging along the sea.
All we can say about this listing is...wow! Kåre and Truls were awesome hosts. The accommodations are beautiful and you can't beat the view of the Oslo Fjord. The best part of our stay was the breakfast they provided for us. It was spectacular. We thoroughly enjoyed our 2 hour conversation at breakfast. We highly recommend staying here. This will be our first choice when we return to Oslo again. Thanks Kåre and Truls for your awesome hospitality!
Jody
2015-08-21T00:00:00Z
This is a wonderful place to visit with fabulous hosts. Highly recommended. I would pick the charming home of Truls and Kare over any Oslo hotel. Highly recommended!!
roxanne
2013-08-25T00:00:00Z
Kåre & Truls were very friendly hosts. Their fjord-seaside property has an upper floor apartment where we stayed, and a separate beachhouse directly at the water, which we may visit one day in the future. From the balcony we had a very nice view on the fjord, and we asked them to prepare what turned out to be an excellent breakfast with freshly baked rolls on our departure. Kåre & Truls allowed my son to use their kayak, and communication was swift and easy.
Henk
2015-07-22T00:00:00Z
Great place, great location and Kare and Truls were fantastic hosts. Even after losing house keys on first night ( great start ) Kare & Truls were unfazed by this which was good. Hopefully heading back sometime next year, hopefully spring or summer.
Clint
2013-11-24T00:00:00Z
Kåre & Truls are very nice & had warm welcome to us. They well prepared Norwegian breakfast for us & we're appreciated it. The apartment is same as what described in Airbnb.
Helen
2015-02-07T00:00:00Z
Kåre & Truls were great hosts!They provided good company and conversation, as well as being very ready to give help and advice about where to go and how to get around Oslo. And this as well as their very comfortable and scenic top floor! A great place to stay and excellent hosts to have met.
Gordon
2015-03-28T00:00:00Z
Kare & Truls were delightful hosts. The house is charming in a great location. I particularly enjoyed the fabulous sunsets over the fjord from the balcony. Everything we needed was there and the place was easy to find. The only thing I can think of as a negative would be that if you are tall and like to shower standing, then you might get a sore neck. That's a tiny negative and there are so many positives the overall rating from me is 'excellent'. Very happy to highly recommend. Many thanks, Judy.
Judy
2013-06-14T00:00:00Z
We had a wonderful stay with Kåre and Truls at their beautiful house. They are such fantastic hosts - it felt just like visiting old friends! The location was perfect for us - an easy bus ride to downtown but remote and peaceful enough to relax and admire the great scenery. We even skipped our first evening of sightseeing just to enjoy the backyard and dip our feet in the water. Absolutely no regrets on that front. Would also highly recommend the homemade Norwegian breakfast to future guests - that was such a treat, and Kåre really impressed us with his presentation! All in all a top-notch experience and we will definitely be putting them at the top of our list for any future trips to Oslo!
abby
2013-08-31T00:00:00Z
Room Type
Entire home/apt
---
Property Type
House
---
Accommodates
5
---
Bedrooms
Oslo, Oslo, Norway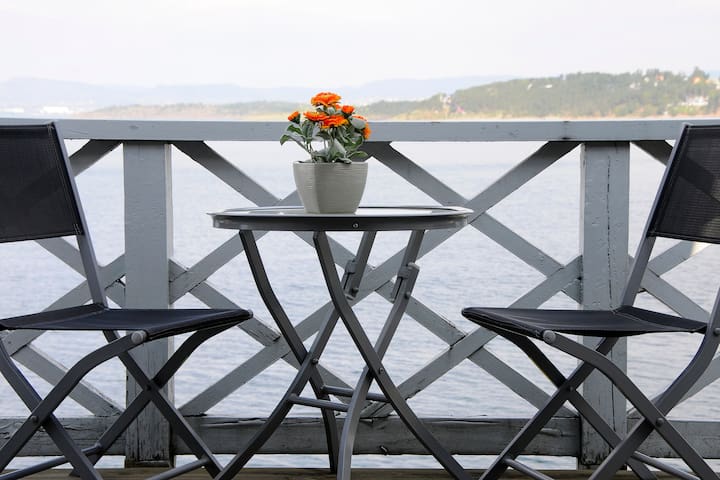 120 m3 house with fantastic ocean view. Calm and private surroundings. Compete with spa-bath, sauna, two bath, TV/media, kitchen, washroom, fireplace. Boat, kayaks and bicycles included.
Sense of the ocean - close to the elements
Calm
Absolutely wonderful spot - a truly peaceful place to spend a few stormy days. Magical. Reidar and Tone Christin are lovely hosts and made us feel most welcome.
Hannah
2016-10-01T00:00:00Z
Reidars Home is what I would describe as PERFECT! The house with amazing view, hottub, sauna a huge kitchen and all was very clean. Reidar is a superb host who takes care of everything if you need something. Everybody that has the chance to stay at his place won't regret it for a second!
Stefan
2016-07-24T00:00:00Z
The house - great, the surrounding - beautiful, the view - awesome. You enter the house and feel immediately at home. The equipment in the kitchen is very good, there are more than enough plates, glasses etc. and you find everything you need for cooking. The standard is at a very high level, kayaks, sauna, boat, jacuzzi - everything at the guest´s disposition. This is not selfunderstanding and we appreciated it very much. Reidar is a helpful, kind and fast responding host. We had an unforgettable week. Thanks a lot, Reidar!
Heide
2016-08-14T00:00:00Z
Reidar is a fantastic and really helpful man, it was so easy to deal with him. The house is situated in the fantastic location, not far from all necessary facilities and - what is more - quite isolated from civilization. So, if you would like to spend a quite evening with the sea - you're welcome! if you need to buy smth for dinner - the shop is 10min by car from the house. The most frequent feeling we had in Reidar's house was feeling like home. Nice and stylish decorations, well-equiped kitchen, warm rooms, two toiletrooms - we had everything neede for a company of 8 people. there are two bedrooms for couples and other places are better for children or single people. The instructions that Reidar left for the house are very informative, so when you just come and look through it - you already have all answers for all questions. We tried everything that house is equiped with - and it was great! Thanx, reidar, hope to see you again soon!
Denis
2015-11-29T00:00:00Z
It was really a dreamplace. Our host was there when we arrived. We got All the information. The jacuzzi was warm. We had a very good time here!
caroline
2016-06-17T00:00:00Z
My husband and I got just got married and spent our honeymoon at Reidar's "Drømmeplassen." We couldn't be more pleased with our experience. Though Reidar was in France at the beginning of our trip, he was extremely attentive and helpful with our little questions upon arrival. We cooked often in the lovely, well-equipped kitchen and spent a lot of time in the hot tub, which is magical. We traveled to Kristiansund a few times and took a beautiful day trip to Ålesund. Reidar and his wife, Tone Christin, stopped by the day before we left and they were very kind -- as were all of the Norwegians we met. It took us a bit to find the house (mostly because we were very tired!), but after looking at pretty much every home in Averøy, we can say without a doubt that Reidar's home is the loveliest. Our favorite restaurant in Ålesund was Lyspunktet Café and our favorite restaurant near the house was Bjartmars Favorittkro. The local cheese plate was amazing! We've visited some truly beautiful places in our lives, but the natural beauty of this area is some of the best. Absolutely breathtaking. We want to tell everyone about our stay here, while also keeping it a secret from the rest of the world. I agree with a previous visitor's review that this place is even better in person.
Katharine and Brandon
2016-07-12T00:00:00Z
Thank you for Reidar the opportunity to spend these 3 days in his beautiful house. I can't describe it with words. Check his pictures! It was amazing! Thanks again!
Zorán
2016-02-25T00:00:00Z
From the moment we arrived, to the moment we had to leave, we enjoyed every second in and around this wonderful, actually just perfect, house. we stayed there two weeks, 7 persons and a kid (1.5y) in the first week, 6 in the second. and we could have stayed even longer. there is everything you need - the kayaks, the bikes, the jacuzzi, the sauna, the boat, a huge veranda, a well equipped kitchen to cook and bake, binoculars to spy on the passing ships and wild animals, enough blankets for cosy evenings outside, every evening another beautiful sunset, a 180° ocean view, sofas to spent hours in….really, theres is nothing you could miss. also there is plenty to do in the region, nearby or further away with the car. it was great to explore while hiking, fishing, driving or swimming. and you have wonderful hosts, reidar and tone christin, who are so lovely and interesting people, so helpful and generous. thank you so much for creating and sharing this piece of gold!
Barbara
2016-08-06T00:00:00Z
Room Type
Entire home/apt
---
Property Type
House
---
Accommodates
10
---
Bedrooms
Averøy, Møre og Romsdal, Norway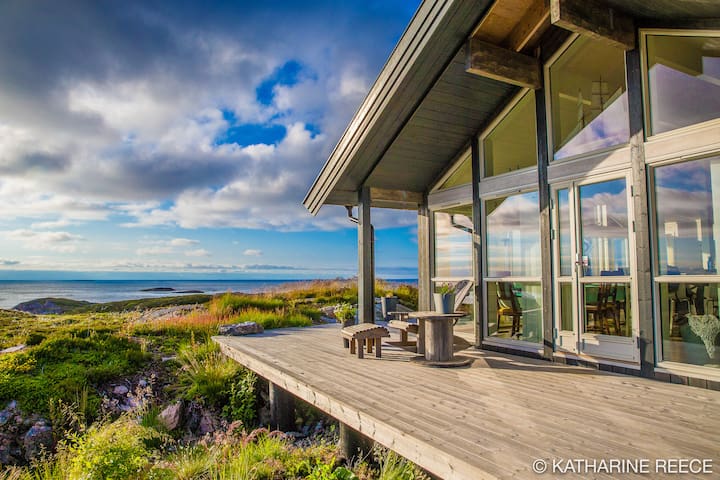 Lite hus nær stranden i "gamle" Åsgårdstrand, en sjarmerende småby i sørlandsstil! (Small house near the beach in charming Åsgårdstrand.)
Unique, charming old house by the sea in Edvard Munchs village Åsgårdstrand, originally built 1898 and modernized the last two years. Modernized bathroom and Kitchen "the old way". The house has two floors. Maximum inhabitants: 5 Wireless internet. 100 meters from the Beach. Åsgårdstrand is a small town with less than 3000 inhabitants 1 hour and 15 minutes drive from Oslo. Nice area for walks, swimming, bicykling, Fishing, golf and kayaking. To rent a kayak: 100 NOK. Boat-trip on request. Cafe, Restaurants, hotel, art galleries, winehouse, pub, supermarkets and Munchs house nearby. There is also a viking-museum near Åsgårdstrand. Åsgårdstrand is i nice place to rest and a chanse to live near the Oslofjord. You can rent a room or the whole house. (night/week) Price 1 room: 600 NOK (night) Price house: 1000 NOK (night) Price house 1 week: 6000 NOK
The old town of Åsgårdstrand is a charming town with wooden houses. There are cafeterias, art galleries marina and sandy beach right nearby. Edvard Munch's house is a small walk from Bryggerhuset.
Probably the most beautiful place I have ever been. The house is perfect, cosy and you really feel like at home. Our daughter just loved the garden also. Jorn and Lisa were really nice and helpful hosts. would definitely like to come back.
Zsófia
2015-05-30T00:00:00Z
Lovely cottage within walking distance to the water. It is very comfortable, clean and beautifully decorated accommodation. It was a lovely touch, the flowers in the bathroom and the chocolates in the bedroom. Lise and Jørn were welcoming hosts and very easy to communicate with. A great spot to stay set in a nice garden. Would love to come back and spend more time here.
Ben
2014-10-05T00:00:00Z
The house is well located and equipped. Our stay went very well, we spent a very good time in Jørn's place!
Edouard
2016-08-22T00:00:00Z
We were staying in a fantastic place with a super host! One of my favorite couch surfing experiences: + good price + very, very nice town and neighborhood (Munch and other painters had a good reason why the had a residence there!) + you live in a small, good looking house with two floors + the decoration and the furniture is lovely + modern shower, oven and (induction) stove We decided to spend our Christmas there so of course we had a high expectation of this place - who wants to spend Christmas in a not so nice place? But everything was just perfect. We were surprised by our luck! When we arrived warm already opened lights, cookies and sweets welcomed us in a wonderful atmosphere. We met the hosts, who were experienced and nice Air bnb hosts. We made unbelievably nice walks around the town. Thank you very much Lise and Jørn!
Aras
2015-12-27T00:00:00Z
We had 4 great days in this lovely small house. We reccomend!
Mike
2015-08-13T00:00:00Z
Lovely little House, beautifully furnished and very close to the sea. There is a small supermarket just at the end of the road where you can get anything you need. Hosts are also very nice and welcoming. Probably the sweetest Holiday home in the area!
Jennifer
2014-08-13T00:00:00Z
Really beautiful place to stay!
Juliana
2013-09-11T00:00:00Z
The host are very nice, friendly. We can ask them for everything, they helped us very well. Everything was better then we had expected. The house is decorated so lovely and with a great sense for details. The house has everything you need. I recommend!
Camille
2015-10-27T00:00:00Z
Room Type
Entire home/apt
---
Property Type
House
---
Accommodates
5
---
Bedrooms
Horten, Vestfold, Norway
Common area with no close neighbours. Border against the mountain an the sea. Bonfire place with sauna/relaxroom. Beautifull view an a garden full of roses. A furnished flat in 2. floors, good standard
Sunny, often norden -light, fri area direktly to the nature. Birdlife, quiet.
Older houses an new cottage.
Everything as promised and even better. Beautiful house with fully equipped kitchen and most breathtaking scenery. Would love to visit again!
Tuomas
2016-06-27T00:00:00Z
Jan Erickson and Monica have an incredible home with everything you could possibly need. The location is perfect, right on the fjord, on top of a hill and in perfect postion under the sky to see the Northern Lights. We came at the end of March for just two nights, and were fortunate enough to witness a stunning display that lasted hours on our second night. What an experience!!! Their home is warm, comforting, cozy, and is equipped with everything needed for chilly nights. Their hospitality is top-notch; we were given directions and helpful hints and plenty of great advice. We were even greeted with delicious homemade reindeer stew!! My family and I highly recommend staying at their beautiful home if you get a chance. We had an unforgetable trip.
Kathie
2017-03-28T00:00:00Z
We felt so welcome here - starting with a very warm welcome (already at the airport), the delicious dinner and the nice story telling arround the fireplace. Thank you for guiding us to the house! Thank you for the little "sight seeing" the next day. The house is well equipped. Nothing is missing. Millions of towels :p Great sauna. Beautiful surroundings. Silence. Northern lights almost every night! House with floor heating = no cold feet! Big freezer and huge fridge. Condiments. Baking equipment. Its all there. You have to love this place! Actually, there is only one thing to say besides thank you, thank you, thank you, THANK YOU! We will be back. ;) Cheers, Verena and Tom
verena
2017-02-03T00:00:00Z
We had a brief but magical stay in Monica and Jan Eric's house near Kirkenes. The house is cosy and comfortable, protecting us from a blowing snowstorm one night, and allowing us to soak up the absolute stillness and quiet of the winter wonderland around us on the other night. Jan Eric looked after us very well, was able to make us feel welcome and show us the property. We had a very nice stay, thank you! A hint for guests in the winter season - Hiring a 4x4 vehicle turned out to be wise!
Simon
2016-12-03T00:00:00Z
Wonderful home with beautiful scenery. We went dog sledding, snowmobiling and relaxed at the campfire and sauna. Would absolutely do it again.
Lauren
2016-12-13T00:00:00Z
We had an amazing stay in this house for 2 nights. The house was warm and cosy with beautiful decoration making it a perfect place to stay in during the wintertime. The view around the house is breathtaking and it is even more amazing under the northern lights! We paid a small fee to Jan Erik to drive and guide us around since we can't drive. He is a friendly and knowledgeable man who taught us a lot about the geography and biodiversity of Kirkenes and Norway in general. He made our stay a truly unforgettable one by always going an extra mile in everything he do. He also prepared a cosy campfire for us to stay outside while waiting for the northern lights. The house is in a perfect spot to catch the northern lights if the sky is clear! Our stay in this place is definitely one of the highlights of our Norway trip!
Huiyi
2016-12-19T00:00:00Z
We all enjoyed our stay so much! We stayed here for 4 nights with family to enjoy the snow and experiance the low temperatures, and, hopefully see the northern lights. And we did! The view was breathtaking, nature was incredible and the house was very cosy and warm. Jan erik was wonderful, picking us up at the airport, making a fire outside when we arrived, made tea and coffee and just made sure we all felt very much at home. We enjoyed our time here and would recommend anyone who likes snowy surroundings and some peace and quiet! Thankyou for everything guys!
Hiba
2017-02-22T00:00:00Z
We really had two wonderful days in this beautiful house in Lanabukt. Jan Erik and Monica took care of everything to make our stay just perfect. The whole house is really well equipped and in great condition. Floor heating and a wooden stove make it warm and comfortable. There is also a traditional steam sauna and the area around the house is just breathtaking! Dear Monika, dear Jan Erik, thank you very much for that wonderful time!
Rainer
2016-02-16T00:00:00Z
Room Type
Entire home/apt
---
Property Type
House
---
Accommodates
8
---
Bedrooms
Kirkenes, Finnmark, Norway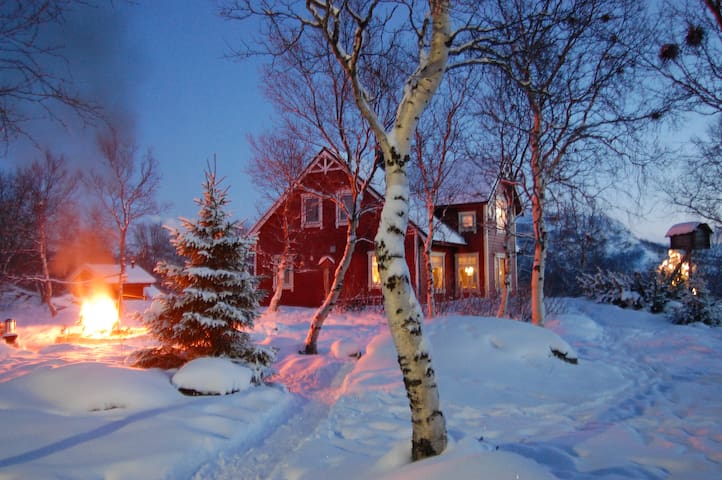 A new, unique seafront house with private deep-water dock situated in the middle of a beautiful recreation area - by boat just 15 minutes from Oslo city center / 30 minutes by car - is for rent (days, week(s) or weekend) during parts of the year.
See some film clips from the video bloggers FunForLouis (Steve´s pre wedding trip, Pier pressure , 2 guys 1 bathtub and Losing the hat!) and Mr Ben Brown (Boating in norway!) on YouTube. Facilities: - spectacular seafront house situated on a hill with panoramic views over the fjord and city center of Oslo - new and modern, constructed in 2015 - all Miele kitchen appliances including 3 ovens (normal, compact and steam boiler), dishwasher, induction cooktop, coffee machine, fridge, freezer - washing machine - tumble-dryer - fireplace - 55" 4K ultra HD TV with 40 channels + Viaplay, Netflix, Mubi etc - wireless internet inside / outside - Sonos smart wireless HiFi system with Spotify, Tidal, Apple Music streaming in 4 zones - terrace with roof and patio heaters - 2 weber barbecues (1 gas + 1 charcoal) - small fishing / rowing boat (14 foot, 5 persons), rental: see below. - a 26 feet speedboat with 225 hp, rental: see below - kayak - fishing gear - life jackets (children + adults) - heating lamps - reclining chairs - and much more... The house is designed by Drøbak Arkitektkontor. The kitchen is fully equipped with the latest appliances, like three Miele ovens, induction cooktop, micro­wave as well as a dish­washer, refrigerator, freezer, ice maker, coffee machine, citrus press, toaster, salad spinner, chef's knives, porcelain tableware and glasses for wine, cognac, cold drinks, etc. In the living room there is a big flatscreen and home cinema, a library of films and books and a variety of family games. The dining area has a panoramic 180-degree view across the Oslo fjord, including Oslo city center. There are two roomy sleeping lofts; both of them sleep two adults (queen size bed) + one child or adult (single bed) while the common space in the middle can serve as a 4th bedroom (but then only with a mattress and with transfer from the two other bedrooms (please see the house plans among the pictures. The row / fishing boat may be rented for an additional NOK 1,500 per week or NOK 300,- per day. The kayak is free. Windsurfing may be rented for an additional NOK 1,500 per week or NOK 300 per day. A car (Saab cabriolet) may be rented. Price upon request. A speed boat (26 foot, 225 hp) may be rented. NOK 10,000,- / week or NOK 2,000,- / day (+ petrol). Bedclothes & towels: NOK 200,- per person (or bring yourselves). Cleaning fee: NOK 1,000,- (or clean yourselves). Electricity: NOK 1,- / kWh (a bagatelle in summer) It is installed fire and burglar alarm with direct communication to the security center. The nearest bus stop is far away, so without a car you will need to rent the car or bicycles or the speedboat. The summer season may be best for most people, but the property is also charming in late autumn, winter and early spring. Some winters, the ice on the fjord is thick enough for skating, cross-country skiing, ski sailing and kite snowboarding. The combination of cable-heated floors, electric wall heaters and an effective fireplace ensures indoor comfort all winter long.
Please see photos and text attached to the photos.
Myself and my friends stayed in Bjorn's beautiful house for 4 days. We were absolutely ecstatic with our experience. Bjorn couldn't have been more friendly and helpful as a host. We were left in peace to enjoy the beautiful scenery and facilities that the property has to offer. I would really recommend this house to anyone looking to stay near Oslo. Thank you Bjorn!
Michelle
2016-09-15T00:00:00Z
The area in which the beach house is located in is very exclusive and secluded. The nearest shopping centre in Vinterbro isn't far at all though, just about 10 minutes away, but it feels like another world here. There is a security gate when you turn off an unmarked road and after that it takes about another exciting 10 minutes to navigate the twisting narrow forest road filled with little peaks and troughs, before finally reaching a very steep downhill to the house. We did this in winter, in the dark fog and on an icy road near freezing point, with a rented van criminally mistakenly outfitted with summer tires. It certainly felt like an off-road rally experience. When you do get to the house safely, oh what a magnificent place it is! Inside, tasteful decor with top-end appliances, a closed fireplace, bedrooms with windows directly above your pillow for star gazing, and three places to bath or shower. Outside, heat lamps in the patio, subtle lighting along the perimeter of a long staircase down to your very own mini-pier for fishing or swimming. But the best part of our whole experience was our host. Thanks to the criminal car rental company and the life-threatening lack of proper winter tires, our van got stuck trying to drive up the steep slope just next to the house out to the nearby shopping centre. We tried fitting new snow chains and tried to scale the slope again but the chains just snapped. There was no grip and we were sliding down dangerously in the dark. A van, filled with three old folks, a kid, a baby and two stressed parents, all hungry, cold and frightened. We were stuck, rattled and shaken, with no one to turn to except Bjorn. He readily came to our rescue soon, expertly reversed the van back safely to the house, and drove us to the nearby shopping centre to have dinner. He even went out of his way to drive quite a distance away to a auto parts shop, bang on the doors despite it being just a little past closing time, all to buy a premium set of snow chains for our tires, which thankfully worked the next day and got us up and out. He didn't have to do all this, but he did and no amount of thanks from us can ever be enough for literally saving our lives. A magnificent human being with a magnificent house. What an experience!
Andrew
2015-12-20T00:00:00Z
We had a great week in this wonderful house which is embedded in an natural environment that lets you forget every stress. A maximum chillout area located near beautiful Oslo. Thank you, Bjørn!
Jan
2016-07-24T00:00:00Z
Perfect!
Isaac
2016-09-26T00:00:00Z
Great house in a great location ! Although the weather was a bit rough we had a very relaxing stay. The house is fully equipped. Björn met us shortly after our arrival - he is a very helpful host and very responsive. We all enjoyed our stay. We would love to come back - nextime probaly during winter..
Martin
2016-08-14T00:00:00Z
We had a ball. Great host, great house, great location and views! We hired the RIB and had a full day on the fjord visiting towns and islands....brilliant! The road to the house is very rough so make sure your car has good tyres. Would be very scary in snow or ice!
Steven
2016-10-05T00:00:00Z
Amazing place and host! Highly recommended to other. Very good and kind host. It will be better if i stay for 2 nights.
Lee
2016-04-27T00:00:00Z
Amazing house in breathtaking surroundings. We were very sad to leave and would certainly recommend it. Oslo is very close but it feels so remote and cosy!
Emmanuelle
2016-05-04T00:00:00Z
Room Type
Entire home/apt
---
Property Type
House
---
Accommodates
8
---
Bedrooms
Ås, Akershus, Norway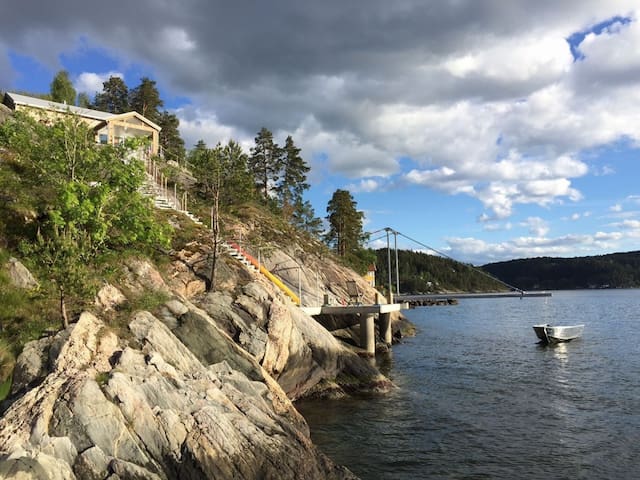 50 m2 room flat with separate bedroom, bathroom and terrace. Studio Kitchen in the living room. The apartment is 2nd floor. In my garage. Very good views, large windows - bright and cheerful home. From the dining table you look out on the treetops! 4km from Biri center.
Mid inland - between Hamar, Gjøvik and Lillehammer.
The host was friendly and very welcoming. The house was one of the loveliest we had seen in Norway. Off the beaten track, it has a great view and a modern style.
Oleg
2016-06-16T00:00:00Z
The view from the house is amazing! You only see trees, the lake and cities far away. The house is located on a hill, far away from the street, so it's also very quite there. The house itself is beautiful and was clean. We had a great time.
Linda
2016-07-25T00:00:00Z
The place is neat and so near to the nature. We spent some times to find it due to the foggy weather. It is a great place to spend a lot night over there.
Connie
2016-05-24T00:00:00Z
Cute apartment located on a hill/mountain ca 30min south of Lillehammer. Marvellous view from the house and the terrace on all sides!
Jorryt
2016-09-19T00:00:00Z
The apartment was very nice and cosy. The bed was big and the view over lake Mjösa from the dining table was beautiful. Guru was a good host to me and would highly recomend this apartment if you are in the nieghbouring area
Johan
2015-08-17T00:00:00Z
Wonderfull and very quiet location. Great hospitality, everything was perfect. We spent a lovely time, and I would surely recommend staying at Guro's place.
Jan
2016-08-24T00:00:00Z
Our stay at Guro´s place was just wonderful. The "garasjen" is completely new and very nice furnished with everything you need for your stay. Unfortunatly we didn´t know about the waffel iron before, otherwise we would have brought something for a dough ;) and then enjoyed the vaffels with the beautiful view over the lake and the peaceful silence around. Everything else like finding the place, getting the keys and getting along was very easy and Guro is a very sympathic woman. We are very happy that her place was one of our stops. Tusen takk!
Ann-Sophie
2015-10-13T00:00:00Z
Everything was perfect from host to flat. The topping on the cake was the absolutely stunning view from the veranda and the bedroom onto the river valley in the evening!
Andrea
2016-06-25T00:00:00Z
Room Type
Entire home/apt
---
Property Type
House
---
Accommodates
2
---
Bedrooms
Biri, Oppland, Norway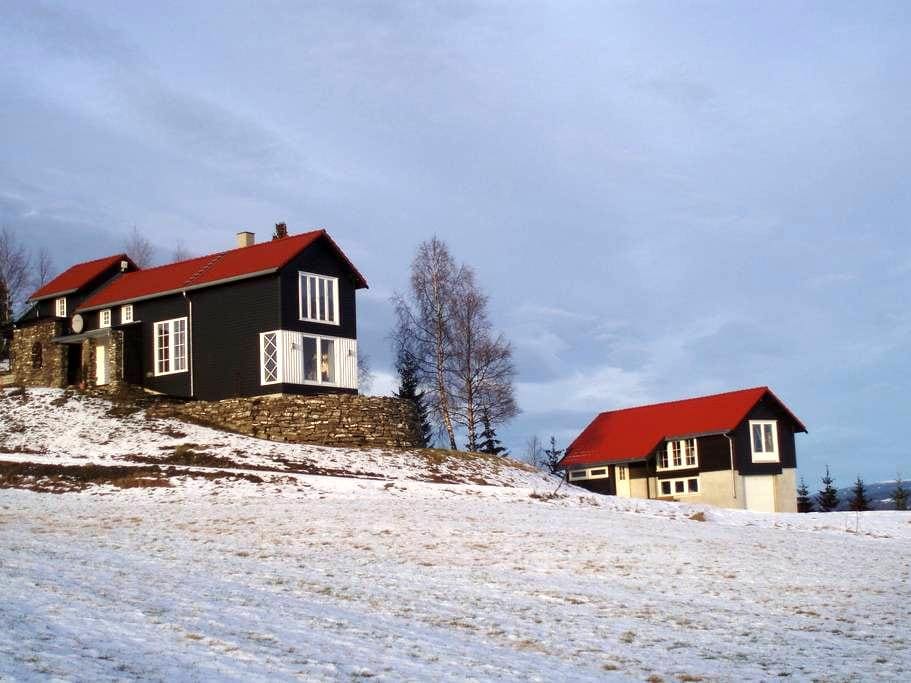 Short walk to main street with restaurants, cafes, nightclub. One-Cozy house with large garden in the heart of Lillehammer. Two bedrooms upstairs and large bathroom (shower and bathtub). Kitchen and large living room on first floor. minute walk to grocery store. Walking distance to Ski Jump, Olympic Arenas, museums. Bus stop one block away. Short driving distance to Hunderfossen Family Park. Wireless internet, cable, parking.
This was the perfect place to stay while experiencing Lillehammer. It was wonderful to be in a residential part of town within walking distance to everything, even for my 75 year old mother. It was especially nice to be close to a store since we had a kitchen for our use. Kjell gave us lots of privacy, but was available if we had any questions. He made us feel right at home in his home, and we did!
Jill
2014-04-08T00:00:00Z
This house is bursting with personality, with an interesting library in the living room filled with a large collection of diverse topics including psychology, biographies, and poetics. There is a big backyard that has some fun things in it, like a dartboard and soccer balls. The bedrooms are really cozy and the place is only a 10 minute walk from the center. Definitely a place worth staying in when in Lillehammer!
Steven
2015-05-30T00:00:00Z
We had a nice stay at the home of KjellTore in Lillehammer. The house is located near the city center and there is a possibility to park your car if you are travelling by car. KjellTore responded fast on any questions
Jurrian
2016-07-20T00:00:00Z
This house is amazing.Everything is perfect. I want to go to the house again. Thank you.
Eun hye
2016-06-11T00:00:00Z
Kjell Tore was a fantastic host. Good communication before the trip, straightforward to find the house and easy to explore Lillehammer by foot. The house was clean, comfortable and cosy, with a fully equipped kitchen. The mattresses were good and we had enough warmth in the house. We had the relaxing holiday we all needed. We went for skiing at Hafjell and Vitfjell, 15 and 30 min drive from the house respectively. Excellent resorts, but mostly skiing-oriented, not as fun for experienced snowboarders. Kjell Tore himself was extremely kind, gave us all the information we needed and made good recommendations for places to visit. Wish we had more time with him, he seemed like a very interesting person! What a book collection too, we were staring at it all weekend :) I highly recommend Lillehammer and Kjell Tore's home. Just make sure you get your wine/beer before the evening because there are strict alcohol regulations in Norway!! Wish we had known that.
Stathis
2015-03-09T00:00:00Z
We had a great time in Lillehammer staying at Kjells place. The house is ideally situated in a quiet neighbourhood no more than a 10 minute walk to the centre. The house itself has plenty of character with a large garden. I would be happy to stay again if we return to Lillehammer. Although we didn't meet Kjell, his communication via airbnb was great, I found Kjells suggestions for biking in the area particularly helpful.
patrick
2015-08-15T00:00:00Z
Very nice house. Typical Norwegian house. Ideal situated: 5 minutes walk to Lillehammer centre. 20 minutes drive to ski center Hafjell. 45 minutes drive to ski center Kvitfjell. 30 minutes drive to Susjoen (dogsledding and cross country skiing). 1 hour 45 minutes from Oslo (Gardemoen) Airport. Good communication with owner. Will come again.
Jeroen
2016-03-13T00:00:00Z
Kjell was a great host, he was there when we arrived to show us around the home, and give us list of things to do in Lillehammer. The house was perfect, the beds were SO cosy, the heated floors in bathrooms were extra perk, and the tub was much appreciated after many days of hiking and walking i Norge. There was a gas station just a few blocks away, and a grocery store (Rema) 3 blocks away right off the Storgata. Great backyard if you want to relax, and nice little porch for morning kaffe. We felt right "at home" and would recommend this spot to anyone! Takk for alt fra 4 Norwegian gals fra Minnesota!
Jana
2016-06-29T00:00:00Z
Room Type
Entire home/apt
---
Property Type
House
---
Accommodates
8
---
Bedrooms
Lillehammer, Oppland, Norway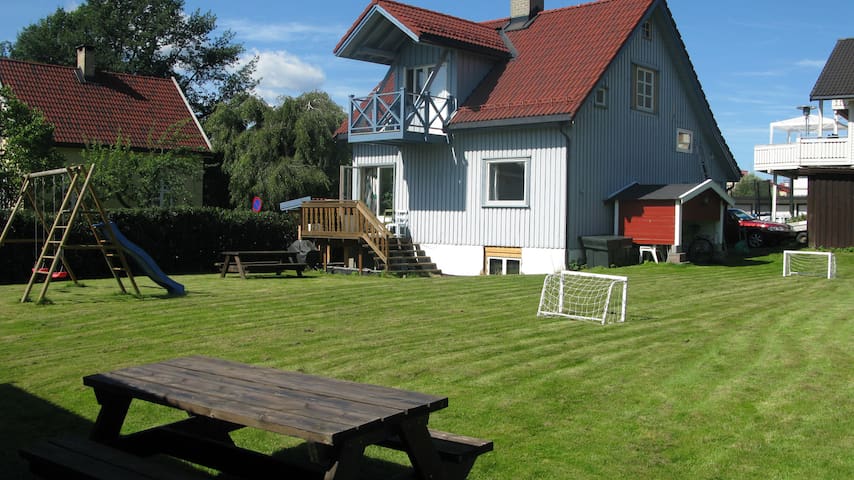 Modern house with amazing lake and mountains view! The house is best suited for 3 guests, but there are two extra sleeping places in the loft + one bed for the youngest. Big terrace. Parking place. Bus stop. Help with transfer. 20 minutes to the city centre/airport by car. Bed linen and towels are included.
The house is about 35 m² with big terrace and nice view over the lake and the typical Norwegian mountains. This place is perfect for vacation if you want to experience both the city and nature. Guests can use & make barbecue on the terrace.
The house is near lake Grimevatnet, the Old Voss Steam Railway and the Viking/Postal Old Route. - the Old Voss Steam Railway: Every Sunday from mid-June to mid-September you have the opportunity to travel on the Old Voss Steam Railway the 18 km from Garnes to Midttun. The steam loco is a ten-wheeler built in 1913 as the first generation mountain locomotives for the Bergen Railway. Along with the locomotive you will find shiny wooden coaches built in the same period(URL HIDDEN) (URL HIDDEN) - the Viking/Postal Old Route: (URL HIDDEN)
A very clean, warm and well equipped cabin with great lake views! Inna was very informative in arranging check in. I would recommend to anyone wanting to stay near Bergen, but outside of the city centre. Thanks Inna and Serge!
Neil
2016-12-15T00:00:00Z
The cabin was amazing, completely spotless inside and although it's small it's a really great use of space and feels really cosy! We love the new cover outside because it means we could enjoy the incredible view of the fjords even in the rain and snow. We were lucky enough to enjoy a great breakfast outside in the sunshine in march! The cabin is in a perfect location for getting in to Bergen and for exploring further east. We definitely recommend exploring the nearby waterfalls and a trip to flåm and along the fjord - both of which were recommended by our hosts. The hosts were really nice and friendly and didn't mind that we were a little late leaving which was great. Definitely stay here!
Lara
2017-03-21T00:00:00Z
Inna and Serge are the kindest hosts one could ask for. They were very prompt in all communications, and the house was extremely well equipped. The cabin was very cosy and clean. All in all a highly recommended Airbnb for the price and the location.
Brenda
2016-12-12T00:00:00Z
Everything is perfect and exactly as advertised. Lovely area with ease of access to the city regardless of transport means.
Jake
2017-01-22T00:00:00Z
We felt really welcome. Serge was waiting for us outside and Inna was in the house. They are very nice people. The house is very clean and good equipped. It is also modern and cozy. We had a great stay with an amazing view and a big terrace. I will recommend it to everybody to stay there.
Sarah
2016-08-11T00:00:00Z
We would recommend this cabin highly as a place to stay. It is near to beautiful Bergen and also in an absolutely fantastic (URL HIDDEN) was very cosy warm and well equipped,with everything we could possibly need.We loved waking up to the stunning views all around.Serge was very helpful in telling us about a walk from the cabin.Discovering that we could walk from the cabin into the mountains behind was real (URL HIDDEN) was really gorgeous scenery .Our teenage daughters loved the cabin and everything about the stay too.Inna and Serge were wonderful hosts and very helpful with the arrangements.We would definately love to visit the cabin again and explore the area further.
Kathy
2017-02-16T00:00:00Z
Inna's house was warm and cosy, and she was very hospitable when we were there. Her husband Serge was very helpful and the views were fantastic. Would definitely rent again
Matthew
2017-02-17T00:00:00Z
upon arrival, inna's husband serge gave us a tour of the cabin and answered all of our questions. he was very knowledgeable and kind. the cabin was everything we hoped it would be, and more! the beds were very spacious and comfortable, and the whole place was very clean. the kitchen had all major appliances, even a dishwasher! we saved a lot by making our own meals at the cabin. any time we had a question, inna was only a message away, or down the hill. overall, my wife and i had an amazing honeymoon there, and i would definitely recommend this place to any couple looking for a getaway!
Randy
2016-10-05T00:00:00Z
Room Type
Entire home/apt
---
Property Type
House
---
Accommodates
5
---
Bedrooms
Bergen, Hordaland, Norway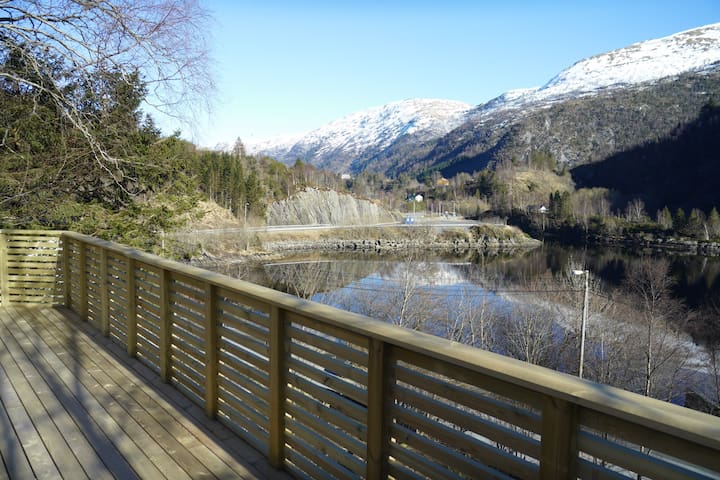 Møkster is a small island likely to melt your heart, all year. You find a local shop and fantastic trails by the ocean. This is the authentic countryside, still close to Bergen. 3 min from the apartment is a good fishing spot and a viking grave.
A room with a view: Private and cozy apartment for rent on this charming island close to Bergen and Flesland airport. Out the big windows you see the fjord and the mountains. On a clear day you can even spot the glaziers. Amazing trails by the ocean start 2 minutes away. The great terrace (40m2) with panoramic fjord-view is all yours during the stay. The apartment has wireless broadband and can also be a workspace if you need surroundings that provide both inspiration and concentration. The living room has two armchairs facing spectacular view. A daybed can be made into a 180 double bed. The dining/bar table is also perfect as a workspace- with the same view to the fjord. In a small bedroom you find a 140 bed. Living room and bedroom was remodeled March 2016. You have your own kitchen (new spring 2014) and a nice, tiled bathroom. Underfloor heating in all rooms except bedroom. Apart from the ordinary equipment, there is a washing machine in the kitchen. The house was built in 2006, so everything is in good shape. The island is a hidden pearl. So if you wish to get away from the tourist mainstream of Bergen city- this is it. You can easily get here from Bergen Center and Flesland Airport. No need for a car. About one hour by boat from Bergen center, 40 min from Flesland Harbor. The flat is 15 minutes walk from the Møkster harbor. The beach is 10 minutes away, the best fishing spot and the playground with football court is 3 minutes away (everything by foot). The flat is 35m2 and suits 1-3 persons. Note that you have to pass through the living room to get from the bedroom to the bathroom. A baby chair and cot is available. You won't find more peaceful nature and stunning beauty this close to Norway's 2. biggest town. Chances are good to spot porpoise passing by or sea eagles by the ocean.
The apartment is only 20 meters from the fjord. During summer, you can bring your towel and have a bath right from the cliffs. 2 min away the trails by the ocean start. A viking grave is 100 meters away. The island has 56 inhabitants living here all year round. Walking up and down to the local shop you will soon feel part of the local community. Every season has it's charm and I recommend a trip here not only in summertime. Activities like fishing and exploring the trails here are fantastic summer, autumn, winter and spring, as is the peace and quiet. Bergen city is also a very interesting, cultural and picturesque city where things happen any time of the year.
The nights in Monas lovely apartement were just perfect - Mona was so friendly and such a good host, provided us everything we could have wanted! Absolutely awesome!
Anna
2016-08-21T00:00:00Z
We had a wonderful time on the island of Møkster. It is a beautiful and peaceful island, great for relaxing and getting in touch with the outdoors. Mona was very hospitable, and was very approachable. She lent us her fishing equipment and we caught some decent fish off the rocks just a few minutes walk away. Mona even baked us fresh bread one morning - very kind. The place is small but has everything you would need, and is super modern and stylish. Mona and her family live directly above which she is always approachable but also means it can get a bit noisy with footsteps and other noises at times. But it didn't bother us really, we were too distracted by the ocean vistas and porpoises swimming by in the fjord! If you want to have a great retreat, come here!
Alexander
2015-08-07T00:00:00Z
I can't recommend the 'Room with a View' enough-with our busy work lives my husband and I find it hard to relax but felt the stress leave us as soon as we arrived on the island :) The new kitchen was lovely with all the appliances/utensils you'd ever need not to mention the sugar, coffee, tea etc; the lounge/bedroom was very stylish and the bed was so comfy; then there was the view....WOW it was breathtaking! We totally recommend the red trail walk around the island, the landscape is magnificent. We could only stay at the 'Room with a View' 2 nights during our trip around Norway but this wasn't enough so we will be back to visit again in the future! Thankyou Mona
Samantha
2014-05-29T00:00:00Z
Mona's Room with a View is a very compact but well furnished, private place to stay with an increadible view. Mona is a very nice host as the other inhabitants we met on this small but beautiful island.
Tu
2016-08-05T00:00:00Z
I can definitely recommend Mona's stylish and modern appartment at picturesque and quiet Møkster. It is a beautiful place to spend a day or two, and Mona is such a kind host.
Lisa
2015-06-17T00:00:00Z
Mona and his boyfriend were very friendly and welcoming. They also gave us some tips to know more about the island, Bergen and the boat. Møkster is a fantastic island with great fish to catch and eat ! We were very happy of our trip in this island.
Axelle
2016-09-14T00:00:00Z
We spent seven wonderful days on the little island Møkster. There is so much to experience and enjoy: stunning landscape, fishing, reading a book on the terrace...Mona is a great host, who answers all questions you have and makes you feel very comfortable during your stay. The flat is small, but very cosy and it offers everything you need: a well equipped citchen, a quite big bathroom, a lovely living room and a really amazing terrace with a view over the fjord, whitch invites you to relax and even to catch a glimpse of the common porpoises passing by. We absolutely recommend it to everyone, who loves the nature and a nice environment. DANKE, Mona!
Stefan
2014-08-30T00:00:00Z
Mona is a wonderful host, and went above and beyond to make our stay comfortable and special. She helped us navigate transport to get on and off the island, provided a travel cot and highchair for our 10-month old, and let us borrow fishing poles so we could catch dinner! The house is very cute, clean and comfortable and we had our own private deck with an amazing view of the fjords. This was an amazing getaway for my husband and I and our 10-month old - a very special island and house!
Elisabeth
2013-08-26T00:00:00Z
Room Type
Entire home/apt
---
Property Type
House
---
Accommodates
3
---
Bedrooms
Møkster, Bergen, Hordaland, Hordaland, Norway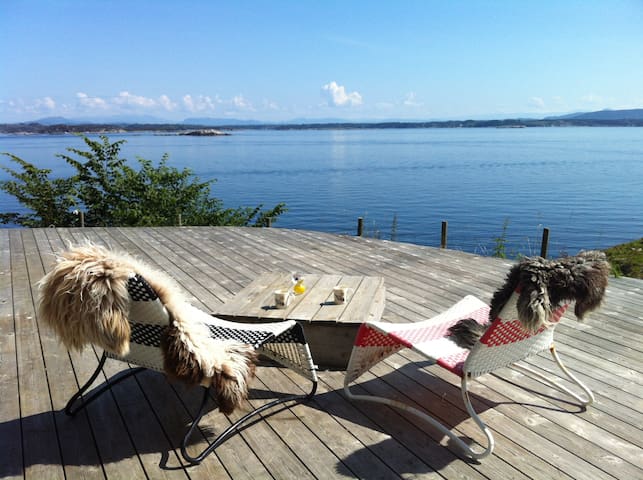 Big house just 10 meters from the sea and just 15 min from the city center. The house have 4 bedrooms, bathroom, a big livingroom, kitchen and a big garden with a Jacuzzi! We also have a rowing boat to go fishing with. The house is fully equiped.
If You like the sea and a great view? Then this is the right place for you? Privat property with a beautiful big garden and a perfect location close to Trondheim city. Enjoy sitting on the portch relaxing, looking out on the ocean and maby catch a glimpse of the sea eagles, otter or whales that live near by. Take a swim if you like or try catching a fish or two by going on a boat trip with our yellow rowing boat You will have Access to the whole house, garden, "beach" and ocean. 42" Flascreen TV with many different chanels and free WiFi is available for you to use. And other Things sutch as a gass BBQ, outdoor dining places, dishwasher, Kitchen suplies, rowing boat with life wests, fishing equipement and office. We wan't our gest's to feel like home. It's important to us that you give us possitive and negative respons so that we can be better. Special requests such as breakfast, lunch or dinner we can arrange. Romantic holiday for two or maby honeymooners. We will make our house romantic until you arrive:) Just ask us. We will help you the best way we can:) Close to the forrest on one side, and the Ocean on the other. Good skiing tracks and hiking possibilities. 15 min by buss from Trondheim city. The buss goes 1 time per hour. Nigth buss in the weekends. Good taxi service offcourse. The property is not suited for unsupervised children. But perfect in every other way:)
Close to the forrest on one side, and the Ocean on the other. Good skiing tracks and hiking possibilities. 10 min by buss from Trondheim city.
Great hosts - speedy responses and useful tips for local shopping and sights. The fjord views are wonderful. We'd love to see it in summer too Thank you
John
2016-11-29T00:00:00Z
Michael was really a great host. He was very caring and helpful. He picked us up at the trainstation and also gave us a lift to the airport. We stayed one week and enjoyed it very much. The bus stop is in front of the house and the bus stopps each hour (on saturdays and sundays is a different schedule). The house was exactly as described: Next to the sea, quiet and beautiful. It was clean and cosy. We highly recommend this accommodation!
Stefan & Verena
2015-08-09T00:00:00Z
We had a wonderful time in Trondheim. The house is in a fantastic location and Michael was a great host. It is a very comfortable house with plenty of room downstairs for dining and relaxing. The veranda is excellent for viewing the fjord and its marine traffic and wildlife through Michael's binoculars. And we particularly enjoyed our little trips out in his rowing boat.
John
2016-08-29T00:00:00Z
We spent over three weeks in Norway and Michaels property was our favorite by far. The locations was awesome, the view is truly amazing, and it was a great place to stay. Michael was very helpful and friendly. He even got us flags to help us celebrate the 17th of May. Everything was so nice. If we get another chance to visit Norway, we hope we can start the trip here. Our experience was wonderful in every way.
Kathy
2015-05-18T00:00:00Z
Michael and his partner were there to meet us and show us around the property and answer any questions. He had information about the flat and Trondheim organised and available. The flat is light and spacious with plenty of furniture and outdoor space if you are lucky with the weather. We weren't, so we made use of the woodburner and the views from the huge windows are lovely. A bit sad to leave - recommended!
Claudia
2015-05-27T00:00:00Z
Lovely house in an idylic setting, only a short drive from the city centre but in a very peaceful location. Plenty of space and facilities for a big group. Michael, the host, is very friendly and helpful regarding any queries or reccomendations. Was very happy with our stay here.
Marcus
2017-01-02T00:00:00Z
I could write easily two pages but I will try to keep it brief. In simple words, as described, communicated with ease, no stress, no problems getting to the property or checking in. Michael the host has thought of literally everything. House was lovely, and this was the first time I slept like a baby somewhere else other than my bed, pillows were just right and fireplace has done its magic also. Wouldn't have stayed anywhere else in Trondheim, a perfect retreat from hectic town such as London. Regretting not using the Jacuzzi as we run out of time. Since my wife is an interior designer she has noticed so many details that I wouldn't and she was right to say Michael does pay attention to detail a lot. Overall, highly recommended place and a lovely host!
Velimir
2017-03-27T00:00:00Z
We had a wonderfull holiday in Michaels property, and I love to go back another time. So far my best experience using Airbnb. The house are tastefully decorated and got a luxurious touch. High quality furniture and well equipped kitchen. Michaels huge garden is also amazing: Well-kept, tranquil and with a big private beach . ´ Tbe rowing boat is another feature I enjoyed heaps. Had some great walks in the forest behind the house. I was lucky to meet Michael a few times, and he appears trustworthy and friendly.
Peter
2015-04-30T00:00:00Z
Room Type
Entire home/apt
---
Property Type
House
---
Accommodates
8
---
Bedrooms
Trondheim, Sor-Trondelag, Norway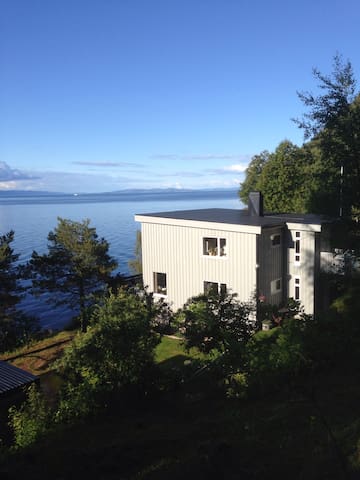 Light and spacious ground floor studio apartment in a townhouse with separate entrance and big balcony overlooking garden and fjord. 1 single bed and 1 sofa-bed. Kitchenette with microwave and all the necessary articles. High-speed WiFi and cable TV.
The house stands in green and quiet area of the town, still short walk from the center, war museum, shops and restaurants. Distance to the bus station is 1 km, to the train station - 1,3 km, about 15 min walk. Furthermore, it is about 1,2 km to Narvikfjellet (Narvik mountain) alpine ski facilities and cable car and half an hour drive to Narvik Golf club in Skjomen.
Marina was a lovely host and her flat was absolutely delightful. It's got the BEST view of the city and is fully equipped with everything you'd need. I was able to cook and catch a glimpse of the northern lights all in one night. If perfection had a picture, it would be this flat :)
Simmi
2015-11-10T00:00:00Z
Thank Marina, we had great experiences with her house at Narvik. Marina's house located by the hill, it's little bit far and difficult from train station if you take heavy luggage. But the big balcony with extraordinary scenery worth everything. Of course Marina is nice and helpful, she is a really good host, we recommend her house obviously! 感谢 Marina,我们在 Narvik 十分愉快。她的房子在半山腰,离火车站有一定距离,特别是拿着重重的行李的时候有些费劲,但是有着绝美风景的阳台值回一切。Marina 人很好也非常热心,我们当然会推荐她的房子!
You
2016-04-01T00:00:00Z
Marina was very warm & welcoming, nothing was too much trouble & the apartment was exactly as pictured. We really enjoyed our stay there & loved watching the Northern Lights from the balcony & the living room windows overlooking the Narvik harbour! We just wished we could have stayed a little longer. We highly recommend staying with Marina!
Richard
2016-09-27T00:00:00Z
Me and my partner stayed one night in Marina's apartment, it was a great place and it fitted our needs perfectly. View and midnight sun from the balcony as well as close to the city centre and the mountain. Marina was a sweet host, helpful and easy to communicate with. Highly recommended!
Fia
2016-06-28T00:00:00Z
Marina's really helpful and her place is a self sufficient space with bedroom, washroom, separate toilet and laundry area, kitchen and living room area. Super clean and nice balcony. Thanks for a comfortable stay.
Joanne
2015-12-23T00:00:00Z
Eirik, her husband, received us. He was very Nice. The appartement was very clean, and confortable. There was A beautiful view of all the city.
Morgane
2016-01-23T00:00:00Z
Unfortunately we had no chance to meet Marina in person(holidays), but she was constantly on line to supporto us. The flat was perfectly matching the description, clean and comfortable. Recommended.
Alessandro
2016-08-18T00:00:00Z
We found Marina's apartment very clean, warm and nicely decorated. The kitchen is small but functional for simple meal preparation. We were able to park our car on the street quite close to the apartment. It does have an unusual bathroom arrangement which may not suit all guests. The shower area opens directly onto the living/sleeping area offering no privacy. We improvised a privacy screen, but it would be better if there was a door or sturdy curtain to provide privacy for guests.
Ben
2015-09-10T00:00:00Z
Room Type
Entire home/apt
---
Property Type
House
---
Accommodates
2
---
Bedrooms
Narvik, Nordland, Norway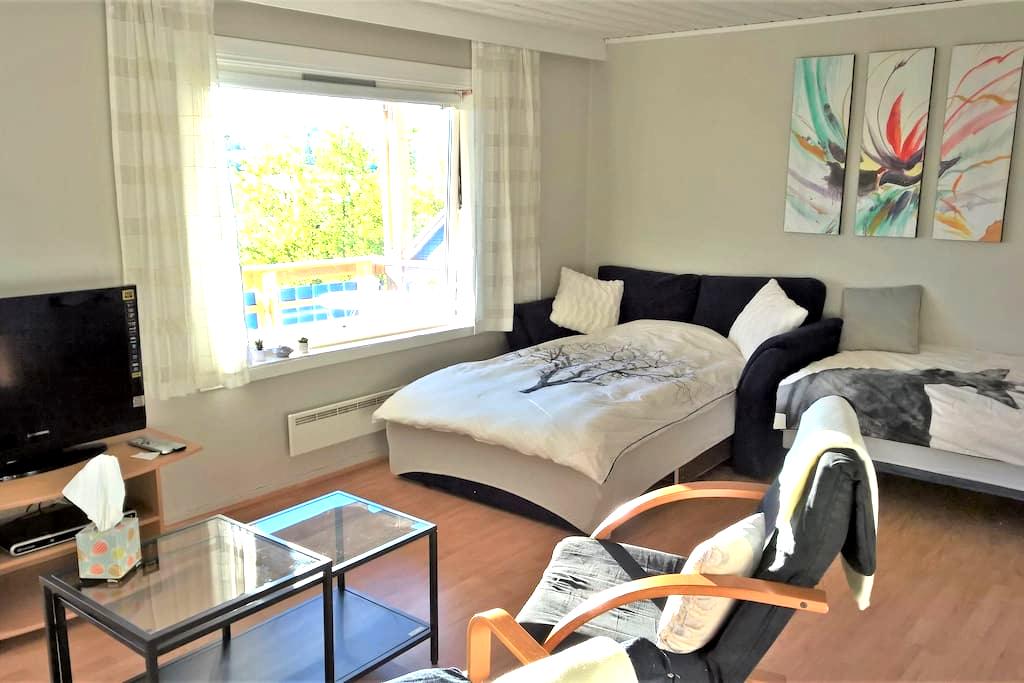 My house have 2 floors ,there is sleepingrooms in secound floor,livingroom and kitchen in first floor. Suroundings are very nice with high moutains and only 50 meter walk to the ocean.There is a freshwater lake only 100 meter from my house.
Å er et gamelt fiskevær,med godt bevarte bygninger,to museer,Gammelbutikken som er åpen hele året,Bakeriet som er åpent i sommersesongen og Lofoten Reaturant som står på påler over havet og er åpen i sommersesongen
Nice and comfortable place to stay. Clean and light room in house, which is right in the center of the village near the stockfish museum. The host is interesting and considerate person. He gave us some advice about tracking routes nearby, sunset viewpoints and how to prepare fish-balls (thank you, Roy!).
Eugeny
2016-09-07T00:00:00Z
Excellent location and hospitality. A nice place to stay in Å. Roy is very friendly and helpful.
Torstein
2016-03-25T00:00:00Z
The location is fantastic , very nice view from the window. The house if very nice , good rooms for sleeping , very clean and quiet . I have only one regret ; we couldn't meet Roy because he was in Bergen . Thanks Roy for your hospitality .
ARSENE
2016-07-30T00:00:00Z
Roy is quite the character. Real nice guy. Fun to hear about his stories in Indonesia and his fishing experiences. The room was plenty fine and comfortable. He was a great host. He even cooked me fresh pollack for dinner. Thanks Roy!
Jeremy
2016-02-02T00:00:00Z
Roy is a really friendly host with a lovely house filled with his photographs of the beautifull Lofoten. Very kind of him to pick me up by car from the ferryport and arranging some nice waffles in the morning.
Thom
2016-07-03T00:00:00Z
Great B&B! If you are looking for someone who knows everything there is to know about fishing and Lofoten this is your guy! He picked us up from the ferry even though it came in over an hour late and dropped us off at the ferry. The ferry was late again but he made sure we were warm with a little drive pointing out facts and telling us about the island that he has spent his life living and fishing on or around. Great scenery. His home is in the perfect location.
Kevin
2016-02-24T00:00:00Z
Roy is a great and opening mind host, he waited for me for late check in for pick up me in bus station, and also assist me for early check out for a ride to Wharf. Staying in his home just like stay home in a very comfortable way :), Roy always checked with me for eating yet or not, because I traveling alone, he also checked my safety, very sweet of him. Anyway, he is most kindest host from my experiences by using airbnb. Thanks so much to Roy :) RC
Rebecca
2016-10-07T00:00:00Z
Even though we were very short on Lofoten, time spent at Roy's home was amazing. Roy is very welcoming. Thanks to him we could feel the atmosphere of the island. Surely even I go back! :)
Karolina
2016-03-08T00:00:00Z
Room Type
Private room
---
Property Type
House
---
Accommodates
2
---
Bedrooms
Å, Nordland, Norway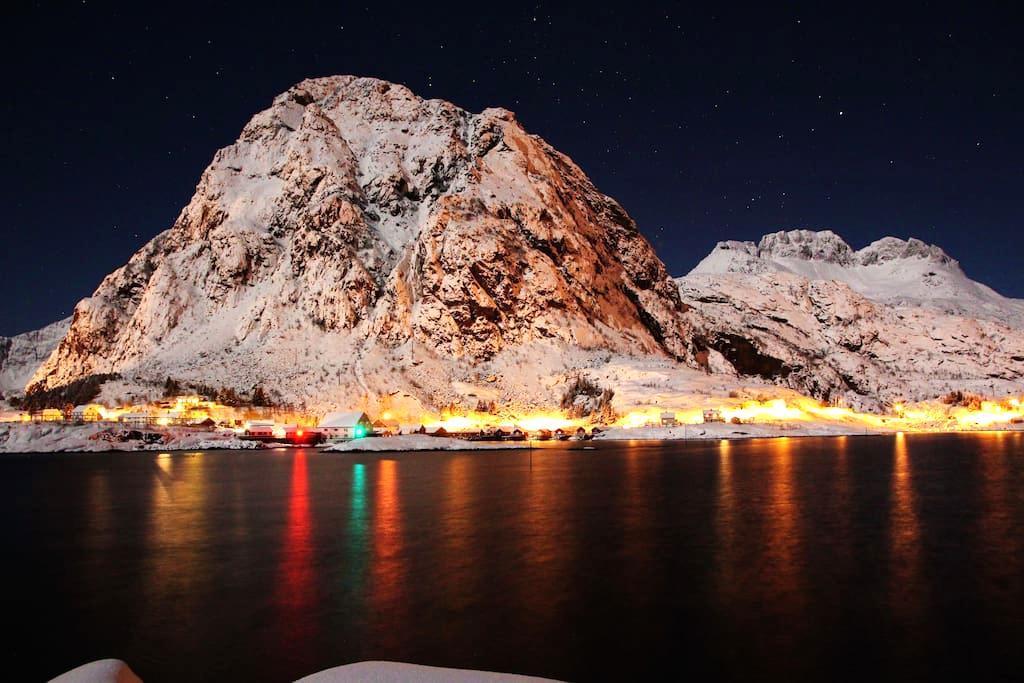 Sjøbod/boathous/Cottage 3 meters from the sea, facing south, private jetty, cottage has high standard, it is freshly painted inside with new furniture. Wi Fi free and cottage have TV / DVD. Terrace with awning, gas grill and patio furniture with cushions Boat: 15 feet with motor and canoe available. 1.5 km to the Kiwi and shuttle, Kristiansand approx 20 min. We do not charge cleaning fees so it is expected that the boathouse is cleared and cleaned upon departure. If boathous is not cleaned
Close to the ocean, morning sun. Sjøbod / Cottage 3 meters from the sea, facing south, private jetty, cottage has high standard, it is freshly painted inside with new furniture.
Sea air when it is low tide. Good walking. Free parking nearby, across the boen (50m) Bus M1 Kiwi 1.5 km. (URL HIDDEN)
We stayed in Jarls boathouse with two persons for a week. The house is Very cosy, well equipped, the host is friendly, surroundings attractive. It was easy to heat the house comfortably ( october).
corine
2016-10-23T00:00:00Z
What a charming place - simply paradise. We could have happily stayed for a week or more.
Lisa
2016-09-01T00:00:00Z
Offer was described very good. Place is fantastic. The host was helpful. Showed us his cabin. It is calm and superb.
Piotr
2016-06-14T00:00:00Z
Jarl was really great. I arrive at night and he still got time and gave me good advices for eating. I sleep very good and the Boathouse is awsome. Can recommend him. Would stay there again :)).
Egon
2016-02-26T00:00:00Z
We really enjoyed our stay in that charming little cabin. Everything was clean with all the accomodations we need. Jarl was really nice with us, he gave us lots of information and tips about the area! We even shared some drinks with him! The island is beautiful, it's a real pleasure to stay there. highly recommended it! Claudie and Bernard. April 2015
claudie
2015-04-26T00:00:00Z
My girl friend and myself had a nice stay at Flekkerøy.Its a lovely island with a pure "South of Norway" feel. Great nature and great walks. Jarl Andres cabin is clean and have all the facilities you need.
Alexander
2016-03-28T00:00:00Z
Jarl's house is really well located, in front of the see. The house itself is really clean and beds are comfortable. Jarl was keen on advising us to choose the best roads in the area (we were going to Stavenger). We even has the chance to taste homemade beers brewed by Jarl ! Thanks for welcoming us
François-Xavier
2016-04-25T00:00:00Z
Jarl was very helpful from the very start of our booking with bus times and which bus to catch, it was raining when we arrived at the bus stop so he came and picked us up. It was a great treat staying a his water side cottage and exploring the island and a highlite of our trip to Norway. Pete & Meg
Peter and Meg
2015-05-12T00:00:00Z
Room Type
Entire home/apt
---
Property Type
House
---
Accommodates
8
---
Bedrooms
Kristiansand, Vest-Agder, Norway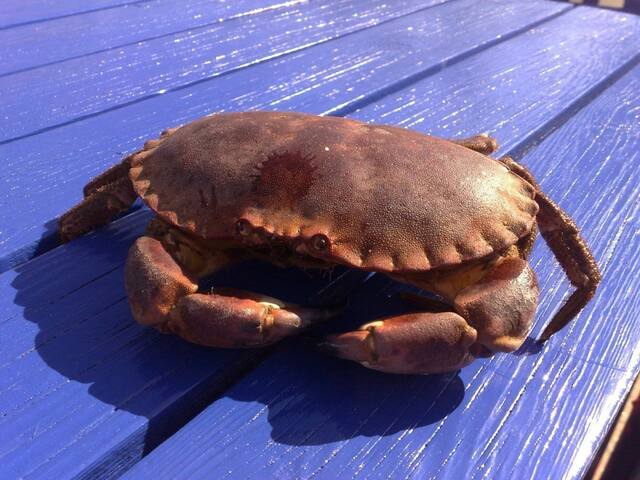 A 3 minute walk away from Bergen city center where there is public transportation to the rest of the city (bus/train/boat). No parking, but just a 1 minute walk to Klostergarasjen parking house. Private and fully equipped kitchen, bed and bathroom as well as free WIFI.
You get your own private apartment with a kitchen equipped with all of the essentials, including basic food and spice items, plates, glasses, cutlery etc to help get your dinner started. We have provided you with laundry detergent (both white and color), dryer sheets, towels, wash clothes, shampoo, conditioner, body wash, and other various toiletries you might have forgotten at home. All of the windows have blinds for added privacy and shade. The apartment has its own entrance on the inside of the house and you will receive a set of keys to be able to lock it up safely. Cleaning before and after is included in the price of the stay.
Knøsesmauet is one of the oldest, most photographed streets in all of Bergen. It is a quiet, family friendly place only a 3 minute walk from central Bergen. There is also a park, soccer field and swimming area a couple minutes walk away. A large aquarium just up the street is fun for both kids and adults on rainy days. The nearest grocery store is at the bottom of our street.
Lisa and Lars were good enough to let us stay in their place for just one night and we were very grateful. The Hanseatic Festival was in full swing (Lots of music and beer in the sun - yes sun!) when we were there so everywhere was busy. The flat is tucked away 10 minutes from the city centre in an attractive neighbourhood which was quiet. Parking for the car was just round the corner in the large underground car park and to unload the car it was possible to drive up to just outside unload, reverse back down and o go out and park. The flat is modest in size but it all works, (I cooked a meal using the oven and hob) and is furnished in a contemporary fashion with a large and very comfortable bed. The flat doesn't have a great view of Bergen but that is besides the point as it is in an older and very pretty part of town. Many thanks Lisa and Lars and thank you for always being so quick to respond to communications.
Brendan
2016-06-13T00:00:00Z
This listing was probably my most favourite Airbnb listing that I've stayed at. The location was perfectly central, on an adorable and quiet street. The apartment was so clean and comfortable. The hosts really make sure that you have everything you could possibly need during your stay. I would, without a doubt, stay here again and recommend it to others!
Emily
2016-06-29T00:00:00Z
What a place! Bergen was beautiful, welcoming, fresh and fun. just everything we could have asked for. Lisa and Lars' apartment was all those things as well. The apartment was good sized with all the conveniences and amenities we needed and MORE!! It is located just off the city centre in historic neighborhood with quaint homes down cobblestone streets and alleyways where tourists are wandering around snapping photos of all the homes. We felt privileged to be staying there. Lisa and Lars couldn't have been more gracious even helping us store our bags for a late departure from Bergen. So if their place is available, grab it!! It is truly a treat to stay there.
Glenn
2015-09-07T00:00:00Z
Lisa is a very nice host. The apartment is cute and in the center of Bergen.
Alexandra
2014-12-06T00:00:00Z
Lisa was right to the door when we arrived. She was quite gracious and explained everything about the apartment. We texted only one question to her during our 6 nights' stay and she responded immediately.
Paul
2015-07-23T00:00:00Z
Lisa and Lars' apartment was great, clean, had everything we needed and was wonderfully presented. We just wish we had more time in Bergen so we could stay there longer!
Rob
2015-08-27T00:00:00Z
We had a wonderful time in Bergen and this apartment was in a great central location! Close to both down town and the harbor. Lisa had everything set up for us when we arrived, including a booklet with any info we may need regarding the city or apartment, also umbrellas! The apartment was as shown in the pictures and we would definitely stay here again as Lisa and Lars were great hosts.
Amanda
2015-09-21T00:00:00Z
The apartment is beautiful, warm and fully equipped! It made us feel like (URL HIDDEN) very close to the city centre, supermarket, restaruant and everything we needed. Lisa was so nice and helpful. We recommend this nice accommodation to everyone who is going to visit Bergen,
Betty
2016-03-24T00:00:00Z
Room Type
Entire home/apt
---
Property Type
House
---
Accommodates
3
---
Bedrooms
Bergen, Hordaland, Norway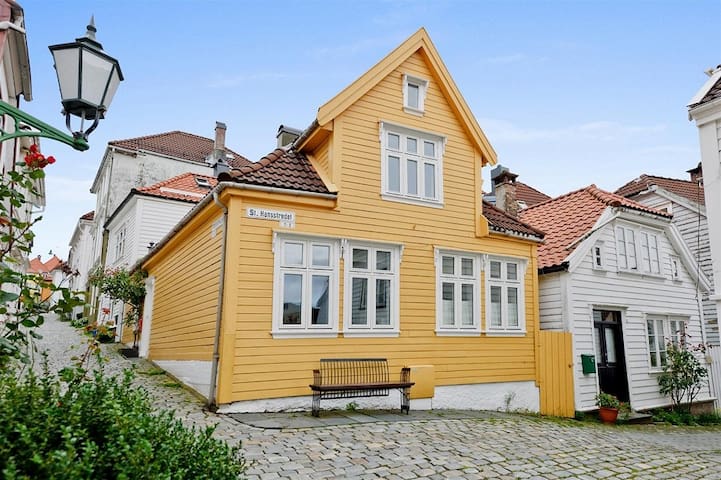 Norway - Airbnb
:
Average

4.96

out of

5

stars from

1801

guest reviews
1

–

18

of

300+ Home Rentals
Enter dates to see full pricing. Additional fees apply. Taxes may be added.