An exquisite, handcrafted home, blending Bauhaus contemporary with warm rustic elegance, in a secluded setting with running brook and shimmering light filtered through countless Japanese Maples. Winding gravel foot paths through a forested canopy lead to the foot bridge traversing Ash Creek on to the Treehouse entry. Tucked away in the heart of Little Forest Hills, this timeless, private property is truly extraordinary.
What guests are saying:
"The Treehouse was a beautiful stay! It creates a wonderful balance to your visit, where you feel like you've journeyed to a secluded forest while being near the comforts of a city. The landscaping and stylings of the home are beautiful and intentional, giving you many reasons to stay at the house. While the host provides many options for those staying to venture into Dallas to explore. I highly recommend staying here!"
My cabin is a hidden gem in Urbandale, a neighborhood only 15 minutes from downtown that's filled with unique architecture, old trees, and multicultural flavor. Crafted from pine felled and hand-planed in Boone, NC, the cabin has a wonderful smell and unique aesthetic. It's like a woodcutter's home deep in the woods, yet sits safely in my verdant backyard. Covered parking is removed from the road and secure. Already booked or need more space? Check out my Airstream or artist's loft!
What guests are saying:
"I loved staying a such a tiny house. So often we are reminded that a house has to be a huge expanse of space, but actually a tiny house usually is able to provide us with all that we are needing. It was great staying in the space. I would of liked to see more of a creatively thought out kitchen space , because more than ever in a tiny home, a well thought out kitchen design is crucial. And while the kitchen did a great job, I feel the space still had unused areas of space which could have been providing a much more functional space. But nonetheless I give 5 stars because the place was everything we needed and was honestly a piece of art, and that is something rarely seen in a rental space. By the way, for this property you can get away with cooking all your food on the grill, plus during normal times (not during a pandemic) the host usually cooks breakfast. But 3 cups fills up the French press and white rock lake, while being 10 miles in total trip mileage, was a great way stop and spend the day hiking. Try out vidora Mexican restaurant in downtown Dallas deep Ellum. Really good food really great service, plus the city environment to walk around afterwards."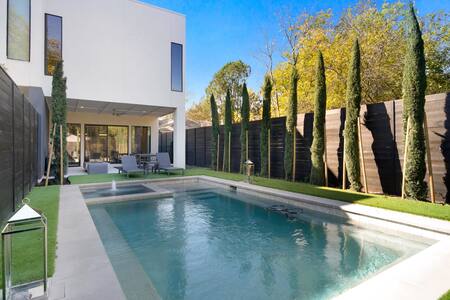 Entire townhouse · 10 guests · 5 beds · 2.5 bathrooms
Luxury Pool Hot Tub Oasis in the heart of the city
#1 Luxury HOT TUB POOL Oasis in the heart of the city!
What guests are saying:
"OMG I had an amazing weekend at this home. The pictures dont even do it justice. I took advantage of every amenity. We made s'mores on the outdoor fire pit. We enjoyed the spa until the wee hours of the morning. The fancy rainfall shower was amazing once I figured out how to use it lol it was a little tricky. I even enjoyed a quiet soak in the stand alone tub. Did I mention the heated pool and the beautiful surroundings from the lounge chairs to the beautiful green turfgrass. Look I could go on and on about this place from the cleanliness to the extra special touches they left just for us, but I'll let u find out for yourself. You had better book it before someone else does lol I'll definitely be back."