Embrace the vibrant character of this updated home. The expansive lower level unit features a monochrome interior contrasted by pops of color, an array of different motifs, an open-plan layout, a shared backyard, and access to a BBQ.
What guests are saying:
"10 out of 10 would recommend staying in this fabulous apartment! Everything was spectacular and couldn't have gone any smoother! This stay was by far one of the best air bnb experiences and stays I've ever had in the states. Everything was thoughtfully done the house was in pristine condition! The bedroom were amazing both with their own flare and the beds were super comfy! The kitchen had everything we need and more! I even ordered myself an identical tea kettle for my house because I feel in love with theirs. The location to everything was great and so close and so many wonderful eateries in walking distance! Katy and Mehdi provided exceptional tips for places to go and restaurants to try! I will definitely be back for another stay and would recommend it to all my friends and family!"
A locally well known modern small house featured in the Houston Architectural Guide, this house is a compact two story situated in a lush garden setting. It is located inside Loop 610, in a transitional neighborhood about a mile south of the University of Houston and within a few miles of Downtown, The Medical Center, and the Museum District. Nearest light rail stop is a 12 minute walk. YMCA, Library, and Grocery shopping all within a mile. The house is not available for parties.
What guests are saying:
"Awesome little spot close to downtown, cute modern living space downstairs and a comfortable bed upstairs with access to Netflix etc. Kitchen has a Keurig and all the basic amenities you need a perfect place for a couple to stay for a few nights while visiting Houston."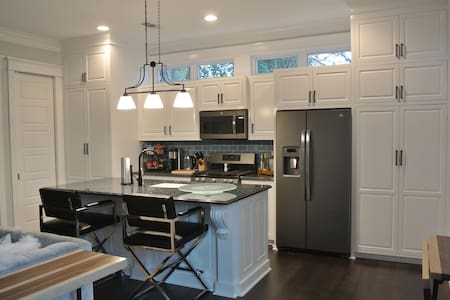 SUPERHOST
Entire house · 4 guests · 2 beds · 1 bathroom
Dwtn Houston-Luxury Home Business/Couples Retreat
Downtown Moody Heights Houston: Elegant 1 bedroom, 1 bath w/yard. Electric gate & full home burglar alarm system w/outside cameras. Parking for 4. Outside lounge patio area with hammock, stainless steel appliances and fully equipped kitchen, hardwood floors, granite counter tops throughout, large walk-in closet, Fullsize Washer&Dryer. WiFi Color Printer. METRO Rt 44 bus stop at corner, bike trails nearby. 1 mile to Downtown, less than 4 miles from Museum District. Couples Bikes on-site.
What guests are saying:
"This home is absolutely gorgeous and the host goes above and beyond to create a home for people to enjoy rather than just a house to rent. The house its self if beautiful with very modern and updated appliances with additional things such as a espresso machine with espresso, hot water boiler with tea, complimentary bottles of water, soda cans, chocolates, and even additional toiletries provided that q tips and cotton pads. There is plenty of cookware and clean filtered water from the refrigerator. We brought our two dogs with us and they had a blast running around in the beautifully groomed yard that has a nice large front porch with chairs and a hammock. The bedroom was spacious enough to put two dog beds in the closet provides quite a bit of space to store luggage and dog supplies. Evon really thought of everything you could possibly want from a host and then provided the best kind possible. We fell in love with this home and will def. be back as soon as we possibly can."