Red cinder leads you through the dense jungle to your secluded bamboo treehouse. Nestled on top of stilts 15' up in the canopy of the local flora, ascend to your retreat via the trapdoor or begin your adventure in Volcano National Park 10 miles away.
What guests are saying:
"The tree house was awesome! What a magical experience in nature in Hawaii! The tree house was just like the pictures, and the frogs outside were great to fall asleep to. I was a bit apprehensive of bugs, but the screens kept the bugs out just fine. The only reason I took a star off of this review was because the bed sheets and pillows smelled strongly of mildew. I understand that Hawaii is a moist climate so this may be unavoidable. If you are someone who has mold or mildew allergies, consider that before booking. Otherwise we had a great stay!"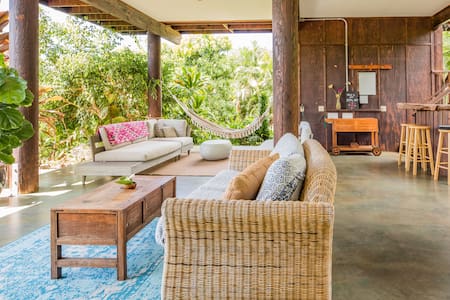 SUPERHOST
Entire guest suite · 2 guests · 1 bed · 1 bathroom
Tropical Garden Retreat on an Organic Mango Farm
Soak up the sun and unwind in the abundant outdoor living space which blends seamlessly with the interior of this stunning ground-level retreat. The home is constructed with architectural cedar poles and the living space is open air, allowing you to enjoy the natural world around you. Both the bedroom and kitchen are enclosed. The space is decorated in an exotic, Modern-meets-Indonesian style. Note: Depending on the time of year, there can be mosquitos and bugs in the outside spaces.
What guests are saying:
"One of the best Airbnb's we have ever stayed in. It was a perfect home to us during our trip to Captain Cook. Jesse and Lucia were great at checking in and making sure we were taken care of. We wish we had known about the roosters, we eventually got used to them, but the first night was definitely a surprise! I would recommend ear plugs to any light sleepers, but the (other) sounds of nature were wonderful to fall asleep and wake up to. I loved the openness of the living room; we really felt connected to nature and it definitely helped us relax and enjoy. The floor above can be nosy if others are walking around, but that's to be expected anywhere you stay, really. But again, we really enjoyed our stay and we would definitely stay again. Thank you for everything! Mahalo!"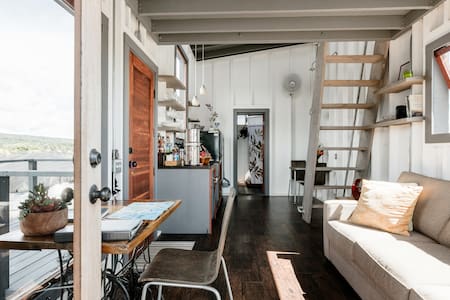 SUPERHOST
Tiny house · 2 guests · 1 bed · 1 bathroom
The Phoenix House-Tiny Home on Volcanic Lava Field
** PS - We take Hygiene Seriously and deep clean after every stay... Wake up amazed ~ Dare to stay at the feet of a volcano! Fix breakfast in a utilitarian kitchen and head out onto the front porch to behold otherworldly vistas of volcanic scenery from this unique, off-grid tiny home. After a day of exploring majestic nature, enjoy a hot shower and sprawl out on the couch before retiring to a lofted bedroom. This custom tiny house was designed by Will Beilharz and built by ArtisTree Homes. ArtisTree builds custom tree and tiny houses worldwide. Considerate Caretaker lives on site nearby.
What guests are saying:
"This place was exceptionally cool! What a crazy idea to have a home on lava. The design and decor was so much fun! The off the grid life is truly something. There isn't anything quite like the Phoenix house, so if you want a one of a kind glamping experience or you've ever been interested in the tiny home life, this would be a great way to experience it. On a side note, it can get scorching hot during the day, but starts cooling down as the night rolls in. If you don't appreciate bugs or critters than maybe this isn't the place for you. We had geckos, a praying mantis, and a variation of other bugs make an appearance inside. Me and my partner don't mind. Best part was waking up to morning mist and a showcase of rainbows. Our host Jade was also very thoughtful and considerate. Bless her sweet heart."