Private loft above garage with stunning Lake Norman view. Beautiful, safe neighborhood for walking or biking. Enjoy the water while still near shopping and tons of restaurants.
Great loft space for a few days on beautiful Lake Norman. Perfect for a single guest or a cozy couple. Three miles from Duke Power Marshall Steam Station on a quiet road perfect for walking and biking. Beautiful long view of the lake with small private deck. Just 7 miles from tons of restaurants and shopping in Mooresville. 8 miles from Lake Norman Airport. 13 miles from the Lowe's Corporate Headquarters. 21 miles from Birkdale Village. 40 miles from Charlotte Douglas International Airport. A small refrigerator, coffee maker and microwave oven are provided in the space. We love your pets, but cannot host them on our property for various reasons. We sometimes care for our grand-dog, Dexter (a Westie). There is no cable TV, but we do have an HDTV antenna and a DVD player with a selection of DVDs. Wifi is fairly reliable. Smoking is prohibited inside. We typically provide light breakfast foods: yogurt, fruit, muffins, juice and the like. Coffee supplies are also provided.
Our neighborhood is beautiful and everyone is extremely friendly. Many of our neighbors are "weekenders" and live on "lake time". It is quiet and private. The road is fairly flat and not heavily traveled; perfect for walking or bicycling. Three bikes are stored in the garage and available for guests to use. Bring your own helmets!
We loved the exceptional view of the lake from our deck. The setting is located in a quiet neighborhood. The room was very clean and well appointed with a nautical motif. Ketti was a great host and took exceptional care in making sure we were comfortable. We look forward to staying here again on our next vacation. Denise and Jeff
Denise
2016-02-07T00:00:00Z
Ketti's "Shed" was by far the best Airbnb property we have stayed in yet! Everything was just as described and she was there to check on us just after our easy arrival. The Shed is in a great location and has awesome features while overlooking beautiful Lake Norman! It was very clean, the bed was comfy and the kitchenette was well stocked with snacks and breakfast items, which were greatly appreciated. Ketti and Davie are great hosts and we would definitely recommend staying with them! Jan and Charlie
Jan & Charlie
2016-10-02T00:00:00Z
My husband and I went to the shed for a little getaway and Ketti's shed was the perfect place for us to be disconnected and just relax! The view is amazing and Ketti really is the perfect host!! I can't wait to go back and stay longer this time!
Aurélie
2015-04-20T00:00:00Z
Huge thanks Kerri for the welcoming space! Everything was exactly as represented and we greatly enjoyed sitting out in the dock in the mornings and enjoying the wonderful view.
Brent
2017-03-28T00:00:00Z
Ketti and Davey were so accommodating they helped us get our boat to the water. Very relaxing, comfortable and clean. Enjoyed fishing and boating. The lake is absolutely beautiful with gorgeous fall foliage. Hiking, shopping and Charlotte close buy. Plan on staying again in the future, great weekend.
Anna
2016-11-15T00:00:00Z
Host was very welcoming and available and left us alone unless we reached out to her. Everything was ready when we got there.
Darrell
2016-03-11T00:00:00Z
The Shed was a great place to stay. It's a large room over a double garage, immaculately clean and very well decorated and furnished, with a sofa, armchair and kitchen area as well as a comfortable bed. There's a view out to Lake Norman, and you can walk through the garden out onto the private dock on the lake - its a beautiful setting. Ketti was great, too, leaving lots of local advice and information, asking what she should leave for my breakfast, and generally being very welcoming. Highly recommended.
Jonathan
2016-06-17T00:00:00Z
This was our first Airbnb experience and Ketti was very welcoming. She greeted us in the driveway and was available if we had any concerns without intruding on our privacy. The space is a beautiful getaway, secluded at the end of a road out onto the lake. The room was comfortable, spacious, and had everything we needed during our brief stay. We were just passing through, but The Shed at Lake Norman would be a great place to spend the weekend away from the world.
Dan
2016-07-15T00:00:00Z
Room Type
Entire home/apt
---
Property Type
Loft
---
Accommodates
2
---
Bedrooms
Lake Norman of Catawba, NC, United States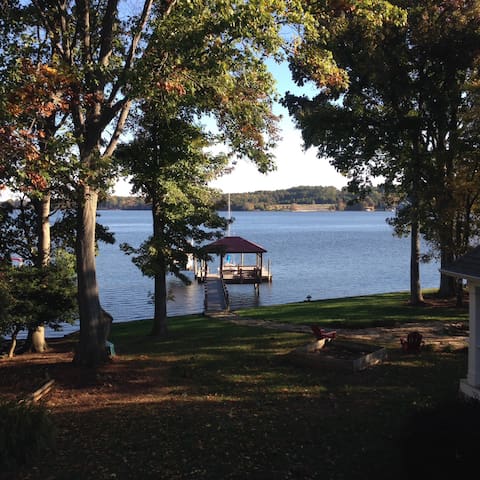 Unique home custom built for vacation accomodation. Mountain Style Log design with over 3500 square feet of living space on Lake Norman's Main Channel. Furnished and styled for cozy vacation retreat feel and relaxation.
The setting was beautiful and very peaceful. We spent most of our time sitting on the upper balcony enjoying the pleasant weather and scenery. The house was very well equipped and we had no trouble gaining entrance to the house. Martin was kind enough to allow us to have a small memorial service for my father at his home and everything was just perfect.
Julie
2016-10-17T00:00:00Z
Location and the lake are great, the house is very big and well set though a little too dark to stay inside but the backyard is great to spend time in. Poor quality of tap water and non working washing machine were the biggest disappointments of our stay.
Natalya
2016-10-14T00:00:00Z
This was our 1st experience with AirBNB and it could not have gone better. This home was our perfect idea of a log home on a lake. The location, size, conveniences fit our needs to a tee. Easy drive to shopping, not too far from Charlotte Motor Speedway (we did Speedway Christmas the Friday after Thanksgiving, amazing. But get there EARLY!). And the sunrises, BEAUTIFUL! Our family may decide to make this a regular destination for our Thanksgiving gathering!
Chuck
2016-11-27T00:00:00Z
Martin was very agreeable to work with. Check in and out was a breeze and everything was perfect when we arrived. The home has a great cozy cabin feel and is surprising large on the inside. Taking advantage of the kayaks is a must
Alex
2017-03-19T00:00:00Z
Absolutely wonderful!! This is an adorable cabin, in a beautiful neighborhood, with lots of space. Secluded, yet only a couple minutes to restaurants and stores. It is decorated perfectly! Lots of places to sleep. And the lake!! Oh the lake, so relaxing to sit on the porch and watch the water and wildlife. Everything was in working order and the owner was easy to work with. The only problem we had is we didn't wanna leave! Can't wait to book this cabin again!!!
Melanie
2016-04-12T00:00:00Z
Room Type
Entire home/apt
---
Property Type
House
---
Accommodates
10
---
Bedrooms
Lake Norman of Catawba, NC, United States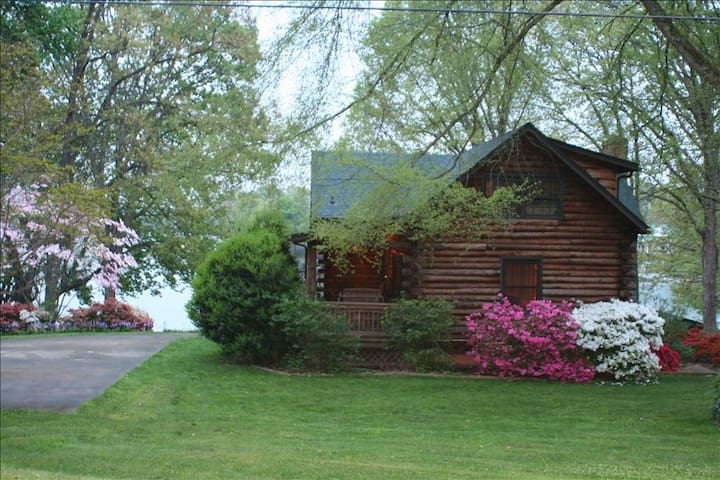 Our Sunset Retreat is a charming lakefront home located on Kiser Island. This gorgeous 3 bedroom 3 bath rental is perfect for your vacation getaway and has been recently renovated and completely updated with high end furnishings! Open the door to the comfortable living area drenched in sunlight to welcome you the moment you walk through the door! The entire house is surrounded by windows and every room has a beautiful view of the lake.
This is a new place for us, nearly every piece of furniture/bedding, decoration, and household/kitchen accessories have been purchased new this year. I have tried to think of everything you will need to fully enjoy yourself while visiting us at Lake Norman. All the amenities you would expect in a quality rental including cable TV in all rooms, wireless internet accessible throughout the house and on the decks, central air/heat, gas grill, sun deck, washer/dryer, and more!
What is really most unique is the outdoor space where you are completely surrounded by trees providing privacy and serenity. Enjoy swimming in deep water next to the dock in a safe low wake zone with a ladder right onto the dock. If boating is what you love then bring your boat and hook it right up to the private dock. If you do not have a boat there are several marinas within in 10 miles where you can rent them by the day. If you enjoy golf, there are several courses available for your enjoyment such as Mallard Head Country Club, Trump International Golf Course, Berkdale Golf Club, Cowan's Ford Golf Club, Westport Golf Course and several others in the area. Large trees provide shade from the summer sun. There's an outdoor fire pit surrounded by adirondack chairs on the porch with plenty of additional outdoor furniture for your enjoyment. You`ll love it so much that you`ll want to prepare your meals on the gas grill outside on the deck and dine under the star filled sky. Enjoy the spacious back yard which offers plenty of room for games, throwing a ball or just lounging. An outdoor hammock is the perfect place for a little tranquility. We are just steps to a private dock where you can enjoy the sun during the day and famous Lake Norman sunsets in the evening. You will love this home! All towels, linens and beach/lake towels are provided.
Room Type
Entire home/apt
---
Property Type
House
---
Accommodates
8
---
Bedrooms
Lake Norman of Catawba, NC, United States
Lake Front house steps away from the water, Private dock on the homeowners property. Use the 2 Kayaks, go fishing off the pier or play in the lake! 2 night minimum
The Cottage has private deck off the cottage entrance overlooking the Lake. Beautiful sunrise in the morning from the side deck while enjoying a peaceful cup of coffee.
This private road at the end of a peninsula, home site and guest cottage sits 50 feet from the lake front. There are many shops and restaurants within a few miles, we will have restaurant menus on site in order for you to plan.
The cabin was even better than advertised. The pictures displayed were exactly what you get with this wonderful cabin by the lake. Tom made sure that our weekend getaway was just what we wanted. The lake view from the deck, the living room and the bedroom were wonderful. A glass of wine, watching boats go by or waking up seeing the water was very relaxing and needed. I highly recommend this cabin, this location and this host. VERY WELL DONE!!!!
David
2017-02-19T00:00:00Z
This place is gorgeous. It is easy to access town and the lake is beautiful. It was well equipped and we left feeling so relaxed!
Blair
2017-02-12T00:00:00Z
Tom's place is just as great as the pictures and the hospitality is even better than advertised. The place really felt like home for the few days I was staying! I was able to take the kayak out one evening and catch a sunset from the Lake. The views are incredible!
Michael
2017-03-09T00:00:00Z
The guest house is great, better than the pictures show, very clean and quiet. You will not be disappointed!
Thomas
2017-02-26T00:00:00Z
What an awesome 1st experience we had. The place was great, the views were great and was very relaxing. So much more than the Hilton!
John
2017-02-01T00:00:00Z
Great place to stay. Right on Lake Norman. Courteous host. The stay there exceeded my expectations. Highly recommended.
Derek
2017-04-01T00:00:00Z
This home was perfect for a relaxing weekend on the lake. The amenities were comfortable. The views were amazing and the host (Tom and his wife) were very accommodating and friendly. Highly recommend.
Brian
2017-03-25T00:00:00Z
Great place! Super clean and comfortable, very roomy for a one bedroom cottage, and a beautiful view of the lake! Loved having kayaks to use as well!
Michelle
2017-04-06T00:00:00Z
Room Type
Entire home/apt
---
Property Type
House
---
Accommodates
3
---
Bedrooms
Mooresville, NC, United States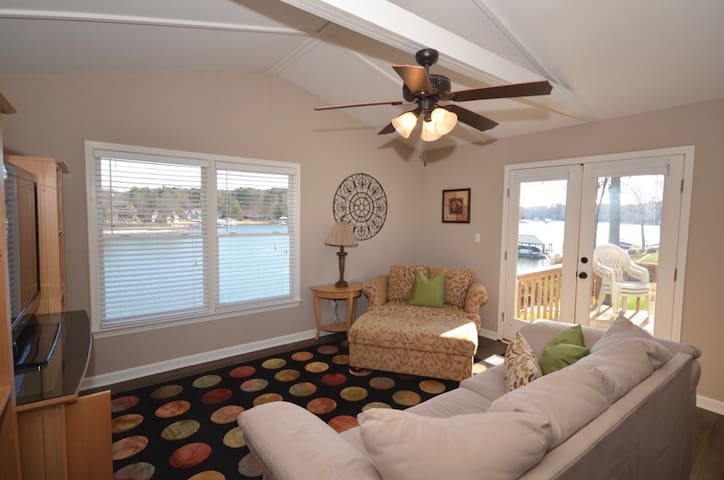 One bedroom loft in the Legacy Village Community adjacent to Lowe's Corporate and Lake Norman Regional Hospital. Easy access to I77 with a 25min commute to Uptown Charlotte. Built in 2008, loft comes with stainless steel appliances and granite counter tops. Completely furnished, including king bed and washer and dryer.
Brian is the most sweetest guy you will ever meet. Nice clean quiet place. Thanks to an awesome Host !
Mark
2017-02-05T00:00:00Z
Top notch host and great property!
Eric
2017-03-07T00:00:00Z
We had a wonderful stay. Very comfortable, clean, convenient and an excellent host. Having a Starbucks and other restaurants close made it even better. Highly recommended for a family of 2 (or 3 with a child).
Karen
2016-11-26T00:00:00Z
Our stay at Brian's was delightful. He was an attentive and welcoming host. The loft was immaculate and well appointed. Its location near Davidson College and a beautiful vibrant small downtown is perfect. Brian has our highest recommendation.
Curry
2016-10-30T00:00:00Z
We really enjoyed staying at Brian's place. It was convenient to the Interstate, which made getting in and out a breeze. His condo is spacious and quiet. Everything was clean and orderly. We would definitely stay there again!
Jon & Kim
2016-11-18T00:00:00Z
I was in town for a short work trip and Brian's place was perfect for relaxing in between meetings. It was an incredibly clean place with wonderful amenities and an amazing bed. Highly recommend!
Brad
2016-11-22T00:00:00Z
Brian's place was very nice and clean. We would definitely stay here again!!
Jacqueline
2017-02-19T00:00:00Z
This is definitely a great place to stay if you don't mind talking a short drive to get to Charlotte. The place is very clean and honestly the house, linens, and towels smell fantastic. Never met in person but we were in contact and he left plenty of suggestions for places to eat and drink. Will definitely stay again. Thanks Brian.
Michael
2017-03-15T00:00:00Z
Room Type
Entire home/apt
---
Property Type
Loft
---
Accommodates
2
---
Bedrooms
Mooresville, NC, United States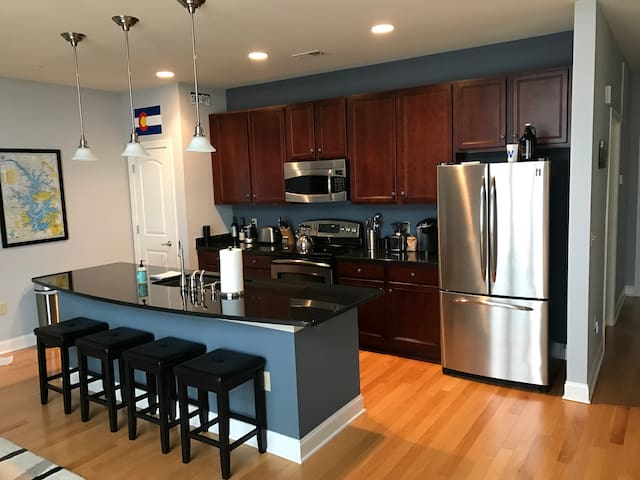 Nice older home with new upgrades, screened in porch, large deck, parking, walking distance to downtown Mooresville. Very comfortable and charming. Cable tv and wifi. With hardwire internet connection. This home is for Air BnB guests only. When you book this it is only for your use during your stay.
The layout of this home has the kitchen in the center where people can gather and enjoy a great time
This is a very settled and quiet neighborhood that is literally within minutes of shopping and many great restaurants. Walking distance to historic downtown Mooresville
The location is perfect and the house has a lot of nice features including a nice yard for children and a deck to sit outside. It is also very spacious. The house has a lot of character and appears to be being renovated. That being said our stay was less than satisfactory. When we arrived the bathrooms, esp the toilets, were DISGUSTING. Bryan readily offered to come himself and take of it. (Had he done so I wouldn't be writing this.) He did in fact come but basically wiped down the bathrooms somewhat. The toilets were still dirty as were the tubs. The upstairs shower doesn't drain so you stand in about 4-6" of water while showering. While he advertises essentials and did in fact have them but he didn't have any toilet paper upstairs. The heat doesn't reach the upstairs so whoever sleeps upstairs when it's cold outside will be very uncomfortable. The bedroom downstairs with the queen bed has only a curtain for a door, not very private. The WiFi signal was VERY weak and could only be accessed from the living room. He told us he had bought an extender but hadn't had time to install it. If you are going to charge money to rent your place I feel time needs to be made to have what you are offering available. I feel if he can fix these issues the home will be well worth it.
Tracy
2016-10-23T00:00:00Z
This was an awesome house and well worth the money. We were in town for a wedding at Carrigan Farms Rock Quarry. The house was two miles away so very convenient. The beds were very comfortable. There is an open back deck and a screened in porch. Plenty of room for six people. Bryan was a great host and even checked on us during our stay. You will not be disappointed.
Beth
2016-11-07T00:00:00Z
Quirky old home being lovingly refurbished. Plenty of space, comfy beds, big kitchen. Thermostat is easy to locate and adjust, and quick to work. Side street with little traffic -- quiet and peaceful. Though too chilly for us to be outside, the deck, patio, and fire circle looked delightful. Communication with Bryan was excellent.
Terry
2016-11-13T00:00:00Z
We were 8 adults and there was plenty of room for everyone, this house has a beautiful screened in porch and a great deck. Bryan made sure we were happy and had everything we needed, checked up on us via message a few times and is very quick to respond. We're a Dirt Racing team that were participating at the World Finals at the Charlotte Motor Speedway so our daily commute was about 25minutes to the track which was good for us.
Brigitte
2016-10-30T00:00:00Z
This was my first experience and Bryan was great. He answered any and all questions quickly and was very helpful. My family stayed here to see the local area and it was a rather last minute decision and Bryan accommodated so well. The house was welcoming and clean when we arrived. Even little K Cups were out. I appreciated the hospitality and the experience!!
Katie
2017-01-01T00:00:00Z
Bryan communicates quickly and thoroughly. If you're looking for a nice little place to gather, this place is it. Nothing fancy, but it has everything you need.
Alex
2017-01-16T00:00:00Z
This is a good location, and seems to be in a good neighborhood. It's convenient to the attractions in the area. The house has a lot of character and the beds were comfortable and it has very good Wi-Fi. However, it did not meet the standard of other Airbnb's in which we've stayed. The bathrooms were not clean; tubs where heavily stained, hair and "things" in and around the tub and toilet and a sour smell from the bath mat. The heat did not fully reach upstairs, so it was cold up there. There was a musty smell throughout, cob webs in some areas including the towel/linen cabinet. The refrigerator was not clean inside or out. The dishes and utensils didn't appear clean. One bed had hair on the sheets. One "bedroom" is a converted living room with curtains over the doorway. The room and bed were fine, but not very private if that's what you're expecting. A few of the upgrades didn't appear to be complete yet. When all is buttoned up and cleaned up, it will be well worth the cost and a nice place to stay.
Martha
2016-12-31T00:00:00Z
bryans home was perfect . i couldn't ask for anything better
Kendall
2016-12-10T00:00:00Z
Room Type
Entire home/apt
---
Property Type
House
---
Accommodates
6
---
Bedrooms
Mooresville, NC, United States
A full size bed in a bright open room with a private full bath. We have two dogs and a cat that live with us. This bedroom is upstairs and offers privacy. Our lovely outside space includes a pool for your enjoyment.
This is a bright large room with a full size bed in our four bedroom home. This bedroom is upstairs and has a privite bath in the hall next to the bedroom. It is private space with a small TV with cable.
We are located in the heart of Nascar territory. Just 30 minutes north of Charlotte, NC, 35 minutes east of Nascar Motor Speedway, 25 minutes from beautiful Birkdale Villiage, 10 minutes from Lowe's Corporate, 45 minutes to Charlotte Douglas Airport, 15 minutes to Davidson College, 2 hours south of Asheville, NC, 2 hours south of the beautiful Blue Ridge Parkway, 10 minutes to State Park with beach area, walking and bike trails. And 45 minutes north of Carrowinds Amusement Park.
I was like I was visiting friends. The dogs and cat were a plus!
Keith
2016-10-25T00:00:00Z
Pleasant place to stay. Good hosts, nice cat.
Brian
2017-01-13T00:00:00Z
Carmen made time to welcome me in for the check in after I had to reschedule - she's a very friendly host with friendly pets in a beautiful neighborhood. Definitely recommend staying here.
Steven
2016-10-15T00:00:00Z
Extremely friendly and sweet family. Maverick and Sir (the dog and cat) are a delight. Very welcoming and perfect for my trip purposes.
David
2016-09-12T00:00:00Z
Carmen was such a kind and warm host! I felt so welcome and comfortable. I would be glad to stay again and again.
Rose
2017-03-12T00:00:00Z
Carmen always goes above and beyond to accommodate and make travel life easy!!! She and Stewart are the sweetest couple and really make you feel at home. I always try to stay here when my travelmbrings me back!!!
Marjorie
2016-12-18T00:00:00Z
Fantastic yet again.
Jim
2016-02-22T00:00:00Z
These individuals are the kindest and most genuine that you will find - wow!!! Carmen communicated about my arrival plans, met me at the door with southern hospitality, and invited me to "make myself at home!" Everything was as described and even more amazing! Coffee and snacks in the kitchen - privacy if you prefer it or conversation in the living room. They have long term stays for those working in the area which is just awesome - who wants to live in a hotel for a month? I wouldn't! I'm even allergic to cats (I failed to read that portion prior to booking - my fault as it's listed) and Carmen ensured that she kept the cat with her and I did very well and didn't suffer from severe allergic reaction - I was so thankful! I travel ALOT and I haven't had such an amazing experience -- you are missing out if you don't stay here!!!
Marjorie
2016-10-12T00:00:00Z
Room Type
Private room
---
Property Type
House
---
Accommodates
1
---
Bedrooms
Mooresville, NC, United States
Pvt ent, 500 sq' room, pool table, pinball, bar, 60" TV, Netflix, luxury home on LKN. Inspirational sunset, deck over water. Pvt beach, pier. Peaceful, quiet, secure, stunning amenities. Winding roads for exercise. Park, food, shpg, close. Boats OK. Sorry no pets please.
Private Quite Romantic
Private Quiet Extraordinary
Bill was fantastic! Super laid back and very accomodating! His communication was excellent! The space exceeded our expectations and was very clean and inviting. Has all you need and then some! Private entrance was great, very secluded and made for a perfect romantic getaway. Enjoyed having the views of the lake, access to the pier, and the comfy bed after a long day playing on the lake!
Corina
2016-06-18T00:00:00Z
This location was beautiful! The room is in the downstairs of the house with a great view of the lake. It was a very private, comfortable space in a nice, peaceful neighborhood. The only negative I had was that the den area smelled pretty strongly of smoke, but the bedroom and bathroom weren't bad. Plus, this was a great place to spend time outside. We really enjoyed our stay here.
Pam
2016-06-06T00:00:00Z
Great communication. Beautiful space.
Megan
2016-08-15T00:00:00Z
Such a great space! The hosts are vey hospitable, nice and accommodating. The lake is right there and has a sandy beach. We loved this place and Bill and Deb!
Rhonda
2016-06-14T00:00:00Z
The location is picturesque, clean and quiet, perfect for the sleep-in atmosphere I was looking for. The amenities were adequate for a small cook in meal if you want to eat in. I liked the attention to detail by adding the '' just in case'' travel size personal items. Bill is pleasant and easy to approach, unobtrusive and professional, he quickly answered my questions as I was planning my trip and resolved any issues that presented it self. I would choose Bill's place again for a quiet respite in the future. Cheryl
Cheryl
2016-09-24T00:00:00Z
When we first arrive, Bill greeted us with open arms... literally. During our stay, we saw him in passing, never without a smile on his face. The house and the property both were extrordinory. We were sad to leave, but will probably be returning in the future.
Rebecca
2016-07-16T00:00:00Z
I had a opportunity to experience Lake Norman and Bill and Deb provided that for me at their home. The integrity of the ad was most important in this review.What Bill and Deb promised was kept. I had a splendid time the private entrance to the place as well as the water and plenty of space. So nice to sit and relax with peace and quiet. Such enjoyment doing yoga with Aussie and Griffen, their dogs, it was hysterical, I wished I had had my phone to take a pic. Beware of the Goodie basket of sweets left by Deb, it's dangerous. There wasn't too much in the basket when I left. Good day, Donna
Donna
2016-09-09T00:00:00Z
We really enjoyed our stay. The pinball and pool table was perfect for us! It felt like our little space, we spent most of our time on the deck enjoying the beautiful weather and view! The dogs Griffin and Oz were perfect little companions! Thank you Bill and Debbie for being wonderful hosts
Nicole
2016-09-18T00:00:00Z
Room Type
Private room
---
Property Type
House
---
Accommodates
2
---
Bedrooms
Mooresville, NC, United States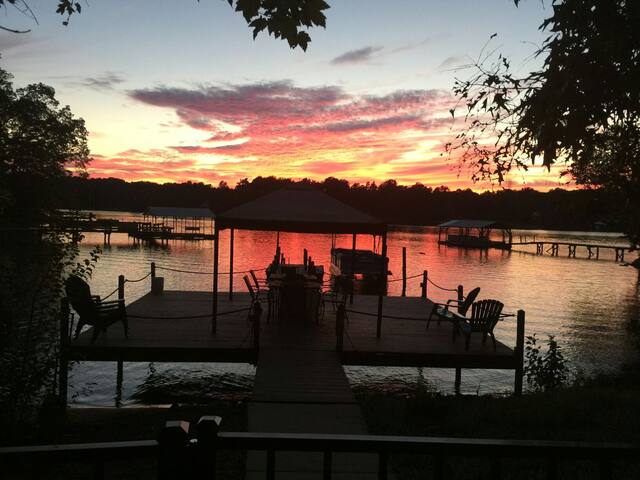 Nestled in the midst of tall Carolina Pines, surrounded by beautiful Lake Norman, this property is an oasis away from the hectic world, yet only a quick drive to shops, restaurants, theatres, Nascar Museum and 15 minutes to Davidson College!
Sleeps 2 comfortably & could add your baby crib or child, if desired. Perfect for a married couples get away, a special sister's vacation, or a time for solitude! Includes a microwave, mini refrigerator and Kurig coffee machine. A great place to awaken surrounded by beauty or unwind and relax after a day of fun activities.
Gorgeous, upscale neighborhood with lush landscaping and tall pines throughout. Quiet and peaceful. Perfect for long walks, jogs, or biking with Lake Norman surrounding you. Very safe. Shopping and Restaurants within 10 minutes. Public golf course & tennis courts within 5 minutes!
My husband and I had our first stay with AirBnB at Ann's place, and it could not have been a better experience. We adventured from Minnesota to get an idea of what it would be like to live in the suburbs of North Carolina and loved it. Ann and Dave were both so welcoming, and the space was perfect. The photos are perfectly accurate, but almost don't do the sweet loft justice! When we arrived Ann had the lamps lit and music playing. There was a basket with popcorn and snacks on the counter and bottles of water stocked in the fridge. The space was cozy and clean, with everything we could have needed. Ann shared fun stories about her family, recommendations for the area, and showed us their beautiful home, and Dave wrote up directions when we wanted to avoid traffic and see some sights on our way to NoDa brewery in Charlotte. Mooresville is a sweet southern city with great food and good people. It was perfectly between the big city and the mountains so we were able to get a full experience of all NC has to offer during our stay. I would highly recommend staying here!
Carly
2015-07-27T00:00:00Z
This was our very first airbnb experience and it could not have turned out any better. Ann and Dave were exceptional hosts and we thoroughly enjoyed meeting and talking with them. They even spent and evening with us to answer many questions we had as we consider a possible future relocation to the area. Their loft is beautiful - a warm and welcoming place to stay. We thoroughly enjoyed meeting Ann and Dave and their daughter and are so appreciative and grateful for the kindness and friendliness they afforded us. Tom and Linda Edgar
Thomas
2015-08-23T00:00:00Z
Ann was wonderful! She was very understanding and helpful when dealing with unforeseen issues on our end. Will definitely recommend to friends
Kayla
2016-10-09T00:00:00Z
Such a great spot! Ann was a very good host. We knew everything we needed without having to ask. There was a helpful binder full of eating and entertainment suggestions. Lots of nice treats including scones. Great place, great host, would stay again in a heartbeat.
Matt
2016-07-03T00:00:00Z
The loft was perfect was our overnight stay. Ann and Dave were away when we arrived but left a key for us. The loft was spotlessly clean, quiet, comfortable, and cozy, with everything we needed (coffee pot, frig full of drinks, snacks, TV...). The king size bed was extremely comfortable. Everything was top notch. We will definitely stay here again when we travel from Ohio to Charleston, SC.
Greg
2014-10-20T00:00:00Z
I would recommend Ann's place to everyone! She was extremely welcoming, greeting us with some home made cookies. The room itself was perfect! Kitchenette had everything you might need. We had an amazing weekend thanks to Ann sharing her home with us.
Zoe
2015-09-28T00:00:00Z
What a cozy and accommodating loft, in such a great neighborhood! Ann and her family were very welcoming hosts. We would definitely recommend this loft to anyone looking for a quiet, peaceful getaway with lots to do. Thanks Ann!
Andy
2016-10-02T00:00:00Z
A great experience! Beautiful apartment, and Ann was fantastic. Very welcoming and saved us when our stay had to be extended a little! Fully recommend if you just want to escape from life for a weekend!! Thank you
Andy
2016-11-20T00:00:00Z
Room Type
Entire home/apt
---
Property Type
Loft
---
Accommodates
2
---
Bedrooms
Mooresville, NC, United States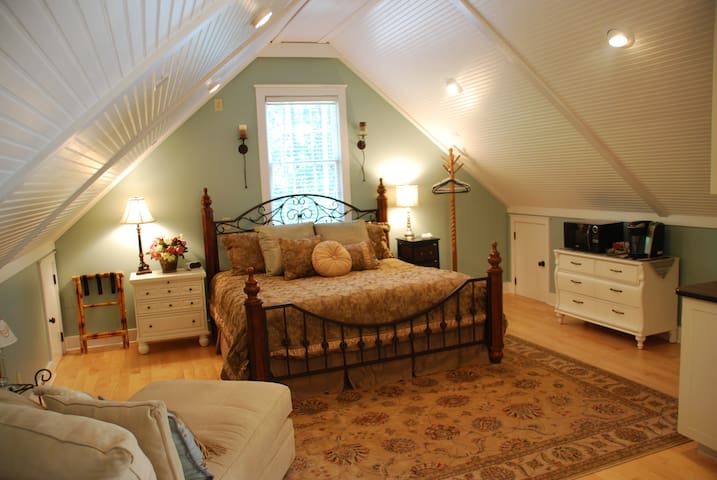 One large studio bedroom with small kitchen and bathroom. Beautiful location right on Lake Norman. There could be guests in the unit above this and behind it. The entire unit is a private suite with it's own entrance, kitchen, bathroom etc...
The place was beautiful, just misrepresentation of the fact there is an apartment that adjoins the unit separated by an interior door.
James
2017-03-12T00:00:00Z
This was an amazing find! The apartment is right on the lake and feels very peaceful by the water! We loved our stay. Only stayed one night but wish we could have spent more time here. Danny was an excellent host and accommodated our needs. Would recommend highly!
Katherine
2017-02-05T00:00:00Z
Stay away from this property. This is a finished basement at the dry end of a cove. Will not accommodate a boat and trailer. Owners have two cars blocking most of the driveway when you pull in. They will tell you to leave your trailer at the public boat ramp. I was told prior to booking that boat parking was not a problem. Broken furniture and shelving met us at the front door. Pile of garbage in the yard where I guess they do open burning. Complete disaster.
Mike
2017-03-23T00:00:00Z
We loved this place, very nice, spacious, and clean. Fantastic location on the water, beautiful setting. Nice. large furniture and we enjoyed chatting with the host, she is friendly. She also gave us privacy. Short walking trail a 5 minute walk from the studio. The lake is right out the studio door, you can see the water the entire time while in the studio. Excellent place especially for this price. Highly recommend!
Suzanne
2017-02-26T00:00:00Z
We had a great time! The place was so perfect. I had an amazing Saturday on the lake fishing off the dock. We will surely be coming back again!!
Chelsea
2017-02-12T00:00:00Z
We greatly enjoyed our stay here! The studio was huge! We wish we could live there full-time. ;) It will especially be near and dear to our hearts because we got engaged during our stay! We loved everything about this place! We can't wait to visit again!
Evan
2017-02-16T00:00:00Z
Quiet place to stay on the lake
mike
2017-03-26T00:00:00Z
We had a great stay. The studio is very nice and very spacious. Our host was more than accomadating. Would definitely stay again.
Jeff
2017-01-13T00:00:00Z
Room Type
Entire home/apt
---
Property Type
House
---
Accommodates
4
---
Bedrooms
Mooresville, NC, United States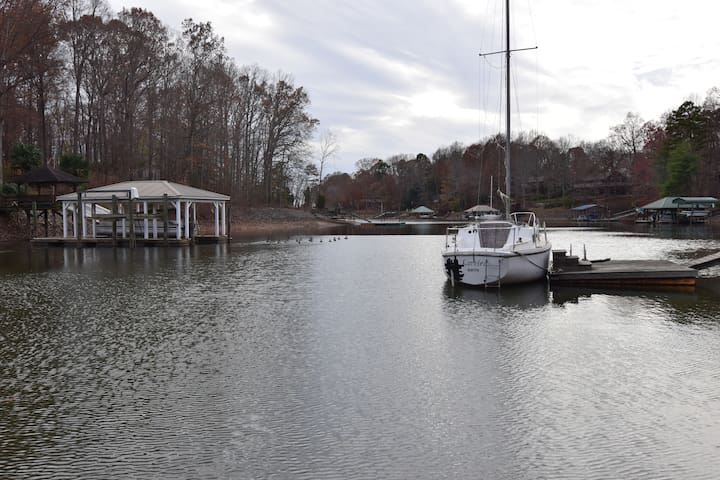 The master BR has a king bed. 2 bunks in the second bedroom. Like new and located in a quiet, peaceful, safe area, just minutes away from Lake Norman, shops and restaurants.
The master BR has a king bed. The 2nd BR has 2 bunks (4 single beds.) Equipped with a pull out couch. Like new and located in a quiet, peaceful, safe area just minutes away from Lake Norman, shops and restaurants. It is located about 4 miles off I-77 Approximately 25 miles north of Charlotte NC in Mooresville NC.
The RV is located in a peaceful, quiet, safe area just minutes from Lake Norman, shops and restaurants. Located approximately 25 miles north of Charlotte NC
What a great place to stay for either a day or a week.This is our 3rd stay there.Highly Recommend.Very nice at a great price.
alex
2016-09-29T00:00:00Z
Drena and John were friendly and kind hosts for our stay in the RV&B! My husband and I, along with our two kids, had an enjoyable stay in the RV. It was a novelty for all of us. It was actually more spacious and comfortable than I had envisioned. We were happy for the generous coffee, treats, and bagels that were left for our consumption. All the beds were made up quite comfortably and it's clear the RV has been kept in excellent condition. The kids also enjoyed the swing set & outdoor toys. The area was quiet and very accessible to the freeway and the nearby towns we were scoping out for our upcoming move. Thank you, and we definitely recommend a stay here!
Jessica
2015-06-27T00:00:00Z
Drena and her husband were great!! Quick to help when needed and very welcoming! The place was clean and she even left us fruit and bagels. It was quiet and in a nice area! I would suggest her for anyone traveling in the area.
Melissa
2014-08-18T00:00:00Z
Drena was an amazing host. So welcoming and really made our first experience comfortable and memorable. The RV was perfect. Everything was so clean, in fact spotless was the word that came to mind. When we arrived, the air was on and everything was cool and comfortable on such a hot day. The grounds were beautiful and the area around the RV was so quiet and relaxing. We were so impressed we extended our stay and additional night and will be staying with Drena again when in town. We arrived as strangers and left as friends. That's the best kind of travel experience!
Doug
2015-07-24T00:00:00Z
It was fun to try out RV living. I had experience, but my friend didn't. Really spacious and nice inside.
Barbara
2017-02-03T00:00:00Z
Host made me feel comfortable and welcomed. The neighborhood felt safe and was nice and quiet.
Todd
2016-09-18T00:00:00Z
Keeping in mind this is an RV, our stay was very pleasant. The hosts were friendly and accommodating and the trailer itself seems brand new and was totally clean. We had a very cold night and the furnace didn't quite keep up but the beds were warm. We also didn't have enough hot water for the 4 adults staying to take showers but it's probably not designed for that anyway. Overall it was very nice and we'd do it again, especially for the cost.
David
2015-11-21T00:00:00Z
We sadly only spent a night in Drena's RV for one night but we loved the experience. She had everything ready for us and even laid out breakfast which we didnt get to even sample. If I had a chance, Id definately stay there again. The location is kinda rural and really pretty but literally 10 minutes away, you havze great restaurants and all the modern conveniences. Drena and John were very kind and accommodating. Great experience!
Claire
2015-07-30T00:00:00Z
Room Type
Entire home/apt
---
Property Type
Camper/RV
---
Accommodates
8
---
Bedrooms
Mooresville, NC, United States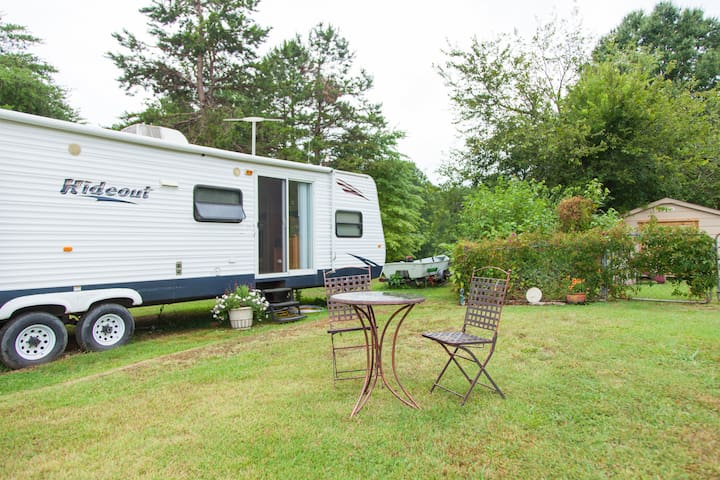 The Lawson Home is close to Lake Norman, Nascar Museum, Boating at Queens Landing, Great Restaurants and shopping, Lake Norman State Park, hiking and Biking, Daveste Vineyard, Raffaldini Vineyard, Lazy Five Ranch, US National Whitewater Center, Davidson College, Historic downtown Mooresville, Trump golf course at The Point 5 min away, 1h1/2 to Blowing Rock, 2 hours to Ashville, and much much more!!
Beautiful setting. Right off lake Norman. Private entrance and lower porch is for guest only. Plenty of lake activity and great restaurants to enjoy. When you want to stay in there is a fridge, microwave, toaster oven which is also for baking, and a grill located on the lower porch. There is also a fire pit right off the lower porch area for guest use surrounded by woods and large rocks where you are welcome to explore.
Very beautiful, quiet and safe neighborhood. Our home is located in Shavenders Bluff off Lake Norman.
We had a wonderful experience staying in Carla's home. Everything was so clean and nice and absolutely beautiful! Carla is so friendly and she made us feel right at home. I would definitely stay here again!
Robin
2016-08-01T00:00:00Z
Our host Carla made us feel very welcome, the location and description of the listing was spot on, and the neighborhood was very nice. Great view of Lake Norman from the front porch and we were close to the Carolina Renaissance Fair in Huntersville, which was really nice for our trip. We didn't have much time to explore the area or use the other amenities, but the fire pit was right there for roasting marshmallows and everything you would need to use the grill on the porch was provided. Having the toaster oven, microwave, coffee maker, and fridge all in the space made snacking, breakfast, and hanging out with others in our party super convenient. We definitely recommend this location for anyone looking for a fun weekend getaway or a nice clean and comfortable place to lay your head at night!
Kestrel
2016-11-13T00:00:00Z
Beautiful house, gracious hosts, wonderful experience. Carla's house is even nicer than the pictures show. Lovely front porch, massive master bathroom, incredible back yard. Carla and her husband live in the separate portion of the house. She stopped by to say hello and was there if we needed her but the space still feels very private. The peninsula is beautiful and just minutes away from grocery stores and restaurants. The unit does not have a kitchen sink or stove but there is a brand new grill, and fridge which we used for our meals. We loved our experience, you will too!
Charlie
2016-07-24T00:00:00Z
I would like to start by saying my flight arrived very late and I didnt not arrive to the house until well after midnight. Carla stayed up to let my family and I in, and greeted us with a smile. She went out of her way to make us feel welcome and was always available when we had a question or needed something. The house is even more then amazing then the pictures look and is very comfortable. The neighborhood in beautiful and quite. After we departed Carla contacted me and informed me that my sister had left some belongings behind, rather then having us go all the way back to get them she had her husband meet us on his way to work saving us the trip. I would recommend this home to anyone and everyone. Thank you again Carla for everything.
alexander
2016-11-29T00:00:00Z
We had a lovely, relaxing stay at the Lawson's well-appointed 2 bedroom apartment. It was easy to access the lake, attractions, and restaurants from a quiet, safe, and beautiful neighborhood. We will definitely return!
Julia
2016-09-06T00:00:00Z
This was our first experience using Airbnb. We were not sure if this place would live up to its description. We were amazed with the overall experience. The apartment was SPOTLESS, spacious 2 bedroom, beautifully decorated, 10-12 ft high ceilings with comfortable queen beds. Host made available two mountain bikes and rented us a paddleboard. You can see Lake Norman across the street. The lake has a beach access that is a 5 minute walk away. My husband and I had a large master bedroom/bath. My brother stayed in second bedroom with use of guest bathroom with shower down the hall. Every detail was thought out; bug spray outside, access to grill, tiki torches, rocking chairs, beach towels, stocked kitchenette (microwave, convention oven, kitchen utensils) and great keyless entry. Host living upstairs was not an issue. We got back late one night and had forgotten to leave any lights on yet porch light was left on. Overall great experience. Highly recommended.
Ana
2016-10-02T00:00:00Z
Carla's place is even better than the pictures show. Upon my arrival she met me with a smile and showed me around the lower level. Carla was very hospitable throughout my whole stay. I was able to catch a sunset from the front porch one night and it is one of the greatest lake sunset views I've ever seen. 5 Stars!
Michael
2017-03-16T00:00:00Z
Beautiful! We spent an amazing weekend here. Carla was so helpful and attentive to us and our needs! I would recommend to anyone!
Jeron
2017-04-09T00:00:00Z
Room Type
Entire home/apt
---
Property Type
Apartment
---
Accommodates
4
---
Bedrooms
Mooresville, NC, United States
Our 2 bedroom, 2 bath duplex home consists of a master bedroom and private bath, laundry and fireplace, second bedroom and bath, full kitchen, great room with sleep sofa and futon plus dining area that leads to a screen porch with hot tub. The deck and dock are steps away.
This comfortable vacation duplex home is located in a lovely, quiet neighborhood but is only minutes away from great restaurants, shopping and recreational activities. Our son lives in the adjoining unit, each completely private. You will enjoy our large dock on a private cove and the hot tub on your private screen porch. A public boat launch is only 5 minutes away and access to boat, jet ski and kayak rentals is nearby. You will also be able to enjoy cooking in our brand new kitchen and dining inside or on the screen porch. A high chair is also included. The master bedroom boasts a king bed and fireplace for a romantic evening while a second bedroom has a queen size bed and a second bath. And of course there's free WiFi and cable TV. All in all this is a lovely getaway spot for couples or families.
Shavenders Bluff is a beautiful quiet neighborhood in a private setting but close to wonderful restaurants, recreational facilities and great shopping just in case you can tear yourself away from our beautiful Lake Norman.
This is a great place! Beautiful surroundings, highly desirable communal gathering space perfect for groups. Communication and friendliness were top notch with Inez. I called her twice for help with two different things and she was very quick to assist! We had a great time and really enjoyed ourselves. Highly recommend for some relaxing quality time with friends and/or family! Thanks Inez!
Sarah
2017-02-26T00:00:00Z
Very great stay, plan on staying again
Cameron
2017-03-15T00:00:00Z
Great time at Lake Norman. Perfect relaxing get away vacation.
Elizabeth
2017-04-03T00:00:00Z
Inez was extremely friendly and accommodating. She was certainly attentive to the rental and our comfort. We would highly recommend staying here. Very comfortable and peaceful.
Diane
2016-12-08T00:00:00Z
What an amazing stay! The lake house was perfect. The check in process was super easy and communication leading up to the stay was quick and pleasant. The house is pretty centrally located. Close enough to stores but far enough that you really feel close to nature. Overall amazing stay and would highly recommend.
Lauren
2016-08-19T00:00:00Z
What a great experience! This was our first AirBnB in the US and we couldn't have been happier. Gorgeous home and views with every amenity provided. Inez was very attentive and responsive to any questions we had, but overall we didn't even need to bother them while we stayed. Clean rooms, super cozy, hot tub was perfect, loved the deck for morning brunches on the water, propane grill for easy cooking! Perfect vacation home and we'll gladly come back if we swing the North Carolina next year. Thanks so much!
Dustin
2016-05-10T00:00:00Z
We enjoyed a relaxing girls weekend at the property. Inez is the perfect hostess! She stopped by to greet us upon our arrival and provided great restaurant suggestions. The home was very charming, clean, and comfortable. The views were fantastic and the location is peaceful and quiet. Everything exceeded our expectations and we look forward to returning in the future!
Rebekah
2016-11-06T00:00:00Z
My son attends Belmont Abbey College so we visited the area for Thanksgiving so he would not have to travel home. Inez is such a wonderful hostess! She was extremely attentive to our needs and completely accessible. Their home his lovely and suited all of our needs. The home sits nearly right on the water and the views are spectacular! We didn't get a chance to do anything related to the Lake but we definitely had a great time! Thank you for everything, Inez! We thoroughly enjoyed our visit!
Shana
2016-11-27T00:00:00Z
Room Type
Entire home/apt
---
Property Type
House
---
Accommodates
8
---
Bedrooms
Mooresville, NC, United States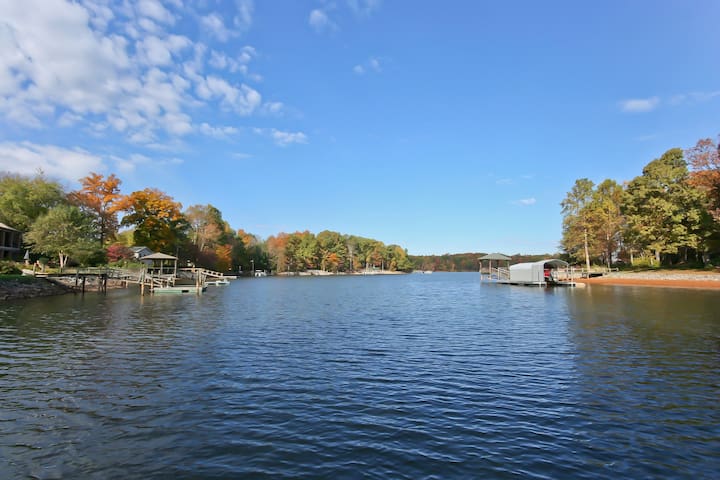 My place is close to family-friendly activities, nightlife, and the airport. My place is good for couples, solo adventurers, business travelers, families (with kids), big groups, and furry friends (pets).
The house is a great option for families traveling with kids! The home was right on the lake and was beautiful! There was plenty of space with four bedrooms and four bathrooms! There was a lovely screened in porch, and a deck on the lake. The beach area allowed for countless hours of fun for the kids. The name of the house is fitting as it is hidden away! It is the perfect balance of privacy yet not very far from Charlotte. We were having such a nice time that we had to extend! :)
Robert
2017-03-02T00:00:00Z
Awesome host. Awesome place. Awesome location. Charles was very responsive, helpful & kind. We are already looking forward to going back!
John
2017-03-28T00:00:00Z
The host was absolutely amazing to work with. Very good in communication. Very nice, quiet, beautiful and a convenient place, And I am definitely going to stay here every time I'm in charlotte.
Abbasali
2017-02-06T00:00:00Z
Chuck was a great host and very accommodating and easy to get a hold of and talk to. We had a late flight at night the day of the departure and he helped organize a place next door to store our luggage and take showers. Beyond the call of duty. Great house and very quiet and scenic.
Jesse
2017-04-02T00:00:00Z
This house was perfect. We felt like we were in our own home. It was very welcoming and cozy. The view is out of this world, and the outdoor landscape is beautifully done. We love to cook, and this kitchen was more than fully stocked. The beds were very comfortable and having 3 King size beds in one house is unheard of! Although our group was all adults, I feel like little kids could have a blast here too, there are games to play and even sand toys. The seclusion made this place a great getaway. We were greeted by a heard of deer when we pulled in. This place blew our expectations out of the water. Pictures and descriptions do not do it justice. We would definitely love to come back and stay here again.
Adam
2017-02-20T00:00:00Z
It was a beautiful location and had an amazing time
Mariam
2017-03-05T00:00:00Z
Room Type
Entire home/apt
---
Property Type
House
---
Accommodates
15
---
Bedrooms
Mooresville, NC, United States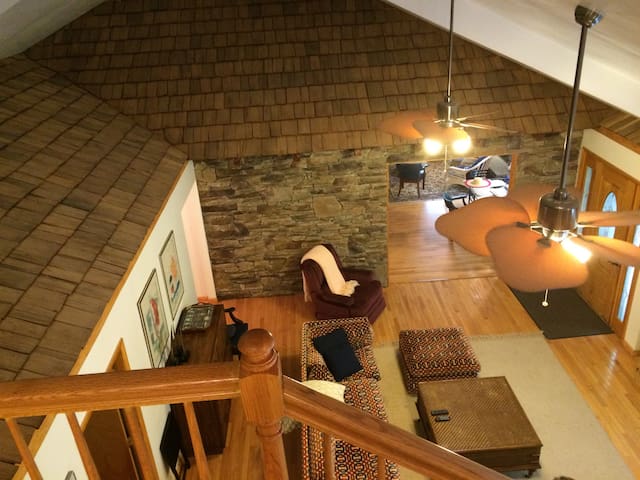 The Cupola is walking distance to two Marinas, Boating, and SUP Boarding! Convenient to Restaurants, Shopping, NASCAR Teams & The Charlotte Motor Speedway. Plenty of family-friendly activities such as dinner cruises, go-carts, dining, & concerts. The Cupola is perfect for couples and furry friends, see "3rd bedroom" in living room. With all LKN has to offer, we hope you'll find time to truly relax here. We are so excited to have the opportunity to host your memorable stay at Lake Norman!
Beach style, open floor plan home with a private pool and water view.
Quiet, lake cove cul-de-sac. You may see residents out for walks and golf cart rides. Nearly no street traffic.
Great vacation spot. Very close to Lake Norman and Nascar Racing venues. Great home for couple and their pets. Awesome pool. Very private. Home decorated nicely. Spacious parking.
Kelly
2017-02-19T00:00:00Z
Joel was a very gracious host and went out of his way to make sure that we had everything we needed during our 2 week stay. The house and pool were exactly as advertised and exceptionally clean when we arrived. He even had the place stocked with a few beverages and a fruit basket when we arrived. I would definitely recommend to anyone for a pleasant stay in the Lake Norman area.
Ron
2017-04-01T00:00:00Z
Room Type
Entire home/apt
---
Property Type
House
---
Accommodates
4
---
Bedrooms
Mooresville, NC, United States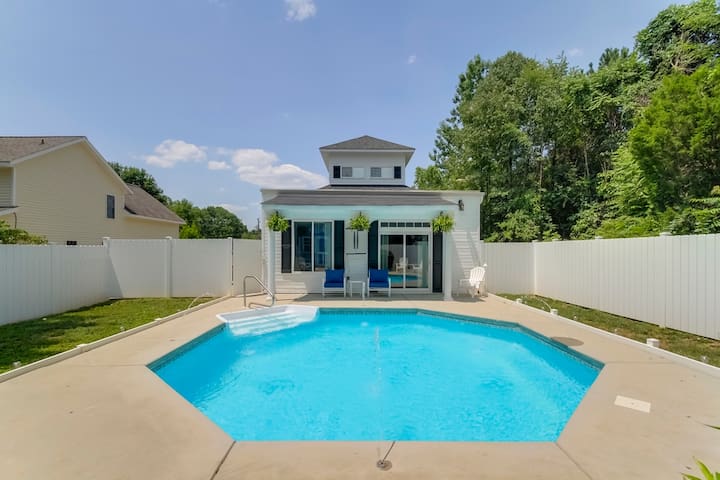 Loft is located across the street from Lake Norman with lovely lake views. The neighborhood is great for walking ! It is close to Downtown Mooresville, Lake Norman State Park and only 30 minutes from Charlotte. You'll love the quiet and safe neighborhood, comfy bed, full kitchen, and cozy environment. Great for couples, solo adventurers and business travelers.
Quiet neighborhood with easy access to amenities such as shopping, restaurants and Interstate 77.
Room Type
Entire home/apt
---
Property Type
Loft
---
Accommodates
4
---
Bedrooms
Mooresville, NC, United States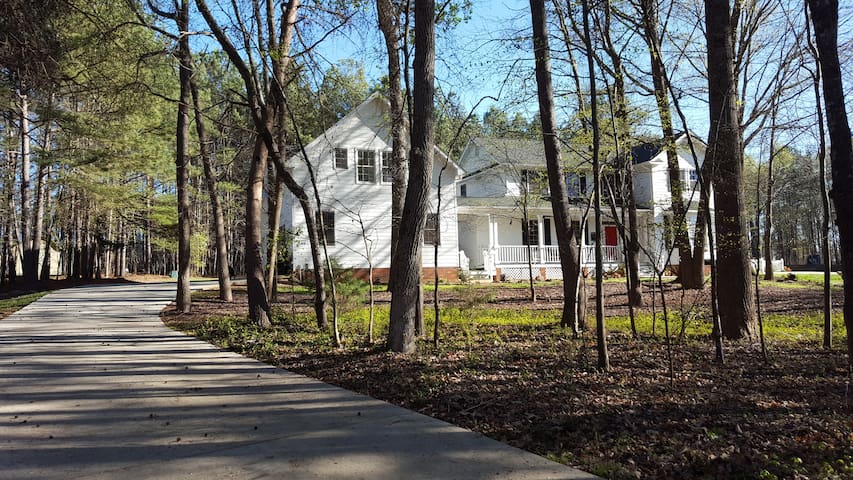 Updated and modern. This space has everything you will need for a comfortable stay. There is one bedroom with a new queen mattress, and a twin sized day bed in the living area nook. It is located a quarter mile from the Mooresville police department, and a 1/2 mile sidewalk stroll to Main St where you'll find lots of cool shops and great dining. The neighborhood is not upscale but very safe. There is a vacant property next door but the neighbors across the street own it and keep it up.
Jody was very accommodating to me on short notice that I needed a place for one night. While not in the fanciest area of town, the house was clean, neat and was well represented by the photos on her site
John
2016-01-28T00:00:00Z
We have stayed at Jody's place several times and it works out great for us!
Sherrie
2016-08-07T00:00:00Z
The house is comfortable, and within walking distance of the downtown area. I would definitely recommend staying here.
Andrew
2016-10-20T00:00:00Z
Everything was just as pictured and described! Jody sent us clear directions on how to get in, passwords for wifi & to, and where to find towels, etc. it was very private & quiet-just what we were looking for. Jody responded quickly to any questions we had. We were very satisfied and will recommend to anyone looking for a place. Thanks Jody. If we come back this way we'll stay again!
Ron
2016-01-19T00:00:00Z
This was our first AirBnB experience and it was positive. I was glad I read all of the reviews so I knew what to expect. The exterior of the home needs some work but the interior was very nice. It can be tricky to find in the dark so follow Jody's directions very carefully. Jody responded to me very quickly each time I had a question. We literally used the house for the beds as we got home late and left very early in the morning so I can't comment on any of the appliances. I do suggest bringing coffee with you as there is a coffee maker. I am from New England and coffee is easy to find but not so in Morresville! That said there are a lot of fast food chains, Target, Dicks, etc. right nearby, just not coffee!!!
patty
2016-08-19T00:00:00Z
Jody accommodated us on short notice when our flight was cancelled and we had to stay another day. It was perfect...she's a great host with a home that fit our needs perfectly.
Cherrie
2017-01-27T00:00:00Z
This house was awesome for my trip to Mooresville. The place is beautiful and it's centrally located. Everything I had to do was only minutes from the location. The house was immaculate. I loved the layout. Jody's instructions were all I needed to make this an enjoyable visit.
James
2016-04-07T00:00:00Z
Great experience. Convenient, cute, cozy, comfortable and clean. I had everything I needed and I will stay here again!
Sherrie
2016-04-25T00:00:00Z
Room Type
Entire home/apt
---
Property Type
House
---
Accommodates
3
---
Bedrooms
Mooresville, NC, United States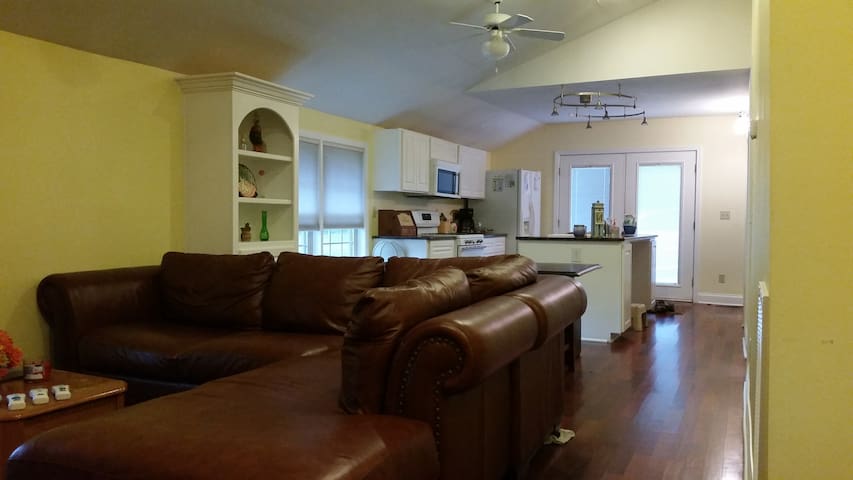 Lake front home at the end of a quiet cove on the north end of Lake Norman (above the Highway 150 Bridge). There are 4 bedrooms and 4.5 baths, with several decks and a screened in porch for relaxing and gathering together family and friends.
This home rents by the week or select weekends. Enjoy lake living at this 4BR/4.5BA open floor plan home on beautiful Lake Norman. Private lakefront home at the end of a cove at the north end of the lake. Enjoy swimming, kayaks, canoes or bring your own boat to the two story dock. There are also places to rent a boat or jet-ski on the lake and over 8 restaurants on the lake to go to dinner by boat. The lower level has three bedrooms, two baths and a large den with big screen TV. The first bedroom has a queen bed and looks out over the lake and has a private bath. The second bedroom has twin beds and looks out at the lake. It shares a full bath with the third bedroom which has two daybeds (one expands to a king size bed). On the main level there is a bedroom with a queen bed and private bath. There is a full kitchen with granite countertops and stainless steel appliances. There are washers and dryers on both levels available for use. With seating for 8 at the dinner table, and is perfect for a family or friends gathering and can be a great place for wedding or graduation attendees to stay. Relax on the screened in porch, expand to three other decks, or enjoy the waterfall at the front door. We are about a 10-15 drive from Exit 42 or Exit 36 of I-77 in an area where it is peaceful and quiet (the property is over an acre of land). There are numerous restaurants/retail locations (including a Harris Teeter/SuperTarget/multiplex theatre and chains including Chik-Fil-A, Chili's and O'Charley's) about 10 minutes away.
This was our third time to stay at Leesa and Todd's house. As always, the house was beautiful and just as described. The dock and waterfront area are amazing and are the perfect setting for a wonderful relaxing vacation. Leesa and Todd are very accommodating and responsive to any questions. Their home has become our favorite vacation spot!
Kathy
2016-07-03T00:00:00Z
We spent 3 nights on the property with our two teenagers there was plenty of room for the four of us. The house was absolutely beautiful and our host you're very warm and friendly. We felt very much welcomed there.
don
2015-08-30T00:00:00Z
I spent 3 nights in Leesa and Todd's gorgeous lake home with my husband and some friends (a total of 9 people) and we couldn't have found a better location to stay! Leesa and Todd weren't home while we were there, but they gave us suggestions for hiking and dining in the area. The lake view provided a relaxing atmosphere while the warmth of the home itself welcomed us from the very beginning. The rooms were comfortable and allowed for plenty of space for all of us. None of us wanted to leave! Thanks again for a wonderful weekend getaway!
Allison
2016-04-05T00:00:00Z
All I can say is sheer perfection! Leesa was so helpful and accommodating. Their home couldn't have been more comfortable and the serenity of their location was more than we could have hoped for. The weather was perfect to take the kayaks/canoe out on the water and the location on the lake was quiet and perfect for a relaxing weekend.
ruth
2016-11-26T00:00:00Z
Our host reached out to us and clearly communicated everything we needed to know about the property. The house was even better than advertised. Lots of great spaces for relaxing -- both indoors and out, including a screened-in porch "in the trees" overlooking the lake and great patio and dock spaces. The floor plan was ideal for guest privacy and for group gatherings. The property is very private in a neighborhood of other large homes with prime waterfront lots. All in all, a really great experience at a great price.
Steve
2016-05-16T00:00:00Z
Hosts were great, very accommodating, flexible and gracious. Neighborhood was quiet, and the lake was awesome. The house was perfect for our first-ever family reunion. We couldn't have asked for a more ideal location.
Debra
2014-07-14T00:00:00Z
Todd and Leese are gracious and fun hosts. The home is beautiful and has everything you might need. We had a great 3 night stay.
Dean
2015-07-20T00:00:00Z
Super comfortable and cozy home! My six friends and I slept well and loved the location!
Marnie
2016-03-13T00:00:00Z
Room Type
Entire home/apt
---
Property Type
House
---
Accommodates
8
---
Bedrooms
Mooresville, NC, United States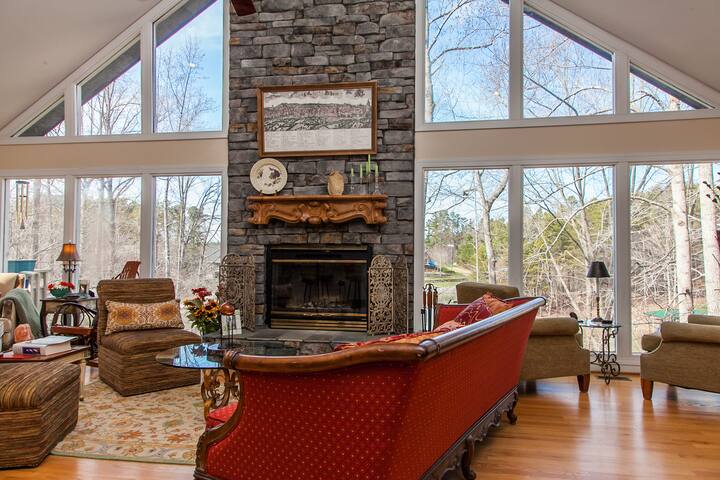 Enter dates to see full pricing. Additional fees apply. Taxes may be added.