2 Thermalbäder in der Nähe, 3 km von Schweizer Grenze und Einkaufszentrum in Laufenburg Deutschland, Gratis-Internet in allen Zimmern, Gratis telefonieren auf Festnetze in EU-Länder und in die Schweiz. Kinderfreundlich, Rasenfläche zum Spielen, Spielplatz 500 m, Freibad 3 km, viele Ausflugsmöglichkeiten im Schwarzwald und der Schweiz, die Gastgeberin gibt gerne Auskunft. Mindestmietdauer 3 Tage, Sat HD-TV Astra und CH-Sender, TV mit Internetanschluss, neues Haus, Bodenheizung, leise Gasheizung
Es hat 3 Schlafzimmer. Das Wohnzimmer hat keine Türe und ist nicht geeignet zum Uebernachten, obwohl man das Bettsofa ausziehen kann. Es hat ein Badezimmer mit Dusche und Badewanne, WC und Doppelwaschbecken. Im Technikraum ist eine zweite Toilette, die Waschmaschine mit Trockner in einem Kombigerät und die sehr leise Flüssiggasheizung.
Das Haus steht in einem ruhigen Einfamilienhausquartier. Es hat Kinder in der Nachbarschaft.
Really great kids/family-friendly house in perfect location. Maria Theresia equiped it with all that needed and even beyond. We spend a great time here, thanks indeed!
Stan
2016-08-13T00:00:00Z
J'ai réservé la maison de Maria Theresia pour mes collègues en déplacement professionnel dans la région. Le séjour s'est très bien passé, ils ont été bien accueillit et la maison était fonctionnelle avec tout le confort nécessaire.
Anna
2016-05-21T00:00:00Z
Room Type
Entire home/apt
---
Property Type
House
---
Accommodates
7
---
Bedrooms
Laufenburg, Baden-Württemberg, Germany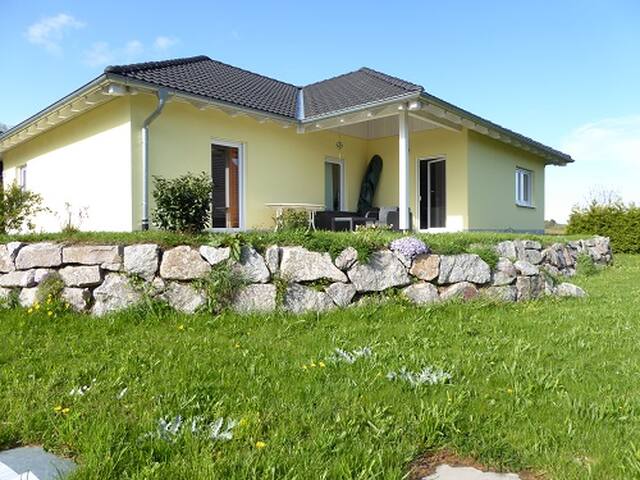 Die herrliche 2,5 Zimmer Wohnung mit Galerie hat 85 qm .Sie liegt im Grünem in der Nähe von Laufenburg .Der herrlicher Garten kann mitbenutzt werden.Sie ist 2 km von der CH- Grenze entfernt. Zu dem Flughafen Basel oder Zürich sind es 40 min Fahrt,problemlos mit dem Zug zu bewältigen. .Das alte,romantische Stadtzentrum ist 2 km entfernt. Nahe Thermalbäder in Zurzach (30 km) und B. Säckingen bieten Wellness, Massagen,.Sauna-Landschaften. Du wirst dich in die Wohnung verlieben!
She was really more than welcome. The house was nice and perfect in a nice and calm area for relaxation
Seyed Reza
2016-09-07T00:00:00Z
The host canceled this reservation 10 days before arrival. This is an automated posting.
Giulia
2016-12-16T00:00:00Z
Henriette ist ein ganz nette, liebe Frau. Alles ist so sauber und so nett. Die wohung is so herrrlich, du fullst dich gleich zuhause weill alles so eingericht is wie ein Haus. Die Balkon ist auch richtig gross. Umgebung ist unglaublich schon! Und alles fur so ein gunstiger preis, echt unglaublich. Wir haben fur 4 nachten gebucht, und sind noch ein nacht langer gebleben. Kein problem, das ist auch so toll! Wenn wir wieder im Basel mussen sein, kommen wir her bestimmt wieder zuruck. Wir uns echt woll gefullt bij Henriette, ein herlich und ruhig verbleib.
H.J.C.
2016-09-16T00:00:00Z
Room Type
Entire home/apt
---
Property Type
Apartment
---
Accommodates
4
---
Bedrooms
Laufenburg, Baden-Württemberg, Germany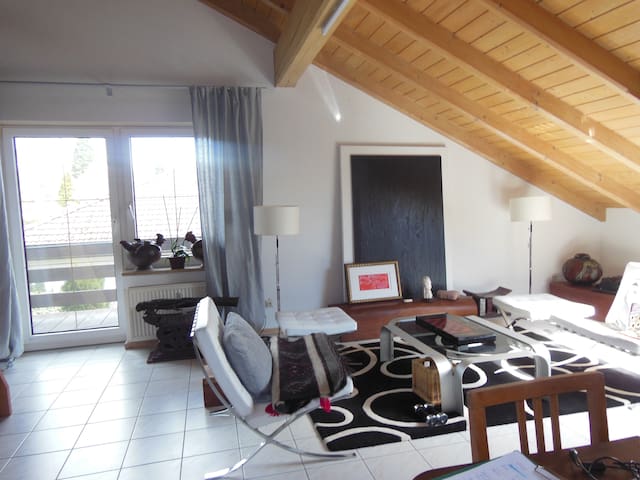 Unsere 2 Zimmer FeWo mit Terrasse liegt im Herzen einer bemerkenswerten Landschaft zwischen der schweizer Jura und dem südlichen Schwarzwald. Und bietet Platz für 2 Erwachsene und 2 Kinder Die Voll ausgestatete Küche lässt keine Wünsche Frei.
Ob Spannung oder Entspannung - hier findet jeder das Richtige. Skifahren in Winter (15km bis zum nächsten Skilift) oder surfen am Schluchsee im Sommer. Rund um unser Haus finden Sie sehenswerte und erlebenswerte Freizeitangebote, Schwimmbad, Wanderwege und Schifffahrt am Rhein gehören dazu. Die reizvolle Landschaft und Kultur laden zu ausgiebigen Erkundungen und Tagestouren ein. Ein Ausflug nach Basel, Zurich, Lörrach, Waldshut oder zum Rheinfall in Schafhausen ist immer eine Reise Wert
The reservation was canceled 157 days before arrival. This is an automated posting.
Pik Leng
2014-11-19T00:00:00Z
This was a lovely stay for unfortunately a very short period of time. We would like to come again and stay a bit longer next time! Everything was clean and comfortable. Also, the surroundings are absolutely stunning.
Marlein
2014-12-14T00:00:00Z
Although we did not meet our hosts, that were on vacation, the experience was just fine. The small city was very nice, the house is located in a quiet area not too far from downtown (although having a car would be important when staying there). The apartment was very spacious, kitchen had everything we needed, communication with the hosts was fine.
Victor
2016-06-07T00:00:00Z
We were warmly greeted by our hosts on our arrival and given the key to the apartment. The apartment is a nice size with large rooms for the kitchen, bedroom , living room and bathroom. It is like a home from home with all the nice touches you would hope for in a holiday rental. There is information available for the local area and beyond and Adam even loaned us a local road map when we drove up into the Black Forest which was really useful. The kitchen is fully equipped with dish-washer, oven, micro-wave and fridge freezer. It seems all relatively new and easily useable. The lounge is large and has a large flat screen TV with DVD and surround sound. So you can put your feet up and watch some TV after a days outing. There is a washing machine for your own use (2 euros charge) complete with washing powder, pegs and an airer. There is even a garden area where you can relax in your own space when the weather allows and also private parking. The apartment itself is located just outside Laufenburg (about 2km) so you can walk into town or take the car. You can park for free in designated parking bays in the town for 2 hours so long as you display a blue badge indicating the time you arrived. Adam and Eva left us alone but were there for us in case of any problems. We had a slight problem with the DVD but Adam found a solution to that very quickly; excellent. Our holiday itinerary meant that we could only spend a couple of nights in Laufenburg but we want to return at some time to explore the area more thoroughly.
John
2015-05-06T00:00:00Z
What an amazing holiday we had at Adam and Eva's place in Laufenburg. Stayed there 4 nights. Their place is unbelievably clean and very well equiped with all the amenities. Wish we could have stayed longer because we felt so comfortable and relaxed. The #1 place to rent if in Laufenburg!!! Denis and Diane from Montreal, Canada. P.S. Laufenburg is very picturesque.
Denis
2014-09-19T00:00:00Z
The Ferien Wohnung from Adam and Eva is very good. There is a lot of space and you have your own entrance. The contact with Adam and Eva went easily and our journey could even be switched to another date. At arrival Adam showed us around and coffee, tea, wine and fruit were already available.
Carlijn
2014-11-18T00:00:00Z
Adam and Eva's apartment is quiet and nicely furnished. Adam greeted us and helped us get settled in. It was the perfect place for us to rest and recover from the jet-lag after a long trip from the USA. It is nicely located for day trips and Laufenburg is a charming city. We would love to return someday.
Virgil
2016-07-16T00:00:00Z
Ein sehr schöne Aufenthalt bei Adam und Eva! Die Gastgeber waren immer sehr hilfsbereit und nichts hat gefehlt. Die Gegend ist sehr schön und war einfach perfekt für einen kleinen Urlaub für uns. Definitiv würden wir die Ferienwohnung weiterempfehlen.
Denise
2014-08-10T00:00:00Z
Room Type
Entire home/apt
---
Property Type
Apartment
---
Accommodates
2
---
Bedrooms
Laufenburg, Baden-Wurttemberg, Germany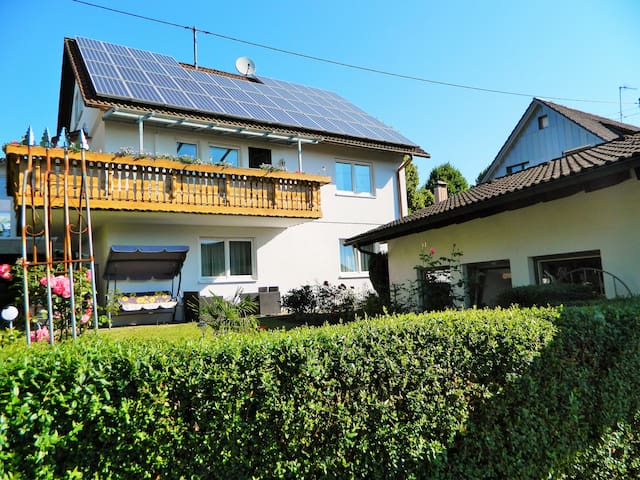 At a beautiful location, the Rhine 100 meters from the apartment is for 1 to 6 people on the 1st floor: Bookable easy möbiliertes single room with shared bathroom, both in the hall and the kitchen to share. Free parking and bicycle depot be rented Wallbach is a village with traditional companies.
Beautifully situated on the Rhin ca. 100 m. On the 1. Floor be located the apartment for 1 to 6 Persons, where are a simple singleroom and the bathroom both at the corridor. Possible to use the kitchen. Parking free and bicycle available with a deposit. Wallbach is a village with tradition Companies.
Quiet and near the Rhine (100 m) and the swimming area is about 500 to 800 meters: the woods and along the Rhine, nice bike tour to Möhlin and Rheinfelden or stone / Bad Säckingen on the hiking and bicycle path. Boat trip to Stein Säckingen, boarding / landing stage at the restaurant Fabriggli / bistro
Room Type
Private room
---
Property Type
Condominium
---
Accommodates
1
---
Bedrooms
Wallbach, Aargau, Switzerland
My house is near public transport. You'll love my guest for its beautiful surroundings, close to the Rhine., Outdoor space. My accommodation is good for couples, solo travelers, adventurers and business travelers. Bikers and hikers welcome. Guided bike and hiking tours on weekends bookable.
Nous avons été très satisfait de notre séjour chez Katharina et Roland. Malgré la barrière de la langue, tout s'est très bien passé, ils ont été très accueillant et ont été à notre disposition quand nous avions besoin. La maison est très charmante et très propre. L'emplacement est joli et facile d'accès. Nous recommandons.
Nicolas
2017-04-09T00:00:00Z
Room Type
Private room
---
Property Type
House
---
Accommodates
2
---
Bedrooms
Wallbach, Aargau, Switzerland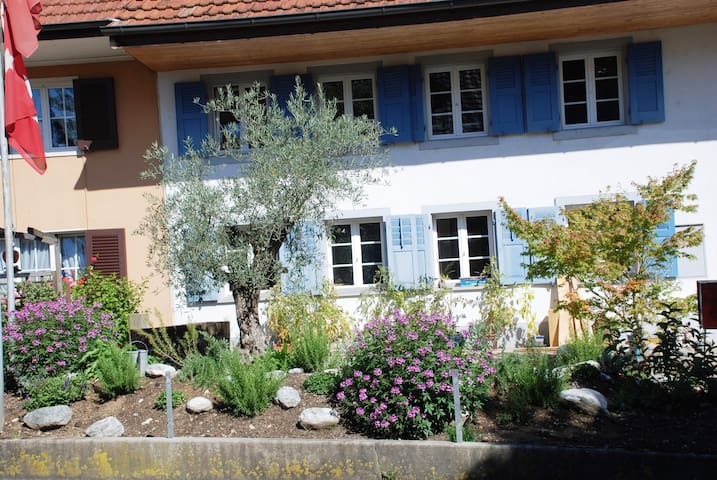 Splendidamente situato sul Reno, due camere per 2 persone ciascuno con salotto privato. Doccia e servizi igienici sono sul corridoio. Patio e parcheggio a disposizione. 25 minuti di auto da Basilea, sono ben accessibili con i mezzi pubblici.
Si tratta di una vecchia casa colonica con un fascino che è stato generazioni nella famiglia. La posizione è centrale e tranquilla.
Great host couldn't of done enough for us! Beautiful place and wonderful people! Thank you so much....
Rob
2016-05-20T00:00:00Z
Great place, very calm and, large and clean ! Corina is very welcoming, the breakfast is great and the kids are cute ! I highly recommend !
Luc
2016-05-23T00:00:00Z
Well, this is a REAL B&B. Not an AirBnB... People expecting the usual AirBnB philosophy may be disappointed. You enjoy here a double room composed of one bedroom with an EXCELLENT double bed and a good single bed. Covers and pillows are great in duvet (be careful if you are allergic, there is not other possibility) the other room is a living room equiped with an oven, TV, Tea, coffee and a small but convenient fridge (empty... no juice, no water, no milk, no fruit, no bred as welcome...). We were there in late May, the rooms were quite cold (crude), in summer it for sure an advantage. Bed linen, soap and towels are provided, as well as a continental breakfast taken with the family and kids (very friendly). you can also get the breakfast served in your room if you prefer. Again, dont expect all the conveniences of a usual Air BnB there neither. Bedroom and wc (one room) are in a separated part of the house, not part of the private double room. The major problem we experienced is the wakeup a 5.30! (sic....) when the people upstairs stay up. The house is a nice old farm . This has some disadvantages. Internet is slow and unstable. For people needed to get streaming or connecting to the office, i would not recommend. Hosts very friendly and happy to exchange experiences and vision about the world. a good point. you are located 100m away from the river. walking along in the evening is great...
Liza
2016-05-28T00:00:00Z
Réponse très rapide, bon accueil, très sympathique petit déjeuner avec les hôtes... Bon à savoir: la salle de bain et les wc sont à partager avec un autre client.
Mathieu
2015-03-22T00:00:00Z
Der Aufenthalt war wunderbar!!!
matthias
2015-11-02T00:00:00Z
Alles Bestens. Wir haben uns wohl gefühlt.
Beat
2016-04-12T00:00:00Z
Ich habe zwei gemütliche Tage bei Corina verbracht. Das Zimmer mit Stübli hat einen nostalgischen Charme und ich habe wunderbar geschlafen. Nur zu empfehlen.
Cecile
2014-11-17T00:00:00Z
Room Type
Private room
---
Property Type
Bed & Breakfast
---
Accommodates
4
---
Bedrooms
Wallbach, Aargau, Switzerland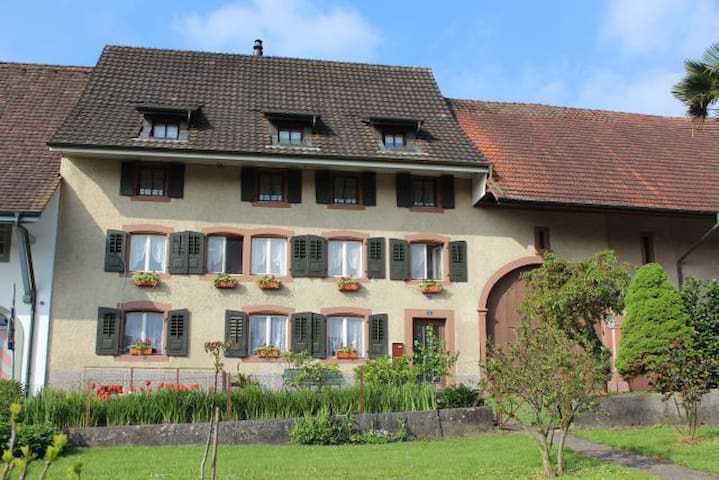 I would like to invite you in a cozy apartment in the historical part of Brugg. You will find a double bed, a livings room with a lovely view. The bedroom comfortably fits two with the comfy leather sofa as a sleep option in the living room. The train station is in 10 min walking.
Room Type
Entire home/apt
---
Property Type
Apartment
---
Accommodates
4
---
Bedrooms
Brugg, Aargau, Switzerland
Klidné a poblíž Rýna (100 m) a bazén se nachází cca 500 až 800 metrů, v lese a podél Rýna, jízda na kole, aby Möhlin a Rheinfeldenu nebo Stein / Bad Säckingen na turistiku a cykloturistiku. Lodní výlet do Stein Säckingen, stravování / přistávací fázi v restauraci Fabriggli / Bistro
Room Type
Private room
---
Property Type
Apartment
---
Accommodates
1
---
Bedrooms
Wallbach, Aargau, Switzerland
The open apartment in Bad Säckingen is directly located on the Swiss border and close to Basel (40 km) and Zurich (45 km). It is an ideal retreat for tourist trips or business stays in the Black Forest. The price does not include the tourist tax (2,50 € per person & night).
Cute cute cute
Attila
2016-11-29T00:00:00Z
Awesome
Attila
2016-12-13T00:00:00Z
Lovely clean apartment with well equipped kitchen & big bathroom. Single bed OK but prefer double! Very quiet and peaceful. Ideal Base for traveling in area.
Jeraint
2016-11-17T00:00:00Z
Margarita's house is quiet and immaculately kept, located next to the Black Forest. I enjoyed staying there for three days, and I would be happy to return.
Izhar
2016-09-27T00:00:00Z
It is a nice apartment, and even bigger than I expected according to the pictures. It's is definitely big enough to sleep with 3 or 4 persons, however I think it was a good choice to make it a spacious two person apartment! The shower is nice and the stove works perfect (which isn't standard based on my own experience). Everything was clean and they were very hospitable.
Erik
2016-04-12T00:00:00Z
so quitely,I like that
CC
2016-12-31T00:00:00Z
Brilliant apartment within walking distance of the town. Enjoyed my stay, thank you.
Neil
2017-02-19T00:00:00Z
Very nice place, very clean and very nice host! We recommend this place. Thanks Margarita
Inma
2016-07-28T00:00:00Z
Room Type
Entire home/apt
---
Property Type
Apartment
---
Accommodates
3
---
Bedrooms
Bad Säckingen, Baden-Württemberg, Germany
You can also book rooms. 1 and 2 Airbnb apartment: stay in 3 double bedrooms airbnb Guests. Together they share a kitchen, bathroom / WC and a living room. The bedrooms are lockable. Wifi is available to all guests free of charge. There is no additional cost for an extra guest. The room can be rented for CHF 850.00 per month. You can 1 and 2 shall also rooms in the list. On request, the entire apartment can be rented.
From Aarau train station is 5 minutes to the house, it is very close from the center, the house is in a side street, the location is very quiet, the apartment is on the 2nd floor.
This is very pleasant and good accommodation. Everything is organized very well. Rooms are very clean and well equipped.
Isak
2017-04-01T00:00:00Z
War Toll!
Simon
2017-01-13T00:00:00Z
Very good stay here, very clean! We love here
Feng
2016-12-29T00:00:00Z
Great!!!
Антон
2017-01-19T00:00:00Z
Es war grossartig
Barbara
2017-01-15T00:00:00Z
Très belle chambre/maison dans un lotissement calme. Verena répond très rapidement par mail. Merci beaucoup !
Gaëlle
2017-02-10T00:00:00Z
Jedesmal toll bei Verena zu wohnen!
Dirk
2016-12-13T00:00:00Z
Verena ist ein unglaublicher Gastgeber. Man fühlt sich wie zuhause! Immer wieder gerne.
Dirk
2016-12-16T00:00:00Z
Room Type
Private room
---
Property Type
Apartment
---
Accommodates
2
---
Bedrooms
Aarau, Aargau, Switzerland
Unsere neu renovierte Wohnung liegt in wunderbarer Lage am Rande Lauchringens. Die helle Wohnung umfasst eine komplett ausgestattete Wohnküche, ein Schlafzimmer, ein Bad mit Dusche, sowie ein Wohnzimmer das auch als zweites Schlafzimmer benutzt werden kann. Der Wohnraum hat direkten Zugang zu einer überdachten Terrasse und einen wunderbaren Blick auf Wiese und Wald. Parkmöglichkeiten liegen direkt vor dem Haus und Fahrräder können untergestellt werden.
This house was perfect for us.
Zsolt
2017-03-15T00:00:00Z
She waited for us to arrive and gave advice on where to go
Eric
2016-12-24T00:00:00Z
The flat had it all, I was not lacking anything and I had a place to park on the property that I appreciated very much! The Wutach river is about 50 meters from the flat and outside the back patio slider door. It was a very nice area to walk or ride bicycle. The host lives in the flat above and was available for questions by mobile phone or a knock on the door and if there were not home the hosts parents were about 20 meters away. There are horses and other animals in farms as neighbors so it was a family friendly area. The host spoke good English so for me from the USA it was an easy time. Thanks for the comfortable stay!
Bruce
2016-12-16T00:00:00Z
Verena und Holger sind sehr freundliche, unkomplizierte und zuvorkommende Gastgeber. Es ist eine trotz Kellergeschoss helle, ruhige, gemütliche, moderne, grösstenteils neuwertige, gut eingerichtete, geräumige Wohnung in einer ruhigen Kleinstadt (alles Wichtige vorhanden) mit schöner natürlicher Umgebung (z.B. Fluss, Hof, Spazierweg). Unsere Erwartungen wurden übertroffen.
O
2016-11-13T00:00:00Z
Eine sehr schöne, neue Ferienwohnung mit allem was man braucht ausgestattet. Wir haben uns rundherum wohl gefühlt und würden jederzeit wiederkommen. Sehr netter und herzlicher Kontakt. Ist wahrscheinlich die beste Unterkunft in dieser Gegend.
Katharina
2017-01-29T00:00:00Z
Super Kontakt im Vorfeld. Reibungsloser Ablauf. Tolle Wohnung (gepflegt,Neubau, sauber,etc)
Oliver
2017-01-08T00:00:00Z
Sehr schöne Ferienwohnung , freundliche Gastgeber . Alles so wie es auf Fotos und der Beschreibung vom Gastgeber angegeben wird . Sehr gerne würden wir wieder diese Ferienwohnung buchen wenn wir mal wieder in Lauchingen eine Unterkunft benötigen .
Thomas
2017-04-13T00:00:00Z
Uns hat die Unterkunft sehr gut gefallen. Super Preis Leistung! Sie ist stilvoll, modern und zum wohlfühlen eingerichtet. Es war sauber und schön warm. Der Kontakt war sehr freundlich und hilfsbereit. Das absolute Highlight war der Schaukelstuhl :D Bis nächstes mal!
Nina
2017-02-05T00:00:00Z
Room Type
Entire home/apt
---
Property Type
Apartment
---
Accommodates
4
---
Bedrooms
Lauchringen, Baden-Württemberg, Germany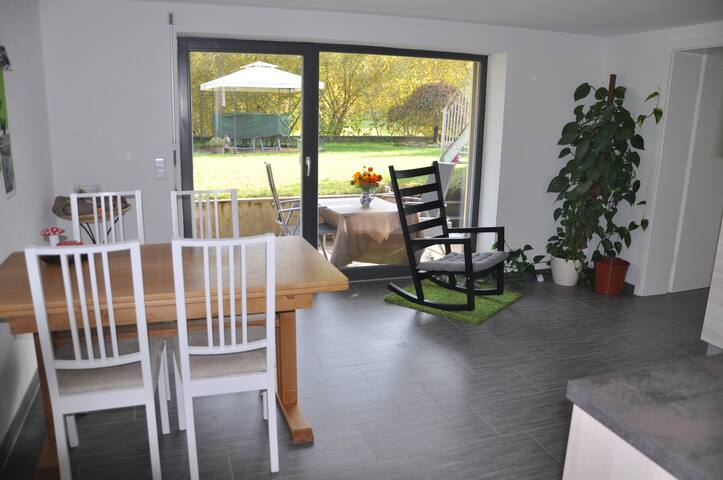 Spacious two bedroom apartment (76m2), recently renovated, fully furnished and well appointed. Near to the wood. Bus stop 2min., train station 5min off the apartment. To Zurich (25min), Bern (55min) and Basel (45Min) easily and comfortable by train
Comfortable and beautiful apartment, it is near the bus stop for the train station. Alejandro was very kind, he let us spend the week as it were our home, also allowing to remain one day more. Good position to visit the northern part of the country.
Andrea
2015-08-15T00:00:00Z
We are staying in Alejandro's apartment for several months while we are in Switzerland for work. The apartment has been really perfect for our needs- it has everything that we need, including a well stocked kitchen. The apartment is conveniently located to the bus stop, and the train station is just a few minutes bus ride away making excursions to the alps easy. The apartment backs up to a steep hill that is wooded, which has a great network of trails for hiking/running/biking. We have two young children, and the apartment has been great. The living room opens up to a green space with a playground, and there are several playgrounds in the neighborhood. You can also walk down to the Aare river from the apartment in about 15 minutes, where there are also trails. The apartment is very comfortable, and Alejandro has been very helpful and quick to respond to all our communication.
Susan
2016-01-01T00:00:00Z
Thanks Alejandro for making us feel welcome! We loved your apartment it was the perfect amount of room for all 3 of us. It was very clean and in a beautiful location away from downtown. The bus was close and only took minutes to the train station or you could even walk. Thanks again!
Diane
2015-03-22T00:00:00Z
The apartment was very clean, well furnished and only 25 mn far from Zurich. I really recommend it!
Khalid
2014-01-20T00:00:00Z
Excellent large apartment with 2 bedrooms and 2 bathrooms! Full equipment kitchen including dishwasher, door from kitchen to garden, bedroom with balcony is in opposite side - so house can be ventilated for 2 mins opening both doors ) strongly recommended!
Roman
2014-12-01T00:00:00Z
The place was exactly same as shown in the photographs. The apartment was very neat and clean. Alejandro was very helpful. The location of the apartment is perfect for families with children. The rear garden with the slides and swings makes it perfect for children. The apartment is only about 20 - 25 mins from Zurich. The Kitchen, Bathrooms and the Bedrooms were perfect. The television was not in working order. The neighbour hood was very quiet and peaceful. The only down side is the bus journey between Brugg train station to Sommerhaldenstrasse or Ligmmat. Weekday buses time table is slightly better than weekend. Unfortunately the distance between Brugg train station and the apartment cannot be covered on feet if you have children.
Ateeq
2015-06-11T00:00:00Z
Alejandro was a really nice host. He warmly welcomed us to the apartment and gave us a tour. The chocolates on the beds were added gesture on his part which we loved. The apartment was very neat, clean and comfortable for our family. Our stay in Brugg was pleasant and we enjoyed the calm and relaxing surroundings to the fullest.
Mugdha
2016-09-12T00:00:00Z
Alejandro was very responsive to my messages. It was very easy to communicate with him. He met us at the apartment for check in at the designated time. Everything went smoothly. The apartment is absolutely beautiful. My family loved the space and brightness. It was clean and spacious. There was a playground right outside the back door so my kids could play outside while my husband and I were making dinner. We could still see them and hear them. It was very convenient. We were delighted to find a special raclette cooking set in the kitchen. In Zurich we spent almost 30CHF per person to eat raclette in a restaurant! But we were able to make it ourselves at the apartment for less than 1/4 the cost. It was easy to find the special raclette cheese at the local supermarket. Alejandro left little snacks and chocolates for us which made us feel very welcomed. The only one thing that wasn't absolutely perfect was the laundry. There wasn't a washing machine in the apartment. You have to go downstairs to use a shared washer. There is a pre-paid card, so at least we didn't have to pay for laundry, but it's still not as convenient as having a washer inside the unit. Overall, I would definitely recommend this place. My family and I were very satisfied with our stay here.
Janice
2016-04-09T00:00:00Z
Room Type
Entire home/apt
---
Property Type
Apartment
---
Accommodates
4
---
Bedrooms
Brugg, Aargau, Switzerland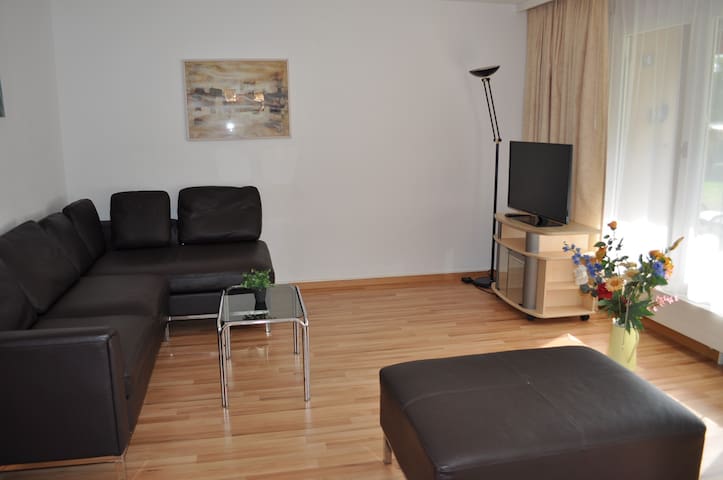 Nice, big bedroom with a balcony and a private bathroom in a very sunny, big house with a large garden. The house is 7 minutes far from the station with a direct connection both to Basel and Zürich. The city is located on the border with Germany too.
You can have the first floor with your bedroom and the nearby bathroom at your disposal. At the ground level there is another toilet.
The village of Stein is connected by the longest wooden bridge in Europe, over the Rhine, with the pictoresque and romantic German village of Bad Säckingen. It´s worth it a visit, you will never forget it!
Beautiful area, and a completely stress-free stay, thank you!
Chloe
2016-07-19T00:00:00Z
Stefania was a very kind host: she gave us all the useful informations before and during our stay. She was pretty kind and prepared for us a good breakfast served on the balcony with great landscape. The house is easy to find and near to the Little town Bad Sackingen. Many thanks guys, High reccomended! :)
Alessandra Valentina
2016-08-16T00:00:00Z
Stayed for one night. Stefania was very friendly and welcoming, and provided lots of information about the local area (I walked over the bridge to Bad Sackingen to eat).
Martin
2016-12-29T00:00:00Z
Stefania was very friendly and welcoming, and provided lots of helpful tips about the local area. Her home was spacious and well placed between Zurich and Basel, and there was the added bonus of a balcony with a view over the pretty garden and picturesque scenery behind. Our stay was short but very pleasant!
Jade
2016-05-21T00:00:00Z
The trip to Stein was a very nice experience. The Area is very nice, and close to the train station. Stefania and her husband where very nice people, and every morning a nice breakfast to start the day. When we came we had to search some time for the house, but when we where there, it had everything we needed!
Daphne
2016-05-09T00:00:00Z
My husband and I were so glad that we've found such a nice place to stay for the weekend of the renessance fair.
Martina
2016-04-25T00:00:00Z
Great experience. Super owners of the house. The place is amazing, very close to Basel and in a very quite city. I suggest to go
Eugenio
2016-06-20T00:00:00Z
Everything was very nice at Stefania's. Beautiful place, neighbourhood, view from my own balcony, company of a lovely long haired cat.
Rodrigo
2016-04-24T00:00:00Z
Room Type
Private room
---
Property Type
House
---
Accommodates
2
---
Bedrooms
Stein, Aargau, Switzerland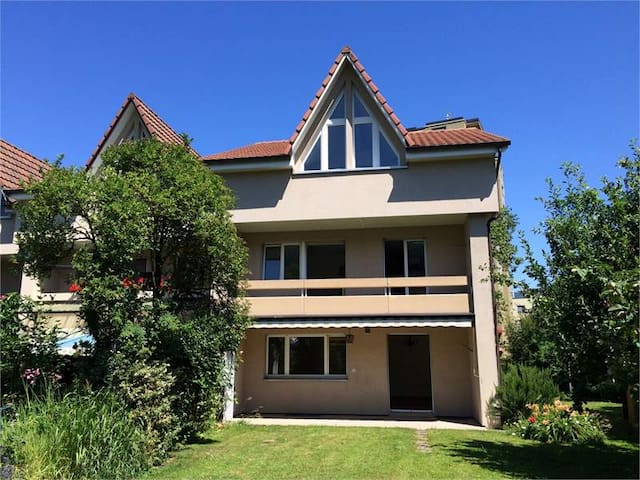 Very close to bus and train station and in peaceful area. .
The place is really good & comfortable. Josefina's family is very nice and friendly.Place is just 1 min walk from the bus stop. ( Travel cost from Zurich is ~ 14 Euros,train+bus,will take around 30-40 mins)
Nithin
2016-11-27T00:00:00Z
Josefina was a great host and took good care to make feel at home. I had a pleasant stay. Thank you!
Andrey
2016-12-02T00:00:00Z
I thought that this place was good value for the money. Josefina was very kind to host me at short notice, she was concerned that I feel at home during my stay, and she was understanding of my unusual schedule. The bedroom is private with access to a wardrobe. I was out too early for breakfast most days, but when I had breakfast it was quite nice. The location is very close to a bus stop and Josefina helped me determine which buses to use.
Calvin
2016-11-17T00:00:00Z
Simple and clean. It was like visiting my sister. Will come again!
Sasha-Tsering
2017-01-20T00:00:00Z
H
Laura dina
2017-03-24T00:00:00Z
Josefina is a great person, warm an gentle, open mindend and critical. If you don't mind to be part of the family it is perfect plase to stay
Axel
2016-12-06T00:00:00Z
Josefina is a great host. She was so nice and although the place was a little bit far from the center but it's just in front of the bus stop, so it's very easy to get to the place. However, you guys should be careful when purchase the train ticket as this location is not Zurich city. You need to buy another kind of ticket. Just be careful and enjoy this place. In addition, the surrounding was amazing.
My
2017-03-05T00:00:00Z
Had a nice time with Josy and her wonderful son. Place is perfect for a small budget
Jan
2017-02-03T00:00:00Z
Room Type
Private room
---
Property Type
Apartment
---
Accommodates
1
---
Bedrooms
Untersiggenthal, Aargau, Switzerland
The apartment is located a close drive to the Swiss border. Perfect for a commute to Zurich and much cheaper. Rheinheim Village has some great places to get Dinner. The appartment is just 1 minute walk from the swiss-german boarder/5min to train station in Bad Zurzach (Switzerland) or 8 min to the Thermal Swimming Pools in Bad Zurzach. Come visit us soon and spoil yourself in this oasis of Health, Wellness and Fitness.
Offering a nice appartment with balcony and a relaxing river view/ Switzerland. The apartment has wonderful location on the riverbank and the view from the balcony was very rewarding. A lovely walking trail along the river starts just below the apartment for walking and for fresh breathing. To get a short but impressive experience of german life, good qualities but cheap food like fruit, eggs, milk bread,especially the beer from the Black Forest. There is an extremely comfortable bed, small kitchen, a table, a desk, sofa. There is a kitchenette is equipped with basic utensils, some dishes and a microwave, but may not be suitable to prepare full meals.
The apartment has wonderful location on the riverbank and the view from the balcony is very rewarding.
Staying inRene 's apartment enable me had a everyday' s trip between Germany and Switzerland. I live in Germany and have relax in thermal bath in Switzerland. A riverside road is good for walking, for fresh breathing, for view sightseeing. I had a short but impressive experience of german life, good qualities but cheap food like fruit, eggs, milk bread,especially the beer from the Black Forest. It is a real unexpected experience
Rose
2017-01-05T00:00:00Z
Rene was a wonderful host. He met us at the apartment and stayed with us to answer all our questions. The apartment is lovely, it's cozy very clean, and well-equipped. In the morning there window view was a huge bonus, beautiful view of the reihn river. Highly recommended for a relaxing break in a quiet town.
Rose
2016-05-04T00:00:00Z
The appartament was nice and very lightful. It has a beautiful river-view. It is really good and cheep if you want to visit Bad Zurzach and go to the Thermalbad. Renè explain us everything about the appartament the day before our arrival and we met him the day of the arrival. We'll certainly stay here again if we came in Bad Zurzach to visit our relatives another time.
Alice
2016-12-24T00:00:00Z
Rene was very responsive and supportive. We were welcomed into the apartment upon our arrival from the airport by Rene's wife. The apartment is a studio (one room) with includes the double bad and the living area. The apartment is clean and very well maintained. Nice balcony in front of the Rhein. The kitchen is basically equipped. The neighborhood is very quite. The location is very convenient for traveling in both Switzerland and germany.
Shuki
2015-12-21T00:00:00Z
STAYED: January 2016 (Winter) - but valid for summer too René was an amazing host! He was so helpful in the messages about any questions we (myself and my friend who stayed as well) had. On arrival at the train station when we rang him to get help with booking a taxi, and he was so kind as to offer us a lift. He then drove us to the apartment while pointing out things of interest on the drive over which was great. He then showed us where everything in the apartment was and checked if we had any questions before leaving. He then also dropped us into the town for dinner on his way home. Upon leaving the apartment, he offered to drive us again to help us out. He was genuinely nice and very helpful. As a host, he went above and beyond our expectations. The apartment was as pictured. The view is even more spectacular in person! Unfortunately due to our schedule we didn't get to experience it as much as I would have liked to, so definitely something to keep in mind when staying here. The lift was great for us with our big suitcase. There are lots of power outlets so you can be charging cameras, laptops and phones all at once. There are also plenty of lights which are separated in a way so that one person can sleep while the other reads without too much disturbance. The bed was very comfortable and had seperate blankets which was great for us. The couch in the main room was very comfortable too. The bathroom was nice and spacious, and the shower water warmed up quickly. The main room was large enough for us both to have our suitcases open and still be able to wander through with ease. Despite the size though the heating worked great and the apartment warmed up well. The apartment was very clean and tidy. The location is great! Would have loved to have more time to explore the area because it looked lovely! A short walk to the town (with great food!), on the river, and a 10-15 minute walk to the train station (which goes into Zurich). Overall, an amazing place to stay and a great host too.
Madeleine
2016-01-05T00:00:00Z
Excellent and relaxing weekend stay at a wonderful apartment. The apartment as al amenities needed and is actually more spacious than it looks in the images. A really lovely place for a getaway.
Manuela
2016-11-14T00:00:00Z
My husband and I loved staying at this flat. It has a beautiful view of Switzelrand and the Rein River. René was so helpful to us, he even stayed up late and picked us up at the train station and took us on a quick tour of the city before dropping us off. My favorite place we've stayed so far. Everything was perfect:)
Angie and Reece
2016-09-29T00:00:00Z
René was very kind with us although we only met few times. The apartment was cute and the views near the river really amazing. Warm place was really apreciated!!
HELENA
2016-05-07T00:00:00Z
Room Type
Entire home/apt
---
Property Type
Apartment
---
Accommodates
2
---
Bedrooms
Küssaberg-Rheinheim, Baden-Württemberg, Germany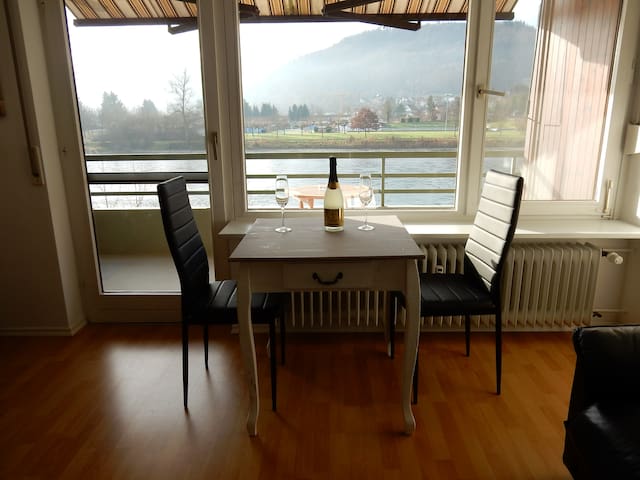 In the pedestrian zone, Kaiserstrasse 4 lying small 1Zi. Apt. For simple people. It is located directly above the bakery Gamp where you can have breakfast comfortably in the heart of Waldshut. Enjoy the flair of the Kaiserstrasse in Waldshut.
The apartment has a queen bed 140cm and two single beds
A warm and welcoming place to stay. The location is downtown within easy walking distance to restaurants, cafes and stores. Juergen, the host was very accommodating. I highly recommend his place and I will stay there in the future again.
Helga
2016-12-20T00:00:00Z
Jurgen' place was well appointed, cheery, spotless and inviting. It is in a fun part of town, and we appreciated learning about the family bakery.
Jean
2016-10-04T00:00:00Z
Waldshut is a little but lovely place. Jürgen´s house is little too, but has everything that´s necessary and it is easy to get there from the train station.
Álvaro
2016-07-29T00:00:00Z
Jurgen met us in front of the bakery and gave us a short tour of the surroundings. The accomodation was perfect for our stopover between the Nederlands and Italy. Waldshut-Tiengen borders Switzerland and Germany, a lovely city situated in the Reine
Anthony
2016-08-10T00:00:00Z
Fantastic location above the bakery in the square - not far to go to get breakfast! Jürgen was very helpful - visiting Kaiseraugst was a good tip. The apartment was excellent and very spacious.
Bruce
2016-09-06T00:00:00Z
Easy and fast to communicate Spacious flat
Brian
2016-09-23T00:00:00Z
Nice place, nice apartment, nice host...
Zikrullah
2016-09-12T00:00:00Z
Many thanks for everything the place very nice size for the price, very clean the location excellent for Zurich and the host Jurgen very helpful, many thanks
Erwin Alex
2016-05-04T00:00:00Z
Room Type
Entire home/apt
---
Property Type
House
---
Accommodates
4
---
Bedrooms
Waldshut-Tiengen, Baden-Württemberg, Germany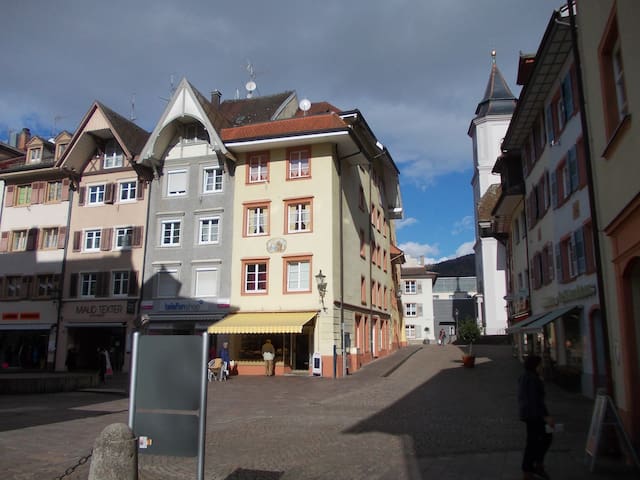 The studio is 32sqm large. Kitchen, bathroom, bedroom / living room are set up so that you have to feel comfortable. Should it even be cooler, the Swedish stove for a very special coziness makes. heating central is also possible.
The 100 year old house is one of the oldest farmhouses in Rickenbach, district Schweikhof. The apartment is located on the ground floor south side. With foresight, the Alps can be seen and outside on the terrace there is a small green paradise for humans and animals (birds, goats and other quadrupeds). Relax is very important here! The beautiful trails through the Murgtal and Albtal are an absolute must. Likewise, many centuries old and so artfully arranged Wühren are unique in the picturesque Hotzenwald. A trip to Schluchsee Freiburg shows the overall beauty of the southern Black Forest. After Bad Säckingen there are 10 minutes by car and to Basel 45 min.
The Southern Black Forest is a tourist highlight in the south of Germany. The proximity to Switzerland (Basel, Lucerne, Jura, and more) or France (Vosges, Elsas) make this area one more time attractive.
Rita's home was so cozy and beautiful, it was in a perfect location. It was peaceful and the garden was lovely. We even bought fresh home made honey from the neighbor. Rita was so kind and accommodating, she gave us suggestions and all the help we needed. Thank you Rita! :)
Candie
2016-08-12T00:00:00Z
Rita is a very good host. She gave us the complete guide and a warm welcome. We also had a good chat about near by places and of course Brexit. Place is in very quiet location and spacious. We highly recommend a stay
Pavan
2016-06-29T00:00:00Z
Rita makes us feel like home! Everything was perfect!
Laura
2016-07-12T00:00:00Z
Ruhige Lage, kleines Dorf, viel Wald
Klaus
2017-01-05T00:00:00Z
Nous avons passé un agréable séjour dans le studio de Rita. Nous sommes arrivé dans la nuit. Rita nous a donc laissé la clé sur la porte. Le studio était propre et bien aménagé, parfait pour un couple. Durant tout le séjour Rita était très disponible (son appartement est juste à côté du studio). Le voisinage est aussi très agréable puisque j'ai eu droit à une visite de la roulotte (vielle de 150 ans) accueillant plusieurs ruche d abeille. Encore merci Rita pour votre accueil et votre disponibilité. A la prochaine.
Sofiane
2016-05-01T00:00:00Z
nette und kommunikative Gastgeberin, die Wohnung ist modern & geschmackvoll eingerichtet. vielen Dank!
christina
2016-08-22T00:00:00Z
Es war ein wunderschöner & erholsamer Aufenthalt in Ritas FeWo. Die Lage ist ruhig und bietet einen umwerfend schönen Ausblick. Die Wohnung ist frisch renoviert, sauber und hygienisch. Der Kontakt mit Rita war unkompliziert, freundlich und stets zuvorkommend. Zugleich stand sie während dem Aufenthalt mit Rat und Tat zur Verfügung. Summa summarum definitiv eine (erneute) Reise wert. Wir kommen gerne wieder und können es wärmstens weiterempfehlen!
Daniel
2016-10-02T00:00:00Z
Rita war eine super nette Gastgeberin und wir haben uns in Ihrer Wohnung extrem wohlgefühlt. Es war kein Problem einen Termin für die Schlüsselübergabe zu vereinbaren und Rita war extrem hilfsbereit. Das schöne große Fenster mit Panoramablick auf die Ziegen, Berge , Natur und die Alpen im Hintergrund sind einfach nur toll. Es ist absolut ruhig hier oben und wir konnten uns toll erholen und schöne Spaziergänge machen. Da wir Veganer sind haben wir viel gekocht , was in der Küche super geklappt hat. Das Badezimmer mit der schönen großen Dusche hat uns auch sehr gut gefallen.
Esther
2016-12-05T00:00:00Z
Room Type
Entire home/apt
---
Property Type
Apartment
---
Accommodates
2
---
Bedrooms
Rickenbach, Baden-Württemberg, Germany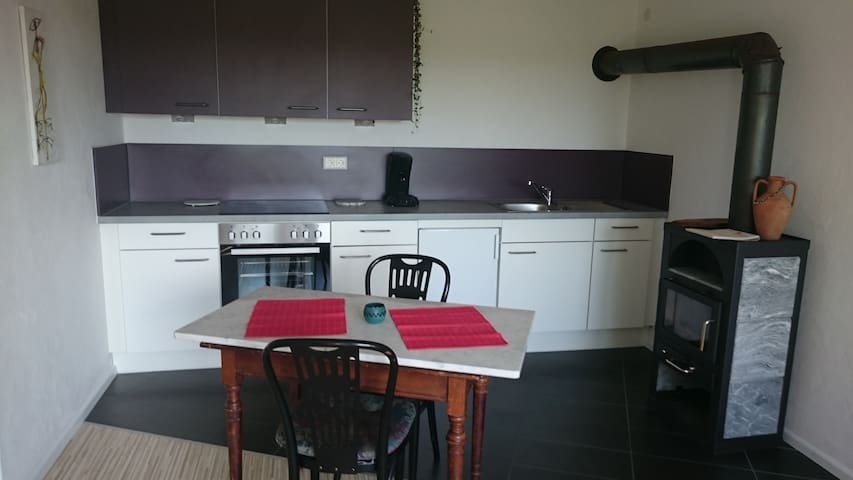 the Studio is in the Beauty of the black forest. it is in a ecco wooden house. It has a small kitchen, WC with shower and a place to sit in and outside. It has a seperate entrance. You can make many hikingtours around.Also Alpviews. Swimming in lake.
we are in the beautiful Natur of the black forest with many hiking tracks. A lovely lake to swimm. Mountain tours up to 1495 m. In the wintertime you can go skiing directly in front of the door.
my neighbourhood is very friendly
We got lost several times on our way to the Black Forest from the Mosel valley, and arrived too late to meet Christine, but the next morning, she shared her abundant knowledge and love of the area with us, including great hiking trails, places to swim, and restaurants. The studio itself was as advertised: comfortable, scenic, and well located. One great trail--actually it branches into many--began only 100 feet from our door, and we greatly enjoyed sitting in front of the studio enjoying the beautiful view, sipping wine, and eating dinner. One pleasure we did not anticipate was the many water colors Christine has painted that decorate the apartment.
Craig
2015-08-05T00:00:00Z
The house is located in the heart of the black forest, really nature and quiet, we had a very well sleep before exploring the black forest. Be prepared before you arrive, because the nearest supermarket is a little bit far away about 10mins driving.
Wentao
2015-04-16T00:00:00Z
The place fitted our needs perfectly as we where outdoors most of the time. Christine made us feel most welcome.
Carolien
2015-02-17T00:00:00Z
Christine was very helpful , she provided lot of information about activities in the area and good tips. The apartment is very well situated, close to walking spots in a quiet village near to the mountains. It is functional, all the basics are there. We had a great stay.
Victor
2016-08-28T00:00:00Z
Christine's studio is a small retreat in the countryside. Very clean, nice view and well located for outdoor activities. Christine was very welcoming even if we arrived a bit late. She provided us with flyers and tips which were very much appreciated.
Fabrice
2017-02-26T00:00:00Z
Superb! A nice place to unwind in a beautiful location. Christine came down when we arrived and explained everything. It's a nice place for couples and the house has everything you need.
Shylendra
2016-12-25T00:00:00Z
Christine's place is a great environment to relax. With stunning views when driving to the house. We stayed only one night but it was the perfect location for us on our way to Itlay. Christine is really helpfull, creative and friendly!
Tjeerd
2016-07-19T00:00:00Z
Christine's studio was the perfect place to unwind after a day of hiking. I really enjoyed eating my dinner outside on the table and chairs overlooking the valley. I also really enjoyed the swim in the local water hole and visiting the waterfall nearby, which I never would have known about had I not stayed here. This is what airbnb is about, a truly local 'un-touristy' getaway. Even though it was for just one night, I would have loved to have stayed for longer. Christine herself is very friendly and helpful, and the studio was immaculately clean and comfortable. I would love to come back one day and bring my boyfriend with me, the whole 'vibe' of the area around Ibach is so quiet and peaceful, but full of activities!
Natalie
2015-07-14T00:00:00Z
Room Type
Entire home/apt
---
Property Type
House
---
Accommodates
3
---
Bedrooms
Ibach, Baden-Wurttemberg, Germany
Enter dates to see full pricing. Additional fees apply. Taxes may be added.