A large room with private bathroom in a lovingly restored farmhouse amongst olive trees on road oil and wine, with an amazing breathtaking view less than an hour from all the art, the mountain city, the sea, the stations thermal
The room, (an immaculate in every detail) is very large, very comfortably accommodates two people; you can add an extra cot. Nature surrounds the guests giving incomparable performances, which vary every moment. The Italian-style breakfast is very accurate in the selection of local products is served under the pergola or in the warmth of the large kitchen and includes: milk (even soy or kamut) coffee, tea, muesli cereal, biscuits, rusks, biscuits , honey, jam, yogurt, fruit and a fresh cake. Guests will find: wifi, laundry, hair dryer, cleaning every two days, use of living room with library and study area available, lounge with fireplace, dog-sitting, relaxation treatments and reflexology. Guests are welcomed by the owner, along with his faithful and joyful Cavalier King who will take care of your pet in your absence.
In a hamlet surrounded by olive groves, you come into contact with the "real" Tuscany, made up of peasants and people still beautifully authentic. Front of the house then, only the scenery and olive groves to get lost ...
Daniela was a great host! The included breakfast each morning was delicious (homemade jams and cake) and her space was very clean. We were able to get to Florence, Pisa, and Lucca very easily from the location of her home. She suggested places to visit nearby and made us feel very much at home. We would stay again and recommend it highly to others.
Megan
2016-12-01T00:00:00Z
Daniella and her 'King' gave us a very warm welcome. Beautiful place, nice terrace, spectacular views from up the hills on the cities nearby. The room had everything one needs. We especially remember the nice dinners Daniella prepared for us. It was a pleasant surprise to find a host who shared with us a conscious way of living. Also veggies like us were equally well treated(eg soy yoghurt, lots of fresh fruit and even homemade pie!). Tuscan hospitality as we hoped to find! Definitely worth its price.
Tim
2015-08-15T00:00:00Z
Daniella was a fantastic hostess! Her warm personality and hospitable spirit made us feel welcome in her home. You can tell she really loves having guests! Her home is in a beautiful part of the country as her pictures depict and was very clean and comfortable. It's a good location to use as a base if exploring Tuscany by car. To that end, Daniella has very good suggestions for where to go or where to eat! However, one of the highlights for us was eating dinner in with her - she's an excellent cook! Would definitely stay with Daniella again if we make it back to Tuscany! Thanks Daniella! Looking forward to next time :)
Jordan
2016-05-22T00:00:00Z
Everything was great. Daniela and her mother were very nice and welcoming. The view from the room was amazing and the houses around Danielas were great. Very pretty and quiet neighborhood. For eating you need to take the car to the village (around 10 minutes drive). Bathroom is across the hall. Breakfast is included and good.
Robin
2016-10-13T00:00:00Z
Grazie mille Daniela. I miei genitori avevano un soggiorno straordinario. Daniela's place is perfect to discover Toscania. Ideal location and great house with amazing views.
Sylwia
2016-04-02T00:00:00Z
Daniela made us feel very welcome in her home. She has a very beautiful & clean house that has an amazing view of the surrounding Tuscany landscape. We had a very comfortable stay. Our room was clean and quiet. Daniela prepared a very nice breakfast in the morning. We wish we had booked a longer visit and we will definitely return again.
Dan
2016-05-31T00:00:00Z
Daniela's house was wonderful! Daniela is an excellent host who took time to give us great suggestions about what to do throughout Tuscany, how to get around town, and generally how to find whatever we needed when we were in the region. Her daily breakfast is excellent and she has a lovely personality. I hope to be back soon!
Noah
2017-03-26T00:00:00Z
Daniela was a very kind host. She is passionate about hosting people, meeting people from other countries. This is her way to travel all around the world. Her jams are fenomenal(-: The house is within one hour drive from Firenze and Pisa. You can even take a 2-3 hours long walk to Vinci from the house if U would like to get to know closer the Tuscan countryside (and Leonardo da Vinci's birthplace).
Erzsébet
2016-11-05T00:00:00Z
Room Type
Private room
---
Property Type
Bed & Breakfast
---
Accommodates
2
---
Bedrooms
Lucciano, Quarrata, Tuscany, Italy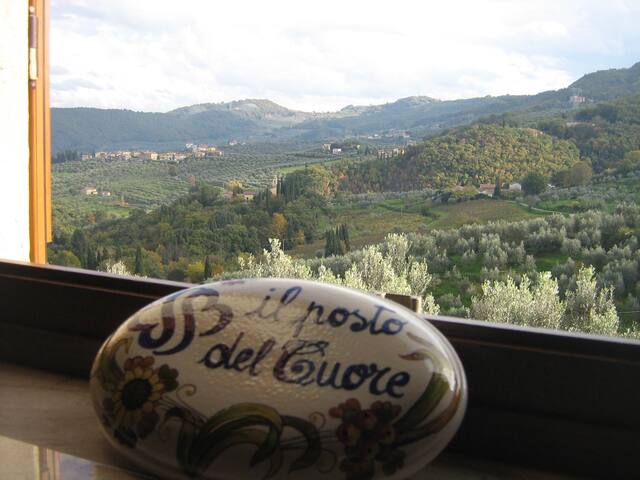 Immobile tipico toscano ristrutturato su 2 piani con soggiorno cucina al PT e due camere con 2 bagni al P1. Caratteristica cantina al piano seminterrato. Corredato di giardino e 2 posti auto di proprietà. con vista su Firenze Prato e Pistoia
Situato in prima collina sul Montalbano con vista mozzafiato su Firenze Prato e Pistoia e a 20 min d'auto da Firenze. Molto tranquillo e comodo ai servizi
Appena in prima collina a 500 metri dal centro cittadino quindi vicinissimo a tutti i servizi
We recommend Casa Leonardo for everyone. Catarina and Jari were very friendly, they are very helpful and good hosts. The house is very nice and there is excellent view.
Maria
2016-05-09T00:00:00Z
Very lovely cozy home surrounded by olive trees with amazing view! We love every single detail in the house. Very clean, "crispy" bed sheets,everything was better than expected. Jari is very nice pleasant gentlemen ready to help with any needs. I would love to come back and stay longer!
Lily
2016-09-17T00:00:00Z
Jari was a wonderful host, he waited for us a lot of time when we arrived late. The place is very-very big and very stylish. The landscapes seen from the place are very nice.
Andrey
2016-05-29T00:00:00Z
it was a great time we had, all clean and comfortable with charming views from both sides of house, nice and friendly host, we had everything we needed.tks to the family.
Siavash
2016-09-12T00:00:00Z
Lovely place to stay. Jari is very friendly and welcoming and nothing is too much trouble. He came up to help us work out the heating. We would like to return in the summer and make use of the lovely cellar to relax and have a glass of wine!!
Lesley
2016-11-17T00:00:00Z
Jari is a very caring host and him place is beautiful. Also Jari was very willing to help and answer all our questions.The house has plenty of space and everything you need to have a restful stay. The town is very charming, quiet and everybody is very friendly.We would like to thank you about the fact that you had wait for us until our late arrival. It was very kind of you! Best regards Vanya
Vanya
2016-06-16T00:00:00Z
sono stati molto accoglienti, appena arrivati ci aspettavano, Caterina è stata simpatissima e ci ha dato molti sugerimenti utili per il nostro soggiorno
Myriam
2016-05-02T00:00:00Z
Appartamento comodo, confortevole e pulito. Posizione tranquilla ma comoda al centro di Quarrata. Jari ci ha accolto con gentilezza e simpatia.
Martina
2016-12-29T00:00:00Z
Room Type
Entire home/apt
---
Property Type
House
---
Accommodates
4
---
Bedrooms
Quarrata, Toscana, Italy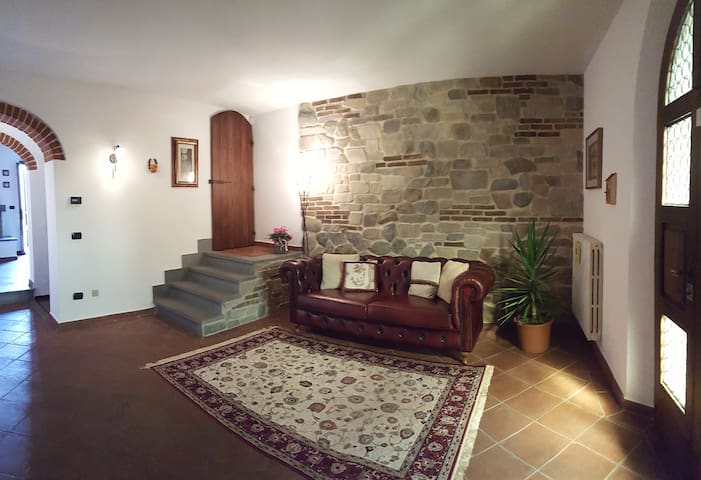 Camera doppia con bagno ad uso privato in casale recentemente ristrutturato sulle colline del Montalbano, a pochi chilometri dalla città natale di Leonardo, Vinci.
Queen size room with private bathroom in typical Tuscan house, with an amazing view on Montalbano's hills. We are 5 km far from Vinci, Leonardo's town. We offer, included in the rate, an homemade breakfast with our products. You can walk through our olive trees's field and enjoy the Tuscan sun! The room has its private entrance and the wide breakfast area is at the entrance. Staying at our place is enjoying peaceful atmosphere, but living not far from the town of Lamporecchio, with its shops, supermarket, bar, good restaurants... We are 50 km far from Florence, 90 km from Siena, 45 from Lucca. The Montecatini's highway is half an hour far from here (18 km). If you love nature, here you will find what you are searching for.
Ci troviamo nel piccolo borgo di Orbignano, a 5km da Lamporecchio, 5km da Vinci e 8km da San Baronto. Soggiornando presso la nostra struttura potrete godere di tranquillità e pace pur essendo a pochi chilometri dal centro abitato, con negozi, bar, ristoranti e quant'altro possa servirvi.
exceptional hosts full of enthusiasm for their guests / young, beautiful people . a unique place with a great view and a brand-new rooms. wonderful Italian breakfast with jam and homemade sweets - Viola thx :) I hope that we will go back
Robert
2016-02-29T00:00:00Z
Viola and Luca are very kind and friendly people! The room was clear and perfekt for us. The view and the local restaurant is amazing. Highly recommended!!!
Kánai
2016-07-19T00:00:00Z
Very professional, spotlessly clean and excellent value. Viola and Luca were very accommodating and helpful.
Cindi
2016-09-30T00:00:00Z
Truly amazing place! We took a spontaneous trip to Toscana and found this place a few days before our arrival. We could not have found a better place. Beautiful room, nice garden for relaxation and slow walks among the olive trees. Good location if you want to hike in the area and a big thank you to Luca & Viola whom made us feel very welcome. We will come back :)
carolin
2016-07-03T00:00:00Z
Luca and Viola's was our favorite place we stayed over our entire trip to Italy. Convenient to so many great places and tucked away in the beautiful hills of Tuscany. The property is beautiful, rooms are nice and the hosts are so pleasant. Breakfast is great too. We enjoyed the large patio with stunning views and the delicious restaurant only a short walk from the property.
Rachel
2016-09-10T00:00:00Z
Stunning location and period property, our hosts couldn't had done enough for us and even accommodated our late arrival. Highflying recommend.
Trish
2016-10-14T00:00:00Z
This was one of the best places we stayed during our trip. Really fantastic room, great breakfast, surroundings and hosts. Also, the restaurant at the top of the hill is amazing. You must go here!
Charlotte
2016-06-17T00:00:00Z
Camera Limone is a gorgeous, newly renovated building in the heart of Tuscany. Luca was responsive to email throughout our stay. The room was comfortable and clean, and the complimentary breakfast was delicious. The place is ideally located in the Tuscan hills, offering gorgeous views of the valley below. It's a short car or bike ride to San Baronta and hillside restaurants.
J
2016-07-22T00:00:00Z
Room Type
Private room
---
Property Type
Bed & Breakfast
---
Accommodates
2
---
Bedrooms
Lamporecchio, Pistoia, Toscana, Italy
THE DAILY ROOM RATE FOR 2 PEOPLE IS 76 EUROS [2 PEOPLE SHARING] WE HAVE 6/7 ROOMS AND THE CALENDAR GETS BLOCKED AT THE FIRST BOOKING, IT IS THE LIMIT OF THE AIRBNB SYSTEM. WE HAVE CREATED VARIOUS LISTINGS FOR EACH ROOM AND SO YOU CAN BOOK FROM THE OTHER LISTINGS. YOU CANNOT BOOK MULTIPLE ROOMS FROM HERE UNLESS WE SEND YOU A SPECIAL OFFER. PLS CONTACT US
The old stone house is near the town of Vinci where Leonardo Da Vinci was born. Located on the slopes of Montalbano in the heart of Tuscany [Montalbano del Chianti road] ... delicious wine and olive oil! We have 6 en suite double rooms available. This 4-level-house with a common kitchen and lounge is decorated with art from all over the world and has warm colours: a perfect place for art lovers! The new swimming pool is ready together with a lovely terrace with an amazing view on the valley, ideal for breakfast, cocktails and dinners. The location is perfect; you can reach Florence within 40 mins and towns like Lucca and Pisa within an hour and only 20 mins from Pistoia, A new parking area was recently finalized.
We spend 10 wonderfull days in the old stone house owned by Giacomo. We used it as a base to explore tuscany and it was the best place to relax and recharge the bateries for another day of wonders in tuscany. The only regret we have is that we waited for the last night to meet the dogs :) afgan's that are simply superb. We loved it and we hope to return and spend some more days in this wonderfull location
Catalin
2012-08-31T00:00:00Z
What a change from the other European destinations on our trip. This place was breathtaking and Giacomo and Rolly were very welcoming. The old stone cottage allows forints guests to socialise with each other with the many communal areas. A real home away from home feeling to this place. Highly recommended!
Betty
2013-05-11T00:00:00Z
the house lies above a small road between lamporecchio and san baronto and has a fantastic view all around the valley of lamporecchio. the house looks like seen on the pictures, old but absolutely well maintained tuscan stone house. the garden is beautiful and the terrace invites to sit an enjoy a glass of wine at the end of the day together with other guests. the interior is stuffed with art pieces and carefully and intently selected furniture. there is a lounge with wifi and a kitchen, where we prepared meals and breakfast by our selves and together with other guests, equipment is not high quality but worked for a week. because of weather conditions (it was raining several times during night) humidity inside the rooms raised and we had to take care, that enough ventilation nevertheless dried our towels. probably it would have been better to start heating. giacomo was not there during our stay but other guests gave us a warm welcome and later on there was rolly who was in charge. all together we enjoyed and had a really good and relaxing time at giacomos place! if you keep in mind that it is not a anonymous hotel but a tiny and lively hostel where you get in touch with international guests and you are kind of self sustaining, it is one of the most beautiful places! have a good trip and time at giacomos place!
Mark
2013-05-25T00:00:00Z
Giacomo was a lovely man who was helpful when he was there. The grounds were lovely, the home was perfect, the pool was refreshing. Everything was really great. One of our favorite stays in Italy.
Susan
2014-06-11T00:00:00Z
We had perfect stay at giacomo and rollys cosy little home. Its definitely one of the nicest bnb places we have been to. The interior, the surroundings and the view from the poolside are just amazing. Vinci is close, you can even walk there. giacomo and rolly are really hearty people, always helpful and friendly. We will definitely be back some day.
Tobi Kehl
2015-03-27T00:00:00Z
Giacomo's house is lovely. It is set high on the hill with beautiful views. We found it reasonably easy to find with a GPS. The town of Vinci is not far away and we stopped there for lunch before checking in.We had use of a kitchen and sitting area (with wi-fi) to share with other guests. Each room has its own bathroom. Our room was quite comfortable. The bed was good quality, the linen and bathroom clean. Apart from the shower head that was difficult to stand under if you didn't want to wet your hair, we had everything we needed. Also the views are superb! Unfortunately we didn't get to meet Giacomo and Rolly as they were unavoidably away. We were well taken care of by their friends David and Nina who made us feel very welcome and gave us directions and advice about the area. It is conveniently located and we did separate day trips to Lucca, Pistoia and Sienna.
Sharon
2012-10-09T00:00:00Z
What a charming and romantic retreat. Rolly and Giacomo certainly have put a lot of hard work and talent into the house. Rolly was our host and he was very friendly and gracious. The art was amazing and I was fascinated by how even the functional aspects of the house were artistic. We took daily excursions to Chianti and Siena via a driver we hired (about a 2 hour drive to each). We didn't have a car of our own, so the restaurant that was within walking distance worked out well. We ate there twice and both dinners were very tasty. The service was great. We made a couple of meals/snacks (well my cousins did!) in the house kitchen, which was fun and allowed us to enjoy the relaxing atmosphere of the house. The outside covered patio and its view are just as idyllic as the photos show. The landscaping is lovingly cared for. Fresh herbs are everywhere. Prior posts mention limited supplies in the kitchen and a remedy would be determining your menu and checking out the supplies (pots, pans, can opener, etc.) to be sure you have what you specifically need to make everything before going to the market/coop. We would return again during warm summer months to take advantage of the pool and explore the town more rather than leave for excursions.
Terri
2013-06-02T00:00:00Z
The location is beautiful, scenic and tranquil and the views from the property are breathtaking. We didn't get to meet Giacomo but Rolly was there to welcome us. It is a shame we couldn't stay there longer. Just one thing to keep in mind if you are planning to drive, the house is on the hills and the drive is steep. We were relying on our phone GPS and we lost signal when were 10-15 mins away. However, the directions provided by Giacomo are quite detailed and helped us get there eventually. But it a hilly road and if you take the wrong exit or drive further, taking a U-turn may be extremely difficult, just something to keep in mind. All in all, if you want to experience a real Tuscan life, this is a great place to be. Do not miss visiting Vinci, the birth place of Leonardo which is only a few miles away.You can visit a musem dedicated to Leonardo's work and Leonardo's birth place, it is also a great place to grab a nice lunch.
Ami
2015-04-27T00:00:00Z
Room Type
Private room
---
Property Type
House
---
Accommodates
12
---
Bedrooms
Lamporecchio, Tuscany, Italy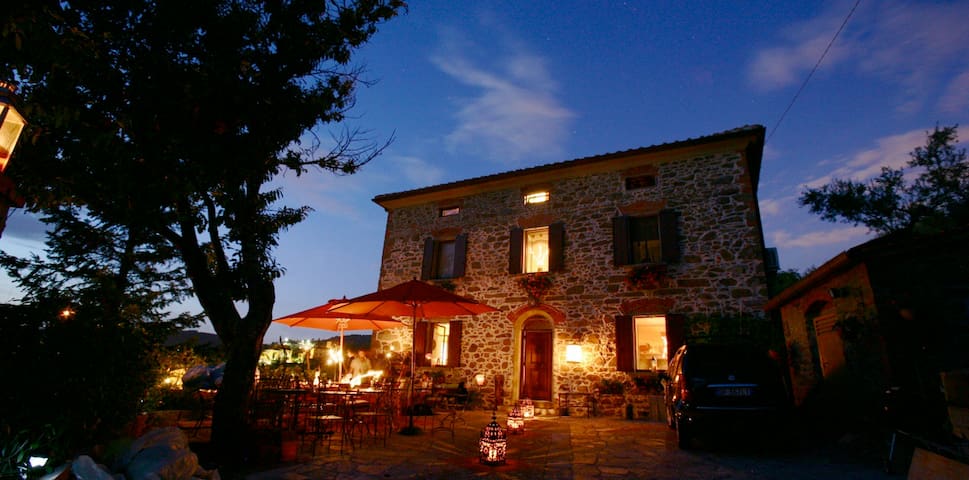 Ciao sono Lavinia e vivo a Santonuovo (PT), affitto camera doppia con bagno a casa mia perchè mi piace conoscere gente nuova . E' inclusa la prima colazione con marmellate e dolci fatti da me. Su richiesta possiamo condividere la tavola . Presso ditta " GIUSTI e NICCOLAI , via Europa 415 Santonuovo Quarrata 51039 Pistoia , entri nel piazzale , in fondo c' è un ' abitazione , pian terreno ci sono io.
L'abitazione è situata in Viale Europa, 415 Santonuovo (PT) (presso azienda Giusti&Niccolai). Camera Matrimoniale spaziosa e luminosa, situata a Piano Terra di una bifamiliare con ampio giardino su tre lati. I proprietari concedono l'utilizzo del bagno Privato, della sala da pranzo.
Lavinia is such a sweet person and treated us very graciously when we sayed with her. She made our time in Florence very leisurely and easy to manage because she offered to take us to the train station and pick us up every day. Although she lives about 30 minutes out of the city of Florence, it is a very easy commute due to the train that is close to Lavinia's house. We were able to experience the valley of Toscana and the city of Florence all in one visit. Lavinia also offered to feed us delcious meals for a very reasonable price and offered to do our laundry as well. Although there was a language barrier, Lavinia was still extremely accomodaing and did everything she could to help us. Overall, the stay was wonderful and we would most definitely go back.
Becky
2016-06-27T00:00:00Z
Lavinia is very nice, helpful person. Her house is clean and beautiful. She made for as delicious breakfast and fantastic dinner. We recommend her offer :)
Radek
2016-04-12T00:00:00Z
Lavinia and family have a loverly home which we were made very welcome in. They are warm and friendly and giving, we enjoyed our stay and look forward to returning one day.
Ron
2016-05-14T00:00:00Z
My partner and I felt like at home. Lavinia and her husband were amazing hosts. The description of the rooms blends perfectly with reality. It is located in a quiet place. Lavinia made us a delicious dinner of typical Tuscan food and wine are also offered. He gave us a full breakfast with homemade jam !! In fact, we are very grateful for the experience that was definitely the best of the whole trip. A family full of dreams and hopes, you can talk about everything even if you don't have the same language. Thanks Lavinia and also thanks to your family, you are lovely! Io e il mio compagno ci siamo sentiti a casa. Lavinia e suo marito sono stati padroni di casa incredibili. La descrizione delle camere si sposa perfettamente con la realtà. Si trova in un posto tranquillo. Lavinia ci ha preparato una deliziosa cena a base di prodotti tipici toscani e vino ci ha offerto casa anche. Ci ha dato una colazione completa con marmellata fatta in casa !! Siamo molto grati per l'esperienza che è stato certamente il migliore di tutto il viaggio. Una famiglia piena di sogni e speranze, si può parlare di tutto, anche se non si ha la stessa lingua. Grazie Lavinia e grazie anche alla tua famiglia, ma non posso adorabile!
Nath
2016-10-15T00:00:00Z
We were extremely pleased with this place - the house was like a villa. The breakfast that included fresh fruit from their own yard was exceptional. Lavinia was friendly and welcoming.
Oliver
2016-07-20T00:00:00Z
Lavinia welcomed as with warmth and kindness that made as feel like at home. We had a big room, with private bath room next to it and parking spot behind our window. We had overall very good experience and we can highly reccomend to stay here.
Erasmus
2016-10-17T00:00:00Z
Lavinia was so sweet to us. We ended up feeling like family, and indeed we met and mingled with the wnole family. Her house is beautiful and spotlessly clean. The bed is super comfy. If you want a treat do stay here. It is easy to fi d once yku realise the house is behind the family run furniture shop.
Caroline
2016-11-23T00:00:00Z
Lavinia was extremely helpful, welcoming, and so amazingly sweet! The breakfast in the morning comprised delicious coffee, fresh fruit, and home baked pastries. The room was cozy, comfortable, and clean. We were treated like family! I highly recommend staying here.
Bela
2016-07-31T00:00:00Z
Room Type
Private room
---
Property Type
House
---
Accommodates
2
---
Bedrooms
Santonuovo, Pistoia, Italy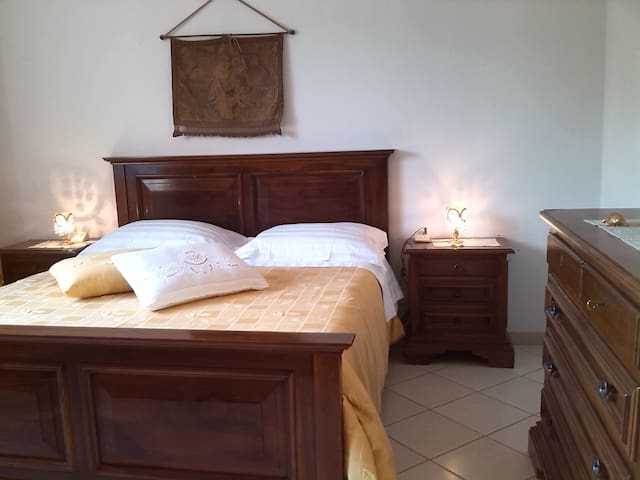 Bed and Brakfast Orsobigio has got 5 double rooms with french bed (140x200 cm) with private bathroom with WC/Shower. Riccio Room has private access to the outside. Once you arrived you receive the Wi-Fi code. We don't have any TVs in the room.
The B&B Orsobigio is located in the hills near Quarrata a small town close to Florence (just 20 minutes by car). It is a big house of the 70's restored and with a new beautiful look. We have thought a lot for make this place as comfortable as possible and we have chosen old first XXth century furniture.
I have a neighbour that has chickens and probably in the morning you will be awaken by the crowing of the cock.
Special room clean, comfortable and special! Marco is a gentleman! I like his house!
PENGZHAO
2016-03-28T00:00:00Z
Marco has just started a very beautiful and luxe B en B. He is a pleasant host and makes a nice breakfast for his guests. He speaks both English and german and that is very special in Italy. From this house, you can visit the beautiful cities of the Arno valley. A car is recommended, but there is also a bus and train in the neighbourhood.
Rik
2016-04-30T00:00:00Z
Room Type
Private room
---
Property Type
Bed & Breakfast
---
Accommodates
2
---
Bedrooms
Quarrata, Toscana, Italy
Old renovated farmhouse in the Tuscan countryside between woods and olive groves in a natural and biological context. A short distance from the main cities of art cities. ideal for a family holiday in a green oasis of peace and tranquility.
Secluded and quiet, but at the same time easily accessible from the main road, a distance of 500 meters you can find bars, restaurants, pizzerias, grocery stores, tobacco, and various kinds, pharmacy and ATM. Possibility of hiking along the old paths recently restored.
The place is quiet and surrounded by nature, the pace is slow and relaxing. Must-tries the long walks and evenings in the company of a good glass of chianti.
We had a wonderful time at Biancospino! Emanuela and Walter were warm and welcoming and very helpful in giving us information for some of our day trips. The house was fantastic! It was very well stocked and had everything we needed. The location of the house gave us easy access to the lovely village of San Baronto and easy drives to nearby cities and the mountains. We will most definitely be returning!
Paula
2016-07-03T00:00:00Z
Emmanuela and Walter made us all feel extremely welcome. On arrival, we took them up on their offer of dinner and we were served a traditional Tuscan feast complete with olive oil made on the farm and wine from their daughter's vineyard. The farm itself is set just off the main winding hill road in the stunning hilltop village of San Baronto, with priceless views out across the valley and over Lamporecchio. Fresh herbs and a stunningly curated garden and olive grove surround the house, and the pool is perfect for a late afternoon dunk when the heat gets too much. We had access to the pool, BBQ and wood burning pizza oven throughout, most of the time we were on our own or very happy to share with our friendly hosts. Walter is often seen manning the olive groves on his tractor (which our duaghter loved) and twice Emmanuela cooked us stunning local food. And grappa - beware! If you want an authentic Tuscan experience, living on a small working farm, and you don;t mind sharing your space a little, then we cannot recommend Emmanuela and Walter's little piece of Italian paradise enough(URL HIDDEN)
tristan
2015-06-21T00:00:00Z
Agriturismo Biancospino offers THE most authentic taste of Toscany. My family and I had a wonderful time - especially the wonderful surroundings and view from the terrace was a treat! The hosts lives next door, but are very discreet and friendly. Although the house is located on a mountain side without close nabours, it is possible to walk to a small town with a couple of shops and restaurants in 15 mins. The swimmingpool was great and Firenze, Pisa and Lucca are not far away. For an authentic and rural place - five stars!
Jørgen Bybjerg
2014-07-13T00:00:00Z
Thank you Emanuela and Walter for a truly perfect and magical stay in your breathtaking farmhouse in the Tuscan hills! Staying here is a complete break away from city life! The views are panoramic heaven and the accommodation is just gorgeous. You have thought of everything and we really appreciated your welcome gifts of homemade Olive oil and jar of olives from your Olive trees, honey from the bee's in your bee hives, homemade nougat and homemade wine!! You are completely surrounded by acres of Walter and Emanuela's lovingly created farm which you can explore freely. Expect to languish amongst Olive, Fig and Bay trees. The figs are exquisite and I feasted on them every morning with the honey made by our hosts. We stayed with two children and they loved it! There is a magnificent swimming pool built by Walter!! The water is turquoise, clean and not too deep. Your hosts provide beach ball, lilo's and arm bands for games in the pool. I loved the pool and its views of the valley. They also loved Mia the cat and Semola the dog. Both pets very gentle and friendly. There are sun loungers to rest and sunbathe and outside dining facilities which we did everyday. There is also if you explore the farm a hidden children's area that has swings, sand pit, hammock, playhouse complete with pots and pans!! No visit to Walter and Emanuela's is complete without experiencing their hospitality and tasting their homemade pizzas! They offer to cook for you if you wish one night under the stars and Walter has made his very own pizza oven! It is amazing. Emanuel let the children make the pizza dough and chop and prepare the produce also. We loved it and thank you so much for being so kind to us! SO, if you want to escape from it all, experience true Tuscan hospitality in the most heavenly place and eat and drink delicious homemade produce and see where it is grown and made, this is THE place to stay! Oh, and I forgot to say that you are in a perfect location to travel to Lucca,(so beautiful, please do the horse drawn carriage trip around the city!), Sienna, Florence and Pisa. Thank you Walter and Emanuela! We will be back :)
Sara
2016-08-28T00:00:00Z
We stayed with Emanuela and Walter for a week and it was completely perfect! The photos do not give you a sense of just how fantastic the house and gardens are. It is a Tuscan paradise of olive terraces, a turquoise swimming pool, butterflies, fireflies, flowers and fruit trees and ridiculously amazing views. Living next door, Walter and Emanuela were welcoming and kind, going completely out of their way to help us (including helping us with a problem we had with our car, having us for an amazing dinner and giving us a tour of their beehives and olive oil and honey production.) We can't thank them enough. It was a truly magical holiday - a holiday it's been very hard to leave.
Hannah
2015-07-12T00:00:00Z
You will be amazed at the farm house and the hospitality of Walter and Emanuela. We will be back! Excellent choice.
William
2017-03-22T00:00:00Z
We had an amazing time staying with Emanuela and Walter, they were the perfect hosts; warm, welcoming and even though they were just next door they have a remarkable knack for being unobtrusive. The setting is both beautiful and tranquil, we're already missing waking up to look out across the valley and woods. Emanuela and Walter provided us with their wonderful honey (we ate it all and went back for more) and olive oil, they even found us some "cinghiale" (wild boar) when we asked where we could buy some. Our daughter loved playing with their dog Simola and Mia the cat, as well as playing with Walter and Emanuela's grand children; Nina and Nora. We all enjoyed our daily walk up to the village for a morning coffee and then down through the woods in the afternoon. We are already planning our next visit to Agriturismo Biancospino! Great location, hosts and setting!
Natalie
2016-04-06T00:00:00Z
Lovely experience for our children. Very nice family.
Scott
2017-01-04T00:00:00Z
Room Type
Entire home/apt
---
Property Type
House
---
Accommodates
6
---
Bedrooms
Lamporecchio, Tuscany, Italy
Casalbosco Teia is a recently renovated farmhouse that set in the countryside and in the olive groves, overlooking a beautiful view!
The rooms have been painted and decorated with pastel colors, cozy and relaxing, finished with toile de jouy fabrics. Ideal for those looking for a place of tranquility, away from the city but close to the main tourist sites of the beautiful Tuscany. In fact Florence is 30 minutes, the little known but beautiful Pistoia in 10. Then Lucca, Pisa and Versilia with its chic beach resorts: all reachable in maximum of one hour. Do not underestimate especially the villages in the vicinity, and the possibility of interesting excursions and unusual for the most demanding tourist. Enchanting landscape you will encounter just entered the climb to Casalbosco, with its olive groves, vineyards, trails and mountains. On request you can taste typical dishes and more, with tastings of products at km 0 and a selection of oil and Chianti wine produced on site. You can find a rich breakfast to wake up and enjoy this time of the day with all the calm and quiet you deserve every morning. The public areas have been designed for relaxation and reading, where the guest can enjoy the best of time for themselves or share it with family organizing an all 'outdoor picnic, a walk or a real hike.
Perfect 4 days in a beautiful area in a beautiful house. We have had a great time at Genny. She helped us with all. We definitely recommend this to our family and friends. Thank you Genny.
Koren
2016-07-27T00:00:00Z
Genny is a sweetheart, the place is lovely, nice house with large garden with olive trees, close to main road between Firenze and Lucca, but remote enough so you are able to feel the real tuscan life style and have privacy. We loved our stay there, sorry we had to leave so soon.
Madalina
2016-07-13T00:00:00Z
Perfect house!!! Perfect host!!!perfect place!! The breakfast very very good:)
Lee
2015-10-02T00:00:00Z
This was one of the best AirBnB experience that I had. Genny and Francesco were really friendly, helpful and respectful. The place is quiet, clean, in a very nice area, have all the comfort needed and the breakfast was delicious. We had a really great time and recommend it!
Paul
2014-08-19T00:00:00Z
This is a perfect place for people who are looking for a clean, beautiful and convenient accommodation with a great host. The house is located in the beautiful hills of tuscany and not so far from the Florence city. I highly appreciate her hospitality and house services and definitely recommend this place to others.
nikyar
2015-09-12T00:00:00Z
This is peaceful place which I'll recommend to everyone specially if you are not a person who like to stay in town.
Dario
2016-11-01T00:00:00Z
Maravillosa!!!..Hemos estado genial, el sitio es encantador, a la casa no le falta detalle, Genny y su padre muy amables, con nosotros y con mis hijos. Los desayunos buenisimos..en resumen un lugar ideal desde donde visitar la Toscana . Repetiremos!!!
Pilar
2015-08-23T00:00:00Z
Room Type
Entire home/apt
---
Property Type
House
---
Accommodates
5
---
Bedrooms
Montemagno, Tuscany, Italy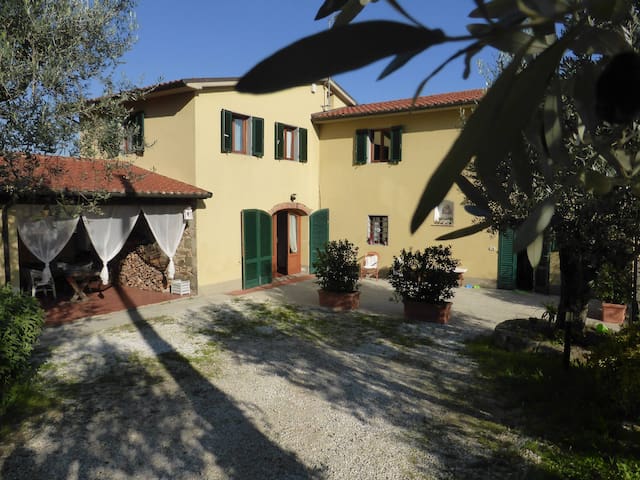 Homey B&B in strategic location to visit Tuscany, only 30 km from Florence, near Prato and Pistoia, very easy to reach Pisa and Lucca.
"Il Filet" is a family run Bed&Breakfast in Tuscany. Available rooms are: 2 double rooms with private bathroom and 2 double rooms with shared bathroom. In each room we can add an extra bed. Excellent breakfast is served in a bright dining room and guests can also enjoy a common kitchen and a living room to read, wathc tv or play piano. Every room has TV and free wi-fi. Pets are allowed. Free private parking. The house is near the center of Quarrata, a small town 12 km far form Pistoia, 12 km from Prato and only 30 km from Florence. Bus stop is very near and you can easily reach by bus the train station in Pistoia. In Quarrata you can find everything you need. You can reach on foot supermarkets, pharmacies, restaurants and bars. Among main attractions of the town you can find the Medici's Villa "La Magia", the natural area "La Querciola" and the mountain "Montalbano".
We have been very pleased by our stay in this BnB. It was comfortable, quiet, easy to find and close to Pistoia, one of our step in our trip. Added to the kindness of our hosts and the very nice breakfast, it is for us a very good place to spend a night in!
Rémi
2014-05-04T00:00:00Z
I booked a room for our friend who travelled from England to be at our wedding in Pistoia. The house is absolutely beautiful and well kept, very big, clean and tidy. The room was very spacious with a proper double bed plus a single bed, and the bathroom was excellent and super clean. There was a balcony by the room that our friend used to practice his yoga in the morning in complete privacy. Laura and her mum live on the downstairs floor and the upstairs is dedicated to guests who can enjoy the privacy of the spacious rooms. I even told Laura that our friend is vegan, so she bought rice milk and cereals for his breakfast!. An overall very pleasant stay for him, he enjoyed visiting Tuscany and he wants to go back soon. Thank you Laura!
Francesca
2015-08-23T00:00:00Z
We were well received by our host who gave us a full explanation and assistance for our stay. We were given a tour of the house and a choice of room.
Kevin
2016-05-21T00:00:00Z
Struttura bellissima, tranquilla e al centro del paese, vicino all'autostrada x poter visitare tutti i posti spettacolari nei dintorni. Gli ospiti veramente cordiali e discreti.
Lucia
2017-01-02T00:00:00Z
Tutto perfetto, Laura e sua madre sono state molto disponibili. La camera era molto bella, come del resto tutta la casa. La colazione era ottima. Quartiere residenziale molto tranquillo. Grazie di tutto e a presto!
Beatrice
2016-07-13T00:00:00Z
Bel soggiorno piacevole e tranquillo
Diego
2017-03-05T00:00:00Z
Ho soggiornato una notte presso il b&b il filetto e ne sono rimasta innamorata! La madre di Laura é deliziosa e mi ha trattato come una principessa facendomi trovare una colazione con frutta e dolci fatti in casa. La stanza era ben arredata, grande, un letto comodissimo e molto tranquilla. Non mancherò di ritornarci!
Laura
2016-07-24T00:00:00Z
Room Type
Private room
---
Property Type
Bed & Breakfast
---
Accommodates
3
---
Bedrooms
Quarrata, Tuscany, Italy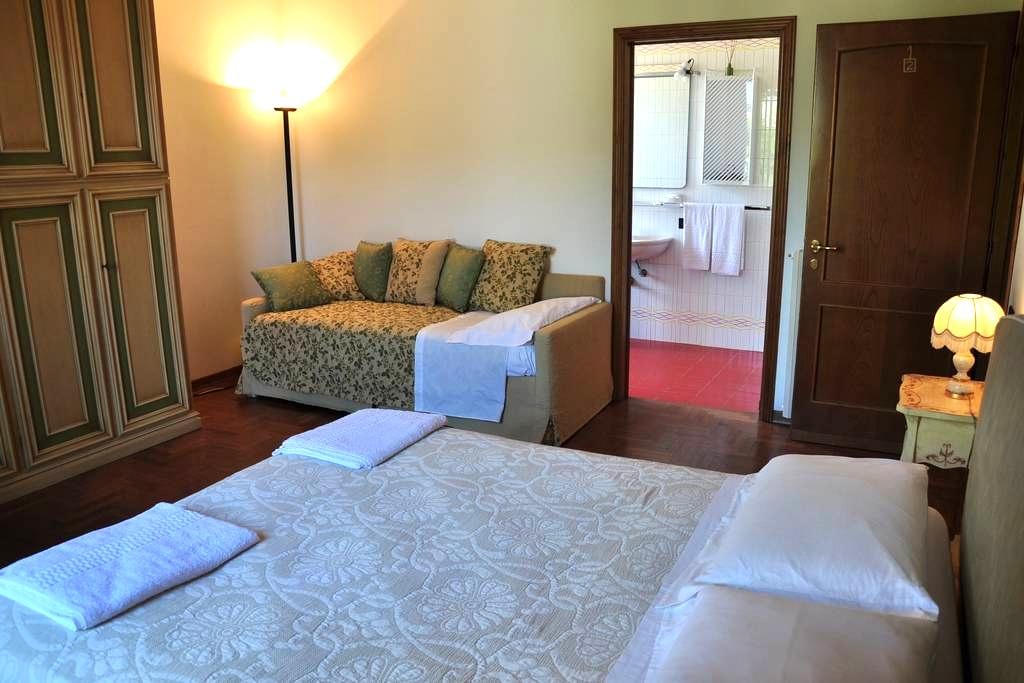 farmhouse in a panoramic position, surrounded by green hills of Montalbano. It surrounded by olive groves and vineyards, 400 meters from the town center. And 'the ideal place for a quiet and relaxing holiday.
Part of a farmhouse, in a panoramic position, surrounded by green hills of Montalbano. It surrounded by olive groves and vineyards, 400 meters from the town center. And 'the ideal place for a quiet and relaxing holiday. On the ground floor: entrance hall, living room and kitchen. On the first floor there are two bedrooms, one double and one with 2 single beds (or double) This is the bathroom with tub and shower.
Casale il Verginino is located in the green but near the small village of San Baronto with its ancient Romanesque church. A few kilometers from the birthplace and museum of Leonardo Da Vinci. It is located 10 km from Pistoia, Capital of Culture in 2017 and among the top 10 cities to visit in Italy according to Lonely Planet.
La casa è posta in posizione tranquilla e panoramica sui colli vicino a Pistoia, nel mezzo del verde. E' comunque vicino il paesello di San Baronto, dove si trovano due alimentari ben forniti, caffè e ristoranti (tutto molto tranquillo comunque). La casa è spaziosissima e curata, come da foto (anzi dal vivo è ancora più grande di quanto sembri). I proprietari sono gentilissimi e disponibili, è stato davvero un piacere soggiornare presso di loro.
Fabio
2016-11-01T00:00:00Z
merci pour nous avoir proposé cette superbe maison sur les hauteurs de Florence. L'endroit est paradisiaque. On reviendra
Michel
2016-09-30T00:00:00Z
Wir hatten vier wundervolle Tage in Giulias Haus. Der Empfang war sehr herzlich und wir haben uns sehr willkommen gefühlt. Giulia und ihre Familie waren ausgesprochen nett und hilfsbereit, wir haben sogar eine regionale Spezialität geschenkt bekommen, sehr lecker ☺ Das Haus liegt wunderschön auf einem Berg, so dass man eine tolle Aussicht über die typisch toskanischen Hügel hat. Es ist sehr geräumig, sauber und schön eingerichtet, wir haben alles vorgefunden, was wir brauchten. Das Haus ist der optimale Rückzugsort für einen erholsamen Urlaub und hat trotz seiner ruhigen Lage eine super Nähe zu den vielen Sehenswürdigkeiten der Toskana. Auch unser Baby hat sich dort sehr wohl gefühlt ☺ Wenn wir wieder einmal Urlaub in der Toskana machen wollen, kommen wir ganz sicher wieder!
Annika
2017-03-18T00:00:00Z
Heel aangename familie met een zeer leuk huisje en een prachtige omgeving in de bergen (heuvels) Zeer veel wielrijders op een racefiets. Op loopafstand diverse restaurantjes terwijl je toch erg vrij zitvan de drukte.
Jan
2016-09-14T00:00:00Z
Was für eine Traum-Location - der ideale Ort für ein paar angenehme und ruhige Tage in der Toscana! Meine Tochter und ich, wir haben den Aufenthalt in der Casale il Verginino sehr genossen. Giulia und ihre Familie sind äußerst aufgeschlossen und hilfsbereit, überraschen mit kleinen Aufmerksamkeiten wie frischen Tomaten aus dem eigenen Garten und sind auch sonst immer zur Stelle! Eine Erwähnung wert ist auch, wie sauber wir das Haus vorgefunden haben - da kann sich so manches Hotel eine Scheibe von abschneiden... Das Haus selbst ist schön geräumig und gemütlich und von außen eine echte Augenweide. Der Garten bietet einige schöne Sitz- und Liegemöglichkeiten, der Parkplatz ist ums Haus, das WLAN funktioniert... Alles im allem also: perfekt! San Baronto liegt recht hoch auf einem Appenin-Ausläufer, dementsprechend malerisch ist der Blick in das Tal nach Süden. Mit einem Auto lassen sich von hier aus alle Sehenswürdigkeiten der Toscana gut erreichen: Florenz etwa in 45 Minuten, Pisa in knapp einer Stunde, Siena oder auch das Meer (Marina di Pisa oder Tirrenia) in rund eineinhalb Stunden... Wir können uns gut vorstellen, noch einmal wiederzukommen - Giulia, vielen Dank für die schöne Zeit!
Oliver
2016-08-13T00:00:00Z
Eccelente soggiorno! La casa e in una regione paradisiaca: paesaggio, ristorante, possibilita di fare visite culturale ( Pistoia, Firenze, etc...) o nollegiare bici o di fare trekking. I nostri ospiti erano moto gentile et sempre disponibile per noi.
emmanuel
2016-08-24T00:00:00Z
Room Type
Entire home/apt
---
Property Type
House
---
Accommodates
5
---
Bedrooms
San Baronto, Toscana, Italy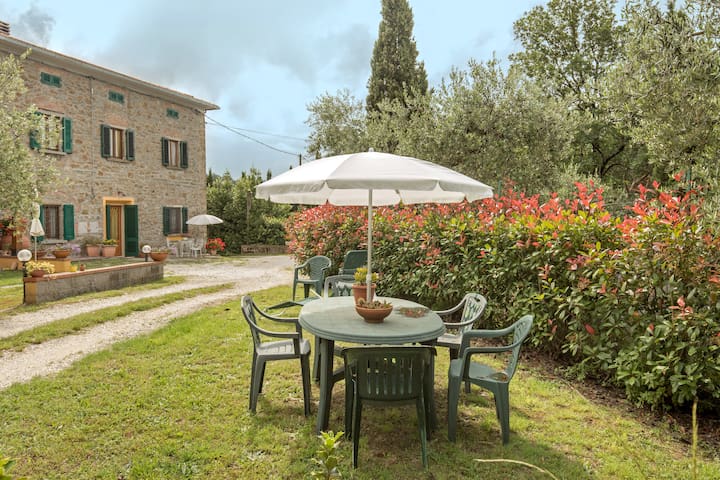 Il mio alloggio è vicino a città d'arte, tra Firenze, Pistoia e Vinci. E' adatto a coppie, chi viaggia per lavoro e famiglie (con bambini). Si trova in un antico casolare in pietra, con splendida vista panoramica. Al mattino la colazione è servita nell'antica tinaia, mentre il vino per la cena si conserva nella cantina storica.
Al piano terreno si trovano l'antica cantina e le zone comuni, mentre ai piani superiori si trovano le camere, arredate con cura e con ogni comfort. All'esterno è presenta una bella terrazza panoramica e la piscina riservata ai nostri ospiti, oltre a splendidi percorsi nell'oliveto e nel bosco vicini.
Il piccolo paese di Montorio mantiene ancora molte case in pietra, una strada stupenda tra i cipressi ed una bellissima terrazza panoramica. Tra le case, inoltre, si trova lo splendido Oratorio di San Martino, di origine romanica, un piccolo gioiello unico. La città ai nostri piedi, è famosa per i grandi artigiani del legno, artisti unici fino agli anni '90. Ed è presente la Villa Medicea La Magia, nominata da poco Patrimonio Universale dell'Unesco, con un folto bosco e un grande parco incontaminati.
Room Type
Private room
---
Property Type
Bed & Breakfast
---
Accommodates
2
---
Bedrooms
Quarrata, Toscana, Italy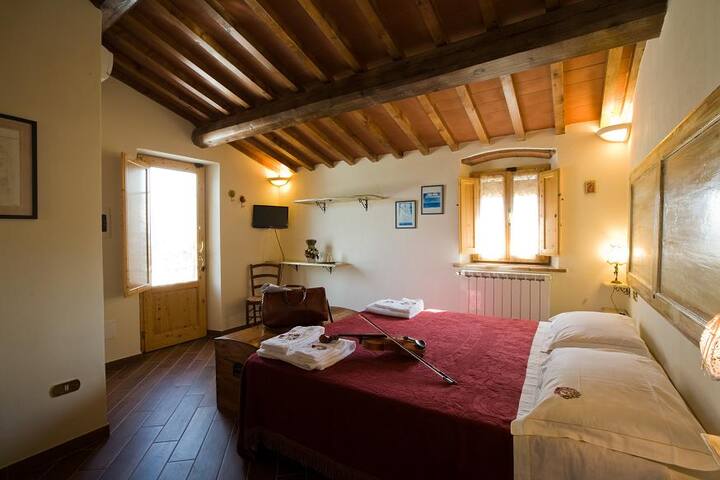 Indipendent typical tuscan villa with private garden and private pool located on the Vinci Hills composed by 2 double bedrooms 1 triple bedroom 1 bath with tube 1 bath with shower 1 toilet kitchen living room riding room fireplace tv wifi
Very quiete and private villa with stone wall located in Porciano Vinci Wonderful panoramic view Swimming pool garden private car parking 3 bedrooms and 1 mansarda kitchen living room dining room fireplace tv wifi laundry area 3 bathrooms
Market and restaurant in a few kms
We stayed in this villa for 5 nights mid-June. Let me start by saying the location of this villa is lovely. The views are sensational and the local towns are really special. We used the house as a base to visit Siena and Lucca after a short trip to Florence. Upon arrival, we were told that we were the first visitors of the season. This meant that the house smelt very musty and was quite dirty. There were insects throughout the house. What bothered us was that there were no cleaning products at all, one roll of toilet paper, obvious utensils missing etc. The pictures of the kitchen show a coffee machine which is not actually there. We messaged Francesco and the next day a coffee percolator was delivered - an unusual sight in Italy. There were missing light bulbs and some lamps didn't work at all. The wifi was barely usable, it was so slow. We ended spending over €200 on so many unnecessary things, including a stove-top coffee maker, sugar and some cooking utensils, cleaning products and sponges, toilet paper and insect repellents. We even bought candles to remove the smell. Basics that I would have expected to be there or would have at least been mentioned before we arrived. We didn't receive any instruction for the house. Of course we could have continued to send messages to Francesco but it was always at inconvenient times and so we ended up just leaving the house for most of the time. It's exhausting having to complain while trying to relax and often better to just leave the house. I asked the gentleman, who gave us the keys, for a recommendation for a local vineyard - he said he would text that evening but we didn't receive it. The location was great and we had a great time in Italy but we felt that we overpaid for this property and it did not live up to its expectations. With some love and TLC, this could be a great place to stay but it's not there yet.
brendon
2016-06-19T00:00:00Z
Wow! This home exceeded all our expectations! Quite a drive up the mountain, but well worth it... So many exceptional qualities: the pool! the soda or sparkling water dispenser in the kitchen! the grounds full of all kinds of fruit tress! the friendly neighbors! the antiques! the gorgeous views! the proximity to Vinci - as in Leonardo! the proximity to Empoli where you can easily catch a 30 minute train ride to Florence! the close proximity to the freeway system where we caught a 3 hour drive to San Marino! the morning church bells ringing on the hour and half-past! access to major food stores in Empoli only 20 minutes away! the ding tables of this special home - several outside and inside! ..........Need I say more? We will return on our next trip to Italy! OUTSTANDING!
Dee
2016-06-30T00:00:00Z
Awesome Tuscan view in a nice neighborhood. The small village of San Baronto is just around the corner where you can get your morning Cappuccino and croissant. A genuine Tuscan house, albeit not toddler-friendly. I recommend this house/village for a nice genuine Tuscan stay!
Tommy
2016-07-26T00:00:00Z
The house had limited essentials. We had to buy coffee, soap and toilet paper, and we had to borrow a wine opener from the neighbors. There weren't enough towels for all five us and considering there is a pool, this was interesting, no pool towels provided. The beds were very uncomfortable. Thin mattresses on plywood set on the bed frames. The property is charming and the views are great. Tuscany is beautiful, this property has potential, but not managed well.
Tonya
2016-07-31T00:00:00Z
This is a private and secluded location in an authentic Tuscan property with a number of charming original features. It's a good location being only an hour or so from Florence or Pisa. Francesco was charming when we met him and he responded well to a couple of problems that arose. You'll need a car to get around but it is not far to restaurants and shops.
mike
2015-08-14T00:00:00Z
Great location with beautiful view! The pool brings welcoming refreshment from the Tuscany heat. Would definitely recommend for anyone looking for a nice quiet place to stay
Martien
2016-06-27T00:00:00Z
Very nice house in a beautiful area Thanks Francesco
Loic
2015-07-25T00:00:00Z
The area itself was fantastic- just what we wanted and imagined. Beautiful scenery and quaint nearby villages. The Villa was also lovely, a fantastic house with great grounds and amazing views. It was an ideal get away for our family - secluded and peaceful. Both my wife and I and our three kids loved it. It also felt safe which was reassuring when we've young children. The only negative was the pool cleaner and filters stopped working after a few days. I contacted our hosts but it was never fixed, which was a shame as we had to spend quite some time cleaning the pool with a net as there are a lot of bugs (and leaves) that get in it. Overall though I'd definitely recommend staying here- both for location and the property itself.
Dan
2016-08-10T00:00:00Z
Room Type
Entire home/apt
---
Property Type
House
---
Accommodates
7
---
Bedrooms
Porciano, Toscana, Italy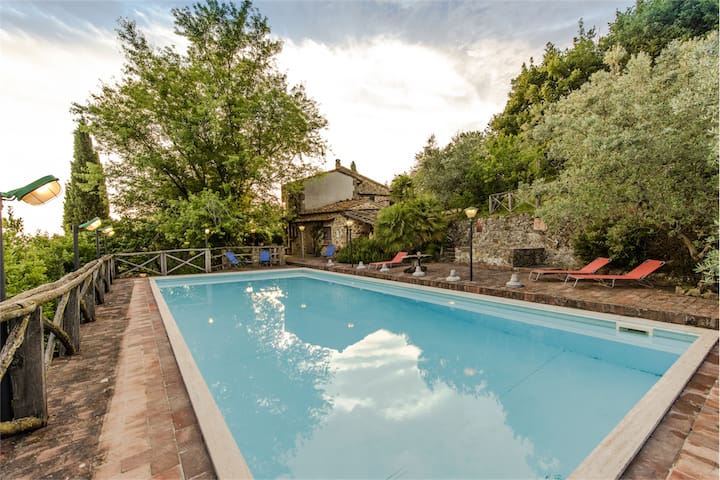 Spacious duplex in the Montalbano hills with large terrace on a corner of the untouched Tuscan countryside. In an excellent position to visit all the major tourist attractions.
The site allows you to spend a relaxing holiday, enjoying also a large garden for the guests. The apartment on the ground floor is available to owners who use it occasionally.
The main features of the house are the surrounding countryside, the scenic location, the tranquility, the fact of not being isolated but in a small village permanently inhabited. It's also centrally located to visit all the major tourist destinations.
Room Type
Entire home/apt
---
Property Type
Apartment
---
Accommodates
5
---
Bedrooms
Montemagno, PT, Italy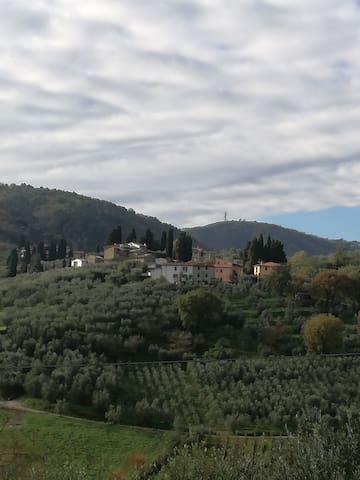 In campagna immersi in un'atmosfera tranquilla e con ogni confort, Villa La Tinaia mette a disposizione camera luminosa con bagno. Contesto geografico ideale per raggiungere importanti luoghi di interesse naturalistico, culturale ed artistico.
A soli 2 km dal centro di Quarrata nel caratteristico borgo di Buriano, immersi in campagna in un'atmosfera tranquilla e con ogni confort, Villa La Tinaia mette a disposizione camera ampia e luminosa con bagno privato e connessione internet wi- fi. Sistemazione tranquilla a pochi passi da tutte le comodità, Quarrata offre qualsiasi tipo di servizio: supermercati, bar, farmacie, banche e ristoranti e trasporti.
Room Type
Private room
---
Property Type
Villa
---
Accommodates
2
---
Bedrooms
Buriano, Toscana, Italy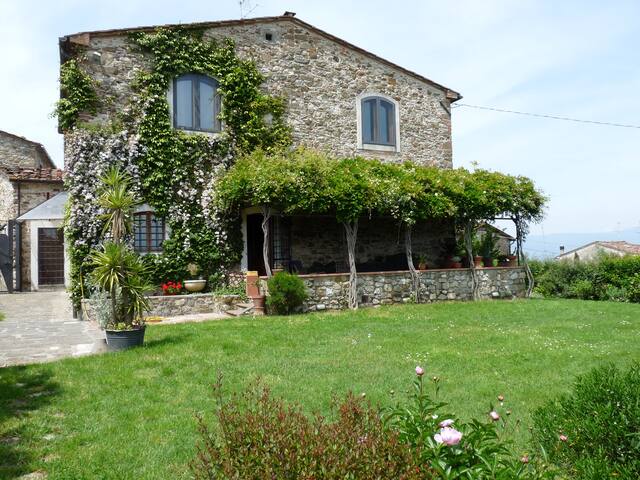 Ancient manor house since '1600, belonged to noble family, recently restored with all the conforts (each room is air conditioned), taking care of the respective original peculiarities. Is inside the Montalbano park reserve in the top of a low hill near the city of Quarrata. The environment is quiet and relaxing with a beautiful view on the surrounding hills. Just 1 km you find restaurants, bar, pub, supermarkets, pharmacy, children playground, tennis and a bus stop for Firenze/Pistoia.
The house at ground floor has an old antique living fireplace fully functional for light fire with wood of my wood or, in summer, at the barbecue near gazebo outdoor. From the garden you enter in the living room where is the antique chimney, the other rooms are living room, kitchen and a service bathroom without shower. At first floor arrive at a large disengagement from with you reach three bedrooms and a bathroom with bathtub. The bigger room, (about 50 mq) has two beds and the bathroom inside with shower. The external place is large for parking and and for walking on my hill where you can find and taste by season fruit trees..peaches, plums, figs, cherries.
Quarrata, the center is 1 km near house, is a little city with all service normally present in any city, for any necessities. To be mentioned at about 1 km from home, the important monument: Medicean Villa La Magia and his large ancient Park, declared from unesco, heritage of humanity.
Room Type
Entire home/apt
---
Property Type
Villa
---
Accommodates
7
---
Bedrooms
Quarrata, Toscana, Italy
Our Stone house lays on the hills near Pistoia surrounded by 500 olivetrees. It is divided into 2 apartments, each one with separated entrance. Both of the Apartments Stretch on 2 levels. We have 2 more listings on Airbnb: 1) for the second Apartment: VASCO listing (PHONE NUMBER HIDDEN)) for the whole house: FABIO + VASCO lisitng (PHONE NUMBER HIDDEN)
The Apartment "Fabio" Stretches on 2 Levels: On the groundfloor you will fiond the livingroom with 2 couches and the fireplace, the kitchen with modern comforts (4 gas hobs, electric oven, fridge, electric coffee machine, dishwasher), a Dining room and a full bathroom (with shower). A Stone-stair leads to the upper floor where you can find 3 double-bedrooms and a full bathroom (with shower). The garden is very spacious. Even if the second Apartment is rented rented, you can Keep your own privat space and quiteness. On the lawn in front of the house there is the private pool (6mt x 10mt). The water is not heated, so it is opened from 15 MAy to the end of September, according the weather conditions. Here there are garden showers.
The surrounding is very nice and quite. A small village with a bar is to reach on foot and the next village (Quarrata) is just few minutes drive. Hier you will find everything you need: supermarket, farmacy, butcher, backery, bank.
The Stone House is a little piece of heaven! The Tuscany experience doesn't get much better than this: close to Florence, Sienna a little further but still close, the house is in the middle of whine and olive yards, the view is breathtaking, in Quarata you can drink the best coffee and eat delicious Tuscan rice cakes, and so on. The house was very clean, the hosts nice and caring. The house is split into two separate apartments: apartment Fabio and apartment Vasco. They are the same size and equally wonderful. All in all: perfect!
Ernst
2015-07-17T00:00:00Z
We absolutely enjoyed our stay at Fabio house. Easy check-in and house was spotless! Comfy bed, modern kitchen and full washrooms, awesome swimming pool. Everything you need for a perfect vacation! Would love to come back and stay at the same property.
Lauren
2016-08-15T00:00:00Z
Great place to stay for a relaxing long weekend away!
Guy
2016-09-19T00:00:00Z
The stone house was absolutely stunning, we had a fantastic stay and can't thank Elena and her family enough with all their help prior to arrival and during our stay. The house, gardens, pool and view are all wonderful I would love to go back! The local town has all the amenities you need and can be walked to if you can face the hill back up, and the local bar is an experience.
Emily
2016-08-20T00:00:00Z
Das Haus ist sehr gut ausgestattet und liegt wirklich malerisch! Wir wurden sehr herzlich willkommen und hatten eine tolle Woche. Vielen Dank!
Carolin
2016-09-16T00:00:00Z
Siamo tornati ieri pomeriggio da questa magnifica vacanza, che dire? Non ci sono parole per descrivere quanto siamo stati bene a casa di Elena. Giulia e il suo papà Fabio non sono stati premurosi, di più! Ci hanno anche fatto trovare una macchinetta per il caffè e le cialde, oltre alla legna per il camino già tagliata! Siamo stati molto contenti di essere stati i primi italiani a soggiornare a Casa Fabio, le foto non rendono l'idea di quanto sia bello il posto! Luminoso, caldo, accogliente e in casa c'è tutto ma proprio TUTTO! Ideale per chi, come noi, cercava un posto tranquillo dove passare qualche giorno di relax e se avete con voi amici a quattro zampe, credetemi, è il posto IDEALE! C'è un sacco di spazio a disposizione dove il vostro cane potrà darsi alla pazza gioia e correre liberamente! Ancora grazie di tutto, speriamo di tornare presto a trovarvi!
Andrea
2016-01-03T00:00:00Z
Das Haus, die Ausstattung, der Garten und der Pool haben unsere Erwartungen bei Weitem übertroffen. Wir haben frische Eier und frisches Obst aus dem Garten bekommen und genossen. Die Kommunikation mit Elena war jederzeit möglich und ihre Tipps haben uns zu einigen unvegesslichen Erlebnissen verholfen. Küche, Bäder und Zimmer ist alles vom Feinsten und wie neu. Uns fällt es schwer das Haus weiter zu empfehlen, da wir es uns gerne als GEHEIMTIPP erhalten wollen.
Matthias
2016-09-04T00:00:00Z
Wir waren mit unseren 3 Kindern für 5 Tage in diesem wunderbaren Steinhaus. Es hat von Anfang an alles wunderbar geklappt. Das Haus ist sehr sauber & gepflegt & gut eingerichtet. Der Standort ist sehr gut zu finden, sehr sicher & die Aussicht einfach atemberaubend schön!!! Der Pool ist sehr gross und wir jeden Tag von den Besitzer sauber gehalten. Auch die Umgebung wir sehr gepflegt. Die Besitzer sind sehr freundliche & hilfsbereite Menschen. Die Kinder durften sogar einmal zu den Hühner Eier holn, die wurden dann genüsslich verschlungen ; ) Mit dem Auto sind wunderschöne Orte gut zuerreichen, es gibt tolle Restaurants, Gelaterias & Einkaufsmöglichkeiten in der Nähe. Wir danken den Besitzer herzlichst für all ihre Bemühungen & Gastfreundschaft.
Conny
2015-07-23T00:00:00Z
Room Type
Entire home/apt
---
Property Type
Villa
---
Accommodates
6
---
Bedrooms
pistoia, Toscana, Italy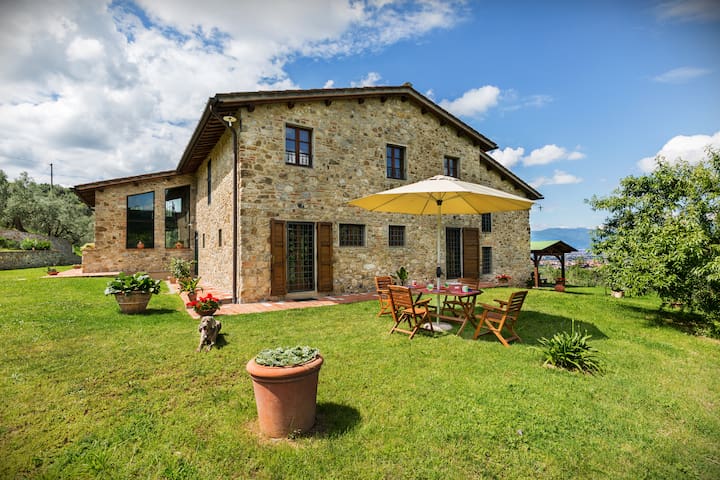 Organic Farmhouse "LA GIOCONDA" is situated in the area of Santa Lucia 2 Km from Vinci and only 200metres from Leonardo da Vinci's native house. It consists in a main country-house and rustic apartments restored. Contact me in order to receive the best offer.
This one -room studio Apartment called GRANAIO has all the necessary equipment to offer comfortable staying in our farmhouse ,it's on first floor and it's composed by : kitchenette,1 double bed,bathroom ,private place in the garden with table and chairs . The garden with barbecue has beautiful view on typical vineyard of Montalbano Chianti docg and olive grove ,all organic production . Wonderful swimmingpool in panoramic location ,parking,laundry , mountain bikes,table tennis and games for children, free of use . In September, guests can join with us in the grape harvest.
Room Type
Private room
---
Property Type
Apartment
---
Accommodates
2
---
Bedrooms
Vinci, Toscana, Italy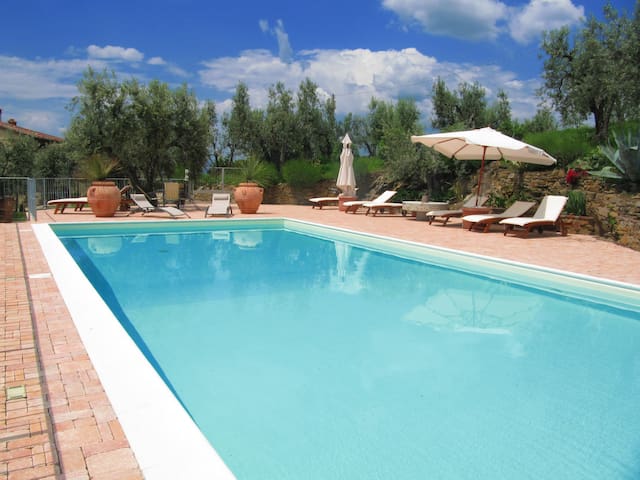 The "Gelso" apartment is located in the Agriturismo Sasso Regino located on the hills of Montalbano, in Buriano, Tuscany. There is also a shared outdoor swimming pool and a whirlpool for 5 people.
Apartment Gelso for 4 to 6 persons in Farmhouse Sasso Regino The apartment is situated on the first floor and is composed by: . A spacious living room with a magnific view on the outdoor pool. The living room also has a queen size sofa bed . A kitchen that is provided with luxury, built in equipment such as a dishwasher, refrigerator with freezer compartment and a combi-oven . A comfortable master bedroom . A second bedroom with 2 single beds . A bathroom with shower cabin . A spacious private terrace of about 18 m2 completely furnished The apartment Gelso has also a flat screen TV and a washing machine
Our Farmhouse is situated in the typical Tuscan landscape not far from the famous and renowned villages of the "made in Tuscany"; a small paradise for those looking for a Farmhouse with swimming pool or a holiday of relaxing and resting or making excursions with mountain bike or motorcycle or visiting our beautiful cities.
Great place. Can be recommended. Some strict rules. It was not allowed to dive and jump into the pool. Good for seniors who want peace, but not okay for families with children who want to play. Hope they change these strict rules.
Erlend
2016-07-14T00:00:00Z
Hier 3 nachten geweest, te kort. Prachtig uitzicht en zwembad met ruim voldoende ligstoelen en parasols. Wij hadden appartement op 1e verdieping, ruim, alles aanwezig wat je nodig hebt. Terras op begane grond, kleine tafel, maar goed te doen voor ontbijt. Sleutel goed geregeld. Ook uitleg over mogelijkheden ontbijt, lunch bij bar zwembad. Er worden ook diners georganiseerd, kan je op inschrijven. Hebben we laatste avond gedaan. Top!
Monique
2016-07-31T00:00:00Z
Super nette Gastgeber, sehr hilfsbereit und freundlich. Tolle Lage, alles sehr gepflegt. Wir waren rundum zufrieden und kommen gerne wieder :-)
Sandra
2016-07-28T00:00:00Z
Room Type
Entire home/apt
---
Property Type
Apartment
---
Accommodates
6
---
Bedrooms
Tacinaia, Toscana, Italy