Our place is an (300yr) old granary, taken down from the mountains and rebuilt here at Lamawanderland with lots of love! You'll find yourself in the middle of the countryside on a farm we like to think of as a Peaceful but quirky place, inviting a sense of relaxation and homeliness. Our region "the Mostviertel" is located in the beautiful foothills of the Alps, where fantastic hiking and biking routes are easily accessible by car. Stift Melk and the Wachau region are also close by.
What guests are saying:
"Communication with the hosts worked very well from the start, so all questions were answered quickly. Actually, I could have saved myself half of the questions - the hut really has everything you need for a pleasant stay. And all furnishings are selected with great attention to detail. We received a very friendly welcome, the stove was burning in the hut, a few sweets were ready - it couldn't be better. The warm friendliness of the family would be a reason to go there again. In the morning there is fresh baked goods, cheese, butter jam ... you just have to feel good here. The animals are just wonderful, one would like to have one packed. The hike is really fun - we would have liked to do it several times (this llama hike costs extra - no idea whether it is mentioned anywhere, it was not entirely clear to me - but this did not spoil the experience at all). In the very rural area you have to drive a few kilometers to go to a good restaurant - I would definitely recommend making a reservation. The food in the Hueber was very good and worth every euro. Our children were allowed to bake llama cookies with the host - they were thrilled. The rooms are as described, definitely big enough and clean. The kitchen has charm - like everything in and around the house. Many thanks to the hosts! You can't do it any better. See you soon ..."
Ferienwohnung direkt in der Altstadt am Fuße vom Stift Melk an der schönen blauen Donau. Nur eine Minute vom Radweg und vom Zentrum entfernt . Hervorragender Ausgangspunkt für Rad-, Wander- u. Bahnreisen in die einzigartige Kulturlandschaft Wachaus. Gratis Parkplätze ca 5 Minuten Fussweg vom Haus entfernt! Achtung unter der Wohnung befindet sich ein Kaffee Pub. Es könnte manchmal etwas laut sein!
What guests are saying:
"Dean's place is fantastic. My friends and I highly recommend staying here. Melk is an extremely cute and fun place to stay in while exploring the Wachua valley. It rained the entire time we were there, and we still greatly enjoyed our visit. The pictures are a little out of date as the 2 bedrooms have been updated with even larger (and super comfy) beds. I believe one of them could have easily fit 4 people. The bathroom is rather large. There is an extra sofa bed in the living room and the couchs are comfy enough for a smaller person to sleep on. The location is fabulous. It is right at the foot of the melk Abbey, and a stone's throw from the old town center. Right below the flat is a bar with a friendly host who loves to dj music. As Dean stated in the description, you can hear the music in the apartment at night for any light sleepers. If you walk a little further there a few other bar to enjoy as well. Just a quick note to families with small children: the apartment is split leveled which means there is a ledge (heavy potted plants block the ledge) and stairs from the living room to the dinning room. From the smaller of the 2 bedrooms, you will need to go down the 5 steps to use the bathroom, and there's no railing. But again, I highly recommend this place for anyone looking to relax, unwind and enjoy the Wachua valley."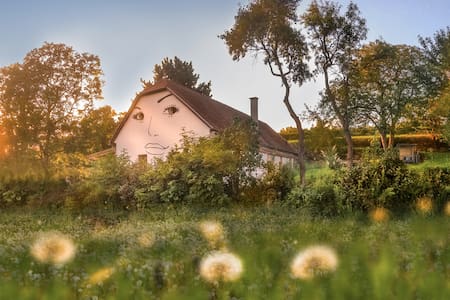 SUPERHOST
Entire house · 4 guests · 4 beds · 1.5 bathrooms
Danube Dreamin, close to Wachau & Danubelake
House and garden is for your exclusive and sole use! Our romantic, over 300-year-old country house is situated in a sunny position on a hill near the Danube and the idyllic Danube lake. The unique cultural landscape of the Wachau with gentle hills, fields and meadows invites you to relax and enjoy. Swimming, water sports, cycling / mountain biking, hiking, fishing and many cultural activities nearby.
What guests are saying:
"The house looks exactly like the photos. There are many cozy places in and around the house to discover. Margit is super relaxed and personable. We immediately felt comfortable. The house is really almost alone. The landlord's house is next to it, but with so much distance that you can't even see it. We felt very free and undisturbed, even in the garden. The hosts really ensure an absolutely undisturbed stay. The garden and nature around the house are a dream. I could sit there for hours walking. It is incredibly quiet there. Ideal for recharging your batteries. The garden can also be used by a small child under supervision. There are also many games in the house. In the music library of Luis we actually found something we like - I never thought that :) Conclusion: Margit and Luis are rightly superhosts. My favorite AirBnb so far."