Enjoy a relaxing break at our country house, located in Varnavas, just 30 km away from Athens center. In a tranquil setting, you can enjoy our beautiful view, enjoy our swimming pool and just relax!. Alternatively you can enjoy Varnavas beach that is just 12 minutes away by car or enjoy nature, walking on trails with amazing scenery which are next to our house. We are a couple with 2 children living on the main house above the guest house. Privacy and friendliness is guaranteed!
What guests are saying:
"We used Airbnb many times and in more than one country. This property is for sure on the top of all. Anthony was there waiting for us as he is living on second floor. With his kids they helped us with our luggage and made sure that we are comfortable. Then Anthony's wife, Giota, surprised us with ice cream which made my kids become super happy. Anthony had a lot of inflatable toys ready for the kids to play with in the pool. The outdoor area around the pool was like a SPA. You can sit on the pool and enjoy a panoramic view for hours without getting bored. The apartment and the pool were super clean. Giota and her mother prepared a delicious cake for us and kept sending us treats everyday. Anthony is expert in Varnavas area. He offered us a free of charge walking trip to the natural reserved area near his house and guided us to a place with a breath taking panoramic view to the sea. That was Amazing. Anthony did not mind having our friends to visit us. Our friend came and they were amazed with the paradise we are in. They spent an amazing day with us and their kids were not happy to leave that night !!! Specially because Anthony offered the kids a movie night with a big screen and loud speakers !!! Pop corn took the kids to a different happiness level🎉 Anthony's and Giota' generosity did not stop there. Every night we used to meet and of course every night Giota used to surprise us with a nice treats and amazing drinks. This property is within an hour drive from many tourist attractions such as Acropolis, and Athens down town, and within two hours from Delphi/ Arachova. I would highly recommend this property to anyone who want to enjoy sites saying in Greece and end it up with a place that will make him relax at the end of the day. No matter what I say, I will never be able to draw a true and fair picture of our nice and great experience. Thanks to Anthony and his family for the great time we had in Giota's house🙏 For sure we will be back again."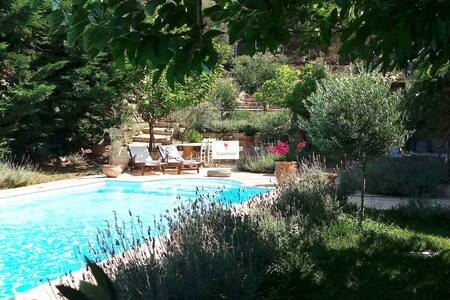 SUPERHOST
Entire villa · 7 guests · 4 beds · 2 bathrooms
Evia Dafni Nerotrivia with private pool sea view
A modern country house, an elegant yet familiar environment a place created for those seeking a peaceful atmosphere between nature, good food, and beauty. The island of Evia offers the best solution for those who want to enjoy summer vacation near the sea, but don't want to miss out on all the comfort that the big city offers, only 99km from Athens,130km from Athens airport. Large private outdoor spaces, with private pool & garden. Live a unique experience, between culture, relaxation & nature.
What guests are saying:
"John's place is a hidden gem, especially if you live in Athens. In less than 2 hours you find yourself in a super cosy, super beautiful home, supplied with all 2 families (or maybe 3 couples) need for an enjoying, relaxing and so close to nature vacation. We were a group of 4 adults, 2 children age 6 and a newborn baby and we loved the place, the amenities, the nature, and most of all the ambient of this beautiful home. John and Dimitra were very responsive and exceptionally attentive and caring. As we visited the last weekend of spring and it was exactly after the covid lockdown ended, we all felt -adults and children alike- we were in the serene, safe and green gate-away we needed. Even if the weather was not in our favour, we all enjoyed the chilly but very refreshing water of the pool and the gardens and exterior spaces of the house. It is useful to reach this home with food supplies and necessities especially for the first day of your stay, even though local shops are very nearby by car. We would love to visit in the summer-time and we would love to be able to return soon."
SUPERHOST
Entire villa · 6 guests · 3 beds · 3 bathrooms
Live a fairytale isolated in the middle of forest
The villa is located in Nerotrivia -DafniEvias, 100km from the centre of Athens, 25km from Chalkida city and 7,5km from the beautiful fishing village of Politika. The village is situated away from the indiscreet looks, at the mountain, in a beautiful pine forest. It is only 5km away from the blue-watered beach of Dafni. The exterior space is surrounded by a private swimming pool, a garden, a parking site and a warehouse in an estate of four acres....
What guests are saying:
"What an amazing location - the view is out of this world. So peaceful and relaxing. The sunsets are beautiful. The house itself is very thoughtfully built - lots of shade for the daytime, lovely view over the pool, shutters on every window for security and darkness at night. The pool is clean (Argirios cleaned it for us during our stay as well) and there's the relaxing sound of trickling water continuously due to the way it's been built - it's like being at a spa! Argirios and Anthony were really helpful with providing solutions while we were there - helping my disabled dad get the things he needed. They were very kind. They even brought us fresh fish for dinner as we were having trouble finding it in supermarkets. The local beaches (5 min drive) are beautiful and quiet (in Sept, there were hardly any people there) and the taverna in the village is perfect for a beer and kebab. A lovely stay - I'm sure we'll be back again"